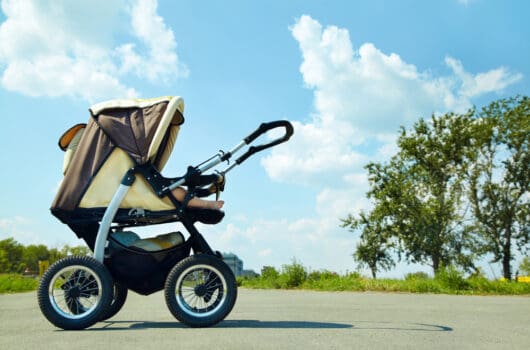 O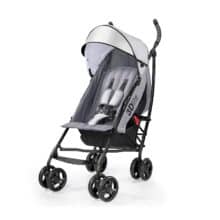 Summer Infant 3D Lite Convenience
B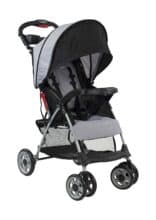 Kolcraft Cloud Plus Lightweight
P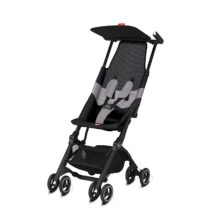 GB Pockit
Previous
Next
Do you remember your first car?
It wasn't something you blew your entire life savings on. It was just a means of transportation from A to B. There were some extra features you considered a "must-have," regardless of the cost, like air conditioning or working speakers. But ultimately, you were flexible and just happy to be behind the wheel. This experience was good practice for car shopping down the road.
Now you're not the only one that needs wheels. Having a newborn is a new major chapter in your life. In that respect, your first stroller is more important than your first car. But one thing remains the same, why pay for features that you don't need? Keep reading to see our list of the ten best budget-friendly strollers for 2020.
What to Know Before Shopping for Inexpensive Strollers
So let's discuss some of the features you should consider when deciding what to look for in a stroller. A stroller should adapt to the daily needs of a parent. Some parents will constantly be loading and unloading their stroller into the car, some live in rainy or colder climates, and some have more than one toddler that needs a ride at the same time.
Luxury strollers may offer more features, but that might be more than you need. Crossing off what you don't need in a stroller will save you huge amounts of money, which would be more wisely spent on other baby accessories.
Type
They might look similar, but strollers have different builds and are meant to fill different functions. Full-size strollers are the most common type and often have extra convenience features, although they are too heavy and bulky for jogging and can be a pain to keep loading and unloading from the car.
If you want to go jogging with your little one, or you just want to carry them around in their infant car seat, there are jogging strollers and travel systems available for these activities.
For quick walks or airplane travel, you might be better off using a lightweight stroller, which is much easier to maneuver but has less storage space on it.
If you have two little babies, you can choose between a double tandem or a double side-by-side stroller to make walks much easier.
For more information on the types of strollers available, consult the buyer's guide below.
Ease of use
Sure, a stroller is a safe nest on wheels for your little one, but you're the one doing the chauffeuring. Depending on where you know you'll be doing most of your walks, wheel size and material are very important. As you wouldn't want some Michelin-sized tires when you're only out for a light jog, or little donuts for wheels when you know you'll be saddling the stroller's storage space with other items that will add weight to the wheels.
Another important aspect is the way the stroller folds, so you can rest easy knowing that it won't ambush the feet of other bypassers when you just stored it next to you on the bus.
Comfort
Besides ease of use, you'll also want to include as many features as possible that make your and your baby's walk more comfortable. Depending on what climate you are facing in your area, some strollers have adjustable canopies to block out the sun from the baby's eyes, and other strollers have umbrella holders for rainy days.
Storage space
When you're walking around with a baby, the stroller sometimes needs to feel like a fully-loaded diaper bag. You have to carry bottles, blankets, diapers, and toys for your baby, but it also helps to have your own storage space as well.
Build
Some strollers are designed to have a lightweight build, but even lightweight designs have to be sturdy. After all, you are carrying a human life around. Even if you are getting an inexpensive stroller, the materials themselves don't have to be cheap. Durability is also an important feature, as you wouldn't want to keep buying strollers like pairs of socks.
Safety Features
While your baby's comfort is important, mainly you need to rest assured that they are safe. All the products on our list are approved by the Juvenile Products Manufacturers Association (JPMA).
Keeping these criteria in mind, we have scoured the web for you to find the most affordable and dependable strollers on the market. This is an item you will see almost as often as your baby, so you might as well take your time to decide which one offers the features that mold to your needs the best.
Top 10 Best Cheap Strollers 2020
Buying the Best Stroller for a Limited Budget
Choosing the right stroller means making every day easier. You will be doing the shopping, the visits to the park, the exercise, the daily errands, so the stroller should only make these things smoother for you. A stroller that is too cheap and too light can make things even harder if it isn't stable and falls apart, or causes discomfort till the baby starts crying. Since there are many types of strollers, it is important to determine which one is most suitable for you.

Types of Strollers
There are different types of strollers for different daily activities, environments, age groups, and budgets. Here are the most common ones:
Lightweight
Often referred to as "umbrella stroller," this is the lightest and most compact type of stroller. It is also the least expensive type. A lightweight stroller is easy to carry, fold, store, and maneuver. It usually has a thin frame that may feel a bit flimsy, but it will hold your child and other accessories you may store underneath the seat, no problem.
Standard
Also referred to as a "single" or "full-size" stroller, it is a bit heavier, less compact, and more expensive, but it has more features. Standard strollers are more durable and suitable for most situations and terrains. They take up more space, but if you're looking for a stable stroller that will last you a long time, consider investing in one of these.
Travel System
If you have a car and don't want the hassle of always transferring your baby from the stroller into his car seat, travel systems are the solution. They use car seats as the base of a stroller, which you can easily attach or remove, to make the transition into the car seamless, without even waking up the baby.
Travel systems are more expensive since you are getting two items to carry your baby in, but some are sold only as simple strollers, with the option of upgrading to a travel system by purchasing a compatible car seat. Such is the case with the Graco Verb Stroller.
Jogging Strollers
If you think that your exercise days are over now that you have the baby, a jogging stroller comes to the rescue. It is suitable for all sorts of rough surfaces, as the wheels are almost like bike wheels and have great suspension and maneuverability. Jogging strollers have three wheels (two in the back, one in the front), so they are a bit bulky, but they have everything you need for outdoor purposes.
Double Strollers
If you have two children and need to bring them both along, you don't need to buy two separate strollers. Buying a double stroller can save you money and provide additional comfort in your daily tasks. There are three types of double strollers.
Side-by-side double strollers feel more natural in maneuvering but are tougher to fit through doors, crowds, and tight spaces.
Sit-and-stand double strollers, such as the Joovy Caboose, are ideal if your kids have different ages and one of them can already stand on their own.
Double tandem strollers like the Graco DuoGlider are just as easy to store and fit through doors as a single stroller, but it can feel like you're waiting in a line with two other people in front of you, which makes monitoring the baby in the front a bit difficult.
Criteria to Consider
Here are some of the most important aspects you should assess about your living situation, in regards to your baby's stroller needs:
Baby's age
Strollers have harness systems and are height-adjustable, but they do have weight limits. If you just gave birth, you should look for a stroller that can recline completely flat, such as the Summer Infant 3D Lite Convenience, as newborns don't have the ability to hold up their heads for upward positions.
Some strollers can grow with your baby all the way through toddlerhood, but sometimes you have to go through more than one stroller until you reach that point.
Budget
There is an overwhelming amount of accessories to consider and save up for when you have a new baby, but the stroller should be one of the main ones. If you're on a tight budget, there are some really dependable strollers on our list that you can get for $60 or under, such as the Kolcraft Cloud Plus Lightweight or the Jeep North Star.
If you have two newborns and are looking at double strollers, divide that price in two to have an idea about what you would pay per single stroller. The most high-end strollers are not necessarily the best, but you have to be efficient and opt for the most durable, comfortable, and safe budget options, leaving some money aside for add-ons you may want for the stroller along the way, such as separate car seats, weather shields, adapters, or different tray tables.
Use
If you live in the city or the suburbs and that's where you'll be using the stroller the most, you don't have to worry about rough terrain safety features like wheel suspension. If you just need it for a vacation with your little one, don't look for too many extra features you won't be using in the long haul.
If you don't have a car, you can already cross out the travel system options that also come with car seats. If you need a stroller for jogging, you shouldn't look at any other category besides jogging strollers. Strollers differ in build and features, so decide which type is best for your lifestyle.
Comfort
A stroller should be just as comfortable for you as for the baby. Depending on what type of stroller you're going for, try to play out what a day in your life would look like, if you had to carry a stroller anywhere.
You'd need some storage space for the baby's necessities as well as some extra for your shopping bags, purse, phone, keys, wallet. You would also need cup holders, for their sippy cups or for a bottle of water to keep you hydrated during the day. Some strollers come with as many as 4 cup holders, others with only one.
Reclining chairs are also important, as some can recline in a flat position which makes it easy to change diapers on the go.
Canopies are important if you know your baby will be exposed to the sun for a big part of the day. Some canopies are larger and can cover your child's entire body, others have pop-outs or are UPF 50+ protective or suitable for rain and wind too. Other add-ons can either be purchased, or are built-in the stroller, depending on the type.
Ease of Use
What good is it to have comfort features, when the stroller itself is tough to handle? Weight, dimensions, how easily it folds, if it self-stands, how much space it takes when stored, maneuverability are all decisive factors in what makes a good stroller for you.
Next time you are in the store, try out a few strollers and see how you handle each type. Place a melon in the baby's seat to simulate the weight that you have to push around. Or just ask anyone you see with a stroller. It won't be weird. They probably did the same before committing.
Cheap Baby Stroller FAQ
Are cheap strollers safe?
Yes. Look for strollers that are JPMA-certified. Most dependable big brands make JPMA-certified strollers. Some strollers have a better build than others (even if they are lightweight), but wobbly doesn't necessarily feel bad. Just make sure you don't use something too lightweight on a surface that is too bumpy and dirty. Brakes are also important, make sure you purchase a stroller with a convenient brake system for your foot and footwear choice. Most strollers on our list all come with 5-point harness systems to keep the baby in place. And if you're opting for a lightweight umbrella stroller, go for one that also has a peek-a-boo window, so you can watch the baby through it at all times while you are pushing the stroller.
Are strollers easy to clean?
Yes. If you're on vacation and you encounter a dirt path, or if on your way home, your baby spills his bottle, strollers are bound to get dirty in time. All you have to do is clean the fabric and the frame.
Fabric can be removed from the stroller using a screwdriver to remove the bolts that hold it down. Use a brush or a vacuum to remove the debris. If the seat and canopy are detachable, they are suitable for washing machines. Use a gentle cycle and avoid the dryer. If the seat and canopy aren't removable, you can use soap, water, and even a hose to clean them. After you're done with all of that, dry out the fabric in the sun.
The frame has to be disassembled before it is cleaned with brushes and all-purpose cleaners. Use a WD-40 to spray the brakes if you feel they're getting sticky. After you're done, spray the stroller with disinfectant and always store it somewhere at room temperature, so that it will last you as long as possible.
Happy Trails!
Now that you know some great options for strollers that won't break the bank, we hope you feel more equipped for your next adventure with your baby. By shopping around and comparing your options, you'll ensure the best mix of features and affordability.