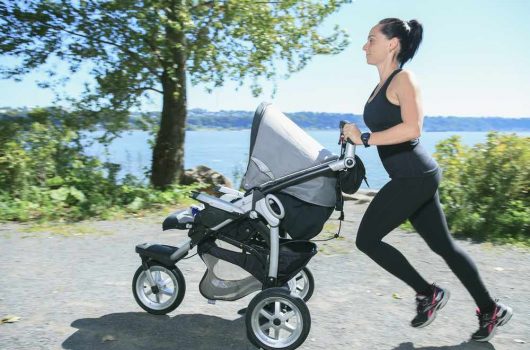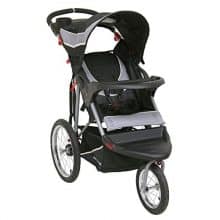 Baby Trend Expedition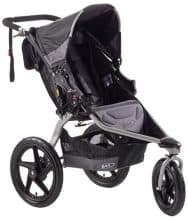 BOB Revolution SE Single Jogging Stroller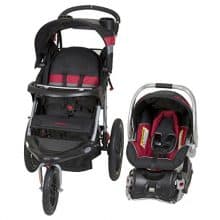 Baby Trend Range Jogger Travel System
Previous
Next
Jogging is one of those things that will get you back in shape after having a baby. If you are not up to committing to a gym membership or buying an indoor bike that you'll probably never use, a jogging stroller is practical, and you will most likely use it as you take baby walks.
These best jogging strollers are designed to give you a smooth ride at high speeds even on uneven terrain. They will come in handy to offer your baby a comfortable ride even around corners while keeping them safe.
Features to Consider in Good Jogging Strollers
Large Pneumatic Rubber Wheels
A jogging stroller has three wheels. The two rear wheels are around16 inches wide while the front wheel is around 12 inches. The purpose of the large diameter is to facilitate bumps when riding on rough roads so that your baby will always be comfortable. You will find that they have an off-road appearance which makes long runs effortless.
You will need to make sure that the wheels sit evenly on the ground when you place the baby inside.
Lockable Front Wheel
Whether you are using a stroller with one or two front wheels, you will want it to have a locking capability for rough terrain. This prevents the wheels from swiveling sideways which can be uncomfortable and unsafe for the baby. If you are not on strictly smooth terrain front wheels that swivel, make it easy to maneuver through doors and shops.
Suspension System
This feature takes care of the pressure from the bumps and effects of running. Jogging strollers will mostly have a rear suspension system.
Safety Harness
The safest is the five-point harness which holds the baby in a comfortable yet secure position. It prevents the baby from slipping so that you can safely enjoy an active lifestyle. One thing though; it is essential that your baby be six months or older before you start jogging with them. This is to ensure that they have gained enough neck strength and they can sit up in the stroller seat.
Brakes
This is the third most important feature in a jogging stroller or any other stroller for that matter. They are essential in that they keep the stroller from rolling away when you stop to catch your breath or sip a drink. Strollers that have the brakes near the handlebars are convenient as they allow you to slow down when running downhill. Brakes can lock the wheels using one or two actions. You will want to find the most comfortable locking system.
Deep Reclining Seat
A comfortable position for the baby is when they are sitting upright like a pilot. If you are jogging with an infant, you will want the stroller to have a reclining seat so you can achieve the most comfortable position for the baby. Ensure that the leg holes can close so that the baby will not slip through.
Adjustable Handlebar
This allows you and your spouse to use the same jogging stroller by just adjusting the height of the handlebars. If you are taller than your spouse, you will want the handlebars to reach a comfortable height without reaching too high or too low when holding or pushing your jogger.
Canopy
This is a must-have feature as it protects your baby from inclement weather and the scorching sun. You'll want an adjustable canopy so that you can turn it all the way back when riding with a toddler or you can pull it all the way down for an infant.
Top 10 Best Jogging Strollers 2020
Guide to Buying the Best Jogging Stroller
Are you a pro-athlete or a mum who likes taking morning jogs? Don't stop after the baby comes. Here's your guide to buying the ideal jogging stroller.
Why do you need a jogging stroller?
If the only need for a stroller is taking a walk around the block or picking groceries, a jogging stroller is not a good buy. But if running and taking brisk walks is in your mind, then you need a good jogging stroller to fulfill that exact purpose.
A jogging stroller is designed for speed. It takes into consideration the safety and comfort of both the baby and the runner. These strollers come with three large, fixed wheels, suspension systems, tracking capability, reclining seats, canopies, and 5-point harnesses to secure the baby.
When can you use a jogging stroller?
Jogging strollers are versatile since they can double as a regular stroller for daily walks. They also allow attaching of an infant car seat so you can use the stroller from the time the baby is in their infancy. But you cannot use the stroller for jogging when the baby is less than six months. Some pediatricians advise using a jogging stroller when the baby is eight months old.
Benefits of Running with a Jogging Stroller
Improves Running Form
At first, pushing a stroller and running at the same time seems like an awkward and impossible adventure. But wait until you get it right. It helps you to get a good sense of your stride so that you don't over-stride thus you will always be in control. You will notice the difference when running without a stroller since it becomes more comfortable and you realize you can go faster.
Provides Bonding Time with the Baby
Running helps to introduce the baby to you and your passion. This includes a healthy and active lifestyle which will help your baby know the important values at a young age. You also get to interact with your baby as you run helping them to soak up the scenery and be relaxed in the outdoors.
Burns more Calories
Running with a stroller takes much more physical exertion. It will require that you push harder because you can't abandon the stroller and walk the rest of the way. This will blast more calories, and you can be closer to your goals sooner than you think.
Factors to Consider when buying a Jogging Stroller
Stability
You will need a stroller that maintains its form on the surface you will be using it. You don't want your baby to be bounced around while the stroller risks tilting over. That's why you need a model that distributes the weight correctly to aid in maneuvering. If you are on rugged terrain, the fixed wheel position should not show any signs of wobbling. This will keep the stroller in a straight line such that you won't be dealing with a stroller that keeps veering off the road.
Weight Limit
The weight capacity of a stroller is usually associated with the suspension system. If too much weight is applied, the suspension may give and render it useless. You should always check the manufacturer's recommendations as some of them are stringent such that little additional weight can offset the run-ability of the stroller.
Folding
You will need a folding stroller when traveling and for compact storage. Here, the stroller should fold in straightforward steps so you can take care of the baby and the stroller at the same time. Some strollers use one-step folding systems while others use two-step actions.
After the stroller folds, it should not pop back open when it is in the trunk. An auto-lock feature could be convenient for models that can unfold.
Comfort Essentials
You'll probably be out longer than 30 minutes at a time. A lot can happen in this short time from the baby needing a diaper change to you needing a sip of water. This is where storage comes in. you will want a stroller with a large storage basket or bin to accommodate all the baby essentials. The stroller should also come with convenient spaces for water bottles and the baby's bottle. All the stuff you store including your phone should be easily reachable.
We found the BOB Revolution models to offer many storage options. Here's how to assemble a BOB Revolution stroller.
Quality of the Stroller
How durable is the stroller you are investing your money? It is important to look for a high-quality model with construction from either steel or an aluminum frame. Also, the wheels and tires should be of good quality including being rubberized and air-filled. Watch out for strollers with many plastic parts as they are going to come apart upon impact.
The quality of the fabric is also another important thing since it is the place where you are going to change the diaper or even feed the baby when you are out and about. You'll need a stroller with a removable seat pad for washing or one that can easily be wiped.
Final Words
A good jogging stroller provides you with a relaxed ride for you and the baby. Our top picks are the best in their categories for good reasons. These models go far and beyond to achieve stability, safety, and comfort for the baby and you. You will find affordable strollers with minimal features while others are high-end, but they come with additional functional features.
Let these jogging strollers be your best companion for outdoor workouts.