Ride-on toys have been greatly appreciated by parents and children for over decades. They develop a child's sense of independence and confidence in their daily lives. This helps parents to ensure their toddlers are occupied even without them paying much attention. These toys are great for both outdoor and indoor use since they allow the child to ride virtually anywhere.
There are various Ride-on toys for different ages with different sizes, shapes, and nature. Below are some of the toys compiled after research on their use – some from renowned brands and so from new entrants in the market providing an unmatchable quality. Each set of the best ride-on toys for toddlers has been reviewed to ensure you get an honest opinion on each toy.
Top 30 The Best Ride-On Toys for Toddlers 2020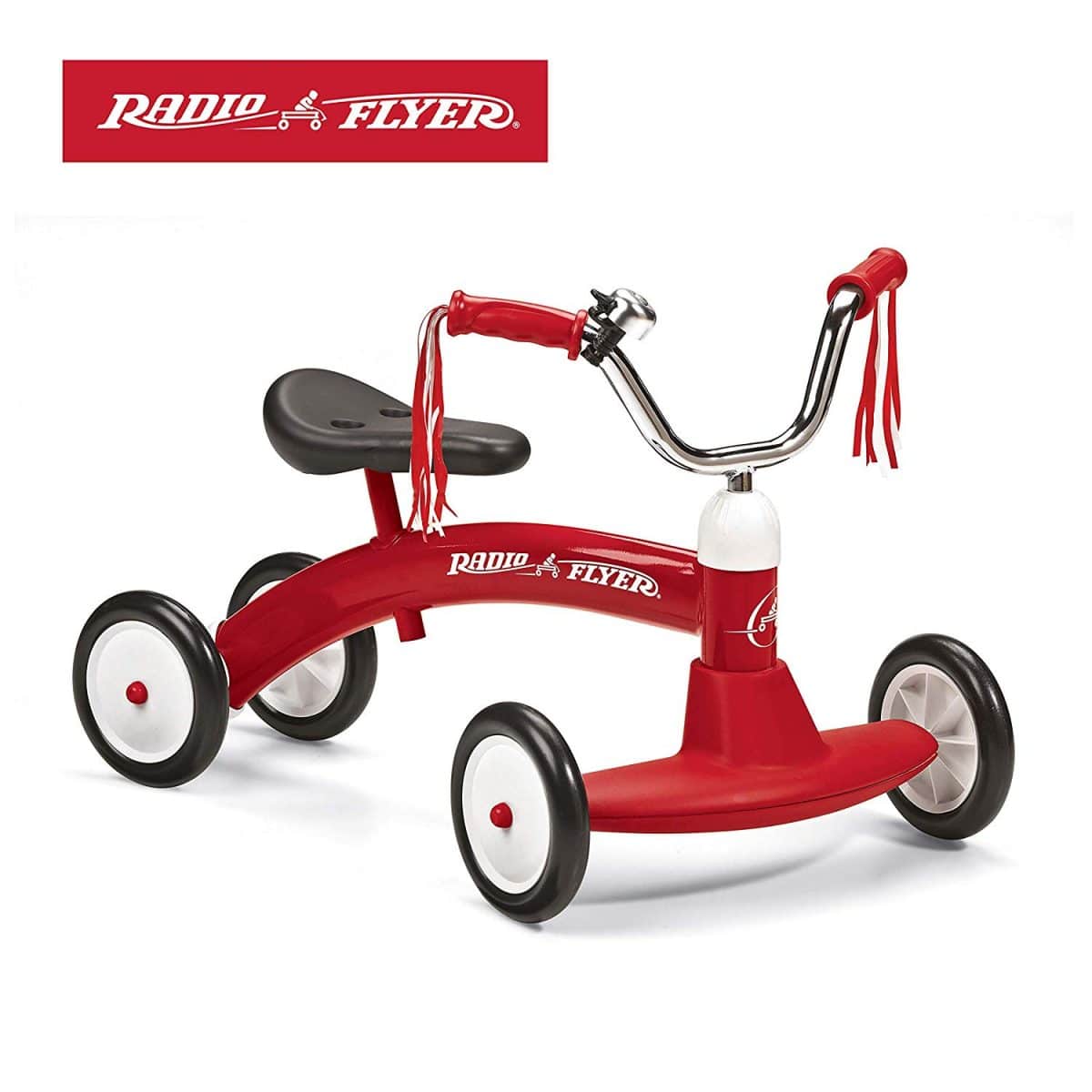 The ride-on focuses on simple, red design with a sturdy steel frame. The attractive, chrome bars help give the product a vintage feel. The product is easily assembled and has widely set-apart wheels that help encourage stability. It features a front bumper that will keep your inside home safe from damage. The wheels are designed to allow your child to easily glide on almost every surface with an added ringing bell. It has an adjustable seat, with three adjustable heights, that grows with your child. The toy can withstand weights of up to 42lbs, making it ideal for children aged 1-3years and it weighs 8 and a half pounds. It helps your child discover new environments and be adventurous. The product has been stripped down to its essentials: it's made for riding.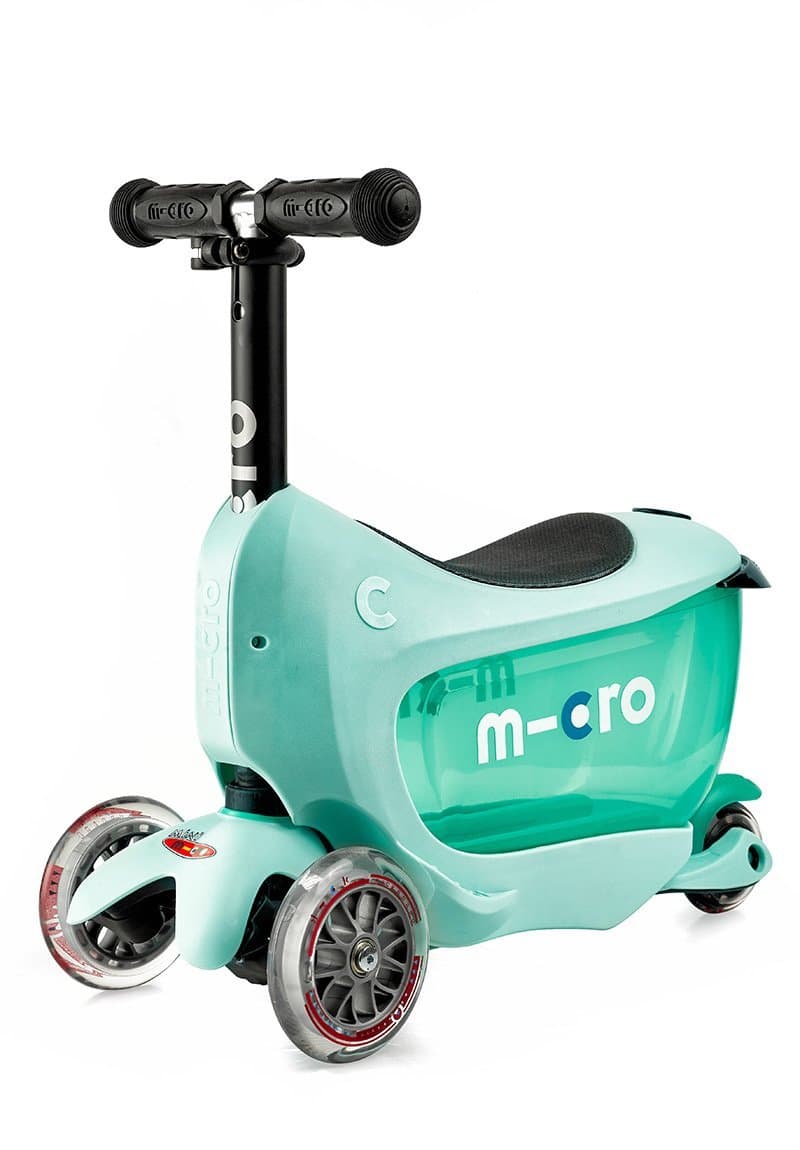 The Micro Mini has a bulkier and sturdier design. It comes in 4 various colors blue, mint, pink and red. It has a bigger design allowing your child to mount on it with confidence and ensuring balance all in one. The toy has two front wheels and a back wheel that allows your child to maneuver the Micro Mini with ease. Slips and falling down are prevented by the anti-slip grip tape seat keeping your child in place always. The unique deck with the raise silicone grip allows your child to steer around their chosen area. One of the best features of the toy is the removable top that transforms the ride-on into a stand-up scooter. Moreover, it has an incorporated toy drawer that slides in and out, allowing your child to hide their favorite toys within the ride-on. They weigh 9 and a half pounds and has a removable handle for traveling purposes. Micro has modern innovative designs that combine fun with quality and safety. It's important for parents to keep their kids safe when shooting, and Micro Mini is the ideal toy to help you with that.
The whole product is designed to be shaped like a giraffe with the wheels being the legs and the front being the head. The toy is safe for your child since it's made of plastic, ensuring your child doesn't get hurt if they fall over. The light but sturdy frame allows for easy mobility ensuring movement of the toy to any place. Any child would be glad to ride the happy-faced Rollin' Giraffe with an adjustable seat. The back wheel is significantly bigger than the two front wheels, thus increasing stability. Furthermore, the widely set apart front wheels also increase stability making the ride-on perfect for indoor and outdoor activities. The ride-on is ideal for kids between the ages of 12 months to 3 years. The perfect travel companion since it can take up to 50lbs and weighs 2 pounds. The toy helps combine playing with learning, allowing your child to gain increased strength and balance when moving. The ride-on is an easy to assemble ride that will be enjoyed by many kids around the world.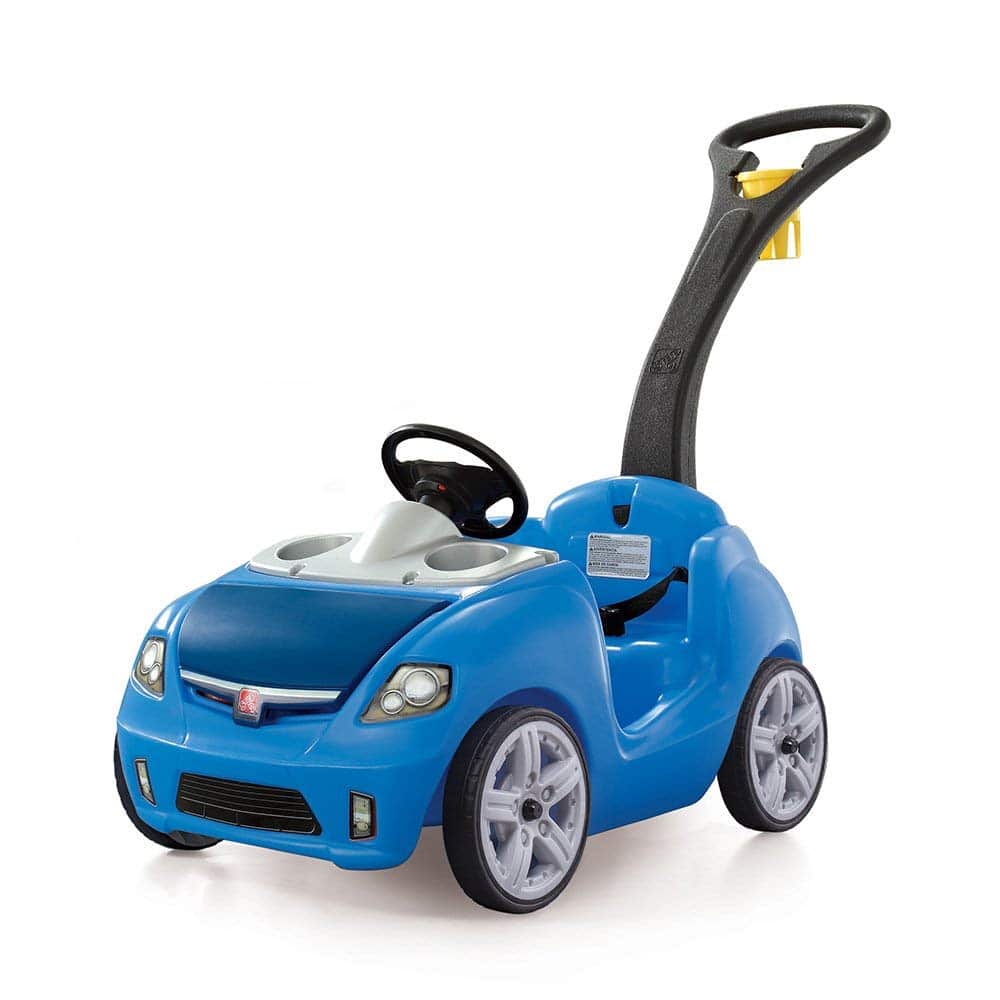 It has an original design taking the shape of a small car that is available in both pink and blue. A safe ride-on for outdoor rides thanks to the handle included that helps push and navigate the child. It gives the parents an ultimate control of the vehicle, making it a great stroller alternative. You can take your toddler with you to the park or the store with the whisper ride. The ride has a tuck-in, tuck-out handle that is very convenient for traveling purposes. It's a great toy to carry when visiting relatives since your child is familiar with it. The toy is highly versatile as children aged 12 months to 4 years can use it and grow with it. The toy weighs 17 pounds, making it able to withstand your child's weight. Thanks to all the features included within the design, a child can be easily directed by their parent in their younger years. As they develop confidence, the child can take a chance at riding toys for toddlers on their own. This is a great way to help your child gain individuality over the years.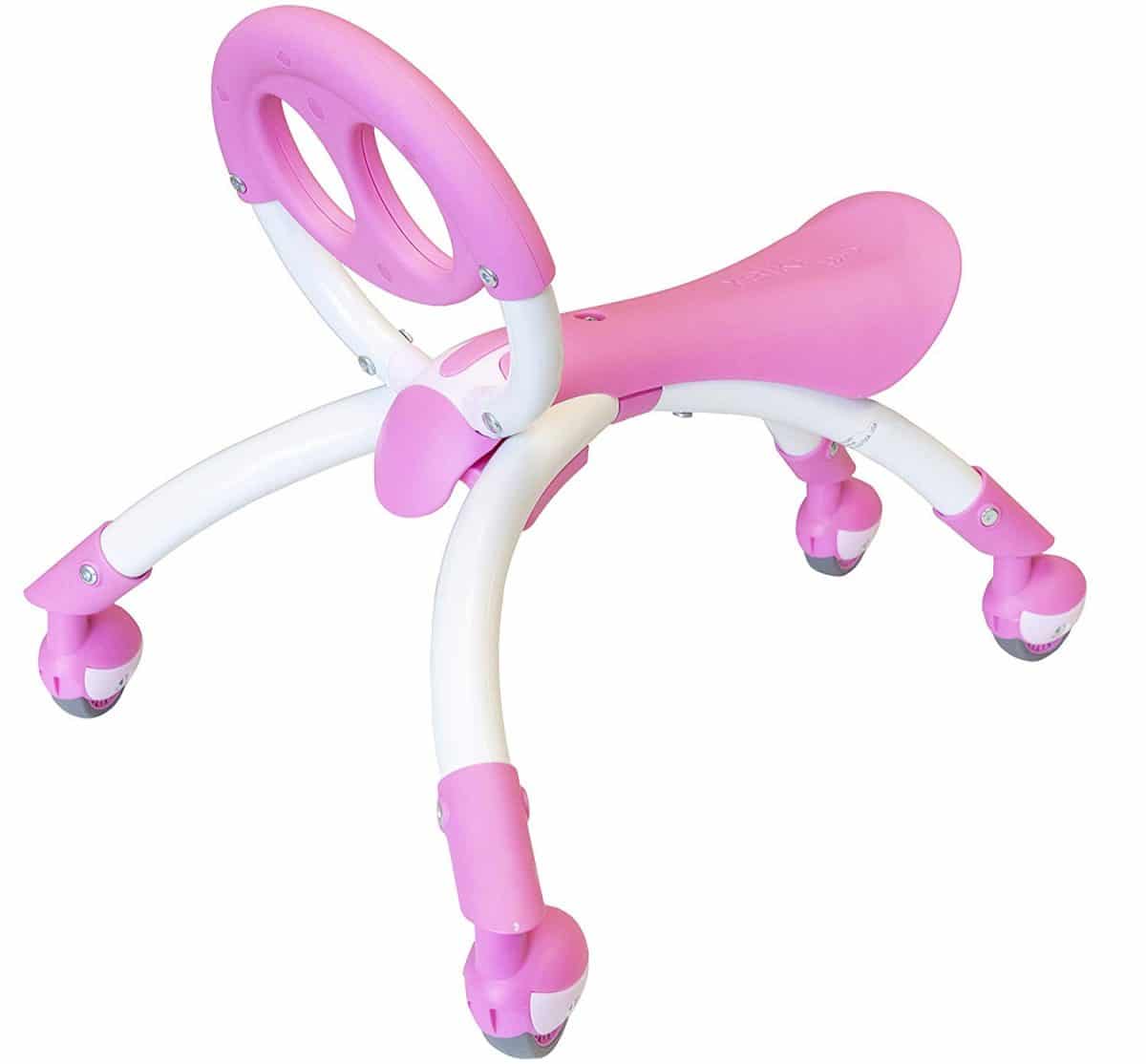 The toy has a child-friendly design that makes kids hop onto it without hesitation. The simple spider-like frame doesn't take up much space and the product comes in three colors: blue, pink and red. For the safety of your child, the front-grip support helps the child to have stability, and the wide and long seat helps them sit comfortably. Thanks to the 360-degree turning function, wherever your child turns, the ride-on will follow them. It has a durable aluminum frame that is sturdy and won't break easily. Ultimate comfort for your child is provided by the finely molded plastic seat. As your child grows, the Ybike support will turn into a ride-on to help your child develop vital skills essential to walking. The T bike Is ideal for kids between 12 and 36 months of age. It develops right along with your child, transforming from a walking accessory to a ride-on. The bike weighs 5 pounds, making it withstand your toddler's weight. With the Ybike, your child develops vital skills that come with walking such as balance, coordination, postural control, and spatial awareness.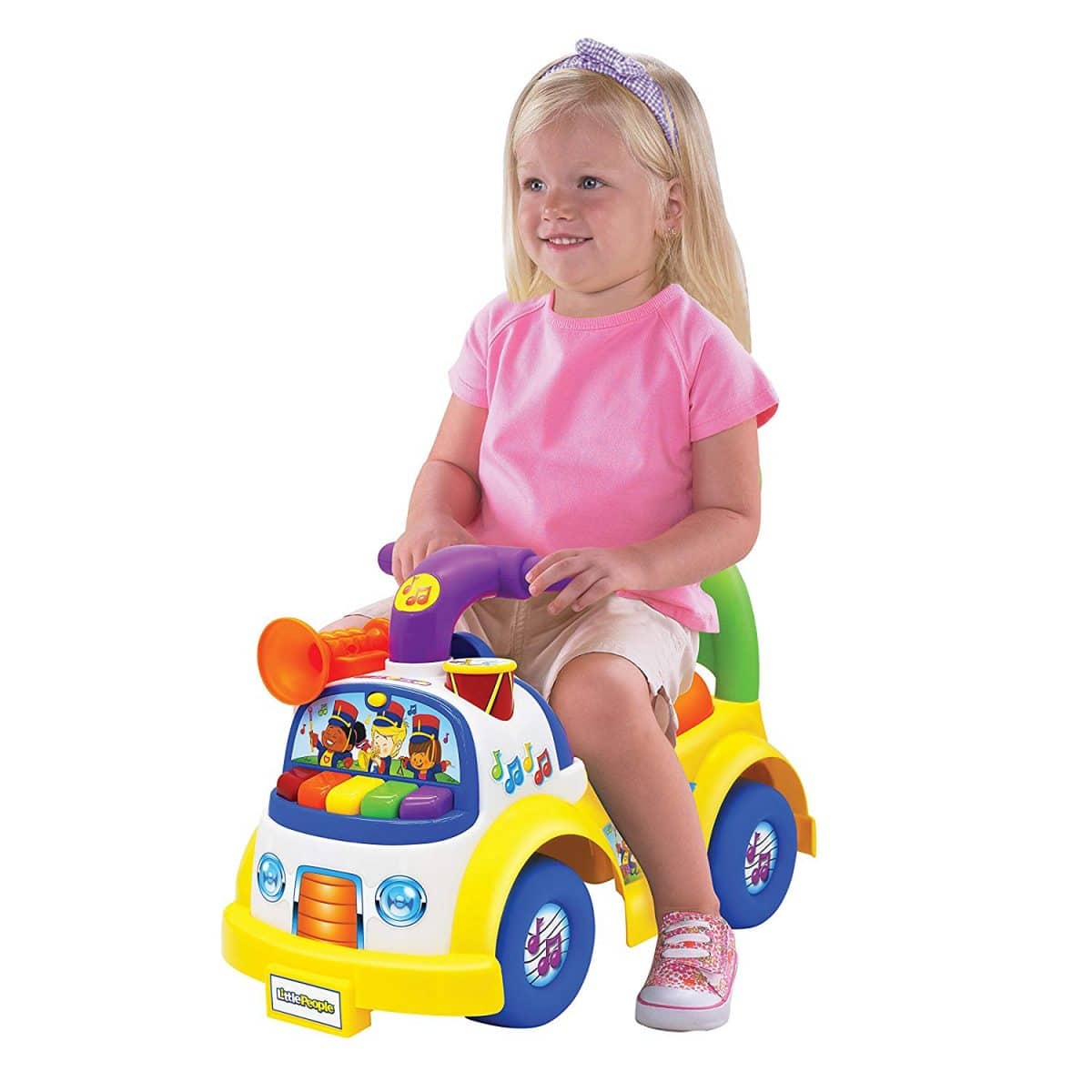 The toy attracts the attention o even the youngest children because of its friendly, colorful design. It has a great look and has plenty of visible, engaging features that the child will quickly try to explore. For the safety of your child, the wheels don't lift up too high off the ground, and there are two wheels on each side of the toy. This helps the child to remain sturdily on the floor hence encouraging good balance. The best features of the toy include all the music buttons the child can press. The trumpet, five buttons on the front of the car and three on the inside are among the instruments to be pressed. All these are surrounded by a pressable drum, levers and other buttons. The Musical Parade is ideal for fo0r kids between 12 months and 3 years of age. The ride-on weighs about 5 pounds, making it withstand your toddler's weight. The ride-on has plenty of places where your child can hide toys. The car is designed to be stimulating both creativity and learning wisely. All the sounds included in the ride-on are friendly and should encourage the child to mount the car and ride.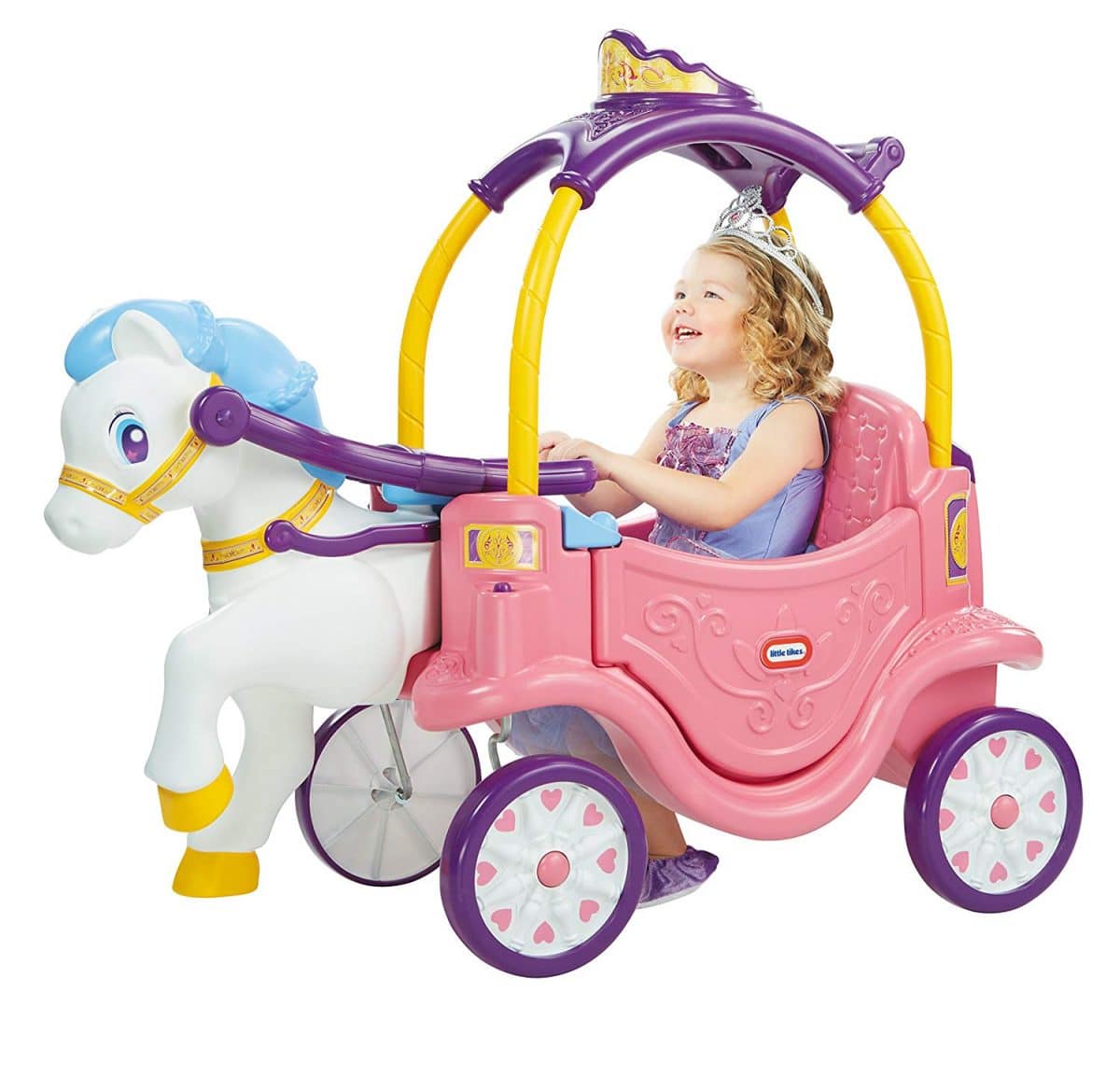 The toy is designed to have a pink carriage with a white horse attached at the front, making it a great feature to include. The carriage itself is covered in pink and purple paint, which is ideal for any princess-loving little one. The carriage is fully safe and provides lots of space to maneuver around. All the four wheels are placed sturdily on the floor, and the horse doesn't overpower the weight at the front. The ride-on has a crown at the top of the carriage where belongings such as toys and phones can be placed. Furthermore, the bank trunk of the carriage has space where your child can put in toys and belongings. This is a toy suitable for kids aged 18 months and 5 years and it lasts a long time with them as well. The carriage weighs 11 pounds ideal for your toddler. When purchasing the product, an hour or two of assembling will be required. Features such as the handle, the horse and the carriage but this should not stop one from purchasing it.
The toy has a soothing, red color and is shaped like a kick scooter. The front of the kick scooter light also has a friendly, painted face. The Fisher ride-on is very safe for your child with the four wheels that are steadily fixed on the ground and supports the full weight of your toddler. The toy enables a child who can't walk to feel mobile, even with its current limitations. The ride-on has various learning buttons, including ABC's colors, numbers, shapes and many phrases in general. Thanks to the different stages of play, this ride-on will encourage development through all of the child's toddler year. This, in turn, encourages and rewards your child with positive phrases to carry on. The toy is ideal for kids between the ages of 12-months to 3 years. The ride-on weighs 5 pounds. No matter the stage that your child is at, there are three learning stages, each one fitting a certain age range.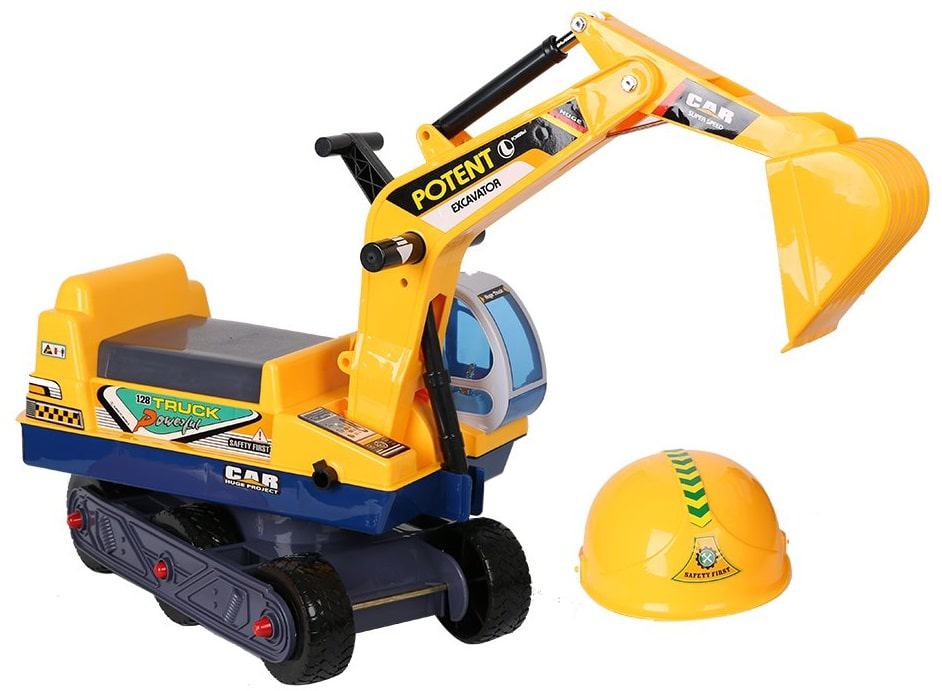 The ride-on is designed like an excavator; it not only has conjoined wheels but a digger crane too. It's an exciting design that will attract the attention of even the fussiest of kids. The toy is very safe for toddlers, thanks to the sturdy sit and well-balanced construction. The seat is easily accessible and six connected wheels allow for a very sturdy and safe round. No matter the place you are at, your child gets to enjoy this toy with an all rounded safety. This ride-on will help develop your child's balance and problem-solving skills as well as their practical ability. Thanks to digger crane, your little one will also be able to fully endorse themselves in the play. It's a feature many other ride-on construction-site toys rarely provide. This ride-on is ideal for kids above the age of 3 since it takes some already developed coordination skills to move the crate digger. The excavator can take up to 66lbs of weight as the product itself weighs 9 pounds. The toy not only looks attractive and inviting, but it sparks the child's curiosity from the get-go. The ride-on is fantastic for sunny days, especially around places where the child can use the dig function to its fullest potential.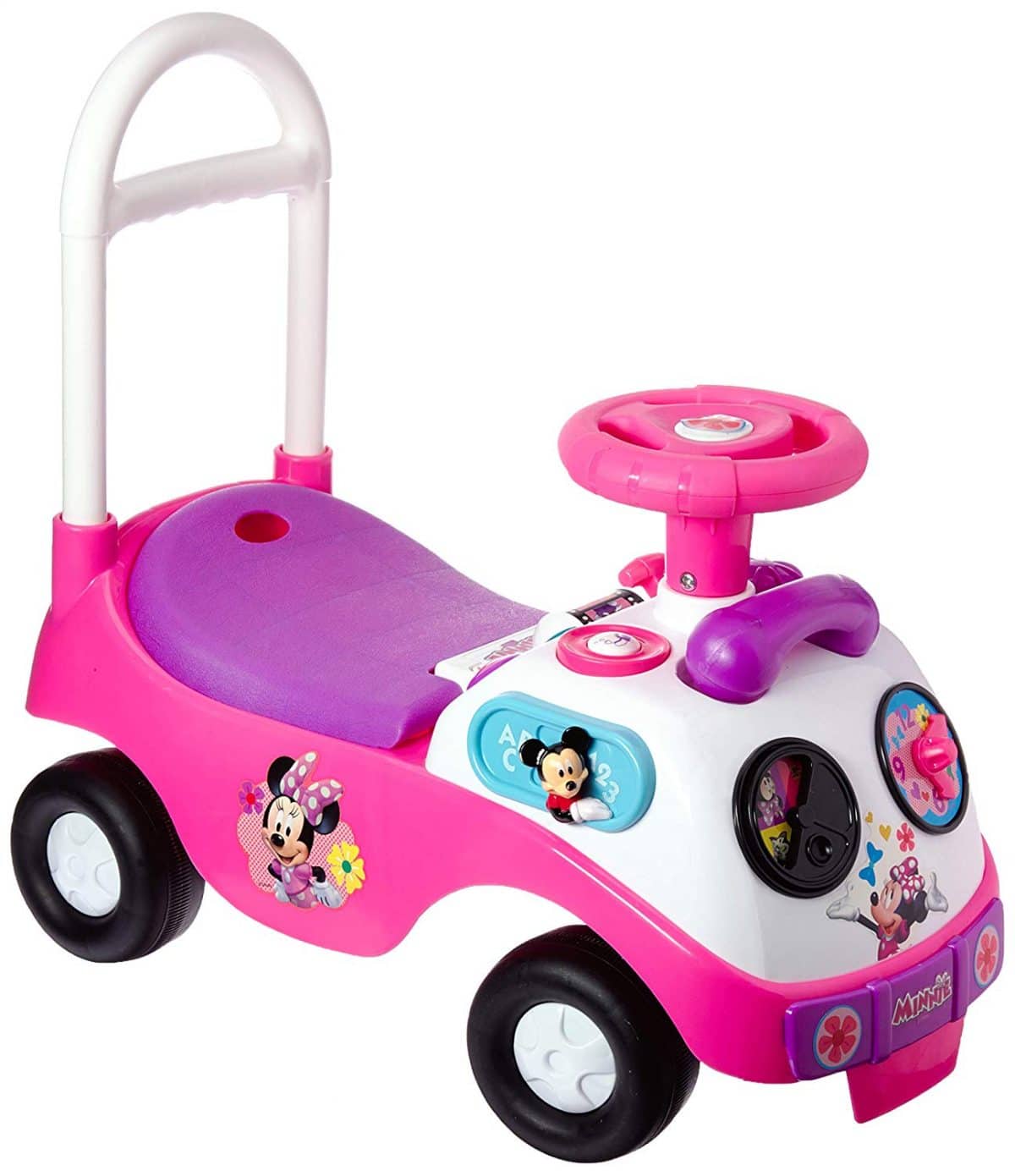 The toy is based on a Minnie mouse theme. It's covered in mostly pink, purple and white colors and has plenty of Minnie stickers all around. The toy looks friendly and inviting to any curious kid out there. The ride-on has a very safe base and being on 4 wheels, it's one of the sturdiest products.  As long as the child has a basic grasp of how to sit up straight and balance enough to hold a posture, this toy should be a great experience all-around. The Minnie-Mouse ride-on is filled with both fun and educational features. It has glowing lights, makes various sounds, pictures, a beeping horn, engine sounds, turning steering wheel gear shift, ignition key and a moving clock face. With all of these features, one this is sure, your toddler won't get bored very quickly. Kiddieland's Minnie-Mouse toy is ideal for kids aged between 12months and 36 months. The excavator can take up to 66lbs of weight while the product itself weighs 9 pounds.  If your child likes Minnie the mouse and has been engulfed in watching the Disney Channel shows, they will be perfect gift ideas. It's a great source of fun thanks to all of the buttons and the easy slide and glide wheels. If you have been struggling to get your child to walk, then this ride-on will do the work for you.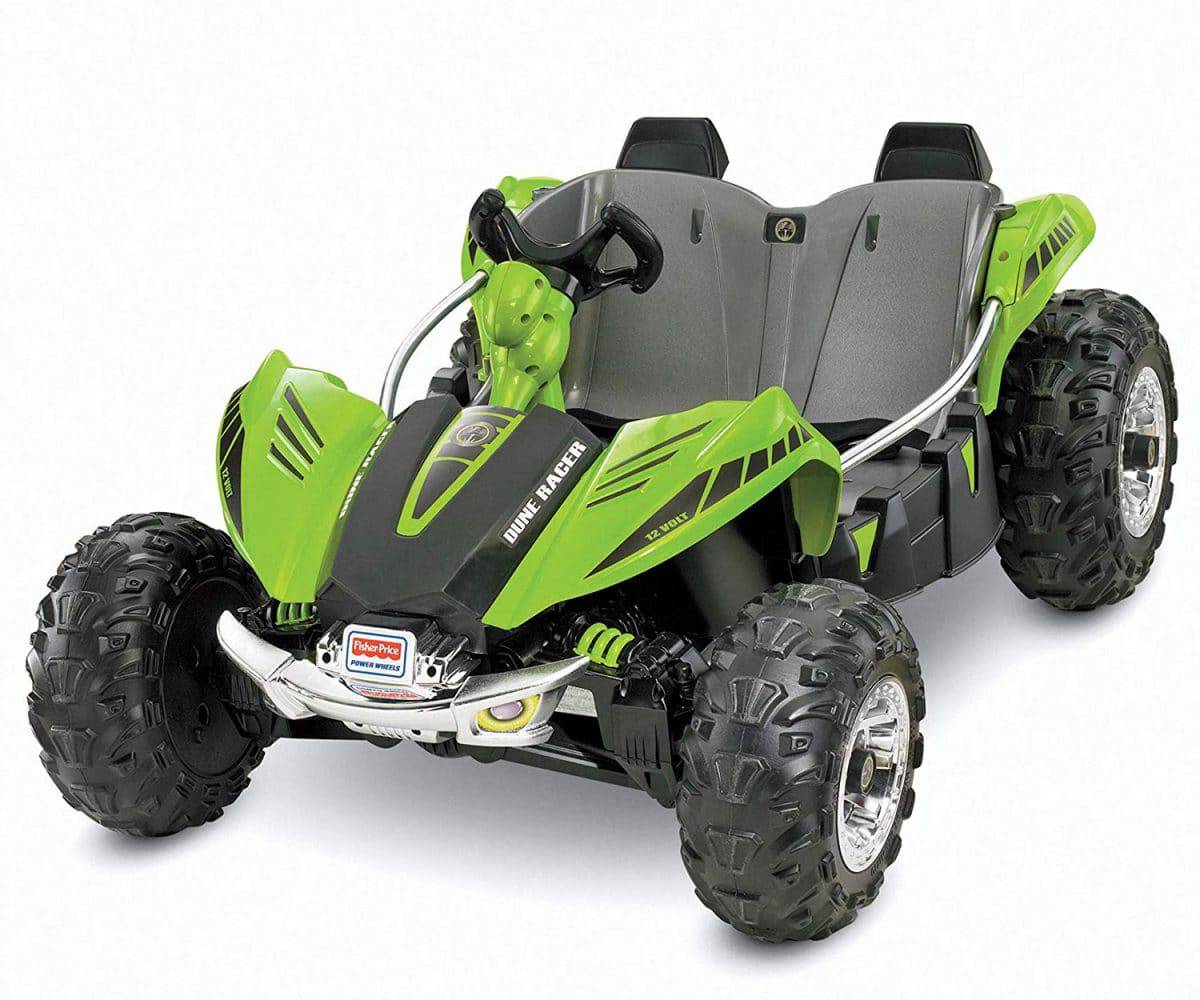 It features a speed of up to 5 mph forward and 2.5 mph in reverse. It has a 12-volt battery and an easy to initiate brake. It features metal bars on the side to offer arm support your child. You will also like the spacious cockpit. Your child will be comfortable throughout thanks to the included metals on the side that offer hand support. Your child will love the roomy cockpit that gives them enough space while onboard and also allows them to hop in with a friend. It features sturdy steel construction to offer maximum safety to your child. The frame supports a weight of up to 130 lbs. It sits close to the ground and you can be sure your child will not topple over at any time. The interior of the car has smooth curves and curved edges so you won't have to worry about your child getting cuts and scratches while in the car. It features an electronic pedal brake that is easy to initiate in case of emergencies. The Velcro seat belts enhance safety at all times. It comes with a 12-volt battery and a charger for your convenience. It can comfortably support children between 3 to 7 years of age so you can be sure it will grow with your child. It features a storage compartment under its hood to allow your child to hide their valuables and all they need while out playing.

It comes with an 18-feet track. Your child can operate the train either on its path or other surfaces. Its tires are wide for stability and also durable to guarantee years of use. It has a footrest for your child's comfort and offers speeds 1mph when on the track and 2 mph while on other surfaces. It comes with a 6-volt battery to keep your child going for hours. The included footrest keeps your child comfortable throughout their ride. It offers a maximum speed of 1 mph while on the track and 2 mph when riding on other surfaces so you can be sure your child is safe irrespective of where they are riding on. The wide tires guarantee stability whether on or off the track. It also features a yellow whistle that offers phrases and sounds once pressed to keep your child entertained. It's easy to set up to give you an easy time. The wheels are sturdy to ensure years of use.
The front wheels rotate in all directions to allow your child to turn wherever they want with ease. Its steering wheel features a horn that allows your kid to imitate a real truck. It comes with an opening tailgate and a gas tank that opens and closes. The truck has a drop-down tailgate and a flatbed at the back that allows your child to hide their toys and other valuables. Its wheels are rugged to enable your child to use the truck on all kinds of terrain with ease. The truck's driver's door opens and closes to allow your child to hop in and drive off. It comes with a floorboard that you can use when you want to push your child around. The board comes off to allow your child's feet to touch the ground so that they can propel the truck by themselves. Your child will love using the horns to get attention when on the road. Some additional features include the gas tank, incorporated cup holders and a handle that allows parents to push their kids.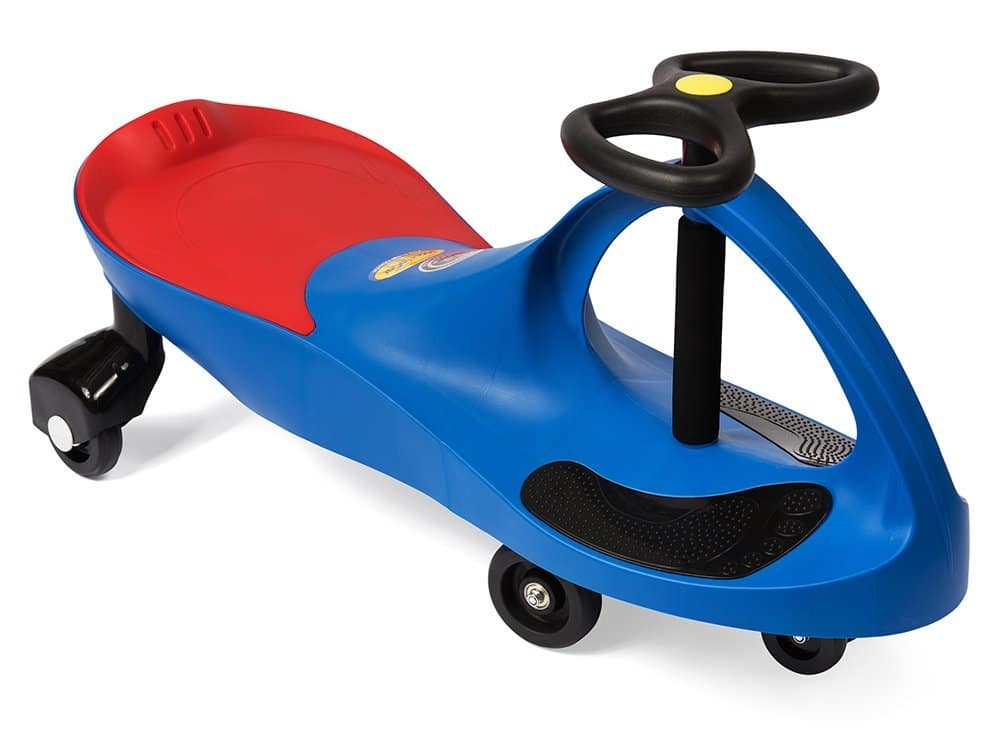 It can be used both indoors and outdoors and supports up to 220 lbs. It's easy to use and has a comfortable seat. It's easy to set up and offers multiple color selections. The Plasma Car ride-on toy does not require batteries and pedals to operate thanks to the sharp steering. It's fast on flat surfaces and your child can reach a speed of up to 6 mph. It's quiet to allow your child to use it indoors and it can also be operated outdoors when they want to explore. The deep, smooth seat keeps your child comfortable and secure throughout. The Polyurethane wheels offer stability and the bearings provide smooth turning. You will love that it's easy to assemble and your little one will be up on it in no time. It offers eight color options to allow your child to choose their most preferred toy.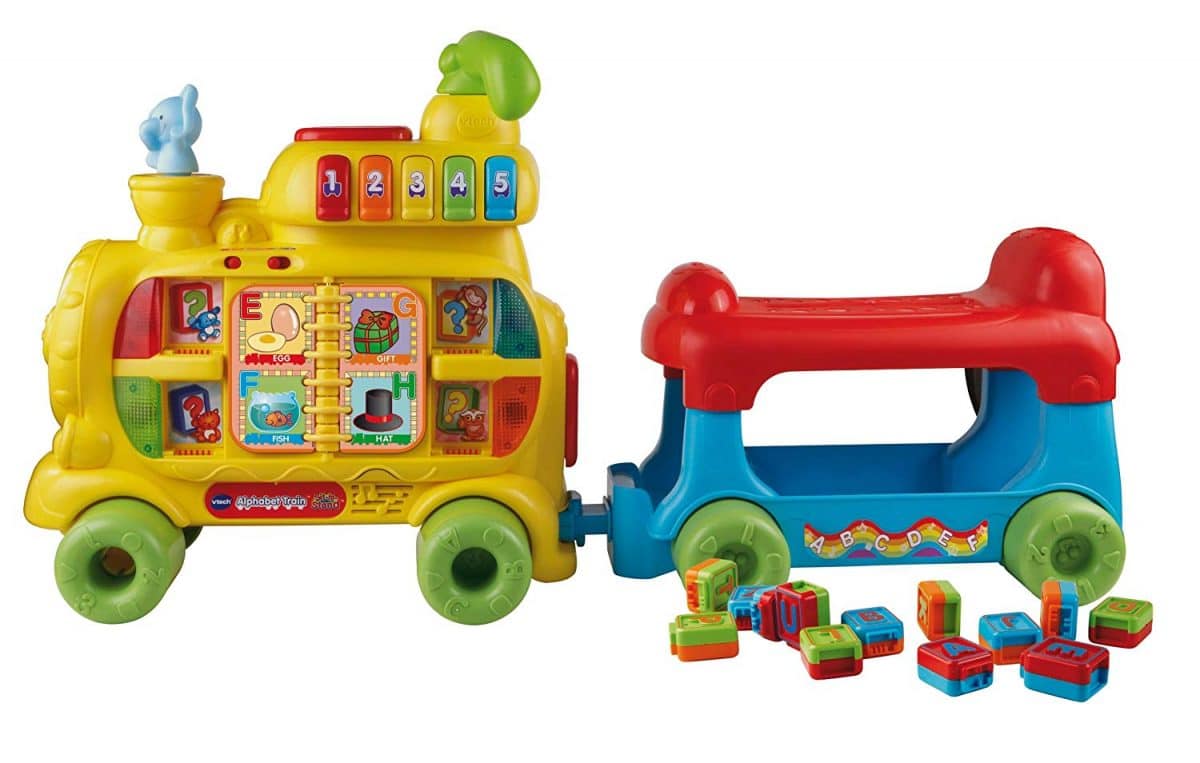 It's versatile, and you can carry it as a tote bag using the quick-grab handle, a messenger bag or a backpack. It comes with a changing pad and is machine washable therefore easy to clean.  The VTech Alphabet Train comes with 13 double-sided letter blocks and a six-page alphabet book to teach your child letters at a young age. It also features five piano keys that teach numbers and colors. It features motion sensors that trigger sounds once your child starts moving to keep them entertained throughout. Your child will also enjoy the drop-space at the top of the engine that directs the blocks from their train to the back carriage. The VTech Alphabet Train is sturdy so you won't have to worry about your child toppling over while on the train. Some additional features include a detachable elephant at the front which provides some noise when touched and a walkie-talkie with 3 AA batteries in the package.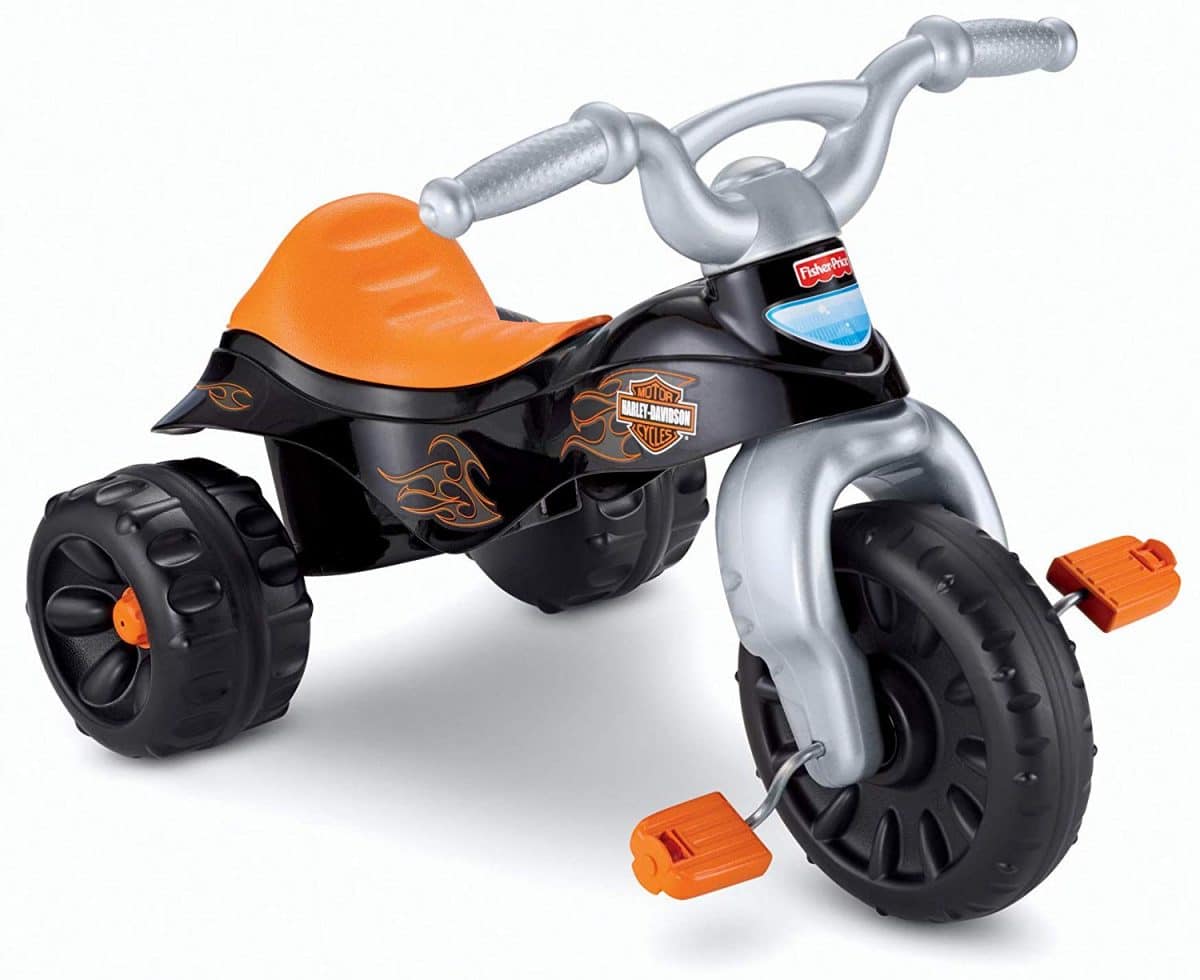 It has rugged tires to allow your child to take them wherever they want for increased adventure. The tires are also durable to ensure long years of use. Therefore, your child can ride them on any terrain at any time without worrying about damaging them. The trike comes with wide wheels to enhance the toy's stability for your child's safety. It has a storage compartment beneath the seat and the black and orange colors.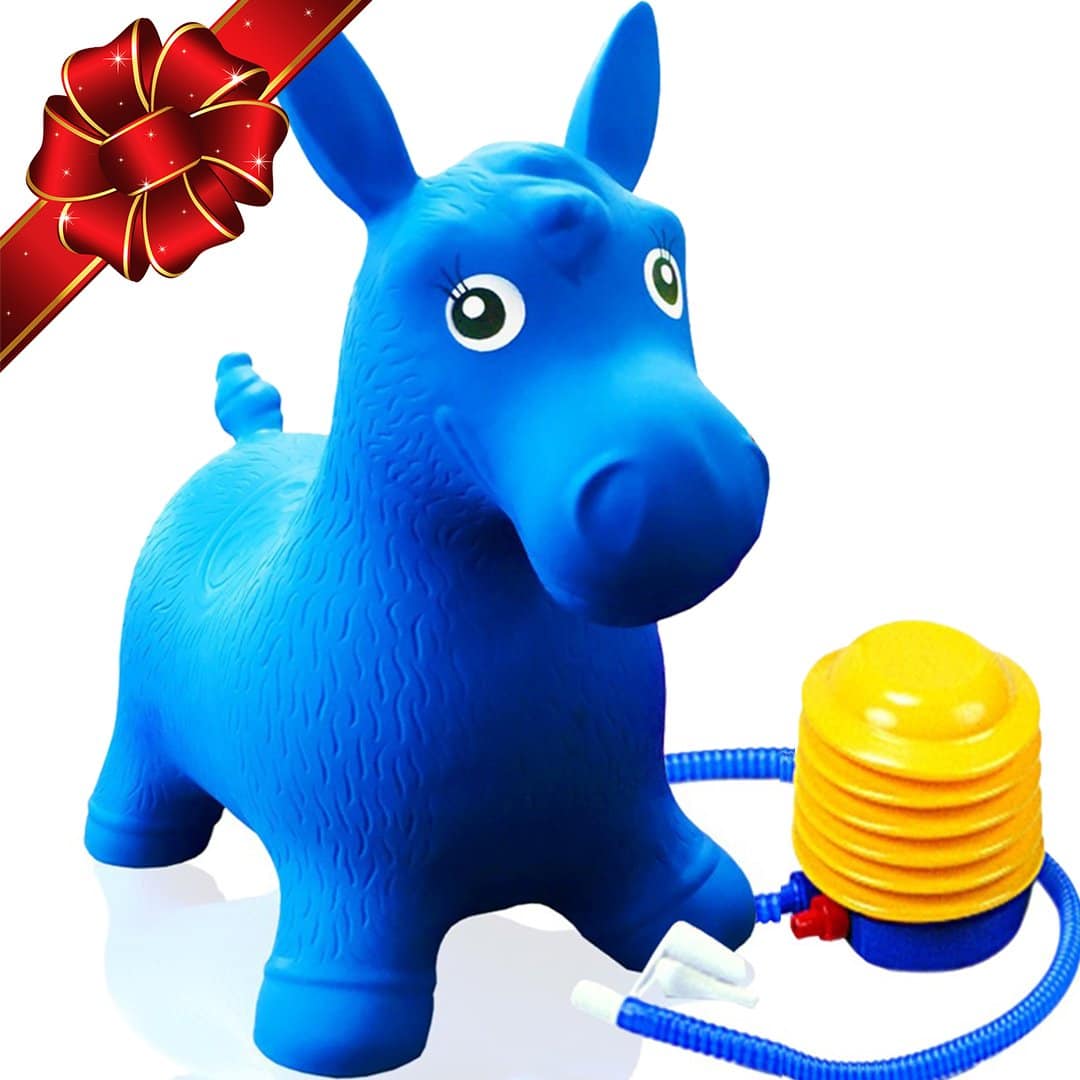 It's made of thick yet soft rubber thus strong enough to hold up to 100 lbs making it safe and still comfortable to sit on. It's an inflatable toy that is easy to pump and comes with its foot pump for convenience. It takes only 2 minutes to inflate and maintains its shape for days. The included foot pump inflates faster than a hand pump saving on time. The pony's ears offer an easy to grab handle to your child for increased balance and coordination. The toy also has an air pump that can be used on exercise balls and other inflatables. It also has a white plug-in that keeps the air in and out.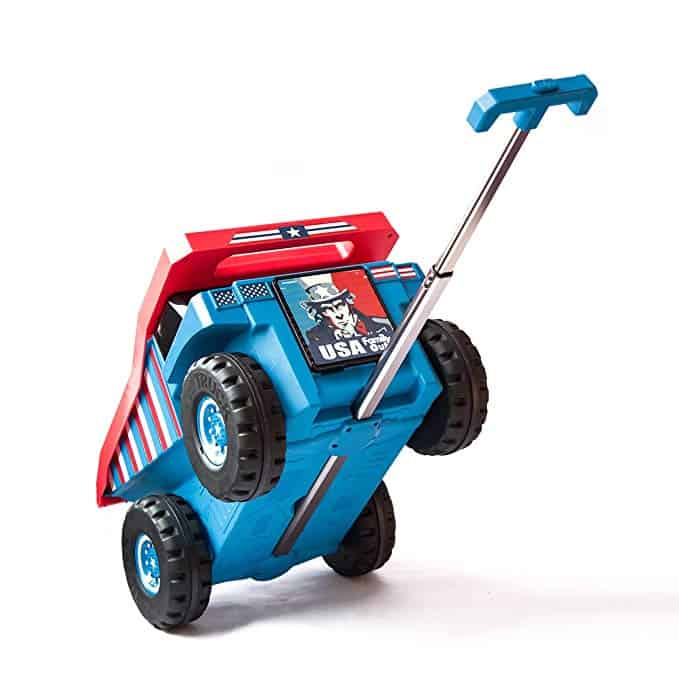 The toy is big enough to hold toys, clothes, tablets, and games, but small enough for little arms and legs to move it around. This kid's suitcase on wheels will make it easy enough to go on a trip with parents. Perfect for planes, trains, and automobiles and at home, encourages play and doubles as a toy. .It made from durable ABS material, you can Ride on it or pull, push it to move. A toy box that you can ride with a fusion of toy boxes and riding toys, Huge storage space with 18 liters, perfect for planes, trains, and automobiles and at home or outside traveling with your parents. Mining Truck shape, you can store your favorite toys to make as a toy box. The hand strap on the top of the main unit and detachable shoulder strap is convenient when carrying the reporter.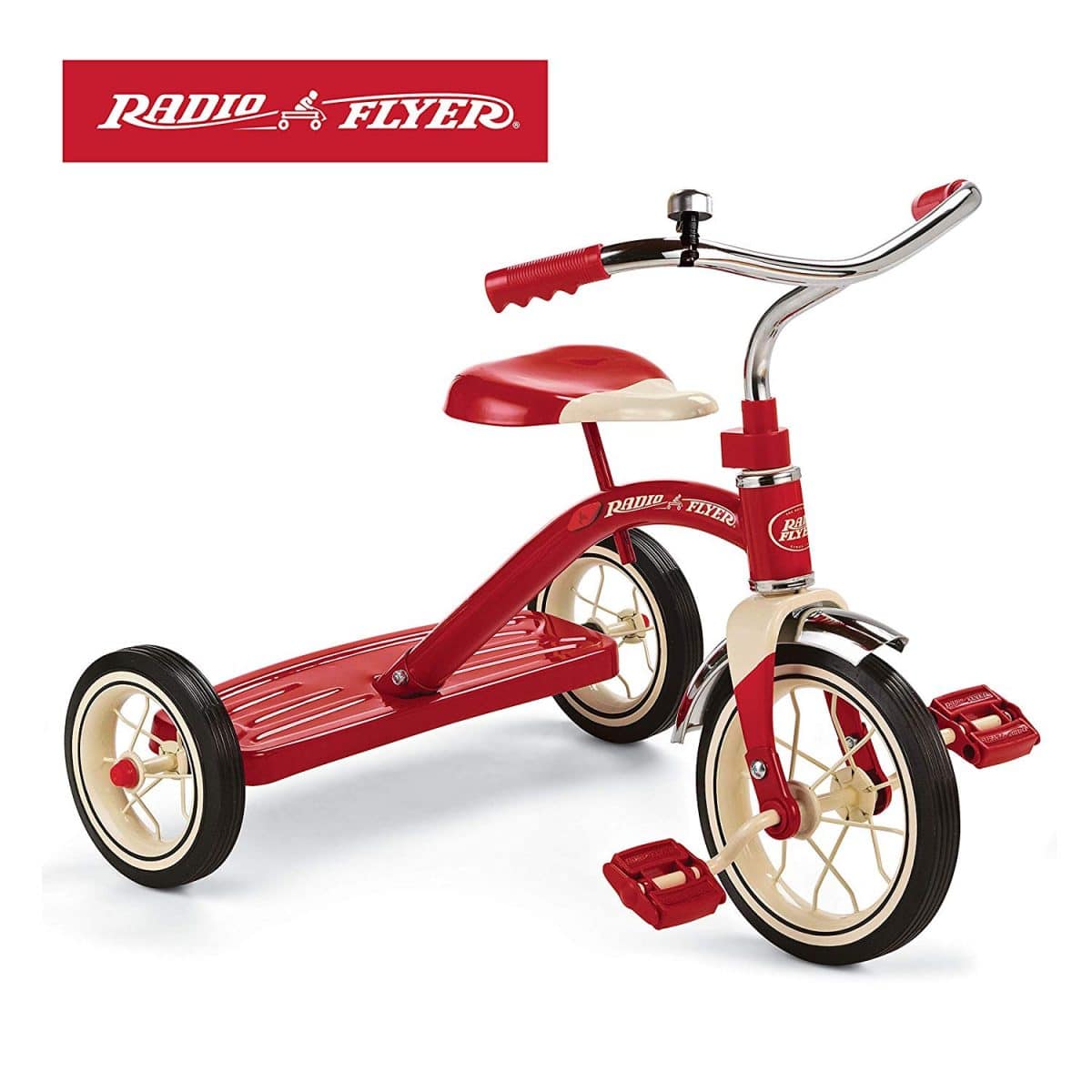 It's built for kids aged two to four, and the adjustable seat can be raised as your child gets older. The wide handlebars are easy for kids to grab, and they also make it more difficult for the tricycle to tip over. The back serves as a rear step, making it easier for your child to get on and off. The steel construction makes it extremely durable but should be covered on rainy days to avoid rust. With two color options, you'll likely find one your child will love.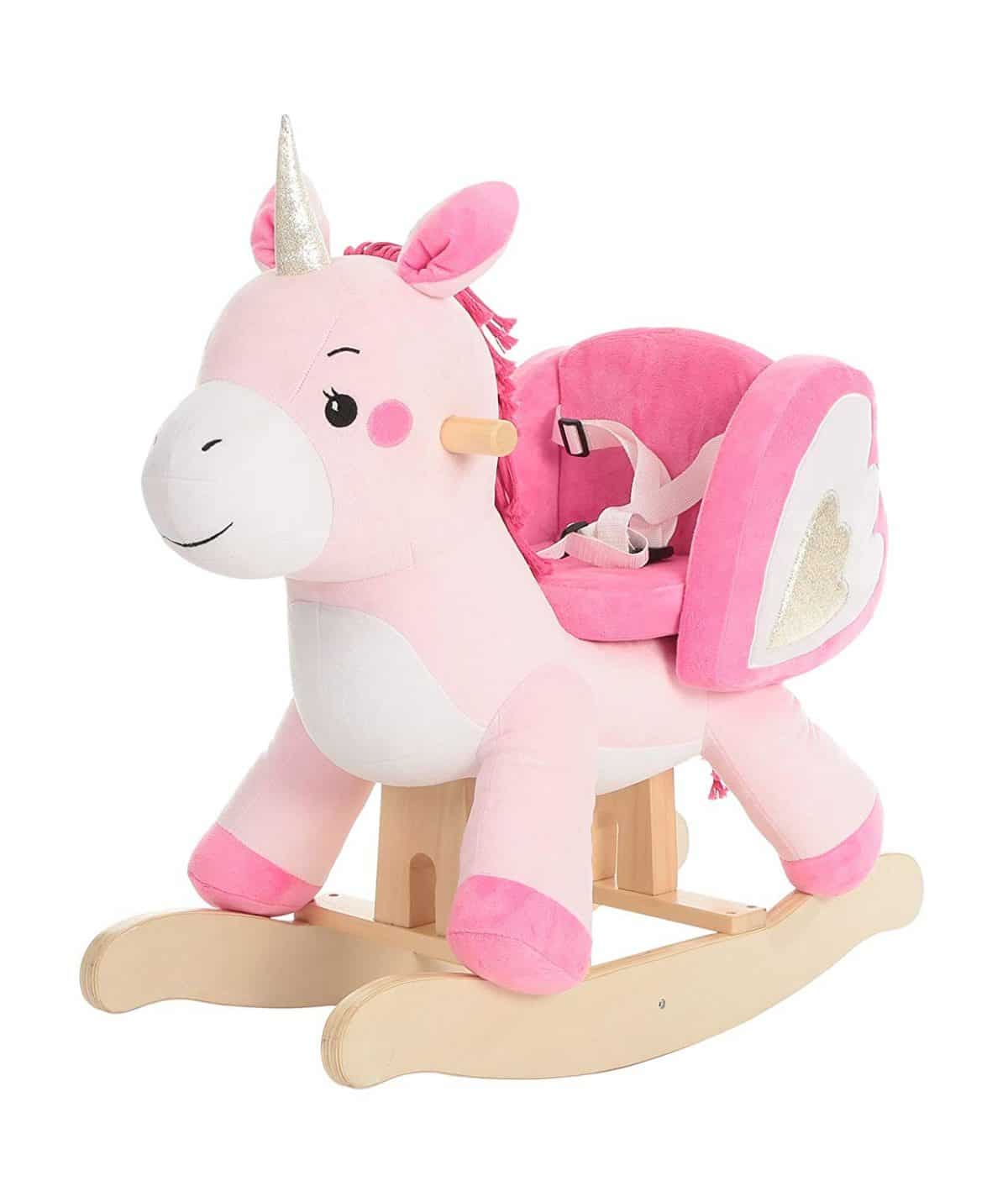 The seat is surrounded by three sides, making it more difficult for young children with less balance to fall off. It also has a safety belt for extra security. The seat is made of a plush fabric that's comfortable for your child, and it's also stain resistant. The structure is made of solid wood — great for both carpet and hardwood floors. At a little over 13 pounds, this ride-on toy is sturdy. However, it's also a bit heavy for your child to move around by themselves without help.
Designed for ages two to eight, the scooter adapts to your child's abilities by providing a removable seat for younger toddlers. They can sit, hold onto the handles, and push the scooter with their feet to move. As they get older, the seat adjusts to their height and can eventually be removed completely. This sturdy scooter should give your child several years of use.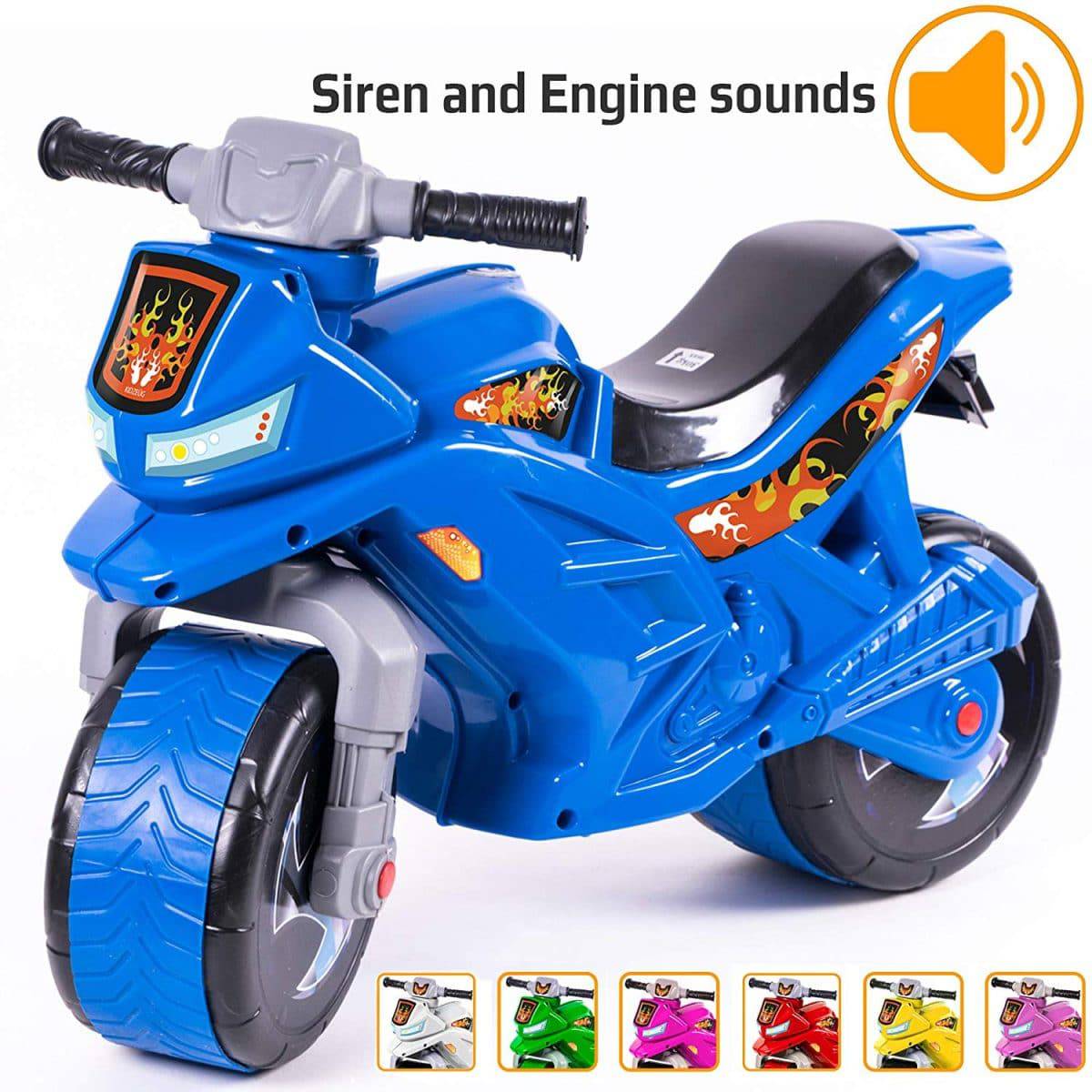 The extra-wide wheels ensure that your child is stable and secure at all times. To move forward, they push off the ground with their feet. Made of plastic, it's easy to clean and you don't have to worry if it's accidentally left out in the rain. Most of the color options include siren and engine noises your kids can employ. This bike is designed for ages two to five and can hold up to 66 pounds.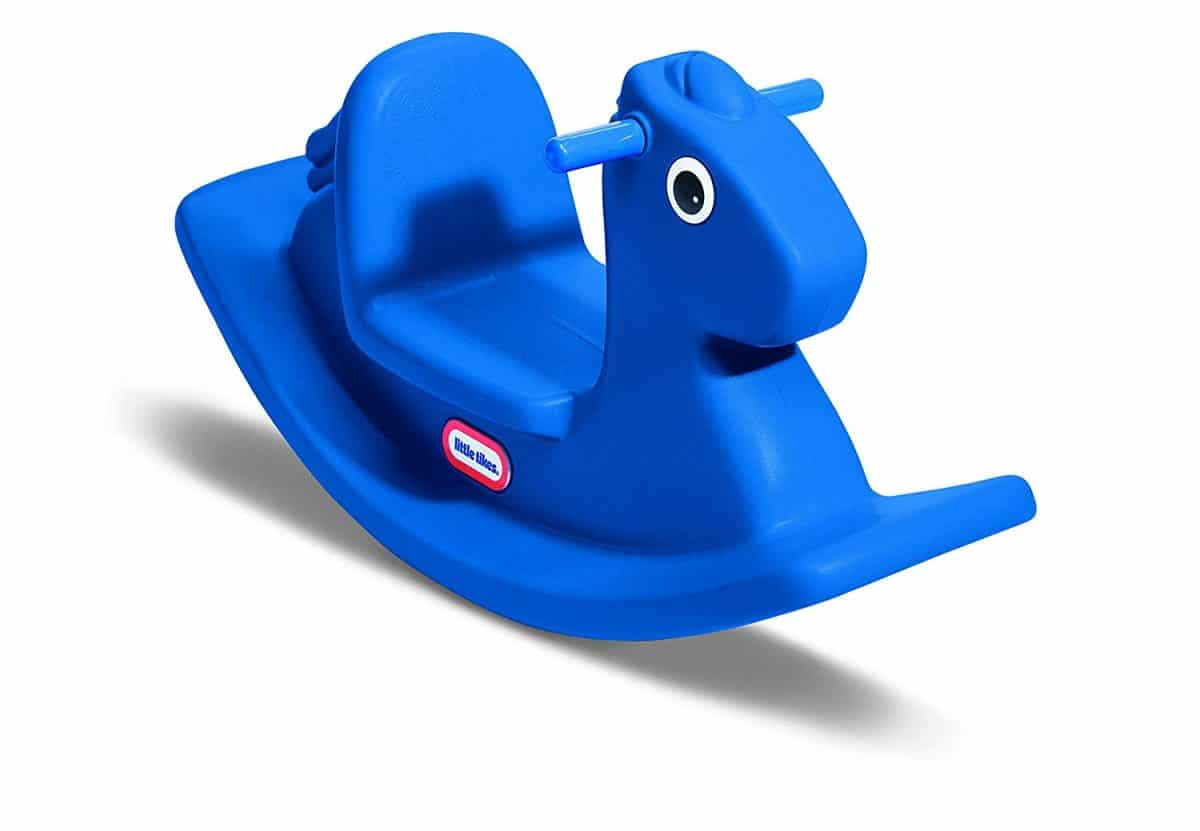 This rocker will last until age three, with a maximum weight load of 50 pounds. To ride the toy, all your child has to do is sit in the seat and rock back and forth. The design of the rocker reduces the risk of them tipping backward or forward. Your child can go as fast as they please. If you have carpet, they can even scoot around the house on it. This super little rocker is designed for kids from 12 months old.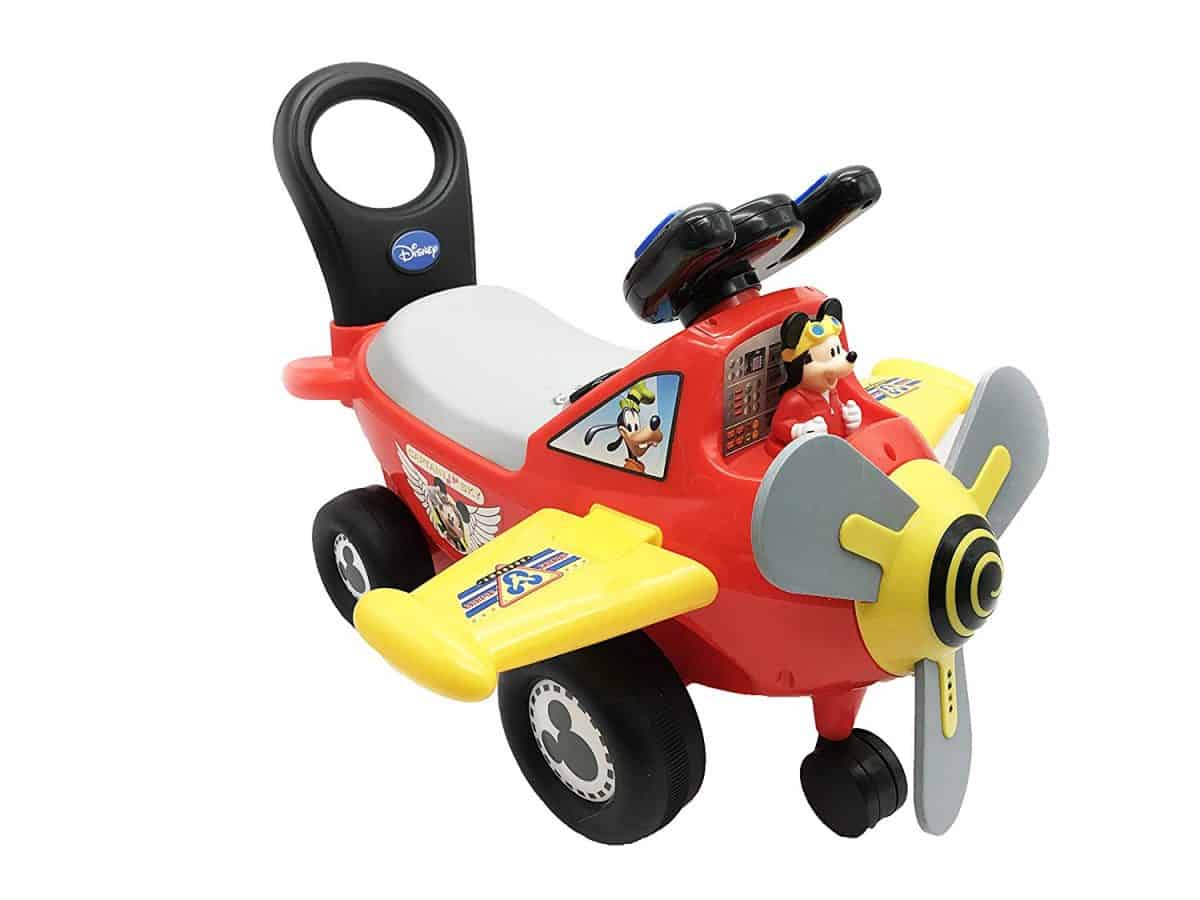 Your child will be able to push buttons to play music, shift gears, and cause the propellers to light up and rotate. They use their feet to push off the ground and move the toy forward. Because the toy is made of plastic, it's easy to keep clean. It's designed for children ages 12 months to three years.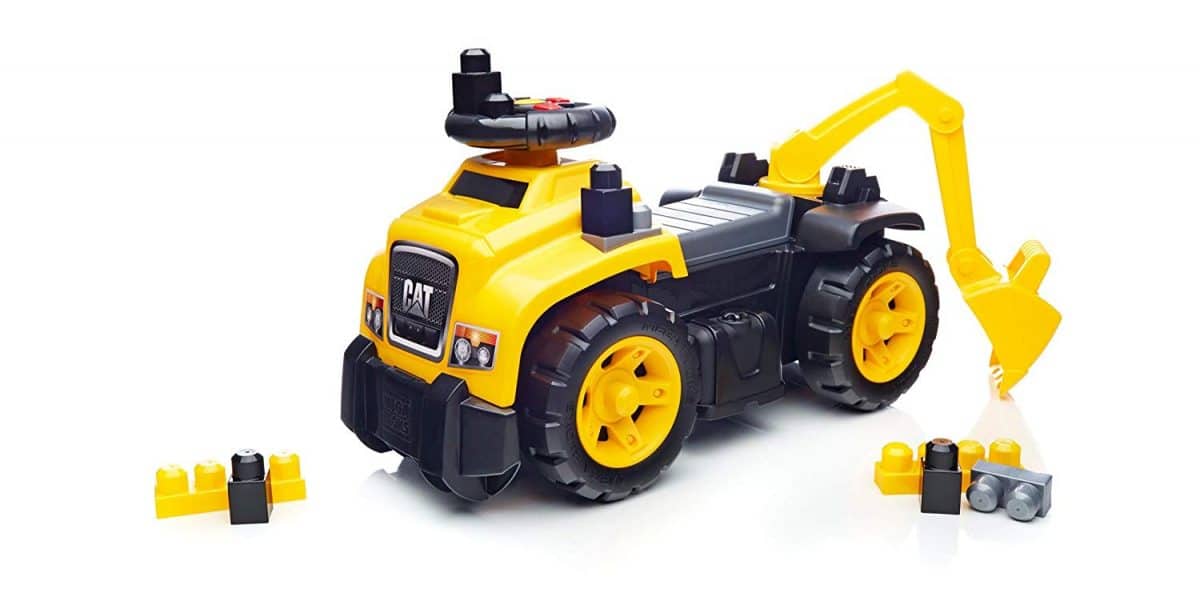 Designed for children aged 12 months to three years, this toy will help your child's hand-eye coordination while giving them a fun source of exercise. The seat lifts to offer storage for the blocks they can use to load the excavator. This ride-on caterpillar is a great way to introduce your child to the world of building and construction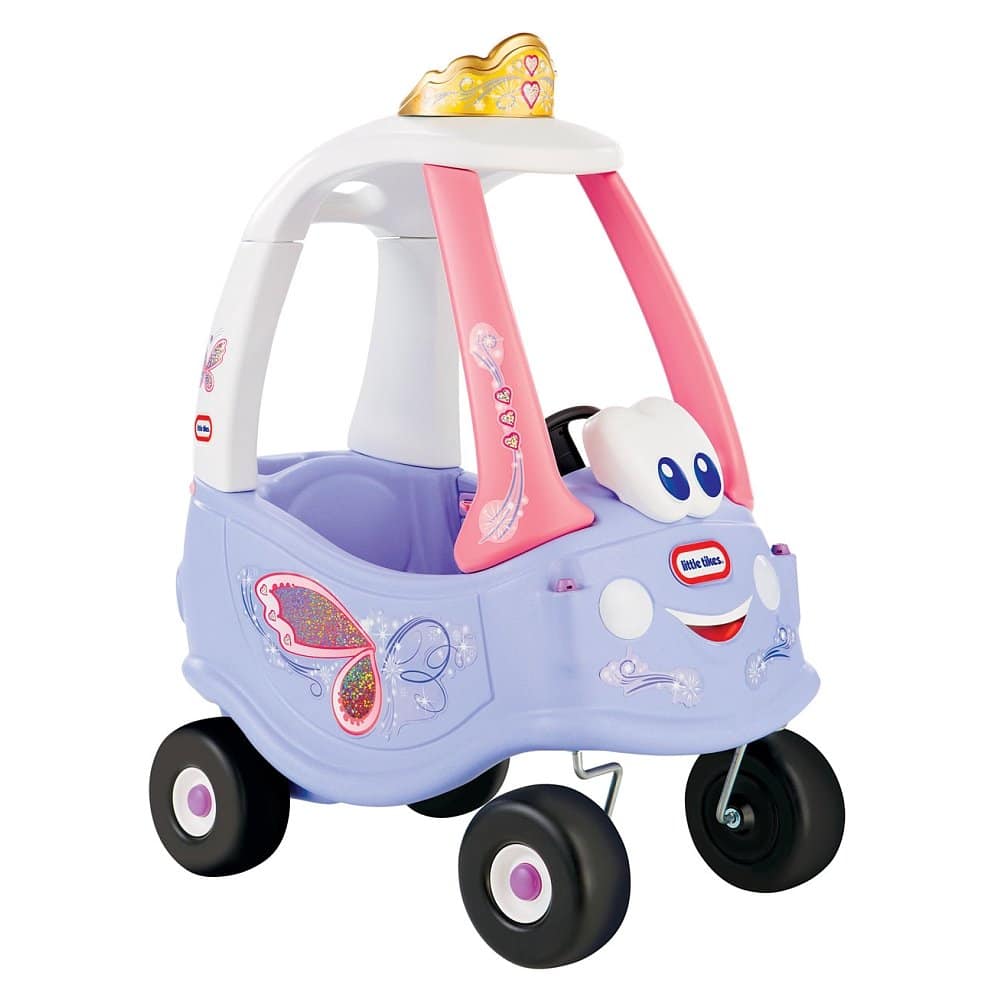 For younger children, you can keep the floorboard installed and push them from the back using a handle. As your child grows, remove the floorboard so they can push and steer themselves. The opening doors on either side give them easy access to the vehicle. The tires are durable enough to be used on most surfaces outside. For trips to the park or to the beach, it even has a small storage area in the back.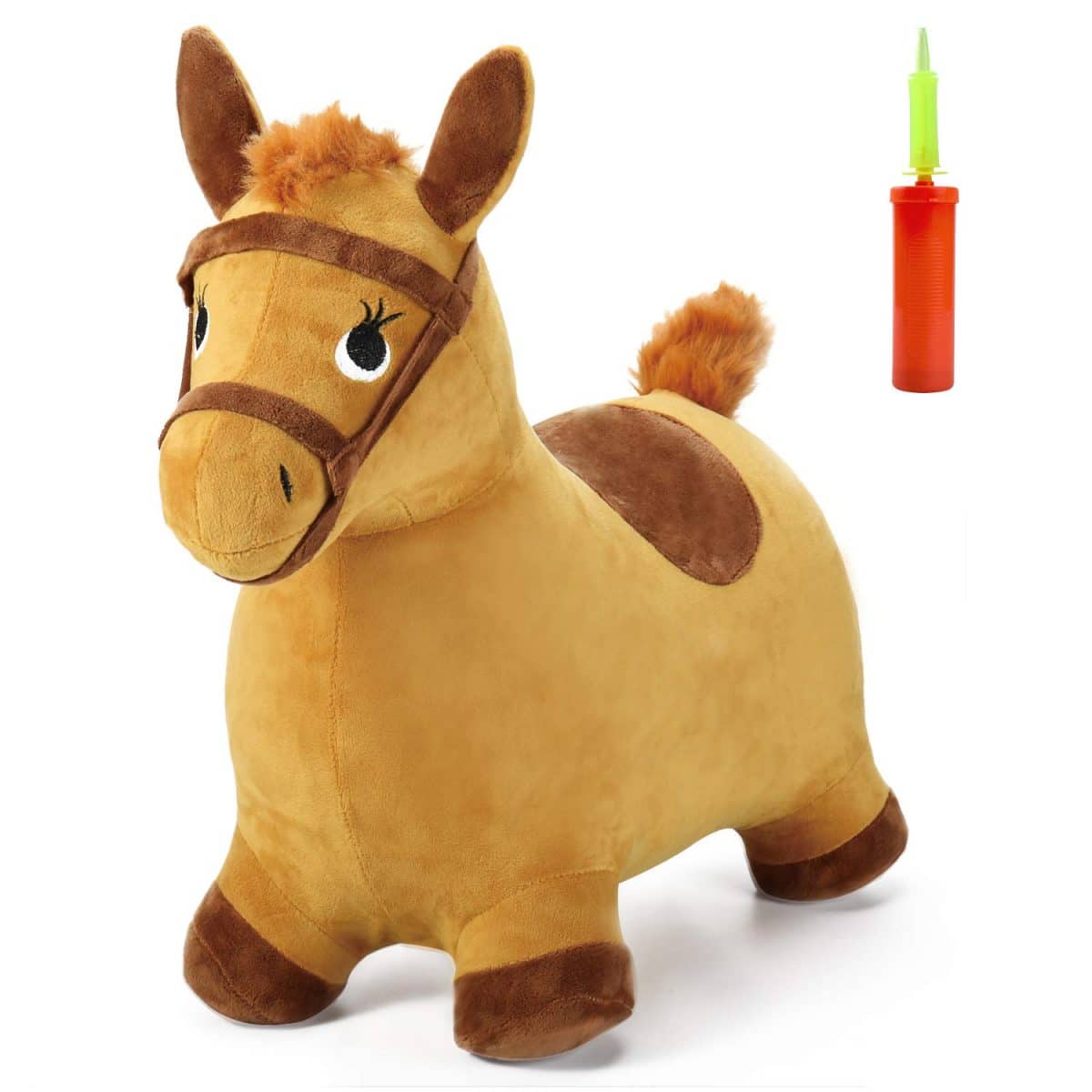 Your child can bounce around the house or yard, with big ears to hang onto. The inflatable portion is made of high-quality, eco-friendly rubber and doesn't contain phthalates. The seat height is 14 inches and it's suitable for children from 2 years old.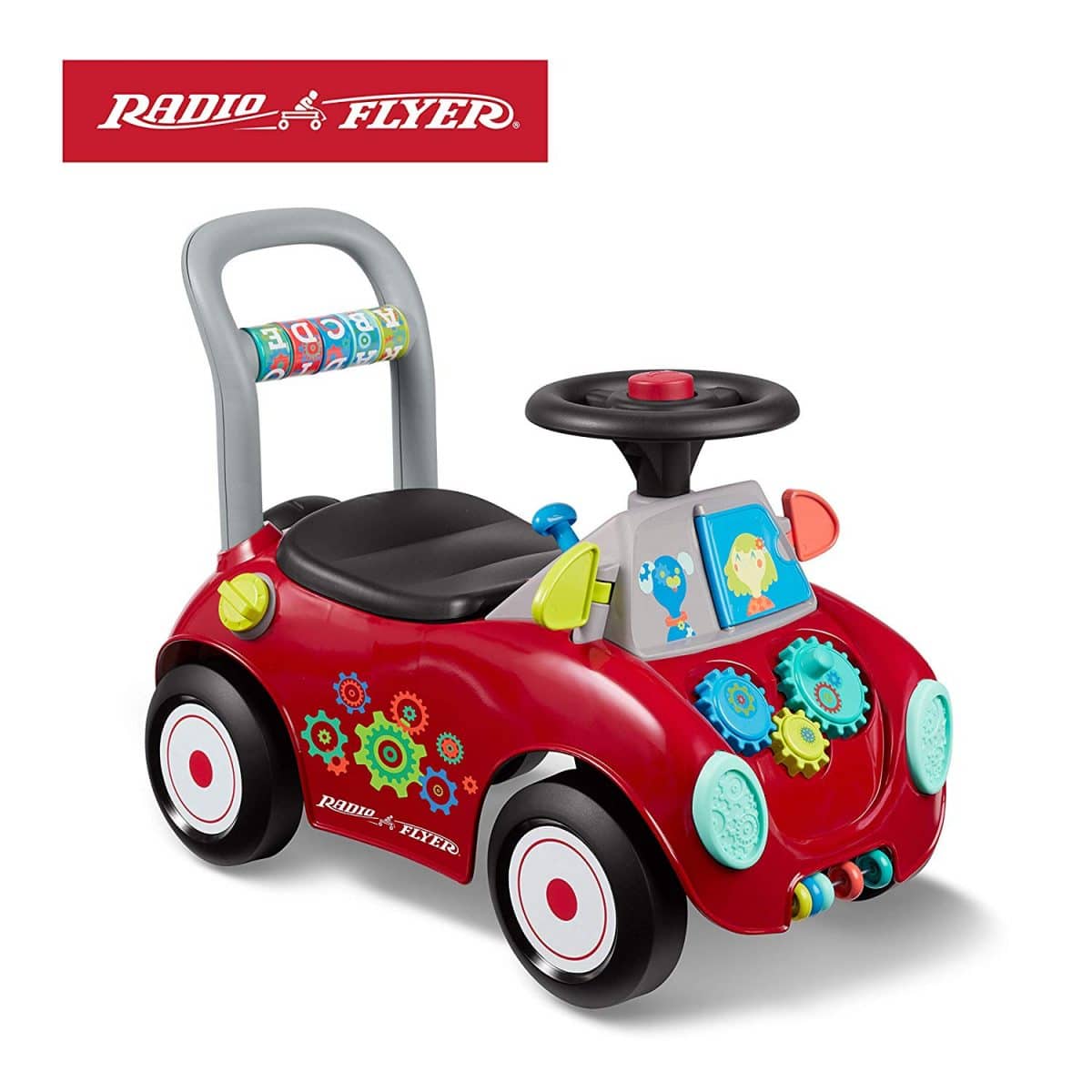 It's designed for toddlers between 1-3 years old and it's one of the best small cars for developing gross motor skills. It has a nice design, with colorful parts and a lot of interactive features. Its dashboard has two keys and a great design. It comes with an actual wheel that they can use to turn the car around. Kids will also find back support that helps them push the car. This ride-on toy has under seat storage, which is great if the child has favorite toys that have to be with him all the time. The product doesn't require much assembly. Also, it's easy to ride. This car has a comfortable seat and no space for the legs. However, it's nearly impossible for the child's legs to get stuck between the wheels, so it's safe to ride.
It has an adjustable seat belt for safety, LED headlights, dashboard lights, as well as day time lights. It starts using a regular car key, by comparison with the Mercedes model that has a start button. Also, it has forward and reverse functions, as well as right and left turn functions. The horn makes a trumpet sound, which is quite cool. The mini-R8 is powered by two 15000r motors and is made of PP and ABS plastic. It's a certified car that is safe for children. Although this car comes with MP3 audio, it doesn't have a built-in radio or USB connectivity. It can be charged using an adaptor and it takes between 6 and 8 hours to fully charge. The remote control works on batteries and it needs 2 AAs, which are not included. The car has a maximum weight capacity of 33 pounds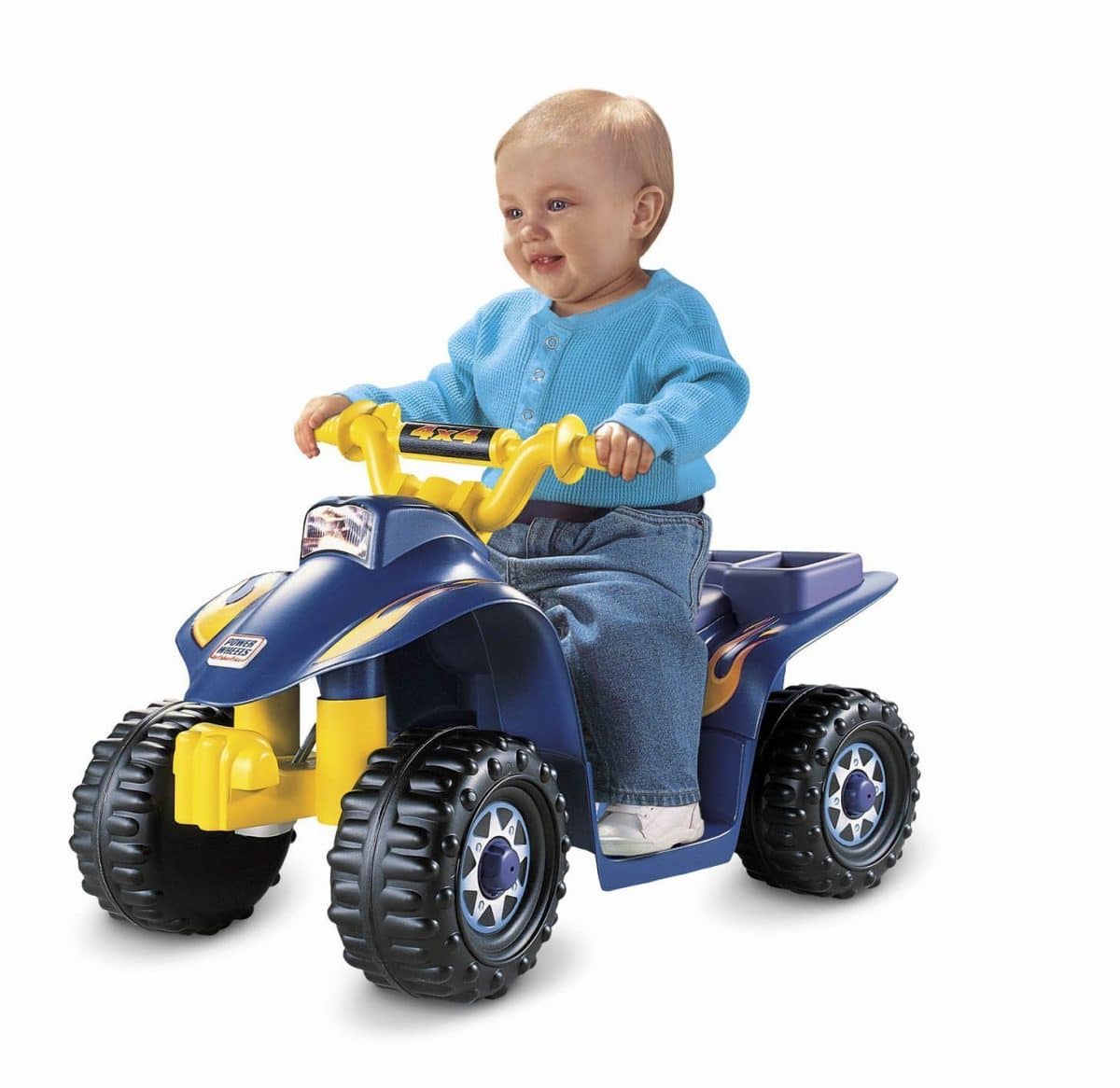 It's durable and of perfect quality equipping your child with the essential motor skills. This quad bike is easy to use for toddlers as its low to the ground, making getting on and off easily. The toy can perfectly ride on wood and concrete but not grass. It best suits your child since it's easily assembled and decent charge.
The Verdict
Ride-on toys come in various designs to suit your child's needs. Basing on the color, patterns, stickers and craftsmanship, a parent can distinguish what best their child needs. It's crucial to ensure the safety of your child when handling these toys. Choose a toy that fits your child's size and weight. Take note that some toys can't withstand the hard gravel or cement roads outside.
Your child will get to enjoy the fun that comes along with using the above toys, both indoors and outdoors. It boosts their confidence too, moves around freely without parent supervision. Wisely pick the best toy that suits your child from the above review.