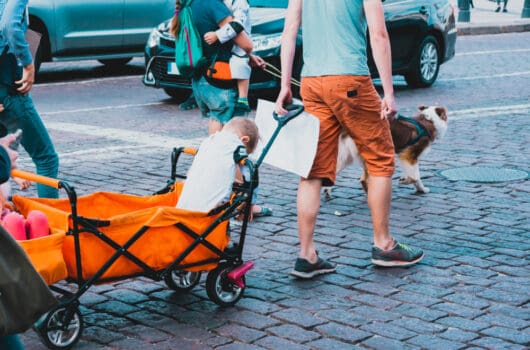 O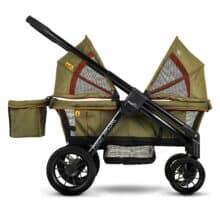 Evenflo Pivot Xplore All-Terrain Stroller Wagon
B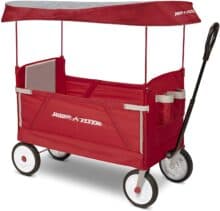 Radio Flyer 3-In-1 EZ Folding Wagon with Canopy
P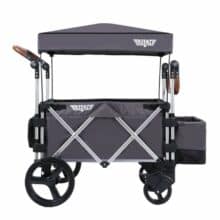 Keenz 7S Stroller Wagon
Previous
Next
A standard stroller has a limited amount of space and weight it can carry. And when you need to go to a park, the beach, or any other place you set a playdate, you often need a little extra storage capacity. The last thing you want to worry about is where to put your kids' extra blankets or clothes. You don't want to walk around like a human coat-hanger pushing a heavy double stroller, only to arrive at your destination and remember you forgot something vital.
That's where a stroller wagon comes in: by changing up the format of a traditional stroller, you can add more storage space and keep seating for multiple children. Collapsible, lightweight, and with most of the features of conventional strollers, many parents are switching things up with this new style of kid transporter.
Selecting a Stroller Wagon
Choosing a stroller wagon over a regular stroller has its perks, but it is an investment nonetheless. There are certain features to look out for when you're spending money on a transportation device for your children. With safety and comfort being the prime objectives, you need to know all the specs of stroller wagons and then decide which one suits your lifestyle and family the best.
Let's take a short look at these features before elaborating on them in the full buyer's guide.
Weight Capacity
Stroller wagons are bigger than strollers, which means they also support more weight. But it is important to know just how much. You don't want it to fall apart on your way to the playground because you're lugging around one child too many.
Age Range
One thing you should know right off the bat is that stroller wagons are not suitable for newborns. The lack of seats and neck support means they're best used for children that can already stand on their own. You can use a stroller wagon once a child begins to walk: as young 18 months and as up to 5 years.
Type
You can choose from pull stroller wagons, which are more traditional, and push strollers, which are a newer breed of stroller wagons. Push strollers are a hybrid between regular strollers and traditional pull stroller wagons, and they are typically a bit more expensive.
Ease of Use
Good foldability is a feature that will cost you a pretty penny, as stroller wagons are bulky by nature. Another factor that's important? Maneuverability, as you could be putting some serious miles on the wagon. Depending on the type of stroller wagon you choose, everything from the wheels and all the way up to the handlebar has to be the right fit for you. A stroller wagon is meant to make your life easier, so it's not worth buying an item that you have trouble handling.
Comfort
The passengers also need to feel comfortable while riding in the stroller wagon, and typically wagons are a bit less plush than conventional strollers. Some stroller wagons have seats to improve child comfort. Due to a wagon's form factor, little ones will be more exposed to sun or rain in a stroller wagon than in a regular stroller. A canopy plays a big role, as it can both protect your child from the sun's ultraviolet rays and from rain.
Safety
All stroller wagons come with a seatbelt option, although the chances of an accident happening are slim. The material of the wheels is another important aspect. If you know you'll be doing most of your rides over rough terrain, look for durable rubber wheels that can take on uneven surfaces.
We scoured the internet for the best stroller wagons available at the moment. Taking into consideration all the features listed above, we included the best products ranging all across the price spectrum.
Top 10 Best Stroller Wagons 2020
A Guide to Choosing the Best Stroller Wagon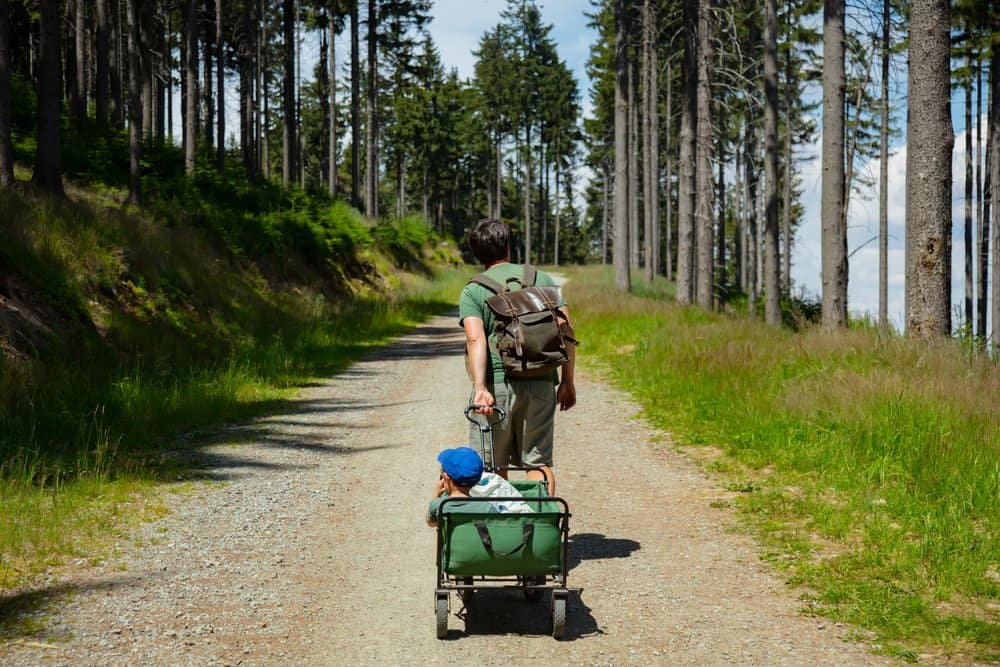 Your babies are growing up, and the baby gadget market is evolving as fast as they are. Everything looks cute and useful, but your wallet can only take so much. It is important to know exactly what to look for in a stroller wagon so that when you invest, you know you're spending wisely.
Weight Capacity
After all, it is a wagon, so weight capacity is an important factor to consider with what exactly (or who exactly) you will be hauling. If you need it to tote two older or differently-aged children around, plus additional equipment, consider a larger weight capacity, such as this stroller. Most other strollers can support two kids, and others are primarily designed to haul cargo.
Age Range
Most stroller wagons are designed for kids who can already stand on their own. They are often used as a natural progression of a regular stroller, so the minimum age is somewhere over 1.5 years. Depending on the weight capacity and how quickly the children grow in size, a stroller wagon is usually suitable till the age of 5 or more. If you can't wait to go on adventures with your newborn, some strollers can accommodate young babies as well.
Type
Stroller wagons can either be push/pull hybrids, or classic pull-wagons. The hybrid type is more versatile but is usually more expensive. You can still find good hybrid stroller wagons that won't stress your wallet as much as others in their category. Traditional pull-wagons are either made of metal frames with fabrics, wood, or plastic. Some stroller wagons even have the option of attaching an infant car seat to them, so you don't have to push a stroller with each arm.
Ease of Use
Sure, the comfort of your little passengers is important. But since you will be doing all of the work, you are just as entitled to benefit from a convenient stroller wagon as they are. The comfort in maneuvering a stroller wagon usually relies on the size, wheels, handle, and foldability.
No matter how bulky, look for a stroller wagon with rubber wheels that have a 360-degree swivel option. As these usually also have a good suspension system, they will enable you to make smooth turns. Regardless if you push or pull, you won't feel like the wagon might tip over or give passengers a rough ride. Stroller wagons with all-terrain wheels are suitable for any sort of rough or messy surfaces, even sand, when you find yourself carrying equipment on the beach.
The handle of a stroller wagon is supposed to be comfortable for the wrists in case you are pushing it, so if you opt for a hybrid, make sure the handlebar is padded and height-adjustable. The best pull-wagons have a telescopic handle that can also be folded under when you need to stow the wagon away.
Folding is another important feature if you know you won't just be pushing or pulling it everywhere you go or if you have limited storage space in your house. Stroller wagons are not as light as regular strollers, but some that weigh around 30 pounds can still be carried. The most compact stroller wagons fold easily and come in a small, compact size that fits in the trunk of a car.
Comfort
Since stroller wagons are usually used for outside activities, a canopy can make or break your day. To avoid nasty sunburns, it is important to keep them in the shade. Most stroller wagons have a removable canopy that is UV-ray protective, and in most cases, is also rain-repellent. While inside, the kids need to feel comfortable, so look for a stroller wagon with as much padding on the seats as possible, and for a footwell, so they don't feel too crammed.
Storage also plays an important role, since you always need as many items on hand for those long days at the beach or in the park. Cup holders are a must, so some stroller wagons have as many as 6, while others just have one. Although stroller wagons can be used as portable storage units themselves, some have incorporated or removable storage baskets, which are really helpful.
Table trays can be found on some stroller wagons, which are great for keeping the little ones busy to play with toys or just rest their hands. Other extra comfort features like bug nets, coolers, or rain protective covers can be purchased separately by the manufacturer of your chosen stroller wagon.
Safety
All the stroller wagons on our list are JPMA-approved, some even benefiting from additional ASTM certification. This means that they meet the necessary safety standards to function without you worrying about them falling apart too easily or exposing your children to danger. Some stroller wagons are big enough and suitable for kids who prefer to stand, so they don't have a seat design. Others that also accommodate younger toddlers have 3-point or even 5-point harness systems, as well as padded seats. Harness systems are also good for encouraging kids to buckle up when riding in cars as they age.
Depending on what surfaces you use it on, the wheels should have a swivel option, as well as a lever to make them stay in place, when riding on rough terrain. A foot-operated brake system is also effective, and it doesn't hurt if you opt for one that is flip-flop friendly. Most of the strollers on our list come with a 2-year warranty, which means you have plenty of time to grow accustomed to it and notify the manufacturers if it doesn't live up to your safety standards.
Frequently Asked Questions on Stroller Wagons
With the popularity of more conventional designs of strollers, stroller wagons can feel like a slightly uncommon departure from other types of child transport. Check out some of parents' most common questions on the product below:
What are the Benefits of Owning a Stroller Wagon?
There are many ways that make a stroller wagon a natural evolution to a stroller. Here is a video of how a day out with a stroller wagon can look like.
Stroller wagons can hold at least two children, so there is much more storage room in case you need to be out with your little one(s) for longer periods of time. As opposed to regular strollers, most stroller wagons can accommodate children up to 6 years old, so you won't have to worry about purchasing a new and bigger stroller each year. Kids tend to outgrow strollers fairly quickly, but they still get tired when they're out and about. A stroller wagon is as cool for them as it is comfortable for you.
Some stroller wagons have such a cute design that kids can't help being encouraged to play outdoors and overt their eyes from electronic gadgets, in favor of some fresh air and good use of their energy and imagination. By pushing or pulling the stroller wagon themselves, kids also benefit from a good workout, which is indicated for their growing bodies.
Can a Stroller Wagon Accommodate More than Two Kids?
Depending on the weight capacity, a regular stroller wagon can accommodate three kids. However, none of the three passengers will sit comfortably, as most already have a 2-seat design with seatbelts. If they find a way to fit and you opt for a stroller with at least a 150-pound weight capacity, a 3-passenger ride can be achieved. There are some strollers that are designed to accommodate four children, like the Wonderfold X4 4-Passenger Pull/Push Quad Stroller Wagon.
Will a Stroller Wagon be Permitted on Flights
Stroller wagons are growing increasingly popular, so more parents want to take them onboard instead of regular strollers. The answer comes down to the weight and size of the folded stroller wagon. If it can fit in an overhead compartment, airlines will usually treat a stroller wagon like a regular stroller. If you are planning on flying with it often, make sure you opt for a foldable model instead of a hard plastic one.
Are Stroller Wagons Allowed at Disney-Themed Amusement Parks?
Not anymore. They used to be allowed at Disneyland and Disney World before May 1st of 2019. Although they were widely used as of that date, now only regular strollers are allowed in Disney-themed amusement parks.
Strolling Into the Sunset
A stroller wagon is a fantastic alternative to traditional strollers that allows parents to move both children and vital parenting supplies at the same time. If you're looking for an alternative to the common strollers seen everywhere today, a stroller wagon can provide unique benefits and solve a common parenting woe: getting kids where they need to be.