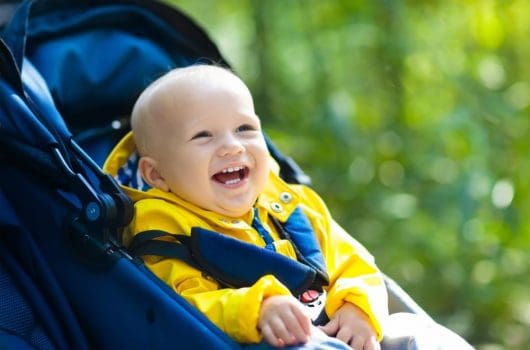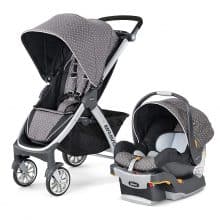 Chicco Bravo Trio Travel System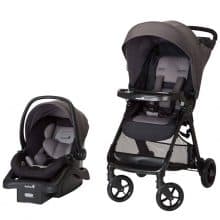 Safety 1st Smooth Ride Travel System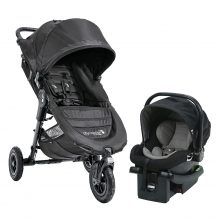 Baby Jogger City Mini GT Travel System
Previous
Next
Are you racking your brain trying to find the best travel system for your family? Well, you're not alone! With so many features to consider, selecting a travel system can be a bit overwhelming. There is such a thing as too many choices, and no one knows this better than new or expecting parents. But don't worry, we're here to simplify things for you.
Whether you're bringing your newborn home from the hospital or taking them on their very first trip, a travel system will help you get your baby from point A to point B — safe and sound.
Features to Consider in Good Travel Systems
A travel system is a bundle consisting of a full-size or mini stroller, a compatible infant car seat, and a car seat base. These three items combine forces, permitting parents to safely transport their baby from their car to their stroller – without waking them up. The infant car seat can be removed and clipped into a matching stroller, or vice versa, allowing parents to travel with their baby from infancy to toddlerhood.
How Will My Family Benefit From a Travel System?
Travel systems offer an array of benefits. While some parents prefer to order these items separately — this isn't always an easy thing to do. After all, not all car seats, bases, and strollers are compatible, resulting in the need for an adapter. Opting for a travel system offers parents some peace of mind because they know that they'll have everything they need to safely transport their baby.
Additionally, when parents opt for a travel system, a bundled price is offered, helping them maximize on savings (and we all know how expensive having a baby can be). However, purchasing a travel system isn't necessary. So, if you have a specific car seat or stroller brand in mind, you can always mix-and-match.
To find out more about the benefits of ordering a travel system vs. ordering separate items, click here.

What Are the Different Types of Strollers That Come With Travel Systems?
Jogger: If you enjoy keeping in shape and going on excursions with your baby, a jogger stroller will suit your needs just fine. Joggers typically come with three air-filled wheels to ensure that your baby has a smooth and enjoyable ride.
Double: Double strollers are ideal for parents who plan on growing their families. A double stroller can accommodate an infant and toddler car seat in an array of different positions. We only have one double stroller on our list. So if that's what you came for, click here.
Three-Wheel: Three-wheel strollers are easier to maneuver thanks to their small front wheel and large back wheels. They easily make sharp turns and can be pushed with just one hand. They're better suited for handling rough terrains or navigating through busy city streets.
Four-Wheel: A four-wheel stroller offers the most stability. However, they can be harder to steer. They're ideal for families who don't plan to stray from the paved path.
Picking the Best Travel Systems
We considered the following three factors when selecting our picks. For a more in-depth analysis of what to consider when choosing the best travel system for your family, click here. However, please note that every single travel system on our list has been hand-picked with safety in mind.
Lifestyle: What it all boils down to is your lifestyle. Are you a stay-at-home parent who enjoys taking strolls around your suburban neighborhood? Do you live in an apartment in the city? And most importantly, how active of a parent do you plan to be? We'll let you know which lifestyle corresponds best with the travel systems on our list.
Size and Weight: We took size and weight into consideration when making our picks. This way, you'll know exactly what to expect when loading your stroller into your trunk — or lifting your car seat. This is especially important for women who give birth via C-section.
Ease of Use: Travel systems should offer convenience, improving your day-to-day life. We'll let you know which travel systems are tricky to set up and steer in order to help you make the right decision.
Now, let's find out which travel systems parents swear by, leaving out the ones that make them swear.
Top 10 Best Travel Systems 2020
Guide to Buying the Best Travel System
What Parents Love About Travel Systems
New and expecting parents have a lot on their plates and the list never ends. They go from reading baby books to baby-proofing their homes to setting up the nursery and ordering countless baby gadgets. It can be very overwhelming. Thankfully, travel systems offer convenience — that's why they're so revered. When parents opt for a travel system, they're killing three birds with one stone. Instead of surfing the net to find out which infant car seats are compatible with which strollers (and don't forget your adapter!), they can make one single purchase and be positive that they have everything they need to safely transport their newborn.
But that's not the only reason why travel systems have so much appeal. Frankly, the fact that you can take your sleeping baby out of the car without waking them up is a dream come true. Let's face it, we all know how hard it is to get them to sleep — and stay asleep — in the first place. But car rides help, so there's that.
Whether you side with a travel system or try your hand mixing-and-matching your baby travel items, we want you to make the best decision for your family right off the bat. So, we compiled a list of the pros and cons of both options.

Ordering a Travel System vs. Ordering Separately
Pros and Cons: Travel System
There are a lot of great things about travel systems. For starters, they're super convenient. Ordering a bundle instantly results in savings while ensuring that parents aren't missing any crucial materials. Travel systems are long-term solutions: parents can typically use the same infant car seat and stroller until their baby reaches toddlerhood, and beyond (depending on their size). What's even more alluring is the fact that these travel systems come with heaps of features, like parent trays, large storage baskets, etc. With so many bundles out there, parents are sure to find one that fits their budget and needs.
Despite their many pros, travel systems aren't perfect. They're known for being bulky and heavy, which can be a dealbreaker for some families. However, there are plenty of lightweight options, like the Chicco Mini Bravo Travel System. Additionally, steering can be difficult at times, depending on whether your stroller has three or four wheels — but more on that later. Lastly, some of the individual components may lack quality, but that all depends on your budget.
Pros and Cons: Ordering Separately
Before we dive into the pros and cons, let's discuss our options. Parents can choose to buy a separate car seat and stroller. Or, they can purchase a stroller frame that holds their desired car seat.
Some parents prefer to order these items separately because it gives them the freedom to choose their preferred brands. Additionally, stroller frames are inexpensive when compared to travel systems.
Unfortunately, stroller frames become obsolete by the time a child reaches their first birthday — or long before, depending on their size and weight. On top of that, mixing-and-matching can be nerve-racking, considering that extra parts need to be purchased to attach infant car seats to stroller frames. Parents who choose this route will eventually have to purchase a stroller around the time their baby is half a year old. Unless, of course, they buy their preferred brand ahead of time for a swift transition.
What to Consider When Selecting a Car Seat
Safety: Car seats were designed to keep babies safe, but some brands are more reputable than others (please note that every single brand on our list is celebrated for their impeccable safety measures). Dive deep into accident reports to ensure that you select the safest brand.
On a side note, never buy a second-hand car seat in case some of the safety features have been compromised. Car seats also have expiration dates, so be sure to keep that in mind.
Comfort: It's also crucial that babies feel comfortable when strapped into their car seat. If they aren't, they'll quickly make their discomfort known. Consider the climate you live in and how it correlates with the car seat's materials.
Size: It's also important to take size into account. Consider the type of car you drive and take measurements to determine if your backseat can properly accommodate the car seat of your choosing.
Portability: Additionally, it's always nice to have a portable car seat. This way, if your child is fast asleep, you don't have to wake them to take them out of your vehicle.
Compatibility: Another feature to take into account is compatibility. If you want to attach your car seat to a stroller or stroller frame, you'll need an adapter. But even with an adapter, some strollers might not be compatible with your car seat.
What to Consider When Selecting a Stroller
Safety: Once again, safety reigns supreme. Ensuring that the stroller you select has a stellar reputation is of utmost importance.
Comfort: You want your baby to love their stroller. This way, they can happily explore their brand new world. Be sure to select a comfortable stroller that your baby can doze off in.
Handlebar: Another thing to keep in mind is the handlebar. Partners with drastic height differences can benefit from selecting a stroller with an adjustable handlebar. The Chicco Bravo Trio, the Baby Jogger City Mini GT, and the Britax B-Free travel systems all have a stroller that comes equipped with adjustable handlebars.
Fold: It's also wise to consider how well a stroller folds, and whether or not you can accomplish this with one hand.
Storage Basket: Consider the size of the storage basket so that you can easily store all of your items when out of the house.
Brakes and Locks: Some strollers have their locking mechanisms attached to the handlebar, while others can be accessed by the kick if your heel.
Wheels and Shocks: Strollers that come equipped with shocks will prevent your baby from bouncing around in their stroller, this is especially important if you plan to go jogging or strolling over uneven ground. The type of wheels a stroller has is important, too. Rubber-coated wheels are better suited for suburban areas, whereas air-filled wheels are ideal for rural areas.
Which Travel System Is Best for Your Family?
Every family is different: What works for you may not work for your neighbor. When trying to find out which travel system is best for your needs, ask yourself the following three questions:
What Is My Budget?
Before falling in love with a specific travel system, it's always a good idea to determine your budget. Our best budget pick is the Safety 1st Smooth Ride Travel System. However, it can be well worth it to splurge for some much-needed features.
How Often Will I Use My Travel System?
It's important to determine what your travel system needs are before making your pick. If you're constantly on the go, opting for a stroller with three-wheels can make it easier for you to get around, seeing as they have superior steering capabilities.
How Much Trunk Space Do I Have?
Another thing to consider is how much trunk space you have to spare. Some strollers can be quite bulky which might not work for you if you have limited trunk space. If this is the case, we recommend checking out the Chicco Mini Bravo Travel System, it's lightweight and compact, making it ideal for families with smaller vehicles.
What Are My Long-Term Goals?
Finally, it's important to assess your long-term goals and whether or not you might one day want to grow your family. Should this be the case, check out the Evenflo Pivot Xpand Single-to-Double Travel System. What makes this travel system stand out from the other ones on this list is the fact that you can add a second car seat or infant seat to the stroller frame. This stops you from having to purchase a second stroller down the line. That is, if you choose to have a second child a few years after giving birth to your firstborn.
Final Words
What it all boils down to is making the right choice for your family. With so many amazing options out there, it can be a little daunting to make your pick. But since parents tend to order their desired travel system before their little one is born, you should have ample time to select one that meets your individual needs. Most importantly, we wish you all the joy in the world as you enter (or revisit) the beautiful chapter that is parenthood.