Top 30 Best ADHD Toys for Kids 2023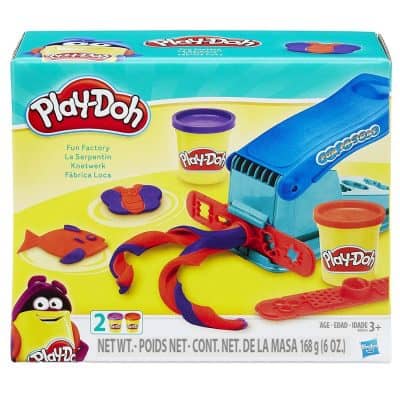 Play-Doh features a variety of colors and is an ideal bet for younger kids. The playset is simple and allows your child to make his creations and experiment with different colors and shapes without getting frustrated. The set will also help your child explore his imagination and have fun squishing the molds.
Imagination and creative simulation will help minimize stress and increase brain function. Another benefit that your child will enjoy with this toy is the development of social, emotional skills providing open-ended opportunities for your young one. Besides, your kid will improve motor skills for strength and control. The set includes two cans of Play-Doh modeling compound, and a press lever machine. The modeling compound is safe for use and suitable for children aged three years and up.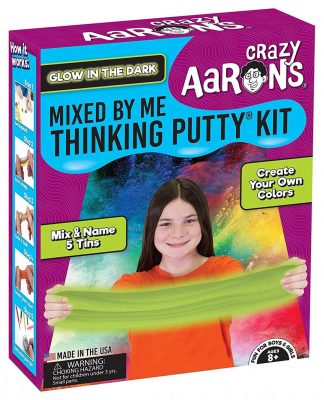 If your child has trouble paying attention in school, this putty will help him focus and pay attention when the teacher is teaching or when he's reading. He will love to play with Crazy Aaron's Thinking Putty that includes special effects such as glow in the dark, metallic, and three other concentrated putties.
The kit comes with a durable mixing mat, and five tins filled with clear putty sized tin and six parts of concentrated red, blue, yellow, sparkle, glow and shimmer putty making it an ideal option for kids aged eight years and up. Your child will create unique colors with a fun glow in the dark putty. Besides, this putty from Aaron's brand doesn't make your fingers sticky or get too runny after kneading it for an extended period.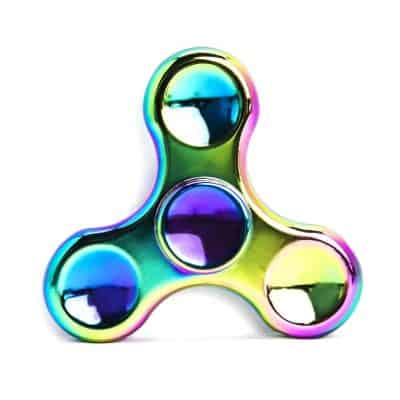 The fidget spinner from Magtimes is a flexible loop of rings that your child can twist and turn to calm them down. This toy also helps them to relieve stress and anxiety and can fit in their pocket without any noise, making it an excellent option for the classroom. The spin toy features highly durable stainless steel construction with bearings that revolve in high speeds.
It comes in a stylish new color that creates a powerful rainbow effect making it an excellent and fun game. You can get a longer spin of up to five minutes with Magtimes Rainbow anti-anxiety fidget spinner with the most common spinning techniques like the index finger or tabletop spin. Your child can also play this toy with several friends to see who can spin the longest, providing hours of fun – all he needs is a stopwatch.
The Zingo Bingo game features high-quality construction and comes with simple, easy to understand instructions. The toy is an excellent idea for children aged 4- 10 years that encourages kids to learn and read on their own. Once your child has known how to play the game, they can quickly figure out how to play Zingo 1-2-3, word builder, sight word, and more. Besides, he or she will be able to play within minutes of opening the box. 
Playing Zingo helps improve language skills through a fun and fast-paced play. Additionally, as your child discusses what he's creating with this game, he will learn and expand his vocabulary, making it an excellent way to learn through comprehension, listening, and communication.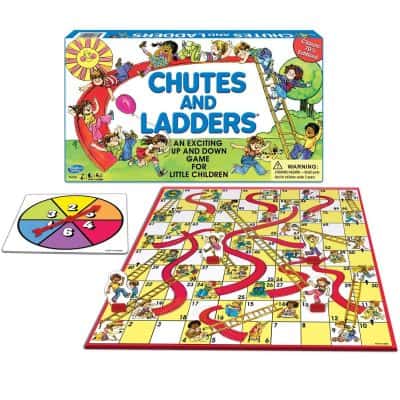 The game presents a simple, elegant, and unique game that requires the little one to match colors and join cards to make snakes. The game allows your child to make different types of snakes from long ones, short ones and of various colors. The game is simple and doesn't require any strategy to play, making it an excellent choice for kids aged three years and above.
Gamewright Hisss card game features a sturdy construction set to serve you a long time to come. Besides, this toy is a cheaper alternative to video games and is fun to play with multiple players. It also encourages healthy competition as your child learns to interact with other children or members of the family. The game will offer hours of entertaining activity and help your kid to develop social interaction skills.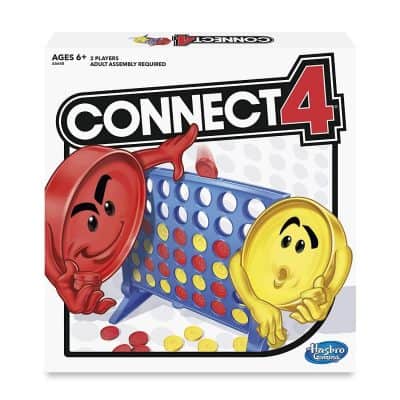 Children with ADHD have a relatively short attention span. The Hasbro Connect 4 game is interactive and involves multiple players making it an excellent choice to help your little one learn social and interactive skills. It's simple, fast and fun and comes with a cool yellow and red colored discs.
Connect four features three levels of play – the essential, expanding play and social play. It will help to improve balance, strength, and challenges your kid's mind to get them thinking about how they can progress to the next level. Besides, disc-dropping fun brings joy and hours of fun.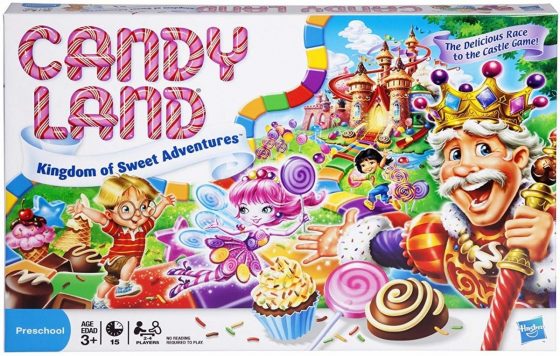 The Candy Land Kingdom of Sweet adventures board game features a sturdy board, four pawns, a card deck, and simple to understand instructions making it an excellent choice for children aged three years and up. This toy will help your little one improve social and communication skills, critical thinking, and reasoning.
As your child starts the journey down the magical road, he'll experience the gingerbread man mover who takes him to the peppermint forest, the lollipop palace and the licorice lagoon for fun with sweet surprises. Also, along the colorful rainbow path, the little one will experience delicious destinations and more.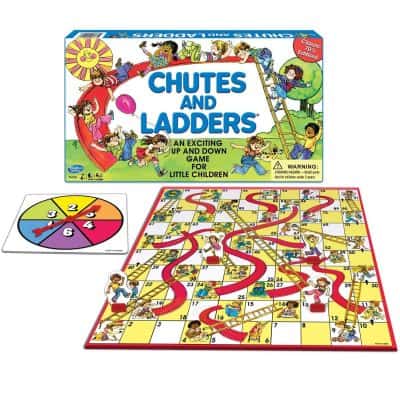 Chute and Ladders features an exciting up and down game for children aged four years and up. This snakes and ladders allow your child to understand the concept of mathematics easily. Your kid is also exposed to the operations of addition and subtraction indirectly. It features a heavy duty and sturdy bi-fold board, four game pieces and an over-sized spinner. The popular classic game that brings back memories and encourages social interaction among the players. 
The board game that can be modified to be a learning tool. When playing this board game, your child will improve his memory, problem-solving, and develop learning capability.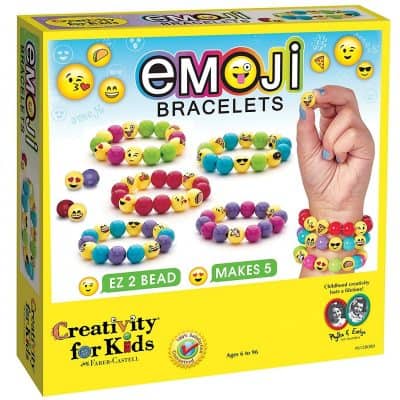 Threading with beads is fun and entertaining. It introduces your kid to mathematical concepts such as shapes and counting. This emoji bracelet kit includes 70 beads and gel beading cords with easy to understand beading instructions making it an excellent choice for kids aged six years and above.
This emoticon themed bracelet will help to develop visual perceptual skills, and it enables the kid to remember the beading pattern as they desire. Besides, the kit will help improve eye-hand coordination as threading the beads together requires both the eyes and the hands to work together. Beading will also promote sharing and corporation as your child threads beads in a group setting.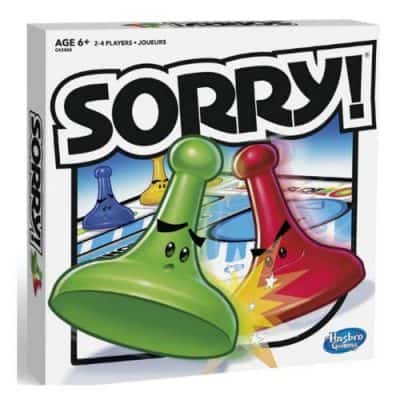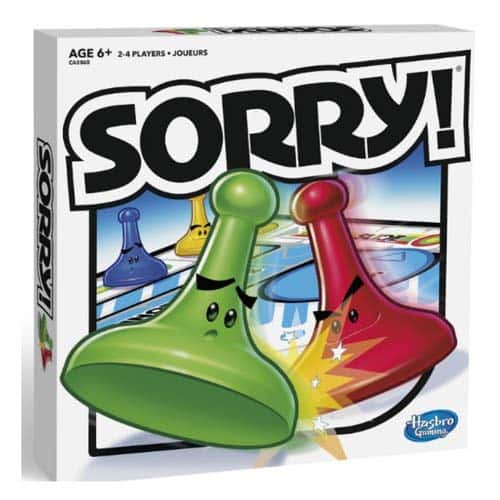 The Sorry 2013 Edition is a slide, collide, and score to win the game that allows your child to draw cards and move the pawns on the boards. Just like any other board game, it's a great family game with lots of laughs where opponents have to move and bump on each other.
Board games are an ideal way to teach your child to learn essential skills and life lessons. Your family nights will be something that your kid will look forward to thanks to this Sorry addition game. This simple game helps families struggling to find a balance between digital and real-life connections. It's an ideal way to improve your school-aged kid to expand his vocabulary and flex his spelling skills.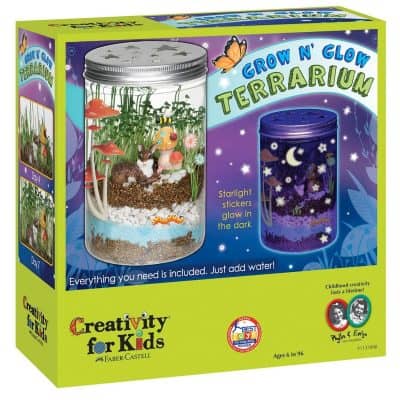 The terrarium is a perfect educational science kit that will help your little girl experience the wonder of nature with two full life plant cycles. The Grow 'n Glow Terrarium includes a plastic mason-style jar, a potting mix, decorative sand, river stones, and seeds.
The terrarium features a transparent glass with glow in the dark stickers where she can watch her plants grow even at night—though some say that the stickers are tough to remove from the sticker sheet. The terrarium will also allow her to craft, water and raise the organic chia and wheat grass seed that are included in the kit a perfect gift for starting a personal eco-system.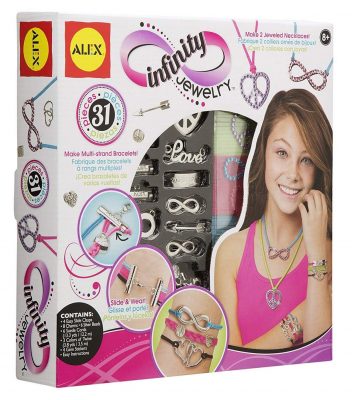 The Infinity Jewelry set comes with 31 pieces and easy to understand instructions making it an excellent choice for children aged eight years and above. The game allows your kid to create two unique jeweled necklaces, silver charms and stick-on jewels. Beading and jewelry making helps to improve your child's motor skills with increased finger strength and coordination, visual motor skills, extended attention span, hand-eye coordination, and math skills.
The Infinity jewelry will offer a great pastime to be enjoyed by friends and family. The variety of charms and strings will keep the little one busy giving them a sense of accomplishment when they're done making every item.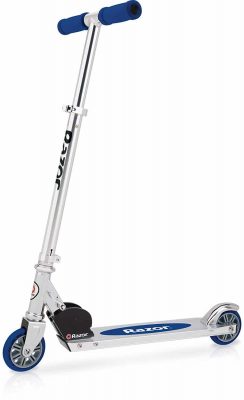 Scooters are great in motivating kids to be active, keeping them away from their smartphones and video games. For the high energy child, the Razor A Kick scooter is an excellent way to burn excess energy. It also encourages them to get their friends involved, providing a unique opportunity for social interaction. This scooter is also versatile, offering many learning benefits, especially to kids with sensory issues.
Children are naturally impulsive and active. This scooter allows them to move around their environment to explore the world around them. It may take the young one several rides to develop neural connections in the brain to improve full body movements. The scooter features aircraft-grade aluminum construction and a patented rear Federer breaks and a folding mechanism.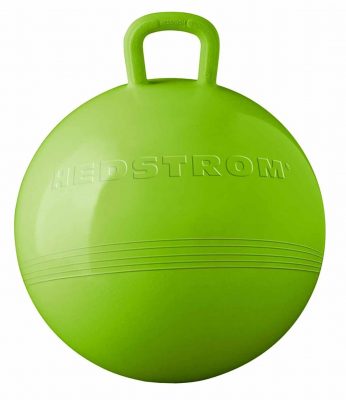 The Headstrom hopper ball will provide your kids with hours of active play. It comes with a bold but simple design with different colors that you can choose from making it an ideal choice for children aged 2 – 8 years. Besides, it features sturdy construction with a comfortable grip handle that offers safety when your child is bouncing, hopping, and having fun around the home or backyard.
Besides, this hopping ball is a favorite toy in schools that kids love to play with as it helps them to reach their full potential in class activities. In addition to keeping the young one fit, this hopping ball from Headstrom will help in strengthening core muscles and improve posture while sitting.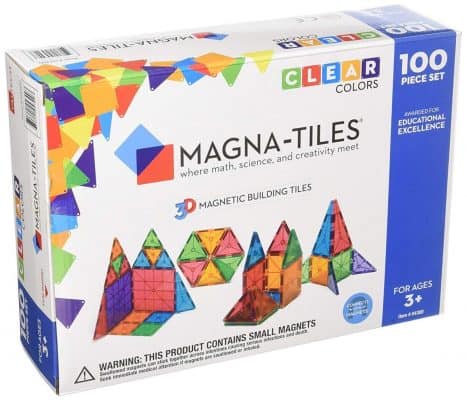 The Magna Tile 3D Magnetic Building tiles is a fun set that helps to expand your child's imaginative play fusing math, science, and creativity to hone motor skills. The X-shape tiles feature nine free moving magnets that allow the young one to build in any direction. Besides, the little architect can construct a house with the 28 piece set that comes with reusable stickers, stairs, and a door. 
On the other hand, the Magna-Quibix features a 29 piece set that will allow your child to a variety of 3D shapes. There are endless creative opportunities that your child can come up with using this Magna-Tile 3D magnetic building set, making it an ideal option for young aspiring architects aged three years and above.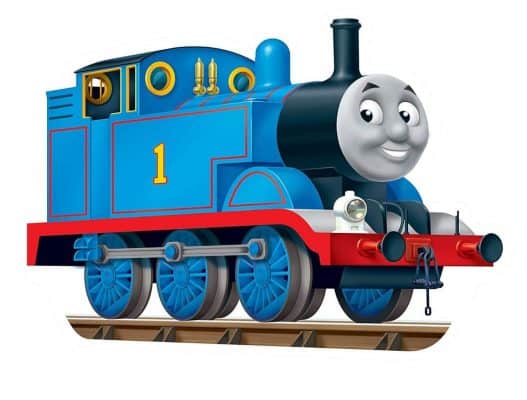 The Ravensburger Thomas and Friends 24 Piece jigsaw puzzle is an age-appropriate toy that helps your little one develop motor skills, sharpen problem-solving abilities, and learn numerical skills. This sturdy, thick, and quality puzzle with a subtle sheen on the top features 24 pieces that fit together to give your child the best experience possible. 
This 24-piece Thomas and Friends puzzle is an excellent valuable educational tool that will help your child develop problem-solving skills and boost logical reasoning. It also improves concentration and memory retention making it an ideal choice for children aged 3- 6 years.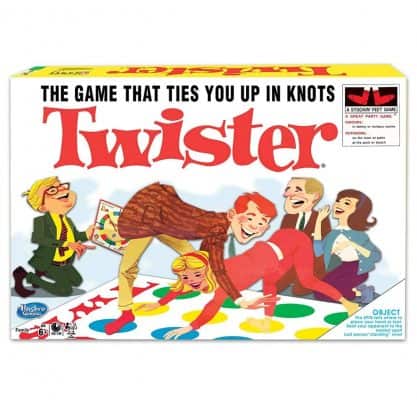 The Classic Twister game from the Winning Moves Games will get you little one twisted and tangled when playing with a friend or a member of the family for fun times. This game involves two players, and there's no way two players can have the same foot or hand in the same circle; it will just get you tied up in knots and fall over with laughter.
The game includes a large plastic mat with four rows of colored circles that you spread on the floor and a board with a spinner that serves as a die. As your child uses his body as a playing piece, he will improve balance, and eye-hand coordination making it an ideal toy for kids aged three years and up.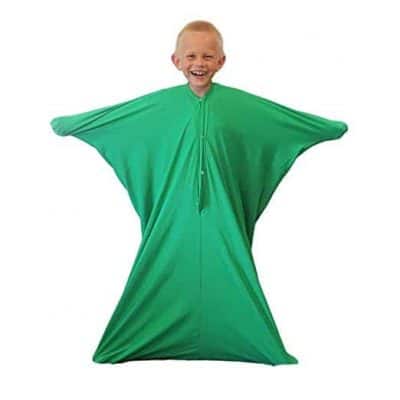 The Calming Therapy Blanket from Sensory 4U brand features Spandex and nylon construction – stretchy materials that your child will be comfortable while wearing and moving around. Besides, this therapy blanket is ideal for soothing the little one when they feel anxious. Your child will play, calm down and relax without getting stuck and tangled. It comes in fun, bright colors that are eye-catching for both boys and girls.
The body sock is a perfect gift for children with sensory sensitivity issues, Autism, and ADHD to helps improve their well-being. This spandex body sock is also breathable keeping the young one cool even in active play.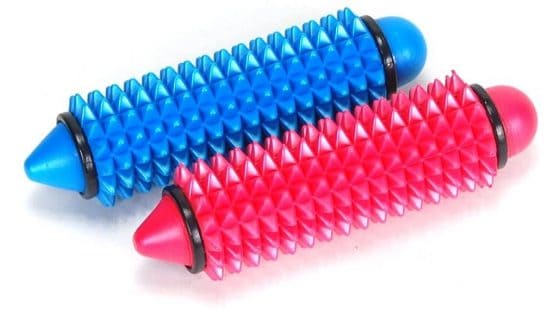 The Pencil Mini Foam Roller from AllCare brand is a tactile sensory toy that captures the attention of children with Autism and ADHD. This fidget kit will keep the hands of the little one busy so that they can listen and focus.
This squishy toy features high-quality EVA foam material construction with hypoallergenic qualities. Besides, it's odorless, light-weight, and portable. The Pencil Mini Foam Roller can be rolled, pressed, or rubber with the hand or underfoot.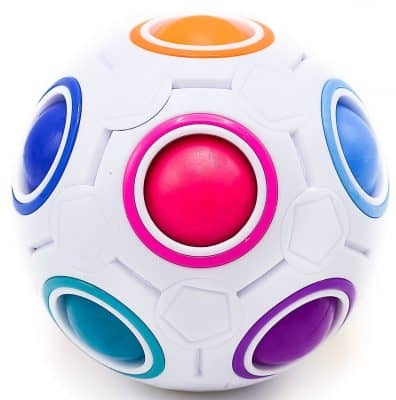 The Toyzabo Challenging Puzzle Speed Cube Ball is a fun fidget toy with 11 rainbow colors and 12 holes making it a revolutionary brainteaser that your kid will love to play with all day long. The puzzle is in the shape of a ball and comes with 11 colorful balls inside that your child can use to fidget and will keep them busy for an extended period.
The puzzle offers mind challenging exercises that help the child brain to develop when they manipulate the Puzzle Speed Cube Ball. In addition to this benefit is the opportunity to develop hand-eye coordination and motor skills.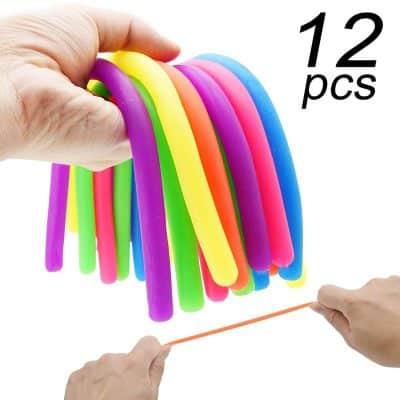 If your child can't sit through or is always on the go, the Enthur Stretchy String Fidget sensory toy will make an excellent gift to help him calm down and pay more attention. This toy features high-quality custom material construction that's stretchable and durable that the young one can use to pinch, pull, pound, and squeeze.
In addition to calming down the child, this sensory toy will desensitize the child in a fun and safe way to tolerate the senses in the world around them.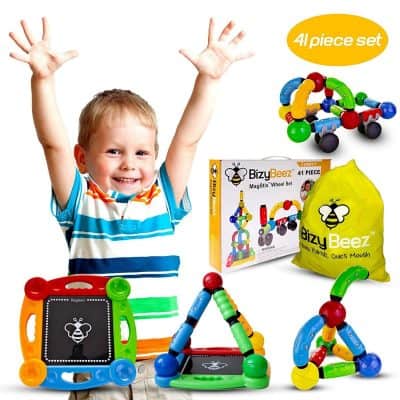 The Magstick Sensory magnetic building set is a sensory and STEM toy that offers your child fine motor and neural development, making it an excellent gift for kids ages three years and above. The kit comes with 41 pieces of magnets with different shapes, textures, and sizes that allow the young one to construct unique items like cars, trains, and houses.
The STEM toy encourages counting in a fun and creative way. The kit features high-quality neodymium construction magnets that provide durability even with the roughest play.

The fun liquid floating liquid timer that will mesmerize your kid as he flips it over to start, making it an ideal stress reliever for both boys and girls aged three years and above. The Water Motion Liquid Bubble timer features a colorful floating bubble that floats at the bottom of the bottle. The toy is a calming sensory fidget for children with ADHD, Autism, and anxiety disorders.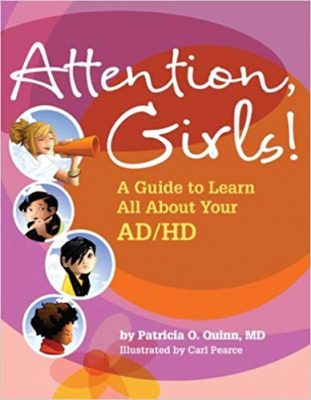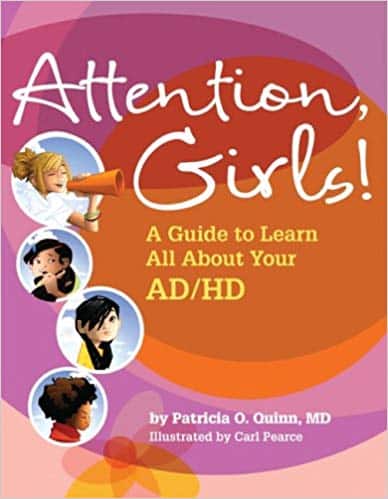 The beautiful book written about all that little girls needs to know about ADHD, how to make friends and talk with adults about their disorder. The book is an excellent gift for girls aged 4 – 8 years.
The book will allow the little girl to learn more about their condition and help her to interact with others so that she doesn't feel "so different." It's a quick read that introduces different characters that display various symptoms of ADHD that your child can relate to and know that she's not alone.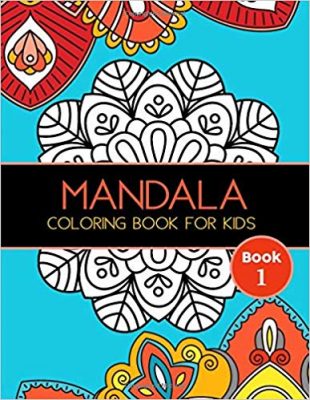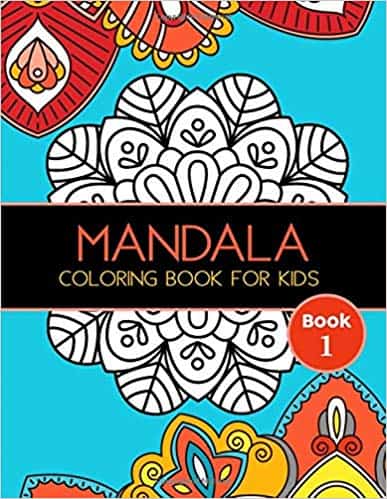 The Mandala Coloring book for kids features thick lines and large spaces that allow your little one to color for fun. It features 86 pages that offer meditative coloring designs that are both complex and simple.
The paper is stiff and heavy, providing an excellent surface for coloring. Your child will never have to color on the back page of the page he has already colored.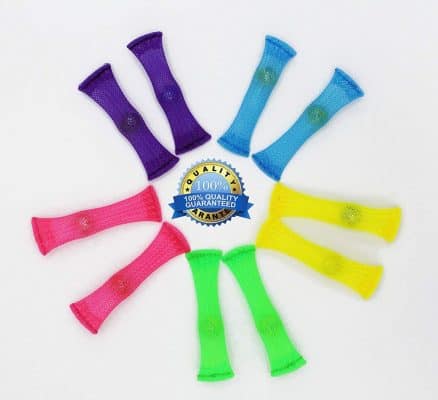 Choosing a gift for a child who has ADHD requires careful thought. Toys that allow kids to fidget can benefit children and help them improve coordination and motor skills. In addition to the improved learning benefit, the Karma Fidget kit will assist in the development of muscles in the small hands. This fidget is little and safe to fit inside the pocket of your child and can be used in a class session or at home. Besides, it doesn't produce any noise that would distract people in a classroom setup.
Additionally, this toy will help to improve concentration and listening skills by allowing the brain to filter out extrasensory information. This fidget toy will allow your kid to experience open-ended play and strengthen their social-emotional skills.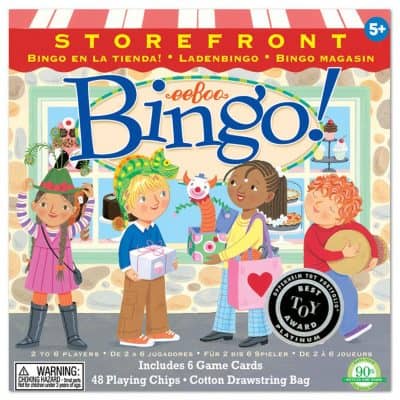 eeBooo Storefront Bingo is a game of chance that will help your child to learn fundraising for charity and its social aspects. It's an excellent choice for kids who have a short attention span that will get your little one concentrate for an extended period.
There are plenty of positive effects that your child will get when playing with this Bingo game. This game includes six boards, 48 playing pieces, and a storage bag and an ideal option for children aged five years and up.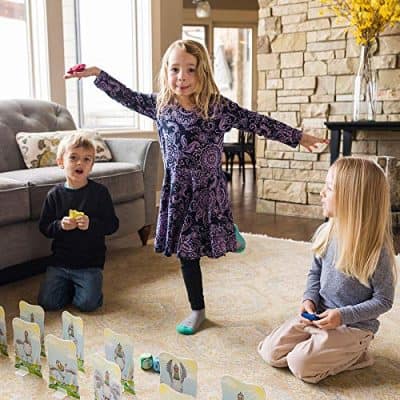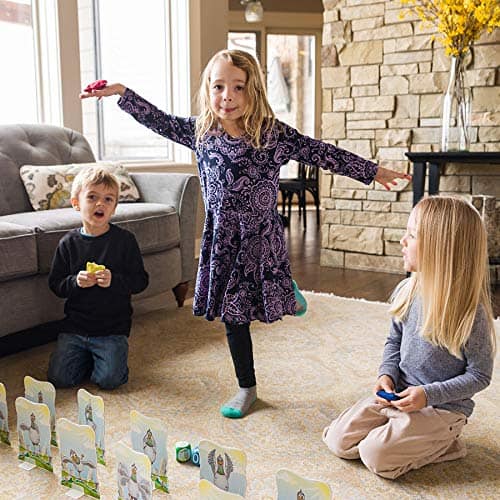 Sturdy Birdy is a game that is all about rolling the dice and striking a pose. This set feature 12 different poses that allow your child to gain balance and improve visual motor skills. Sturdy Birdy will also encourage the young one to count, enhance social interaction, coordination, and gross motor skills. It features 12 Reggie pose cards, 12 stands, four seed bags, and two foam dice.
The poses in this game are challenging but won't strain your child's muscles. Instead, it will help strengthen coordination skills for better control. Additionally, your kid will develop mathematics skills, and number recognition making it an excellent toy for children aged 5-7 years.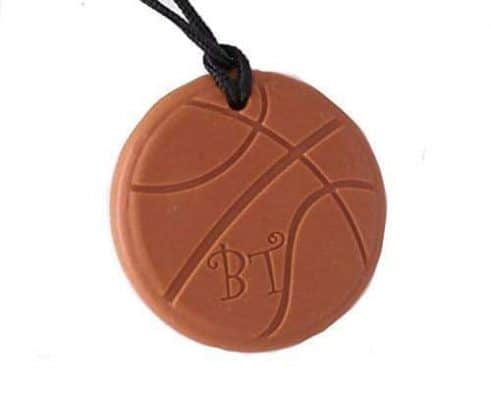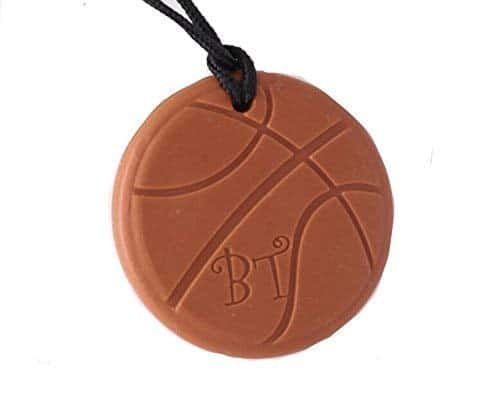 The Basketball Chew Necklace is a chewable toy designed with the ADHD child in mind. It's a helpful tool for children who put toys and everything else in their mouth. Since chewing is a movement, this Basketball Chew Necklace will allow the young one to reduce excessive movements (fidgeting) and increase their focus.
This Necklace Chew features safe, non-toxic material construction providing a safe substitute for the child who on shirts, fingernails, pens, erasers, which can be toxic and harmful. Besides, it's easy to clean and is dishwasher safe. It also comes with a breakaway cord that's not chewable.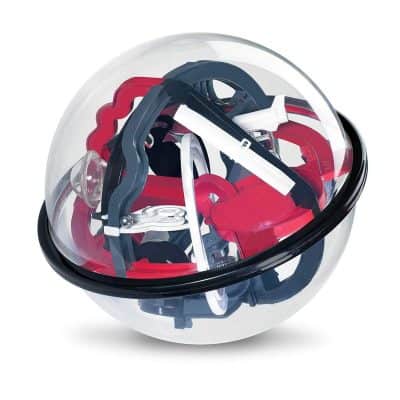 The 3D spherical maze will offer your child hours of endless fun. The Space Mission Globe Maze will help increase the attention span of the little one as he watches the ball run smoothly inside the maze. It's also challenging to a certain level and involves a lot of concentration. 
The Space Mission Globe Maze will help improve your child's focus and motor skills. Besides, this handheld puzzle runs on imagination and creativity and features 80 challenging obstacles for never-ending fun.