Top 30 Best Baby Crib Toys 2023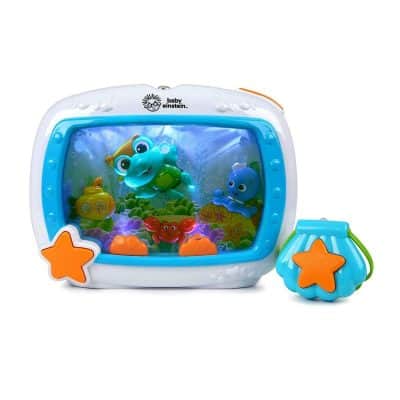 Just like the name suggests, this toy has soothing melodies for your baby. The Baby Einstein Sea Dreams Soother has ten different melodies and soft lights that grow dimmer with time. The ocean melodies lull your baby to sleep. It comes with a remote, enabling you to switch it off without being in your kid's room.
The toy's straps are adjustable to fit any size of a baby crib. You can easily use the toy while traveling with your baby, whether on a plane or your car. Simply fix it to the car's headrest for a smooth ride. Alternatively, you can attach it on a table tray on the plane.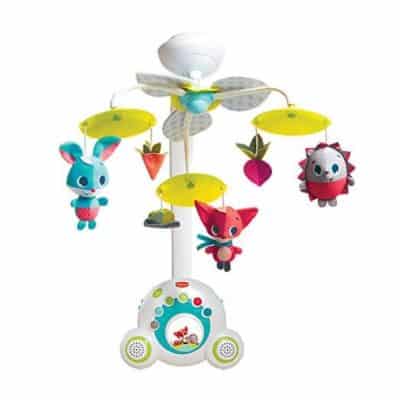 Tiny Love has made it again on the top 30 list. The Soothe and Groove toy is designed to grow with baby. It can be attached to the crib or the baby can carry it with him. The Meadow Soothe and Groove can entertain your child for up to 40 minutes with 18 different yet engaging melodies. The music box has powerful speakers which produce high-quality sound. You can easily adjust the volume to a soft melody to soothe your sleeping baby.
The baby mobile has different colors that are appealing to the child. You can stimulate your baby to engage with the music box by pressing on the colored buttons to change the music.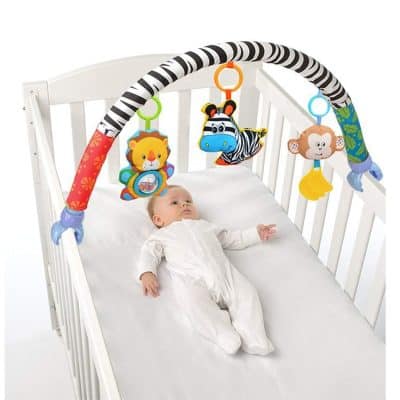 The toy is made with non-toxic material which is safe for your baby. The arch has beautifully colored animals to simulate your babies' vision. When shaken, the toy produces sounds that stimulate the auditory system. It also comes equipped with a teether. Your child can rub his swollen and itchy gums while playing. This toy accommodates most of your child's needs. It can be used for a one-month-old baby to three years.
The toy also helps improve coordination skills. The eye and hand movement is improved while the toys are in motion. While hanging on the crib, it encourages your kid to reach, pull, and hold the toy. The arch can be detached from the crib and used on your stroller.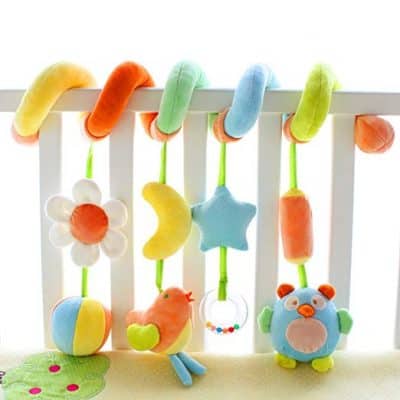 The Shiloh baby stroller has a perfect blend of different colors which will lighten your baby's room. The spiral stroller toy has four characters: an owl, a bird, a rainbow ball, and a ring rattle that your baby can relate to. Fixing it on the baby's crib is easy since it only involves spiraling the toy and attaching the characters with the Velcro. You can detach the toy from the crib and fix it on your fingers to cheer your baby. You can also it with the car seat or baby stroller.
The toy is made of polyester and it's easy to hand wash and sanitize. It is also safe to chew on since babies love to experiment everything with their mouths. It is only wise to maintain total cleanliness on the toy.
Shiloh baby stroller helps the baby improve on coordination skills. It also aids in visualizing different colors while the ring rattle is an ideal hearing aid.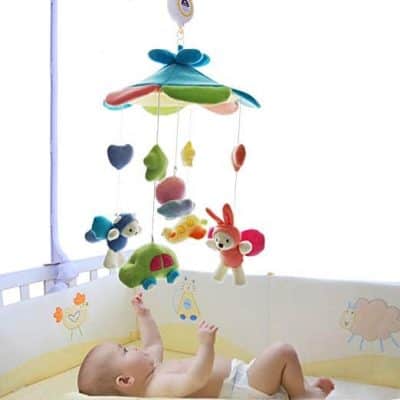 Shiloh stands out with a second item on this list. The newborn musical has 60 different tunes to choose from and can play for a whole hour! How amazing is that? The mobile has six buttons where you can easily switch the songs. In addition to this, the mobile turns itself off after 30 minutes of inactivity thus saving on battery.
The toy is excellently designed. The colors, the finish and the non-toxic material used are all a sign of perfect craftsmanship. You can manipulate the bracket for a higher and wider view of the toys over the crib. Adjusting this is not difficult. Additionally, as the baby grows, you can detach the characters from hanging over your baby and let your baby interact with them.
Are you looking to gift your friend for having a baby? This is an exceptional toy to purchase. You can have it carefully wrapped with the Shiloh gift wrappers and surprise your friend.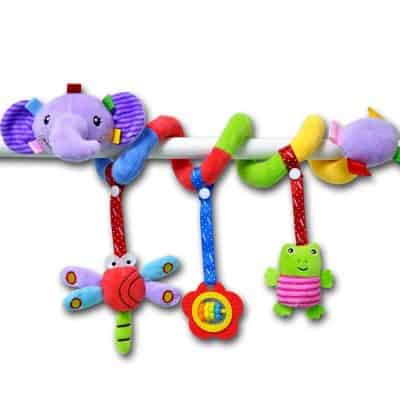 You can neatly decorate your baby's crib with the Elephant Cartoon Stroller Arch. This toy is built to help develop your child's hearing skills. The toys can chime, jingle, crinkle, squeak, and rattle. The combination of these different sounds will help your baby develop distinguish and relate to these sounds. It also builds on coordination skills since the sounds are as a result of squeezing and pulling. Moreover, the toys have a unique blend of colors that are appealing to the baby's visual sense.
The toy can be used by newborns to children under the age of three. Images of the elephant and other characters will naturally stimulate your baby's curiosity. Your child's cognitive skills will be developed in the process.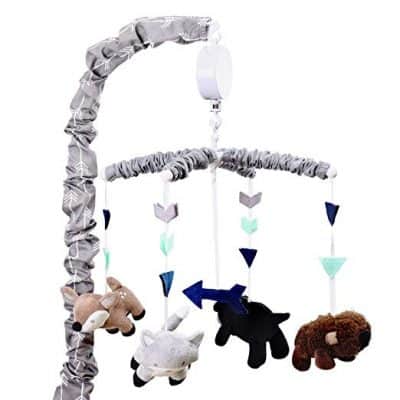 The product name depicts that this toy has a forest theme. Attached on it are a fox, bear, deer, and bison which have soft fur for cuddling. The characters are hung on a ribbon with arrow-shaped decors. You can easily read out the instructions and fix it on your baby's crib.
It has an electrical musical that plays for 15 minutes while the characters are in motion. You only need to purchase two AA batteries. You can engage your child with the 12 musicals and the rotating animals as you carry out your chores. Some of these melodies will soothe your baby to sleep. You can easily change the songs.
The toy is useful in aiding the visual, audio and coordination skills in your baby. This toy is a worthy investment for your child.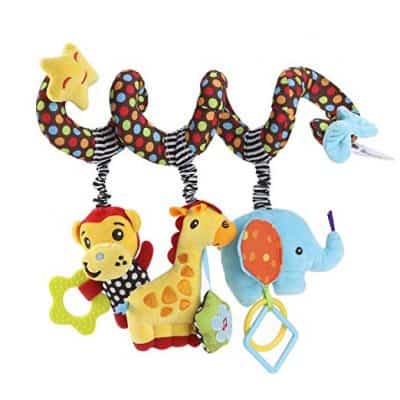 You can tag the Toymytoy Spiral stroller anywhere with you. You can attach it on the shopping cart handle, the stroller, the swing or on the crib. It literally becomes your child's best mobile toy. It is made of soft and fluffy cotton and is ideal for newborns since it is safe and comfortable. It also makes sounds when squeezed. This will enhance coordination skills in your child. The realization that the hands squeeze and result in noise will heighten their curiosity.
It has brightly colored animals which are essential in your child's visual ability. It is also multi-colored which provides a basis for your child to differentiate colors. It also has teething rings and this is a huge relief to teething babies and parents. You will no longer have a fussy baby. The teether soothes the baby's swollen gums and keeps them busy.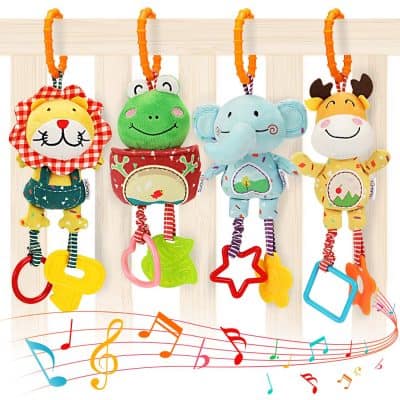 The TUMAMA Handbell Teether is another safe toy you can place on your baby's crib. It is made of soft cotton which is non-toxic and does not fade. Made with four brightly colored animals which are a frog, lion, fawn, an elephant, the toy will help your child develop his eyesight. Each character has a ring and is easily attachable on the crib. The animals have different shaped teethers and in time, your child will differentiate colors and shapes. The teethers come in handy.
The toy makes noises when squeezed or shaken. Your baby will associate his actions to a result. It will also promote your kid's hearing skills. When the animals are suspended on the crib, your child will reach out to them thus flexing their muscles.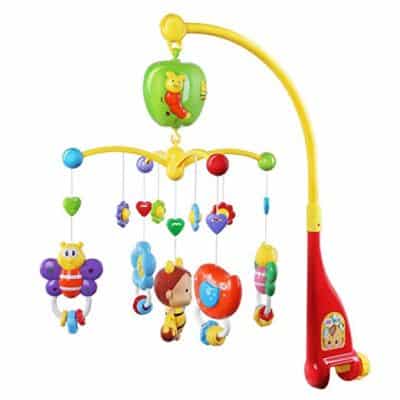 This toy will grow with your baby. You can attach it on the crib or suspend it while the baby is young, or you can detach the characters and let your kid play with each animal separately. Either way, it will be a fun learning experience.
The toy plays nature sounds, joyful and baby songs. The musical box has 20 tunes and can play for 20 minutes non-stop. The baby can also rattle the characters while playing to produce sound.
The toy is plastic hence cleaning it is a lot easier than the stuffed toys. Wiping this crib toy will do the trick.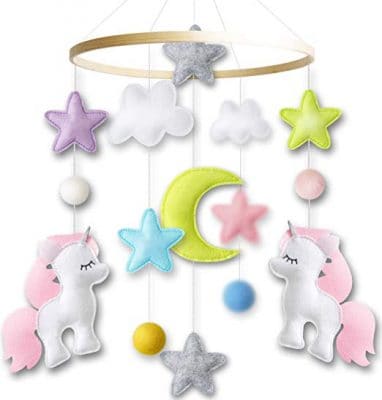 Your girl's crib will never be the same as the Giftsman unicorn toy. Decorated with two white and pink unicorns, two clouds, a moon, six stars, four colored hairballs, and a bamboo hoop, the crib becomes immersed in beauty. This toy gives a sense of security to your kid.
Materials used on this toy are environmentally friendly. It is safe for your baby since it is free of allergies. It is a perfect piece of quality craftsmanship embedded with love.
It is easy to set up the mobile using the instructions. In case of any complains or questions, Giftsman will see to it you get a replacement or a full refund. Customer satisfaction is their priority.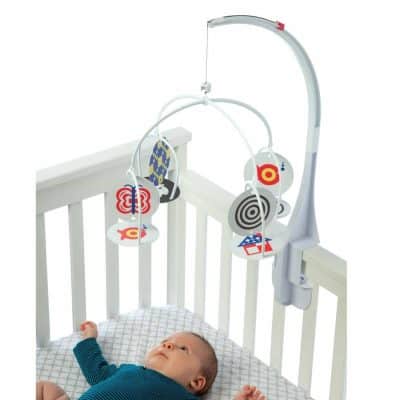 Wimmer-Ferguson is all about producing realistic toys your kid can relate to. The Infant Stim Mobile is no exception and comes with 10 reversible graphics cards with high contrast patterns. It has black and white graphics for infants less than 3 months and colored patterns for babies above three months. Infants do not recognize color so black and white is perfect at this time. After three months, they gradually begin to conceptualize other shades of color. The cards are labeled according to age. This helps your baby's vision grow from simple to complex.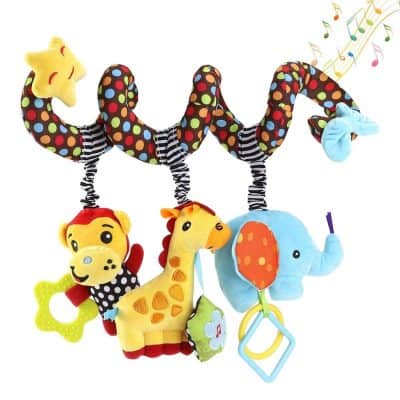 What better way to interact with your child than using the Hanging Willway Infant educational stroller! You can narrate a story using colorful animals to create your child's imagination. Watching you mimic sounds with these characters will not only be insightful to your child but will also help them distinguish characters.
This toy has different sounds. The monkey rattles; the star has a musical box, while the lion has an inbuilt BB speaker. You can engage your child to listen to the music or shake the toys as you complete your chores.
The stroller mobile can be attached on pretty much everything. You can use it on the shopping cart, car seat or stroller. Additionally, it is made of soft cotton which is comfortable for your baby to cuddle.
Tiny Love has yet another amazing crib toy for you on this list. The Meadow stroll roller is exceptionally easy to attach to the crib. It has a sun-shaped propeller, a teether, a mirror, a transparent sun prism, a rattling ball, and bee. All these play items engage your child. From making sounds to watching his reflection, your baby's cognitive and fine motor skills develop. It is also a source of fun and cheer.
This toy is mobile and can be used on the stroller during walks, on the car seat while driving around or on the carrycots. The toy is durable and safe for your child.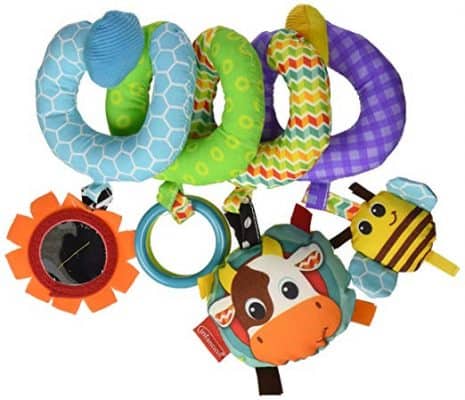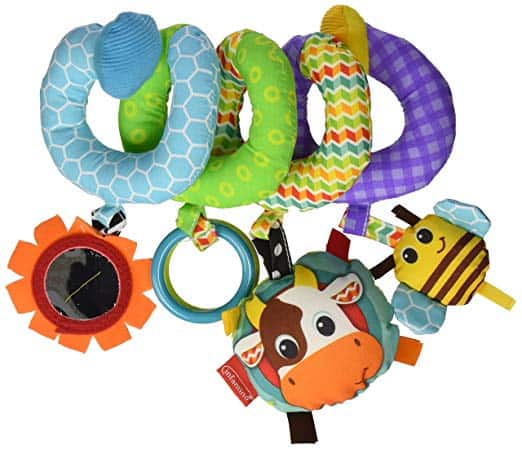 Weighing only 4 ounces, the Infrantino Spiral activity toy is ideal for babies at or below one year. The spiral has engaging colors matched with four beautifully crafted hanging toys. Grabbing the bee helps in visual tracking and coordination. The cow makes a rattling sound when shaken while the shiny mirror increases your baby's curiosity. The rings are helpful in teething. Washing the toy is pretty easy. You can hand wash and sterilize it.
The spiral can be wrapped around the crib, car seat or stroller. It is BPA free and totally safe for your baby. It is also an amazing gift to take to a baby shower or as a Christmas present.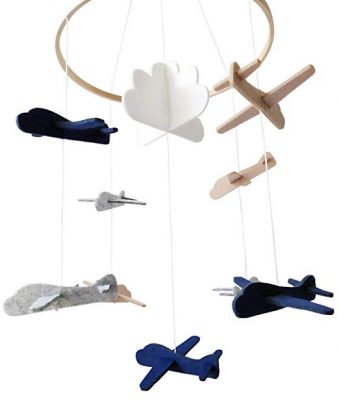 The Sorrel mobile airplane is a unique decoration in your baby's crib. With 9 airplanes and one cloud, the decoration is simple yet elegant. You can suspend it on the crib or on the ceiling. The rotating planes will help soothe your baby to sleep and develop his baby's eye movement. It will also help in strengthening the muscles that aid in head movement. The planes will assist in mental and emotional development.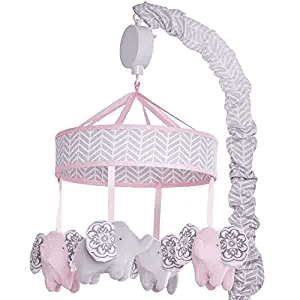 The pink and grey combo on the Wendy Bessilimo musical toy will be an elegant and classy decoration on your girl's crib. Made of quality and durable material, this is definitely a product to consider. It is soft and plush and accommodating on baby's tiny hands.
The toy has a three-minute lullaby that will hush your baby to sleep as she watches the elephants circle above her. It does not require batteries. It is pretty easy to assemble it on the crib.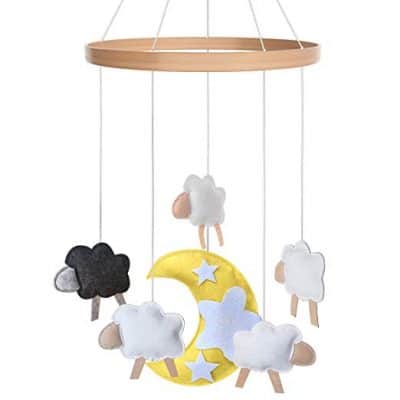 This toy has the Baa Baa Black sheep theme and is hand made to perfection. You can hang it on the ceiling or on the crib. You can start by having it in the crib but as your baby's eyesight develops, you can hang it on the ceiling. The toy is made of wood and skillfully made to cheer your little one. It is so soft and made of high-quality material.
The toy is lightweight and easy to attach on the crib or cot. Most babies relax as they watch the sheep hanging around. It is suitable for any gender.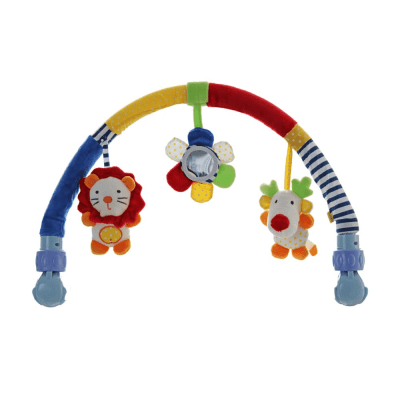 Shiloh is on the list again with the travel stroller activity rattle. This toy is made of pure velvet. It comes with vibrant colors and characters which will fascinate your kid. This toy will decorate the crib.
This stroller toy is easy to use on the crib, stroller, and car seat. You can carry it when shopping or traveling. Assembling it is quite easy and doesn't need a manual.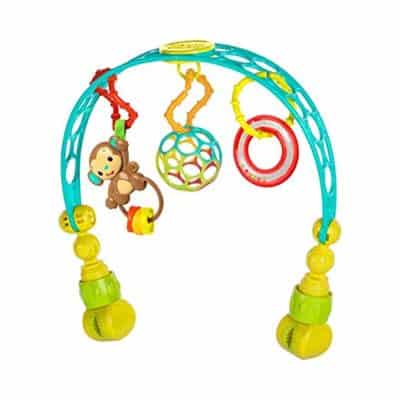 The Oball arch toy will be a source of amusement to your kid. It comes with a monkey and an elephant rattle. It also has a ball and these three can be detached from the spiral for your kid to interact with. There are four loops on the arch where you can place additional toys.
The rattling sounds on the animals are ideal for auditory development. The colored animals help your baby in coordinating movements between the eye and hands.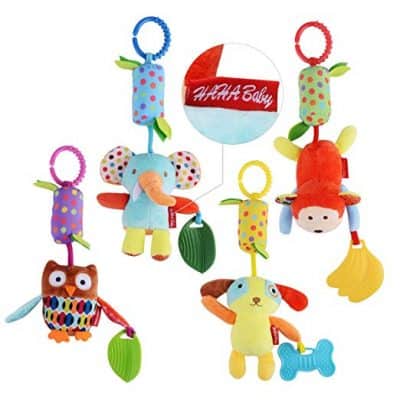 This toy has passed safety standard tests and is a safe learning crib accessory for your child. It is made of high-quality material which ensures its durability. It can be used by newborns to two-year-old babies.
The colors and patterns on this Haha toy are bright and vibrant. They are a classic learning environment. The bright designs will stimulate your child vision and encourage him to learn and grasp the objects. Meanwhile, he will also get intrigued by the rattling sounds and get motivated to squeeze the characters. Your child will have fun growing up and you will be a happy parent.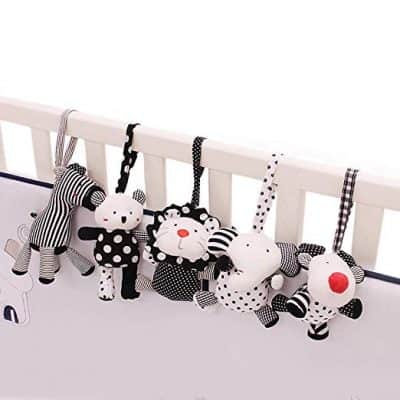 Shiloh produces exquisite baby items and it's not surprising that it has the fourth item on this list. With a black and white theme, the Shiloh baby crib stroller is a perfect baby toy to add to the crib. While your baby is marveling at the colorful characters, you can make time to do your chores.
The five characters in the toys are attached with buttons. This makes it easy to attach and detach from the crib. They make rattling sounds which will encourage your child to play with them. The sounds can also calm a noisy baby.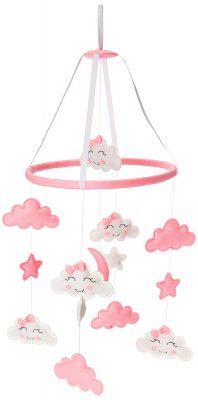 What would you like to the first thing your baby gazes at when they wake up in the morning and the last thing that they glimpse at when sleepy? This baby hanging nursery decoration is best fit to brighten your little one's world
With soft and decorative colors, soft pink and white to be precise, the wind propelled hanging toy will always grab your child's attention. It will assist in tracking development and in time help with eye and hand coordination.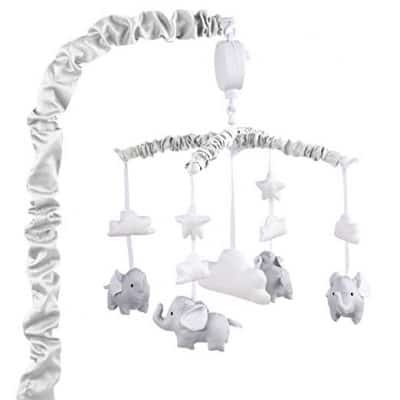 This unisex toy by Peanut Shell features grey elephants, stars and clouds suspended on a crossbar. You can spin the crossbar to create fascinating and entertaining moments for your young one. Alternatively, you can play some music to soothe or calm him down. There are twelve tunes that can be switched with a switch of a button.
This product promotes motor development. Your child will be motivated to track and grasp objects. Visual and auditory systems will also get strengthened in the process.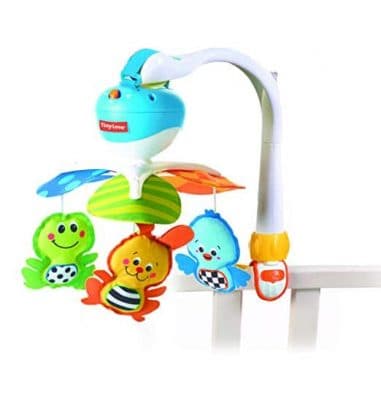 Your child will love this toy. It has five different melodies and can play for thirty minutes nonstop. During this time, you can perform your chores as your baby gets entertained in the crib.
The animals are in black and white which is an appealing color for children. The spinning toys are fascinating. They are a combination of a hedgehog, a fox, and a bird. Playing tunes as the animals spin will calm your baby to sleep.
You can carry the Tiny Love toy anywhere. It comes with a Velcro strap that you can attach anywhere. Taking a stroll has never been easier. You can also carry it in your car to ease the ride on your little one.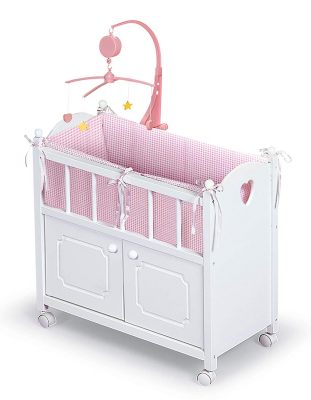 The Badger Basket Cabin bedding is a suitable piece for play and storing toys and dolls for your kid. The crib has a storage drawer beneath it that has ample storage. Your child can easily organize her dolls and play as a parent to them. Role play will instill a sense of responsibility in your kid towards their dolls.
The crib has a windup musical to entertain your kid. This means you do not need to spend on batteries. It also has wheels to enable easy movement around the room during playtime. The finishing on the crib is attractive with a blend of white and pink perfectly fused.
You do not need to worry about the bedding getting dirty after the kids are done playing. The fabric is easily washable. You can also wipe the crib to maintain cleanliness.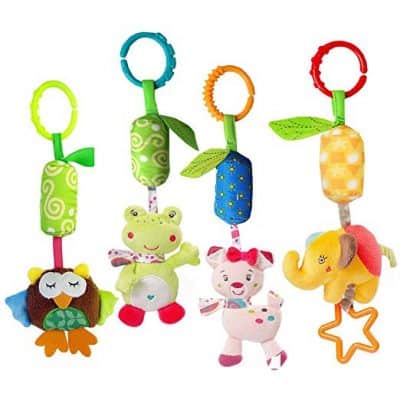 The Katedy Handbells Stroller is another crib toy you can use. It comes with beautifully colored animals and unique patterns. The different colors aid your child's vision and also his senses. With time, he gets to learn there is a difference between the different characters hence assisting in cognitive development. The toy has an inbuilt BB Speaker and a wind chime. The auditory system develops through these musicals. Alternatively, the toy makes sounds when shaken. This is helpful in muscle development.
Attaching the stroller toy is quite easy thanks to the C-shaped clip. This crib toy can also be used on the car seat or shopping cart. It is made of safe, non-toxic polyester. It is also durable and environmentally friendly. This toy has met international standards of quality.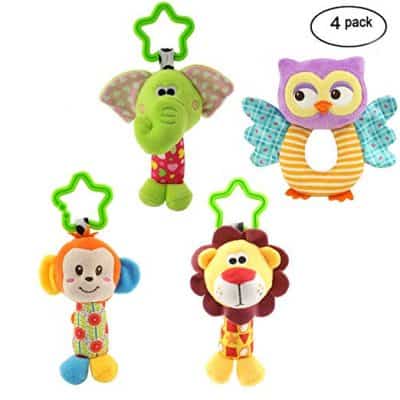 Your baby's playtime just got better with the Mkony stroller toy. Made with the elephant, owl, monkey and lion design, it is colorful to simulate vision. The toys rattle when shaken or squeezed and this will motivate your child to repeatedly shake the doll. She will have fun in the process; develop her muscles and auditory system.
The doll can be used by an infant to a one-year-old although your baby can carry the toys along even at two years. It is BPA free and meets international standards. It is eco-friendly and totally safe for your baby. The four toys are soft and plush.
You can carry the crib toy anywhere with your kid. You can attach on the stroller and car seat.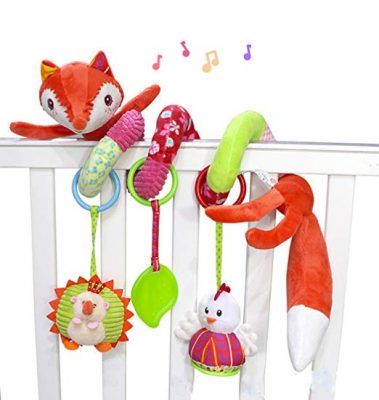 With seven colors to choose from, the SKK baby plush stroller toy is carefully and beautifully crafted to aid in your baby's development. The bright colors are designed to appeal to baby's eyesight. The crinkled paper tail helps capture your child's attention and boost the sense of touch. The teether soothes a teething baby and is totally safe to be chewed on. The hedgehog rattle is helpful in enhancing auditory development. The attached mirror will raise curiosity and stimulate brain growth. Playing with the hanging toys boosts the eye and hand coordination.
The spiral on the SKK plush toy is easy to attach on the crib without a manual. It can also coil around a car seat and stroller. You can carry the toy with you while taking your baby on a walk or when traveling.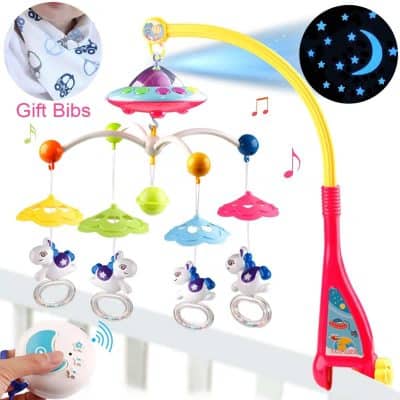 Why should you consider this crib toy? It has 108 melodies that can calm or cheer up your little one. It will take some time for your loved one to get acquainted with all the tunes, buying time for you to keep this musical. The toy has a projection of the moon and stars creating a serene environment for your baby to grow. The toy is equipped with a remote which allows you to turn on the musical box and projector, adjust the volume or switch it off.
The toy has four hanging and rattling animals. When spinning, they will capture your child's attention and he will be captivated to catch them. This action will enable muscle development.