From tummy time to careful crawling and those precious first few steps, every baby needs a safe and comfortable space to practice movement and play. And with enough padding to absorb even the nastiest falls, a baby floor mat is the perfect place for your little one to fine-tune their motor skills—and they come with a whole host of other developmental benefits, too.
But with such a wide range of options available, how's a new parent supposed to work out which model to choose? Today we're going to examine what makes a baby floor mat great, and we'll present the top 11 options on the market so you can work out what works best for you.
Features to Consider in Good Baby Floor Mats
Baby floor mats come in a mind-boggling array of models that cater to a whole host of specific needs. There's no one-size-fits-all solution—the best option boils down to your individual circumstances. Let's examine the key considerations so you can pinpoint the product that best caters to you.
Size: Baby floor mats come in all sorts of shapes and sizes, from enormous living-room-spanning mats to fold-up stowaway options. Think about how much space you've got to play around with, and shop accordingly.
Shape: Do you want a rectangular-shaped baby floor mat or a circular model? Does it even matter? The ideal shape comes down to personal taste, and what works best with the room you plan to put it in.
Thickness: A good baby floor mat should be thick enough to keep your baby safe, but if you're going to put your mat on top of a soft woolen rug, you won't need the thickest option out there.
Material: The type of material affects the ability to provide padding for slips and spills, and has an effect on comfort.
Portability: Planning on moving your baby floor mat around a bunch? Then grab a non-modular model that rolls up into a cute little carry bag.
Interlocking: Some baby floor mats can be pulled apart into little pieces to enhance your little one's playtime. And while that sounds fun, it'll also increase your clean up time, so choose wisely.
Durability: If you like the idea of throwing down a floor mat outside for the tots to play around on, then go for an extra-tough model rated for outdoor use.
Washing method: Can you toss the whole thing in the washing machine, or will you need to wipe it down with a cleaning cloth? Your little ones will wreak havoc on their floor mat, so you need to know how you'll keep it clean.
Style: Do you want a super stimulating mat to slap on the nursery floor or a sophisticated design that blends in with your minimalist décor?  Modern baby floor mats come in patterns that appease both infants and grown-ups alike.
Top 11 Best Baby Floor Mats 2020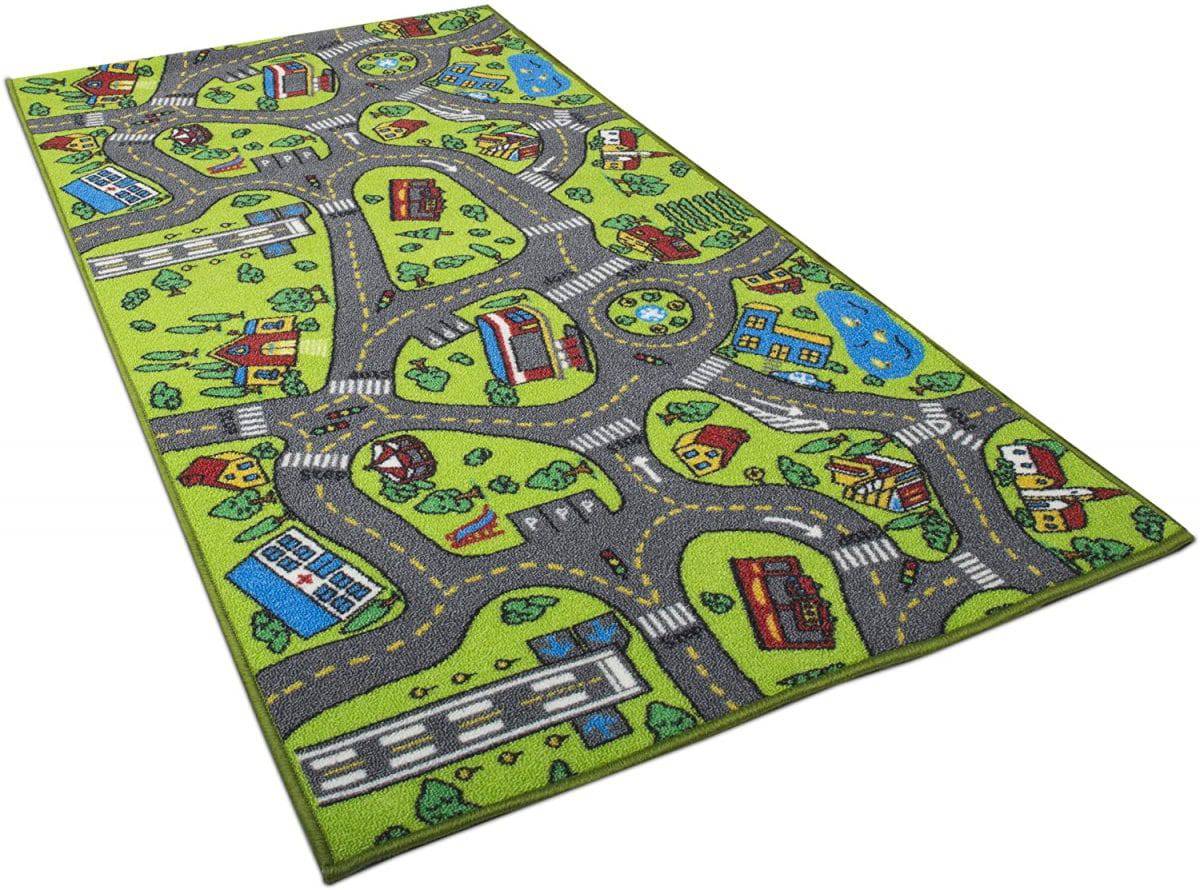 Why we like it:
It's a large, affordable, safe floor mat with a classic design from your childhood that's been entertaining tots and toddlers for decades.
Editor's Rating:
Size: 60 x 32 inches
Weight: 2.6 pounds
Material: Skid-proof latex
Washing method
Vacuum or shake clean. Wash with mild soap and a damp cloth.
Design
Does this one look familiar? Well, that's because you probably played on something similar when you were a little kid. This baby's and toddler's road rug design has been around since as long as we can remember, and it's timeless allure still holds strong today.
Of course, the great thing about this mat is how seamlessly it works in conjunction with your child's toys. Just hand out a couple of cars and trucks with moveable wheels and watch them cruise all around town with glee. Aim for matchbox-sized toys, if possible, as these are a perfect fit. This mat opens up some educational possibilities, too: you'll be able to teach older kids terms about cars and cities while they play.
Best of all, this classic design is exceptionally affordable—it's one of the cheaper options on this list.
Pros
Huge size offers plenty of room to play

The classic design works well with matchbox toy cars

Evokes nostalgic memories of your youth

Sticks well to wooden floors without slipping

Super cheap
Cons
Not machine washing

No carrying bag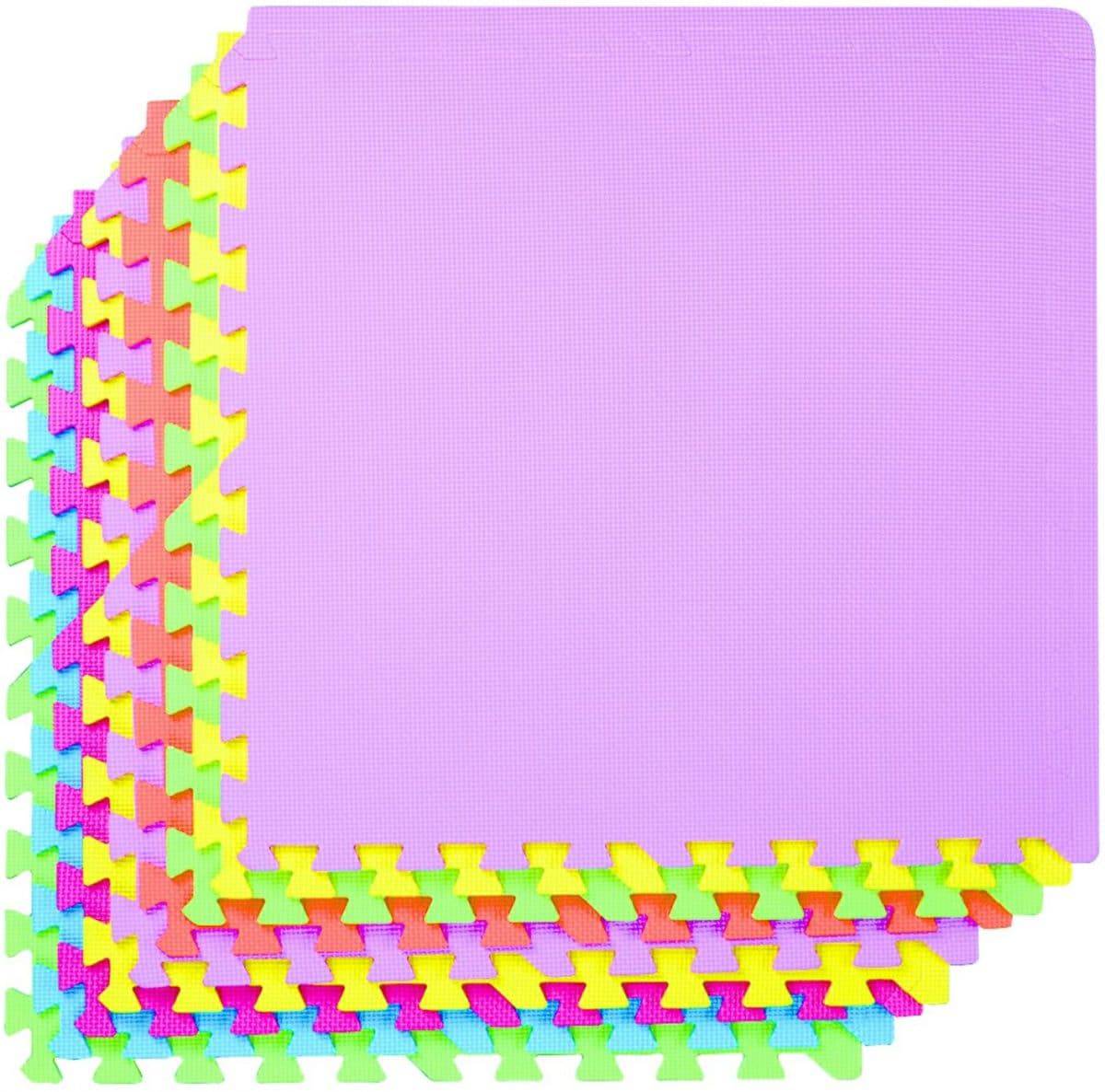 Why we like it:
This fun 9-piece interlocking set is about as cheap as they come, and makes a great play mat for younger children. Or, if your kid needs a bit more room, multiple sets can be connected together.
Editor's Rating:
Size: 9 square feet
Thickness: 0.4 inches
Weight: 1.4 pounds
Material: EVA foam
Washing method
Wipe clean with soapy water
Design
For an affordable interlocking play mat, you can't beat these tiles by POCO DIVO. The non-toxic foam puzzle spans 9 square feet, enough to give younger children plenty of room to stretch out. If you plan to have multiple children or bigger kids on the mat, you can simply purchase another set and combine the two.
The squares are quite easy to pull apart. This makes clean-up a breeze, but don't be surprised if you have to put them all back together again after your kids realize this.
Each piece 0.4-inch thick EVA foam, so it's soft enough for babies to bounce around on. The thick foam material works well as insulation and padding on cold hard surfaces such as hardwood floors.
One thing we love about this model is the vast array of different designs on offer. With everything from letters, to numbers, to zoo animals, to plain solid colors, there's sure to be an option that both you and your children will love.
Pros
Highly affordable

Lots of different designs

Interlocking pieces
Cons
A little too easy for children to tear apart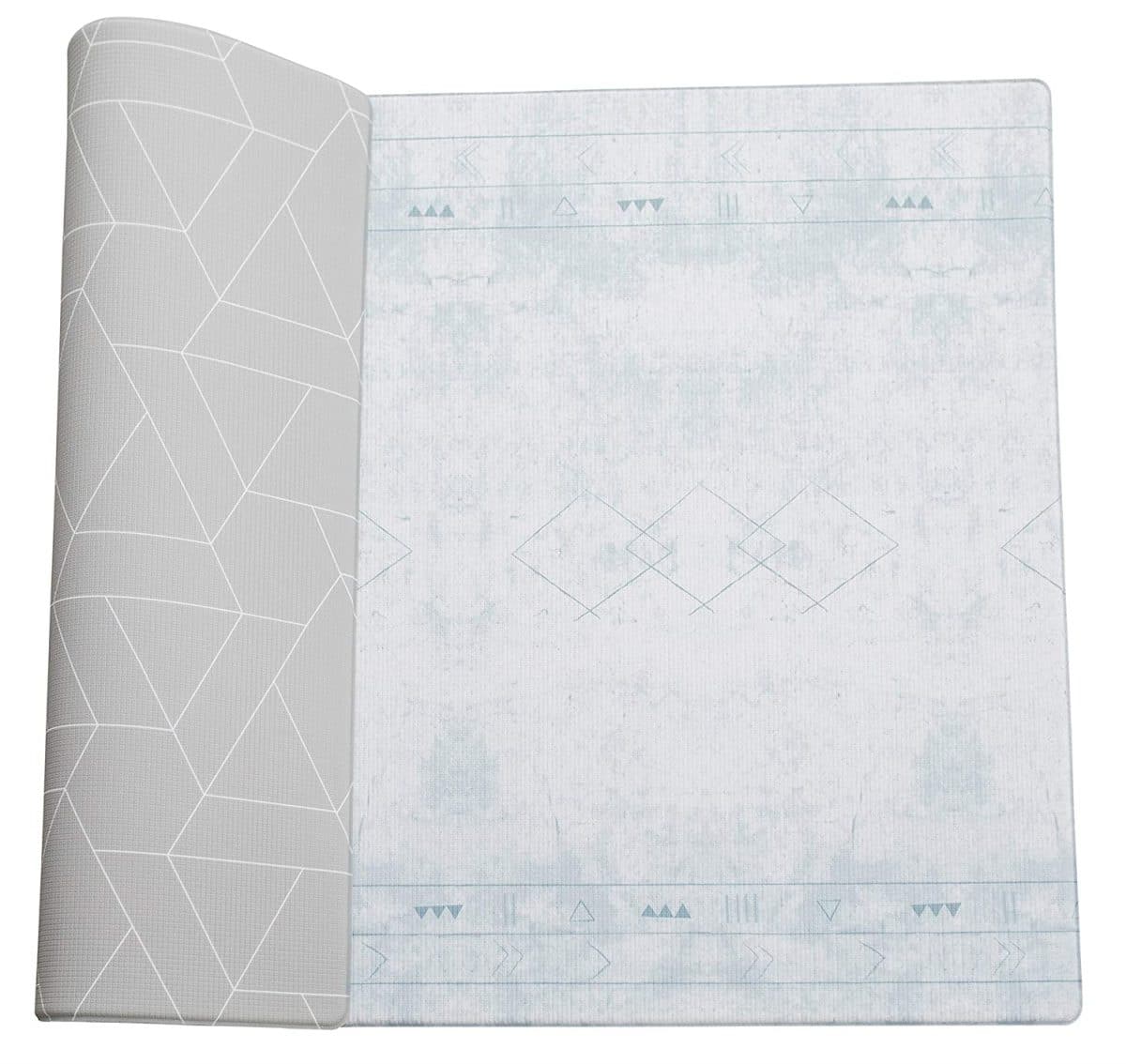 Why we like it:
This extra-thick mat boasts a sleek minimalist design and feels like heaven on your baby's feet.
Editor's Rating:
Size: 78 x 55 inches
Thickness: 0.6 inches
Weight: 11 pounds
Material: TPU foam
Washing method
Wipe clean with soapy water and a damp cloth.
Design
If you don't mind spending a little extra for a quality product with serious cachet, then the Offie Mat from Little Bot is your baby floor mat par excellence. The stylish number comes in two reversible designs—country road & triangle or oracle & zen—both of which combine fresh contemporary design concepts with captivating forms the little ones will love.
But it's not all about aesthetics, because the Offie Mat justifies the high price tag with its luxurious TPU foam that's non-toxic and super soft to the touch. Little Bot makes its gear to last as well, so you can rest assured this mat will be durable enough to withstand the rigors of a modern household. In fact, unlike most other options, the Offie Mat is pet friendly.
As it's a single-piece foam mat, you can quickly roll the Offie up and pack it away. However, bear in mind there's no included carry bag, and the 0.6-inch thick foam makes it a little bulkier than other mats. In other words, portability isn't the focus here.
Pros
Premium TPU foam feels terrific to touch
Minimalist Scandinavian-inspired design
Scratch proof and water-resistant, making perfect for pets
Cons
Expensive
Not especially portable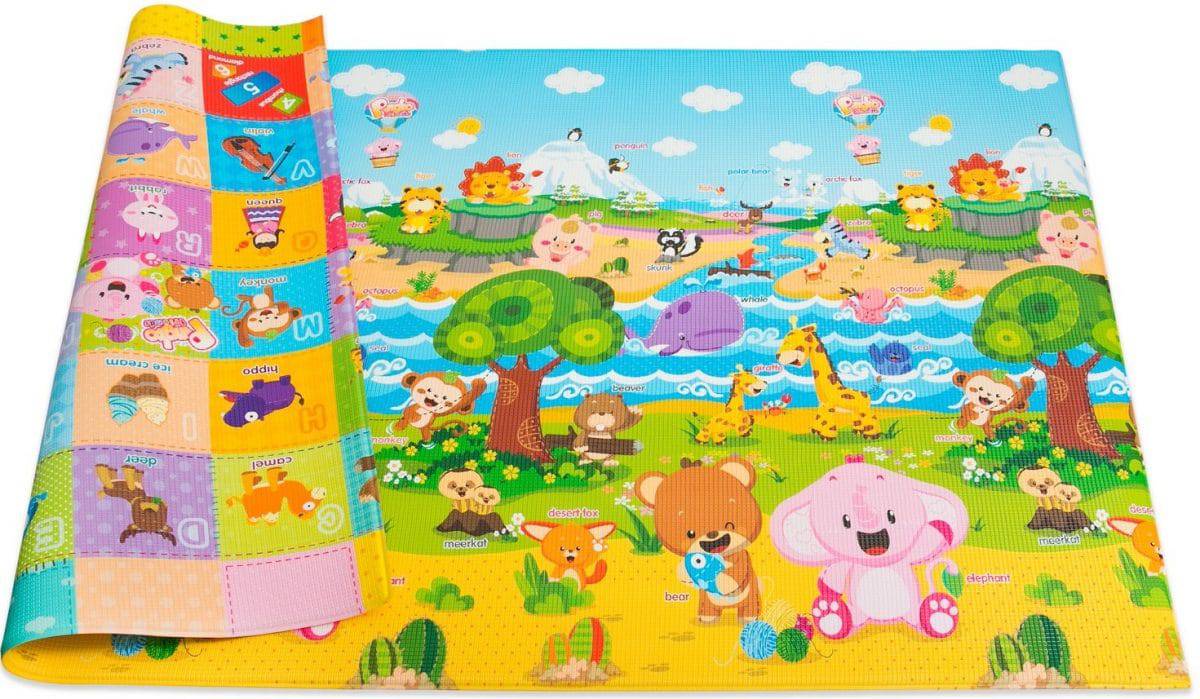 Why we like it:
It's a solid premium product made from a super safe, non-toxic PVC foam that's so soft and thick your child couldn't hurt themselves on it if they tried.
Editor's Rating:
Size: 82 x 55 inches
Thickness: 0.5 inches
Weight: 17 pounds
Material: Non-toxic, eco-friendly PVC
Washing method
Wipe clean with a soapy damp cloth
Design
Although it'll set you back more than many other options on our list, the Play Mat from Baby Care is as soft and safe as they come. Made from eco-friendly materials, this half-inch-thick PVC mat is so cushy that the manufacturers reckon it wouldn't crack an egg dropped from ten feet. And with that kind of protective support at hand, it's going to be the perfect play pad for your little one to slip, slide, and spill as they master the art of movement.
Another great thing about this mat is its reversible patterns, which offer parent and baby the best of both worlds. On the one side, you've got a hyper-colored, infant-friendly design that'll captivate their imagination—think farms, country towns, and animal friends—and on the other, a more subtle geometric design intended to complement your interior décor.
At 0.5 inches thick, the mat is easy enough to roll up and stow away. The waterproof mat works like a charm on a range of surfaces and adds noise reduction and insulation to your living space.
Pros
Super soft and safe

Eco-friendly material

Quality Korean design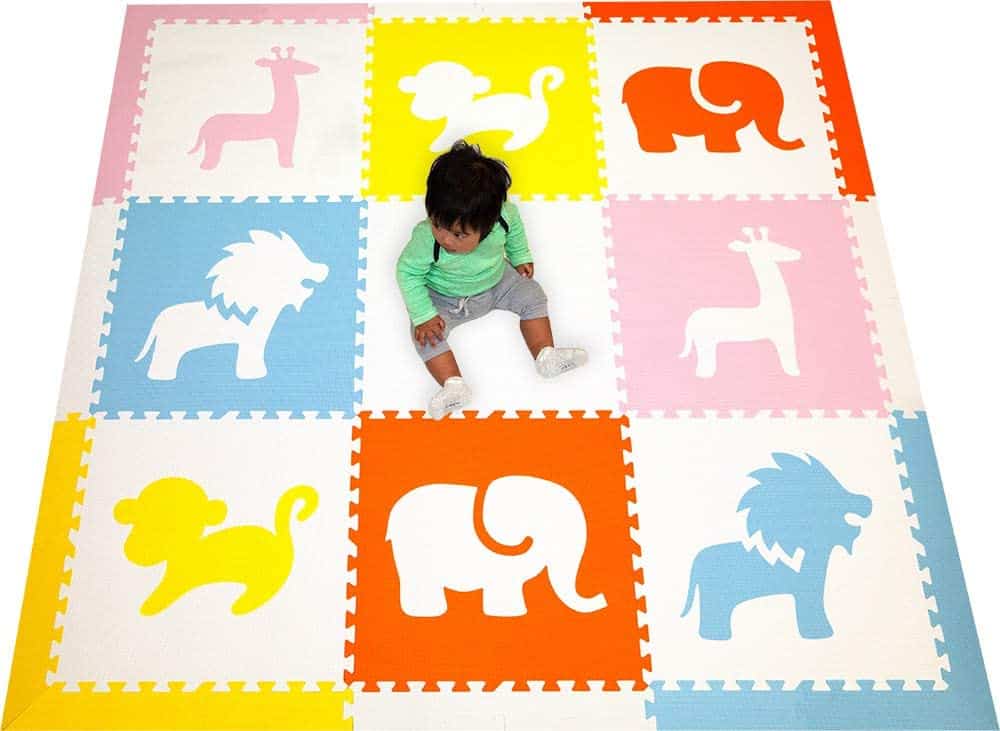 Why we like it:
This massive interlocking floor mat is as good as it gets when it comes to pull-apart puzzle-style play mats.
Editor's Rating:
Size: 42 square feet
Thickness: 13.85 pounds
Weight: 5/8 inches thick
Material: EVA foam
Washing method
Vacuum or wipe down with soapy water and a damp cloth
Design
The Kids Foam Playmat from SoftTiles is a fantastic interlocking option, albeit a little on the pricey side compared to the somewhat basic POCO DIVO Kids Play Mat. Measuring a massive 42 square feet, the nine-piece puzzle-style mat features an array of fun safari caricatures like monkeys, elephants, lions, and giraffes, and comes in multiple different color themes.
It may be more expensive than other pull-apart options out there, but the high-quality interlocking mechanism includes a border to hold this mat firmly in place. And that means mom or dad won't be frantically rushing around picking up pieces all day, a benefit that's well worth the extra expense.
The soft non-slip foam material works well on everything from hardwood floors to concrete and tiles. And at a bulky 5/8th-inch thick, it provides plenty of padding for your baby to fall on. Sloped borders help the baby maintain balance, reducing the chances of tripping when entering and exiting the mat. Made of non-toxic, formamide-free foam and utterly devoid of small parts, the SoftTiles gets top marks for safety, too.
The high-quality material is also exceptionally durable, so you won't need to rush out and buy another any time soon.
Pros
Quality interlocking pieces hold firmly in place

Thick foam provides ample padding

Sloped borders reduce tripping
Cons
Rather expensive

No modern or adult-friendly designs available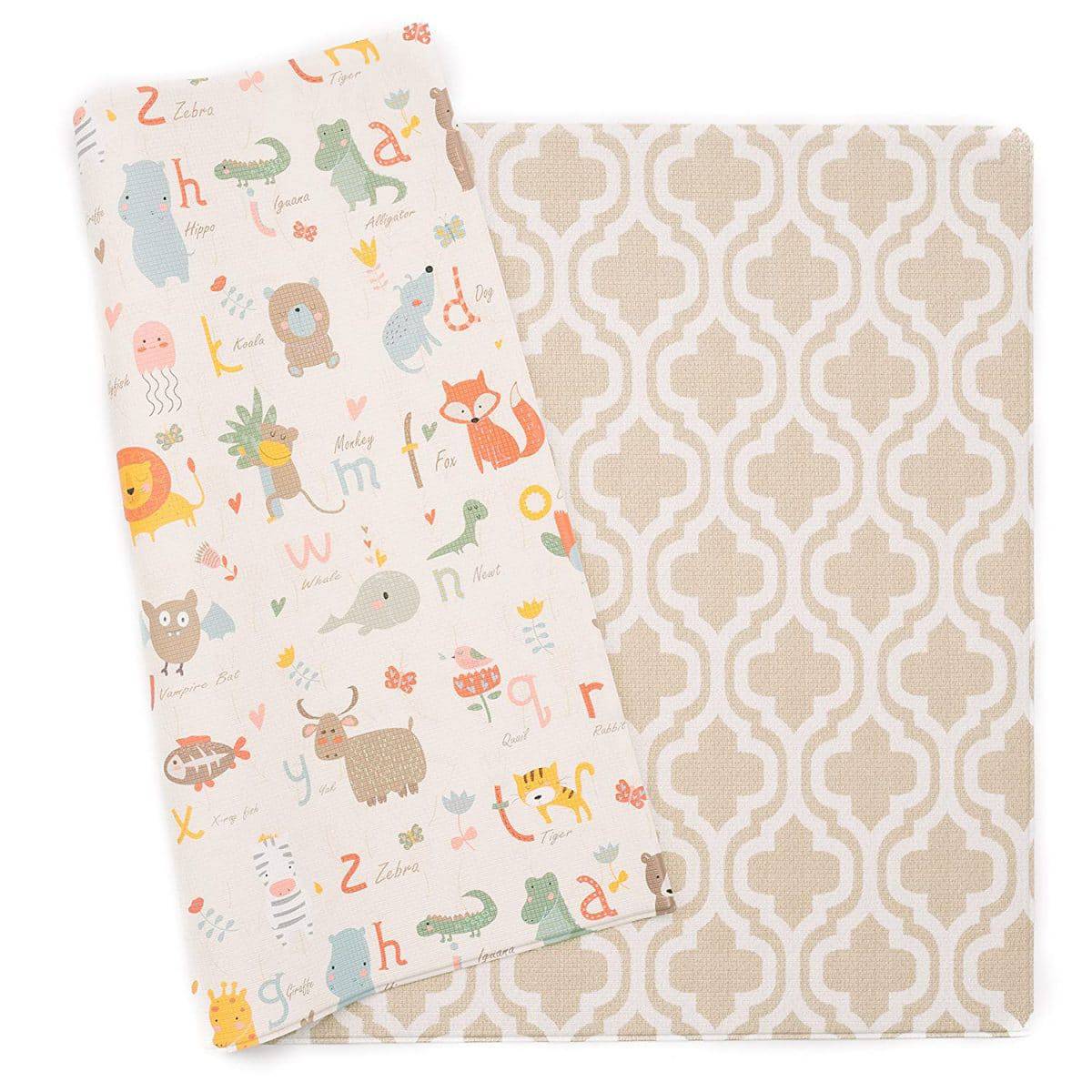 Why we like it:
Half exotic Moroccan-style rug, half kinder-friendly baby floor mat, this large upmarket option offers the best of both worlds.
Editor's Rating:
Size: 82 x 55 inches
Thickness: 22.9 pounds
Weight: 0.5 inches
Material:
Washing method
Wipe down with baby wipes
Design
Whether it's for the nursery room or the centerpiece of a sophisticated living space, this double-sided option from Baby Care looks divine. On one side, you'll get a choice of chic minimalist black and white patterns—think zigzags and Arabic trellis. But flip it over, and a baby-friendly mural awaits, featuring anything from a city street to the alphabet and cute safari animals. Best of all, you get to pick and choose which two designs you think would suit your baby's play space the most. Alternatively, the manufacturer sells the same mat under a different product listing, with designs that offer a floral print on one side and a slightly more muted yet still childlike design on the opposite side.
At 82 x 55 inches, this mammoth option is about the same size as a queen-size bed, so your little one will have plenty of room to roll around. A medium option is available, too, should you require something a little smaller.
Like most Baby Care products, this floor mat is a little on the expensive side. Nevertheless, once you get a feel for its soft yet durable, pet-resistant PVC material, it's not hard to see why. The tough half-inch mat will last a lifetime and provide plenty of padding to cushion a baby's falls. On the downside, though, there's no denying this thing is really heavy—moving it from place to place will be a struggle.
Pros
Double-sided prints—one elegant design for a modern living space and one kid-friendly design for the nursery room
Soft and comfortable material
Built to last
Can withstand the scratches and claws of your pets
Cons
A little bit expensive

Extremely heavy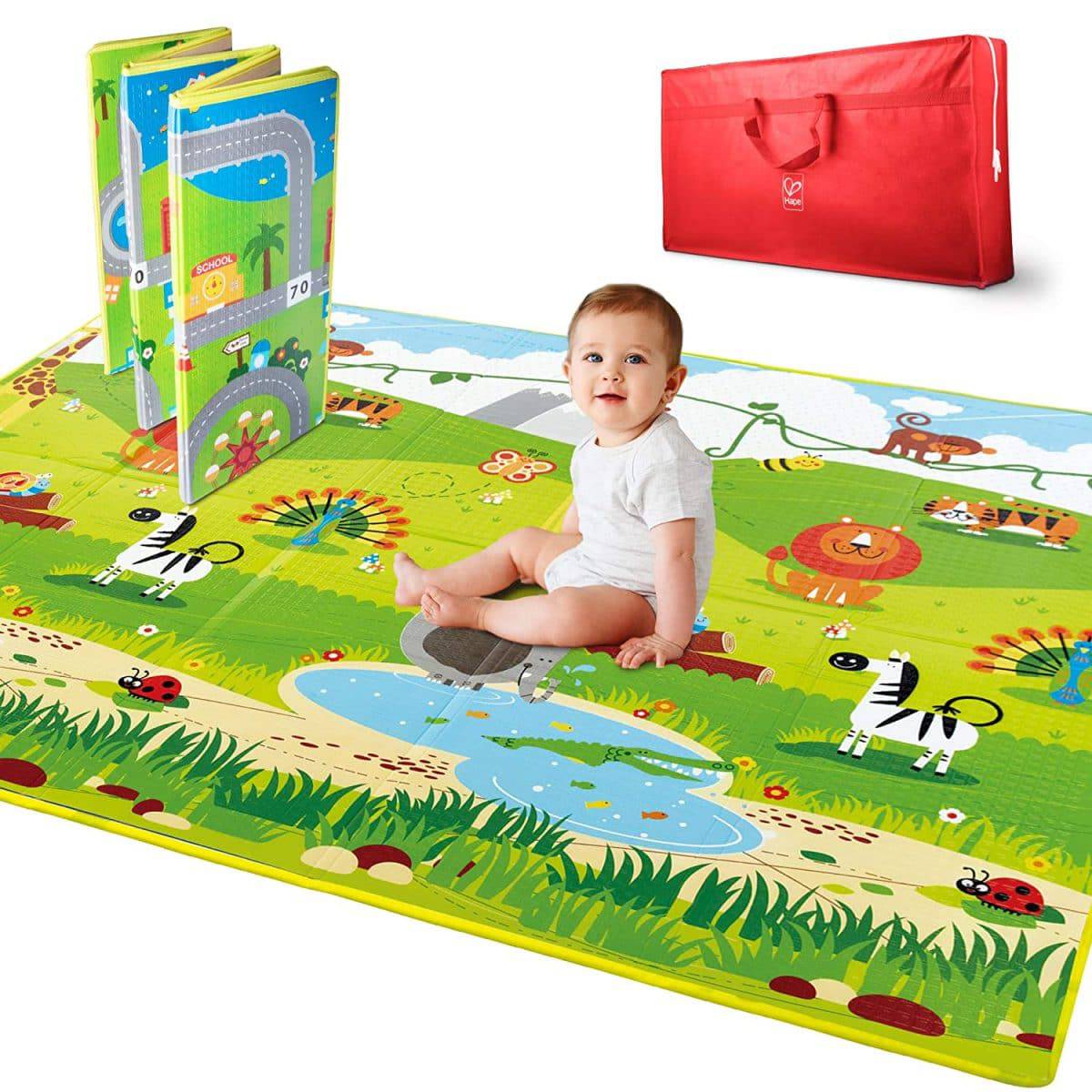 Why we like it:
This attractively-designed mat folds down small and comes with a neat carry bag, but is spacious enough for multiple active children when in use.
Editor's Rating:
Size: 25 square feet
Packed down size: 2'5" x 1'2"
Thickness: 3.5 inches
Weight: 2.2 pounds
Material: PE foam
Washing method
Vacuum clean or wipe down with a damp cloth and soapy water
Design
For a portable play mat you can whisk around town with you on a whim, this ultra-light option from Hape is hard to beat. Weighing in at a meager 2.2 pounds, it's up to 10x lighter than other mats on our list so you can rest assured it won't strain your back.
Unlike ordinary baby floor mats, this model folds down into small pieces and slips into a little travel bag. The whole process only takes a few seconds, so there's no reason not to bring it everywhere your little one goes. Despite that, it's actually quite large when it's being used.
To achieve such stellar portability, however, the manufacturers have had to compromise on thickness and comfort. The PE foam material comes in at a skinny 3.5 inches, which is enough cushioning for tummy time but won't always stop your tot from balling after a big fall. The flimsier composition also leaves the mat vulnerable to developing holes.
We love the reversible design two: a classic street scene on the front and an animal-filled savannah on the back.
Pros
Folds down small into a nifty carry bag

Has a great child-friendly reversible design

Quite large considering its portability

Extremely lightweight
Cons
Less comfortable than other options

Holes may form with heavy use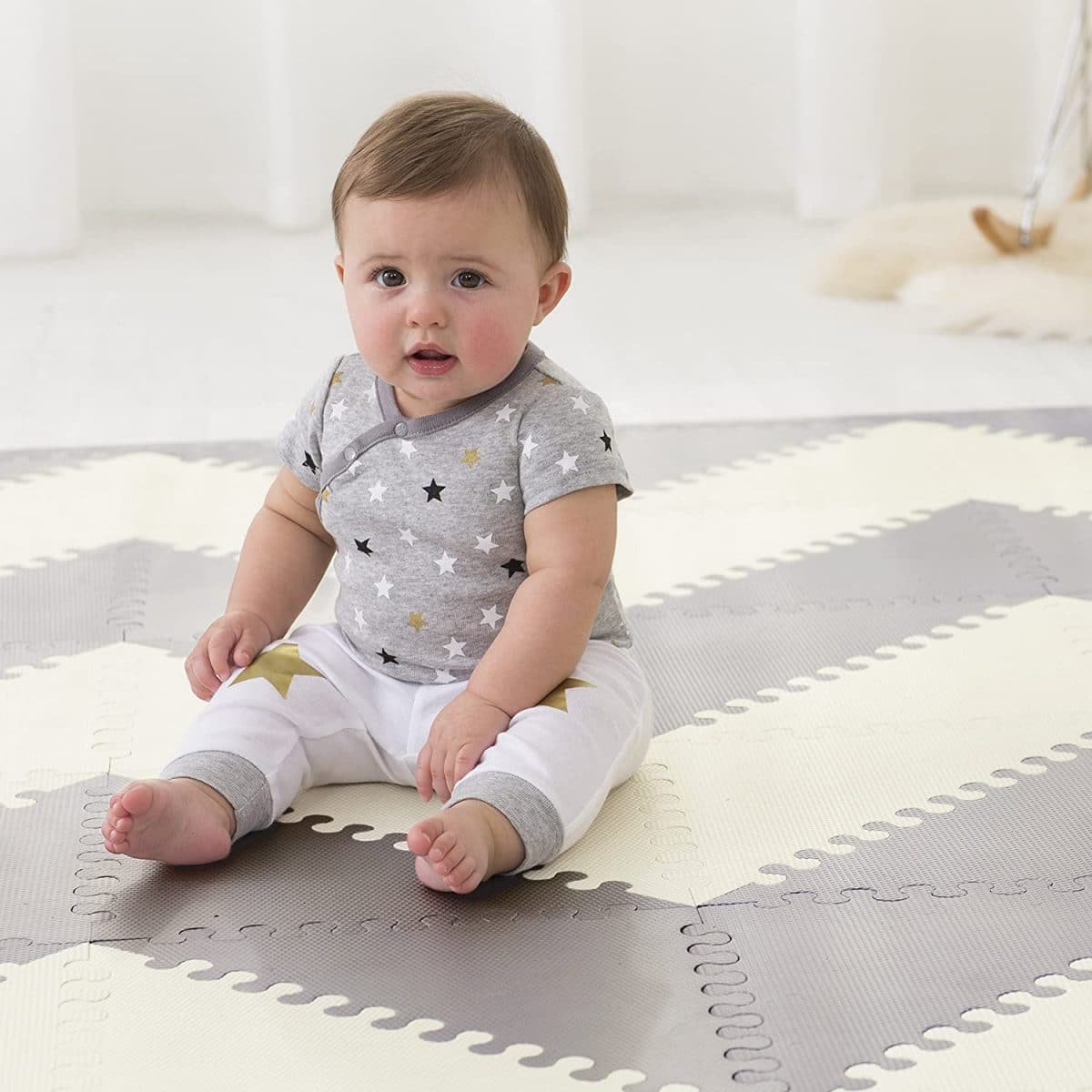 Why we like it:
It's an interactive interlocking option that fits with the decor of any modern living room, but is still fun enough that children will love it.
Editor's Rating:
Size: 70 x 56 inches
Thickness: 0.6 inches
Weight: 2.2 pounds
Material: Foam
Washing method
Wipe down with baby wipes
Design
While most interlocking baby play mats incorporate brightly-colored kid-friendly designs, we love how the Skip Hop Playspot goes down a different route. It's all about the chic triangular patterns here, which come in Scandinavian-style shades of grey to complement the modern home. If you want a fully functional interlocking baby mat that won't ruin your sophisticated interior aesthetics, then this midrange option is the best bet for you.
The Playspot comes with an impressive 40 triangles plus 32 edge pieces, allowing it to span a mammoth 70 x 56 inches (big enough for any kids). Of course, the beauty with interlocking sets is you can build a smaller mat simply by supplying fewer pieces.
The 0.6-inch-thick foam material is notably thicker than most, so it's perfect for both tummy time and absorbing your little one's falls. However, the extra cushy design means the material isn't very "self-healing," so excess pressure from a heavy object can leave a permanent mark.
Pros
Sleek design suits a modern home

Huge play space

Mat size can be reduced by using fewer pieces

Material is nice and thick for added comfort and safety
Cons
Easily damaged by excess weight

Not particularly portable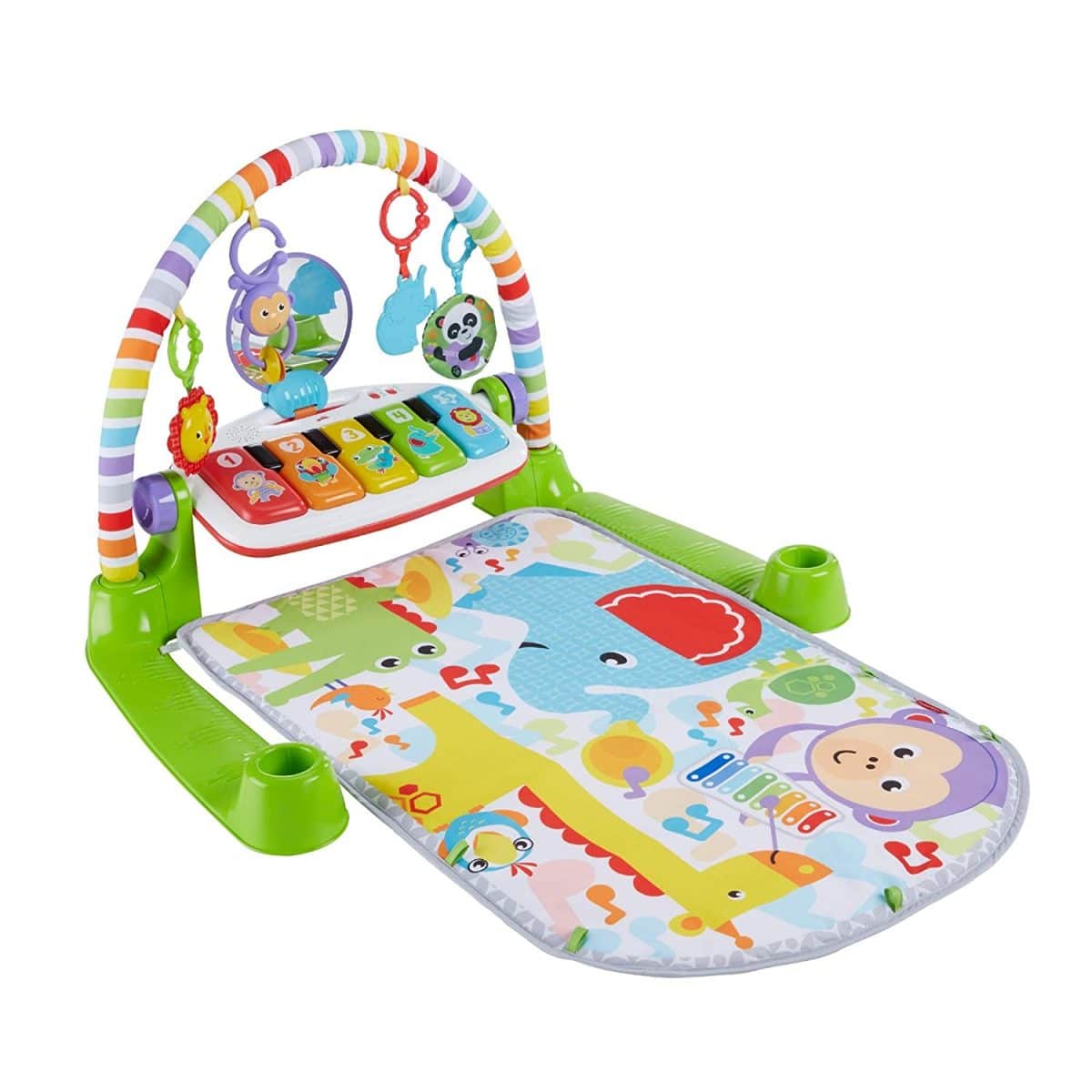 Why we like it:
It's vibrant, colorful, safe, and super entertaining for your baby, with tons of added features to occupy their time and attention.
Editor's Rating:
Size: 27 x 36 x 18 inches
Thickness: 4.61 pounds
Weight: Plastic
Material:
Washing method
Machine wash or wipe clean
Design
American toymaker Fisher-Price knows a thing or two about entertaining infants, and the Deluxe Piano Play Gym proves their prowess. Unlike a regular baby mat, this play gym is designed to incorporate a wide range of fun sensory activities to keep your little one enthralled through music and touch.
The problem with most models, however, is they're extraordinarily irritating for the parents who must suffer through the same songs a thousand times a day. But success in this Fisher-Price model is due to the fact its sounds captivate young minds while being non-intrusive on adult ears. Or in other words, your baby will have a ball, and you won't be driven up the wall.
Included in the package are a machine-washable play mat, a sizeable light-up keyboard, and five hanging self-discovery toys. All this is intended to promote an infant's development through three key stages: sense, discovery, and exploration.
The set is only designed for one child, and your baby will quickly grow out of it as they age. You'll also need rechargeable batteries because your baby will run the 3 AA's flat in no time.
Pros
Baby's adore playing around with this thing

The music isn't overly repetitive or infuriating for parents

Quality product made by a trusted American brand

The mattress is machine washable
Cons
You'll need to replace the batteries regularly (get rechargeable AAs)

Only suitable for younger babies

The mattress is thin and small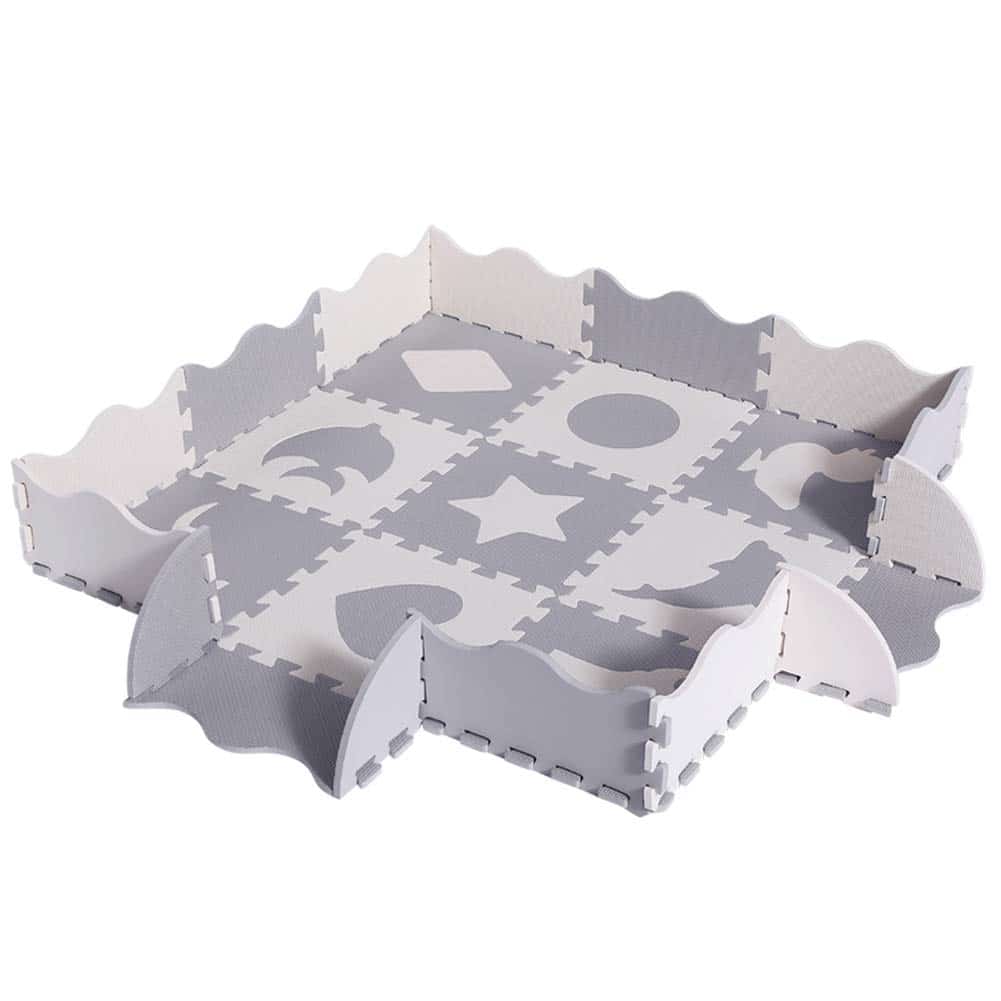 Why we like it:
It's a beautiful low-cost interlocking set that lets you build a perimeter around the sides to let children built their own personal fort.
Editor's Rating:
Size: 47 x 47 inches
Thickness: 0.47 inches
Weight: 2.15 pounds
Material: Foam
Washing method
Wipe clean with soapy water and damp cloth
Design
Much like the Skiphop Playspot, this interlocking baby floor mat comes with a sophisticated modern design featuring neutral shades of
grey to complement the interior aesthetics of a contemporary home. You get a choice of three different colors and shapes to appease parent and baby at the same time.
Note that this model is several times cheaper than the Playspot, so it's a top great if you're after a stylish interlocking option without spending too much.
The critical point of difference here, however, is you or your little one can build a mini-perimeter around the edge, essentially turning the thing into a tiny fort. A total of 12 edge tiles come together with the 9 floor tiles, which can be assembled in a variety of different ways. Bear in mind this isn't a playpen—the perimeter won't stop your tot from wandering off; it's more a fun add-on to play around with. In fact, the wall is super easy for even a tiny toddler to tear apart, so you'll have to get used to picking these pieces up again.
The 0.47-inch thick pad is pretty close to the industry norm and does a decent job of cushioning your baby's falls. A transparent zippered carrying case comes included, which makes this option a little more portable than most interlocking sets.
At 47 by 47 inches, this baby floor mat isn't especially big; you might want to look elsewhere if you need something to cover a larger space.
Pros
Unobtrusive design that appeals to babies and adults

Interlocking pieces include the ability to create a perimeter fence

Comes with a handy clear carry case

Very affordable
Cons
The perimeter walls fall down too easily and need to be picked up often

Spans a small surface area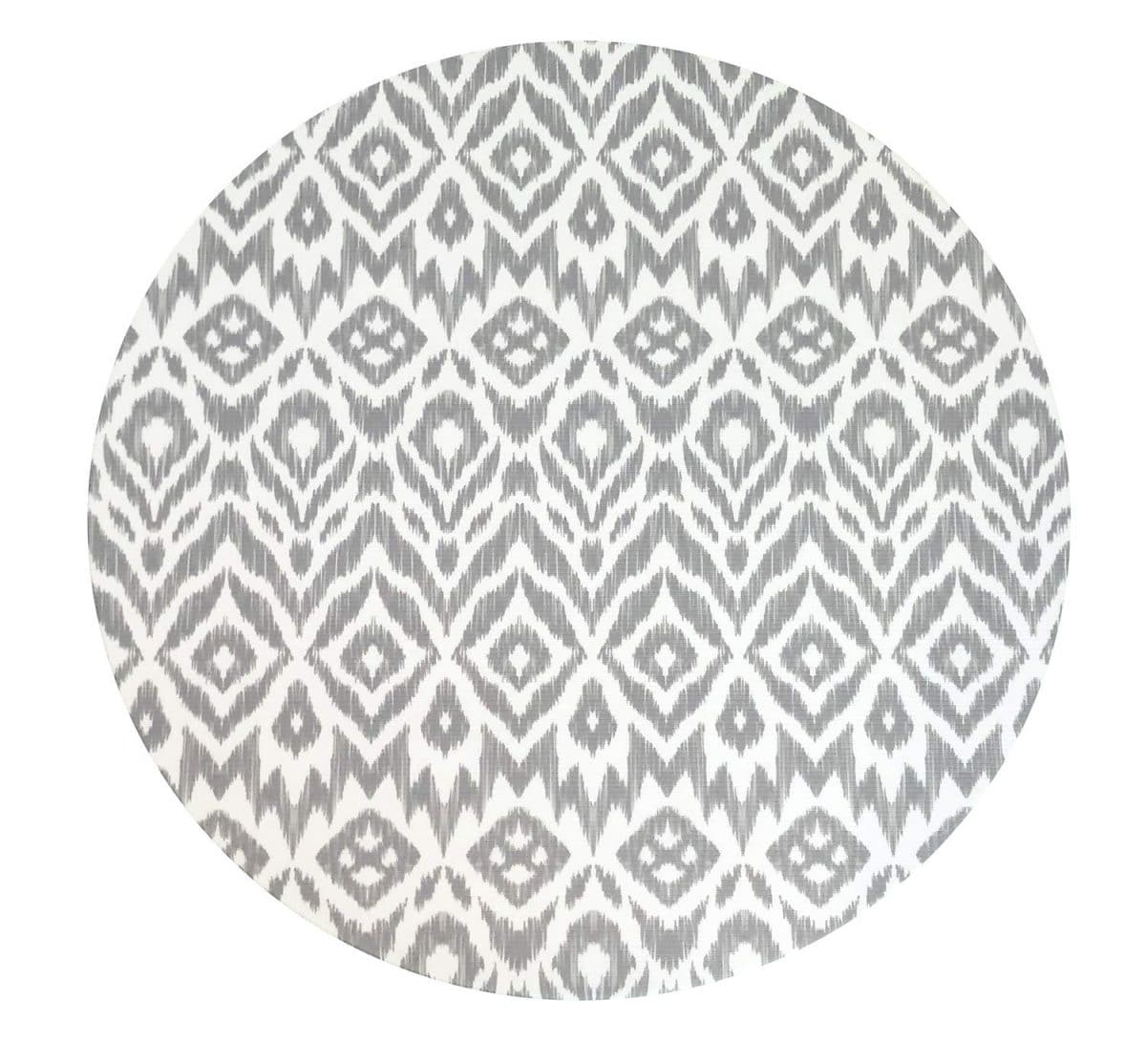 Why we like it:
It's round, reversible, and comes in an array of attractive designer prints.
Editor's Rating:
Size: 4.6-foot diameter
Thickness: 0.5 inch
Weight: 7.55 pounds
Material: Non-toxic TPU foam
Washing method
Wipe down with a damp cloth or baby wipes
Design
Sometimes a plain old rectangular baby mat just won't do. Sometimes you need smooth curvy lines to liven up your living space.
Although the vast majority of baby floor mats on the market are squares or rectangles, they don't have to be, as circular designs do the job just as well. And if you've got a living room packed full of undulating lines, then you'll find a round shape works wonders to complement the space.
The One-Piece Reversible Foam Floor Mat does away with garish kindergarten-friendly designs to favor a sleek minimalist style. There are five different reversible combinations to choose from (10 unique designs), so you're pretty much guaranteed to find one that looks fantastic in your home
This product justifies the high price tag with its quality materials and design. Made from non-toxic, half-inch TPU foam, it's a great spot for your tot to tumble and fall. And, given it's waterproof and durable, this is perfect for tummy time, too. Momma could even do a quick yoga session on there while the baby is fast asleep.
The mat rolls up, and there's a slightly-too-small Velcro fastener to snap the thing in place, meaning it's relatively portable for when you want to cart it around town. A proper carry bag would've been easier than wrestling with the straps, but you can't have it all.
Pros
Unique round shape

Reversible prints

Wide range of patterns

Relatively portable
Cons
A bit expensive

The Velcro straps are a pain
Guide to Buying the Best Baby Floor Mat
Looking to learn more about the different kinds of baby floor mats out there? Then take the time to peruse our in-depth buyer's guide. Once you've got a good understanding of the key things to consider, you'll be in a better position to pick out the best possible floor mat for your baby.
What is a Baby Floor Mat?
We won't complicate things: it's a floor mat for babies.
The key difference from your regular everyday floor mat is the baby variety is built from cushy materials to soften your little ones falls, of which there will be many. The material in question will also be easy to clean as babies are notorious for making a mess. Most baby floor mats come in vibrant, infant-friendly designs that teach the alphabet, numbers, or other concepts, although some modern models like the Skip Hop Playspot feature chic adult-friendly designs.
What's the Difference between a Baby Floor Mat and a Playard/Playpen:
Although similar in some ways, these three baby products are designed with distinct objectives in mind.
A playard serves as a place for an infant to both sleep and play, consisting of a mesh enclosed area with a mat or play pad down below. Many models are portable, and some include bassinets and changing tables.
A playpen is a perimeter fence, usually wooden or plastic, which the parent can deploy to keep their little ones safely confined to an area. Unlike a playard, there's no mat below; thus, it's not appropriate for sleeping or napping.
A baby floor mat, on the other hand, is a safe and cushy mat that doesn't have a perimeter, so the parents will have to keep an eye on the little ones at all times.
Things to Consider When Shopping for a Baby Floor Mat:
Keep the following characteristics in mind to determine which baby floor mat is best for you and your tot.
Price:
Bringing a baby into the world is expensive, as there's a whole host of pricey accessories like carriages, cribs, and bassinets to obtain. Thankfully, a baby floor mat is one of the more affordable things you can buy them—some models on our list like the POCO DIVO Kids Play Mat typically sell for under twenty dollars.
Of course, well-to-do parents who want the very best for their baby could justify splashing out a hundred dollars or more on a premium product like the Little Bot Offie Mat. Consider your financial situation and work out a budget for what you're prepared to pay.
Size:
Baby floor mats come in a range of different sizes, from a teeny 30 inches wide to a whopping 80 inches wide.
Measure the place you plan to put your baby floor mat to work out the ideal size for you. If you expect to move it around a bit, whether between different rooms or different houses, it's best to measure these areas as well.
Portability:
If you plan on wrapping up your floor mat and lugging it over to grandma's place for a play session, then you're going to want to invest in a portable model. Essentially, the thicker the floor mat, the bulkier and less portable it will be. Therefore, you'll need to sacrifice the baby's comfort a little if you want something that's going to pack down nicely into a transportable bag like the Hape Baby Play Mat.
Of course, size also affects the portability of a mat, although the pack-down dimensions and the total weight will be the most significant contributing factor.
Thickness:
The thicker the mat, the harder your tot can fall without feeling a thing, but the less portable it will be.
Baby floor mats designed for portability tend to be quite thin, usually around 0.35 inches. Those intended to stay stationary, however, are thicker for optimal comfort and can be as big as 0.6 inches.
If you intend to position your mat over something soft like a cushy rug, then you could get away with a thinner model. Conversely, mats sitting on cold hard tiles will need to be quite thick for your baby to enjoy.
Washability:
Babies are experts at mucking up everything, so grab a floor mat you can easily clean. Modular models can usually be taken apart and dropped into the washing machine, while singular mats often require a wipe down with a non-toxic cleaning product and a damp cloth. The ability to wash away unsightly stains with ease will make or break a baby floor mat.  For the most part, play mats will include cleaning instructions, but these steps will work for most products.
Shape:
The ideal shape is also a question of aesthetics. Circular and oval shapes will complement a contemporary home with smooth undulating lines, while oblong options will work better in areas with strictly defined edges. Consider the space your baby floor mat will spend the most time in to decide which shape is ideal.
Interlocking:
Loads of baby mats out there split into small tiles, which your little one can assemble like a jigsaw puzzle to fine-tune their motor skills. And although these kinds of games are undoubtedly enjoyable for the baby, you're probably going to spend quite a bit of time putting the thing back together again.
Aesthetics:
If you've got a sleek contemporary lounge room packed full of chic designer furnishings, the last thing you want is a hyper-colored baby floor mat to ruin that sophisticated vibe. Instead, opt for a modern-style baby floor mat that comes in a selection of suave patterns.
Of course, your tot will love the stimulation that bright colors and pretty pictures of farm animals can afford. So if you're not worried about ruining your entire interior aesthetics, then consider getting a more infant-friendly design instead.
Double-Sided or Reversible Prints:
Variety is the spice of life, and two baby floor mat patterns are objectively better than one. Some models on our list feature distinct designs on both sides of the mat, so you can quickly flip the thing over should your little one grow tired of looking at one particular style.
The best options have one side with a stimulating baby-friendly design for the nursery and one side with a more sophisticated adult-friendly design for the lounge. That way, you can swap between kiddie and chic patterns depending on where you set up the mat. For the best of both worlds when it comes to aesthetics, you can't go wrong with the Baby Care Haut Collection Reversible Play Mat.

Play Gyms:
Although play gyms do indeed include a baby floor mat as part of the package, the premise is a little different. These units typically consist of a small but comfortable mat for the baby, plus a variety of stimulating toys that use light and sound to entertain them.
Be aware that many play gyms on the market make an awful racket that sends mom up the wall. For your sanities sake, we always recommend opting for a less intrusive option. The trick here is to find a balance between the two—something that's enthralling for the baby and agreeable for the parent, like the Fisher-Price Deluxe Piano Play Gym.
Generally speaking, play gyms aren't very portable, so be prepared to let it live at home. These toys also chew through their batteries at an alarming rate, so we recommend you grab rechargeables.
Best Baby Mats: Final Words
Not all baby floor mats are created equal; some are specially designed for specific tasks. Whether you need an extra big mat to cater to multiple tots or one with a chic design to complement your contemporary living space, it's essential to weigh up the pros and cons before committing. Take a gander through our handpicked favorites to work out which baby floor mat is the top option for you.