Top 15 Best Books for 11-Year-Olds to Buy in 2023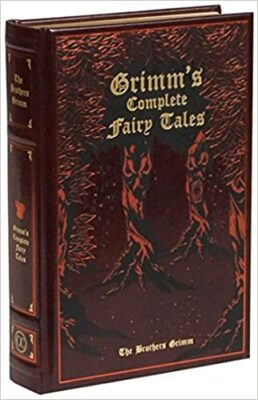 Quick Facts:
Reading Level: Grades 4-8
Interest Level: Grades 4-8
Fiction
Standalone Book
Grimm's fairy tales may be hundreds of years old but they are just as beloved by children today as they were by the children they were first told to hundreds of years ago. It's a great way to get reluctant readers excited about reading as well as an opportunity to get kids interested in medieval fantasy and history.
Summary
This collection of fairy tales was first compiled in the 19th century but many of the stories date back as far as the 12th century. They have stood the test of time thanks to the enduring sense of magic and mystery they inspire.
While your 11-year-old might feel "too old" for fairy tales, they'll feel differently once they start reading these thrilling but still child-friendly versions of stories they're already familiar with. They'll enjoy comparing and contrasting the darker originals with their cheerier Disney adaptations.
Skills Focus
This book is a great opportunity to strengthen kids' ability to analyze the author's intent and identify underlying themes. Because many fairy tales were originally meant as cautionary tales or moral instruction for children, you can ask your child to think about what kind of "lessons" each story is teaching and whether or not those lessons still make sense in our modern world. How would they change the story to make the lessons more relevant to today?
Engagement Opportunities for Parents
This collection creates great opportunities for discussion. Even if you've never read the Grimm versions, you've likely seen the Disney movies and can ask your child to compare and contrast the different interpretations.
You can also use these fairy tales as an opportunity to learn more about medieval life and culture. Go to museums or pick up some additional history books to help provide the historical context in which these stories were first told.
This edition is beautifully printed and bound to look as if it came straight out of the 19th century. The leather-bound cover and other elegant detail will add to the sense of mystery and history that surround the stories. However, kids who are prone to accidents could damage the beautiful binding so you might want to find a cheaper, less elegant edition in that case.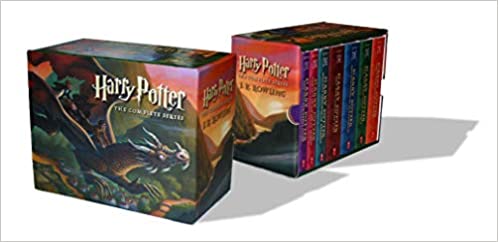 Quick Facts:
Reading Level: Grades 5-6
Interest Level: Grades 4-10
Fantasy
7 Book Series
This set collects all seven books in the Harry Potter saga in one beautifully decorated box. The story combines elements of fantasy and adventure with real-world struggles of starting a new school and trying to make new friends.
Summary
The Harry Potter saga follows an 11-year-old boy who finds out that he's actually a wizard and has been accepted to a secret boarding school to learn magic. The epic chain of events that follow is enough to keep readers of all ages captivated from start to finish. But children at this age will be especially spellbound by the story because they're the same age as Harry and, aside from the magic and mayhem, dealing with a lot of the same growing pains he is.
Skills Focus
This is a great series for generally improving reading comprehension skills. As kids work their way through the series, they'll have to recall information from previous books, form an understanding about the traits and personalities of different characters, and remember key vocabulary like the fictional names of spells.
Engagement Opportunities for Parents
The high-budget movie adaptations of this series are a great way to share this journey with your child. Alternate between reading a book and then watching the corresponding movie. There are also videogames, a theme park, and an extensive fan community surrounding this series. This makes it a great opportunity for your child to learn not just the joy of reading but the joy of reading as a group and interacting with a book in a variety of different ways.
This may be a steep investment for a picky reader, though. If you're not sure your child will like Harry Potter, going straight for the box set is a bit much. You might be better off just purchasing the first book if you think there's a chance your 11-year-old might not love it. Then, if they do take to it, get this box set to keep the momentum going.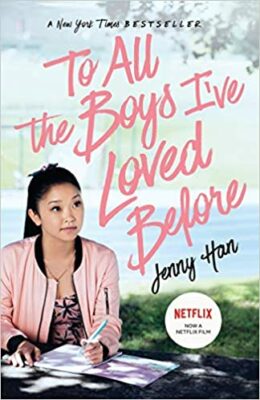 Quick Facts:
Reading Level: Grades 5-7
Interest Level: Grades 7-12
Fiction
3 Book Series
This bestselling trilogy is a fun, lighthearted romance that will feel exciting and relatable for young readers who are just now starting to have crushes. It's a realistic portrayal of young romance that will immediately draw your reluctant reader in.
Summary
Lara Jean is a junior in high school with a quirky habit. Whenever she falls in love with a boy, she writes a long, confessional letter to him and then hides it in a hatbox. One day, her little sister sneaks into Lara Jean's room and mails all the letters she has written to the boys they were addressed to. The scandal, embarrassment, and complicated love triangles that result are enough to fascinate any reader.
Although it is a YA novel, some parents might not find the story age-appropriate. There are a few occurrences of profanity being used. The usage is rare, far from being vulgar, and unlikely to be anything your child hasn't heard at school by now. The last book of the series also deals with some mature themes, including drinking and sex. There are no actual sex scenes, but these themes could be too mature for your 11-year-old.
For parents who prefer to minimize exposure as much as possible, you might find The Diary of a Wimpy Kid more suitable as it doesn't include any profanity or mature themes but still feels relatable and honest.
Skills Focus
This three-book series will develop overall reading comprehension skills, including vocabulary development, memory, and concentration. The narrative is written in the voice of a young teenager which helps keep readers engaged and willing to continue even if there are occasional words they are unfamiliar with.
Engagement Opportunities for Parents
The first two books of the trilogy have already been adapted into movies that are available to stream online and the movie for the third book is in production. So you'll have the opportunity to compare and contrast interpretations with your child.
You can also use these books to open up a dialogue with your kid about their own social world. Relate your own experiences with young romance and ask them if they have any crushes and how they would feel if they found themselves in similar situations that Lara Jean ends up in.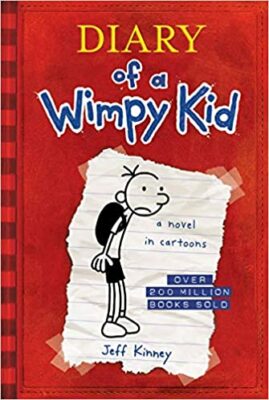 Quick Facts:
Reading Level: Grades 4-8
Interest Level: Grades 4-8
Fiction
12 Book Series
This is the first book of a 12-book series that is beloved by all kids, no matter their reading level. The creative illustrations and zany humor make it appealing to even the most reluctant of readers while the totally relatable plot about the middle school experience appeals to anyone who is going through this strange phase of growing up.
Summary
The protagonist, Greg, is entering his first year of middle school. All the growing pains that come with being 11 are present. When his best friend suddenly becomes popular, Greg tries to use it to his advantage, which leads to a series of mishaps and hilarious catastrophes. As far as relatable characters and stories go, it's hard to beat Diary of a Wimpy Kid.
While kids love him, adults might find Greg's attitude unappealing. He complains about the awkward and embarrassing experience of growing up often which makes some adults see him as negative or at least, not the most inspiring role model.
The book is meant more as a humorous and relatable "growing up sucks" story than a real guidebook. If you'd prefer a story with a more inspirational or optimistic protagonist, Anne of Green Gables might be more appropriate.
Skills Focus
The vocabulary and writing style all match the normal speech of middle schoolers so this is a great book for kids who might be a little more reluctant to read more difficult books, but it won't feel oversimplified for more advanced readers, either.
One of the biggest praises this series gets from adults is that it helps children develop a love of reading. The accessible writing, the middle school humor, the relatable story and characters all make this a great introduction into reading just for fun. Over the course of 12 books, your child can significantly improve their reading skills and enjoy every minute of it.
Engagement Opportunities for Parents
Diary of a Wimpy Kid has since been adapted into four movies and a TV series is in the works that will be released on Disney+. This gives parents plenty of opportunities to engage with their kids by comparing and contrasting the different interpretations.
They're also quick reads for adults. You can probably get through a full book in 1-2 hours. So if you wanted to read it in advance to be able to better discuss the stories with your child, you could do so in a single afternoon.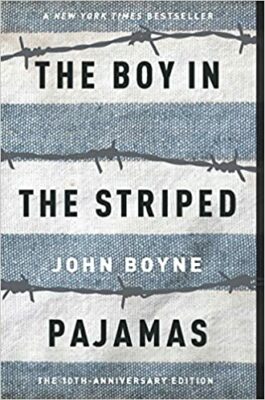 Quick Facts:
Reading Level: Grades 6-8
Interest Level: Grades 7-12
Historical Fiction
Standalone Book
The tale of a nine-year-old son of a Nazi commandant who befriends a Jewish boy of about the same age interned at Auschwitz is a profoundly emotional tale. It's just as gripping for adult readers as it is for children.
Summary
Bruno is the son of a commandant who has recently been assigned to a position at the Auschwitz concentration camp. The child, unaware at the purpose of the camp, soon befriends Shmuel, a young Jewish boy interned at the camp. As the friendship between them grows, Bruno concocts a plan to come visit Shmuel on "his side" of the fence.
Although the story is set in one of the darkest episodes of modern history, writing the narrative from the innocent perspective of a nine-year-old boy ensures that it remains age-appropriate. There's no excess violence or gore since it's told from an outside perspective.
Even so, the horror of the situation and the tragedy of the story is still apparent enough that kids who have just recently learned about World War II and the Holocaust will be able to better understand the extent of cruelty of that period.
Skills Focus
This book will help develop all reading comprehension skills but especially the ability to integrate information from different sources. Your child has likely either just begun learning about World War II or is just about to learn about it for the first time in middle school. Either way, this book will help make the dry textbook accounts of history come alive and be much more significant and memorable.
Engagement Opportunities for Parents
This is a great book to read together with your child and to start a serious dialogue about the lessons to be learned from this period of history. In fact, due to the sensitivity of the themes, we highly recommend reading the book together so that you can talk about the story and provide the appropriate historical context to help your child process it.
It's written at a language level they can understand and told from a perspective they can certainly relate to. However, it may well be their first exposure to some of the darker realities of history and, therefore, difficult to process on their own. If you'd prefer to wait on exposing your child to these themes, you might prefer Dear America: Voyage on the Great Titanic which is also historical fiction but a little less brutal.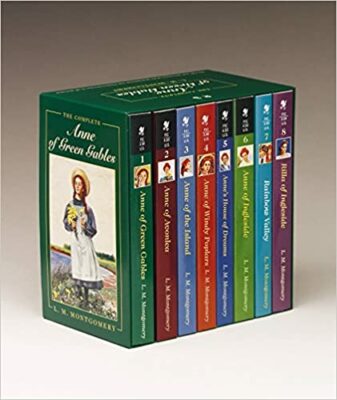 Quick Facts:
Reading Level: Grades 4-8
Interest Level: Grades 5-9
Fiction
8 Book Series
The timeless adventures of Anne of Green Gables have been popular among children since L.M. Montgomery first wrote the books almost a hundred years ago. They've since been adapted countless times into television series and films.
Summary
Anne Shirley is an 11-year-old orphan who is accidentally sent to Marilla and Mathew Cuthbert when they request a boy from the orphanage to help with the farm work. Despite not being a boy, Anne manages to convince the elderly siblings to keep her anyway. Her cheery attitude, vivid imagination, and penchant for melodrama make every chapter more exciting than the last.
In addition to the eight books in this series, fans of Anne Shirley will likely also be fans of Emily Starr, another witty orphan girl created by L.M. Montgomery. The author wrote a total of 20 novels about various characters and published six short story collections. You'll have plenty of books to keep the reading habit going after your child has finished this series.
Skills Focus
Anne of Green Gables is a great book to help develop your child's vocabulary. Thanks to her conscious search for the most precise words to describe her feelings or situations, it's easy to pick up from the context of what these unfamiliar words mean. This will help expand your child's vocabulary while also instilling a sense of wonder and excitement about language that will motivate them as they encounter unfamiliar words in other texts.
Engagement Opportunities for Parents
Despite being a lighthearted read, Anne does confront some of the common challenges that children experience such as school bullies, feeling left out, being ignored by crushes, and dealing with punishments that feel unfair. In this way, the story presents a great opportunity for parents to help their kids learn to draw connections between the characters they read about and their own social world.
As affordable as this 8 book set is, it's also somewhat cheaply made and prone to damage. Since you won't have spent much, it's not a big deal if they rip or fall apart. However, this is a classic series and may be something your children one day want to pass down to their own children, and this particular boxed set not up for the task. If you know it will be an enduring classic in your family, you might want to spring for a more durable, quality set.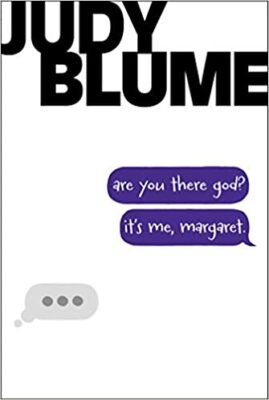 Quick Facts:
Reading Level: Grades 4-8
Interest Level: Grades 7-12
Fiction
Standalone Book
The narrative of this classic Judy Blume book is accessible without being oversimplified. It deals with many issues that will be at the front of many 11-year-old minds. This makes it an engaging enough story that they'll be willing to keep reading, even if they encounter unfamiliar terms along the way.
Summary
This is the story of a sixth-grade girl who is on a quest to understand her relationship with religion while also adjusting to a new school and the early stages of puberty. Such big topics are dealt with in age-appropriate ways and from the perspective of the young characters going through them.
Although this is a standalone book, Judy Blume is a prolific author. If your child enjoys this book, there are nearly 30 more by the same author that they will almost certainly enjoy just as much. Among those is a book called Then Again, Maybe I Won't which tells a similar coming-of-age tale but from a boy's perspective.
Skills Focus
The conversational narrative and the relatable story make this a great book for developing inference and analysis skills. Kids will be able to pick up on feelings of anxiety, excitement, or fear from context and make inferences about the character or predictions about the plot because the story is something that will feel very relevant to their own experiences.
Engagement Opportunities for Parents
This book and the boy-centered counterpart mentioned earlier are great resources to prepare 11-year-olds for puberty. For parents who are looking for ways to start that conversation with their children, reading this together is a great way to do it.
For parents who want to encourage reading habits without dealing with any talk of puberty, Harry Potter might be a better choice.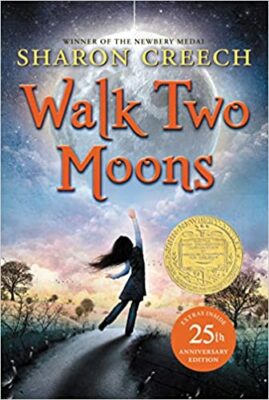 Quick Facts:
Reading Level: Grades 4-8
Interest Level: Grades 5-10
Fiction
Standalone Book
This unique story will improve empathy and emotional intelligence in children while also strengthening many important reading skills. The story is part comedy, part tragedy, and full of adventure and complex human emotion.
Summary
Walk Two Moons tells the story of 13-year-old Salamanca Tree Hiddle, who is on a trip with her grandparents. Salamanca enjoys coming up with outrageous stories about made-up characters and these made-up stories are told side-by-side with Salamanca's own life story. Through this parallel, readers can begin to see the connections and what these made-up stories reveal about Salamanca's own feelings and life.
Skills Focus
This is one of the best books to use for developing inference and analysis skills. As your 11-year-old enters middle school, they will need to be able to analyze an author's intent. What better way to learn that skill than through a book that focuses on a budding young author? Readers will see the story she creates right alongside her own life so they can draw connections and understand the motivations behind the stories she tells.
Engagement Opportunities for Parents
This will be a fun story to ask your children questions about. The blend of comic and tragic elements as well as the complex human emotions that are being dealt with make for a fascinating narrative. It may also serve as inspiration for your child to explore their own creativity. You can invite them to make up their own fictional stories.
Unfortunately, this is a single book with no sequel. The author has written a couple of unrelated novels in verse and picture books that are geared toward younger audiences, meaning there's no easy follow-up after this. If you would prefer something that would make future book shopping easier, consider a series like Nancy Drew that will take the guesswork out of which book to buy next.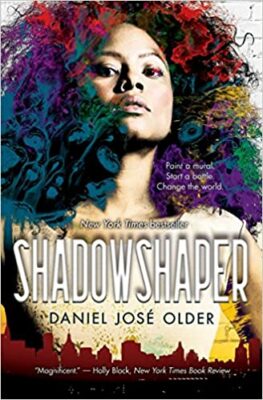 Quick Facts:
Reading Level: Grades 6-8
Interest Level: Grades 7-12
Fantasy/Horror
5 Book Series
This exciting story of a teen finding out she inherited the magic power of 'shadowshaping' from her grandfather is a great book to inspire a love of reading in your child. The series features a trilogy of the main storyline and two side-story novels that take place in between the main trilogy books.
Summary
Teen Sierra Santiago wants to spend her whole summer break hanging out with friends and making art. These plans are soon interrupted when a corpse shows up at their first party. This is just the start of a chain of ever stranger events that leads her to discover her own magical power of "shadowshaping" and the sinister plot to end the shadowshapers.
The story is full of adventure and excitement and features a role model worthy protagonist who approaches life with a sense of joy and courage in the face of evil.
Skills Focus
This book will instill a strong reading habit and improve all-around reading comprehension skills. Unfortunately, the characters are a little one-dimensional so it won't be as helpful for developing more advanced reading skills like identifying author's intent or analyzing character development.
If your child is ready for more nuanced character development, you might prefer Walk Two Moons which offers more multi-dimensional characters and more complex, but still age-appropriate, storytelling, but if you're looking for an exciting fantasy book, this is a great pick.
Engagement Opportunities for Parents
While there aren't too many major themes in this book to discuss, the story is interesting and immersive enough that adults will enjoy it as much as children. It would be a good pick for a family group read or just as an enjoyable book to read alongside your child.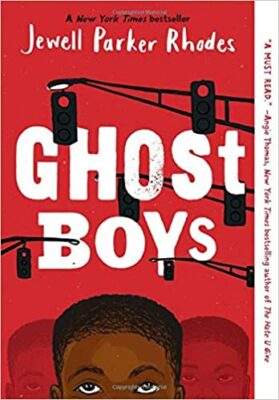 Quick Facts:
Reading Level: Grades 5-9
Interest Level: Grades 7-12
Fiction
Standalone Book
The story is tragic but with themes of hope as the ultimate message, a story of compassion and learning how to confront history. This is a great example of how to deal with an exceptionally difficult topic in a way that is tailored to the mindset and understanding of a child.
Summary
The story starts with 12-year-old Jerome being shot by a police officer. Soon after dying, he becomes a ghost and meets the ghost of Emmet Till, who died in similar circumstances. Finally, he meets Sarah, the daughter of the police officer who killed him, and who is struggling to process the event.
Skills Focus
By examining the case of a police shooting from a variety of perspectives, including that of the officer's daughter, this book allows children to analyze central themes, draw inferences, and identify the author's intentions behind the story. These are all important reading skills that your child will be working on now and as they enter middle school.
Engagement Opportunities for Parents
This book is best read as a family so that you can field questions and gauge their understanding of the issues as they go. Unlike historical fiction, this book deals with current events that your child will likely encounter in the news. This can make it more challenging to process than a story that's already in the past.
If this is your child's first exposure to complicated political and social issues, it might be easier to start with something further back in history, like The Boy In the Striped Pajamas. It deals with similar themes of discrimination and cruelty but is a step removed as it takes place in a different country and different time.
Quick Facts:
Reading Level: Grades 5-8
Interest Level: Grades 4-8
Mystery
5 Book Series (175 books in total)
This set includes the first five books in the original series. Although a reprint, these still have the classic covers that generations have come to love. The fun mysteries that Nancy Drew must solve in each book make for exciting reading and a great exercise for comprehension and memory skills.
Summary
Nancy Drew is an amateur detective who solves cases with her two friends. In the first book, for example, Nancy has to help find the lost will of Mr. Crowly before the greedy Topham family steals the inheritance that belongs to Mr. Crowly's friends.
In addition to the whopping 175 books in the original series, there are eight additional series including The Nancy Drew Files, Nancy Drew Diaries, and Nancy Drew, Girl Detective for a total of 533 books to date. Nancy Drew Diaries is the current series and is still ongoing. It will be a long time before you run out of Nancy Drew books to get for your kid.
Skills Focus
With this series, your child can solve mysteries right alongside the clever and spirited Nancy Drew. This process is not only fun but great for developing many important reading skills like describing the plot of a story, drawing inferences from the text, and citing evidence in order to support their analysis.
Engagement Opportunities for Parents
As your child is reading, you can ask them about the story and what they think the solution to the mystery is. If they're too early in the book to have a solution yet, you can simply ask what kind of clues they've read about so far. Learning to predict, infer, and analyze is a powerful skill for young readers to learn, but there aren't much in the way of larger ideas or themes.
If you'd prefer a series that has more possibilities for interactive engagement, you might like Grimm's fairy tales, which creates the possibility for comparing different interpretations and learning more about history.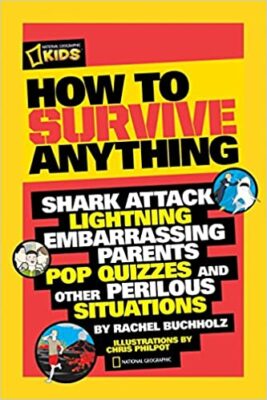 Quick Facts:
Reading Level: Grades 5-8
Interest Level: Grades 4-8
Science/Educational
Standalone Book
This encyclopedia of everything a middle schooler could want to know was developed by National Geographic. It's informative, fun, and most importantly, tailored to the broad curiosities of older children.
Summary
With chapters on everything from surviving embarrassing parents to surprise shark attacks, this covers the full range of pretty much everything that could cross an 11-year-old's mind. The eclectic chapters make it friendly to readers with short attention spans. They can jump around from section to section at will without losing the narrative flow.
While that makes it a great pick for fidgety readers who might not have the patience to read a book from start to finish, it also doesn't really help the problem. It's a good tool to introduce the act of reading for fun but it won't help improve sustained concentration or focus. For that, you might prefer something like Diary of a Wimpy Kid which is just as fun but also features a consistent narrative and a storyline to follow through multiple books.
Skills Focus
The scientifically accurate information provided in this guide offers many opportunities for practicing information integration and citing evidence. Your child can integrate information from this book as well as other sources to expand their knowledge or draw new conclusions. They can then cite specific examples and details from the book to support claims.
Engagement Opportunities for Parents
There is a lot of interactive potential with this book. In addition to asking them to enlighten you on the proper strategy for fighting grizzly bears, you can take them to science museums, natural history museums, or watch science and nature documentary films at home. Ask them to apply what they've learned from the book to the things they see at the museum or in the movies.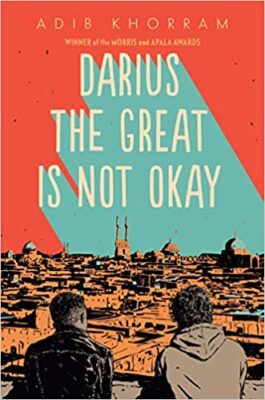 Quick Facts:
Reading Level: Grades 6-8
Interest Level: Grades 7-12
Fiction
Standalone Book
This story is heartfelt without being overly sad, so it's a great pick for kids who are starting to ask some bigger questions but may not yet be mature enough to deal with some of the darker, more heartbreaking stories on this list.
Summary
Darius is an American-born "fractional Persian" by his own definition. His mother is Iranian and his father is American. He's also a Trekkie, a fan of Lord of the Rings, and taking medication for clinical depression.
In Portland, he struggles with bullying at school and feeling like an outcast in his own family. When his parents take him on his first-ever trip to Iran, his sense of not belonging only grows stronger as he doesn't speak Farsi and his Iranian family doesn't understand his mental health issues. Then, he meets Sohrab and finally experiences what it feels like to belong and be accepted for who you are.
As relatable and insightful as the story is, it can be slow-paced at times. For kids with already short attention spans, it may be difficult for them to sustain interest. It's a better pick for kids who are already avid readers.
For something a little more fast-paced and better at keeping a reluctant reader's attention, Ghost Boys might be a better choice for addressing bigger social themes, but in a more attention-grabbing way.
Skills Focus
The writing style is geared toward a young audience, but the themes the story tackles are ones that people of all ages must deal with. This makes it a uniquely helpful book for helping kids start developing the skills of determining central ideas and themes and drawing inferences from a text. They'll be able to follow the story, even when it dives into murkier issues of mental illness and the first-generation American experience.
Engagement Opportunities for Parents
This can be a nice tool for starting a dialogue about a variety of issues including bullying, mental health, and the experience of coming from a migrant family. Help your child connect it to their own experience or that of students in their school.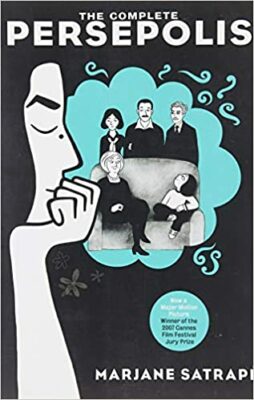 Quick Facts:
Reading Level: Grades 5-8
Interest Level: Grades 7-12
Graphic Novel
Standalone Book
The graphic novel format will entice kids who might be reluctant to pick up a full chapter book but the story is just as sophisticated as any novel could be. This makes it a great entry point into the literary world as your kid can enjoy all the benefits that reading has to offer, in a format that's just as visually stimulating as it is intellectually stimulating.
Summary
Persepolis is a memoir in graphic novel form, detailing a childhood in Tehran during the Islamic revolution. Over the course of her life, Marji experiences the political upheaval in Iran and the challenges of migrating to Austria but also the everyday challenges of growing up.
On the surface, it deals with the ordinary struggles of growing up, adjusting to a new school, and confronting the challenges of adolescence. Yet this is all happening in the unique backdrop of being part of a family exiled from their homeland, forced to adapt to a new language and new culture.
Skills Focus
This graphic novel is ideal for reluctant readers or children who don't enjoy reading text-heavy books or who are still getting up to a grade-level reading level. The visual component helps children understand the meaning of words from context while also holding their attention.
Engagement Opportunities for Parents
With this graphic novel, you can introduce your children to different cultures and different ways of experiencing adolescence. They may have never lived through a revolution or been exiled from their hometown, but they'll be able to relate to the universal human experience in this story. You can supplement this book with other texts or movies about this period of history and talk about how they might feel in the situations Marji finds herself in.
This complete book actually combines three different graphic novels in one and parents might find that each one is appropriate to different audiences. The first one, dealing with her childhood, is the most suited to young readers.
By book three, she is an adult going through divorce and dealing with other mature themes. For parents who'd rather not expose their children to more complicated, adult themes like divorce, you might want to buy just the first book of the series rather than this complete collection.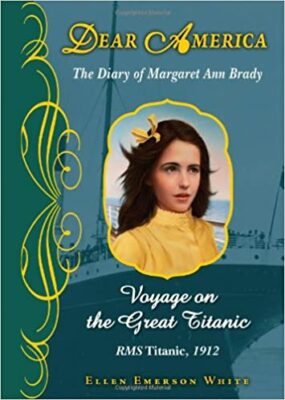 Quick Facts:
Reading Level: Grades 4-8
Interest Level: Grades 4-10
Historical Fiction
21 Book Series
The Voyage on the Great Titanic is one of the best sellers of the Dear America series that helps bring history to life for older children and young teens. The series uses firsthand diary perspectives from kids to recount real historical events that your child will be learning about in school.
Summary
The 13-year-old protagonist, Margaret Ann Brady, is an orphan in England in 1912. Mrs. Carstairs takes her as her traveling companion to sail on the RMS Titanic, planning to reunite the girl with her brother who has emigrated to Boston. Margaret's diary recounts the tragedy of the Titanic, from her 13-year-old perspective.
Dear America is a 21 book series that teaches kids about real historical events by way of fictional diaries of young children. Other books in the series include the diary of a girl who was enslaved and secretly taught herself to read and write, a young pilgrim's account of migrating to the New World on the Mayflower, and other engaging historical fiction.
Skills Focus
This is one of the best series for making history come alive as more than just a list of dates and events. It can be difficult for children to understand the significance of history lessons when they're taught in the abstract. These books remind them that, even hundreds of years ago, there were kids just like them who were experiencing these major events firsthand.
This series will help children better engage with history, even outside of these books, as they'll develop the skill of imagining themselves in that historical period.
Engagement Opportunities for Parents
Many of the books in the Dear America series will correlate well with what your child is learning in class at this age. You'll have plenty of opportunities to help them draw those connections between the actual historical lesson and the fictional account provided in the book.
If it's been a while since you last refreshed your historical knowledge, these also make great books to read along with your child. They're engaging for young readers but they'll be just as fascinating for adults as the world of 1912, or whatever year you travel back to, comes alive in vivid firsthand detail.
This book doesn't really connect to larger themes of immigration, something that could help with understanding today's current events. If you're looking for a book with better opportunities to engage and learn the material, How to Survive Anything might be a better pick.