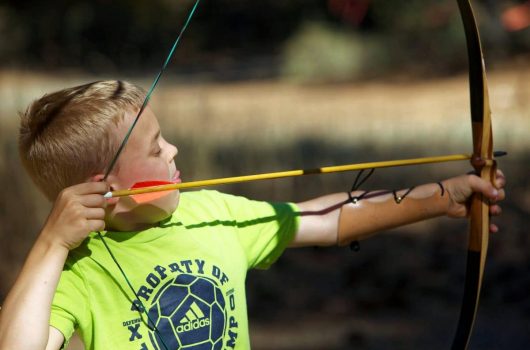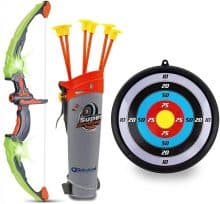 GoBroBrand Bow and Arrow Set for Kids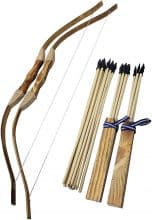 Adventure Awaits! Bow and Arrow Set

Genesis Original Bow
Previous
Next
With the prevalence of technology that constantly consumes children's attention, what better way to encourage your child to embrace the great outdoors by buying them their first bow and arrow set? Not only does archery promote physical activity, but it also builds stamina and upper body core strength, while also encouraging focus and teaching kids about safety.
Whether your child is a novice marksman or an experienced archer, there are many factors to consider when making a selection for your child. We have compiled a list of the best options for bow and arrow sets for kids of all ages and preferences. Some of these bows are suitable for kids under eight and others are suitable for kids over eight – we've noted in each review which age group each bow suits.
Features to Consider in Good Bow and Arrow Sets
There are several factors to consider when selecting a bow and arrow set for your child. The first factor to take into consideration is the age and size of your child. The bow and arrow set needs to accommodate the child's age, height and strength. Bows have a wide range of draw lengths and draw weights. The draw length is how far the bow needs to be pulled back and the draw weight is how difficult it is to pull the string (and thus how powerful the bow is). Therefore, the bow needs to be proportionate to the child's measurements and abilities.
Another aspect to consider is the purpose of the bow and arrow set. While all bow and arrow sets will be used for recreational purposes, there are different types of bows and each type of bow is designed differently.
Recurve bows, longbows, and crossbows are simpler in design and typically easier to use for target practice, and compound bows are more intricate and designed for hunting and speed. Does your child aspire to be a superhero like Green Arrow or Merida? Do they want to enhance their skills so they can join a parent on a hunting trip in the future? Do they want to play tag with their friends during a birthday party in the backyard? Understanding your child's intentions will help you make the best, well-informed decision when making the final decision for your child's first bow and arrow set.
The last major component to consider when selecting the perfect bow and arrow set as a Christmas or birthday gift is the appearance. Some bow and arrows have a more authentic, wooden, mature look, while other sets have a more child-like brightly colored appearance. Many sets come in an array of colors such as pink and purple, and some even come with LED lights.
Some of the bows on this list are just toys for messing around in the garden, while others are near-professional bows that your child could take to a competition.
With no further delay, let's explore the top thirteen options for bow and arrow sets for preschoolers and kids in 2020.
Top 13 Best Bow and Arrow Sets 2020
Final Words
The thirteen bow and arrow sets on this list were carefully selected in order to ensure that your child's first experience will be engaging and a hobby that your child will enjoy whether by themselves or with family and friends. Whether your purchase includes the beginner sets for your preschooler or a more advanced set for an older child, you can be confident that your choice will be a high-quality, top-rated fairly priced product that your child will thoroughly enjoy.
Before making a final decision, make sure that the product you select is the appropriate size and that batteries are purchased ahead of time if necessary so that your child is able to play with it as soon as they unwrap their gift. Another aspect to take into consideration is also familiarizing yourself and your child with safety procedures so that the experience is enjoyable but also safe. Enjoy the whistle of arrows through the air with these great bow sets for kids.