Top 13 Best Bow and Arrow Sets 2023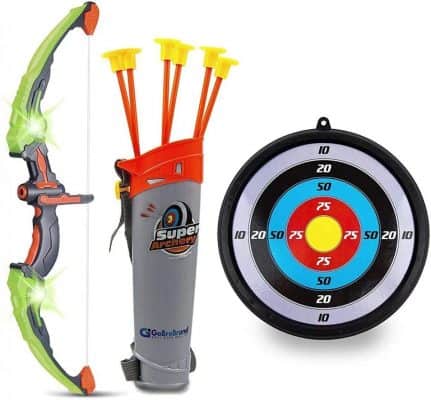 Overview
The GoBroBrand Bow and Arrow set is different from the other sets on this list in that the arrows are suction cup arrows, which makes it perfect for small children who are trying to familiarize themselves with the motions needed to shoot a more advanced bow and arrow. This competitively priced set comes with 6 suction cup arrows, an LED light-up bow that comes with three LED light settings, 1 quiver, and 1 target.
Liven up your child's evening and night time play by purchasing this light-up bow which further enhances their bow and arrow experience! Although the age limit suggests 6 and up, the suction arrows are safe for smaller children to operate with adult supervision. The bow measures at approximately 24 inches and the arrows measure at approximately 16 inches in length, which is perfect for small children.
This toy is a great introductory toy for any young aspiring archer without breaking the bank. This would be a great set for a small child who wants to be involved and can learn to use a bow and arrow just like their parent or older sibling!
The included target is a little small however, and because it's made of plastic, it can break more easily than other sets.
Overview
The Genesis Original Bow is a top of the line for any older child who is just getting started or wants to graduate to an intermediate level bow. With no specific draw length requirement, your child cannot outgrow it.
It has many high-quality features, including a mechanized 6061-TG aluminum riser, aluminum cam and idler wheel, sturdy composite limbs, and a high strength bowstring. The single-cam technology results in less recoil, no tuning issues, less noise, and more accurate shooting. It also has a cable guard and molded competition grip which makes it very easy to use for beginners.
The bow has a 10 to 20-pound draw weight range and a 15 inch to 30-inch drawback length which makes it useful for a wide range of ages and sizes of children. The composite bow limbs make the bow adjustable, which is great for a child who wishes to pursue an archery hobby more seriously because it will grow with them.
The bow is 35 ½ inches axle-to-axle and has a 7 ⅝ brace height. It can be ordered for a right or left-handed child, and also comes in 12 colors: black, blue, camo, carbon, green, orange, pink, pink camo, purple, red, white camo, and yellow. It doesn't come with arrows though, which need to be purchased separately, and it's very expensive compared to other sets.
The Genesis Original Bow is an easy-to-use 'professional' bow that archery instructors use to train even older children. If you believe your child wants to take a passion for archery seriously, this is the bow to go for.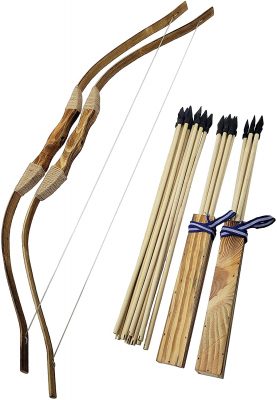 Overview
This is one of the best bargains on the list. For the price of one set, you get 2 bows, 20 rubber-tip arrows, and 2 quivers. The two-pack offer encourages a bonding experience with siblings, friends, or even a parent and child. This could also be ideal for children that are not as careful with toys and will provide the parent with a backup. It also has more arrows than the typical set so kids do not have to constantly go back and retrieve arrows as frequently.
The bow is made of bamboo wood, which makes it more durable than its plastic counterparts. The bamboo wood creates a more authentic feel when using the bow and arrow, which promotes a more engaging play experience. The bows measure at 31 inches and the arrows are 17 inches. The two quivers are large enough to hold between 6 and 7 arrows and are more sturdy than other competitor sets.
There are downsides, there is no target to shoot at, and the bows themselves don't have any armguards to protect the arm from bow snap.
The quality is great and long-lasting and that the bow is able to shoot the arrow from far distances. The two-for-one package deal makes this a definite contender when comparing bow and arrow sets for kids.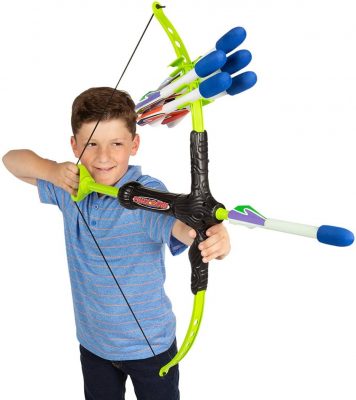 Overview
The Marky Sparky Faux Bow 3, unlike the other toy bow and arrows on this list, shoot arrows over 100 feet. The foam arrows are designed to be more aerodynamic, allowing the arrows to propel further and faster than most toy sets. The set comes with 6 lightweight arrows, 1 bow, and 1 bow tip quiver. The design of the bow is unique in that it has a bow tip quiver, meaning the arrows are actually stored at the tip of the bow, making it easier to store and more convenient to reload.
The bow and arrow set only comes in one color, but the color scheme is unisex. The bow is made of high-quality non-latex and phthalate which makes it both light and durable. The bow's dimensions are 18.2 inches by 13 inches by 2.5 inches. The lightweight fletching further enhances the arrow's ability to soar great distances. The launch tube can also be removed which makes the toy easier to store.
Recommended for ages 8 and up, this toy requires more draw back stronger than the other sets on this list and the arrows hit harder than other toy sets which is why it is more appropriate for older children.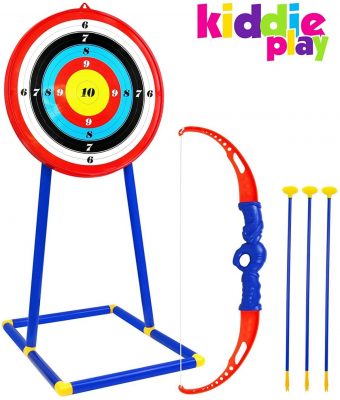 Overview
This set is different from the other sets because it includes a target on a stand, and is light enough for a preschooler or young child to move it from room to room. The set includes bow, three arrows, and the target on a stand.
The bow measures 23.5 inches in length, the arrows are 20 inches long, the target is 34 inches tall when on the stand, and the target itself is 16 inches in diameter. The target is great because you can remove it from the stand and hang it on the wall, place it on the fridge, or attach it to a tree for outside play.
The set is aimed for smaller children, with a suggested age range from 5 to 9 years old, but it could be used for smaller preschool children with supervision. It is made from ABS plastic so you do not have to be concerned about plastic toxicity while they are using this toy.
This soft shooting power also addresses any safety concerns and makes it great for inside play. The arrows have great suction and will stick to anything including the target, the fridge, or a child's bedroom wall without causing damage.
Although it is advertised as a toy for both indoor and outdoor use, the stickers are not able to withstand harsh weather and will bubble.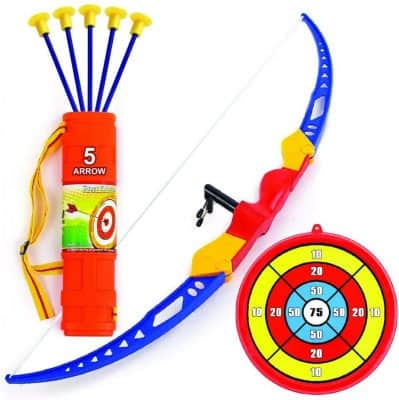 Overview
Fit for the most tenacious of preschoolers and small children, this toy is perfect for a small child. The set comes with 5 suction cup arrows, an archery bow, a target, and a quiver. It is made with premium non-toxic ABS high quality, safe materials. It is very lightweight and easy for your little archer to carry around as they shoot at the target, the fridge, or even glass doors. Great for outdoor or indoor play on a rainy day. The quiver has an over the shoulder strap which makes it great for your preschooler to carry their bows and arrows while they shoot.
This is not appropriate for older children. The child-like bright orange color scheme is a definite indicator that it is intended for a younger child. It also has suction cup arrows so it will not actually penetrate a target. The arrows measure at 18 inches and the bow measures at approximately 23 inches, which is the perfect size for a smaller child.
Although the packaging indicates an appropriate age range of 4 years old and up, 2 and 3-year old children are still able to manage the toy with ease. The string for the bow does pop out easily, however, but it can easily be fixed and placed back into the bow.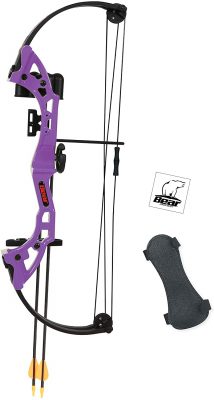 Overview
Bear Archery once again tops the list with their Brave Bow Set. This set includes a compound bow, 2 safety glass arrows, a whisker biscuit, 1 pin sight, finger rollers, 1 armguard, and an arrow quiver. The bow measures approximately 26 inches from axle-to-axle and the arrows are approximately 24 inches in length. This is a right-handed oriented bow with a 15-25 pound draw back weight, a 13.5-inch draw length, and 5.5-inch brace height.
It comes in an array of colors, including black, APG camo, green, orange, pink, and purple, allowing your child to add a personal touch by picking their own color. The whisker biscuit is the safest rest in the archery industry, which will help prevent bowstring slap while your child is becoming familiar with using a bow and arrow for the first time. The armguard also helps prevent bowstring slap as well, which is not included in all sets. The safety glass arrows also add an additional safety feature which makes this set ideal for beginners.
Keep in mind that while the draw weight is adjustable, the draw length is not adjustable, which can potentially be problematic for older or taller kids.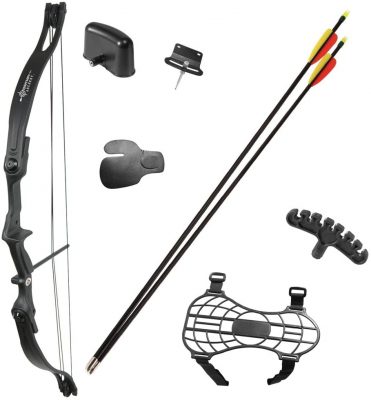 Overview
This bow and arrow set is targeted towards pre-teen/intermediate skill level kids. The sleek, black colored look compliments kids who are seeking to pursue this as a serious hobby. As a crossbow, this is more complicated and should be used by older kids (aged 9-12). The Crosman Jr. Compound Bow is the perfect gift for a pre-teen who wants to develop proper archery skills.
The crossbow measures at 33 inches axle-to-axle, and comes with 2 24 inch arrows, a 2-piece quiver, an arm guard, finger tab, and a sight. The velocity is 70 feet per second, which is ideal for an older child.
The drawback length is up to 26 inches, and the drawback weight is between 17 and 21 pounds, which also requires more strength than other sets. The bow has an integrated composite center shot and large sight window which makes the assembly significantly easier and increases shot accuracy. It is supported by heavy-duty all-weather strings, cables, and cable guard, which contributes to its overall durability.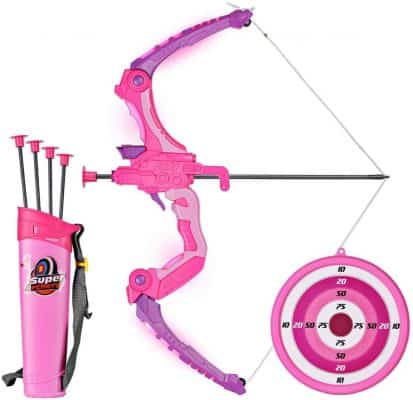 Overview
This inexpensive bow and arrow set would make the perfect gift for your small child. The set includes an illuminating bow, sighting device, quiver, target, and 5 suction arrows. The quiver is 11.8 inches by 3.5 inches, the target measures 9.4 inches in diameter. The arrows are 18.5 inches in length, and the bow has an overall height of 23.6 inches and 9.4 inches in width. Although the recommended age range is 6-16 years old, the measurements and design suggest that it would be more appropriate for smaller children.
The bow and arrow set comes in two colors: a bright princess pink and purple, and an edgier black and neon green. The LED light-up feather and laser sight aim would be great for kids wanting to create an indoor laser tag experience at an at-home birthday party or when playing with friends outside. The aesthetically pleasing and practical packaging allows for easy wrapping for a birthday or holiday gift.
Fully tested by the United States ASTM toy safety standards ensures quality and a safe, exciting experience for your child. The batteries aren't included and you can't adjust the draw weight of this bow, so if it's too difficult for your child to pull, there's nothing you can do.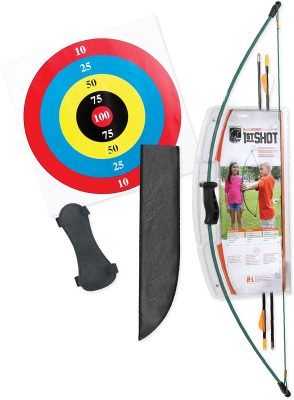 Overview
Made by the same company as the Brave Bow Set , Bear Archery is the 1st Shot Bow is designed for younger kids between the age of 4 and 7. It's good value compared to other beginner sets and comes in a wide variety of colors.
This bow and arrow set includes the following accessories: two safety glass arrows, target, finger rollers, armguard, and a quiver. The 8-12 pound draw weight allows you to make adjustments as your child grows more accustomed to using the bow and arrow set. It also has a 14-16 inch draw length, which is great for smaller children who want to get a feel of using a bow and arrow for the first time.  The 1st Bow Shot also includes a 36-inch long ambidextrous bow which is great for both right and left-handed children.
It only comes with two arrows, which is disappointing, and it can be a little inaccurate no matter how skilled your aim.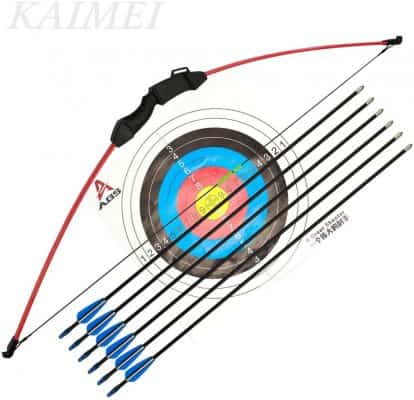 Overview
Coming in at 43 inches with a 14-20 pound draw weight range, this bow and arrow set is perfect for beginners ages 8 and up. For a reasonable price, the set includes plenty of accessories including one bow, six fiberglass arrows, and two target papers. At 1.15 pounds, it is lightweight which makes it easier for young children to operate. The low draw weight range creates lower tension for beginners who are just starting to develop pull-back strength.
The size and lightweight fiberglass material make this bow and arrow set both easy to operate and durable, so perfect for a child's first archery experience. It does not, however, come with the string, which must be purchased separately. It's also a little tricky to set up, and will probably need parental supervision.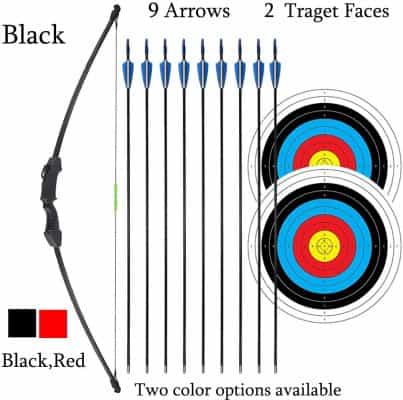 Overview
With an age recommendation of 10 years and up, this is a great, simple bow for a beginner who wants to hone their target practice skills. With the iMay recurve bow your son or daughter will be a future Katness or Hawkeye in no time!
The set includes one recurve bow, 9 target fiberglass arrows, and 2 target faces. The bow is 44 inches in overall length with a 22-24 inch draw length and a 16-20 pound drawback weight, which makes it larger and requires more strength compared to other sets on this list, making it perfect for an older kid. The arrows are 29 inches long and the target is 40 centimeters in diameter with 10 rings, giving it a look that is more comparable to targets used by adults.
The ambidextrous riser design is great for a child or teenager who is right-handed, left-handed, or ambidextrous. It could also be great for sharing if multiple people have different hand orientations. The fiberglass arrows have an adjustable, fixed arrow tail, making it easier to load the arrow. The rounded arrow tips are ideal for beginners because while they can penetrate the targets, they are less dangerous when compared to a sharper arrow head. The durable fiberglass material makes it lightweight and easy to carry.
Not as many accessories are included with this bow and they targets don't stand up to weather in the slightest. Yet this is still a great quality bow.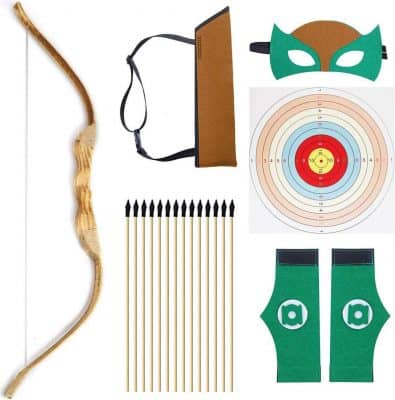 Overview
The 35 piece bow and arrow set made by Knidose has all of the necessities for your future Robin Hood or Merida. This affordable set comes with everything needed for your little one's first encounter with a bow and arrow: wooden bow, 15 arrows, 5 target sheets, 1 mask, 2 wristbands, and 1 fabric quiver.
The bow is 32 inches in length and is made of bamboo, which makes it both lightweight and durable. The rubber-tip arrows are safe. With five target papers, your child can don their mask while recreating their own scene as a superhero defeating multiple villains at once while embracing the outdoors. The felt quiver only further contributes to the Robin Hood look but is also sturdier compared to other sets that have quivers that are made of plastic. The spring is also very light which creates less resistance, making it easier for younger children to operate.
The Green Arrow costume accessories were commonly used for Halloween costumes, further justifying the price with multi-functional use. One thing to mention though is that the black rubber tip arrows are not recommended for shooting at white surfaces such as walls, because the arrows will leave a black mark.