In a fast-paced world where kids spend so much time with their eyes glued to shows and games on electronic screens, parents are always looking for ways to keep their kids active. While not necessarily talked about as much as soccer or Pokémon Go, kite-flying is a fun, inexpensive way for kids to get some outdoor activity. What's more, kite-flying provides parents a peaceful way to spend time with their children.
The best kites for kids aren't just about their prices but, more importantly, about the laughter they can elicit from kids and the love that they can encourage among families. Kiting, after all, is a great way to spend a beautiful day with family and friends so that new memories can be made. Moreover, kiting promotes physical, mental, and social skills among children. Children also develop social skills, such as communicating with their playmates, and their mental skills in terms of judging the wind, line, and direction. With kites designed specifically to interest and challenge various levels of skill, kids can never truly "outgrow" this activity.
Top 30 Best Kites for Kids 2020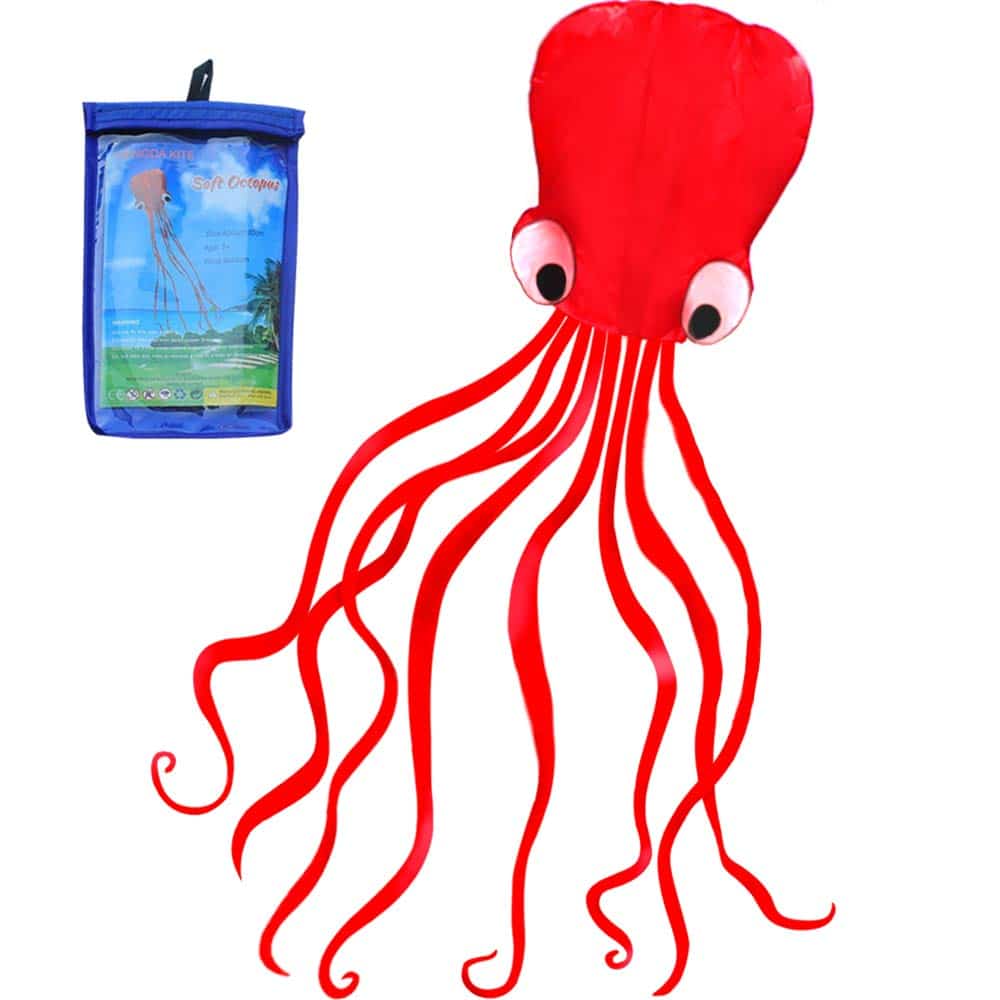 You would think that the ocean is where the great octopus lives. But right in the beaches of some of the famous tourist destinations, you can see a lively Red Octopus children's kite soaring high above the blue waters. With fantastic looking tentacles that are almost 13-feet in length that is slightly shorter than the length of compact sport utility vehicles, the Red Octopus measures 4-meters in length from head down to the tip of its tentacles. It's thus, not a surprise that it's recommended for kids aged 10. Any child younger than 10 will have difficulty launching it in the air. Controlling it will also require some muscle because the colorful tentacles can make it dance like crazy high up in the clouds. Once your kid is done playing, it's easy to fold, store and unfold it as it also comes with a storage bag for convenience.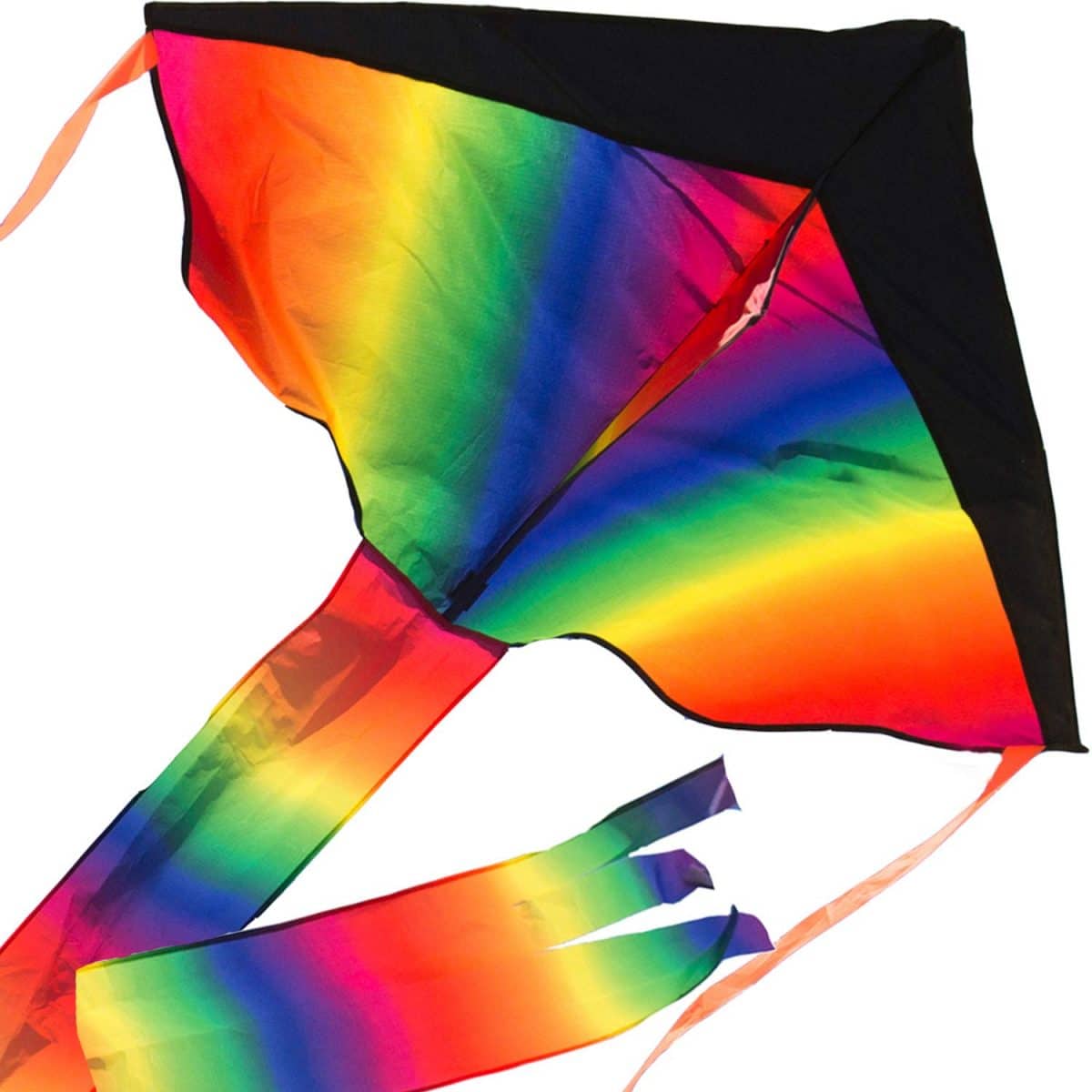 The Rainbow Delta Kite can soar as it already comes with 200-feet of durable kite line, unlike the usual 100-feet of other brands. The flight surface isn't made of polyester but high-quality rip-stop nylon fabric. The frame is built with fiberglass that comes reinforced at certain sections of the Rainbow Delta to add to its sturdiness, reliability, and durability. It measures 43-inches across and 80-inches from the tip of the head down to the tip of the main tail. There are 2 additional tails for extra stability. While the company guarantees Rainbow Delta's weather-resistant features, it shouldn't be flown if the winds pick to more than 16-miles-per-hour.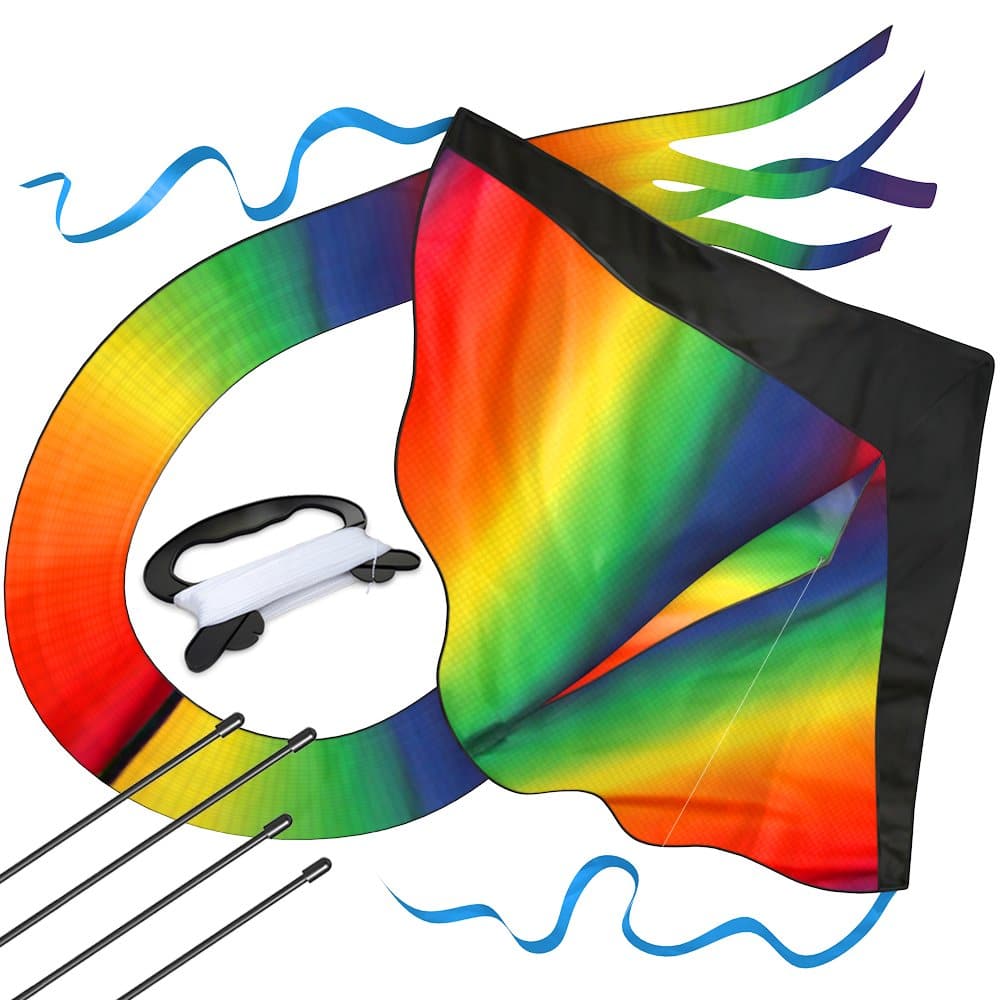 The Huge Rainbow Kite for Kids lets your kids enjoy the great outdoors, learn how to fly a kite, and get a few rays of sunshine to strengthen their bone. The flyer is so well-balanced that it's neither too light that it spirals out of control nor too heavy that it won't lift off the ground. The recommended age for flying the kite is 3 and up. However, assembling the kite requires adult supervision. The kite is also stable that it won't be knocked down to earth. It's the perfect balance that kids will appreciate how easy it's to launch from a safe distance and then guide it towards the heavens. Besides, the Rainbow is a great reinforcer of color mastery, especially among toddler while the joys of kite-flying will come in handy in developing a sense of accomplishment among older children.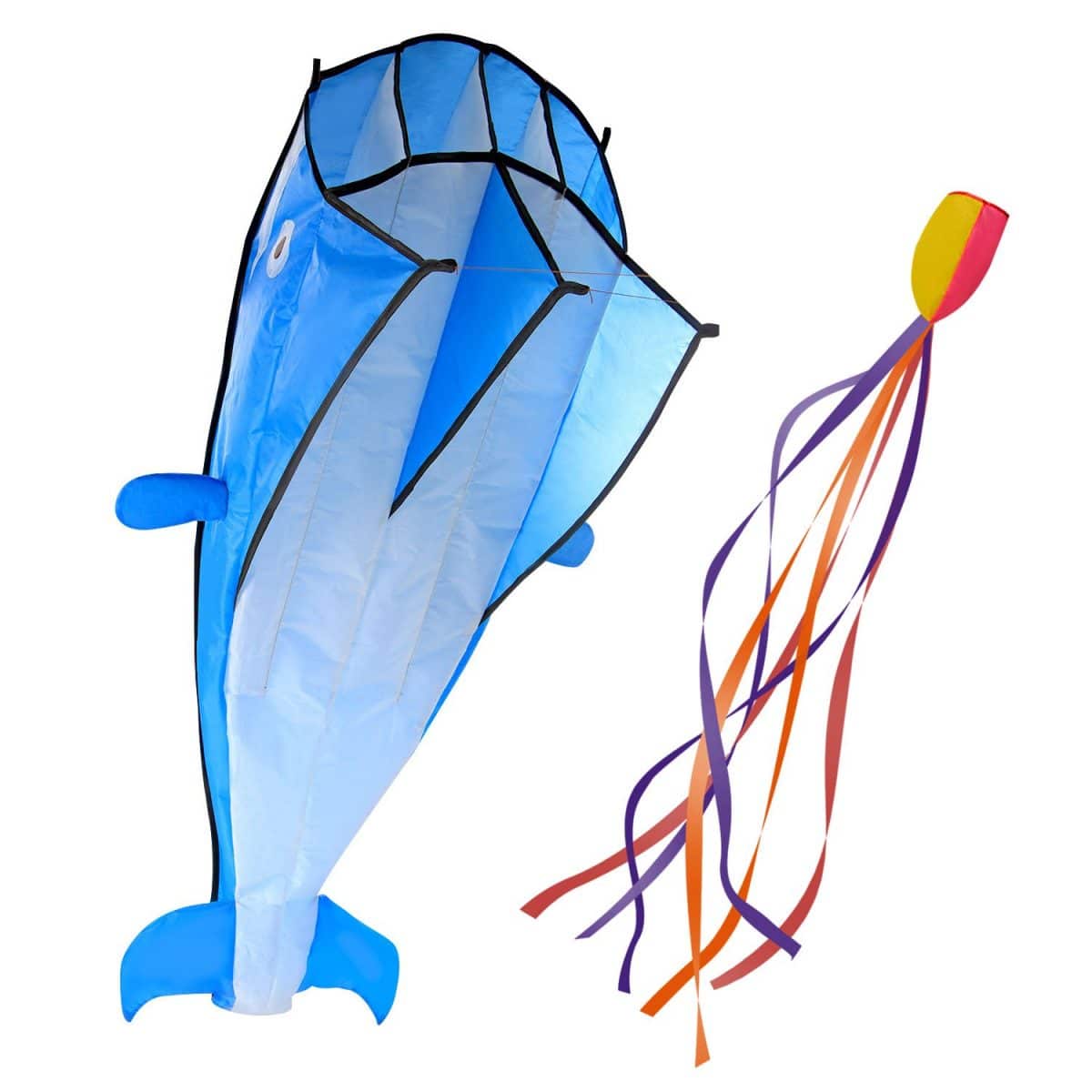 The IMAGE 3D Kite Blue Dolphin Breeze is a unique kite that kids and everyone else will surely be wide-eyed about. Measuring a staggering 6.5-feet long and 24-feet wide, the kite will be ruling the skies over beaches and parks as flying it comes as a breeze. Since it's frameless, your kid can easily unroll it from its packaging and let it soar through the skies in a jiffy. While the kite can be used by nearly any age, adults may need to help with the assembly and smaller children should always be monitored by an adult. Besides, since the kite doesn't have a frame, it's easy to fish it out of the water in case it takes a nosedive during your beach day.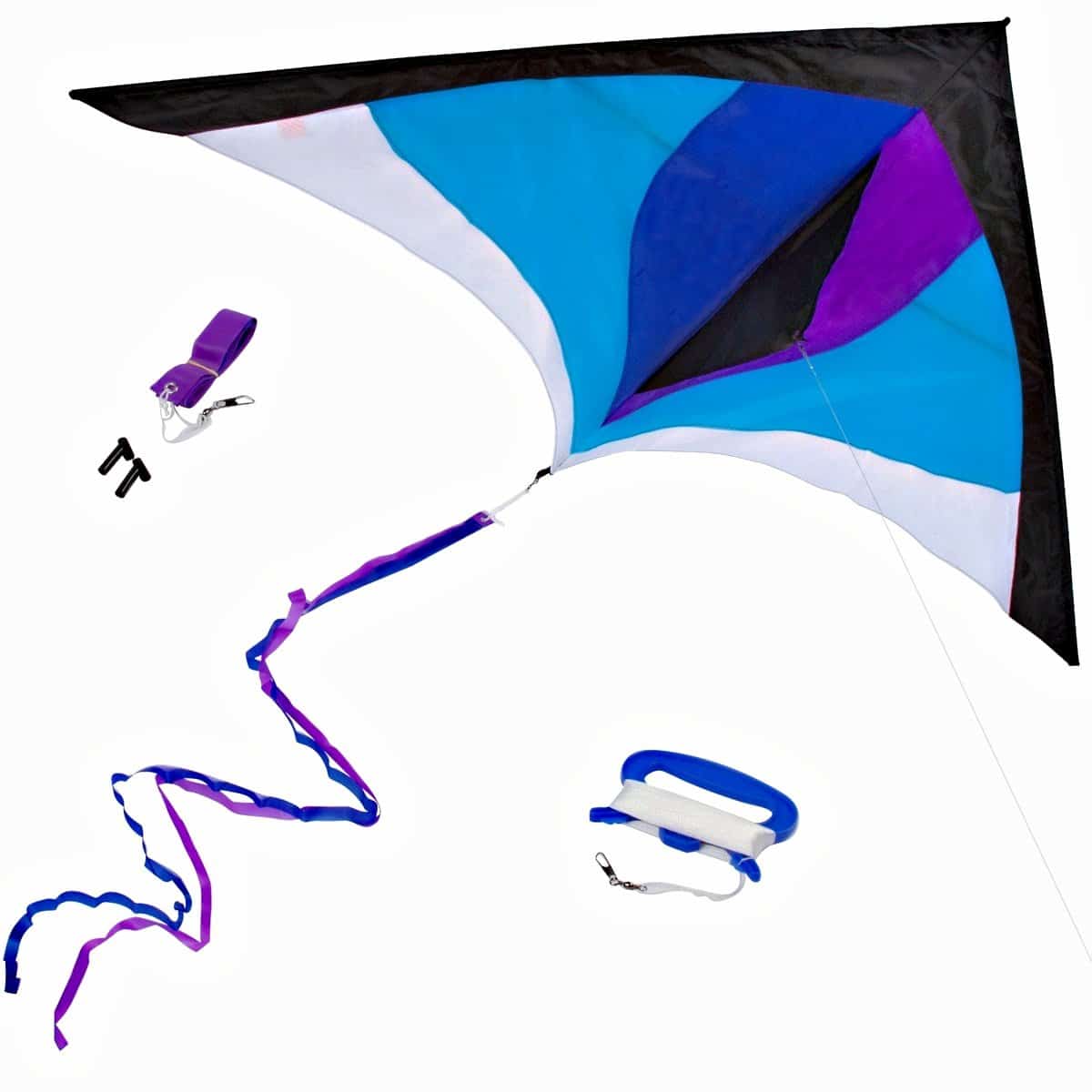 The Best Delta Kite is handcrafted from top-quality materials made to stand all the rough edges and hiccups that come with the learning curve. The kite features two 8.5-feet tails and a single line, with the body measuring 60" by 32". The line provided measures roughly 200-feet and is anti-tangle, so it should fly extra smoothly as kids learn how to execute and effect lift-off and keep their kites in the air. This kite is designed to balance easily, soar free, and look sleek doing it. A loss-prevention policy allows for replacements if you contact the company about your kite being taken by the wind or sea. It's not super-flashy or unique, but this little guy can get some serious lift. It does particularly well in light winds and is designed to be easy to balance. The kit is well-made and easy to use so almost anyone in the family can use it. The string is long and gives the user something to hold on the line. Moreover, beautiful colors make it easy to see against the sky. Kids and parents alike will be delighted by this design.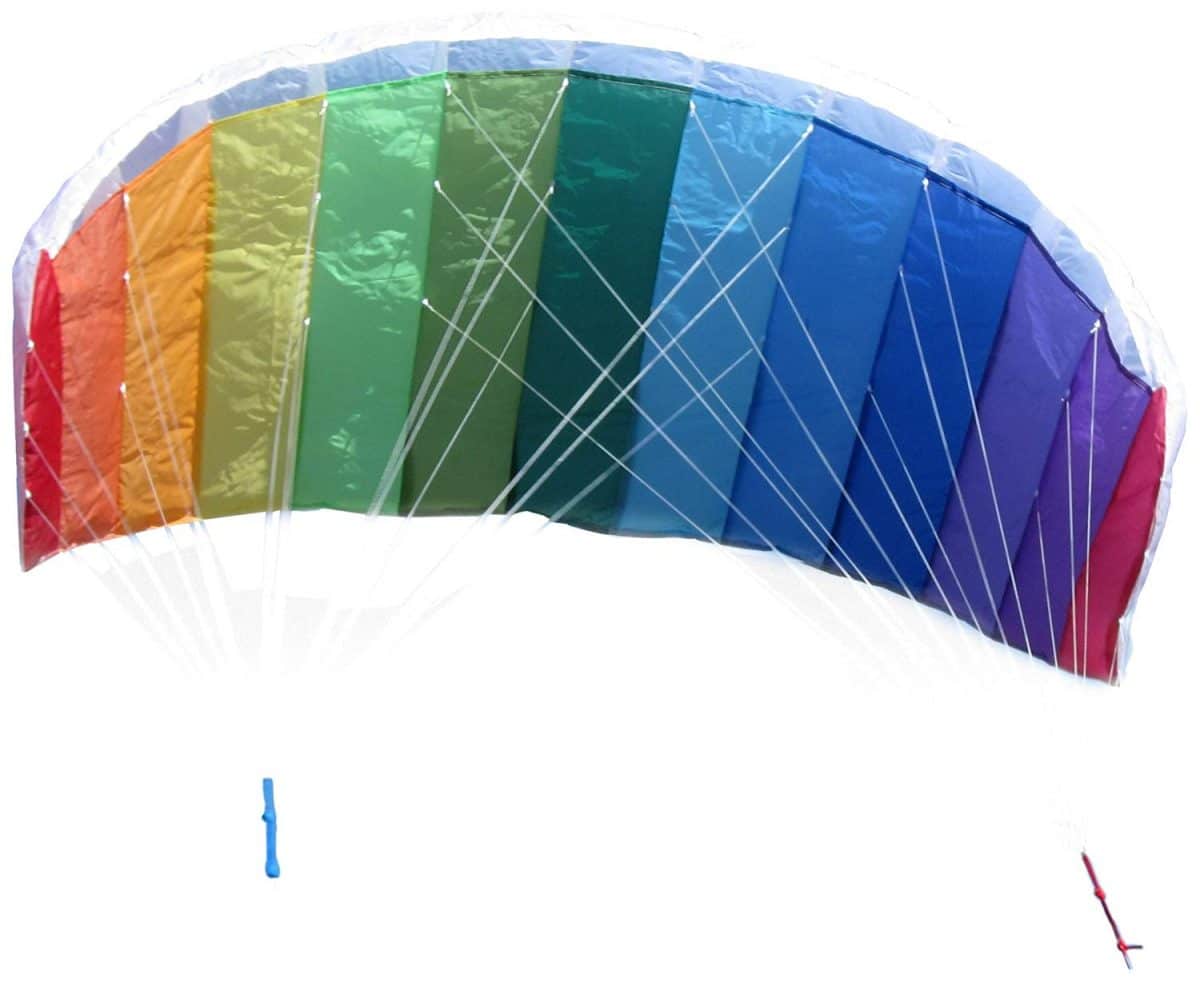 The Rainbow Kite from In the Breeze is great for the more advanced kite flyer and perfect for adults as well. It's a great product for spending quality time outdoors with your family. It assembles quickly and easily and is sure to make any trip to the beach a blast for the kite flyer in your home. Despite having two handles, the kite is even easy to use. Older kids and adults can fly it more easily, but little ones can be taught how to fly it with a friend. Additionally, since it's so large, it can be easily seen in the sky or above the water. It comes with two color options and it's completely unisex so boys and girls won't have to fight over it. There are two handles to fly from and this two-person design also helps kids learn how to share and work together as they'll need to do so to operate the kite effectively. The kite boasts a braided polyester line that won't break easily and two straps that your child can use to more efficiently and safely guide their new parafoil through the sky.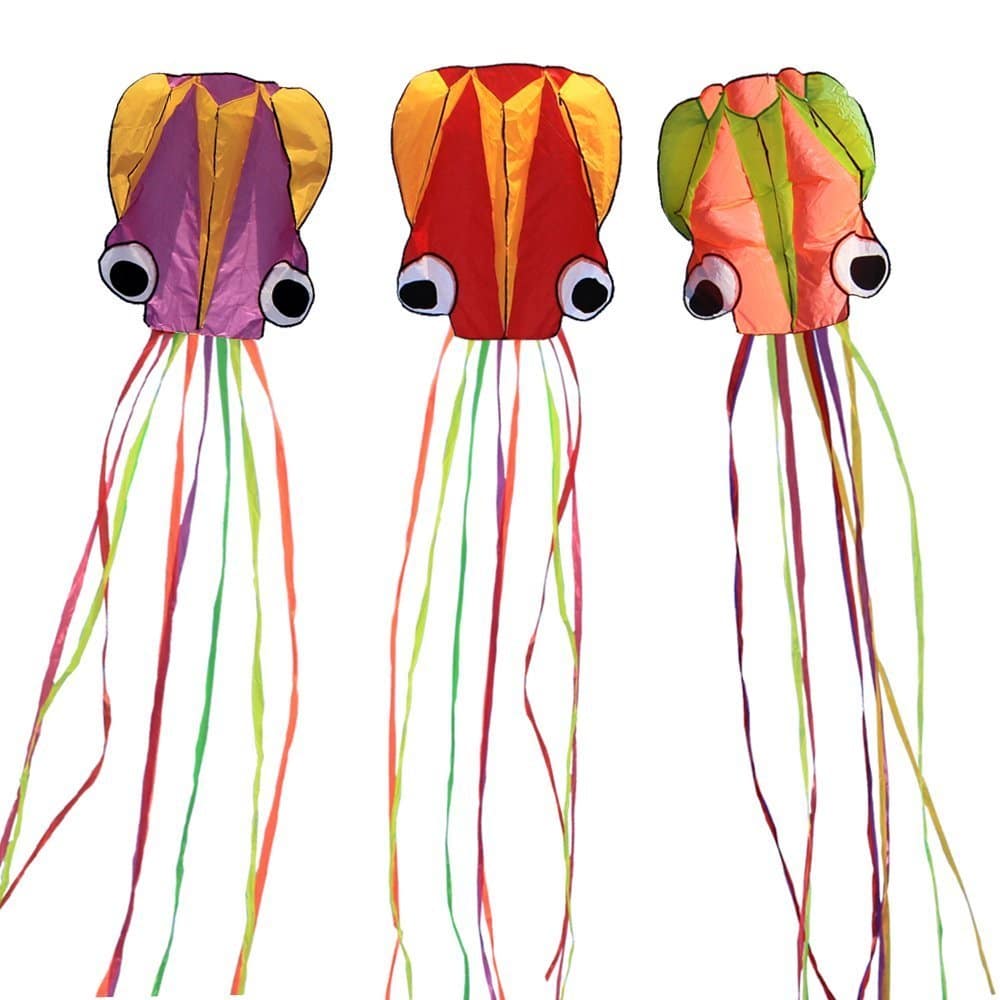 The HENGDA Kite 3-Pack Octopus is the best choice for anyone looking for the best way to get the whole family flying outdoors. Not only are there three kites for multiple family members to get in on the fun, but each kite is absolutes adorable. Kids will be fascinated with the colorful, goofy squids each kite presents. The kite is easy to fly, and a perfect option for families. The product is a great way to get your whole family out into nature. Whether it's visiting a beach and flying these squid kites near their ocean home, or simply going out into the backyard and trying to fly them, these kites will entertain the whole family. They're perfectly balanced, making them easier to fly. Not only that but if you and your children aren't satisfied with the kite, there's a money-back guarantee. Besides, the kites are made of durable synthetic material that'll not degrade quickly over time, and the wide array of color options makes it perfect for anyone in the family.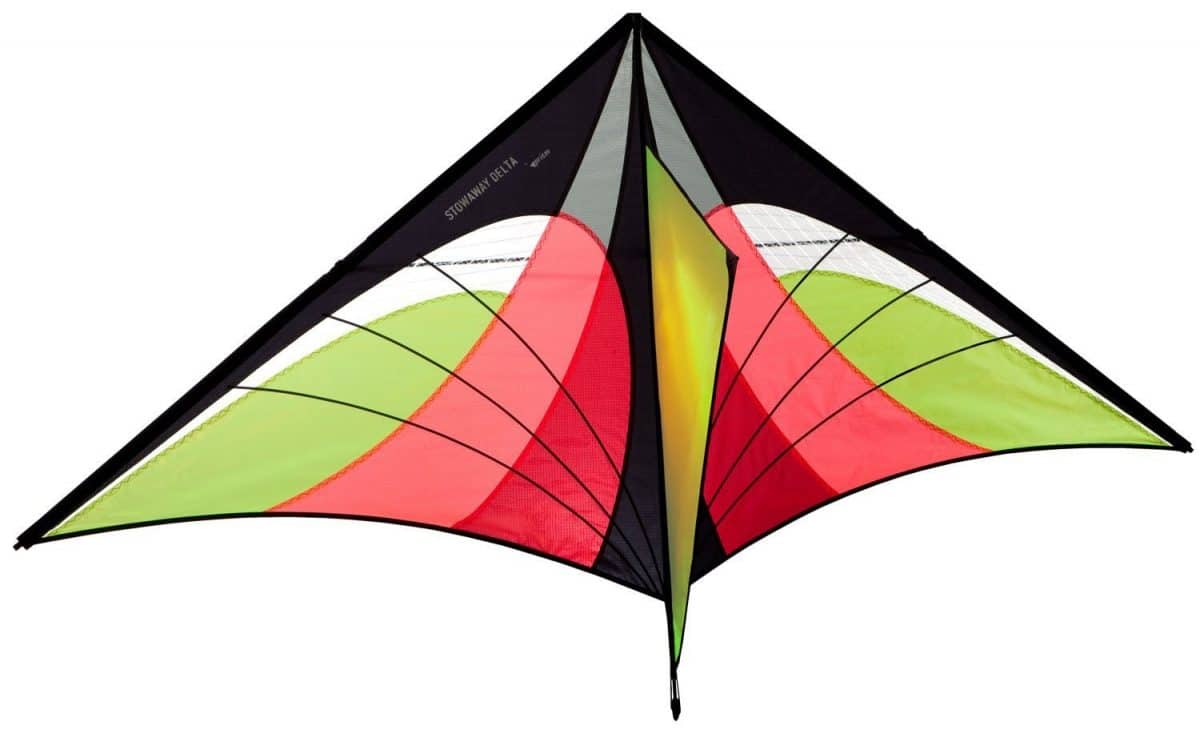 The Prism Stowaway Delta Single-Line Kite is offered in three colors and is unisex. The foldable design makes it easy to assemble and transport. The kite's synthetic materials mean that it won't degrade quickly or easily. Besides, the sleek design is made for cutting quick patterns across the sky. The kite is a great way to get your child into outdoor excursions and will improve their health and general well-being. The foldable design is easy to transport, and the multiple color options make it easier to suit the tastes of your flyer. This product from Prism Kite Technology is sure to please and will help your children gain a love for being outdoors.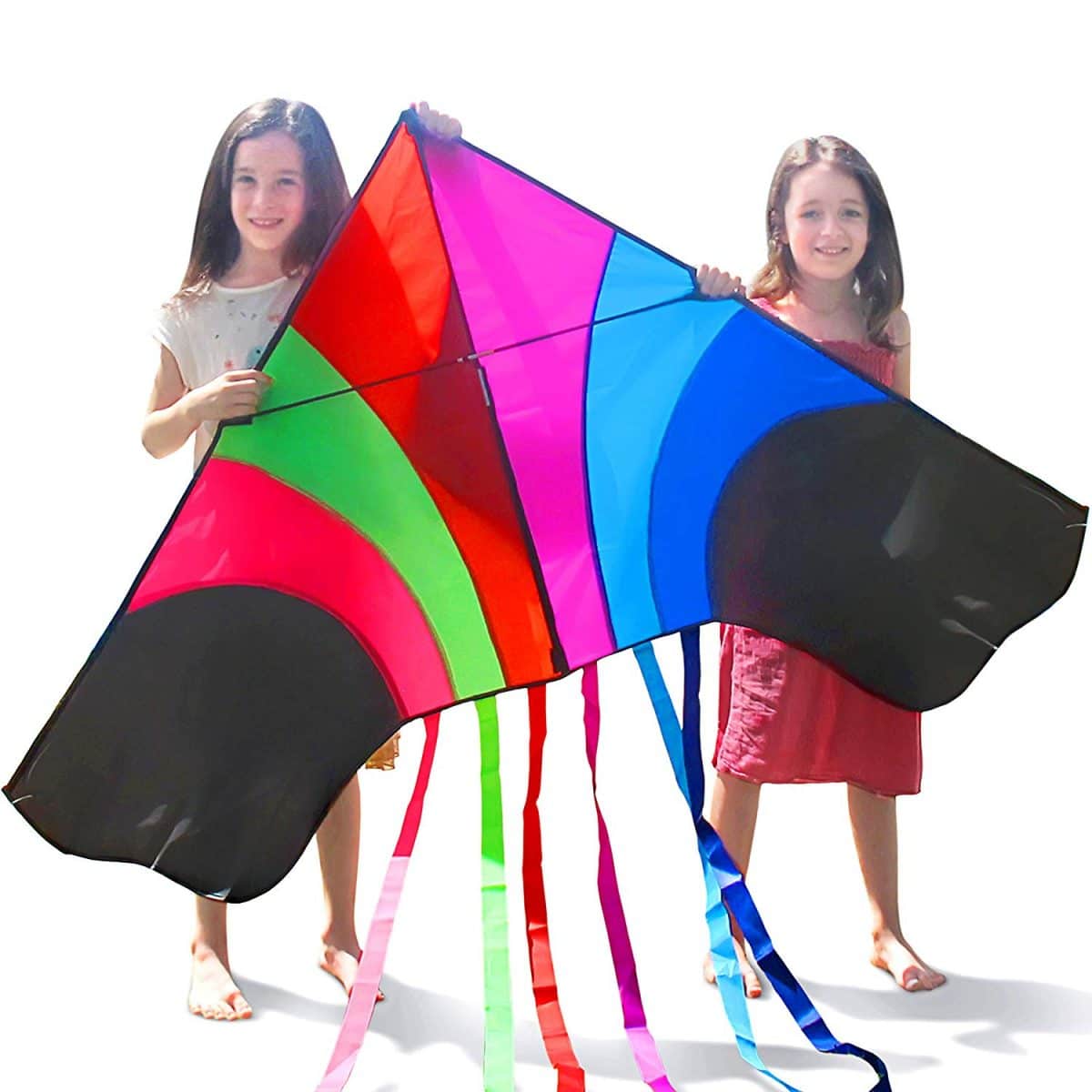 The Tomi Toys Huge Rainbow Kite is designed for children aged three and up. It's recommended that children under three don't use it. It features a folding design that's space-efficient and easy to assemble. Moreover, the kite is made for easy launches. The wide and vibrant kite is a great way to get your child to be active and into a low-tech hobby. Get them to the park or beach so they can breathe fresh and get cutting through with the air with the beautiful Rainbow Kite. The wide kite is easy to fly and assemble, making it a great option for first-time flyers in your home.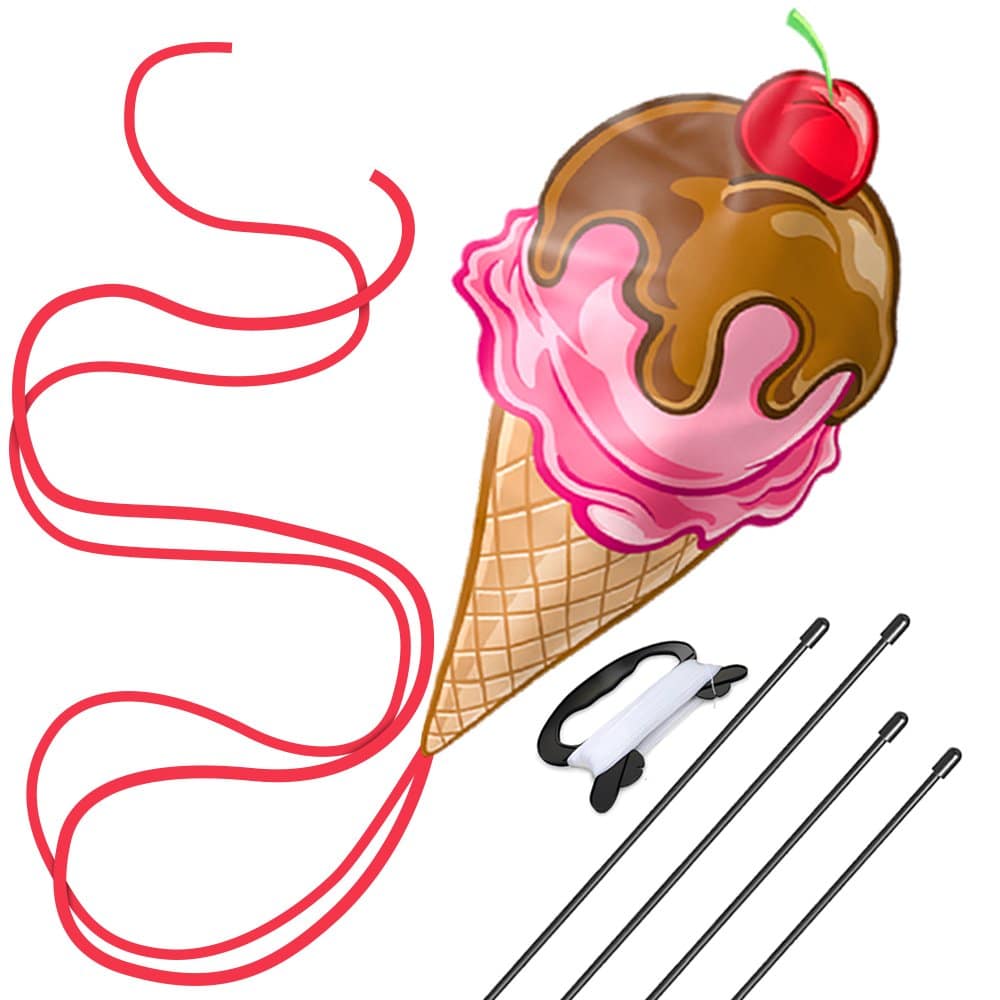 Summer is about enjoying the cool flavors of ice cream and flying kites to take advantage of the warm sunshine. What better way to combine the two than to let your kids fly this Sweet Ice Cream Kite. The kite features such a whimsical design that people who look up to the sky can't help but smile, perhaps even crave for chocolate and strawberry ice cream. It isn't just the attractive colors and theme that'll attract your kids to the kite, however. The nylon and fiberglass materials are strong and sturdy enough to withstand the wind, besides the occasional crashes to the ground.
Children, especially boys, have a strong fascination for airplanes including fighter jets with their sleet shapes and fast speeds. But since you can't afford to buy them their fighter jets or even their remote-controlled plane toys yet, your next best choice is this kite. Your kids will have a kite that looks like a fighter jet, especially when it's flying smoothly up in the air, but without the expensive costs associated with it. Unlike a real fighter jet, however, this kits has a long tail that helps in its better control while flying. But when kids look up at it, the tail will indeed look like the contrails of a real fighter jet. But like all of the best kites for children, it's also characterized by a balance in the frame.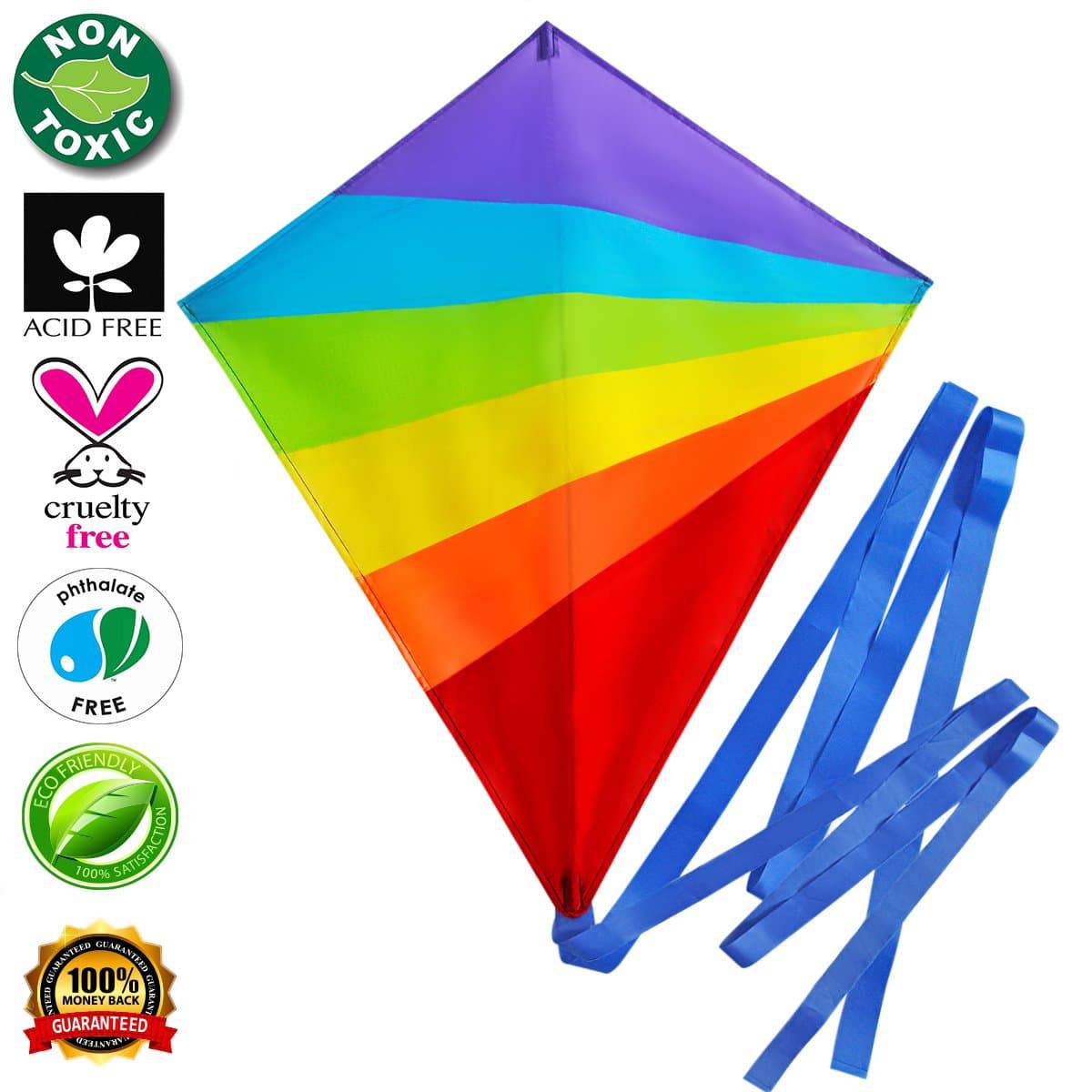 The Large Flying Kites Kit for Kids from Imaginesty features a classic simplicity in its design. The polyester materials are also toxin-free and eco-friendly. Once assembled, the kite measures 30″ by 24″ in its mainframe while its tail measures 7-feet. This means that it has the classic diamond shape with the long tails at the back, as well as the 100-foot kite line that appeals to adults and children alike. The simple design also means even toddlers can contribute to flying it, from launching to letting it soar.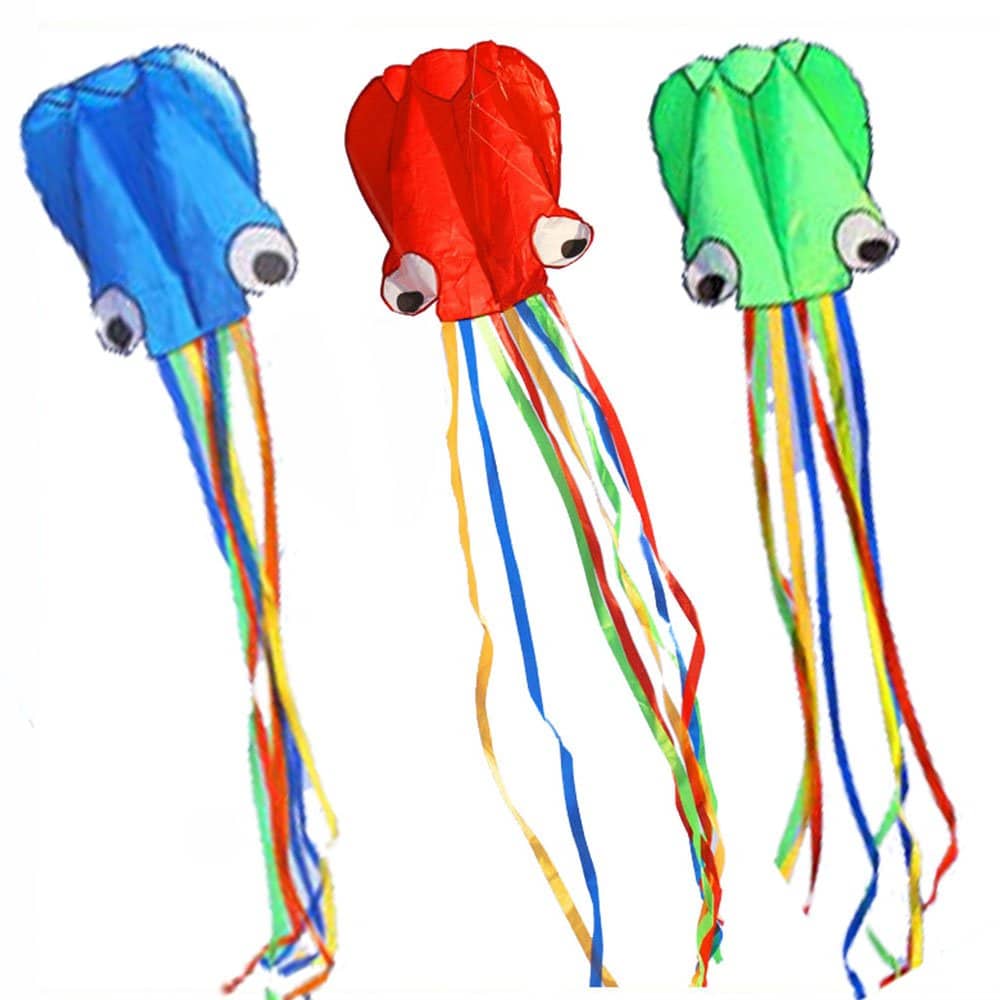 Why fly just one kite when your kids can fly three kites? This seems to be the rationale behind the BeMax Soft Octopus Easy Flyers set that contains three octopus-inspired kites in vibrant red, green and blue. The recommended age is 10-years old and up because of the large size of the kites. It measures 4-meters in length from tip to tail and it can completely cover toddlers. If toddlers want to help in flying them, you should make sure that adults are holding the line, too. The sheer joy of seeing make-believe octopuses is part of the appeal.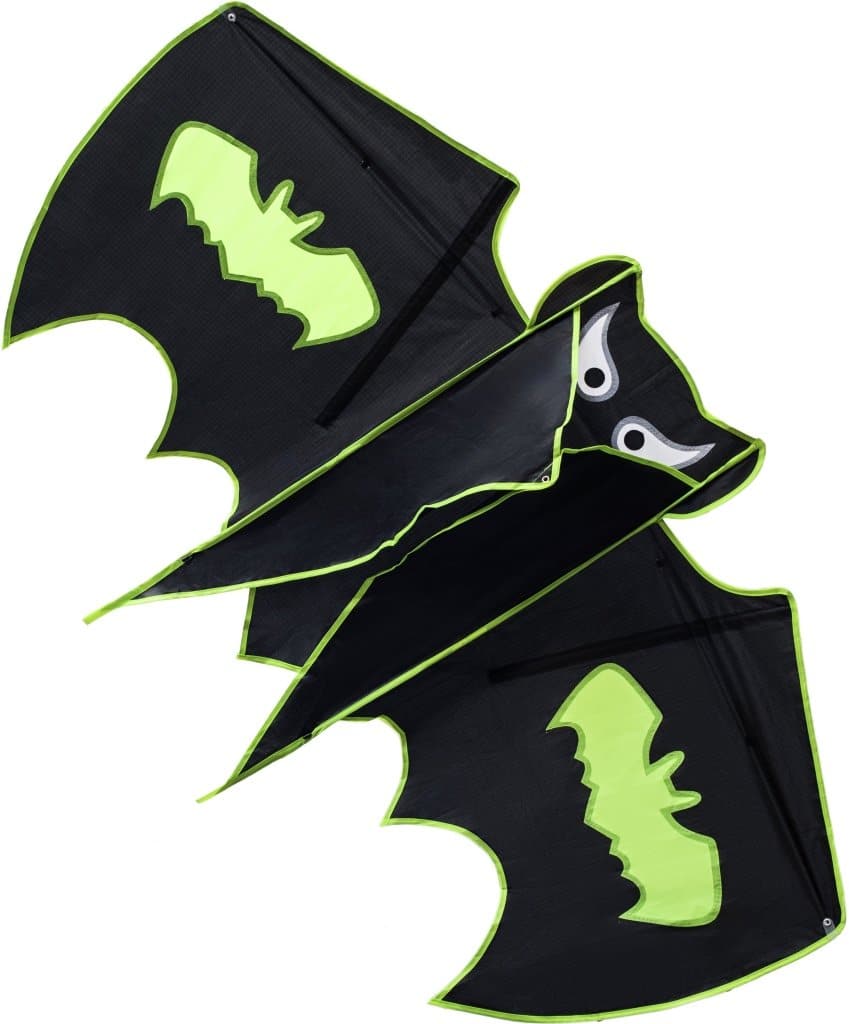 The Batman Superb Flyer has a somewhat deceiving name although it's a minor issue. Instead of the recognizable Batman stylized for a kite, this is designed like a bat complete with the bat's head, black eyes, and bat wings. When it's soaring in the sky, it looks vaguely like a bat because of such details. It's a sturdy kite, however, that can be used dozens of times over a few summers until nature takes its toll. It also comes with a pouch that has a carrying handle, to keep it in when not in use.
The Delta Kite from CHIPMUNKK is a colorful kite that stands out in the sky and mesmerizes kids. The beautiful, rainbow-themed kite is a great way to get your kids outside and enjoying some fresh air, all while being fully engaged and keeping active. The kite flies with an incredible 40-inch wingspan and comes with a durable 130-foot nylon kite string, leaving very little chance that the kite will break free and fly away. It also comes with two unique, red tail strings as well as a multi-colored tail for creating the most elegant patterns in the sky.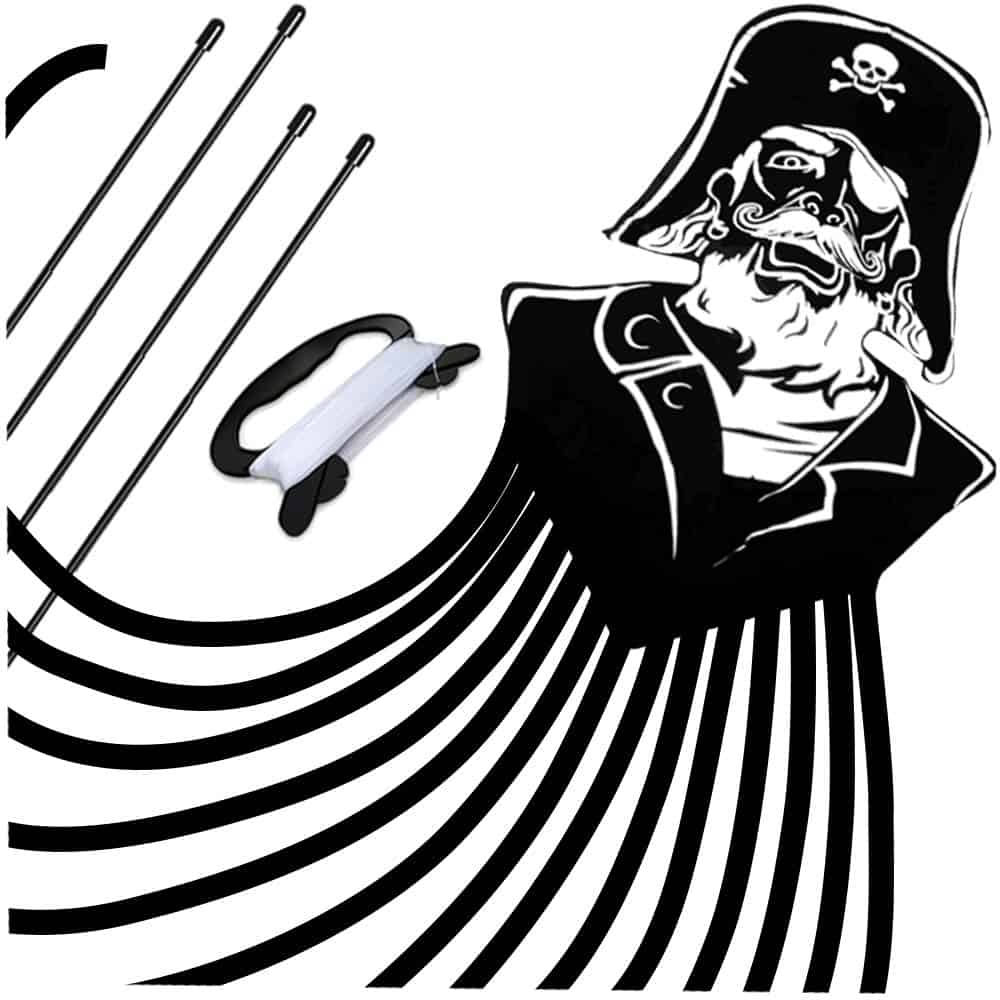 Ahoy, matey! Not every kite has to be rainbows and bright colors. Many kids will love to fly this black-and-white pirate flag. The kite launches relatively easily from a standing position. This works great for younger kids who might not have the stamina or coordination to run while getting the kite airborne. The kite also has a money-back guarantee as well as a lifetime warranty on parts. Unfortunately, speaking of parts, the kite needs to be assembled. Putting it together can be a little confusing and the instructions are a bit on the sparse side.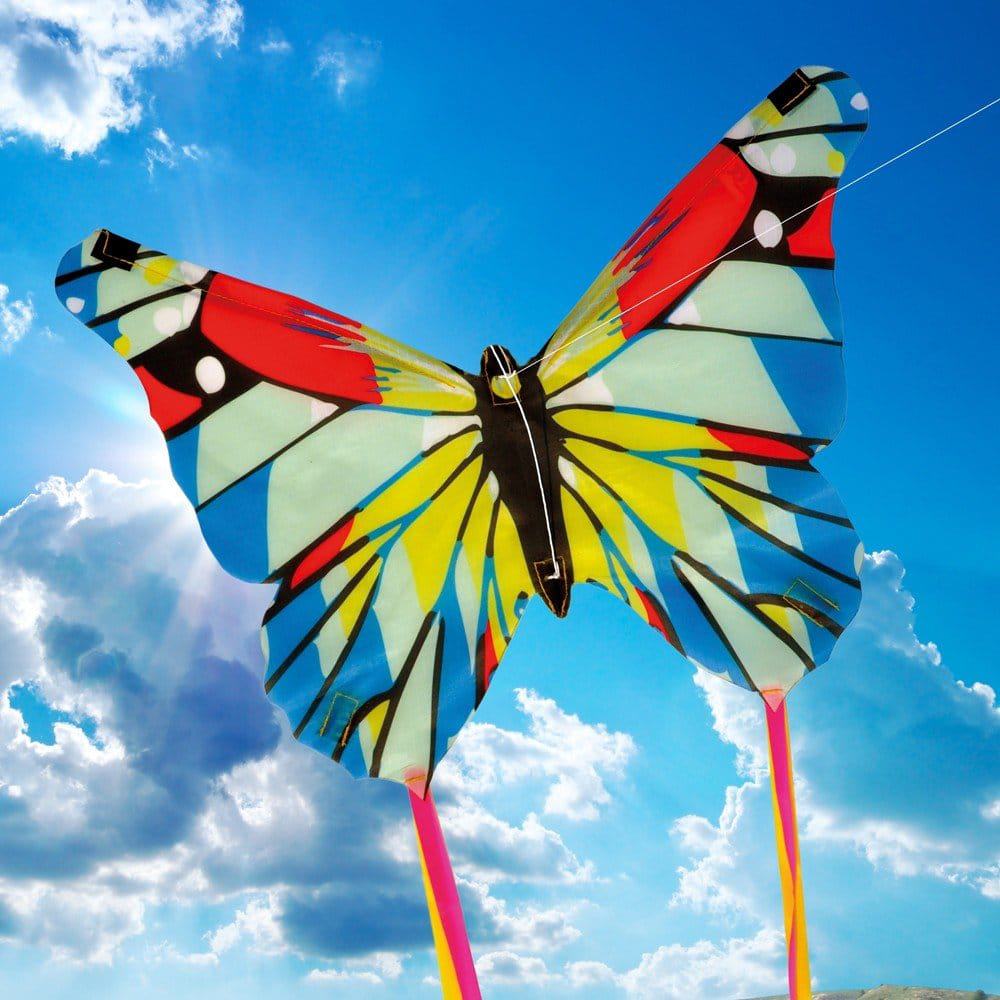 The Brookite Mini Butterfly Display is a beautiful kite that flies best in medium strength winds. Weighing only 59-grams, the kite is hard to control in high winds but works great in winds between three and nine miles per hour. It's a small kite at 19.4-inches by 14.4-inches. The unique shape looks great flying high in the sky. The Brookite is available in multiple different color combinations and includes two tails, a handle and flying line. While this small size isn't the best for every condition, it's a great small kite for clear, breezy days.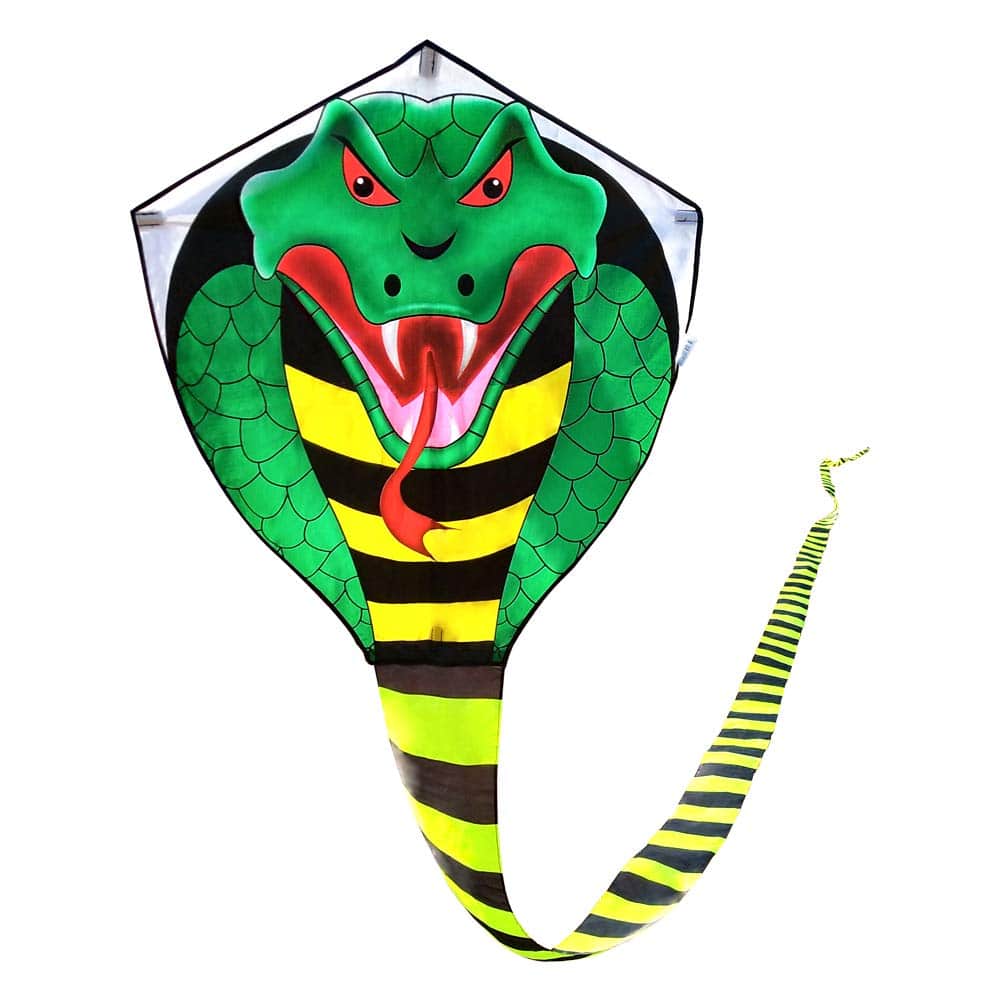 If you're looking to recapture a sense of nostalgia, then there's nothing quite like a diamond kite. They're also the simplest type of kite to build if you want to make your own. The Large Cobra Kite features a clever design that has the cobra's head on the diamond and an impressive 49-foot long tail to follow behind it. The kite can easily get up into the air and will fly with a light wind. Higher winds may make it take off. The long tail attaches by Velcro, making it easy to wind back in and store. It comes with its storage pouch to keep everything together when not in use. The unusual bright design helps to engage kids in flying the kite. They also tend to draw attention wherever they're flown.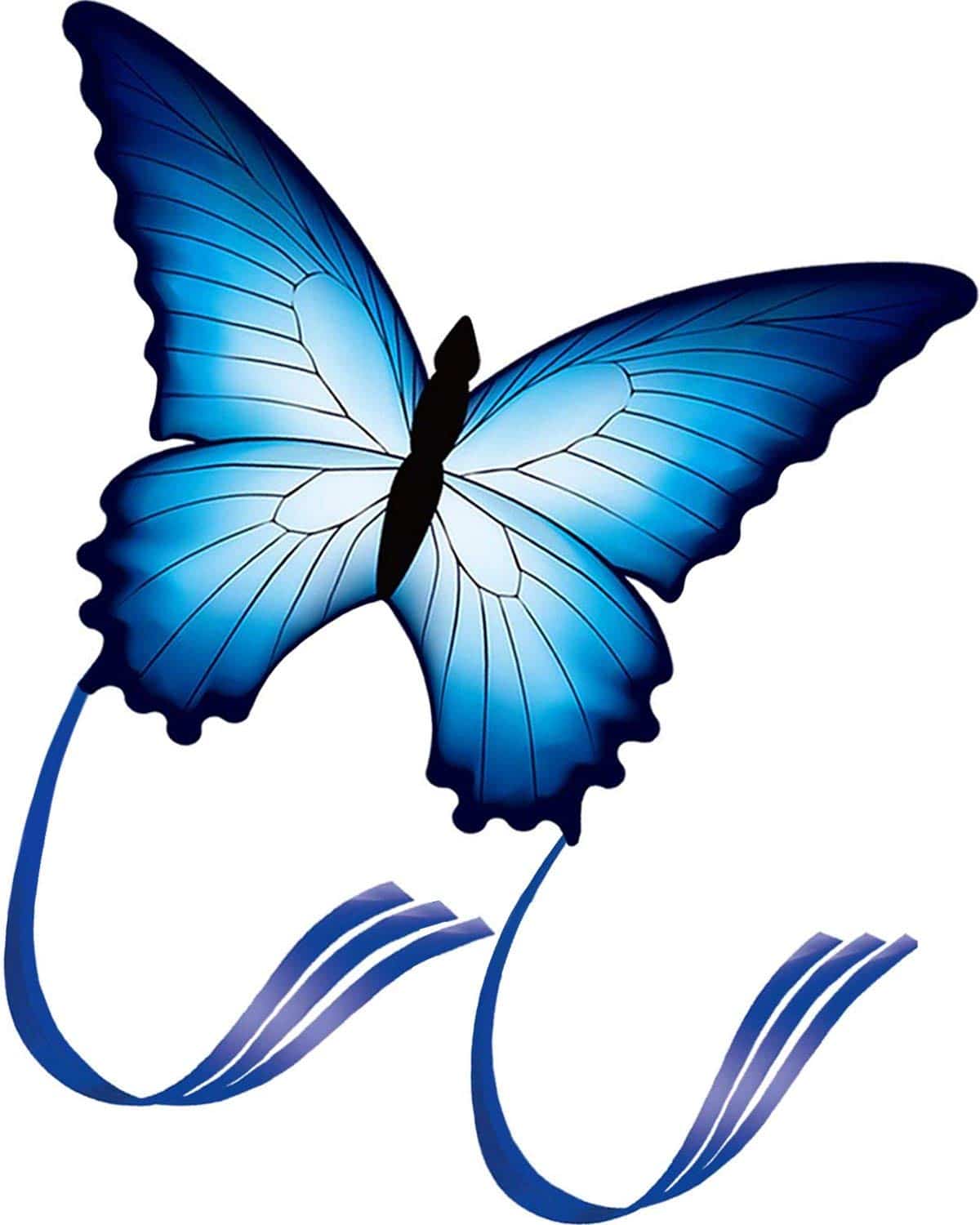 The HENGDA Butterfly Kite features a stunning design. With the pretty shape and vibrant colors, it's sure to be a hit with butterfly lovers of all ages. While it might not look like it shape-wise, it functions similarly to a delta kite. That means it has a single line attached to a keel so you don't need to worry about tangling lines. If you are looking to widen your kid's social circle, then this kite will help as you'll get people coming over to talk to you about it. However, this isn't the easiest kite to put together. It's made up of a lot of sticks and if any of them get misplaced, your kite won't fly. The shape also makes it less easy to fly. It does well in high winds but for less breezy days, you may want to choose a different shape.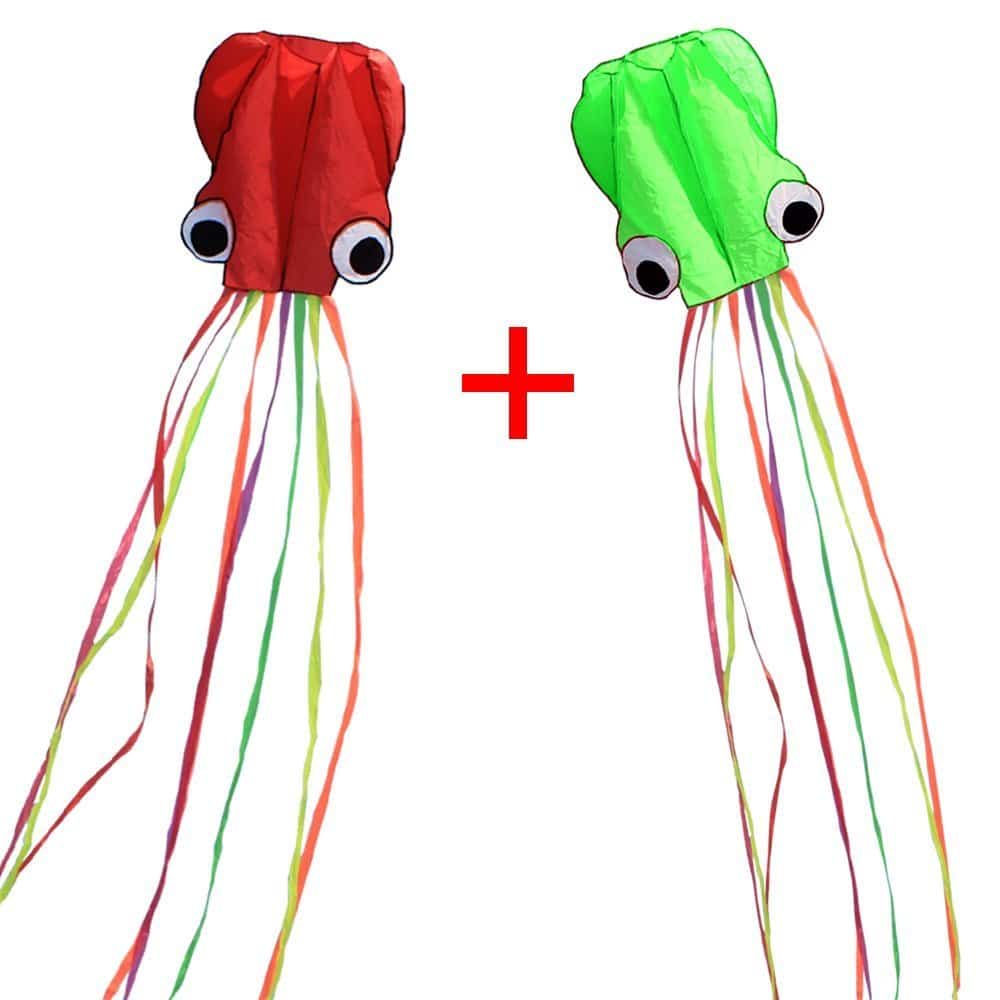 For a fun and colorful kite that's enjoyable to fly, but won't put a dent in the wallet, the Easy Flyer Octopus by HENGDA is an excellent choice. The large kite is shaped like an octopus and is 32-inches wide by 157-inches long with flailing tails to represent the tentacles. The kite is sold in a pack of two in six different colors (bright red and green) and is made of nylon. The "Easy Flyer" is frameless so it can pack up into a backpack, making it great for travel. No assembly is required. Just unpack and let it fly.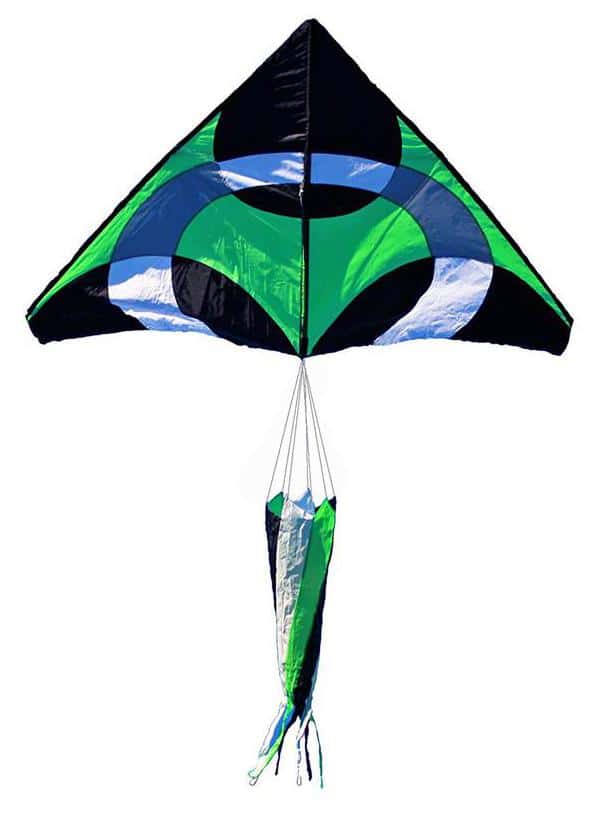 For a heavy-duty kite that holds strong in extreme winds, the Giant Delta iKite is an excellent oversized option. The extremely large kite measure 78-inches wide by 46-inches tall and has a 60-inch windsock tail that swivels in the wind. Constructed from a fiberglass frame with durable polyester cloth, the delta kite comes in yellow, green, red and pink. The kite includes a hand reel, however, because it can fly very high. Purchasing a kite reel will make it much easier to bring the kite back down. The iKite can be assembled in less than one minute, and can easily fly in 3 to 30-mph winds with very little effort.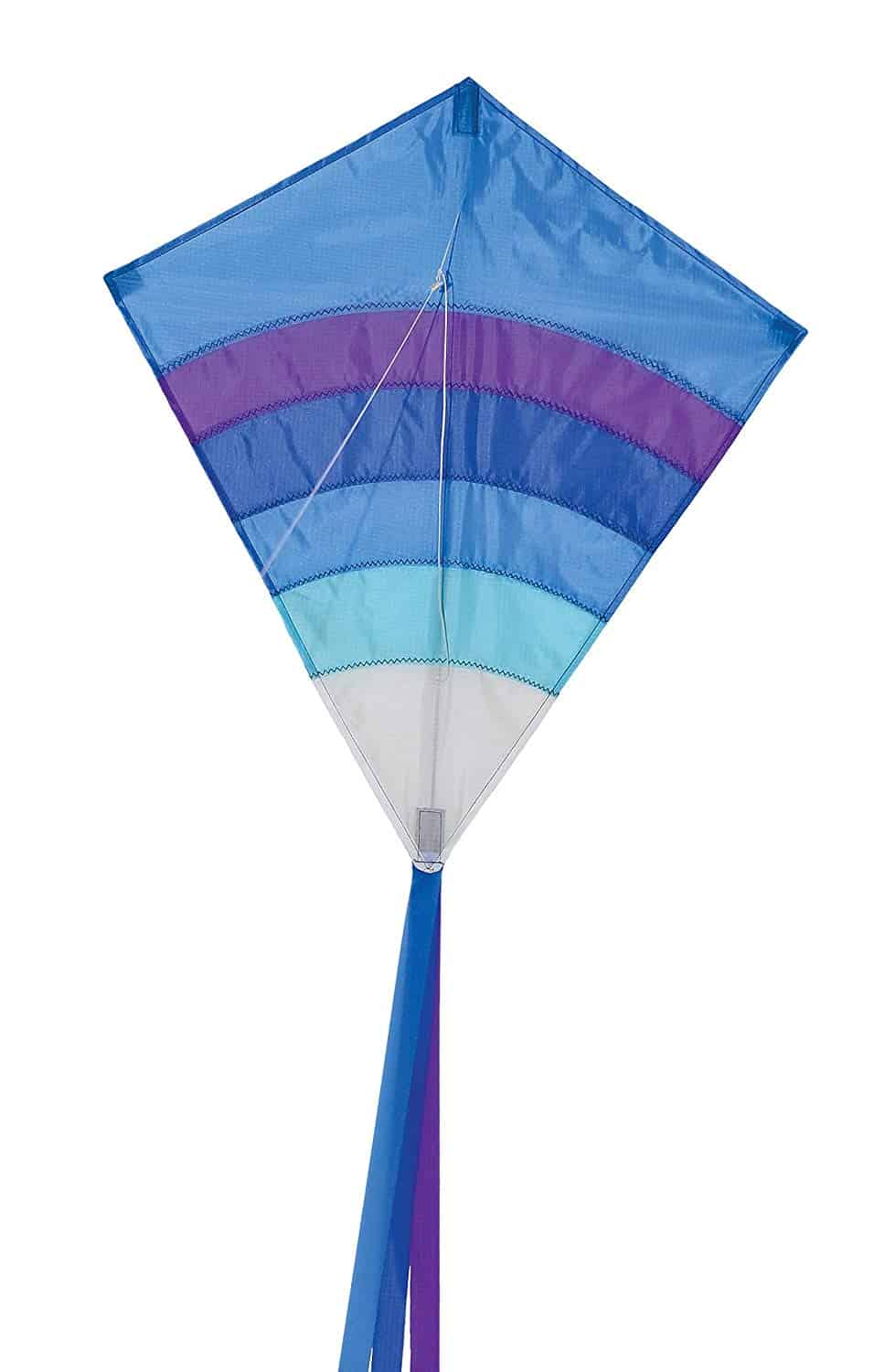 Perhaps the most recognizable kite, the diamond kite uses a cross structure for its shape and tends to be smaller and popular with kids. For a well-constructed diamond kite that's fun for everyone, consider the "Cool Arch Diamond Kite" by In The Breeze. Constructed from lightweight, rip-stop fabric with fiberglass rods, the kite is best in winds from 6 to 20-mph. The easy-to-fly kite is 27-inches long and 23-inches wide, comes in six colorful striped patterns, is quick to assemble, and also includes a handy storage bag. Most users are impressed with how well the kite could fly despite its simple design.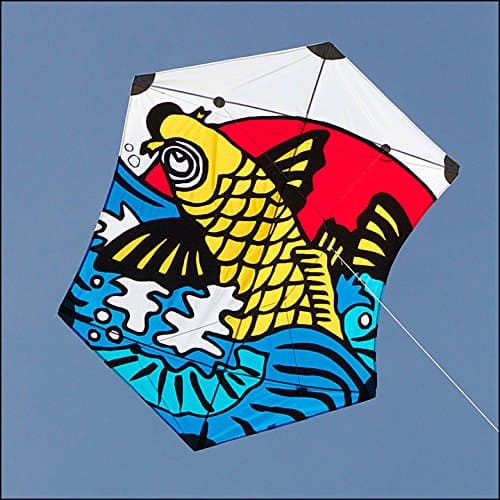 Rokkaku kites are a traditional Japanese fighting kite that uses a similar cross structure as the diamonds kites but have an added lower spar, tailless bowed design and hexagonal shape. If you plan on taking aerial photography or want to have a kite battle, the unique Kabuki Rokkaku Koi Kite by Gomberg Kite Productions is an ideal choice. The sturdy kites are made from rip-stop sailcloth with zig-zag stitching, overlapping fabric, and fiberglass frames.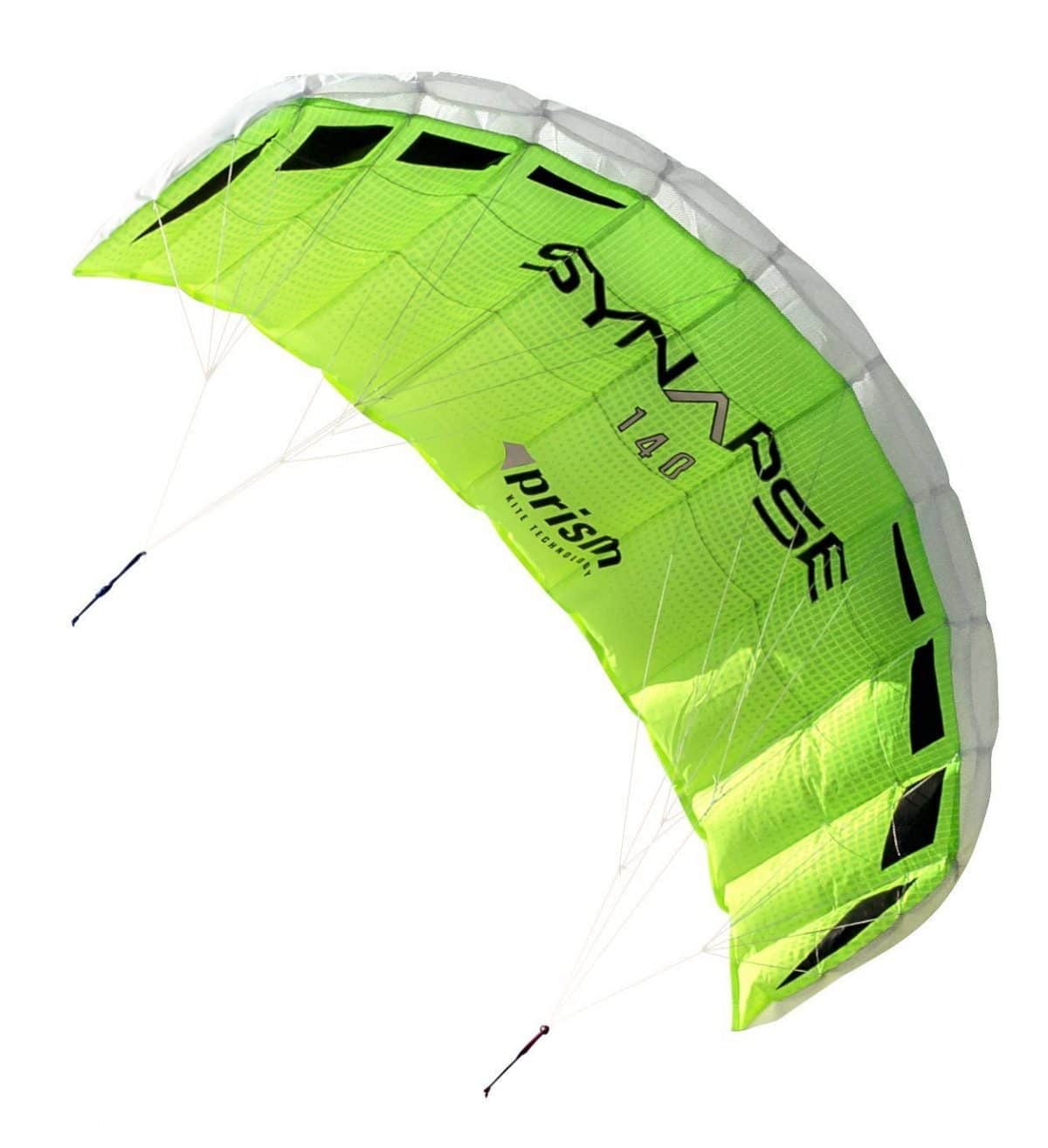 If you're new to parafoil kites, the Prism Synapse Dual Line Parafoil is a great way to get your feet wet. These popular kites are perfect for the beach and are highly-maneuverable stunt kites that are challenging an exhilarating to fly. Resembling a paraglider, the soft kites have two lines to control and equalizer support straps for the wrists. As a smaller parafoil, the kite measures 53 by 20 inches and packs down into a convenient storage bag that compresses to 10-inches by 5-inches by 25-inches. This makes it the perfect travel kite. Although the kite is ideal for adults, it may be too powerful for young kids who aren't advanced flyers.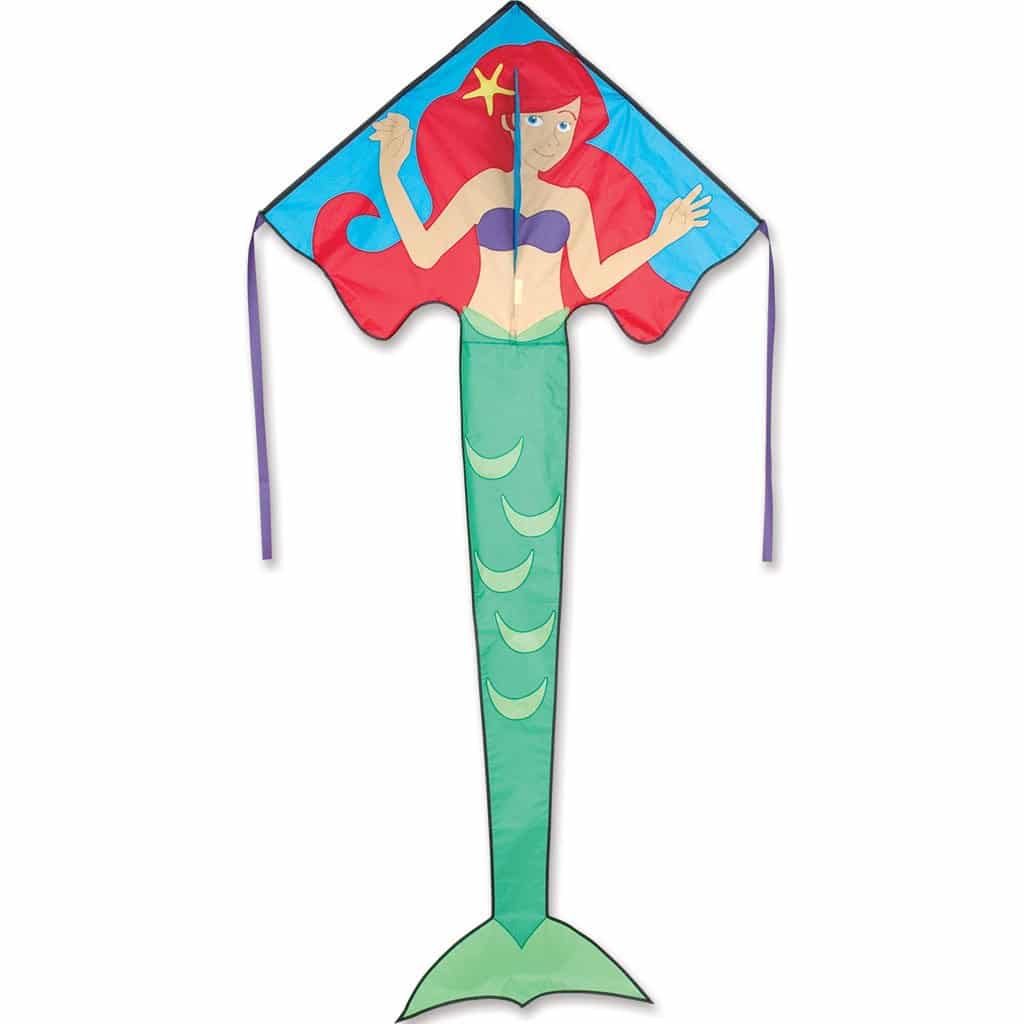 The Arianna Mermaid Kite is incredibly easy to get off the ground, and with very little effort, it flies well. The kit is a simple design, meaning it's quick and easy to assemble. If you're an experienced kite flyer, then this isn't the one for you but it's perfect for your children or grandchildren. The manufacturer's age recommendation is 10+ but younger kids can fly it. The Premier Large Easy Flyer will amuse the young and the young at heart as well. The kite has been designed for the flyer who wants zero percent frustration and one hundred percent fun.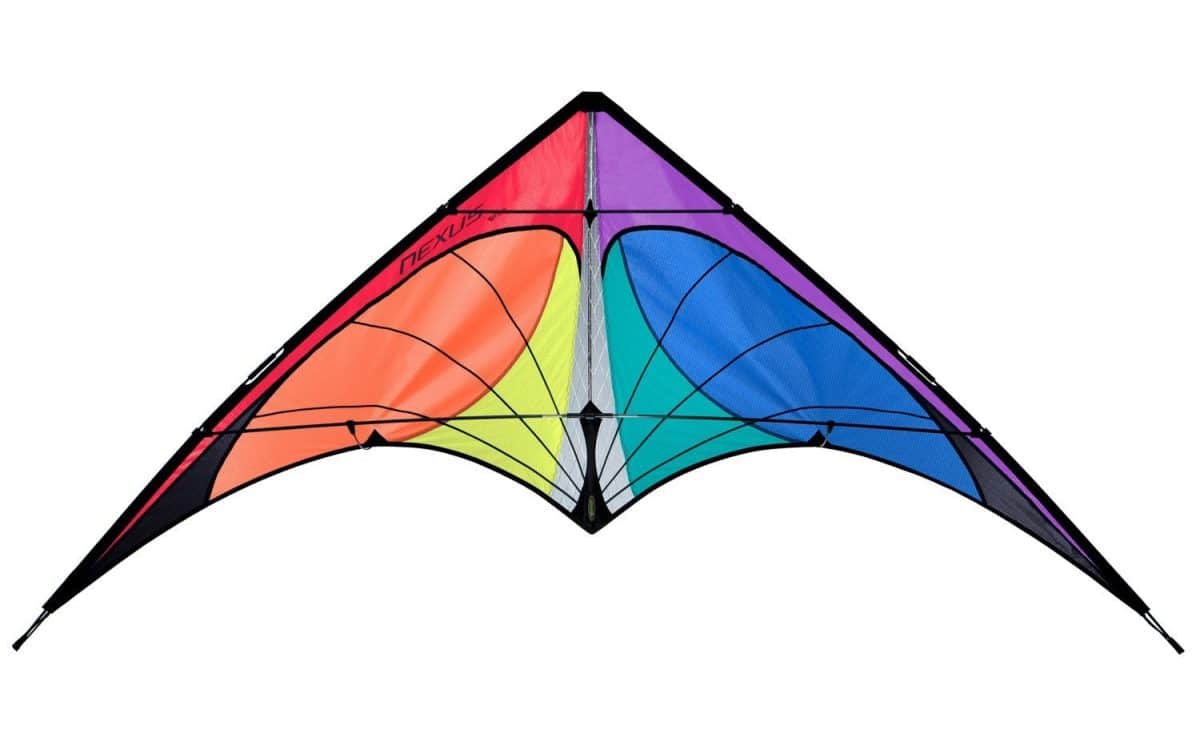 The Prism Nexus is a dual-line stunt kite that'll appeal to older kids and adults. It's big enough to give kids the experience of 'extreme' kiting, like the 'pull' and the roar. The kite is also small enough to put in the car and take to the beach. It's also easy to take apart. Simple, rugged and speedy, the Nexus flies with the ease and control of a larger kite, with all the details that have made Prism the world's leader in sport kite design. For someone just getting into stunt kites, the Nexus is one you should have a look at. The kite stands 32" tall with a 64" wingspan. When folded, it packs down to 30" by 4" by 2.5".
Remember the good old box kites? Like Elvis and blue jeans, some classics just never die. The Premier Kites Traditional Box Kite is quite big. It measures 20-inches by 20-inches and has a wind range of about 7 to 20-mph, so it's not ideal for younger children. However, more experienced flyers and superhero dads will love it. It's important to note that box kites don't come with a tail for stability. Box kites don't need tails to keep them stable. Moreover, this traditional box kite is one of the best looking and best flying kites one can own. It would look good as décor also. The colors are vibrant enough to complement any color scheme. So, you can go ahead and decorate your outdoor deck with a couple of these also.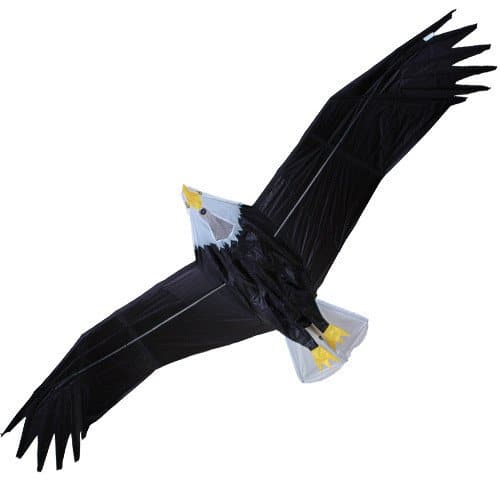 One of the most stunning Vector Kites in the air, the Eagle will certainly stop an audience in any large yard or pack. Its huge 9.5-foot wingspan has a unique structure that not only assumes the shape of an efficient airfoil but moreover looks like the rear wing of this majestic raptor. The Eagle assembles in minutes and is fully capable of sporting loops, wingovers, and other aerobatics. The clever above-the-body position of the Vector Power Unit conceals the mechanics while the bird flies overhead making for a most convincing avian spectacle. The product comes with the kite only and the kite case. It includes all pre-installed propulsion fittings. However, the Vector Power Package is sold separately.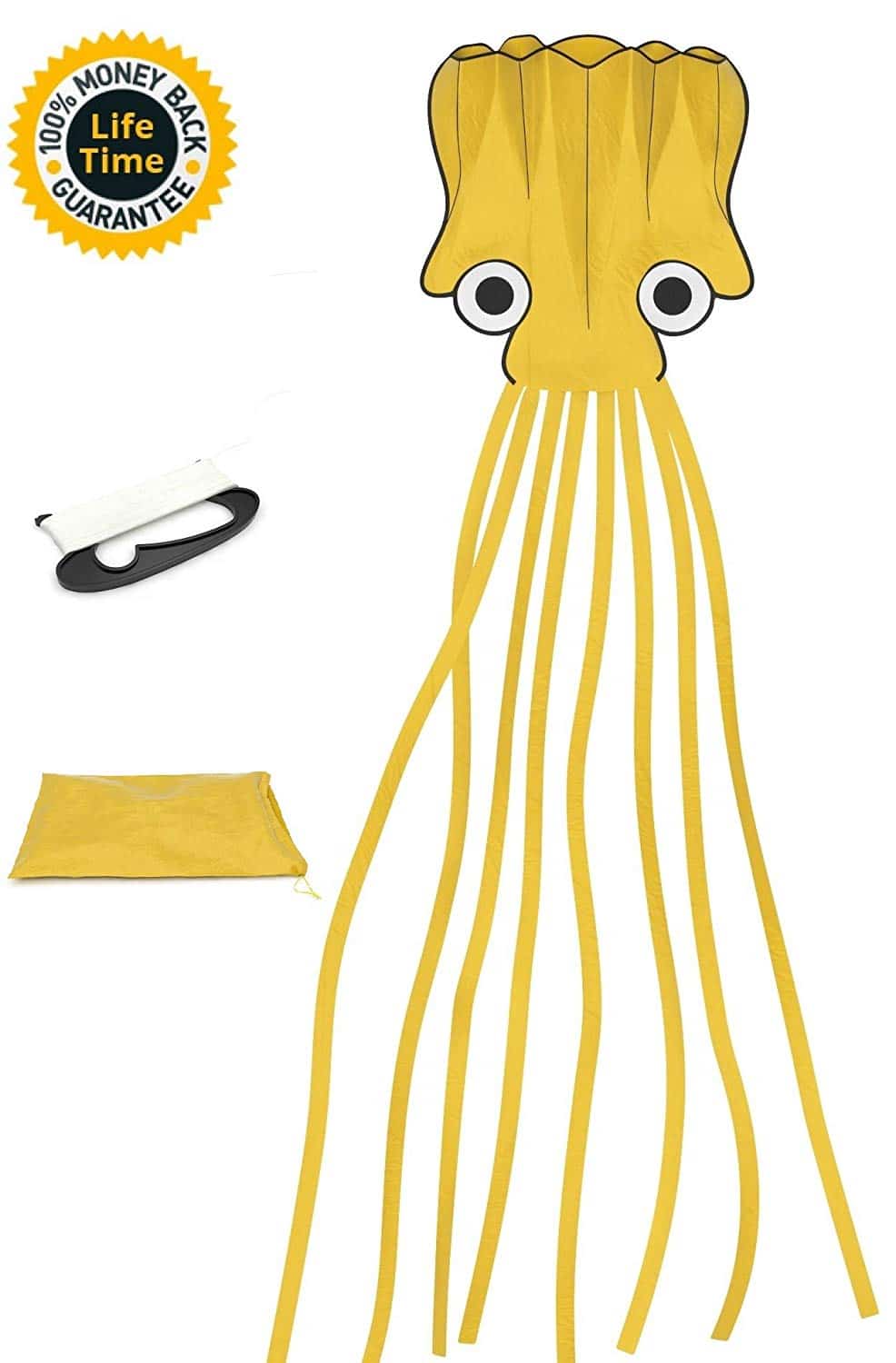 Is it a bird? Is it a plane? No! It's a flying octopus. The American Summertime Octopus Kite is without a doubt one of the coolest kites around. However, if you don't like pulling crowds or being the center of attention, it's best you avoid it. The kite is perfect for all ages but it's recommended an adult assists smaller children. Otherwise, there's a chance you'll have an airborne octopus and child on your hands. Believe it or not, even with the tentacles, the kite is tangle-free. The material is strong and durable and it comes with a lifetime guarantee.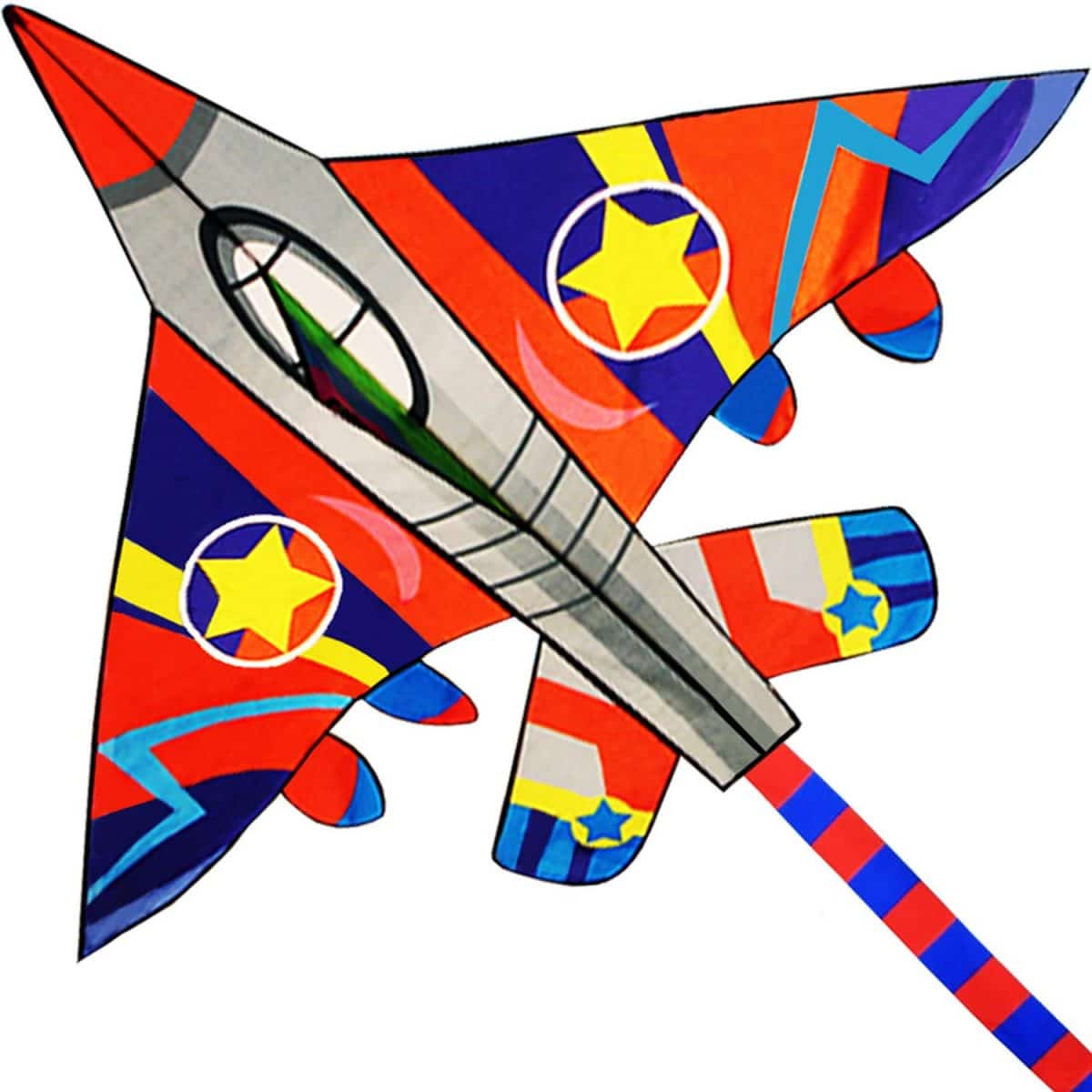 A beautiful kite is a natural conversation starter, an excuse to create happy memories with kids or friends. The HUGE Fighter Plane is a single-line kite that will help your kids develop creative thinking and concentration through kite flying. It measures 58″ by 42″ with tails, ripstop polyester fabric, and durable polyester rods. It also includes kid-friendly handles with 164-feet line and swivel that makes the kite easy to connect. The manufacturer also offers a lifetime guarantee for the kite.
The Verdict
Kite flying is easily one of the most beautiful, peaceful and entertaining pastimes around. If you're looking to give your children something different to play with or looking for an activity to bring your children closer together, kite flying is worth a thought. Choosing the best type of kites for kids can boil down to a few crucial factors, namely, budget recommended age, and preferred theme, as well as the desired features.
In case of the features, be sure to check the best kites for kids review regarding the ease of assembly and use the balance in the frame and tails, and the length of the kite line. These features should be considered with the wind conditions where the kite will be flown, such as high wind area requiring smaller kites or larger kites with vents.