Minecraft, a sandbox video game, focuses on exploration, crafting, resource gathering, and combat. This successful video game also encourages players to play with one another. However, once the console or PC is turned off, your little one can get to enjoy this game in the version of cool Minecraft toys.
The best Minecraft toys allow kids to exercise theory creativity and imagination besides providing fun and improving bonding among friends and strangers. Kids will get to learn new skills when playing with these toys. However, it can be a hard task finding the best Minecraft toy for your little one. Here's a review of the top 30 best Minecraft toys to help you choose one for your kids.
Top 30 Best Minecraft Toys 2020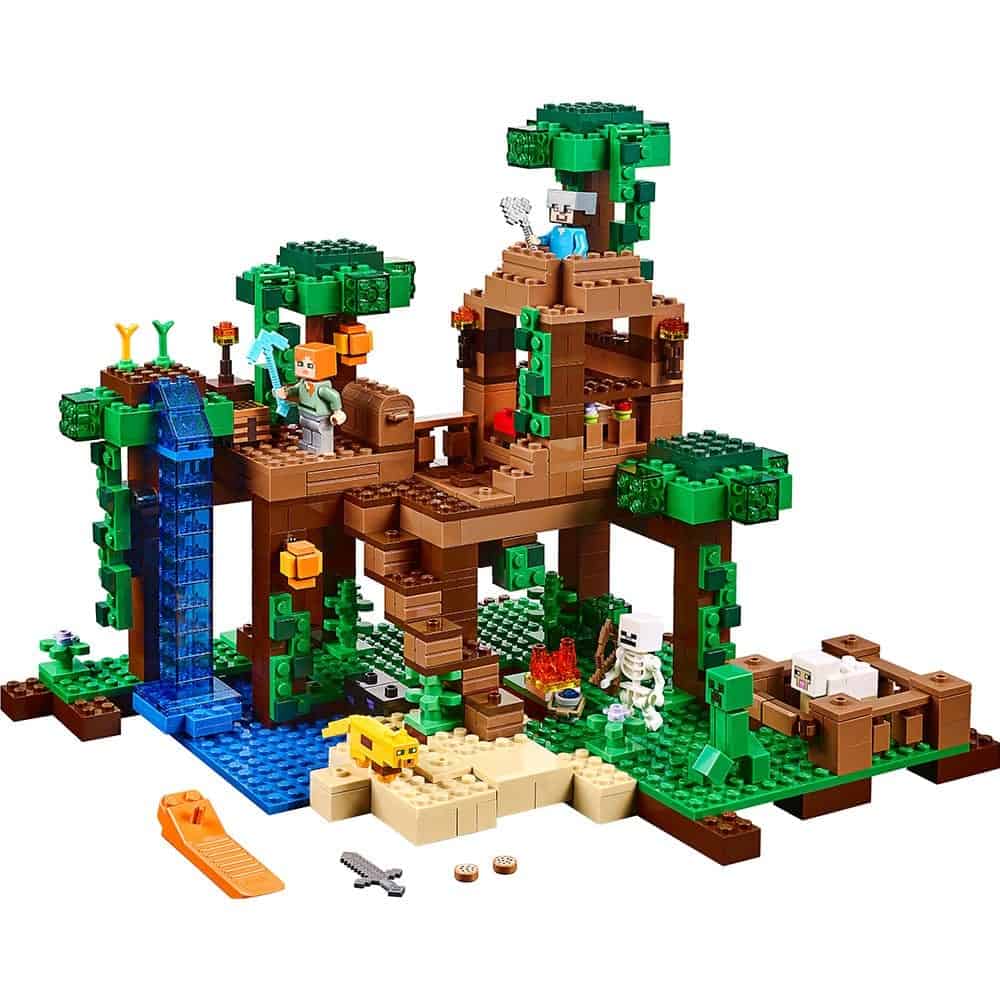 Minecraft fans will love joining forces with Alex to defeat the invading mobs with The Jungle Tree House. Kids can dream up ways to take on the mobs by activating the secret trapdoor, luring the exploding Creeper onto the floor trap, and then making a quick exit down the waterfall. The set can also be remodeled for multiple play options. The Jungle Tree House makes a great addition to a LEGO Minecraft collection or an excellent reward for your Minecraft fan.
It comes with over 450 pieces that join together to form a winter-themed Minecraft world with a snow-covered bio-me. The ice spikes toy set comes equipped with a Steve figure, a spider, a calf and a snow golem as part of the Minecraft mini-figures. For accessories, you get various tools and weapons in the packaging. In the weapons category, you get Steve's complete body armor with a helmet. In the tools category, expect to find useful items such as food crops, a pickaxe for digging out snow and lastly a torch that provides illumination and acts as a spider repellant after sunset. Also expect to find a bunch of random items such as a book, a chest, and a banner. In this winter-themed realm, Steve is required to use the tools at his disposal to protect himself and his calf from spiders and other hostiles.
Minecraft Cookie Cutters has a 5 Piece cookie cutter. The toy includes; five unique cookie shapes, a sword, a pickaxe a creeper, a player and a cookie. It has a metal tin storage box that looks like the chest from the game. The toy is best suited for ages 12 and above. It used to be hard to get cookies in Minecraft. Now it's a lot easier to make Minecraft cookies, and our way doesn't even require you to farm cocoa beans, plus you end up with edible cookies instead of the on-screen variety. Mix up some cookie dough or buy some premade. Roll it out and use these 5 stainless steel cutters to make iconic Minecraft shapes. The set comes with cutters shaped like a pickaxe, a sword, a player, a cookie, and a Creeper. Guess that's just the way the cookie crumbles.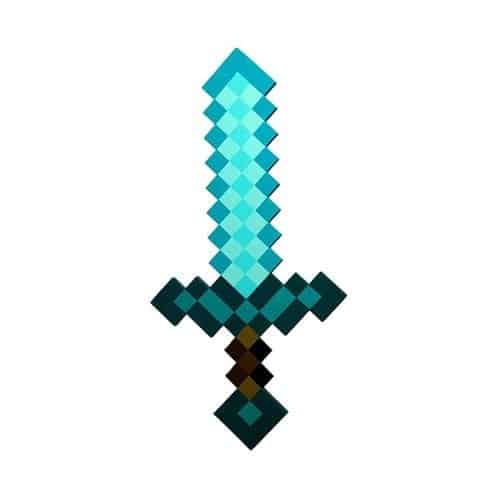 The sword is made from sturdy EVA foam, which means that it will stand more than 1500 uses. The sword looks very sturdy and hefty but has enough cushions to make you feel comfortable. So let your child grabs the sword and enters into the world of imagination. Presence of a full-size replica of the diamond sword from Minecraft. Crafted from durable, EVA foam. It has a great decoration or costume accessory for any Minecraft fan. The toy is officially licensed. Replicating the Diamond Sword from Minecraft (data value 276 to be precise), the Minecraft Deluxe Diamond Sword is an officially licensed Minecraft product. It's made from sturdy EVA foam with blow-molded plastic details, which means the Minecraft Diamond Sword will withstand far more than 1562 uses. EVA makes the Minecraft Diamond Sword a sturdy tool, hefty yet with enough cushion that you'll feel comfortable using to slaughter a wide variety of baddies. And, of course, this is an officially licensed Minecraft product, which means you're making Notch happy, too.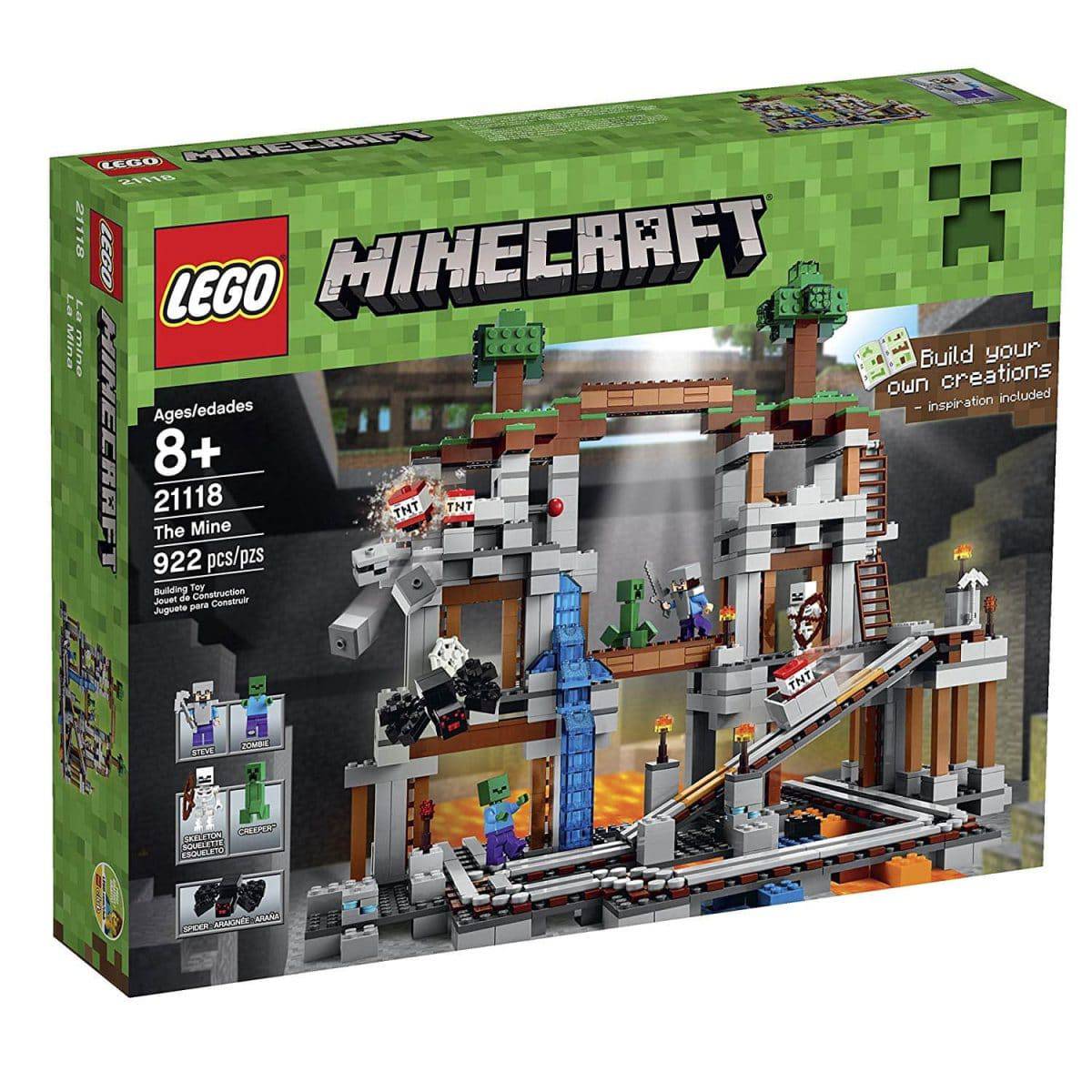 This toy features a huge mine cart track, mine cart, chest, TNT, rock face with explosion function, diamond, Redstone and coal elements, torches and 2 trees. Weapons included are a sword and a bow. The toy has included accessories such as armor, helmet, and a pickaxe. Add other biomes in the series to create your own LEGO Minecraft world. The toy is a perfect gift for fans of LEGO building and Minecraft. The toy measures 32cm) high, 40cm wide and 25cm deep. The toy features a huge mine cart track, mine cart, chest, TNT, rock face with explosion function, diamond, Redstone and coal elements, torches and 2 trees. Weapons include a sword and a bow; Accessories include armor, helmet, and a pickaxe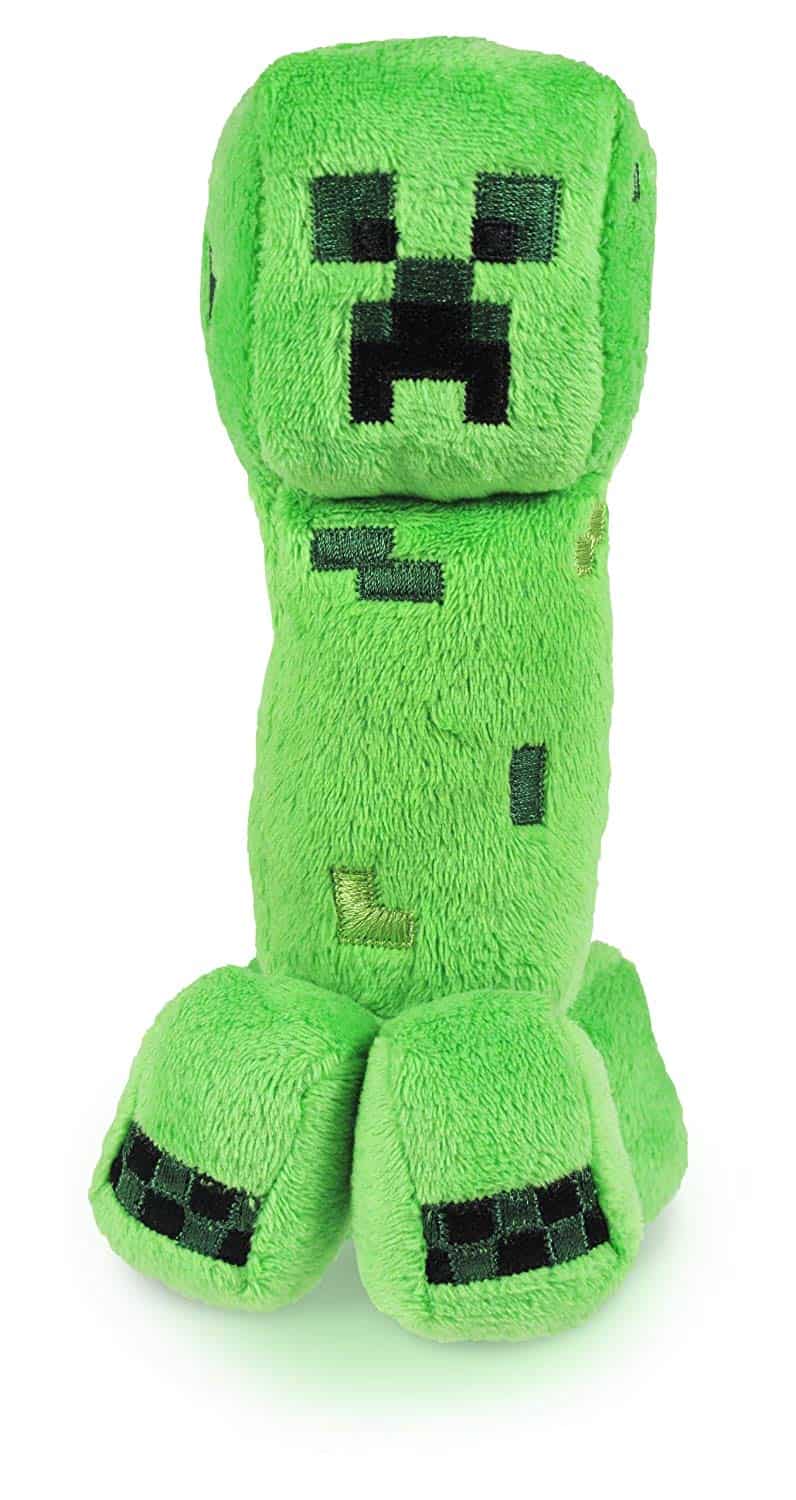 Your little one can now snuggle with their favorite Minecraft villain. The 7-inch creeper is bright green and made with pixelated embroidery to stay true to the character's game design. Since it's lightweight and small, your child is going to fall in love with this plush and they'll be taking it everywhere. The travel size makes it easy for your kid to find comfort knowing their Minecraft buddy is in close range at all times. The stitching is great so you won't have to worry about the fluff leaking out. Besides, the fabric used in making the plush dolls is super soft so your child can cuddle with it without dealing with scratchy fabric. The size of the plush makes it highly portable so your child can carry their friend everywhere. Moreover, the embroidery and doll are well stitched thus ensuring a long life for this plush.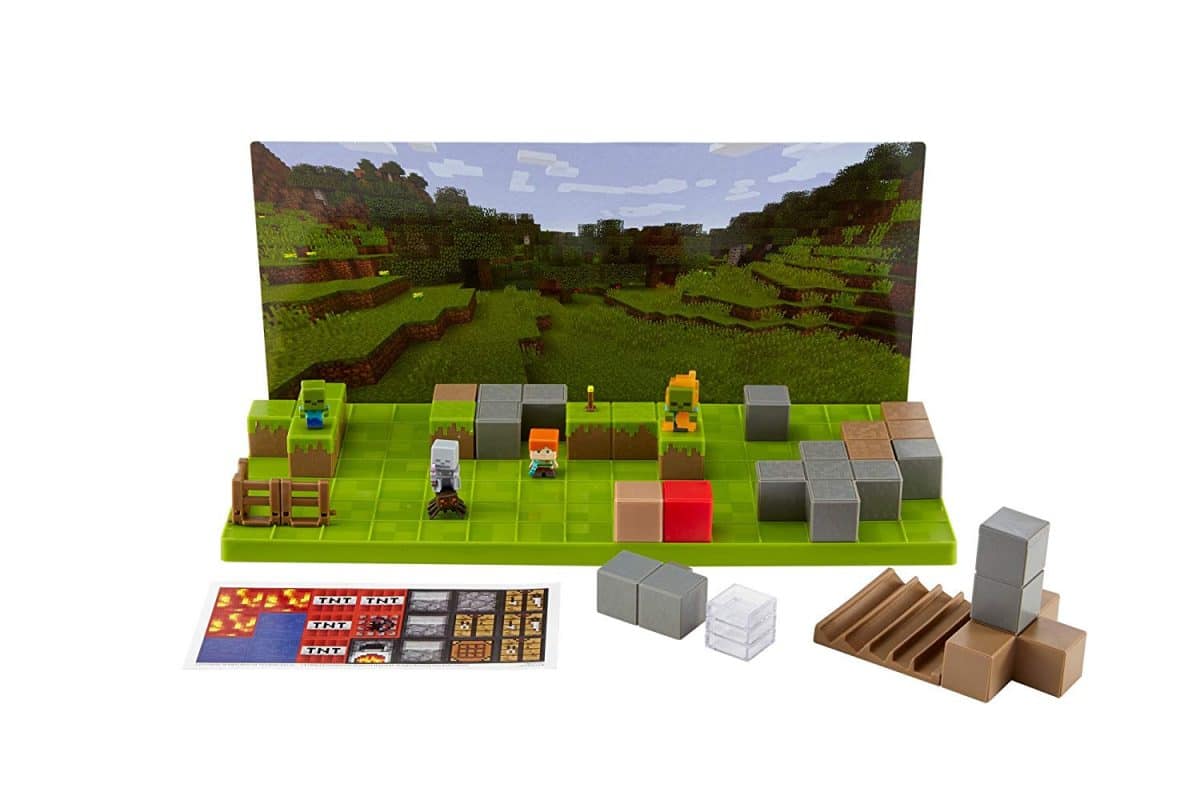 Create one-of-a-kind movies using the Minecraft Stop-Motion Movie Creator! Inspired by the online community, this authentic playset comes with 15 props and four mini-figures — three of which are exclusive to this set — to make your own Minecraft story come to life. Choose from one of four iconic backgrounds to set the stage and use the mini-figures and accessories to set up your scene. Download the FREE mobile app and animate in three easy steps. Swap out the background cards, props and environment pieces for endless storytelling. Use the app to create and edit your movies. The toy includes one movie stage, four different backgrounds, three exclusive mini-figures, one additional mini-figure, 15 props, and a phone/tablet holder. Its colors and decorations may vary.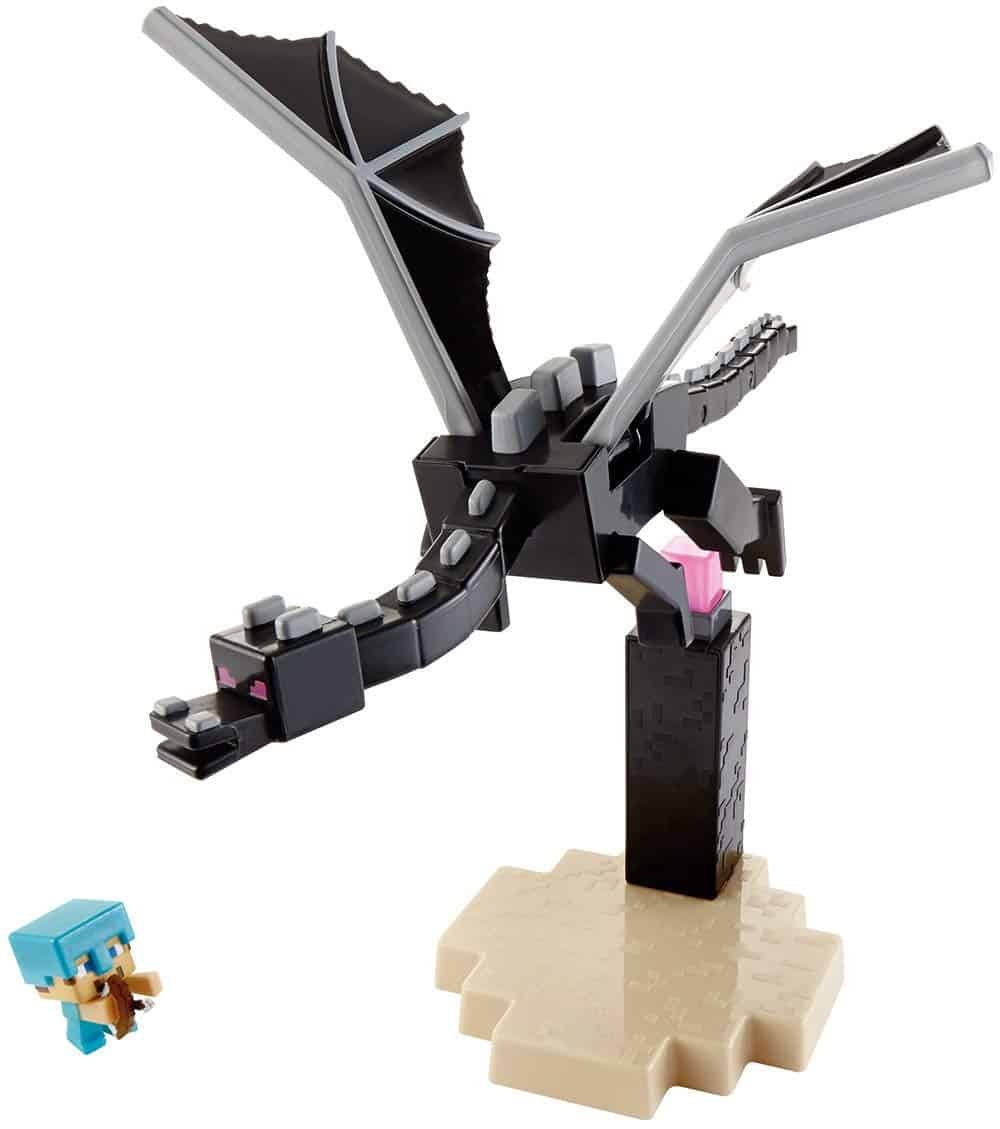 Uncover the action of the final realm of Minecraft with this set of two exclusive figures. Prepared for the final showdown, this exclusive version of Steve comes with his bow, arrow and diamond armor, while the exclusive Ender Dragon figure has an articulated tail and wings that can be posed to dramatically capture the mid-flight battle action. Figures are inspired by Minecraft's signature style and come in true-to-game scale with authentic features and details. The toy makes a great gift for fans of the hit game with collectible diorama packaging and a display stand with healing energy beams. Each sold separately; subject to availability. The colors and variations may vary depending on one's liking.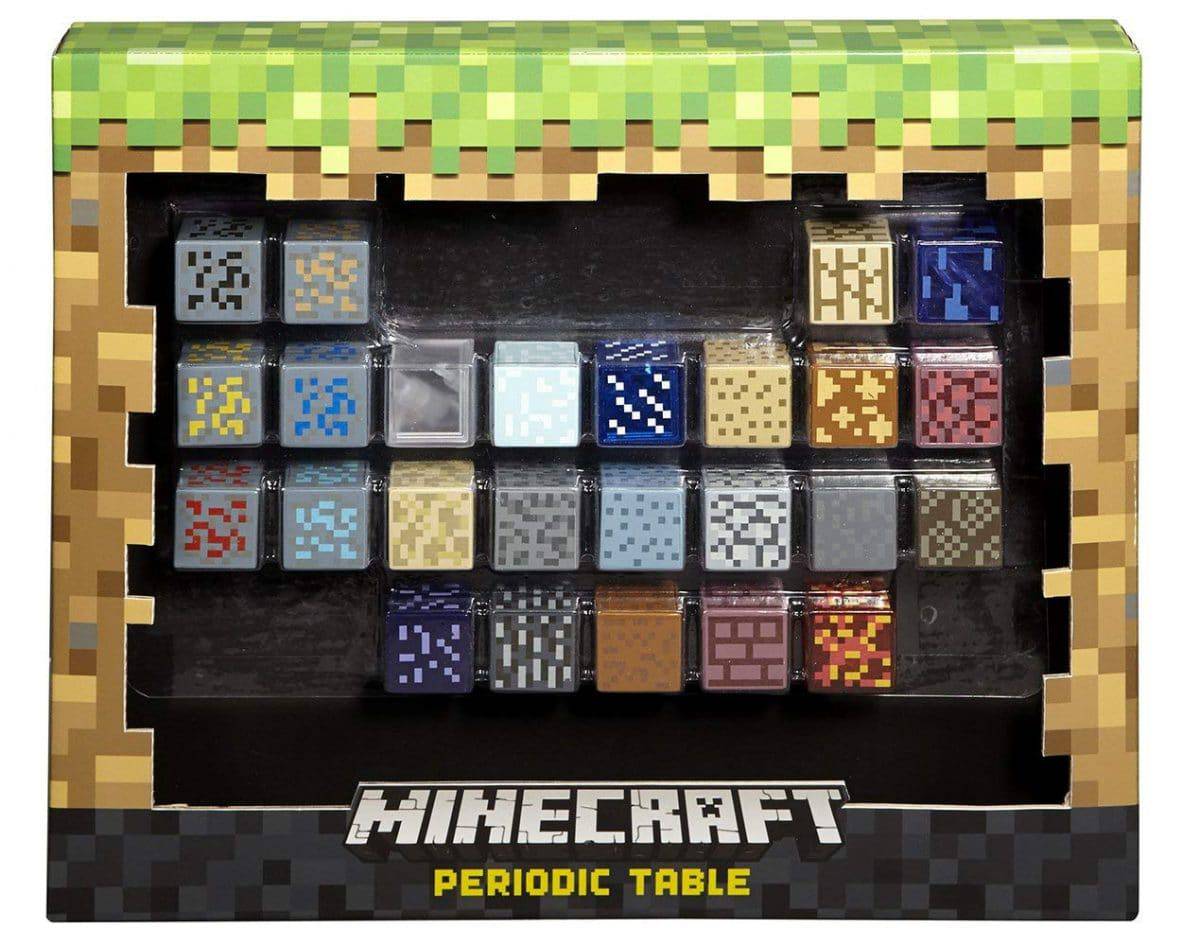 Minecraft elements like gold, Redstone, emerald, and diamond are very rare and can only be found deep below the surface. Keep building your Minecraft world with the Minecraft Periodic Table. Fans of the hit game know this collection of 27 authentic element blocks that includes Diamond Ore, Air, Water, Lava and Glowstone are the key to creating innovative new Minecraft world.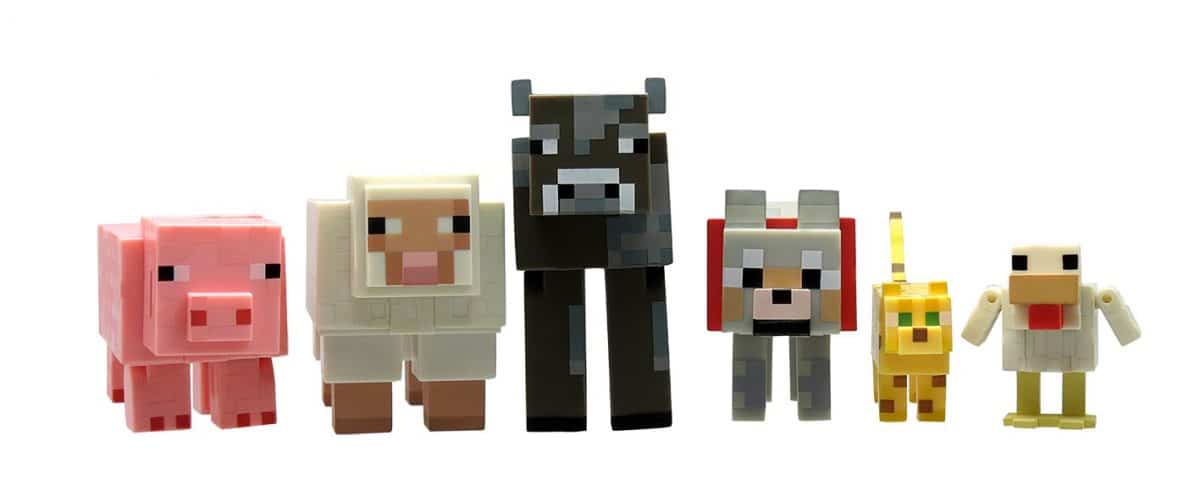 The Minecraft Animal Toy pack brings the Chicken, Ocelot, Tame Wolf, Sheep, and Cow to the real world. While they now live in the real world, the still have that classic pixelated Minecraft design. All of the animals have the ability to move their heads. The legs of the cow, sheep, pig and wolf move whereas the ocelot's tail twitches and the chicken's wings flap. These figures can easily be paired with other Minecraft toys for added fun. Considered to be a part of the passive mobs, these animals provide help instead of harm to your child's adventure. Jazwares showed their attention to detail by designing the animals with moving parts and keeping the classic pixelated Minecraft look. These two factors are sure to impress tiny Minecraft fans everywhere. This toy encourages kids to become more creative as they'll love building animals just like the real Minecraft game as they play with their Lego kits. Moreover, these adorable farm animals have all the charm of those found in the game. Your little ones will be able to add to their items list by pretending to use each animal's benefits.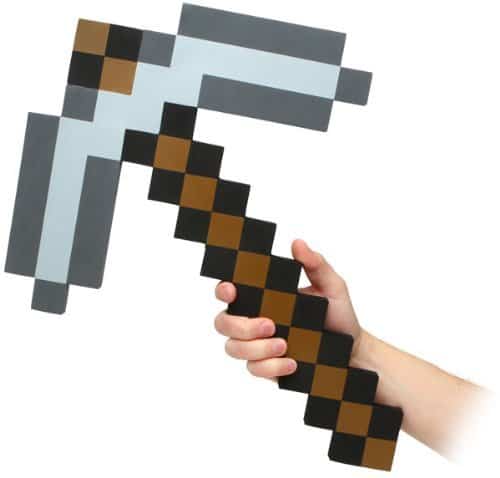 The transforming Minecraft toy sword & pickaxe is a two-in-one tool that transforms to become either a sword or a pickaxe in one swooping motion. This tool can be described best as a Minecraft toy for boys or best Legos for boys. With this tool, your child can dig for minerals when in pickaxe form and then quickly transform into a deadly sword when hostiles approach. The special thing about the transforming pickaxe is that it's not miniature like the other Minecraft toy sets. This two-in-one tool is large. Your child can wield it and swing it to have a real-life experience of the Minecraft world.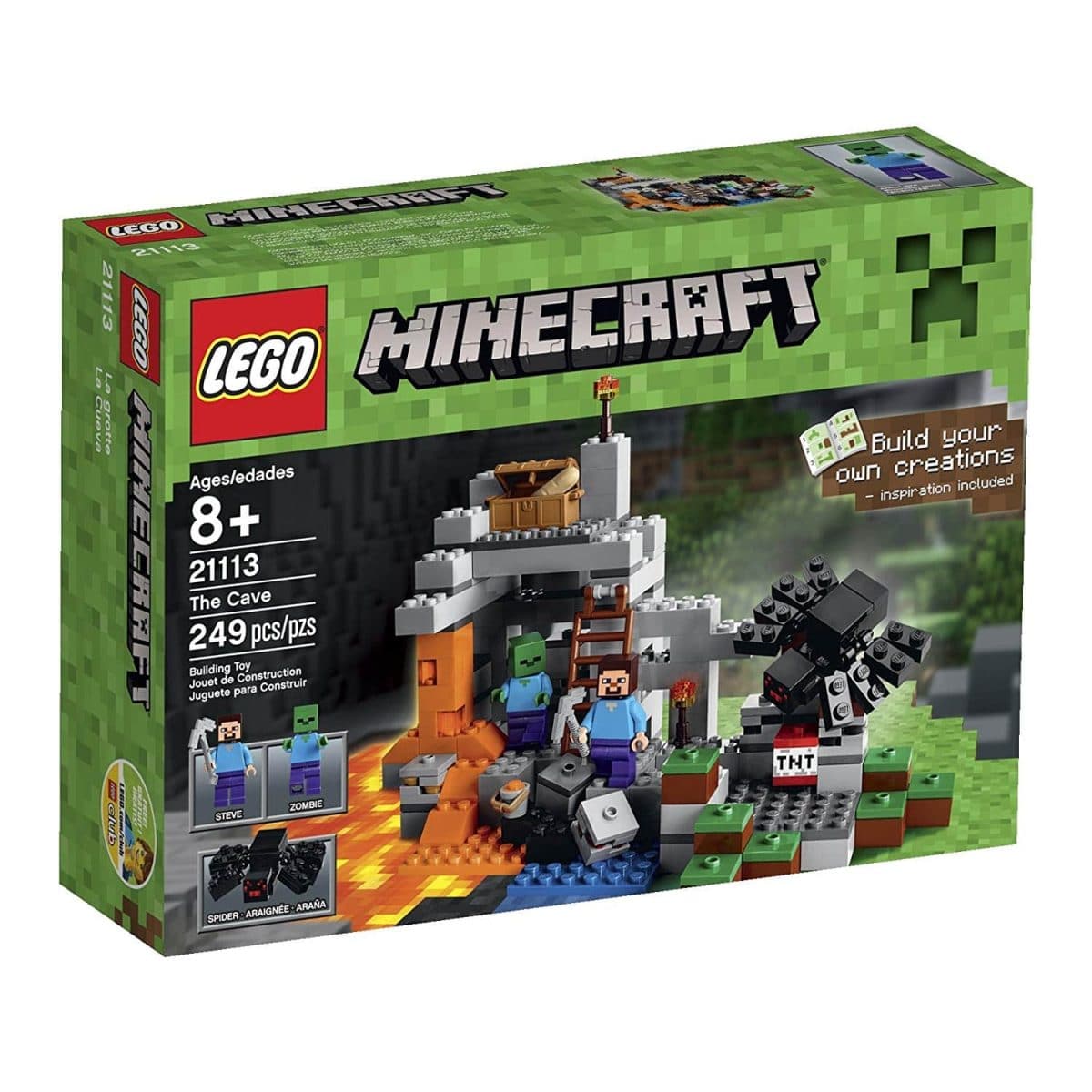 Once the enemies are out of the way, players can start digging for treasure using their iron pickaxes. The Minecraft cave toy set comes with many features and accessories, all of which serve a purpose. Some of the features in the packaging are a waterfall, a lava fall, coal, iron, Redstone, gold, and obsidian elements. Some of the things in the packaging include three mini figures; the character Steve, a zombie, and a spider. The cave itself comes fitted with natural resources such as a waterfall, a lava fall, and different classes of minerals. As for accessories, Steve is provided with TNT explosives, a ladder and a torch. Measures 5in (15cm) high, 8in (22cm) wide and 5in (14cm) deep.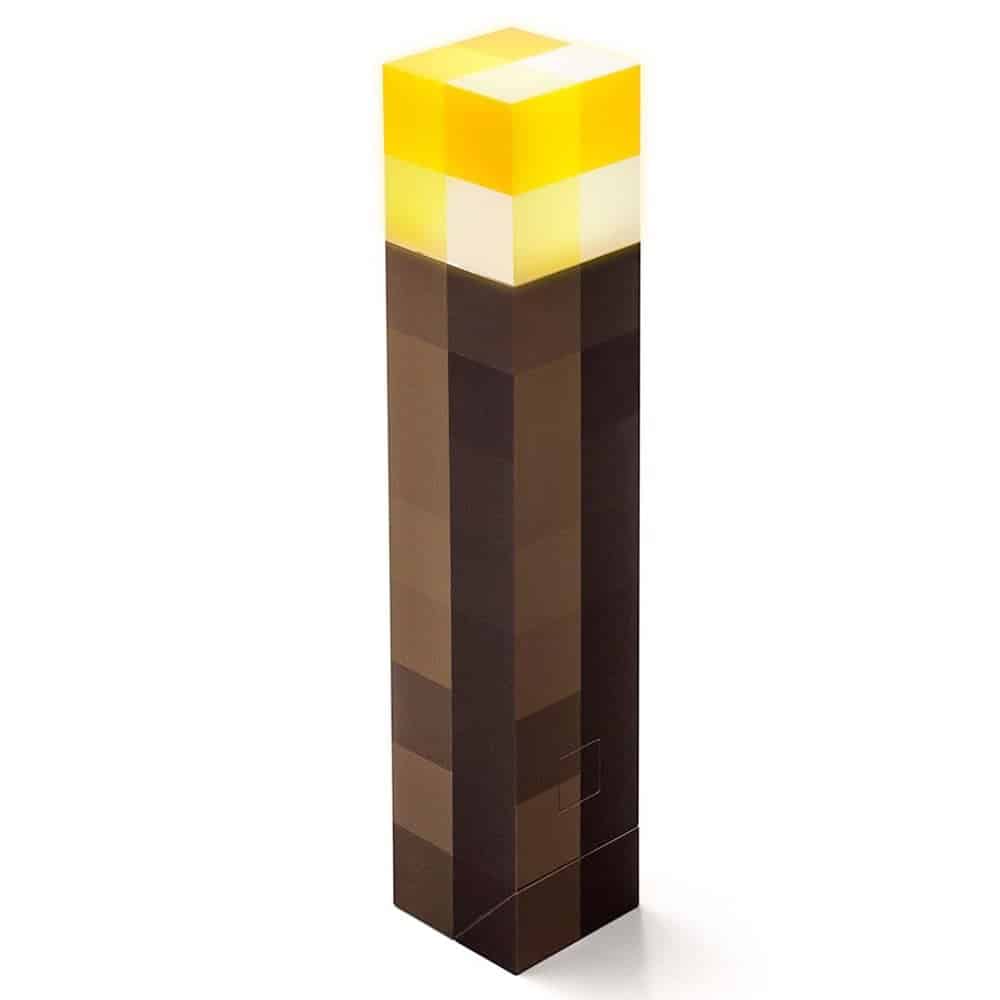 If you are a Minecraft enthusiast, you can accessorize your bedroom or study with this Minecraft accessory figure. The light-up wall torch carries on its superpowers from the game that prevents hostile mobs from spawning and launching attacks on you. This torch is a great size and uses three AAA batteries to illuminate. You can hang it on a wall or place it on your desk for extra illumination or as an accessory. The best thing is that all you got to do to get your hands on one of this torches is to visit any Minecraft toy store or do an online search as follows Minecraft toy amazon. You are guaranteed to get a better toy than if you decided to craft one yourself.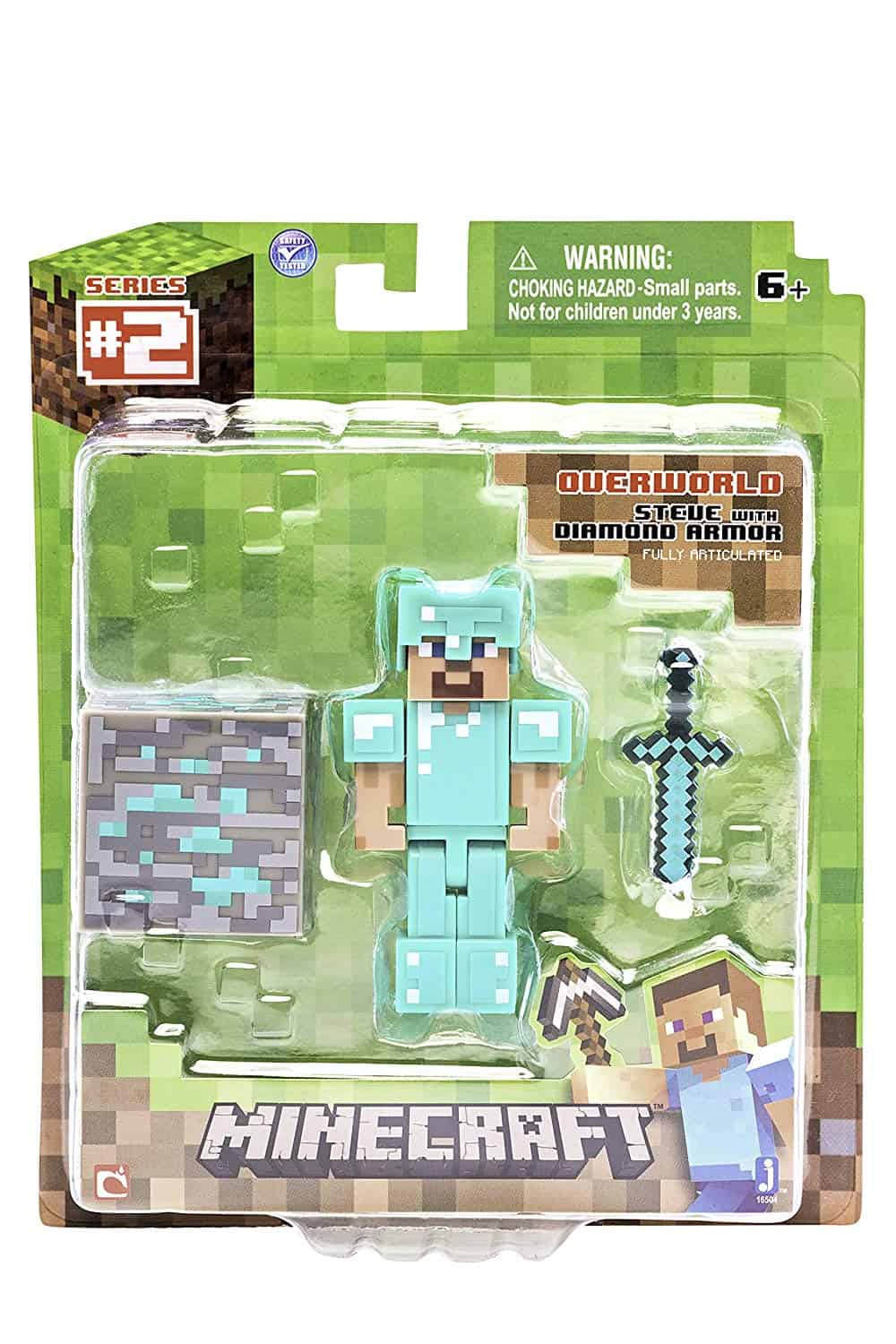 The Diamond Steve Action figure is true to its digital persona. This makes it one of the most important pieces to include in your child's playset if ever they already have one. If they don't have any yet, they can still play with Diamond Steve as well as the other Series #2 characters as a standalone action figure to play with. With this kind of armor complete with a diamond helmet and sword, your kid can be pretty sure that Diamond Steve will be able to defend Overworld from all the Hostile Mobs and even Creepers that often wreak havoc across the land. This character comes in a variety of skins that your kid can choose while playing Minecraft. One of the best skins is Diamond Steve which your kid can start playing with more intently in their playset.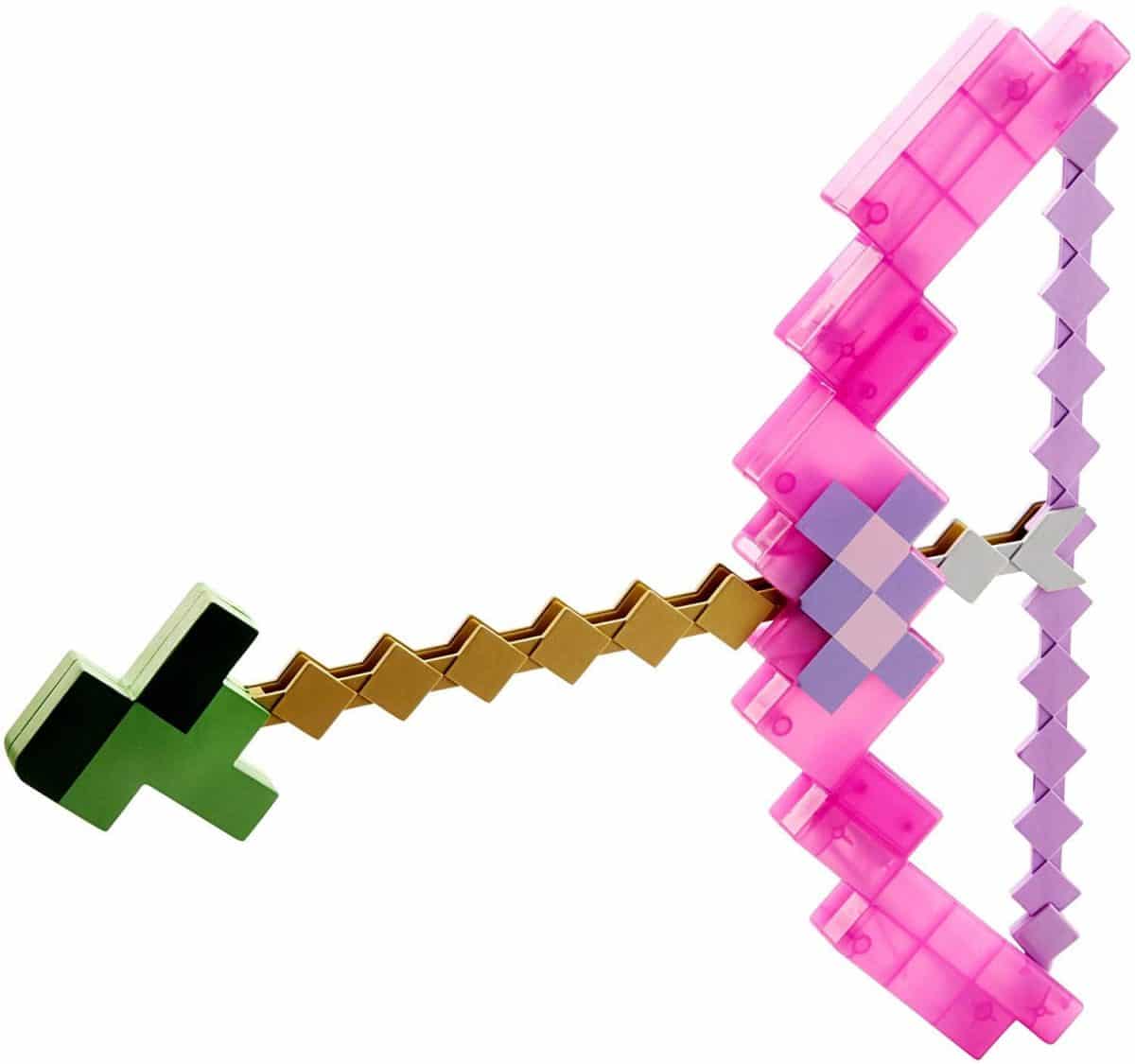 This bow and arrow is a great way to boost physical activity and exercises within the children and help them get some time away from the screen. The design is a true replica and displays the iconic style of the pixilated features of the game version. The finish has the same translucent metallic look that makes it seem so real. The string on the bow is even pixilated and can be loaded with an arrow. It will then fire when pulled back and let go. When launched, the arrow can travel up to 20 feet. The bow has a clear molded finish that makes it look enchanted and reflects the powerful look that the players exhibit in the game.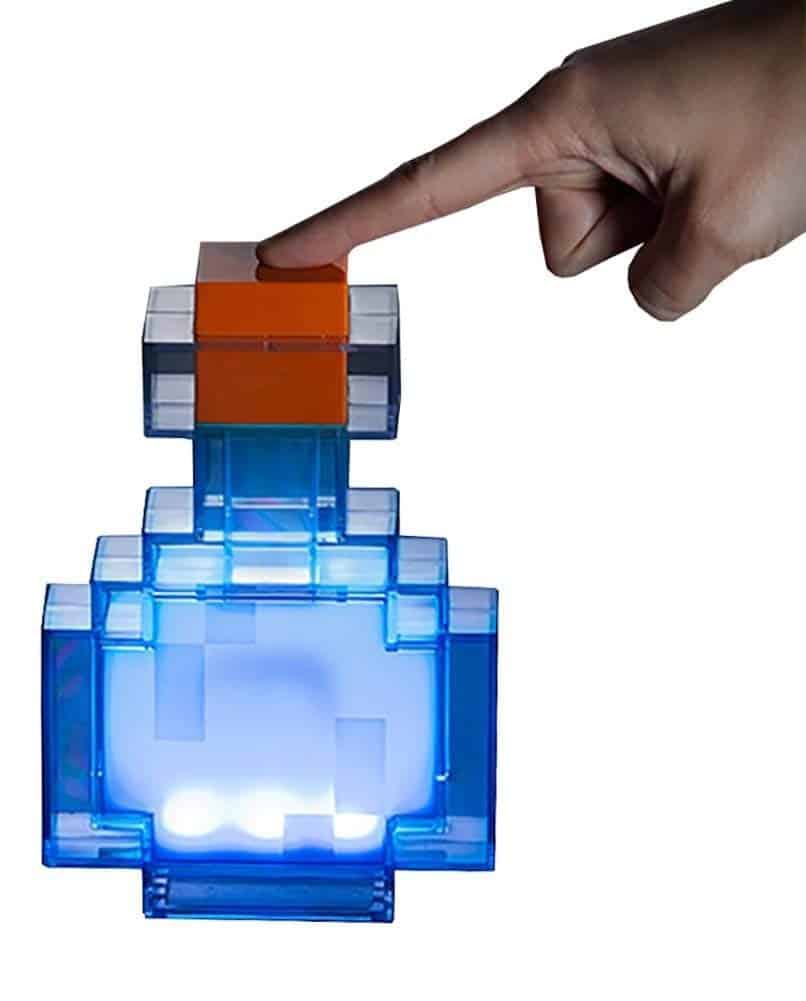 The toy has a time out feature that keeps the position bottle from staying lit for hours and draining the batteries. It has various colors with an authenticate look and the magic tap to change the colors really makes it a cool toy for any Minecraft fan. Lighting this portion bottle is easy and replacing the batteries is even easier. Within 3 minutes of lighting, if not tapped the light goes out. It lights up with different colors; light blue, indigo, yellow, red, white, peach, green and cyan. Each portion battery requires 2AAA batteries to light up. It also has an on/off switch to light up on the bottom.
The toy helps your kid build the best world and grow their Minecraft experience by including some enemies. Now your kid can start collecting all hostile mobs with the fully articulated mobs so they will be a welcome addition to your kid's playset. This 4-pack of Hostile mob figures make great villains for your child's Minecraft adventures. Their pixilated look stays true to the Minecraft design. These popular enemies will help encourage creative play and give the main characters something to guard their defenseless sheep against.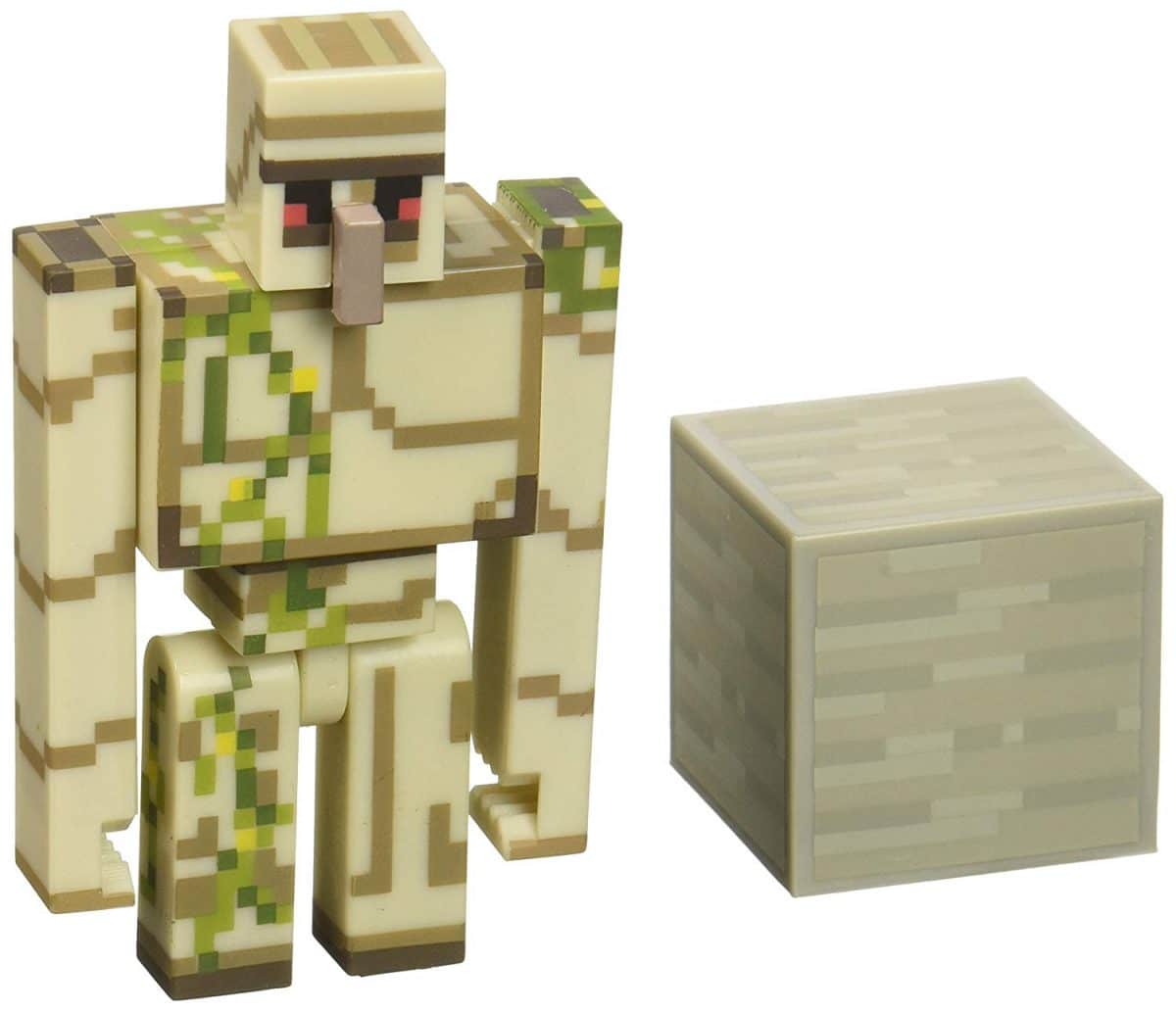 The set comes in six different collectible characters you can choose from whether your child's favorite is Golem, a villager, or any other character featured in this hit game. The toy enables your child to increase their fine motor skills. They will also enhance their social skills telling you about their collectible as well as to enhance their creativity. It comes with accessories such as a grass block with a mushroom on it featured in the game.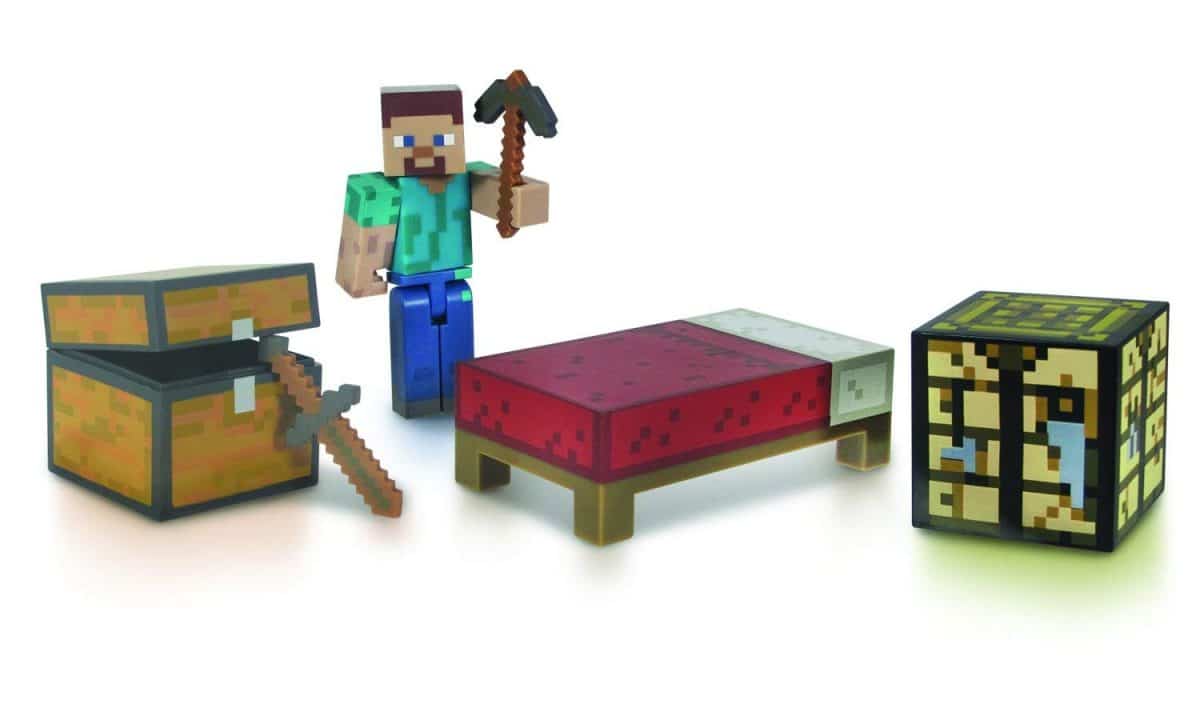 The toy not only has a chest that opens but it's big enough to store the included accessories as well as accessories from other sets. Its design is so great that it can be placed on a shelf and used as décor in your child's room when they're not being played with. As your child plays with Steve, they will stimulate their imagination and increase their fine motor skills. The chest opens to allow Steve to store his accessories when not in use. At the end, when Steve is worn out from working and fighting the mobs, he can rest and recharger on his bed. Steve's fully articulated joints make your child's Minecraft adventures even more fun.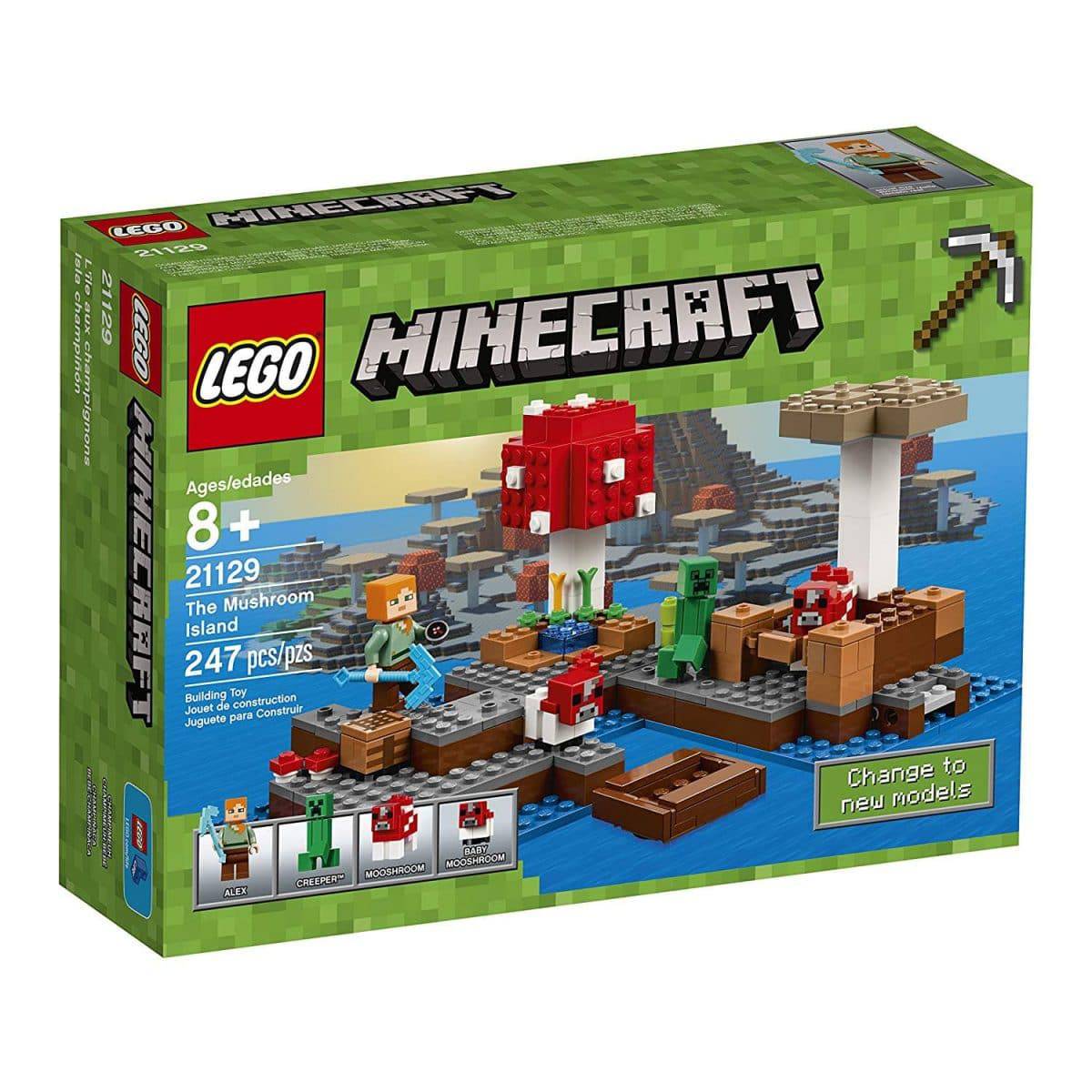 The set is geared towards children over the age of eight. Your child can use the pieces to build a boat, an island with a huge red mushroom, and an island with a huge brown mushroom. The set also features a crafting table and an animal pen with an exploding fence function. Your child can create adventures for the included Alex and Creeper minifigures. Once your child has built the set, they can leave it on display, rebuild it again later, or use the pieces to construct their own creations. The building instructions can be easily understood by young children. As your child builds the set, they will be stimulating their cognitive development while increasing their fine motor skills, hand-eye coordination, and problem-solving skills.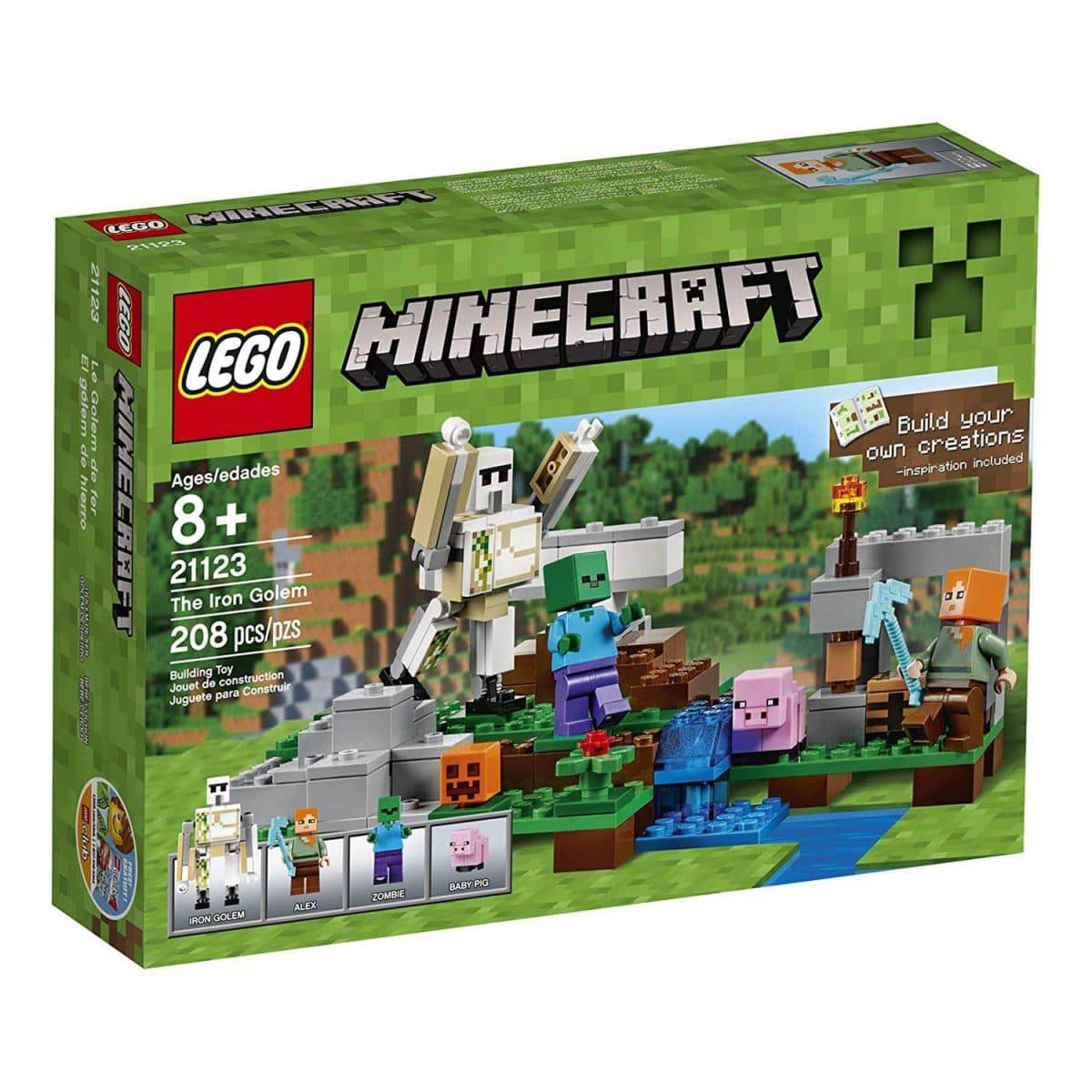 The goal of this set is to create an iron golem to scare aware of hostile zombies. But to do that, Alex needs to mine for iron ingots using his pickaxe. Then he has to smelt the iron ingots in the furnace and lastly, craft iron blocks on the crafting table to create an iron golem. The iron golem toy set comes equipped with a pickaxe, a secret iron golem pop-up function, and three mini figures; Alex, a zombie, and a piglet. In this toy set, Alex needs to make the most out of daylight because trouble comes after sunset. He has to create an iron golem with the tools he has at his disposal to protect himself and the piglet from zombies and other hostiles. Accessory elements include a buildable torch and pumpkin. Measures over 3″ (8cm) high, 7″ (19cm) wide and 5″ (15cm) deep.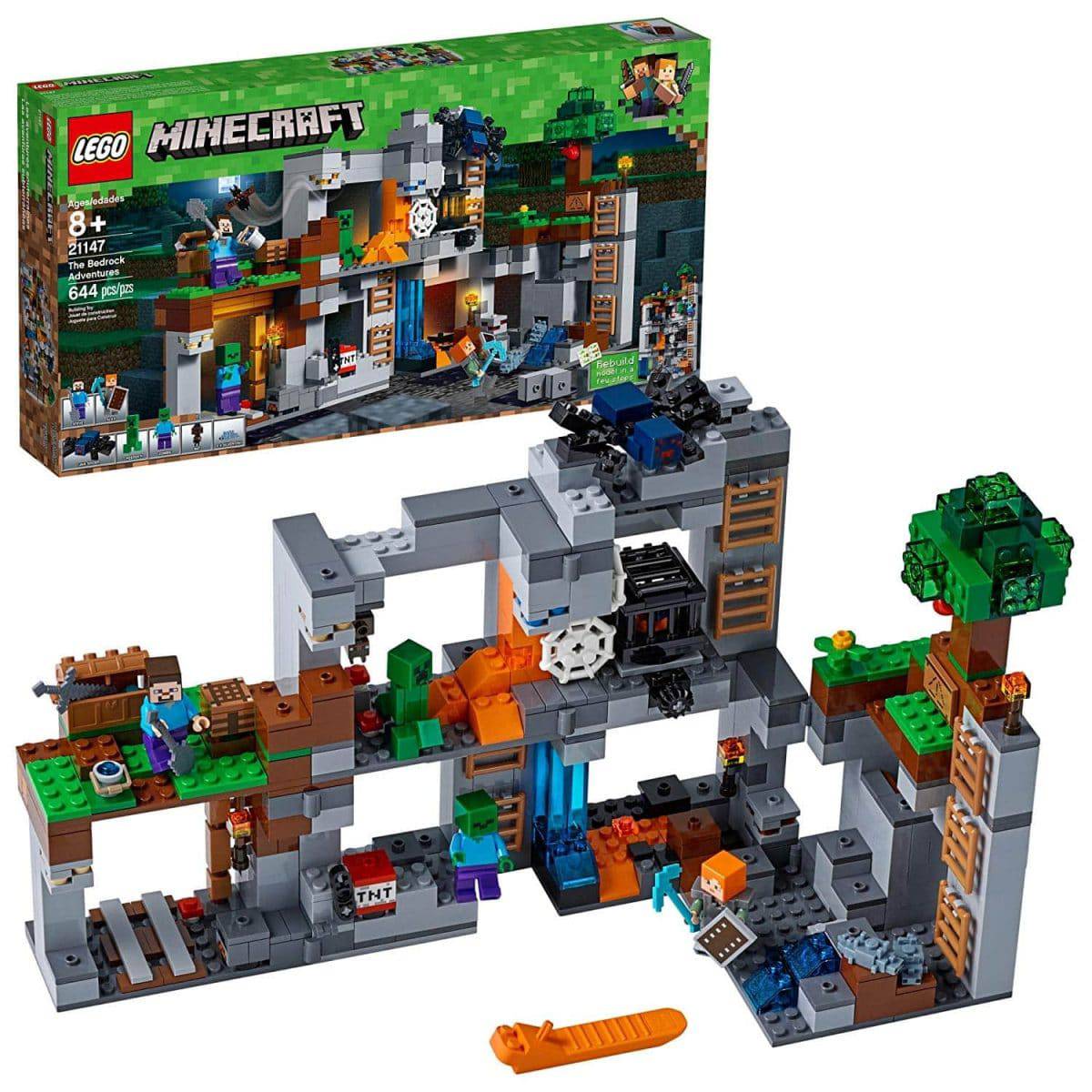 Descend the ladders to the depths of the Minecraft Overworld with this LEGO Minecraft 21147 The Bedrock Adventures set. Use the diamond pickaxe or activate the TNT function to mine obsidian and 7 types of ore, and venture through caves and mines with water and lavafalls. Battle an array of hostile mobs, including a cave spider, zombie, Creeper and silverfish that spawn when you mine the rock face! Enjoy hands-on adventures with this LEGO Minecraft set. Easily swap the modular sections to redesign the model, and combine it with other sets to create your own unique LEGO Minecraft universe. Also includes Alex and Steve mini figures, plus a bat figure. Accessory elements include a shield, armor, shovel, bucket, torches, crafting table, furnace, sword, pickaxe, and chest. The Bedrock Adventures set measures over 20cm high, 35cm wide and 14cm deep.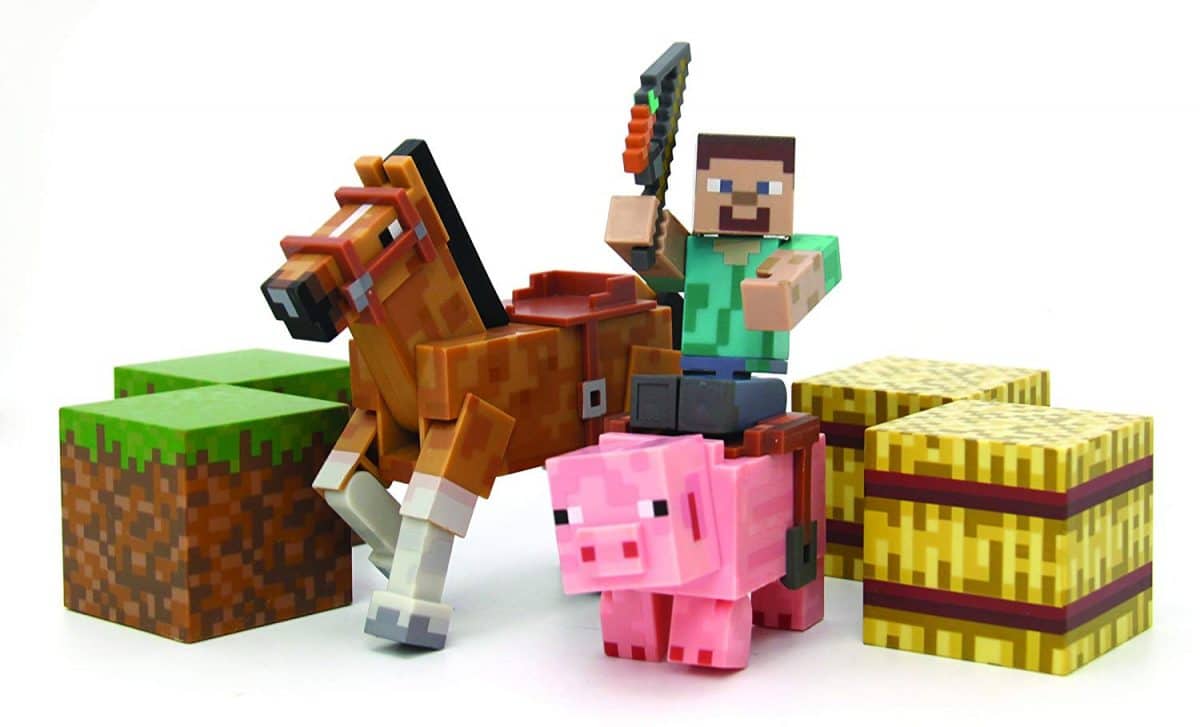 Inside the saddle pack toy set, you get two articulated animals; a pig and a horse for transport. You also get an articulated Steve figure with a horse whip and a saddle. And lastly, the animals get two stacks of a hay bale and two stacks of grass blocks for food. With the saddle pack toy set, your child can ride across their Minecraft kingdom looking for treasure and other essentials. The significance of the saddle pack is that it provides a much faster mode of transport than walking, therefore, saving precious time. In the game, having a horse nearby can help save Steve's life. Sometimes hostile mobs spawn out of nowhere to attack. When this happens, it's possible that the mobs might outnumber Steve or catch him off-guard without weapons to protect himself. In such a case, horses are fast and can outrun the hostiles.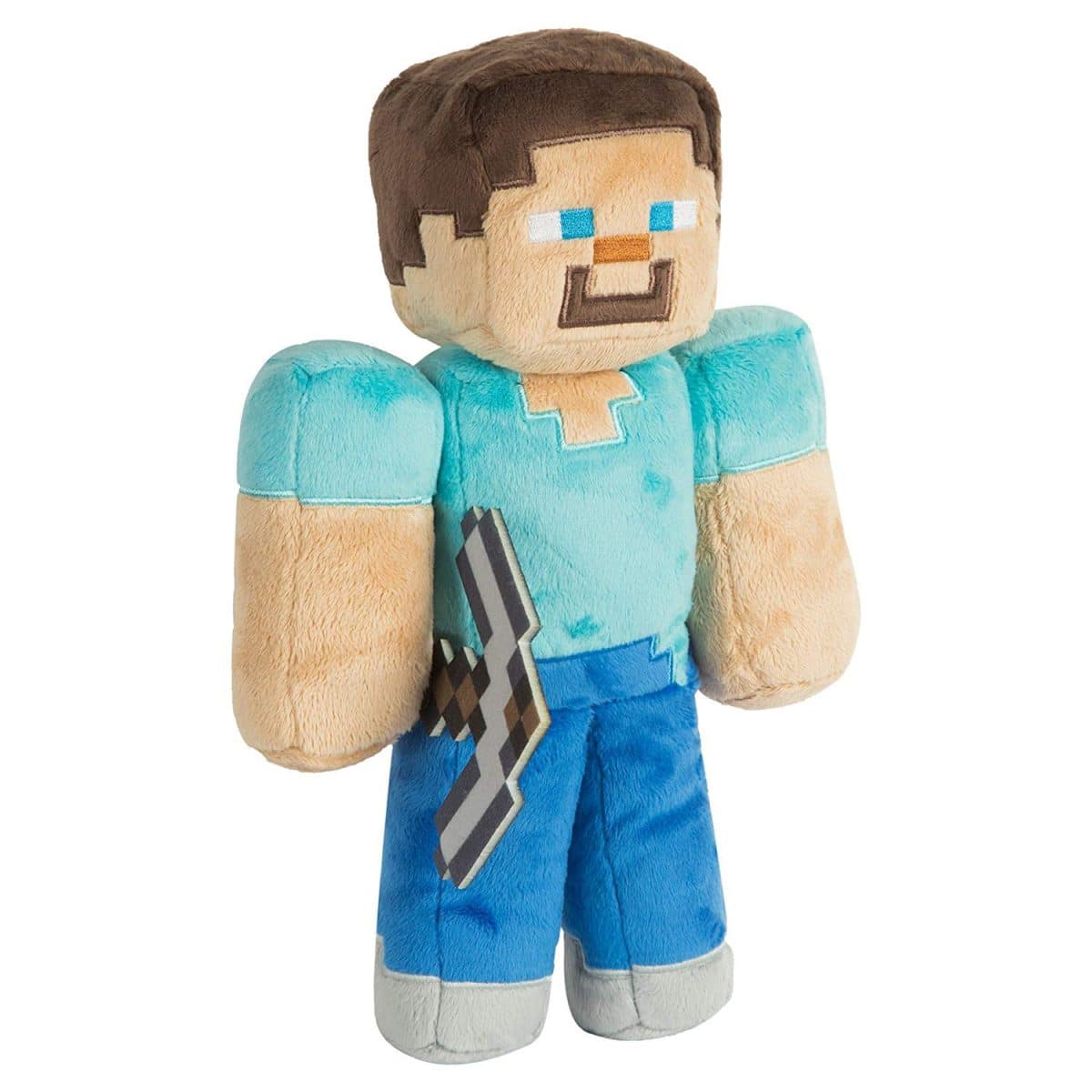 Cute and Cuddly, the toy is constructed with soft polyester, Velboa fibers so you can cuddle with your favorite Minecraft Character e ease and comfort. With all these, it includes a felt Pickaxe that Steve can hold in his right hand. The toy has a standard size Minecraft Plush that measures approximately 12 inches tall. The toy is kid friendly and it's suitable for children aged 3 and up. The toy offers genuine and authentic Video games.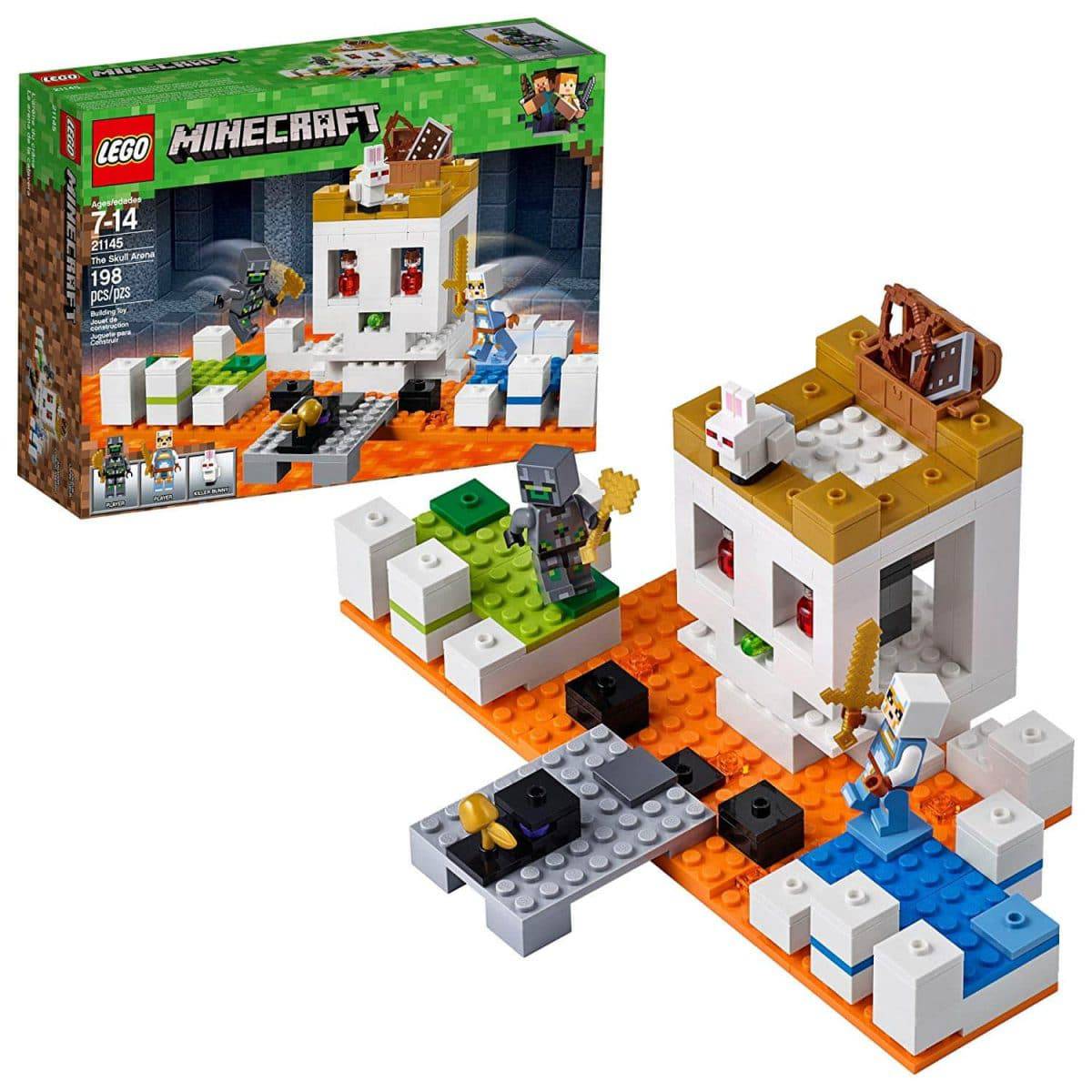 Dodge the slime shooter and defeat your opponent to claim the prize golden apple, and battle the killer bunny to get the healing potions and a chest containing a shield and bow. Enjoy hands-on Minecraft adventures with this LEGO Minecraft 21145 The Skull Arena set-designed for fans of the highly successful video game. Also includes 2 player minifigures, each with their own unique Minecraft skin. Set your imagination free-rebuild the set for more LEGO Minecraft creations. The accessory elements included are 2 red healing potions, chest, shield, bow, golden axe, and sword. The Skull Arena measures over 11cm high, 24cm wide and 16cm deep.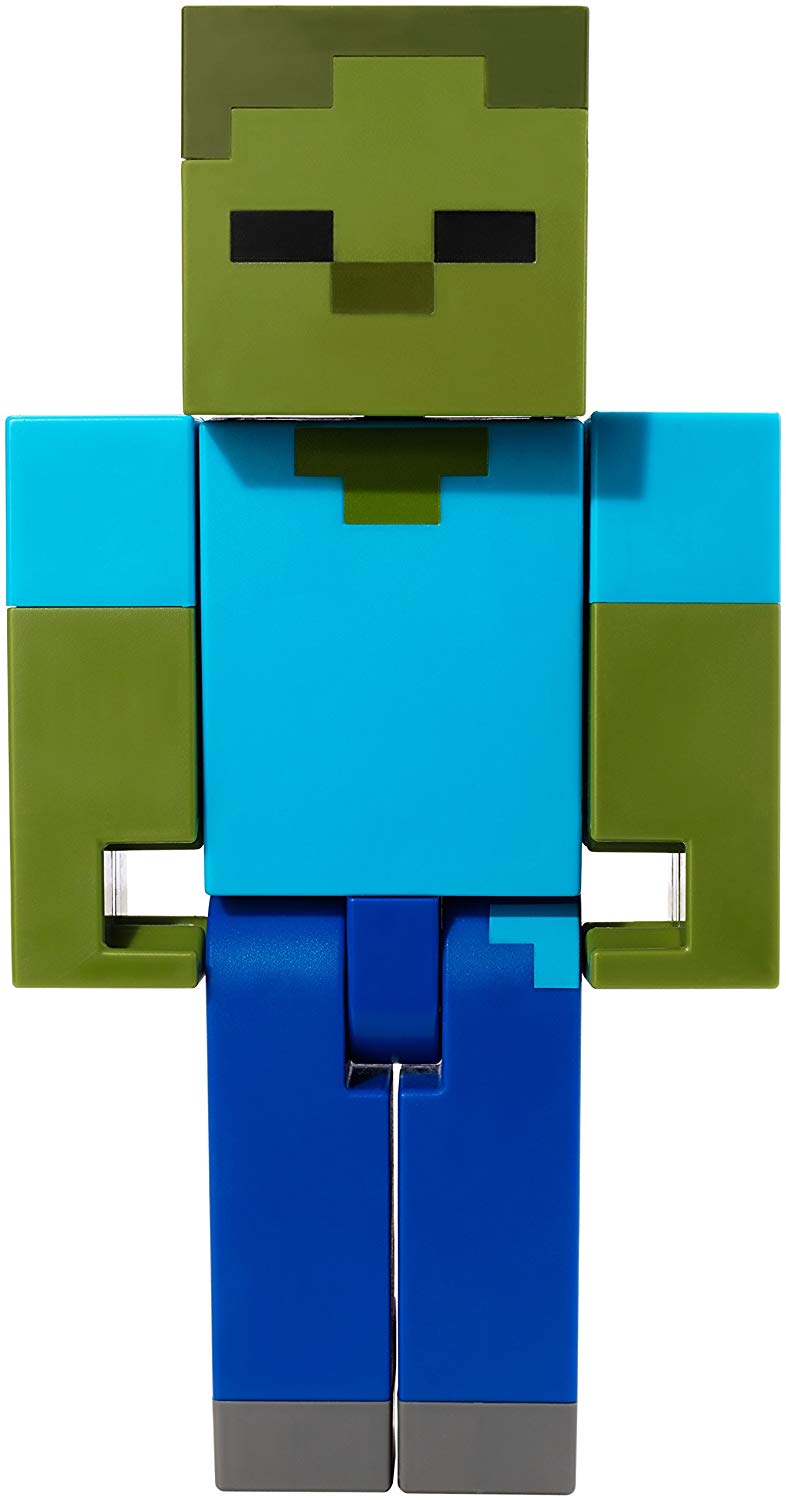 Large scale, Minecraft figures bring beloved Minecraft favorite characters to life! Steve, Alex, and Zombie have poseable head, arms, and legs, so you can use your imagination as you recreate Minecraft adventures and invent some stories of your own. These unforgettable Minecraft character figures make great gifts for kids who truly love Minecraft. Collect all three and have a blast.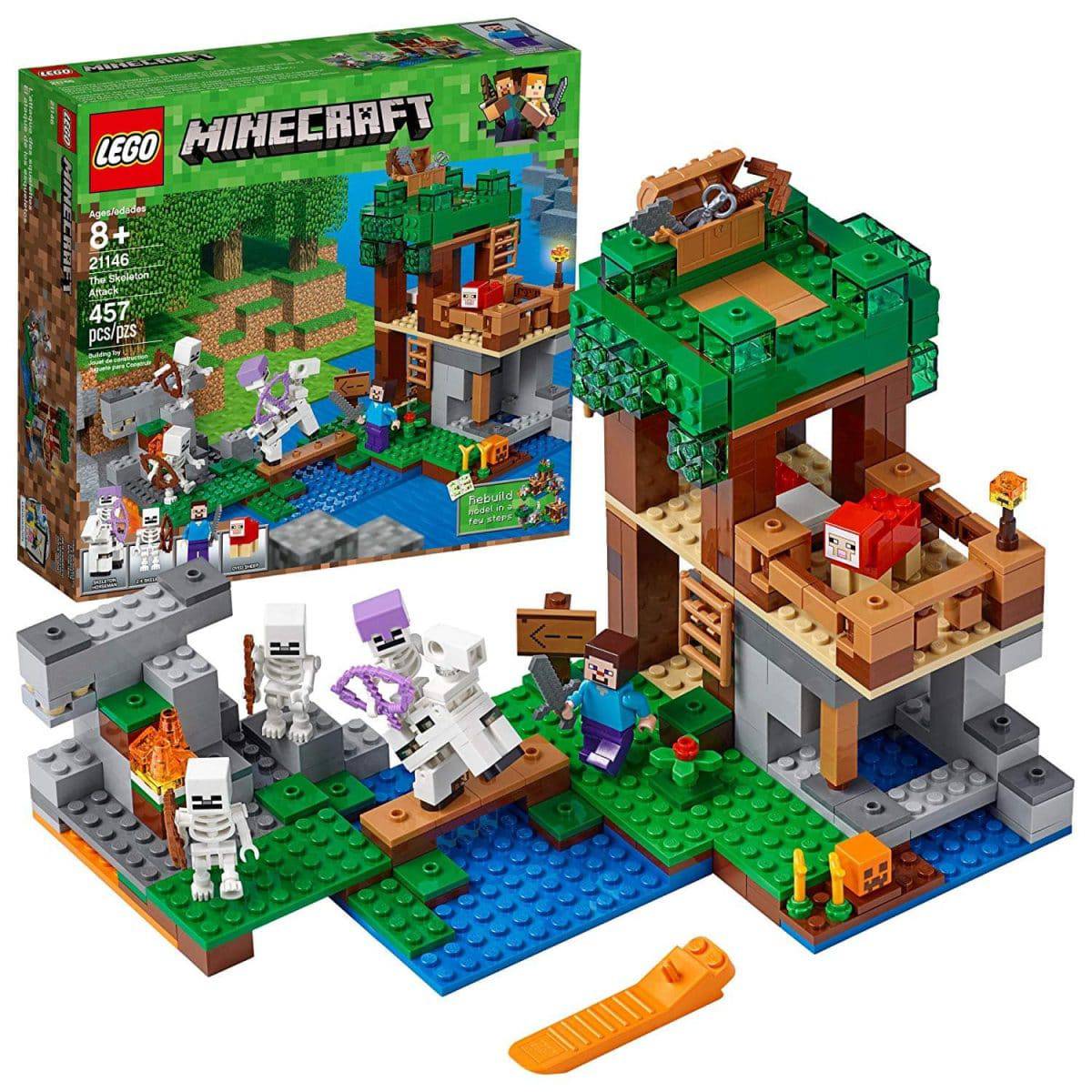 Then craft a stone sword and get ready to battle the skeleton army. Enjoy hands-on adventures with this LEGO Minecraft 21146. The Skeleton Attack set-designed for fans of the highly successful video game. Easily swap building sections to redesign this model, and combine with other sets to create your own unique LEGO Minecraft universe. Included is a Steve mini-figure, plus a red sheep, skeleton horseman and 2 skeleton figures. Accessory elements include the skeleton horseman's enchanted helmet, a pickaxe, pumpkin, shears, bow, sword, and wheat.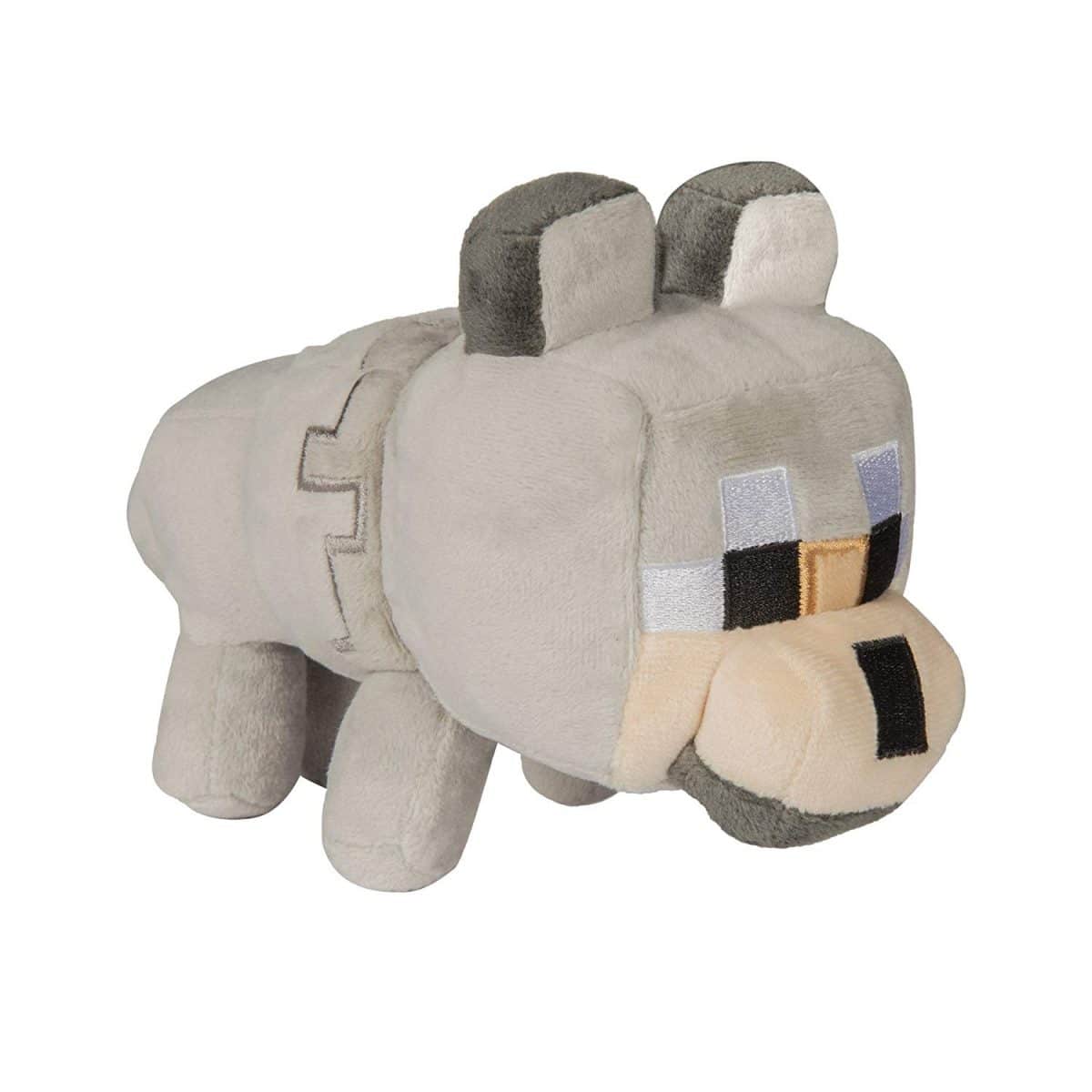 The toy is designed for gamers: You'll be a happy explorer as you cuddle with this untamed wolf stuffed toy from Minecraft video game. The toy is cute and Cuddly and it's constructed with soft polyester Velboa fibers so you can cuddle with your favorite Minecraft Character. It has a small sized Minecraft Plush and it measures approximately 5.5 inches tall. The toy is kid friendly and it's suitable for ages 3 and up.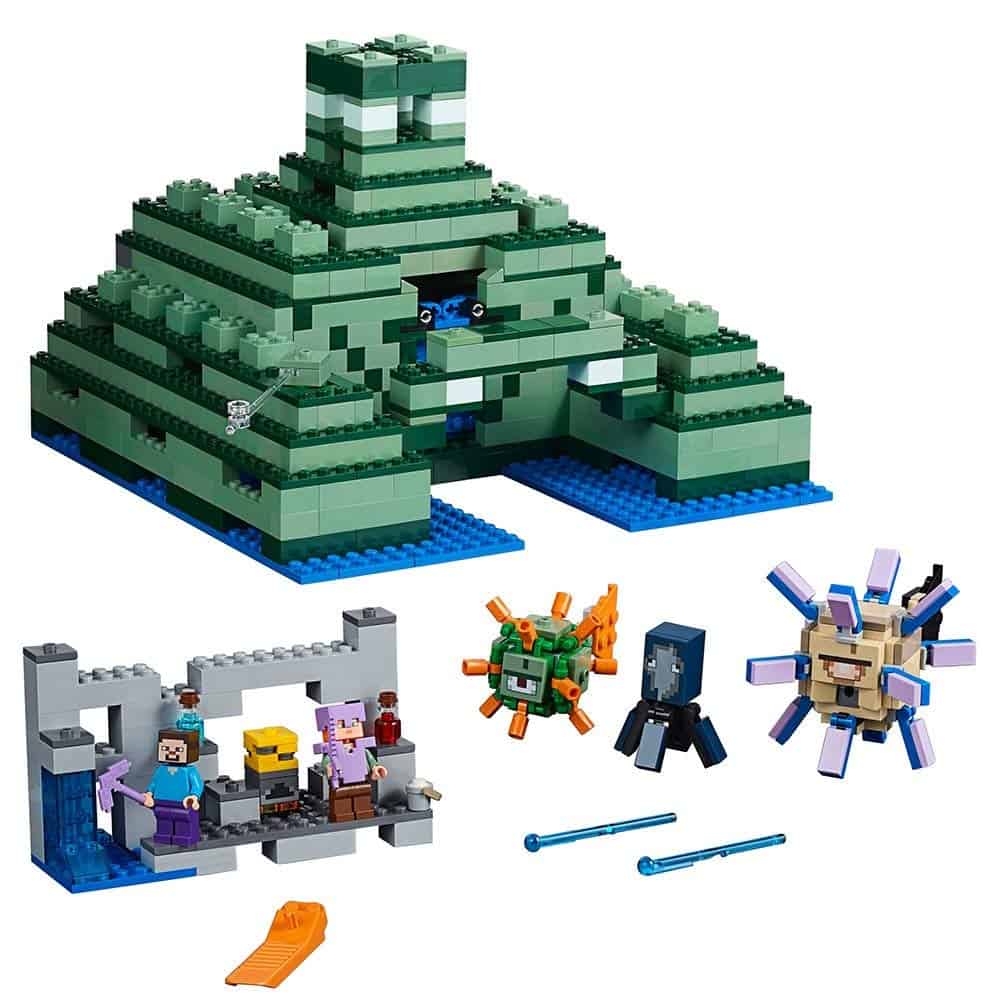 The ocean monument kit was designed for Minecraft enthusiasts. It provides huge potential for creative play where kids will enjoy it. The ocean monument LEGO sets come with 1120 different LEGO pieces and accessories. Once all the pieces are in place, they form an ocean monument that has a variety of features. First, there is a roof that opens to give access to the labyrinth of rooms in the monument but best of all, your child gets a secret treasure chamber to store their treasure. You also get 5 LEGO characters included in the packaging; Steve, Alex, Squid, Guardian and Elder Guardian. Your child can choose to play the role of the elder guardian and defend the ocean structure or can decide to role play as Alex or Steve to battle the Elder Guardian to gain control of the sea.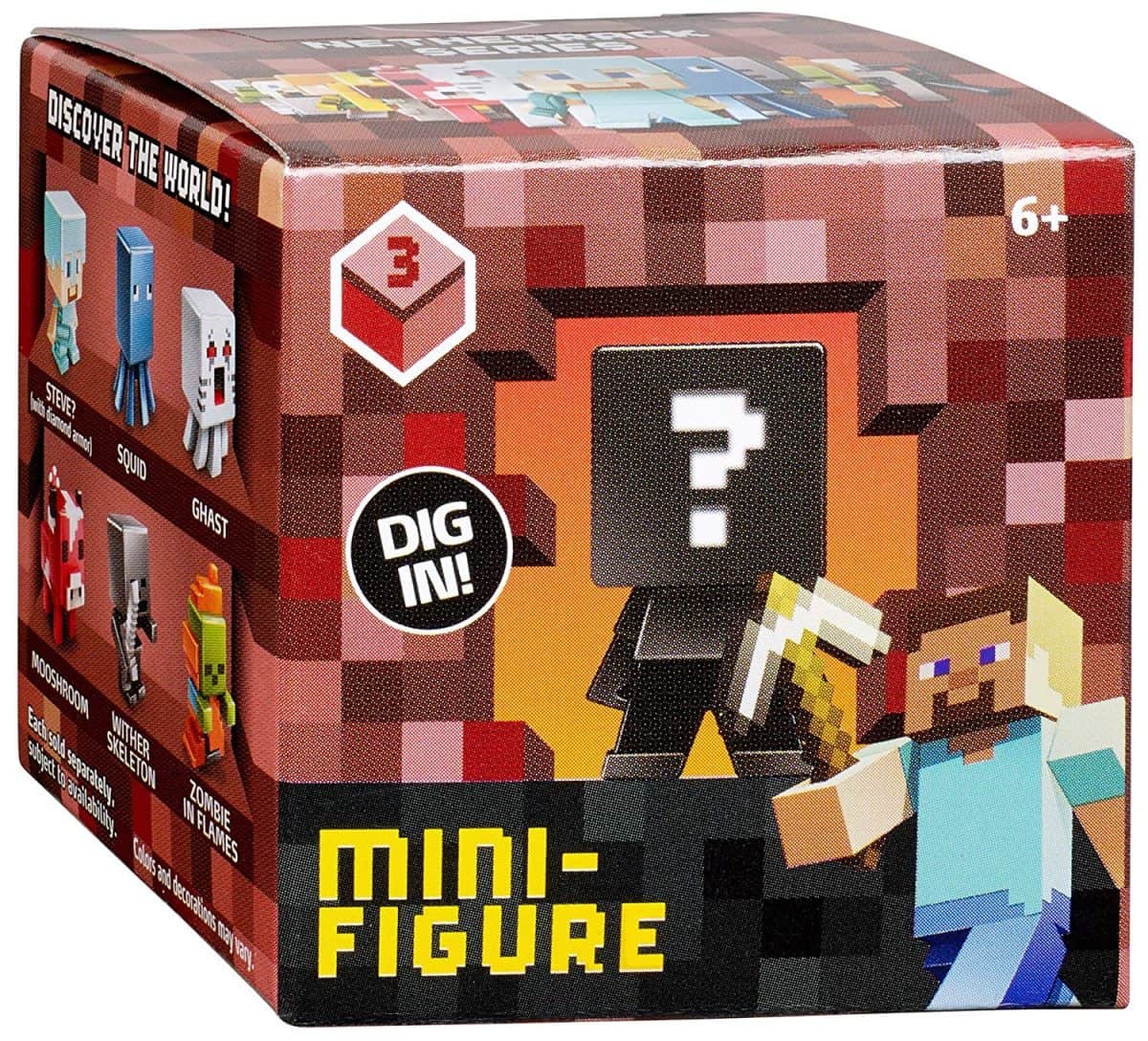 All mystery blind boxes come with different toys stashed in them, and there's no way of knowing what is inside. Whatever your child ends up getting, whether it's Minecraft mini figures or tools & accessories, it'll be a great addition to their Minecraft toy collection. Even if your little one ends up getting disappointed with the gift inside they shouldn't worry because all mystery blind boxes come with one Minecraft mini figure coupled with the surprise toy. Figures feature the game's signature appearance and include 1 miniature figure; colors and decorations may vary. Collect your favorites and build out your Minecraft world.
The Verdict
Minecraft is a game that has stood the test of time. After all these years, the game is still famous and has lots of fans worldwide. It comes in three different brands which are Mattel, Lego, and ThinkGeek and offers a buyer a variety of choices to pick from. Before buying, consider whether the toys are a choking hazard, the materials used and whether batteries are included.
With studies showing that these toys help kids develop cognitive skills, it's important for parents to encourage their kids to play with them. The above toys come in practical sizes, feature many characters and figures, and are easy to assemble. Besides getting the best Minecraft toy, your child will also have a fun and memorable experience.