Mothers across the country are purchasing nursing gliders to create a more comfortable nursing environment for both their babies and for themselves. A nursing glider is similar to a rocking chair, but instead of rocking, gliders move back and forth to help you soothe your baby. These chairs provide the gentle rocking momentum you're looking for, while also allowing you to attend to your little one—and allowing you to sit comfortably throughout the process.
Factors to Consider When Choosing a Nursing Glider
Nursing is an intense and beautiful experience and process, so a great nursing glider can go a long way. Look for the following when shopping for your nursery.
Comfort
While breastfeeding or soothing your baby to sleep, your arms will need to rest on something firm. A comfortable armrest is one that is spacious and with great padding for both your arm and your baby's head.
An adjustable armrest would also be a great feature to consider. With this, you can raise the armrest as high as you wish or low enough to fit your arm position.
Your feet will need a place to rest as you lie on your gliding seat. One option is an ottoman. It works magic for swollen legs and leg pains. Always ensure you get an ottoman that matches the glider height so that your leg does not bend or hang when you place on it.
Other seats do not have a separate ottoman but have a leg rest that props out of the glider which works just fine. Since some mothers choose to nurse for over two years,  it's worth it to invest in a comfortable nursing environment for you and your baby.
Durability
Nursing gliders can be used as resting chairs after your baby outgrows the nursing period. A glider with a strong frame will last longer, giving you great service for years. This can be achieved by choosing a seat with a great and durable frame as well as a strong fabric on the cushion.
Ease of Cleaning
Babies are naturally messy. Get a seat that will give you an easy time cleaning to save on time. This can be a glider with a detachable and washable seat cover or one whose cushion can detach from the seat for spot cleaning.
Features
On top of the basics, there are a few other features that certain nursing gliders have.
Swiveling
A swiveling chair is also great as it gives you a great 360-degrees view of the room. This way, you can continue doing other things such as conversing with your family, sitting in the lounge area and watching T.V. while attending to the baby.
Locking
Not all nursing gliders come with locking mechanisms, but they are good to have. A good locking mechanism will make the seat steady and keep it in one position as you recline. It also ensures you have a balance so you can easily get onto and off the chair.
Storage
Although storage pockets are not a must-have feature for the nursing gliders, it will be convenient to have one. This way, you will have an easy time while nursing. While it could not be large enough to fit as many items as you would want, it sure is convenient as it can hold your magazines, remote controls, your baby's toys and much more.
With the information above, you are now a step ahead in selecting a nursing glider that will best suit you and your baby. In this review, we have put together a list of 10 best nursing gliders you should consider in 2021.
Top 10 Best Nursing Gliders 2023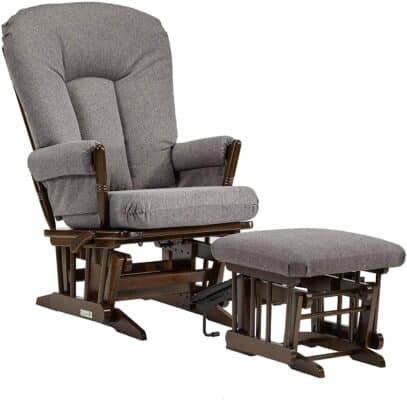 Why we like it:
The Dutailier Sleigh glider has a great mechanism that can lock the seat in 6 different positions giving you different resting options. We like the lock on the seat as it makes it easier to get on and off the seat, and the enclosed ball bearings give a smooth and long performance.
Editor's Rating:
First, it is made of 100% polyester so you won't have to worry about the seat creasing every time you sit on it. It comes with an ottoman so you can put up your legs and rock your baby comfortably. Its backrest can be adjusted fully to recline for your back's comfort.  The cushions are thick and the arms padded, to add to your comfort.
Features and Performance
How would you love a seat that offers you multiple resting positions? Dutailier Sleigh glider has been designed to lock in 6 different positions offering you comfort and making it easy for you to sit on the chair and to get off. The metal bearings on this glider are of great quality to ensure a quiet and easy movement as you glide from one position to another and back. The cushions on the seat and the ottoman are well padded to enhance your comfort.
Durability and Ease of Cleaning
The 6-positions locking mechanism is a unique feature not found on most nursing gliders. Its ottoman comes with the seat so you won't have to buy separately. With no sharp edges and with a finish that is toxic free, this glider is safe for both you and your family. The hardwood frame ensures the glider can be passed onto the future generations.
Verdict
The Dutailier Sleigh glider has an adjustable back that reclines to different positions with a lock for sturdiness. The padded arms and thick cushions offers great comfort to you while attending to your baby. If you are looking for a stylish and comfortable nursing glider or one to just relax on, consider this glider.
Pros
Comfortable thick cushions and padded arms

Easy to clean

Durable

Comes with an ottoman

Includes a locking mechanism for various reclining positions
Cons
It's quite expensive but worth it

Assembling it may take time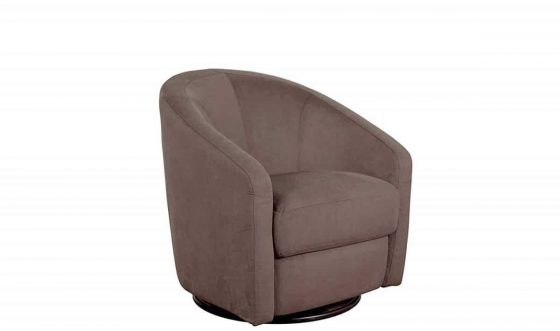 Why we like it:
The Babyletto Madison Swivel glider is lightweight but can support up to 300 pounds, and it takes up little space so you won't have to worry about where to place it.
Editor's Rating:
You will definitely fall in love with this glider at first sight. The microsuede material not only gives the seat a great look but is also soft while stain- and water-resistant, giving you a clean and dry seat all year round.
You do not need to have a lot of space in your house to own this glider thanks to its small size that will fit in any corner of your house. Although small in size, the glider has not compromised on the coziness it offers. It is curved at the back and has more seating space to offer you comfort.
Features and Performance
Babyletto Madison Swivel glider comes with great features that boost its performance. It has metal bearings that make back and forth movement while gliding smooth and soothing for the baby and yourself.
Tired of being restrained to a corner while nursing? You will love that this glider has been designed to swivel 360 degrees, meaning you can rotate as you please to get the view of the entire room. The backrest and cushions are soft to give you a cozy and comfortable feel while on the seat. In addition, the backrest is rounded to give you and your little one even more comfort.
Durability and Ease of Cleaning
Your family will love that they can still rest on the glider after your baby outgrows nursing. If you are an environmentally conscious individual, you will love that the furniture is free of toxic chemicals. The glider also has a 1-year limited warranty so you won't have to worry about replacement costs in case something goes wrong with it.
Verdict
Our top choice saves on space, swivels 360 degrees and has a great fabric. It is durable with an easy to clean and water resistant fabric. It is comfortable thanks to the spacious seat and the rounded back. Its durability and coziness makes it a stylish addition to your home at a great price. Its small fit makes it a great option for those looking to save on space.
Pros
Lightweight and compact

Sturdy

Stain- and water-resistant fabric

Swivels 360 degrees

Easy to clean
Cons
You will have to purchase an ottoman separately
Why we like it:
It offers a complete 360-degrees swivel with a quiet and smooth tilt back. It is generously padded on the backrest, arms and seat for comfort. Its fabric is durable and also easy to clean. We like the drop-in hidden coils that prevent the seat from sagging.
Editor's Rating:
How would you love a glider that can be used by everyone in your family and doesn't take up much space? With Pulaski Harmony Swivel glider, where to place it will not be an issue as it has been designed to easily fit in any room in your home. With the 360-degrees full rotation, the glider will be a favorite for your entire family and, of course, you while feeding your baby. The full rotation will enable you to turn to whatever side of the room. The backrest and arms have been generously padded to give you comfort while on the seat.
Features and Performance
The Pulaski Harmony Swivel glider has been designed to offer great comfort to the user. First is the seat's ability to swivel for a full view of the room. The swivel is quiet and smooth thanks to the 53 metal bearing base designed just for that. It also tilts behind, relaxing your back as you use the seat, and has a place to rest your legs. The track arms are sufficiently padded to add to your comfort. As you rest on the back of the seat, you will appreciate the great padding that gives maximum relaxation.
The glider has been designed with coils to keep you from sagging as you sit on it. Its fabric is soft and long-lasting.
Durability and Ease of Cleaning
The wooden frames on the seat have been reinforced to ensure durability. To add to its durability is the strong fabric on the cushions. Reclining the seat is achieved easily by a simple pull that you will love. Lastly, assembling this seat is hassle-free.
Verdict
The Pulaski Harmony Swivel glider makes a good resting seat even after your child outgrows it. It comes with a backrest, armrests and a seat that are generously padded for maximum comfort of the user. Its sleekness and small-scale design might just make this the best option for those looking to achieve both comfort and style for their small home.
Pros
Greatly padded backrest and armrest

Small fit

Easy to set up

Durable

Perfect gliding and swiveling

Non-sagging seat
Cons
Getting the footrest back is a little hard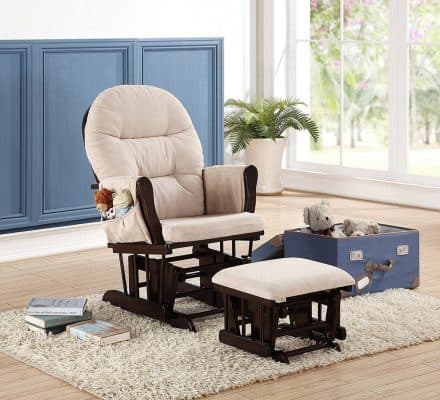 Why we like it:
The Naomi Home Brisbane glider has been constructed with a strong wooden frame that makes it both durable and stable. Its thick cushions and roomy seat offers maximum comfort. We like the convenience of the storage pockets to keep your belongings and the ottoman for your legs.
Editor's Rating:
Naomi Home Brisbane glider has been built from solid and quality material thus sturdy and durable. It has a large seating space giving you comfort while nursing. The ottoman adds to your comfort as you can put your legs up and get comfortable. In addition, the ottoman's and seat's cushions are thick giving you a relaxed rest. The seat comes with storage pockets where you can put magazines, T.V. remote, your baby's toys, among other things for your convenience.
Features and Performance
The Naomi Home Brisbane glider has been built to last thanks to its strong wooden frame. The frame also makes this a super sturdy seat, so you won't have to worry about the seat gliding when you don't want it to. It comes with metallic bearings that make moving back and forth with the chair smooth. This will soothe your baby to sleep and also helps you to relax after a long day. The backrest has been padded to add to your comfort while nursing.
Durability and Ease of Cleaning
When it comes to cleaning, you will love that both the ottoman and the chair clean easily. It comes with an ottoman so you won't have to purchase a separate one. Its durability ensures you do not have to worry about purchasing a new glider for your next child. Lastly, putting the glider together is easy, and its kit includes the tools required to assemble it.
Verdict
The Naomi Home Brisbane glider is made from a strong material and is very durable. It offers great comfort with a roomy seat and padded arms. It offers a smooth gliding while you nurse your baby, giving you quality features and value for your money.
Pros
Easy to clean

Storage pockets

Large seating space

Easy to assemble

Padded armrest and cushions

Comes with an ottoman
Cons
Does not have a lock mechanism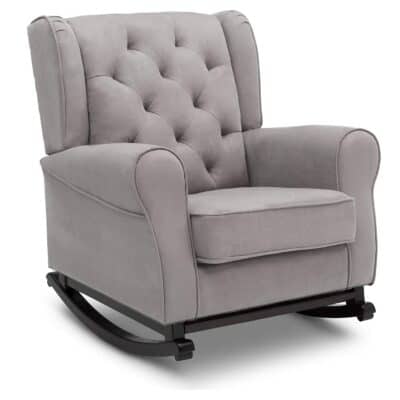 Why we like it:
The Delta Children Emma Nursery glider has durable metal mechanisms for a gentle and quiet swivel.
Editor's Rating:
If you do not have enough space in your house and you are worried about cramming it up, then this could be the best glider for you. It is designed to take up little space in your house hence can fit in most places. It has quiet movements thanks to the strong materials used to manufacture the seat. You will love how the durable fabric cleans with less hassle.
Features and Performance
The seat has a firm wooden frame ensuring steadiness while on the seat. What is great about this glider is that it swivels. Swiveling will ensure you can do other things such as watch your favorite T.V. show, converse with your family and do much more from the same spot.
It is also designed to offer a gentle and quiet glide and swivel to soothe both you and your baby. The seat has been thoroughly tested to offer safety for you, your baby and your entire family. When it comes to comfort, the thick pads on the armrest are perfect for your arms as you breastfeed your child.
Durability and Ease of Cleaning
The wooden frame of Delta Children Emma nursery glider will grow with your child past their nursing age thanks to its durability, and the cushions are detachable for easy cleaning.
Verdict
The Delta Children Emma Nursery glider is a versatile seat that takes up as much space as you can afford. It comes with a durable metallic mechanism to offer quiet and gentle gliding. Given its durability and comfort, this could just be the best glider seat for the price.
Pros
Comfortable

Does not take up much space

Easy to clean

Sturdy and durable frame

Quiet and gentle glide motion

Meets government safety standards
Cons
Ottoman needs to be bought separately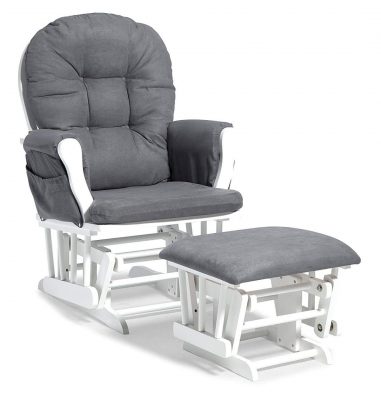 Why we like it:
The Stork Craft Custom Hoop glider seat has back cushions that are detachable, and the material is high quality and easy to clean. It has a storage pocket that makes it easy for you to access your belongings.
Editor's Rating:
Get yourself comfortable as you bond with your baby on Stork Craft Custom Hoop Glider. You will love that you can customize your glider and ottoman to your nursery with a range of different combinations to select from. The seating space on the chair is large enough for you to get comfortable.
The padded armrest will offer a comfortable place to support your arms while holding your baby as the ottoman takes care of your legs. The seat's storage pocket will come in hand for your magazines if you love reading or for any other thing you might need, such as your baby's toys.
Features and Performance
Stork Craft Custom Hoop Glider has metal bearings that will smoothen your back and forth motion calming your baby to sleep. The wood base is sturdy so you can have the confidence to put your legs up without worrying about breaking it.
Durability and Ease of Cleaning
The option to choose cushions and base from several varieties is a plus for this glider as it does not dictate your selection. When it comes to cleaning, you will love that the back of this glider and cushions are easy to clean. The seat can be set up with less hassle without wasting so much time. You will also appreciate that the parts of this seat can be replaced at no cost in case it is damaged.
Verdict
The Stork Craft Custom Hoop glider is easy to assemble and has an easy to clean durable material. The enclosed ball bearings will ensure a smooth gliding to the user. The glider considers a number of features to keep both the baby and the parent comfortable making it a great choice for both comfort and style.
Pros
Includes an ottoman

Easy to clean

Easy to assemble

Comes with storage pockets on the seat

A 1-year limited warranty

Offers the option to customize your glider
Cons
Not comfortable for tall parents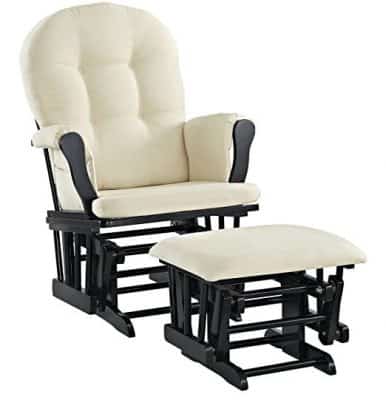 Why we like it:
This glider has spacious seating room with padded arms to offer you comfort while nursing.
Editor's Rating:
The Angel Line Windsor glider's material is 100% polyester meaning it is strong, will dry easily after cleaning and is resistant to wrinkles—not to mention the fact that its exceptionally comfortable. To add to the easy to clean material of the glider are the removable seat cushions which will make it easier for you to clean in case of spillage. The frames on the ottoman and glider are strong to ensure stability. It might start to squeak after a while, a quick oiling will fix that up easily.
Features and Performance
The metal bearings on both the glider and the ottoman will give you and your baby a smooth and soothing gliding motion. The seat has a large seating area that keep you comfortable while nursing. To add to your comfort are the padded arms and pockets where you can store some items you might need while nursing.
The glider comes with an ottoman to offer you great comfort as you nurse meaning you will not have to buy it separately.
Verdict
The Angel Line Windsor glider has a roomy seat with padded arms for maximum comfort. It is easy to clean and has storage pockets that will keep what you need within reach. It gives you value for your money and great comfort for both you and your baby.
Pros
Includes an ottoman

Includes storage pockets

Detachable cushions

Very comfortable

Provides a large seating area
Cons
Develops a squeaky noise after prolonged use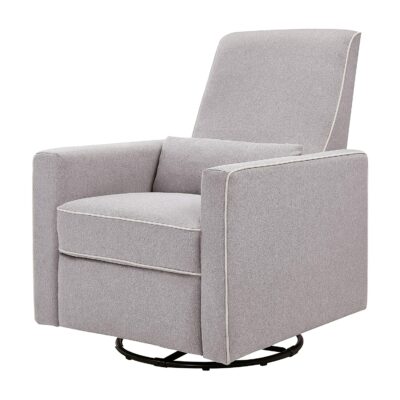 Why we like it:
This ultra-fancy looking nursing chair would be equally at home in an office or modern living room, although it's still loaded with impressive features.
Editor's Rating:
Although this DaVinci Piper chair looks like a slick, expensive, designer chair, it hides away loads of features helpful for nursing mothers. A metal base pivots 360 degrees, gliding both forwards and backwards for comfort for both the nursing mother and her baby. There's no ottoman included, but there is a leg rest that pops up once the reclining mechanism has been engaged.
Features and Performance
The most important performance aspect of a nursing glider is comfort, and this glider has it. It takes a few weeks to break in, but once the seat softens, it's a delight to sit in. Life is hard on a mother, so it's nice to have a quiet, comfortable spot to sit.
Durability and Ease of Cleaning
DaVinci takes great measures to make sure their products are safe for both the environment and young children. It's been tested for over 10,000 chemicals, and it's claimed by the manufacturer to not add anything to indoor air. The company takes strong measures to be environmentally friendly as well.
Verdict
This chair is for a new generation of mothers: those who care about the environment, fashion, self care, and spoiling their babies. The only issues are its fragile surface material and the fact that the covers aren't removable, meaning they can't be machine washed.
Pros
Tests products for chemicals

Safe for the environment and younger children

Metal base pivots 360 degrees

Recliner automatically pops up with a footrest
Cons
Covers can't be machine washed

Fragile fabric surface material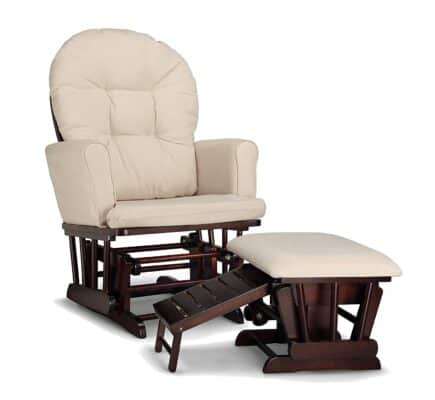 Why we like it:
Graco is a well-known company with impeccable product design, in this case creating an inexpensive, beautiful nursing glider made primarily of natural hardwood.
Editor's Rating:
Graco's been making products for babies and mothers for years now, and they've learned a thing or two. Most notable in our opinion is the ottoman design, which has a synchronized gliding feature that allows you to glide in tandem with the chair itself. The polyester upholstery is stain resistant and spot-cleanable, meaning you can stay comfortable at all times.
Graco has enormous product lines, and this nursing glider is part of a large product line, meaning there are a host of other furniture items that can be purchased alongside this chair for a cohesive design for your nursery.
Features and Performance
This nursing glider is soft where it should and hard where it needs to be, creating flat surfaces for holding things that make nursing more convenient and creating more easy-to-clean surfaces. The ottoman it uses is pull-out/fold-out, tucking away after feedings.
Verdict
Gliders have more complex mechanisms than simple rocking chairs, and when not properly designed and reinforced, they can degrade and break down. This chair suffers from that issue, but it can fortunately usually be fixed by a bit of grease and a retightening of bolts.
Pros
Product can pair with other Graco furniture

Ottoman uses a pull-out/fold-out format

Easy to stay comfortable

Tandem gliding feature
Cons
Complex mechanism loosens out over time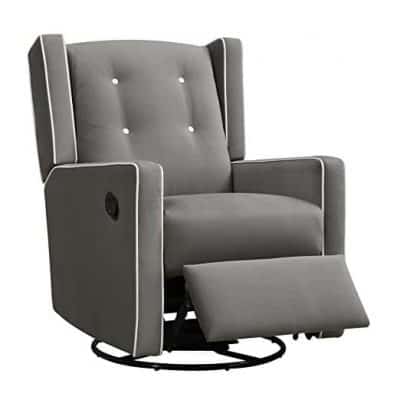 Why we like it:
Reclines to 3 different positions achieved by a simple pull, offering you super comfort while nursing. The modern shaped glider has welt trim and button tufts, giving it a classy look. We like that it has a leg rest to offer comfort to your legs without taking up extra space.
Editor's Rating:
Take full control of your nursing glider by owning the Baby Relax Mikayla glider. It is designed to allow you to change your leg rest and your reclining positions to either fully or partially by just a pull. You can happily support your arms on the armrest of the seat while nursing your baby as they have been designed to offer you comfort.
Features and Performance
How would you like a nursing glider that offers you 3 different functions? With Baby Relax Mikayla glider, you get to glide, swivel or recline as you please. Whether gliding or swiveling, you will always be comfortable thanks to the glider's ball bearing tool. The mechanism ensures a smooth backward and forward movement when gliding, and a smooth rotation when swiveling.
Durability and Ease of Cleaning
The glider is stylish and easy to assemble. The cushions are easy to clean and support up to 225 pounds.
Verdict
The Baby Relax Mikayla glider is stylish, versatile and extremely comfortable. Its ability to recline to 3 different positions while giving you the option to swivel or glide makes this a comfortable seat. The comfortable spring core foam, swivel mechanism and smooth gliding provides great coziness that could work perfectly for twins.
Pros
Reclines up to 3 different positions with ease

Easy to set up

Comfortable

Stylish with button tufts and well trim

Swivels 360 degrees and also glides

Easy-pull leg rest
Cons
Takes up a lot of space because of its size

Does not have storage pockets
Why Should I Buy a Nursing Glider?
There's a reason so many young mothers own a nursing glider: it just makes things easier. Some of the advantages are listed below.
Guarantees Easy Feeding
As the glider moves back and forth, it soothes the baby comforting them making it easy for you to feed them. It will also be easier to breastfeed with your arms and the baby's head well rested on the seat's armchair.
Bond With Your Baby
As the glider rocks back and forth, your baby will relax and get to connect with you as you fondle them. It is important to get a good seat that will offer both you and your baby a great time so as to not to disturb them.
Improve Your Health
Nursing gliders with good padding on the cushions will give your back support allowing it to rest. This helps alleviate back pains.
For gliders that have ottomans, resting your legs on them while relaxing can relieve you from swollen and painful feet.
Better Than a Rocking Chair
Of course one of the reasons you would opt for a nursing glider other than a rocking chair is that they work better. The unique features of a glider make life easier and parenting an easy task.
For Pregnant Women
Way before your baby comes along, you will need a glider for your own convenience. When it becomes hard to sleep on the bed, you can always turn to a nursing chair for extra comfort. Place your legs on the ottoman, glide back and forth and make yourself comfortable on the seat as you wait for the baby.
For Resting
You don't have to be nursing a baby for you to use a nursing glider. These seats have been designed for maximum comfort and you can always rock them to unwind.
What to Look for in a Nursing Glider
A nursing glider that does not suit your needs will not work for you. Let's explore different factors you should consider before buying one.
Versatility
Your glider should not only be comfortable for nursing but also allow you to perform other functions. The glider must smoothly and quietly rotate and you should also be able to tilt it back easily without having to put down the baby or getting off the chair. Assembling the seat should also be an easy task.
Creating a Designated Nursing Area
Where you will place the seat in your house really matters for various reasons. Placing the glider in the nursery might be great to keep the baby from distractions but will not work well for you as you will be away from the rest of the family and could feel lonely.
Placing it in the lounge room could be a better option as you will connect with your family and get busy doing other things such as watching the T.V.
Placing it in your bedroom could be the best option while attending to the baby at night but not the best when morning comes. During the day you will get bored spending most of your time there in your bedroom.
Placing Your Glider
You do not want to buy a glider that will be a hassle finding space to fit it. The market offers different sizes of nursing gliders and it would be great to select what fits in the available space. Space should be enough for you to rock back and forth with ease.
Where you place the seat should be away from sunlight and other elements that can affect the baby. The space selected should also not interfere with your family members' movement within the house. Give enough space to everyone for theirs and your comfort.
Other Applications for Nursing Gliders
For Twins
A nursing glider for twins needs extra seating space for the parent to sit comfortably. The armrests on either side need to be well padded and comfortable to hold your elbows as they breastfeed. If you can get one that has rounded and wide arms the better
For Resting
If you are getting the seat for your own use or maybe consider prolonging the use after your child is out of the nursing period, you will need to consider a number of features before buying. The glider needs to be durable to last longer for your use and extra comfortable to allow you to rest.
User Considerations
What's Your Height?
The user's feet need to touch the ground for them to be able to rock the chair back and forth. Most seats will not work well for tall parents. With a seat that is too low, tall people's legs bend making them uncomfortable.
For short parents, deep seats will not work for them as they sink leaving their feet suspended. It will also be hard for them to get on and off the seat.
What's Your Budget?
Last but not least, we cannot dismiss the importance of how much you are willing to spend on the nursing glider. With a number of gliders with great features in the market, you do not have to break a bank for you to buy one.
With our review above, you can easily pick a nursing glider that best fits your budget.
Safety
The safety of your family and yourself while nursing is important. You do not want a seat that will topple as you sit on it or one with edges that would hurt anyone bumping into it.
Choose a chair that is sturdy enough and one with smooth edges for the safety of those around you.
Additional Features
To get great value for your money, you will need to consider the extra features that come with the seat you are considering. You can get great value ads such as an ottoman, gliding and swiveling mechanisms, padded armrests and headrest without having to spend more. Explore our list of best nursing gliders to get the best selection.
Types of Nursing Gliders
Nursing gliders can be put into one of four categories.
Reclining Nursery Glider
These are nursing gliders that tilt back, offering you a better rest. Different seats have different reclining positions. You can get up to 7 different reclines in one seat.
Gliding Nursery Glider
These are nursing gliders that glide back and forth along the length its platform is built on. It performs better than an ordinary rocking chair.
Some gliding chairs also have reclining functions.
Rocking Nursery Glider
Back and forth movement are in a motion that is not as smooth as a gliding one. In addition, the gliding nursery glider has better comfort features such as softer padding compared to rocking nursery glider.
Classic Nursery Lounging Chair
The most economical nursing glider. They are simple and comfortable but will still perform the functions of a nursery chair.
Wrapping Up
We believe that the guide above on best nursing gliders will give important tips you need to select the best nursing gliders in 2021. It's also fascinating how breastfeeding has evolved over time and the innovative ways that have been created to make the process better. Whether working on a strict budget or willing to blow it up, getting one for comfort or for a small room, we have carefully selected the best nursing gliders that will work best for you. Shopping for a new nursing glider will become an easy and fun task for you.