Top 30 Best Remote Control Helicopters 2022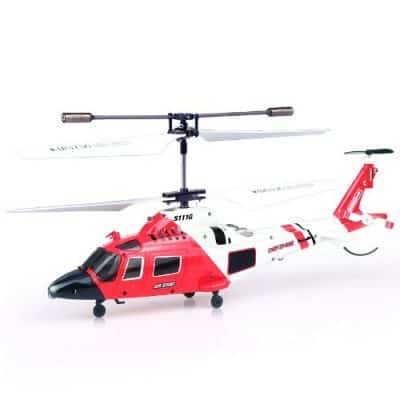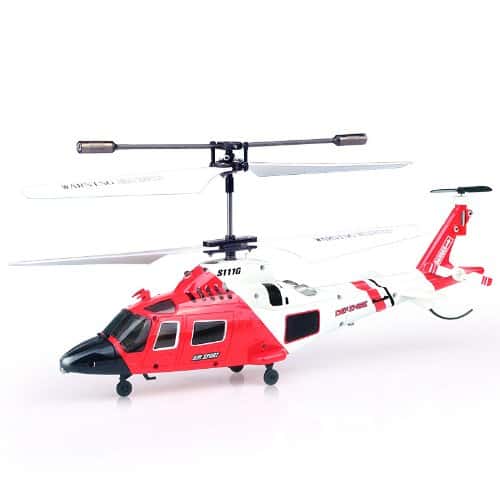 The remote-controlled helicopter from Syma requires 40-minutes of charging to fly it for 5 to 8 minutes. It has a control distance of 8-meters that's relatively short compared to other models. Nonetheless, the RC helicopter is easy to fly and very stable in flight for a frustration-free run. The toy is a great choice for younger kids as it's ready to fly right out of the box, meaning playtime can begin as soon as desired. Besides, the Syma 3.5 RC Helicopter comes with a motor type called brushed. This is great for beginners and very easy to function. It comes with a rechargeable lithium polymer (LIPO) battery.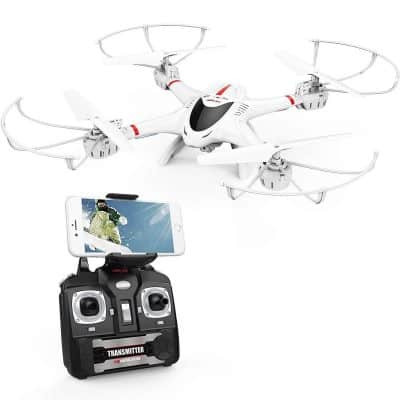 Children of all ages can enjoy flying the DBPOWER Quadcopter Drone as it's very user-friendly. All actions can be performed with one push of a button. The RC quadcopter has been equipped with a high-capacity battery that allows your child to fly it for about 10-minutes from 100-meters away. You can connect your child's new drone to your phone so they can view the world above them. The built-in HD camera will produce crystal clear images. Featuring a red and white design, the quadcopter looks super sleek and cool whereas the bright LED lights allow your child to fly the drone at night or on overcast days. Your child won't have to stress about trying to navigate their drone to them. The one key return home feature will automatically send the drone back to the transmitter at the push of a button. Moreover, this device is compatible with a headset as long as you download the required app.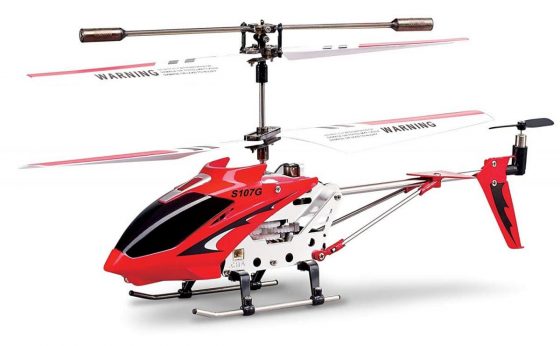 The Syma RC Helicopter comes with a remote controller and a helipad for landing. It's a toy suitable for children over age 3, but you can love it as much at 40 as at 10. The helicopter has been well-built and is well balanced. It has a cool metal body, so it won't crack easily like plastic. The remote controller is big and has joysticks and a number of other buttons that help with navigation. The controller is ergonomically built and is easy to use as a gaming console controller. The helicopter is perfectly wireless and the USB transmitter works from several meters away. It comes with a rechargeable battery that will keep it airborne for 8 to 12 minutes, making it one of the longest-lasting remote control helicopter.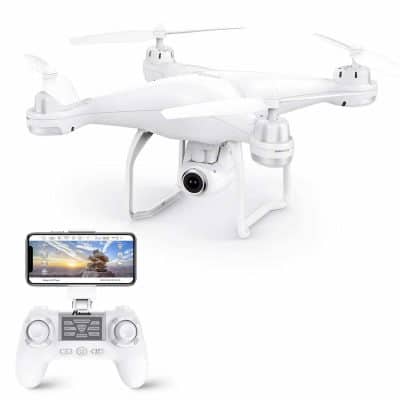 It's practically impossible to lose the drone as it has been equipped with an advanced GPS system. With this feature, the drone will automatically return to home when the battery runs low or if it loses signal. It includes a follow-me feature that guarantees the drone follows the user and captures their every move from up above. The high-definition wide-angle camera provides crystal-clear images at any angle. The drone's bottom has lights that make it easy for your child to spot it, particularly at night. Beginners can easily operate the drone with one key take-off and the emergency stop button. Moreover, the drone is super-stable when hovering making it perfect to use the camera to capture pictures.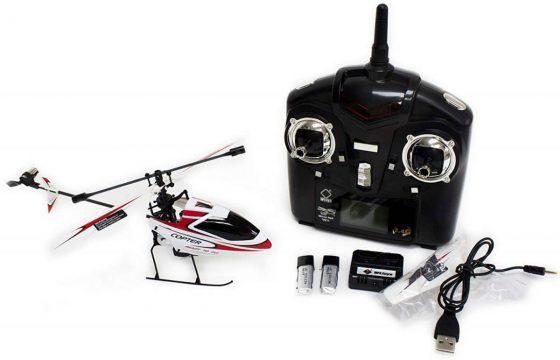 The helicopter is the new and improved version of the previous WL helicopter. It has a better range of motion and is speedier than usual. The model comes with only one rotor instead of two. The single rotor packs a major punch to uplift the copter off the ground. There's less interference, so you can fly it any way you want. The V911 is a 4-channel helicopter that is surprisingly easy to navigate. Besides, this copter has a 2.4GHz transmitter, so you never lose the signal. Even though it's made from thin plastic, it has excellent resilience and can survive crashes without getting any scratches.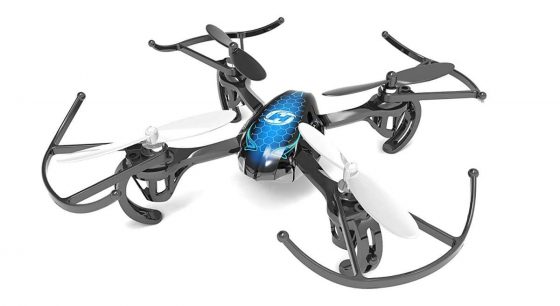 The Holy Stone HS170 Predator Mini RC Helicopter Drone has a six to eight-minute flight time with a 45-60-minute charge rate. The toy must take a ten-minute break in-between flights to cool the motor down. It's wind-resistant and includes a great performance range of control. The lightweight design has ultra-responsive engines and is perfect for kids aged 14 and up. The helicopter comes with a user manual, a screwdriver to put on the blades, charger, and additional blades. Because of the headless system of security, any level of player can operate The drone easily. It's just perfect for beginners who are just becoming interested in helicopters. The quadcopter has LED light on it for great fun when flying at night. Resistant to wind, The helicopter has a range of about 30-50 minutes and is easy to function and use.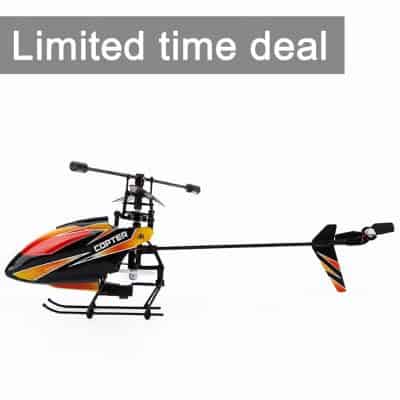 This is one toy helicopter that comes with super cool stickers. The WLToys V911 is a 4-channel helicopter that offers a lot more in terms of navigability, durability, and performance. The copter is small, but it's suitable for outdoor play as well because of the powerful rotors. They have fixed pitch blades that can keep the copter in the air even with mild obstacles like a small breeze. It looks amazing, is fast and sort of looks like a mini-drone in the air. The stunt copter comes with a remote having an LCD transmitter. You can use the remote to fine-tune the frequency so you never lose signal. The copter even packs a lightweight motor so you have more gyroscopic maneuverability.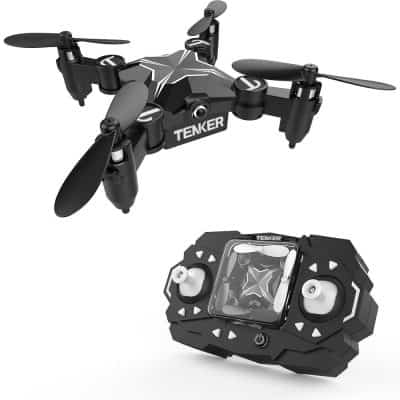 The TENKER Skyracer has been designed specifically for beginners and even children to use. The drone is easy to fold and travels well so you'll be able to take it out on all of your favorite adventures. It comes with three different speeds that you'll be able to control with its remote control as well. You can attach your phone to the helicopter's controller so your child can use the real-time transmission to see exactly what the drone is seeing. They can also use the camera to snap pictures and videos of their flight. The quad altitude hovering feature provides the drone with stability, while it's hovering so your child can capture the perfect shot. As your child watches their drone in the air they'll increase their object tracing sills. Besides, the LED lights will leave onlookers breathless.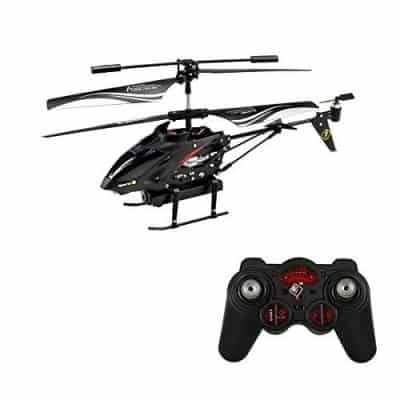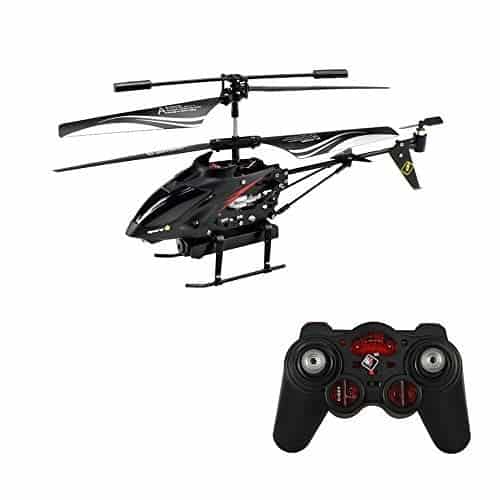 The multichannel copter has 6 navigable directions that mean you can turn the copter clockwise or anti-clockwise. You can maneuver this just like a real helicopter but without having to leave the house. It comes with a camera that you can play with all you want and takes pictures and videos to show off later. The copter has a metal alloy frame that's sturdy and can withstand a crash or two. It's also shiny and very good looking. The blades and flybar are flexible ensuring they won't crack when the copter crashes. Moreover, the copter has a 280mAh battery that recharges using a USB port. The battery comes with current protection and overcharging protection. It also features very good onboard nightlights for excellent night flying.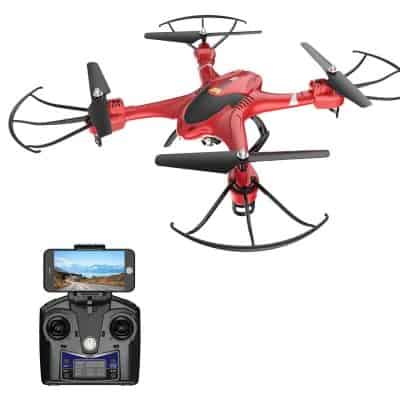 The HS200 RC Drone is compatible with any type of smartphone, so flyers won't have to worry about specifications. You can pair it with your smartphone to watch a live stream of everything the drone is seeing. All you have to do is download the app that the device requires and you'll be able to control The drone however you please. There are four-speed adjustments and LED lights to allow your family to fly the drone even after dark. One key take-off and landing allows even beginners to experience the joy of drones. Drones help to improve hand-eye coordination, as well as teaching children responsibility, autonomy, confidence, and respect for their belongings.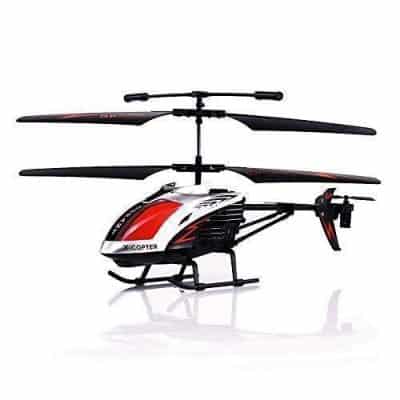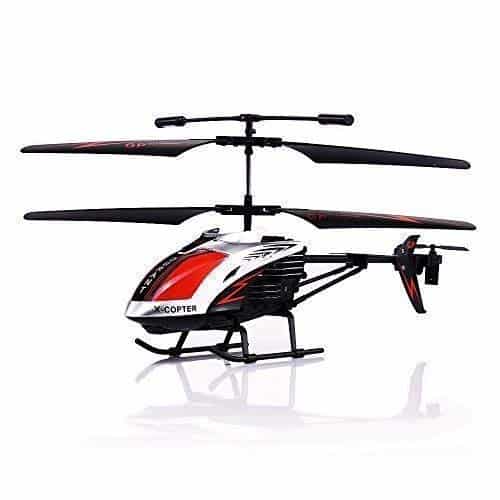 The GPTOYS Infrared RC Helicopter has been designed especially for beginners. This makes it easier to fly and it has very few technical issues. The copter has a red and white finish so it's quite good looking. It measures 10.03 x 1.97 x 4.53-inches that makes it larger than most other copters in the same price range. The copter features multi-colored LED lights on the outside so you can look cool flying it. Your little one can fly this copter for up to 8-minutes before recharging it. Additionally, The copter has flight stabilization so anyone can fly it.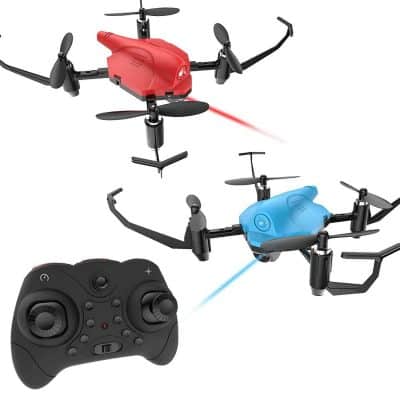 The set includes red and blue drones each equipped with an infrared light that matches their color. This also serves as the drone's weapon. Four hits with the infrared light will cause the drone to land slowly, thus losing the game. Using the portable controller, it's easy to maneuver these drones that can also perform a 360-degree flip. Its small size allows it to fly fast and in-between tight spaces. If your little one loses track of their drone, they can press the emergency stop button to have it land immediately. The one-button start makes it easy to get the drone flying or to have it land steadily. It even has the ability to hover in one spot if need be. The soft and flexible propellers give the durability to survive multiple crash landings. Equipped with three speeds, your little one can star on low to familiarize themselves and then increase the speed as they get more comfortable. As your child battles their friends, they'll be increasing their social skills whereas controlling the drone will increase their fine-motor skills and hand-eye coordination.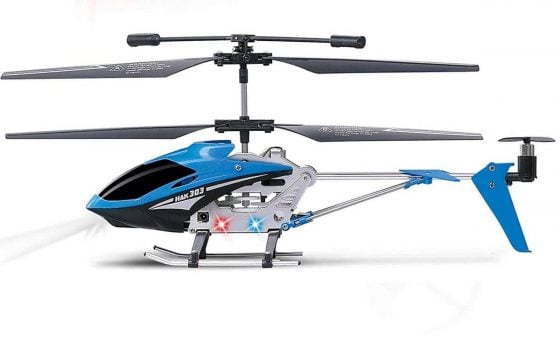 The Haktoys 3.5 Channel RC Helicopter is a much smaller than usual but also surprisingly affordable. Kids and enthusiast will find this copter appealing. It's incredibly lightweight, so it's much easier to fly than larger models. There are lots of features to love about this RC helicopter. One is that the frame is designed to be crash-resistant, ensuring long-lasting use. The copter is made from a flexible material, so it won't wear or tear easily. The model is equipped with a gyroscope to make sure the machine stays balanced and stable when airborne. The design is very precise to facilitate this. The flight time is a standard 8-minutes and recharging only takes 30-minutes. It can go airborne as high as 50-feet. Pros can appreciate the engineering that has gone into the model, while newbies will find it easy to fly.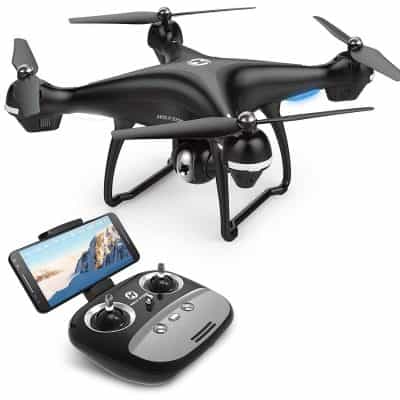 The HS100 comes with a transmitter, card and card reader, charging cable, extra propellers, extra propeller guards, extra landing feet, a screwdriver, and an easy-to-follow manual. Included for operation are Altitude Hold, Headless Mode, and One-Key Takeoff and Land. A high-performance battery, LED lights for night flying, and emergency stop makes it a wonderful toy for beginner flyers. The camera keeps you in the frames at all times, following you wherever you go. The return-to-home function returns the model promptly when the battery is low, or the signal is weak, so you can never worry about losing the helicopter. The drone is super for fun, hands-free selfies while on vacation or with friends.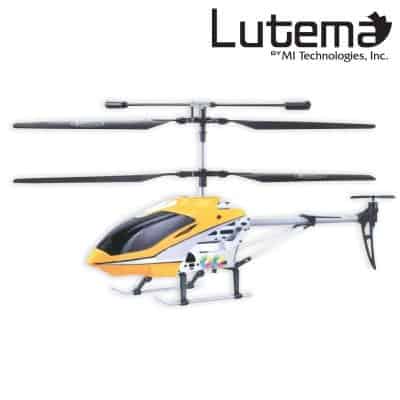 The Lutema Mid-Sized RC Helicopter comes with a built-in gyroscope that makes flying it outside easy. The copter isn't big, but it's weighty enough not to be swayed by the wind when airborne. It has more range than any other typical toy copter and is quite strong so you won't lose the signal when flying outdoors. The transmitter also has a fully-functional LED light that can be turned on or off mid-flight. You will get seven directional movements with the remote controller, and that's in addition to hovering. The copter comes disassembled, but it's really easy to reassemble. If you lose a part, you can affordably replace it as the company offers a plethora of cheap spare parts.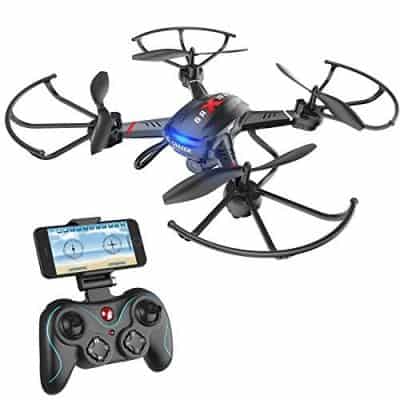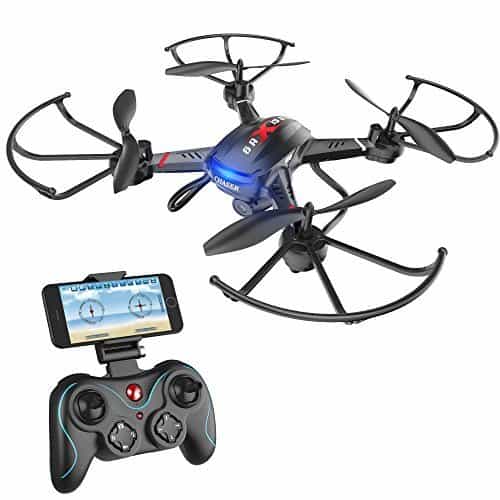 Designed with the lasts 6-Axis Gyro flying control system, the F181W can easily perform the 3D roll. Your child can send their drone soaring without worrying about losing it. With a push of one button, the helicopter will fly back to the transmitter. With the helicopter's HD camera and its ability to hover, your child will be able to take stunning photographs. Moreover, the drone has the ability to steadily hover so your child can capture the perfect picture at any height. The all-black drone is designed with red and blue LED lights that not only look super cool but will illuminate the drone's path. Having a headless mode with this helicopter makes it easier for flyers to learn about different flying movements. It features built-in Wi-Fi so that you'll be able to see live footage of what your camera on the helicopter is viewing. It connects to your phone through an app so it'll be able to connect to any type of smartphone if you download the app that it requires.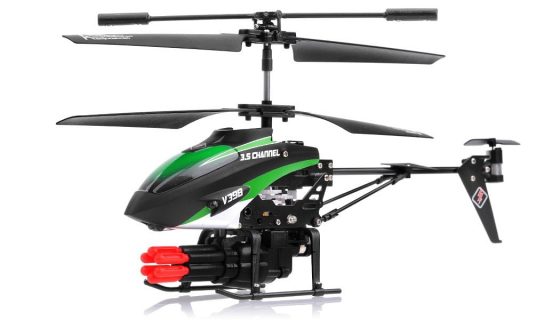 The missiles on the Xheli SkyCo are definitely not decorative. They can be fired using a button on the remote controller. The holster pack is located at the bottom of the copter and carries 6 missiles that fire individually. The silos have LED bulbs that light up amazingly when the missiles are shot. Kids will definitely love playing with it. Since locating the missiles outside can be a nightmare, it's best to play with this copter indoors. Besides the missiles, the RC helicopter has a built-in gyro that makes it highly stable when flown. It's also made of ABS hard plastic, a material that's extremely durable, sturdy, and easy to clean. The remote controller is just perfect for flying this smoothly without any frustrations and the transmitter has great range.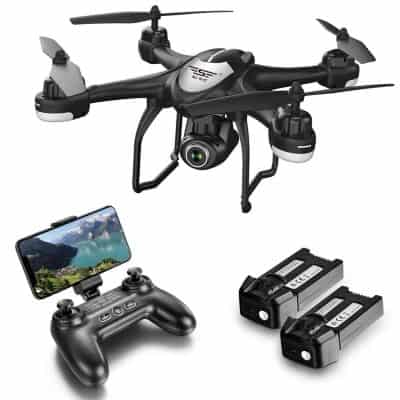 The Super Joy GPS FPV RC Drone can be automatically located from your phone to make the flying experience a little more hands-free. Included is a wireless camera that has up and down view control features. It's also high-quality definition and a great helicopter for beginners. The helicopter features easily on and off switches, three different speeds that you'll be able to test out and even an emergency stop if needed. It's a great way for you to capture some of your favorite nature scenes. Having a hands-free flying experience also is an excellent way for you to get a few unique shots that may have been otherwise difficult. When flying helicopters your child will enhance their muscles, strength and even hand-eye coordination skills. They'll be able to learn cause and effect and work on their fine-motor skills. Some children might even be able to learn a few directional skills as well. Moreover, the helicopter is also compatible with any type of smartphone making it an ideal purchase for the value of the helicopter itself.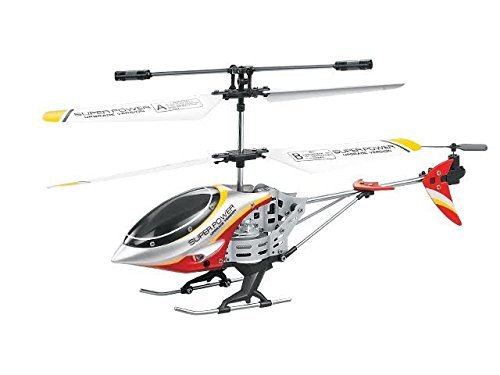 The Dazzling Toys RC Helicopter is beautifully designed with a shiny, multicolor frame that comes with loads of stickers. It'll make a great gift for kids mostly because this is one of the few RC copters that's accurately made to resemble an actual chopper. The copter has two rotors, just like the real deal, and also an alignment trimmer on top. The alignment trimmer helps keep the copter stable and in control when airborne. The heavy-duty body can withstand a crash if it comes to that. The transmitter has an impressive signal length of 30-feet. With 3.5 channels you can take the copter in 7 different directions. It has many cool LED bulbs, some that act as indicators for things like a battery charge.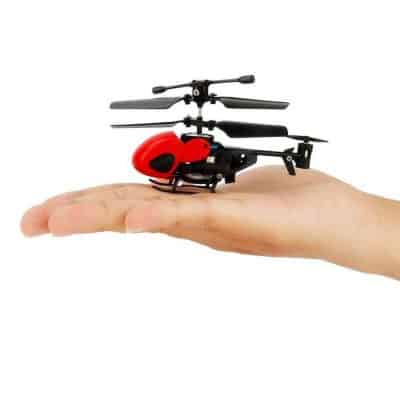 The NiGHT LiONS N5010 Miniature RC Helicopter is super tiny that you can hold it in your palm. It's adorable in its size but is quite powerful when airborne. This makes it the perfect copter to play with indoors on lazy days. The small copter is really easy to fly and the tiny body size is just perfect for navigating nooks and corners. It comes with two frequencies giving the user complete control. Also, the N5010 has been equipped with a gyro-stabilizer, a feature you really appreciate when the ceiling fan is on. It weighs just 120-grams so it can really get carried away easily. The copter can stay airborne for 8-minutes and it only takes about 30-minutes to recharge again. You get 7 directional movements thanks to the 3.5-channel remote. The frame is well-built and this mini-copter won't break easily.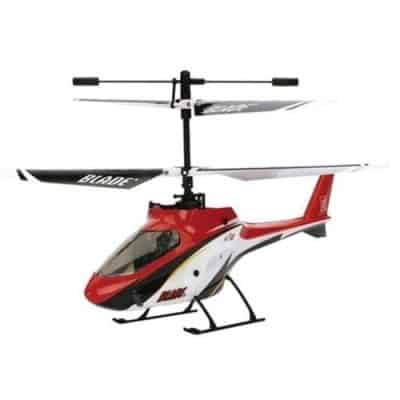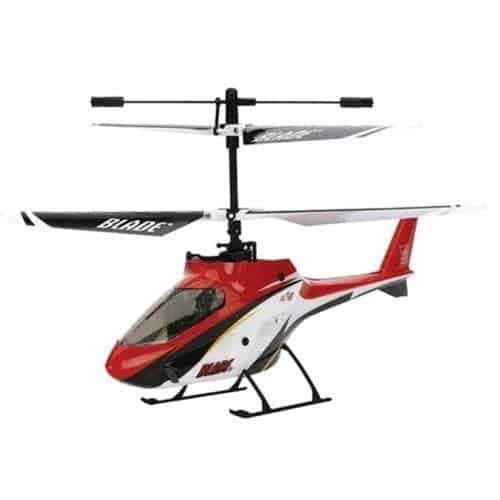 Ready to fly right from the box, the E-flite Blade mCX2 RTF is on top of the game when it comes to quality, flight control, and battery life. Perfect for first time operators and professionals alike, the remote-controlled helicopter includes two modes of flying. One is "RTF" (ready to fly) and the other is the "Blind & Fly" version that lets you speed things up if you feel the RTF is a little too slow. The coaxial design eliminates stability concerns while in flight and the counter-rotating blades help maintain flight control with minimal user intervention. The 120mAh 3.7V lithium battery pack allows you to stay in flight for up to 8-minutes and recharging takes around 90-minutes. With more powerful motors, a higher capacity battery, excellent control, and best-in-class stability, the mCX2 is one of the best choices across the board.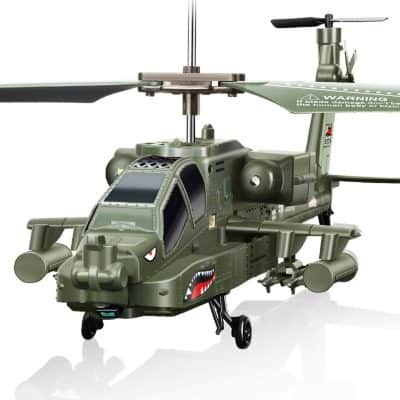 The most noticeable feature of the S109G is the durable frame that has high-resistance to crashes. However, you don't have to worry about crashing every time as this copter features a stabilizing system. Along with the gyroscope technology for better flight control, this system enables a smooth flight all the time. The beginner-style copter has 3 channels that enable it to move in any directions. It also utilized a LIPO battery that can be easily charged through a USB port or controller. Besides, the RC helicopter has super cool lights that light up its travel path.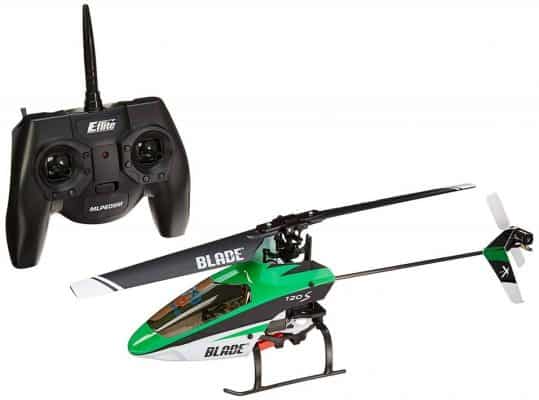 The single-rotor, the fixed-pitch chopper can handle a little wind, thanks to three different flight modes that utilize Blade's SAFE technology. The beginner mode offers slower flight speed and self-leveling if you press a panic button. The intermediate mode adds higher angles of pitch and roll (while still adding self-leveling). Experienced mode turns off pitch and roll, leaving all controls up to the user (although it keeps the self-leveling feature via the single press of a button just in case). The included 500mAh battery translates to four to six minutes of flight time, depending on how aggressive you're with maneuvers. Recharging takes just 60-minutes to get you back in the air.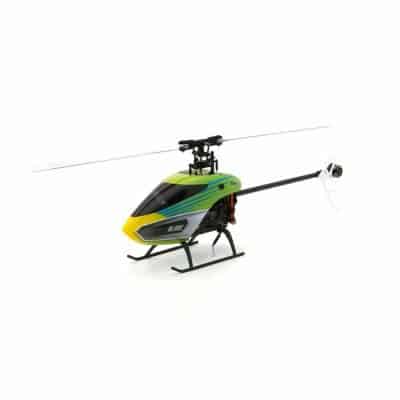 If you're looking to the sky for flips, inverted flights, loops, and rolls, the Blade 230s is a go-to option, thanks to its dual high-speed brushless motors. The fiber-filled plastic design feels durable while in your hand, but also strong enough to handle a crash or two without causing too much damage to any integral equipment, including the impact-resistant main blades. The 230s is definitely not for beginners. The inclusion of a progressive flight mode aims to build your aerobatic skills quickly, but there's also a recovery and panic mode that pairs with Blade's innovative SAFE technology and quickly level the helicopter in case you get in trouble. The 800mAh lithium battery allows for around 5-6-minutes of flight time when charged.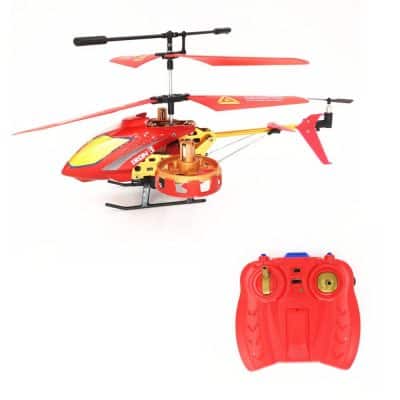 This RC helicopter is a little too much for younger kids but makes a perfect choice for teens who are after some adventurous flights. It features 3 selectable frequencies, 4 channels, a built-in gyroscope for perfect hovering, and co-axial auto-stabilizing rotors designed to resist multiple crashes. The copter is constructed from strong and tough materials and its flashing multi-colored LED lights provide a fun and realistic flying experience.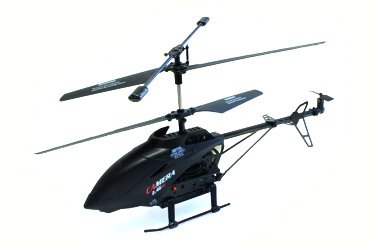 The UDI U13A is a high-quality RC helicopter that has a built-in gyro to ensure greater flight stability. This allows you to take photos and record videos with ease and accuracy. It's great for indoor purposes because of its sleek design and stability. It's also built with flexible blades and metal alloy chassis to resist the device-damaging impact of a crash. The transmitter supports 3 channels that allow you to fly up to 3 helicopters at once. Besides, it features overcharging and overcurrent protection to prolong the life span of the LIPO battery.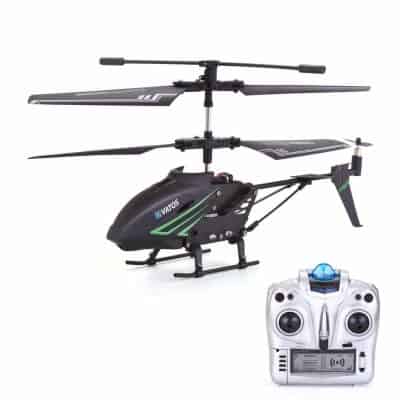 The VATOS RC Helicopter has 3 frequencies to let you fly up to 3 helicopters at once. It's also equipped with the latest gyroscope technology to stabilize the helicopter in-flight. The helicopter charges in 40-minutes and has a 10-12 minute flight time. Due to its resistance to crashing and the gyro-stabilizer, The helicopter is great for both beginners and experienced pilots. The helicopter has multi-colored LED lights that make it fun and easy to fly in the dark. Moreover, the soft blade ensures safety while flying. When the blade gets stuck, the helicopter will power off automatically to protect itself and the controller.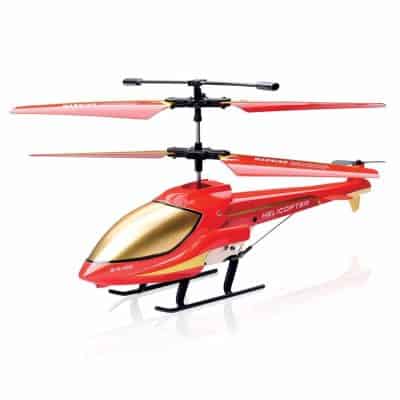 The EXCOUP RC Helicopter is predominantly suited for indoor use, but it can be taken outdoors on calm days. The LED lights make flying in the dark fun and exciting. You can control the helicopter from a distance of 12m. it features a durable frame and case that are able to withstand an impact or two. It's equipped with replacement blades and other spare parts that will come in handy in the event of an accident. There are 3 selectable frequencies that let you fly up to 3 remote helicopters at the same time. You'll be capable of playing with the interactive helicopter alongside your child helping you bond more. Besides, kids will be able to practice hand-eye coordination and develop fine-motor skills as they operate the remote control.
The RC helicopter comes with an excellent controller that features 32 different speed levels for kids to use. Therefore, it's a more high-tech option that may be best for children who have had a little more experience with these toys. It features a rotor blade system that keeps the helicopter stable during takeoff. This is a great feature that beginners may benefit from when they're learning how to perform lift-offs. Also available on the RC helicopter are LED lights that allow kids to fly this helicopter at night. It can be an exciting experience that improves your child's experience level with flying RC toys. The toy takes around 50-minutes to charge providing you with 8-minutes of continuous play.
The GearRoot Flying Ball RC Helicopter Toy has an induction mode that makes it easier for beginners to learn how to use. They can simply put their hands underneath the toy to control how it moves up and down. Once they've got a hang of this feature, they can move on to the remote control mode. This allows kids to control the speed, height, and direction of the helicopter with ease. There's a precise gear feature that works effectively to make the flight more stable. Kids will love the LED lights on the RC helicopter. This allows them to fly the toy at night and have a lot of fun. The helicopter takes 30-minutes to fully charge letting your little one play with it for up to 10-minutes.