If you're anything like us, you spent the 80's or 90's absorbed in epic backyard lightsaber battles with your siblings. Back then, we fought off stormtroopers with the best toy lightsaber of the day (a flimsy plastic telescope) and imitated the sound effects with our voices. We dreamed of the day that we could hold a REAL lightsaber in our hands. Well, times have changed, technology has absolutely upped its game and short of searing through metal – today's lightsabers are finally making those dreams a reality.
For those of you who have waited years to hold a truly authentic lightsaber, or for the cosplayers, duellers and the tech savvy teenagers – we've got your back with superior technology and collectibles featured in our top 10 list.
As for all the parents looking to gift a lightsaber to the newest generation of Star Wars obsessed kids, we are here for you too! We understand that your young Jedi needs to be swinging wildly with a simple, inexpensive lightsaber which is safe for both your child and your lamps. Among our picks for The 10 Best Lightsabers, we've included lots of great options for the youngest Star Wars fans.
How to Choose the Best Lightsaber for Your Needs
The Star Wars franchise is unique in that it spans many generations, captivating people of all ages. As such, the ever-expanding Star Wars saga also inspires different levels of interest. Some fans are decades deep into an all out, life-long obsession while others have been newly introduced to it through the most recently released films. Many have a craving for hi-tech gadgets, while the youngest are in need of a simple first lightsaber.
We've taken into account just how many different types of fans are out there and all the different aspects that are important to them. We looked deep into authenticity, durability, light and sound effects, weight, safety, price range and more while carefully identifying our selections.
Factors to Consider When Choosing a Toy Lightsaber
Light and Sound FX
Any Star Wars fan knows about that tingling sensation you get when a character flares up his lightsaber. No toy lightsaber would be complete without some cool effects to replicate the experience of the battle sounds and glowing shaft. All of the picks on our list come complete with a variety of authentic or playful sounds and light FX.
Material and Durability
In life, it's always important to know what things are made of. The material used to make your lightsaber can affect the safety, overall quality and durability of your toy. While every lightsaber you will find on this list is of good quality, what you look for in its construction depends on who will be using it and for what purpose.
Do you plan to go into serious battle with it? Look for the most durable, impact-resistant materials.
Do you want to cherish your lightsaber as a collector's item? Look for the most detailed, thoughtful constructions.
Do you want it to be safe for your children? Look for soft plastic telescopic blades and simple design.
Authenticity
All Star Wars fans have their own favorite films and characters. They will often want a specific lightsaber belonging to a specific character or specific series, even one particular lightsaber that a character used in one specific film. Star Wars fans can go deep and really care about the true to film details, often seeking out the most authentic replication of their desired lightsaber possible. You'd be surprised how much even children can care about these factors.
In choosing your lightsaber, make sure to consider how seriously its user takes the films and how much weight they will put in which character it belongs to, which series it's from and whether or not it's produced by the official Star Wars brand. collectability also plays a factor as truly great replications (and even some of the sillier toys) have been known to increase significantly in value over time.
Extra Features
A versatile lightsaber isn't important to everyone but for those who want to be able to change and customize theirs, keep an eye on the extra features.  Popular extra features include the ability to connect two lightsabers in order to form one double Darth Maul style saber, and a retractable blade which can be hidden in the hilt or fully extended by the flick of the wrist.
The Bladebuilders range from Star Wars offers the ability to alter your lightsaber and even join it together with other Bladebuilders products. The Kylo Ren Electronic Lightsaber and the Star Wars Bladebuilders Jedi Master Lightsaber come with extra additions such as connectors, lightdaggers, spinners and more.
For cosplayers and fans who want to customize their lightsaber at home and upgrade it to the most ultimate version, it can be important to have a removable blade and tinker-friendly design. Some lightsabers such as the KYBERS lightsaber and the YDD lightsaber were created with this in mind.
Now, without using any mind tricks, let's look at some Jedi and Sith weapons.
Top 10 Best Toy Lightsabers 2023

Why we like it:
A beautifully crafted, film-authentic official collector's item. A true Darth Vader experience.
Editor's Rating:
At a Glance:
Material: Metal, rubber, plastic
Durability: For display not battle
Dimensions: 4.250 x 45.120 x 3.270 in, 3.35oz
Colour: Red
FX: Motion-sensitive light & sound
Recommended Age: 14+
Overview
This gorgeous reproduction of Darth Vader's lightsaber is film authentic down to the last detail. A premium lightsaber with finesse, it comes with realistic Darth Vader styled light and sound effects.
It's an official Star Wars saber and a part of their highly touted Black Series Force FX range. We recommend it to collectors, detail-oriented Sith Lords and fans with cash to splash. As its design is far more geared towards being a collector's item than engaging in lightsaber battles, it might not be the right fit for rowdy kids or duellers.
The Star Wars The Black Series Darth Vader Force FX Lightsaber requires 2 AA batteries but unfortunately these are not included.
Light and Sound FX
Film-accurate sound and light effects mimic Darth Vader's lightsaber noises with motion sensitivity. Fans will appreciate the truly authentic FX when turning on (it lights from the hilt upwards), holding still, while whooshing and upon impact. Although this lightsaber has high-quality LED lighting and good sound, it doesn't quite match up to the realistic FX effects of the much more affordable KYBERS lightsaber or the YDD Lightsaber.
Durability
The real metal hilt is designed with additional rubber and plastic elements and while lovely to look at, it could probably only handle a very gentle re-enactment of Darth Vader and Luke Skywalker's hand-slicing showdown in The Empire Strikes Back.
Authenticity
This beautifully crafted lightsaber is character specific to the original and ultimate Star Wars baddie: Darth Vader. Detailing down to a T, it's a high-end reproduction and is made for true connoisseurs and collectors.
Extra Features
Collectors will appreciate the complimentary display stand and users will be grateful for the instruction manual.
Pros
Official, authentic and character-specific — perfect for collectors and Darth Vader fans

Beautifully designed with real metal hilt

Authentic Darth Vader FX

Display stand included

Instructions included
Cons
Blade is not removable

Not durable enough for dueling

Batteries not included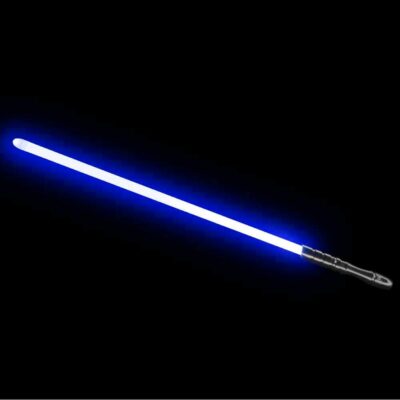 Why we like it:
An awesome hi-tech lightsaber with authentic effects that is great for dueling with.
Editor's Rating:
At a Glance:
Material: Aluminum hilt, polycarbonate blade
Durability: Super durable, duel-worthy
Dimensions: 39.5 x 1 x 1 in, 10.6 oz
Color: 7 colors available
FX: Superior motion-sensitive light & sound
Recommended Age: 5+
Overview
If you're looking for a high-quality FX lightsaber which can handle the blows from the endless Clone War attacks in your house, this YDD Heavy Dueling LED Light Saber is a fantastic option. It's not quite as tough or realistic as the KYBERS RBG FX Dueling Lightsaber but as a more affordable competitor, the YDD certainly gives it a run for its money.
This lightsaber is perfect for heavy dueling and comes with a wide variety of authentic and playful light and sound modes. We recommend cosplayers, duellers, adults and older kids with lots of energy. Its high tech nature might be a bit wasted on the youngest Star Wars fans, but at least they would have a hard time destroying it.
Light and Sound FX
With a super high powered LED light with reflective foil this baby shines BRIGHT. It's motion-sensitive with the light and sound reacting realistically to your movement (waving, hitting, holding still). However, unlike the KYBERS lightsaber, the YDD doesn't offer different light settings or the ability to change colors. Despite this, this lightsaber can be purchased in 7 different sets of colors.
Sound-wise you've got 3 film-authentic sound fonts to choose from including classic Jedi or Sith lightsaber noises. You can also make use of blaster effects and a mute option.
Durability
Designed for high-impact durability, this toy lightsaber has a super strong polycarbonate blade and smooth aluminum hilt to allow for heavy dueling. The special light-reflective foil in the blade can get crinkled with impact but is easily rearranged by opening up the blade.
Authenticity
Allows for the authentic feel of truly dueling with a lightsaber and pulls off the general look. Decent lightsaber sound effects too, but it's not character or film specific in any way. This blade is for those who want action out of their lightsaber, not a true-to-film collectible item.
Extra Features
This lightsaber is made with customization in mind and even comes with a special tool for removing the blade, customizing, fixing foil, tightening and loosening. It runs on 1 rechargeable Lithium ion battery (included) which is fast charging via USB charging cord (included). However, the battery can only support around 1hr of play before needing to be recharged again.
Pros
Highly durable, ideal for heavy dueling

Impressive motion-sensitive, realistic sound and light FX effects

Removable blade
Cons
Short battery life

Can't change color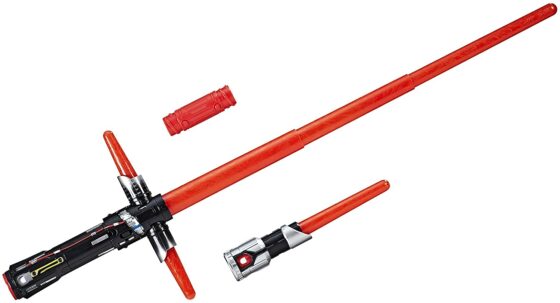 Why we like it:
An official Star Wars brand lightsaber with film-authentic detailing and effects for an affordable price.
Editor's Rating:
At a Glance:
Material: High-quality hard plastic
Durability: Decent, suitable for play fights
Dimensions: 2.52 x 7.99 x 20.24 in, 1lb
Colour: Red
FX: Motion sensitive light and sound
Recommended Age: 4+
Overview
This lightsaber is a great all-rounder for fans of Kylo Ren, Sith Lord and anti-hero of the latest Star Wars film trilogy: The Force Awakens, The Last Jedi and The Rise of Skywalker. Adults and children alike will appreciate the film-accurate appearance of the saber. However, for stalwart Star Wars original trilogists who feel the darkside churning in their gut at the thought of the Grandmaster Lucasless new films, this might not be the best pick.
The Last Jedi Bladebuilders Kylo Ren Electronic Lightsaber might not be the most hi-tech lightsaber on our list, but it's a high-quality, classic telescoping lightsaber for those on a budget. An important factor to note is that this saber is a part of the Star Wars Bladebuilders range and can therefore be connected to and customized with other products from the same range such as the Bladebuilders Jedi Master Lightsaber.
Light and Sound FX
As a toy version of Kylo Ren's rather unique lightsaber, it does a good job of replicating the lights and sounds of the film original with a much grittier, sith-ier sound than the classic saber. It has pretty authentic motion sensitivity with its light and sound effects (swing, still and upon impact).
Durability
As we mentioned, it's got a classic telescope lens saber. These will never be indestructible. However, the detailed hard plastic of both hilt and saber is still quite durable and definitely stable enough for kids and adults to engage in everyday play battles with.
Authenticity
The Last Jedi Bladebuilders Kylo Ren Electronic Lightsaber is from the official Star Wars brand, which certainly gives it authenticity points. It also has a character-specific and film-accurate appearance, which goes a long way. This Kylo Ren specific blade actually has an awesome flame design (and a realistic Kylo Ren hilt to match). It's not as collectible or authentic as the Black Series Darth Vader Force FX Lightsaber, but it doesn't come with the same price tag either.
Extra Features
As a part of the mix-and-match, customizable Bladebuilders line (join together with other Bladebuilders products like the Forces of Destiny Lightsaber and the Bladebuilders Lightsaber), this lightsaber comes with a lightdagger, detachable blades, a connector, and instructions.
2 AA batteries are also included.
Pros
Character-specific design for fans of Kylo Ren

Great value for money

Well-made with a lot of authentic detailing

Customizable with other Star Wars: Bladebuilders products
Cons
Average sound and light FX

Telescopic blade might take away from authenticity for collectors and prevent heavier duelling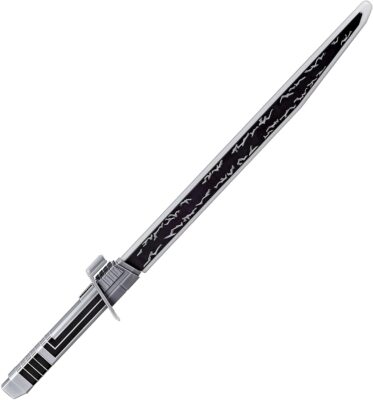 Why we like it:
If you're a Mandalorian fan, this truly one-of-a-kind darksaber will be a unique addition to your Star Wars collection.
Editor's Rating:
At a Glance:
Material: Hard plastic
Durability: Sturdy
Dimensions: 2.64 x 5 x 32.5 in, 1.3 lbs
Colour: Black, gray and silver
FX: light and sound
Recommended Age: 4+
Overview
As you can probably tell by the name, this is not just any old lightsaber. This is a truly unique black lightning weapon from the Star Wars universe and, as such, a truly unique toy to own.
The Star Wars Mandalorian Darksaber is produced by the official Star Wars brand and has been featured in the wildly popular new series 'The Mandalorian' along with other relatively recent releases. It will appeal to both newer audiences and older fans who enjoy the mature yet zany new direction of the tv series.
It runs on 3 AAA batteries (included).
Light and Sound FX
This darksaber produces true-to-film authentic electronic sound and light FX. When you swing it, the darksaber toy will produce cool battle effects and by holding down the button it will make some pretty cool clashing lightning FX.
Durability
This is another saber made from the classic hard plastic typical for this kind of toy. These darksabers are more for swinging around and pretending with than for banging against anything. A little banging won't hurt but too much might ruin its rather beautiful appearance.
Although it's your standard hard plastic sword, this saber was bizarrely named the 'most dangerous toy of 2020'. This might speak well for its extra durability, but we'd say the title's more down to the over-excitement of Mandalorian-obsessed children wielding their new darksaber than anything else.
Authenticity
Another product direct from the official Star Wars brand, this particular weapon is unique in that there was only ever one darksaber forged in the Star Wars universe and it was that very same saber which passed through many hands across the eras. This makes it very character-specific (although to several characters) and particular to the Darth Maul comics, more modern Star Wars releases such as the animated 'Star Wars: Clone Wars' series and, of course, 'The Mandalorian' series.
It's about as authentic as a plastic toy version can get.
Pros
A truly unique, one-of-a-kind saber from the Star Wars universe

Well-made and beautifully designed
Cons
Super loud, possibly difficult for parents to endure (because your kids will love it TOO much)

Labeled "Most Dangerous Toy of 2020"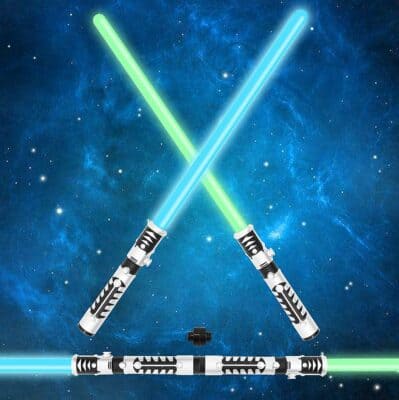 Why we like it:
Because lightsabers are more fun when there are two to battle with! Set of two lightsabers with decent sound and effects for the price of one, a really good deal.
Editor's Rating:
At a Glance:
Material: High-Quality Plastic
Durability: Good for light play battles
Dimensions: 29 x 4.4 x 2 in, 1.15 lbs
Colour: 1 green and 1 blue
FX: Light & motion-sensitive sound
Recommended Age: 3+
Overview
Get two-for-the-price-of-one with this dual set of solid all-rounder lightsabers. Split the cost with a friend, share as a present between two of your kids or keep them both for yourself. It's up to you. Either way, you'll be getting two budget-friendly lightsabers that offer many of the hi-tech effects heralded by higher-end FX products.
This double lightsaber set is a great-value option for families and couples, bringing laughter and fun into the house with play battles.
Light and Sound FX
These lightsabers are motion-sensitive with sound and produce semi-authentic lightsaber sounds on impact and when swung.
The blades are translucent and ribbed with LED lights. It doesn't really light have effects aside from flashing mode and you can't alter the color. The FX are simply not as realistic or versatile as the KYBERS RBG FX Dueling Lightsaber or the YDD Heavy Dueling LED Lightsaber. However, if you aren't super into advanced tech then you will probably be very satisfied to play around with this double set of simple FX lightsabers at a budget price point.
Durability
High-quality plastic is suitable for kid and adult play battles that aren't too intense, but not for hardcore dueling.
Authenticity
The simple handle and FX sound effects are Star Warsy enough to satisfy kids, teenagers and most adult fans who aren't super fussy. However, it's probably not the blade to impress cosplayers or connoisseurs.
Extra Features
Double blade dual connector 6 AAA Batteries included.
Pros
It meets US Toy Standards, is non-toxic and safety test approved

More advanced FX than other lightsaber toys of the same price point

Two lightsabers which can be connected as one double lightsaber
Cons
Blade is not removable or retractable

FX not super advanced

Not very authentic

Why we like it:
It's absolutely the most silly and creative lightsaber on the market. Younger kids (and let's be honest, their parents too) will have so much fun recording their own saber sounds!
Editor's Rating:
At a Glance:
Material: Plastic
Durability: Average
Dimensions: 24 x 21.14 x 5.90 in, 0.51 oz
Colour: Blue
FX: Basic light, recordable sound
Recommended Age: 4+
Overview
This is a really fun lightsaber for younger kids or particularly young-at-heart Star Wars fans that lets you record your own effects. The Star Wars Scream Saber Lightsaber is a great option for children who are too young to care about authenticity or take the films as seriously as many of the older fans do. It's a silly Star Wars lightsaber toy that parents will have a great time enjoying with their kids – until the 1000th time, anyway (it's so good that your kids might get a little obsessed).
It comes with a wide variety of authentic and playful FX settings that will keep your young Jedis occupied for hours on end. However, it's not really designed for adults or teenagers looking for hi-tech FX gadgets or heavy-duty, realistic lightsaber experiences.
Light and Sound FX
The Star Wars Scream Saber Lightsaber offers 3 fantastic audio options including a range of general Star Wars sounds (Wookiee, Ewok TIE Fighter, Porg, R2-D2), classic lightsaber noises and, the cherry on top, a setting for recording your own sounds. This record-your-own-sounds mode is as limitless as your imagination and will probably be the source of many giggles around the house (pray your kids don't know any swear words).
Light FX are not as grand with only a basic light up mechanism and no color changes or effects. But your kids probably won't notice that while they are busy trying to record their farts.
Durability
In terms of make, it's your average plastic kid's toy. A classic light plastic telescoping blade with a hard plastic handle like we've been playing with for decades. Generally durable but far from indestructible – perfect for kids to mess around with. Let's just say that your little Padawans are more likely to break this lightsaber than their brother's arm, which is always a good thing.
Authenticity
This lightsaber is from the official Star Wars brand which, funnily enough, kids often care about. It's a good all-rounder but not for kids who are particularly obsessed with one character and want that specific lightsaber.
Adult Star Wars fans will be happy with this as a fun gag gift, but it's definitely not going to satisfy cosplayers, duellers or collectors in want of serious sabers.
Extra Features
Blade is retractable to hilt and can be extended with the push of a button. Runs on 2 AA batteries (included).
Pros
Record-your-own-sounds setting is an endless source of amusement

Simple to use, ideal for young children
Cons
Might turn parents into angry Sith Lords due to the potential for annoying repetitive sounds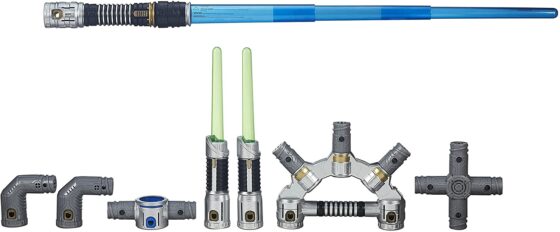 Why we like it:
Much more than just a regular lightsaber, the interactive buildability options are great for kids who like to customize.
Editor's Rating:
At a Glance:
Material: Hard Plastic
Dimensions: 52 x 24.02 x 12.01 in, 1lb
Durability: Strong, suitable for play fights
Colour: Blue
FX: Simple light and sound effects
Recommended Age: 4+
Overview
The strengths of this otherwise classic, telescopic toy lightsaber lie in its ability to be modified and built upon with a variety of different parts (such as lightdaggers and elbow connectors) and with other lightsabers (such as the Kylo Ren Lightsaber or Forces of Destiny) in the Bladebuilders range.
The Star Wars Bladebuilders Jedi Master Lightsaber is, in fact, a full set of different lightsaber parts and connectors which allow the user to create a whole variety of different lightsaber shapes and sounds. It's a great option for kids and young teens and, of course, some adult fans will love it too.
Light and Sound FX
This lightsaber offers simple light and sound effects based on a classic lightsaber.
Authenticity
Being from the official Star Wars brand, it is of course an official Star Wars lightsaber with an overall authentic look. However, it is, in essence, a very general toy with no particular association to any specific character or film. It's for kids to play with but might, however, still be of some value to those who like to collect full sets of different merchandise.
Extra Features
This very customizable set comes with a range of accessories: 2 lightdaggers, 2 elbow connectors, cross connectors, dual connectors and an expansion hilt. Although that's already plenty, we recommend combining it with other Bladebuilders products in the future for extra fun.
This set also comes with instructions and 6 AAA batteries.
Pros
Super customizable, buildable and able to interact with other products

Great for kids to express their individuality
Cons
Simple FX might not be enjoyable for adults looking for realistic lightsaber experience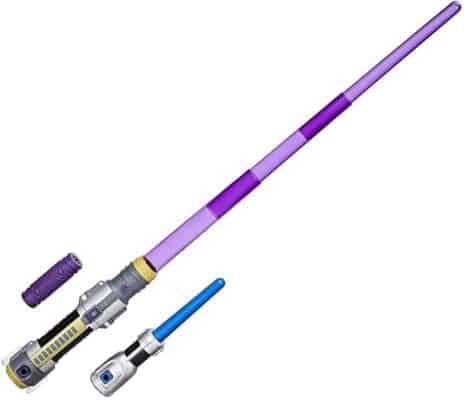 Why we like it:
This classic telescopic lightsaber reminds us of the good old days when toys were simple and used with imagination.
Editor's Rating:
At a Glance:
Material: Plastic
Durability: Average
Dimensions: 2.52 x 7.99 x 20.98 in, 1lb
Colour: Purple
FX: Basic light and sound
Recommended Age: 4+
Overview
Even with all the exciting FX effects and extra features on offer in this list of excellent lightsaber toys, we can't help but feel a little nostalgic towards this truly classic, straightforward lightsaber with its plastic telescopic lens. When it comes down to it, what more do you really need than to hold this simple lightsaber in your hand and let your imagination go wild? If you need help with your imagination, this lightsaber also happens to be a part of the Star Wars Bladebuilders range and is compatible with other Bladebuilder products.
This lightsaber is perfect for kids and adults alike who don't really care about all the technological business. They just want to swing something better than a broom around and pretend they are a Jedi. It's also the ideal my-first-lightsaber for the youngest Star Wars fans who just need a safe and easy to use toy that they can't really knock themselves out with.
Light and Sound FX
This lightsaber offers basic FX such as a light up blade and clashing lightsaber sound effects. It also has one very unique feature: it plays the Star Wars theme song. How can you not love that?!
Durability
Like most of the Star Wars kid's sabers, this Forces of Destiny lightsaber features a classic light plastic telescoping blade with a hard plastic handle. Your average kid's toy: safe and relatively sturdy. This lightsaber should stay in good shape until your little darling has a level 4 tantrum and throws it off a roof or at your head.
Authenticity
This lightsaber does come from the official Star Wars brand and generally looks Star Wars themed, but is clearly a toy. It's not a true-to-film reproduction or character-specific lightsaber. We don't recommend it as a serious collector's item, cosplay accessory or dueling weapon.
Extra Features
Comes with an extra lightdagger which can be attached to the hilt, along with a connector. It can be used in conjunction with Bladebuilder lightsabers such as The Last Jedi Bladebuilders Kylo Ren Electronic Lightsaber and the Bladebuilders Jedi Master Lightsaber. It runs on 3 x 1.5V AAA alkaline batteries. Demo batteries and instructions are included.
Pros
Can be used with other Bladebuilders products

Simple and classic

Great for younger kids
Cons
Not very authentic

Not very durable, wouldn't stand up well to duels

Basic FX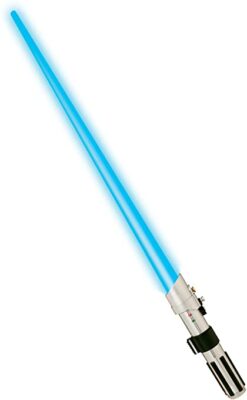 Why we like it:
A great accessory for Star Wars costumes on a budget. Safe and soft for toddlers.
Editor's Rating:
At a Glance:
Material: 100% Polyester
Durability: Basic
Dimensions:3ft4in
Colour: Blue
Light: Small Bulb
Sound: None
Recommended Age: 0+
Overview
This telescopic lens lightsaber is as uncomplicated as it gets. It's ideal for costume parties, Halloween and all those times when you want to be your best Jedi self for the night but don't want to waste big bucks on something that might usually dwell in the back of your cupboard.
The Star Wars Anakin Skywalker Lightsaber from popular costume store Rubies (official costume retailers of the Star Wars brand) is a fun and simple lightsaber toy that's softer, safe and suitable even for babies and toddlers.
It's a toy that covers all bases for a few fun occasions, but it's not going to last forever.  If a slightly higher-quality lightsaber costume would suit your needs better, you might prefer the Star Wars Forces of Destiny Jedi Power Lightsaber. It requires 2 AA batteries.
Light Effects
Features a simple glowing bulb mechanism.
Authenticity
It will definitely do for an unfussy toddler, a fun Star Wars costume, or a cheeky night out but not suitable for a serious cosplayer or collector.
Pros
Great budget costume lightsaber

Safe for toddlers
Cons
No FX

Not very durable quality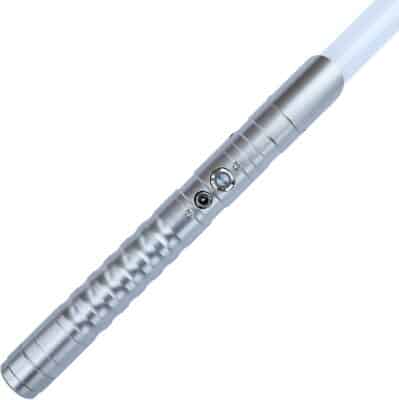 Why we like it:
The hi-tech authentic-feel lightsaber of our childhood dreams, without the premium price tag.
Editor's Rating:
At a Glance:
Material: Aluminum handle, PC blade, leather strap
Durability: Super durable, duel-worthy
Dimensions: 39.37 x 1.57 x 1.57 inches, 1.1lbs
Colour: Light changeable to 11 colors
FX: Superior motion-sensitive light & sound
Overview
Coming from affordable hi-tech lightsaber manufacturer KYBERS, this impressively realistic lightsaber costs hundreds of dollars less than the most cutting-edge lightsaber brands while offering genuinely comparable effects and design.
Not only does it have all the most versatile and authentic FX you could imagine, but it's also fantastically durable and able to withstand even the most enthusiastic dueling. While it might be a bit too complex for the youngest fans to operate (it doesn't come with instructions, either), tech-savvy teens will have a lot of fun with it.
One possible shortcoming of this otherwise epic product is that it is quite lightweight, so those who desire a heavier blade might prefer to look elsewhere. Another is that if you ever need to replace the rechargeable lithium ion battery, you'll need to order it direct from KYBERS.
While not the most wallet-friendly lightsaber on our list, it's certainly worth it. If you're looking for a more inexpensive but similar design, YDD offers a great FX lightsaber without sacrificing too much of the KYBERS quality and JOYIN offer a decent budget version.
Light and Sound FX
Without a doubt, the KYBERS RGB FX Dueling Lightsaber features the most authentic and extensive range of FX on our list.
In terms of noise, you'll be getting 3 sound fonts (including Luke's Green saber from Revenge of the Jedi, Kylo Ren's saber and 'A New Hope' rebel effects), plus volume control settings and mute mode. When you hold this saber it sounds like it's truly vibrating in your hand. When you hit something with it or swing it, it sounds exactly like a real lightsaber.
With its high grade, powerful RBG LED and motion sensitivity, the KYBER's lighting effects are equally impressive. Choose from 3 levels of brightness, 6 light efficiency modes, pulsating light mode and a whopping 11 colors. As with sound, the light effects realistically mimic a true-to-film lightsaber's behavior when still, moving or whacking things.
Durability
From its smooth and elegant aluminum handle to its polycarbonate blade, this lightsaber was made for battle. Thoughtful touches like a leather handle grip which you can wrap on yourself (needs good glue to make it stay on permanently for hardcore fighters) make this saber comfortable to use and authentic to the touch.
Authenticity
The whole experience of the KYBER lightsaber is very realistic. The look, feel and effects are totally on point. However, it is not from the official Star Wars Brand, nor is it a character or film specific lightsaber. This is a toy lightsaber to wield rather than one to preserve in a hermetically sealed room.
Extra Features
Recommended for cosplayers, the blade is removable and changeable while the entire lightsaber is designed to be easily customizable. This saber is also able to be merged into a Darth Maul style double blade but you'll need to purchase another blade from KYBERS' basic saber range, along with a connector piece.
Pros
Incredible, authentic FX which realistically mimic lightsabers

High-quality, durable materials

Perfect for dueling

Highly customizable both physically and FX-wise
Cons
Lightweight, not for those who want a heavy blade

Replacement batteries must be ordered directly from seller

Doesn't come with instructions
The Right Lightsaber for the Right Person
Depending on age and obsession level, the elements you need to take into consideration when choosing the best toy lightsaber for your needs can vary significantly.
Cosplayers and Duellers
Their focus is on all around authentic-feel and effects, along with super high durability for whacking opponents in battle. On the other hand, parents looking to find the best lightsaber for children will be in need of a safer, lighter and more simple design.
Devoted Connoisseurs and Collectors
They will put great value in detail and authenticity, seeking out the higher-range, most true-to-film replications of character-specific lightsabers.
While for a less detail-oriented fan who just wants to have fun, the best toy lightsaber would be one that's more budget-friendly and easier to use but still comes with awesome light and sound effects.

Collectability
Vintage Star Wars toys are famously coveted items. Over the years fans have learned that keeping that Luke figurine in a box instead of playing with it can be well worth the resisted temptation a few decades later. Many truly dedicated fans may be looking for a lightsaber to keep as a collectible rather than to play with.
Collectors will often value true-to-film authenticity and high-quality materials over light and sound effects or being able to duel with it. Rather, they look for a lightsaber that can be kept on display as a treasure for many years, passed on to their kids or even sold one day for the big bucks. Many of the Star Wars toys released in the earlier generations are now valued collectibles, some with deep personal value and others which are actually worth a lot of money.
If the adult fans are anything to go by, a toy lightsaber you buy now for your kids might be something they treasure for the rest of their life.
Dimensions
Depending on who's going to be wielding the lightsaber, length and weight can be very important factors. When looking at lightsaber dimensions, you should consider the size of the person who will be using it. For small children, a lighter, shorter saber would be more appropriate, whereas many adult fans might seek the weightier, true-to-film experience of a full-size blade.
Light and Sound FX
Let's take a deeper look at some of the light and sound effects offered in toy lightsabers.
One of the most exciting effects a toy lightsaber can have is motion sensitivity. This means that light or sound will react uniquely to each movement of the saber, enabling the user to have a truly immersive experience. The most hi-tech lightsabers on our list such as KYBERS Lightsaber and the YDD Lightsaber feature true-to-film lightsaber sounds and lighting – with effects realistically mimicking lightsabers as they light up, while holding still, when waving and upon impact.
Many of the toy lightsabers on our list offer you the option of choosing from different sets of sounds to interact with. A variety of fonts enables you to change the sounds made by your lightsaber from options like Jedi or Sith, along with a wide range of others. The Scream Saber even allows you to record your own lightsaber sounds! A mute function and volume control are options that parents might want to look out for.
As with sound, some lightsabers allow you to choose from different sets of light effects. These can include a range of authentic lightsaber effects, fun effects like flashing mode or color changes. Since specific characters use specific lightsabers, color changes can be an important function for those who would like the versatility to play one day as Luke Skywalker with his green lightsaber and the next as Darth Vader with his red lightsaber.
May the Force Be With You!
We hope you enjoyed our guide to these great toy lightsabers and that we were able to help you in your journey across the galaxy of toys. Whether you purchase one for yourself or for your child, we can guarantee that this awesome accessory will create a Star Wars experience to be treasured forever.