At a Glance
The Babyzen YOYO+ is lightweight, portable, and comfortable. It's a great stroller for daily use and perfect for travel, though it isn't as great for rough trails. It also has a compatible travel system for those looking for a stroller/car seat combo.
What We Like
Incredibly compact when folded
Lightweight and great for travel
Easy to maneuver
All-wheel suspension for a smooth ride
Durable and high quality
What We Dislike
Conservative recline
Could use more storage space
Sunshade doesn't always offer prime protection
The Bottom Line
The Babyzen YOYO+ is a high-quality stroller that is well-made and durable. It's amazing for travel because it can be folded up small enough to take onto an airplane as a carry-on. The five-point harness is easy to adjust, and the stroller provides a smooth ride for your child. Though the stroller could use more storage, we think this is a small concession for an otherwise great product.
An In-Depth Review of the Babyzen YOYO+ Stroller
A stroller is a necessity for parents with young children. Of course, there are so many options available on the market that it can be difficult to sort through them all. That's why we've created a number of in-depth reviews for various strollers.
Today, we'll be zooming in on the Babyzen YOYO+. This is considered a luxury stroller due to its hefty price tag. But is it worth the money? We'll be taking an in-depth look at this stroller's many features so that you can get an idea of whether or not this could be the right stroller for your family.
We'll discuss assembly, comfort, the harness system and sunshade, maneuverability, storage, portability, and quality. We'll also share our overall opinion and rating of the stroller.
What Are the Size Requirements for the Babyzen YOYO+?
This stroller is meant for children six months to four years old, weighing up to 35 lbs. A bassinet set can be purchased separately and attached to the stroller. This would make the stroller appropriate for newborns as well but would increase the overall price of an already expensive stroller.
Is the YOYO+ Easy To Assemble?
Unlike many other strollers that come preassembled and only require you to put the wheels on, this stroller is not preassembled. Instead, it comes in three parts: the stroller base, the seat, and the sunshade.
The assembly can be a bit tricky, even with Babyzen's instructions. Luckily, there are a number of tutorials online posted by others who own the Babyzen YOYO+. Though the written instructions can sometimes be confusing, video instructions make the stroller relatively easy to assemble. In fact, you don't even need any tools.
Is This Stroller Comfortable?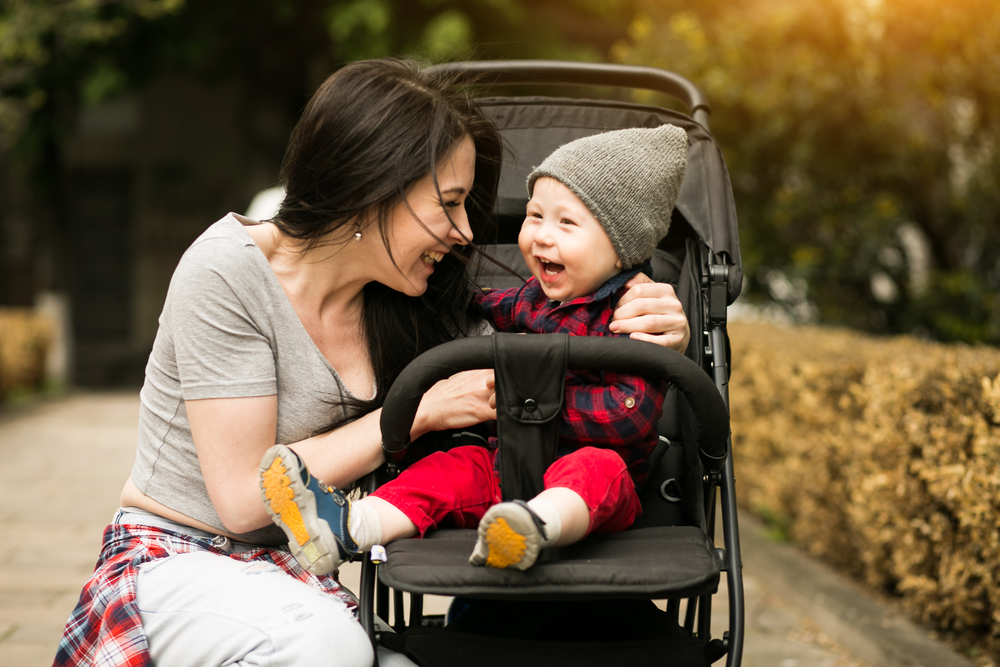 The seat of the Babyzen YOYO+ is padded, which makes it pretty comfortable for children. However, its recline is too conservative and doesn't go far back enough to provide the optimal position for napping. Of course, tired children will still fall asleep, but they'll be somewhat upright.
The seat also does not have a leg rest. So, it is probably more comfortable for children who have longer legs and can rest their feet on the footrest.
Is the Five-Point Harness Easy To Use?
This stroller keeps kids safely in place with a five-point harness that's easy to adjust and rethread. The buckle can be a little stiff, though, and those with large hands may fumble a bit when operating it. However, it is not generally difficult to use.
Is the Sunshade Effective?
The sunshade on this stroller is just okay. It's medium-sized and has a UPF rating of 50+. Because of the size, it doesn't always fully shade its passenger, especially on very bright or sunny days. You may want to purchase a compatible umbrella parasol.
Another issue with the sunshade is the peekaboo window. It does not come with a flap to cover it, nor is it cross-hatched. At certain times of day, it allows direct sunlight through it and onto your baby. While this can be easily fixed by bringing along a towel to cover the window, sewing on your own flap, or taping over it, it's still disappointing for a stroller in this price range.
A stroller with good sun protection is vital, especially for children under the age of 10. This is because young children are more susceptible to skin and eye damage from UV rays. In fact, 80% of UV damage to the eyes typically happens before the age of 18, so it's essential to keep kids shielded (and invest in a good pair of sunglasses!).
Is the Babyzen YOYO+ Easy To Maneuver?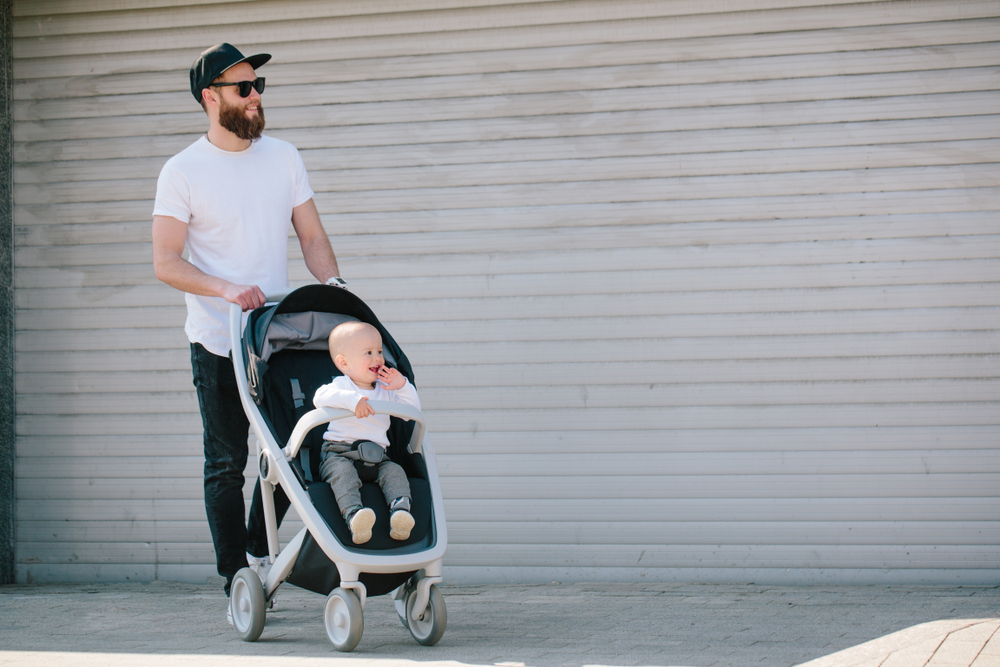 The Babyzen YOYO+ is easy to maneuver on flat surfaces and offers a smooth ride thanks to its all-wheel suspension and patented "soft drive" system. It also turns like a dream. Its single handlebar design means it can easily be pushed with one hand. The handlebar is covered in foam, so parents have a comfortable grip.
The wheels are single narrow wheels that are not designed for off-roading. Because of this, the stroller is much more difficult to push across terrain like gravel and grass. However, the stroller is designed for urban settings rather than off-roading, so we can't really fault it for that.
The brakes work well and will keep the stroller from rolling away when you need a hands-free moment. The brake pedal is located between the back wheels on the right side and is easy to use even if you're wearing sandals.
How Much Storage Does This Stroller Have?
Even though the Babyzen YOYO+ boasts a storage capacity of 11 lbs, the basket at the bottom is so narrow that you may have trouble storing enough to meet that weight limit. A medium-sized diaper bag is likely to fit, but not a large one. The basket is easily accessible from the back of the stroller.
There is also a zippered pocket on the back of the sunshade for items like your cellphone, wallet, or keys. It's a nice addition for holding small necessities, and the zipper ensures that nothing will fall out.
Unfortunately, this stroller does not have any cup holders. On the bright side, this may prevent parents from making a potentially dangerous mistake. Many parents enjoy drinking coffee or other hot liquids, but it's a bad idea to carry them in the cupholder of a stroller.
This is because there is potential for the hot liquid to spill on the baby should an accident occur. Liquids that are 140°F can cause severe burns within five seconds or less. Coffee is usually served at a temperature of 160°F. Because children have thinner skin than adults, they are more susceptible to burns.
Is the Babyzen YOYO+ Good for Travel?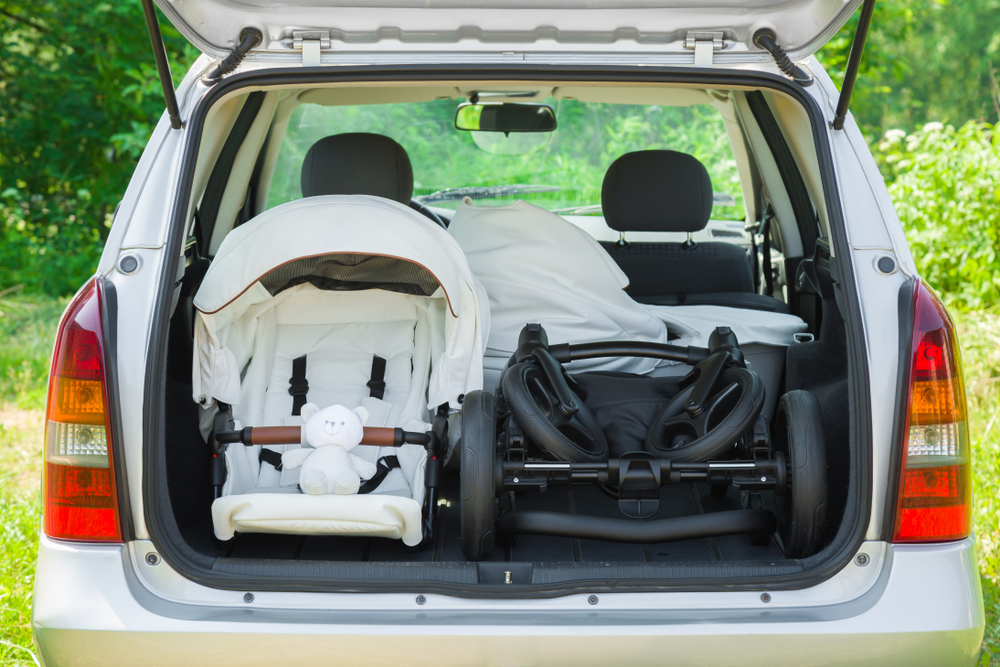 If you like to travel a lot or just hate heavy, clunky strollers, then you'll like the Babyzen YOYO+. It's lightweight and weighs only 13.5 lbs. It is able to fold to quite a small size and even comes with a carrying bag to put it in when folded up.
When we say it's small when folded, we mean it. It can even be taken as a carry-on on an airplane. The folded dimensions are 17.5″W x 9″H x 20.8″L.
Even though the size and weight make it perfect for travel, it can be a hassle to fold up. It's supposed to be a one-handed fold, but many users struggle with it. However, as with anything, it gets easier with practice and repetition. It may take a bit of finagling at first, but you should be able to fold it easily after a handful of tries.
Is the YOYO+ Stroller High Quality?
This stroller is considered a luxury product, and it comes with an expensive price tag. When a stroller is this pricey, it's important that it be of high quality.
Luckily, the Babyzen YOYO+ is well designed and uses high-end components for a stroller that's convenient, maneuverable, and chic. You won't find any missed stitches, rough edges, or hanging threads on this stroller.
It's made of sturdy aluminum and plastic, and almost none of the fasteners are exposed. There's also no frame flex. Along with the suspension, the wheel bearings keep the stroller moving smoothly.
The Final Verdict
If you're looking for a high-quality stroller that's also extremely portable, then the Babyzen YOYO+ may be your match. It's lightweight and can be folded up small enough to be taken on an airplane as a carry-on. Its compact size means it'll even fit into cramped cars. Overall, it's fantastic for travel.
It's meant for urban settings and maneuvers easily with just one hand. The all-wheel suspension also makes for a smooth ride for your child. The brakes do their job and are very easy to use, even while wearing sandals.
This stroller does fall short when it comes to storage. The basket is a bit on the narrow side, and it may be a struggle to fit a large diaper bag in it. It also doesn't have any cup holders.
Another flaw is the sunshade. It does keep the sun out of your baby's eyes most days, but not always. It also has a window without a cover through which the sun can penetrate.
Despite a few flaws, this stroller is well built and uses quality materials. The plastic and aluminum components are durable and sturdy. You won't find any loose threads or stitches on the fabric parts, either.
Overall, we rate this stroller a 4.5/5. It is a fantastic product with only minor flaws. The quality certainly matches the price tag, and you'll likely be happy with this stroller if you can afford to spend the money on it.
If you're still shopping around and you aren't sure if the Babyzen YOYO+ is the right stroller for your family, then be sure to check out our guide on the 10 best luxury strollers.