We have come a long way with transporting babies. If you are looking for a new stroller you have picked a great time in history to have a child.
Baby strollers are sold in a variety of styles. Luxury strollers are a stylish way to take your newborn to places and leave other parents in envy. The best luxury strollers feature cutting edge technology and a lavish look. It is also a great way to stay fit as you can exercise with an on-board child.
We understand getting the right stroller is not easy. We also know that you always want the best for your precious little one. It is why we have put together a list of best luxury strollers for 2021!
Features to Consider in Good Luxury Strollers
Before we dive into the list of the ten best luxury strollers in 2021 let's study the features that helped those baby carriages make the list:
Safety harnesses
Seatbelts on a luxury stroller are very important. You never know what type of terrain you will need to push a stroller to in order to get from point A to point B. The safety harness will keep your child safe at all times. The best luxury strollers feature a 5-point harness to prevent your child from slipping or falling out.
Brakes
Brakes are an important safety feature in any stroller. The brakes need to feel accessible. They should feel effortless, easy to engage and disengage. The brakes on a stroller are generally placed away from the reach of the child for maximum safety.
Reclining seat
The recline feature is important in every luxury stroller. It will enable the baby to sleep peacefully when in a near flat position. Or you can position the seat upright in order to present your son or daughter with a view of their surroundings. The best reclining seats are hassle-free and effortless to adjust.
Wheels and shocks
Strollers are kind of likes cars for little children. As a result, you don't want to give them a bumpy, and uncomfortable ride. It will make napping while riding in a stroller nearly impossible. It is important to consider the wheels and shocks of the unit. How is the suspension? It should provide a smooth ride for you and the little one. Pneumatic wheels can tackle tough terrain while plastic wheels are only dependable on sidewalks and streets.
Tire type
Some parents tend to overlook the tires on a baby buggy. However, we consider it one of the most important features because not all tires can manage a variety of terrains. The best luxury strollers do not cut corners on the quality of their tires. Plastic tires will not perform well off pavement. Meanwhile, air-filled rubber tires or foam-filled tires are best on any type of terrain.
Weight
You will often need to carry the luxury stroller. It can include uncomfortable settings like traveling up stairs, or stuck in a crowded city bus. Consequently, you need to consider a baby carriage that is lightweight. The best luxury strollers strike a delicate balance between feeling sturdy and secure yet lightweight enough to easily transport.
Foldability
How easy is it to fold the luxury stroller? Some baby buggies fold in one or two steps. It makes the stroller very easy to fold with one hand if the baby is cradled in the other arm. Meanwhile, other types of strollers are more complicated to fold and require both hands. If you need to fold the stroller often to fit in the trunk of the car or somewhere in a closet at home, make sure you pick a design with a straightforward approach.
Storage
You will need to carry with you a few personal items such as your baby's diapers. You can't carry everything with your hands. Furthermore, most luxury strollers are heavy enough that they require both hands to push them adequately. As a result, consider a new baby pushchair with a storage basket and pockets. It will free up your hands from your smartphone, keys, wallet, purse, and baby accessories.
Additional features
There are other features to consider when shopping for a new baby stroller. For example, some unique baby carriages feature different speeds. It helps match the pace for walkers, joggers, and runners. A canopy is another innovative feature that helps block your child from harmful UV rays.
Top 10 Best Luxury Strollers 2023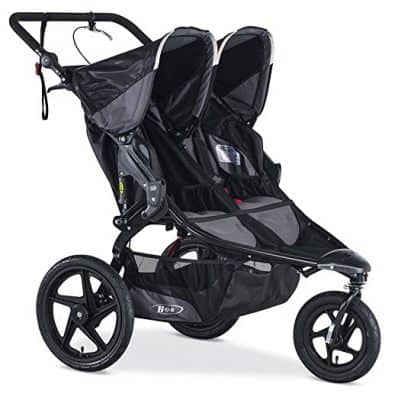 Why we like it:
The BOB 2016 Revolution PRO is a double running stroller. You can walk, jog, run, hike, or roller skate on a bumpy surface with the stroller. It offers 9-position adjustable handles for taller parents. The swivel-lock front wheel will give you a smooth ride when jogging and make it easy to traverse city roads. The air-filled tires are top notch with quality adjustable suspension. It delivers an ultra-smooth ride on the roughest terrain.
Editor's Rating:
Convenience features
You can easily activate the brakes on the stroller using your hands. The front tires lock for stability. They can also rotate 360 degrees while navigating the city. You will like that the handlebars adjust to different heights and the suspensions. The handlebar is also padded for easy pushing. The load basket at the back of the BOB 2016 Revolution PRO will enable you to carry several items while on the move. There are also storage pockets for baby toys and snacks.
Performance features
The BOB 2016 Revolution PRO is fantastic for twins or children around the same age. Both seats can support a child that weighs 50 lbs. or less. Despite the bulkier design the stroller is still relatively compact and able to maneuver through tight spaces. It is also designed to tackle rough riding surfaces. The ability of the front wheels to rotate and lock is innovative. The inflated wheels and high-class suspension system scream "luxury".
It is easy to recline the seat. There is the opportunity to create an upright or nearly flat seating/lying position. The seat also provides a 5-point harness to safely hold your baby. There is also the opportunity to use a wristband while running to provide even more stability for the child.
Additional features
The stroller folds in two simple steps. It is convenient to transport and store. A buckle locks the stroller in place when folded. When not in motion the seat can lock with a foot-secured brake. The two seats are equipped with canopies and peekaboo windows. The BOB 2016 Revolution PRO is also easy to clean.
Verdict
The BOB 2016 Revolution PRO Duallie Jogging Stroller has mountain-bike type suspension, air-filled tires, and reliable brakes for the ultimate ride. You can walk, jog, hike, or run with the luxury stroller. The padded handlebars and adjustable variety supports all types of bodies.
Pros
Easy to maneuver on all terrains

Comfortable

Generous storage space

Excellent choice for twins

Appropriate for tall parents

Easy on and off 5-point harness and wristband for safety

The wheels are detachable when you want a more compact stroller

High-class suspension system

Provides both parking and hand brakes

Seats are roomy and comfortable

Both canopies are large and extend

Compatible with a variety of car seats
Cons
Large and heavy, not the most compact

Leg rest is not adjustable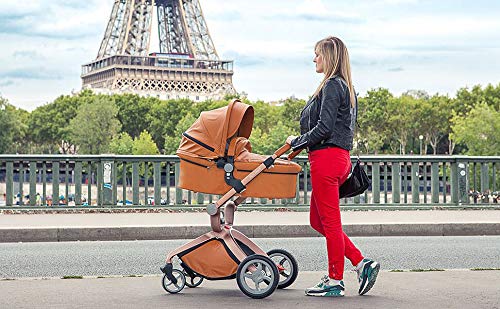 Why we like it:
The luxury stroller reclines to multiple positions to keep your baby comfortable. We like that the seat reverses 360 degrees to face the mom. The height can also get adjusted from 20 cm to 70 cm. You will love the fashionable design of the Hot Mom 3-in-1 Travel Stroller.
Editor's Rating:
Convenience features
Bassinets offer maximum comfort to your child when they sleep. The Hot Mom 3-in-1 Travel Stroller is sort of like a bassinet on wheels. It allows parents to change the baby's diaper while on the go. All you have to do is tilt the seat back to mold it into a bassinet-style stroller.
Additionally, the ability to recline the seat to multiple positions keeps your child comfortable throughout the ride. The seat adjusts as well as rotates 360 degrees. The leather design of the seat is waterproof and extremely easy to clean. The lavish stroller also has its own storage basket.
Performance
The seat is fitted with a 5-point harness for maximum safety. The seat is also shoulder at the baby's shoulder for excellent comfort. There is a wrist strap that bridges your arm to the pushchair. The handlebar is easy to push with several adjustments for the best fit. The canopy is large and adjusts to shelter your precious one from the sun. All four wheels feature suspension. It creates a durable, smooth ride on most terrains. The parking brakes are initiated by an easy foot push.
Additional features
The base of the Hot Mom 3-in-1 Travel Stroller folds to facilitate storage. The cushions on the seat are incredibly soft. The cushion is also breathable to prevent suffocation. A rain cover is included with purchases in case you get stuck in a storm. The mosquito net works good during the evening hours. The stroller also has a cup holder.
Verdict
The Hot Mom 3-in-1 Travel Stroller has a great design. It is part-luxury stroller, part-bassinet. The wheels of the dual stroller can lock in order to function as a static bassinet. The foldable canopy and raincoat will protect your little one from the elements. The luxurious appearance makes the Hot Mom 3-in-1 Travel Stroller a perfect choice for those who want to hit the neighborhood in style.
Pros
Great additional features; mosquito net, rain cover, cup holder and diaper bag

360 degree adjustable seat

Easy to clean stroller

Multiple positions recline

The handlebar adjusts up to 144 cm

Compatible with some car seats

Removable bumper bar

Seat adjusts to various heights

Dual stroller and bassinet

Stylish design looks very classy
Cons
Pricey for a stroller yet you wanted luxury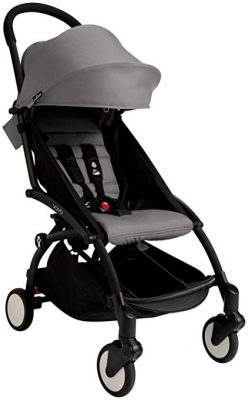 Why we like it:
The Babyzen YOYO+ is a
lightweight stroller
that can push newborns as well as toddlers. Therefore, it serves as a reasonable long term investment since it can adjust to the growth of your child. The fabric on the seat is removable for easy cleaning. The carriage also folds and a built-in carrying strap makes it simple to transport. It is a compact stroller appropriate for travel on airplanes and other complicated situations.
Editor's Rating:
Convenience features
The canopy on the Babyzen YOYO+ Stroller has two panels. It provides sunshade for your little one. The design also features a peekaboo window for you to get a quick view of your child without moving to the front of the stroller. The long handlebar is fixed at 42 inches. Taller children can adjust in their seat with a built-in recline. Parents can store personal items in a mesh pocket. A storage basket is also accessible from the bottom of the seat.
Performance
How would you like a stroller that you can mount on your shoulders while walking? The Babyzen YOYO is lightweight, compact, and features a carrying strap. As a result, it is simple to toss the folded stroller over one shoulder in order to free up your other hand. The size of the baby seat supports growth and can transport toddlers. Your child will love the padded seat. The seat can also recline when it is time for a nap.
The luxury umbrella stroller offers a foot pedal for safety. The belt delivers a 5-point harness with a buckle at the center. The wheels on the carriage are constructed of hard rubber for durability. You will appreciate that the front wheel swivels so you won't have to worry about uneven riding surfaces or tough corners. All wheels feature their own suspension system.
Additional features
The Babyzen YOYO+ is very compact for a luxury stroller. It easily folds with just one hand. Then you can carry it over the shoulder. The stroller is compatible with a baby car seat. The included rain cover is a nice addition to the purchase.
Verdict
The Babyzen YOYO+ Stroller folds easily with one hand. It is one of the many factors that makes the luxury stroller lightweight and compact. If you are a parent who frequently travels by plane or train, the Babyzen YOYO+ Stroller is a top choice.
Pros
Great for air travel and public transit

Maneuvers with ease

Durable luxury stroller

Small and lightweight

Car seat compatible

The toddler seat has a deep recline

Extremely portable unit

Easy to clean
Cons
Not suitable for off-road and bumpy surfaces

Handlebar does not adjust yet will fit parents up to 42 inches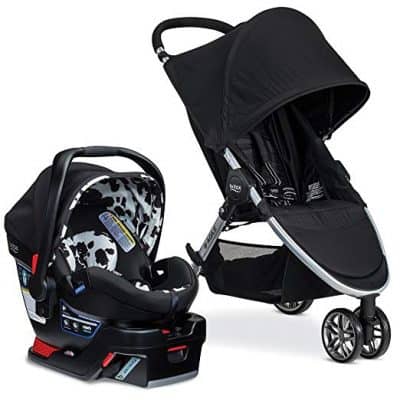 Why we like it:
The name says its all. The Britax 2017 B-Agile & B-Safe 35 Elite Travel System is a versatile and safe luxury stroller. It is designed with three wheels. The front wheel locks or swivels. The stroller is all-wheel suspension for a guaranteed smooth ride. It is also easy to maneuver. The unit folds and can also function as a car seat. As a result, it can grow with your child.
Editor's Rating:
Convenience features
How would you like a combo car seat and luxury stroller? The Britax 2017 B-Agile & B-Safe 35 Elite Travel System serves as both and everyone appreciates a multi-system stroller, especially in the expensive baby market. In addition to serving dual purposes the carriage is incredibly easy to maneuver. Parents can add an optional fourth wheel for rougher terrains. It is simple to steer with one hand. The storage basket in the back and extra-large canopy are convenient extras.
Performance
The large canopy on the stroller allows parents to take a stroll at any time of the day, even around noon when the sun reaches its peak. The peekaboo window is a nice little add-on. The seat offers multiple recline positions. The wheels fully rotate to navigate tight corners. They can also lock for a straight ride at higher speeds.
The suspension on the seat is an innovative design. The seat is also dependable with a 5-point harness system. The brakes are easy to engage with the push of a leg. Perhaps the best feature of the Britax 2017 B-Agile & B-Safe 35 Elite Travel System is that it functions additionally as a car seat. It allows parents to carry a sleeping child from the stroller to the car without disturbing them.
Additional features
The Britax 2017 B-Agile & B-Safe 35 Elite Travel System easily folds using one hand. The frame locks in place once folded. It is fairly lightweight for a luxury stroller. The seat also includes advanced safety features that go beyond basic standards set forth by the government.
Verdict
The Britax 2017 B-Agile & B-Safe 35 Elite Travel System is lightweight and folds. Parents appreciate having a portable stroller, even with a luxury design. The ability to convert the stroller into a car seat is also extremely resourceful. The car seat is easy to install and remove. It works well for parents always on the move.
Pros
The car seat connects to the stroller easily

Easy to fold with just one hand

Self-stands when folded for improved storage

Takes up small space when folded

Lightweight feel for a luxury stroller

The handle has a comfortable grip

Seat produced with added safety features
Cons
Storage basket at the base is quite small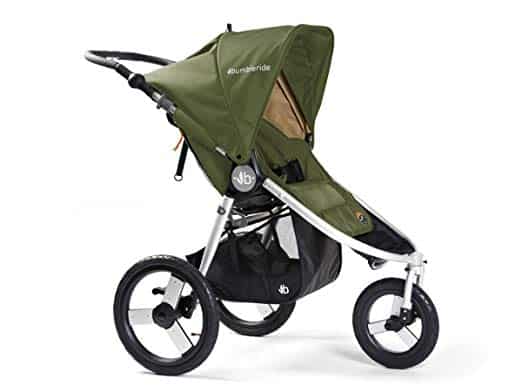 Why we like it:
The Bumbleride 2016 Speed Stroller is remarkably lightweight yet durable all-terrain jogging stroller. The rear wheels are large for a smooth, dependable ride. The seat can carry children up to 65 pounds. The fabric is also built to last and easy to keep clean. The stroller folds and is compatible with most car seats. The 3-mode front wheel is another great feature for the price paid.
Editor's Rating:
Convenience features
The Bumbleride 2016 Speed Stroller is a lightweight pushchair that will make your life easier. The pushchair is produced with 3-speed steering. It allows you to control the speed over a variety of terrains. The handlebar adjusts to 46 inches to fit your height. It also has a comfy grip that will allow you to steer the stroller with one hand.
There is a convenient storage bin. The stroller also has built-in pockets so freeing up your hands is not an issue. Your baby will appreciate the padded seat and straps. The luxury stroller is also equipped with an extendable canopy. The peekaboo window is a standard yet helpful feature.
Performance
How about a luxury stroller that can fully recline? The Bumbleride 2016 Speed Stroller has been designed to recline all the way for sleeping children. The carriage delivers a single action foot brake that is easy to engage. The stroller also features 3-speed steering to fit the purpose of the adventure.
The wheels rotate 360 degrees when you navigate sharp corners. They can also lock at 30 degrees for joggers or fully lock for runners. The rear and front tires are gigantic and air-filled. Simply looking at the Bumbleride 2016 Speed Stroller let's you know it is stable and dependable. The suspension is shock absorbent.
Additional features
The Bumbleride 2016 Speed Stroller has been built to last thanks to the strong aluminum frame. It will withstand all outdoor elements. The fabric is heavy-duty and easy to wash. Parents love the fact that the stroller can support children that weight 65 lbs. or less. It can serve a purpose for quite some time as a result. Some parents still use the stroller when the child reaches 4-5. The stroller does fold and self-stands for compact storage. The purchase includes an air pump and a 3-year warranty.
Verdict
The Bumbleride 2016 Speed Stroller is the best jogging stroller. It is lightweight and durable, yet still has plenty of speed. It can handle all types of terrain. If you love to exercise while you travel with a little one than you'll really like the design. The adjustable handlebar will support users of all heights.
Pros
Deep recline for bigger children

Fits in small spaces

Three-speed steering

Large rear wheels for a smooth ride

Provides a large storage basket and pockets

Extendable canopy for the sun

Adjustable handlebar (35"- 46")

The seat is roomy for babies and toddlers

Easy one-step fold design

Easy to clean unit

5-point harness for safety

Includes a run-away strap, bumper bar, and air pump
Cons
The leg rest is not adjustable

No cup holders but there are two seat pockets for storage

Bulky for a stroller yet what you would expect for a jogger or runner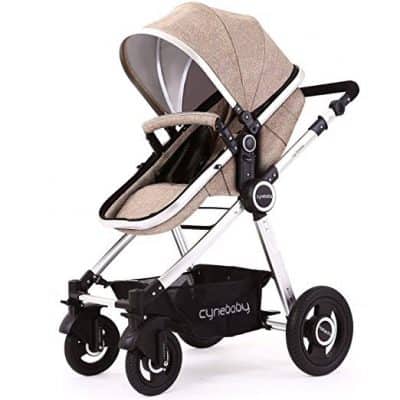 Why we like it:
The Cynebaby Baby Stroller is ideal for newborns. It works well as a sleeping bed for 0-6 month old babies. Then, it transitions into a car seat and luxury stroller for children between the ages of 7-36 months. It accommodates newborns as well as toddlers as they grow. The baby stroller also handles well in all types of settings.
Editor's Rating:
Convenience features
The Cynebaby Baby Stroller includes a large, padded bassinet. The bassinet allows you to take along your baby the moment from birth until about the age of three. You will love the convenience of the removable bumper bar as it allows you to pick up and place back your baby with ease. The stroller is accommodating for taller parents thanks to the height adjustment. There is also a storage basket at the bottom of the seat.
Performance
How would you like a seat that offers different positions for different tasks? The seat on the Cynebaby Baby Stroller can recline to multiple positions. The positions include everything from fully upright to slightly tilted to nearly flat. It is built on a high platform so you and your child get exceptional views.
The 5-point harness is a terrific safety feature. The rubber tires perform well in any setting. The front wheels swivel to navigate difficult to access areas. The wheels can also lock for dependable movement over rough surfaces. A parking brake is added for safety.
Additional features
The Cynebaby Baby Stroller folds with ease and self-stands to improve storage. The back of the seat has a storage pouch for your personal items. The product is sold with wrist straps that you can attach from your arm to the frame of the pushchair.
Verdict
The Cynebaby Baby Stroller is a convertible style luxury stroller. It will grow with your child and therefore provide years of use. The price tag is not quite as alarming when you realize you are getting years out of the baby product. The ride is very comfortable with good suspension and wheels.
Pros
Convertible style grows with child

The handlebar is adjustable

Lightweight frame

Reversible stroller seat

Offers multi-position reclines

Switches from stroller to bassinet

High seat can even match height of dining table
Cons
Product is considered difficult to assemble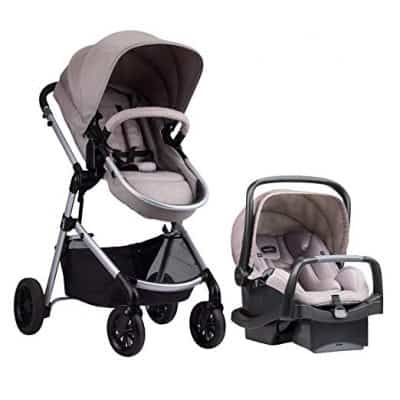 Why we like it:
The Evenflo Pivot Modular Travel System is a sleek and versatile luxury stroller. The entire unit is very lightweight for being in the luxury category. It transforms into a car seat for infants, serving a double purpose. There are a variety of ways you can have the baby face while you go for a walk. The baby carriage is loaded with extras too!
Editor's Rating:
Convenience features
The Evenflo Pivot Modular Travel System serves dual purposes. It works as both a carriage, car seat, and stroller. It is quick and easy to transfer a sleeping child from the stroller to a car seat without disturbance. The frame is also extremely customizable. Users can adjust it from a reversible facing direction to a more traditional "baby facing out" direction. The rear adjusts from 17 to 32 inches. The product is also easy to clean. Evenflo provides peace of mind as the company has been producing baby strollers for nearly a century.
Performance
The travel system is capable of handling multiple tasks which makes the performance of the luxury stroller outstanding. The car seat has been rollover and side-impact tested for safety. Parents can also easily confirm when the belt lock-off system has been secured. Evenflo prides itself on conducting a lot of additional tests to make sure all their baby products are above satisfactory.
Furthermore, the large tires of the Evenflo Pivot Modular Travel System create a feeling of good balance and stability. It doesn't look like a cheap baby product that will fall apart in months. You can take it just about anywhere. The stroller will support children up to 50 lbs.
Additional features
The unit is equipped with a number of extra features. The stroller includes an oversized storage basket. Other extras include a safe-zone base and blanket boot. A canopy is provided for warm, sunny days to keep the newborn out of the sun.
Verdict
The Evenflo Pivot Modular Travel System is flexible. It works really well as a pushchair yet can quickly transition into a car seat. The travel system is designed in three pieces. Though it is not the most compact luxury stroller it serves its purpose. There are a number of things to like about the Evenflo Pivot Modular Travel System.
Pros
Dual purpose stroller and car seat

Adjustable for a number of body types

Travel system built for busy parents

Versatile and fairly lightweight unit

Highly tested for safety

Built by a reputable manufacturer

Sold with a number of extra features

Supports children up to 50 lbs.
Cons
Bulky stroller that is hard to use in crowded spaces

Some users complain about the front wheels swiveling too frequently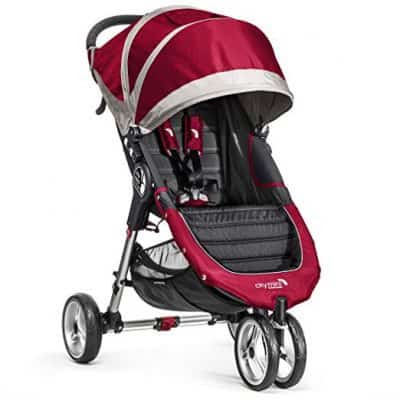 Why we like it:
The Baby Jogger City Mini Stroller is lightweight and easily folds in one step. The baby pram also presents a large seating area. You will like the multiple recline positions. It can accommodate a variety of sizes and ages. The stroller supports newborns to the weight of 65 pounds.
Editor's Rating:
Convenience features
There is a lot to like about the Baby Jogger City Mini Stroller. The padded, deep, spacious seat is comfortable. It is a versatile pushchair that you can take to the park, shopping, or running errands. The huge canopy that will keep a child safe from harmful sun rays. The canopy features not one but two peekaboo windows. Built-in mesh pockets free up your hands.
Performance
If you are the kind of parent that is always running errands you will appreciate the Baby Jogger City Mini Stroller. The seat is intended for a long haul and will prevent a child from getting grumpy. The seat tilts back to a nearly flat position for naps or to change diapers. The seat is breathable for the warm months and has a cover during the cooler times of the year. The 5-point harness is adjustable to correctly fit the size of your child. It can also transition into a car seat for newborns. Additionally, the stroller provides double front wheels that rotate 360 degrees. It is adequate for tight corners and for bumpier terrain.
Additional features
It only takes one step to fold the carriage. It is lightweight enough for most parents to hold in one hand while cradling a baby in the other arm. The back wheels also detach with a button to free up space while getting stored.
Verdict
The Baby Jogger City Mini Stroller reclines with one hand and goes down to an almost flat position. The 8.5 inch never-flat tires can handle all terrains. The front wheels lock or swivel depending on the riding surface. It is most practical for parents that live in urban environments.
Pros
Easy to push luxury stroller

Car seat compatible

Folds using one hand

Automatically locks when folded

The seats are roomy for different ages

Equipped with a large mesh pocket

Huge canopy for sun protection
Cons
The handlebar is not adjustable, but fits a height of 42 inches

The storage basket is hard to access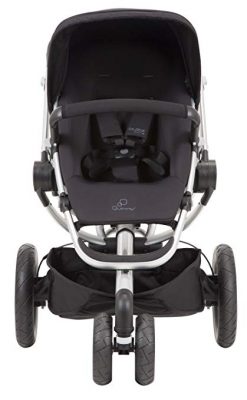 Why we like it:
The Quinny Buzz Xtra 2.0 Stroller is manufactured with a soft fabric that is easy to clean. The canopy, footrest, and storage unit are all built to last with hardy fabric. The handlebars adjust to different heights. Meanwhile, the front wheels lock. The seat can reverse so you can face the baby without taking a step.
Editor's Rating:
Convenience features
The Quinny Buzz Xtra 2.0 Stroller is equipped with a storage basket. The stroller unfolds automatically which saves time when you are rounding up a baby and supplies for the road. It is comfortable to push around with a padded, adjustable handlebar. The height of the canopy can also adjust depending on where the sun sits in the sky.
Performance
The stroller is primary designed for urban setting. The brake system is of high quality. They lock with a single push. The handlebars adjust for different size parents. The front wheels lock for a straightforward ride. Additionally, the belly bar of the stroller can quickly get swung to the side when placing or removing a baby from the stroller. The tires are advertised as "never flat" and the suspension is of good quality.
Additional features
The canopy, footrest, and storage basket are all made from a durable fabric for long-term use. The folding system is operable in two quick steps. You can store the device if you are short on space in the car or home. The initial assembling of the Quinny Buzz Xtra 2.0 Stroller is also straightforward. It only takes about 15 minutes to assemble.
Verdict
The Quinny Buzz Xtra 2.0 Stroller is produced with a hardy canvas fabric that is durable and simple to clean. It is not capable of traversing every type of riding surface, which is why it is slightly down on the list. Still, it is a relatively affordable and high quality luxury stroller.
Pros
Easy to assemble

Braking system is easy to apply

Large and adjustable canopy

Simple to clean stroller

Durable fabric material

Reversible seat for accessibility

Folds easily using one hand

Handlebar is adjustable
Cons
The storage basket is quite small and can only get accessed from the front and sides<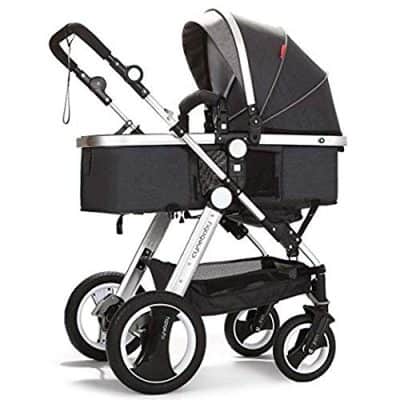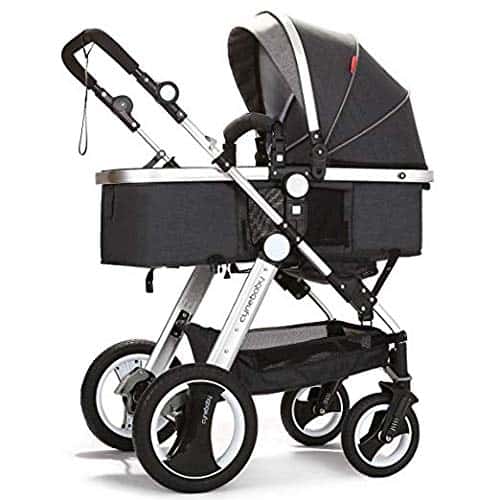 Why we like it:
The Belecoo Convertible Baby Stroller is a sophisticated unit. It is a combo carriage as it functions like a stroller and bassinet. The design allows it to travel just about anywhere you desire. The high-top design keeps your baby away from harmful substances closer to the ground and for an improved view.
Editor's Rating:
Convenience features
The Belecoo Convertible Baby Stroller is conveniently built with the safety and health of your baby in mind. The vista seat is a high-top design that sits away from the exhaust of vehicles as well as dust and dirt. Little ones also appreciate the improved view which subsequently brings them closer to mom or dad as a result. It is a convenient luxury stroller that you can take just about anywhere including the park, library, grocery store, or post office.
Performance
The rubber wheels of the Belecoo Convertible Baby Stroller are comparable to what you would find on a bike. You can depend on them to take you just about anywhere. It is nice to see a stroller that fits to your type of lifestyle and not the other way around. The oversized design of the convertible luxury stroller provides a smooth, durable ride. It sacrifices some compactness because of the design. We would not recommend taking the stroller on an airplane as it is far from lightweight. However, the stroller can support children up to 50 lbs.
Additional features
The Belecoo Convertible Baby Stroller doesn't require any tools for installation. The assembly is pretty straightforward and easy to understand. The handlebar is adjustable from a limited range of 38 to 44 inches.
Verdict
The Belecoo Convertible Baby Stroller works well for newborns and younger children between the ages of 2-3. The dual function of its stroller/bassinet design is the best feature. The rubber, bike-like wheels are also of high quality. It is a bulkier stroller yet well worth it for parents that travel on all types of terrain.
Pros
Smooth ride with rubber wheels

Dual purpose bassinet and stroller

Oversized stroller with dependable parts

High-top design keeps children away from dangers

Adjustable handlebars for customization

Supports toddlers up to 50 lbs.

Can travel just about anywhere
Cons
Stroller is not recommended for air travel

Not the most portable stroller available

Bulky size makes it a tight squeeze in crowded spaces
Guide to Buying the Best Luxury Stroller
If you still need a little guidance to find the best luxury stroller for you needs we have put together this guide to go over some more specifics:
Different Types of Luxury Strollers
Luxury strollers are designed for different purposes. Here are the most common types of luxury strollers:
Convertible Stroller
The convertible stroller will offer you an all-in-one type of baby carriage. It works as a bassinet, car seat, or stroller. As a result, the convertible style is practical from birth to age 3-5.
Travel System
The type of luxury stroller is designed like the name implies. It is useful for travel since the stroller is lightweight and compact. Travel systems usually serve dual purposes as both a stroller and car seat.
Luxury Umbrella Stroller
The luxury umbrella stroller is lightweight like a travel system yet can take up even less storage space. It works well as a travel item or for parents with limited household space.
Jogging Stroller
The jogging stroller is ideal for parents that like to exercise while pushing around a little one. The baby pushchair often has 3-speed steering so the unit can keep pace with you whether you walk, jog, or run.
Double Stroller
The double stroller has two seats. It is most practical for twins yet can also accommodate two children around the same age. Double strollers are generally more bulky yet ride extremely sturdy.
Factors to consider before buying a luxury stroller
Buying a luxury stroller for the first time demands that you consider a number of things. Here are what we consider the most important factors:
Purpose
How do you plan to use the luxury stroller? The answer to the question is important because it will likely draw you to one or two different types of baby carriages. Jogging strollers are designed far differently from travel systems.
So it is vital that you first determine its primary purpose. It is okay to want a stroller that can do multiple things such as a travel system or convertible stroller. Or for a travel purpose such as taking the carriage on an airplane.
Safety
Your child's safety is priority number one. It cannot get overlooked. All of the luxury stroller on our list meet the latest safety guidelines enforced by the U.S. government. If you decide to purchase another type of stroller make sure it meets these same guidelines with features like a 5-point harness and safety brakes.
Three-wheeled vs. four-wheeled
Most people prefer three-wheeled strollers as they are easy to maneuver and steer while jogging or walking around in town. You can easily steer a three-wheeled stroller with one hand when compared to a four-wheeled stroller. You can request for a test drive with your infant before purchasing any of these baby strollers. Stability of the design should be paramount when making that decision, how does it handle a sharp turn? Can it trip? Are you able to control it with one hand while jogging? These are some of the questions that will assist you before you make a choice. If you like jogging with your baby, we highly recommend the three-wheeled design.
Adjustments
Luxury strollers have fixed and adjustable handlebars. Fixed handlebars generally accommodate average size users. Meanwhile, adjustable handlebars can fit to support taller parents. Regardless, it is important that the stroller fits you as comfortably as the child.
Budget
Luxury strollers are expensive. It is obvious because they are considered premium-grade pushchairs. You can expect the highest quality materials and advanced technology though it does come at a cost. Frankly nothing is cheap in the baby market.
Location
Where you live impacts your buying decision when it comes to baby strollers. If you live in a big city you may only travel on pavement and asphalt. You may be able to get away with cheaper plastic wheels. However, if you live near open space with gravel, uneven roads you will want a more heavy-duty wheel and suspension system.
Construction
The frame and fabric are the two most important building materials after the wheels. The fabric will keep a child comfortable while also being easy to clean when accidents happen. Meanwhile, the frame is what keeps everything together and provides peace of mind.
Additional Features
Though the design and construction of the actual stroller is the most important, many luxury strollers are equipped with extras. These include items like a cup holder, storage basket, carrying strap, sun canopy, or mosquito net.
Conclusion
Now that you have all the information you need to buy one of the best luxury strollers it is time to start shopping. We recommend you consider one of the products listed on our top ten list of the best luxury strollers for 2021.