We have come a long way with baby transporting and if you are looking up for a baby stroller then you're living in the best and easiest times.
We love seeing new things. So do our babies. A luxury stroller is a stylish way to be in more places and see lovely surrounding without leaving your child behind. Pushing a luxury stroller is also a stylish way to keep fit.
We understand getting the right stroller is tough. We also understand that you always want the best for your precious one, the reason we have put together a list of best luxury strollers 2018 for you. Let's compare the different features of the top 10 best luxury strollers.
Features to Consider in Good Luxury Strollers
Safety harnesses
Seatbelts on a luxury stroller are very important. You will be traversing different kinds of terrain and you need to be sure that your child will be safe. A good luxury stroller will have a 5-point harness to prevent your child from slipping.
Brakes
Brakes are an important safety feature in any stroller. The brakes should be easy to engage and disengage. They should be placed away from the child's reach for maximum safety.
Reclining seat
The recline feature is important in every luxury stroller. This will enable the baby to sleep peacefully when in a near flat position and give them a view of the surrounding when upright.
It should also be hassle-free to recline the seat.
Tire type
This feature is important since not all tires are good on any terrain. Plastic tires will not perform well off pavement. Air-filled rubber ones are best on any terrain if they are not flat whereas foam-filled tires can handle all terrains.
Weight
You will often need to carry the luxury stroller. Whether upstairs or while on city errands. Lightweight luxury strollers are great as you can carry on one hand while using the other hand to carry other stuff.
Foldability
How easy is it to fold the luxury stroller? Some strollers fold in two steps, others one, while others more. An easy and quick to fold luxury stroller will make your life easier.
How foldable the stroller is will also determine where they can be stored. The most compact is the best for travel as they do not take up much space.
Wheels and shocks
Depending on the terrain you will be mostly traversing, this is a feature you should have in mind. The suspension on wheels will ensure a smooth ride. Pneumatic wheels can take tough terrain while plastic wheels are best on urban terrain.
Storage
You will need to carry with you a few personal items such as your baby's diapers. You can't carry everything with your hands and mostly if the luxury stroller you are using needs both hands to push.
Get one with a storage basket and pockets for other things such as your mobile phone, baby's toys, and their diapers. If you will be using the luxury stroller at the supermarket, you might need one with a market tote.
Additional features
There are other features such as different speeds. Some luxury strollers can offer 3 different speeds to enable you to jog, walk or run while pushing the stroller.
Reclining seat will allow your child to sleep comfortably when flat or to sit upright.
A canopy will protect your child from harmful sun rays.
Top 10 Best Luxury Strollers 2019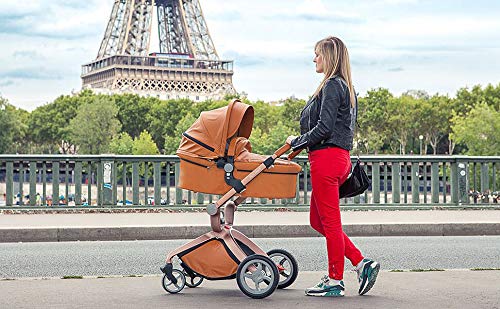 Why we like it:
This luxury stroller reclines to multiple positions to keep your baby comfortable. We like that the seat can be reversed 360 degrees to face the mom and its height can be adjusted from 20 cm from the ground to 70 cm. You will love the fashionable design that will add style to your strolls.
Editor's Rating:
Convenience features
Bassinets offer great comfort to your child when they sleep. Think of a stroller that comes with a bassinet to give your baby comfort while out of the house right from birth. Should you need to change your baby's diaper while on the road, all you have to do is to tilt the seat back. The ability of the seat to recline to multiple positions keeps your child comfortable throughout the ride. The seat can be adjusted up and rotates 360 degrees to give you options of giving your child the nature view or letting them face you. The leather design on the seat makes it waterproof and easy to clean. It has an easy to access storage basket to carry along your stuff.
Performance features
When it comes to safety, the seat comes with an easy to use adjustable 5-point harness that is padded at the shoulder for comfort. To add to the safety is the wrist strap that holds the pushchair to your arm. The handlebar is easy to push thanks to their adjustability. The canopy is big and adjusts to shelter your precious one from the sun. All the four wheels have suspensions and are durable to offer a smooth ride in most terrains. When it comes to parking, the parking brakes can be initiated by an easy foot push.
Additional features
The base of this stroller folds to facilitate storage. The seat's cushions are soft to offer comfort. The cushion is also breathable so your child won't suffocate. You will love the additional rain cover that is wind resistant and a mosquito net that comes with the seat. It also has a cup holder so you can enjoy your drink on your walk.
Verdict
The Hot Mom 3 in 1 travel stroller has a great design to give the benefits of a bassinet and a stroller. The wheels of this stroller can be locked to function as a static bassinet. The foldable canopy and raincoat will protect your little one from weather elements. The luxurious appearance makes this a perfect choice for those who want to hit the neighborhood in style.
Pros
Great additional features; mosquito net, rain cover, cup holder and a diaper bag
360-degrees adjustable seat
Easy to clean
Multiple positions recline
The handlebar adjusts up to 144 cm
Compatible with some car seats
Removable bumper bar
Seat adjusts to various heights
Combines a bassinet and a stroller
Stylish
Cons
Pricey. But the features and style of the stroller makes it worth it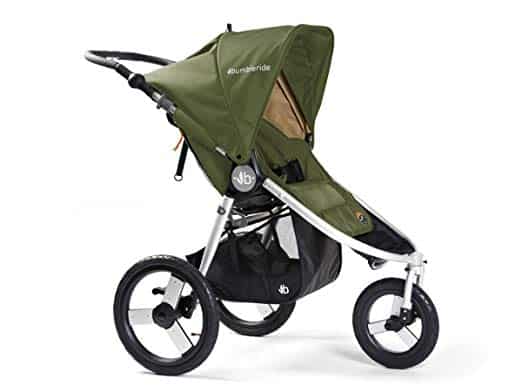 Why we like it:
This is a lightweight yet durable all-terrain jogging stroller. The rear wheels are large, thus giving you a smooth ride and has a large capacity (65lbs.). We also like the super strong, durable, and easy to clean fabric. It folds and unfolds easily and it's compatible with most popular car seats. The 3-mode front wheel is another killer feature given the price point.
Editor's Rating:
Convenience features
The Bumbleride 2016 Speed Stroller is a lightweight pushchair that will make it easy for you to push. It comes with 3-speed steering that will enable you to control your speed through most terrains with less hassle. Its handlebar can be easily adjusted to 46 inches to fit your height. The handlebar has a grip that will allow you to steer the stroller with one hand so you can use the other hand to carry other items.
You will love the convenience of the storage bin that can hold some baby stuff. To add to the storage bin are the pockets at the back of the seat that can hold a few additional items.
Your baby will love the comfy padded seat and the padded straps that will keep them comfortable and they will enjoy their ride.
It also features an extendable canopy that will help keep your little one from the sun's rays even when the stroller is fully reclined. It also has a peekaboo window so you won't have to walk all the way around to the front to check how your little one is doing.
Performance features
How about a luxury stroller that can fully recline? This stroller has been designed to recline all the way to give your little one comfort when sleeping. It comes with a single action foot brakes that are easy to engage for your baby's safety. The stroller also features 3-speeds steering that will enable you to maneuver different terrains and corners with ease.
When walking, you can set the wheel to rotate 360 degrees that will make it easy for you to navigate sharp corners. The wheels can also be locked at 30 degrees which is convenient when jogging or fully locked for a sturdy stroller when running. Its rear and front tires are huge and air-filled that makes this stroller best for all kinds of terrain as they are shock absorbent. In addition, the wheels are fully suspended to give you and your baby a smooth ride.
Additional features
The Bumbleride 2016 speed stroller has been built to last thanks to the strong aluminum frame that will withstand all outdoor elements. Its fabric is strong and easy to wash. You will love that the stroller can hold up to 65 pounds and will comfortably carry your baby from 2 years to 5 years. The stroller is foldable and self-stands to make its storage easy. Also, the stroller comes with its own air pump for the tires and a 3-year warranty.
Verdict
The Bumbleride 2016 Speed Stroller is the best jogging stroller. It's lightweight and durable and as the name suggests, it has the best speed. It handles all terrains perfectly you can use it for a long time thanks to the large capacity. If you love jogging or running and are looking for an everyday use luxury stroller, this is just it. It's also the best jogging stroller for both taller and shorter parents thanks to the adjustable handlebar.
Pros
Deep recline
Fits in small spaces
Three-speed steering
Large rear wheels for a smooth ride
Has a large storage basket and storage pockets
Extendable canopy
Has an adjustable handlebar (35"-46")
The seat is roomy
Easy one-step fold
Easy to clean
5-point harness
Comes with a run-away strap, bumper bar, and air pump
Cons
It's leg rest is not adjustable
Has no cup holders but there are two seat pockets where your little one can store whatever they want and a bunch of other pockets to store more
Quite bulky. But that's expected for a jogger stroller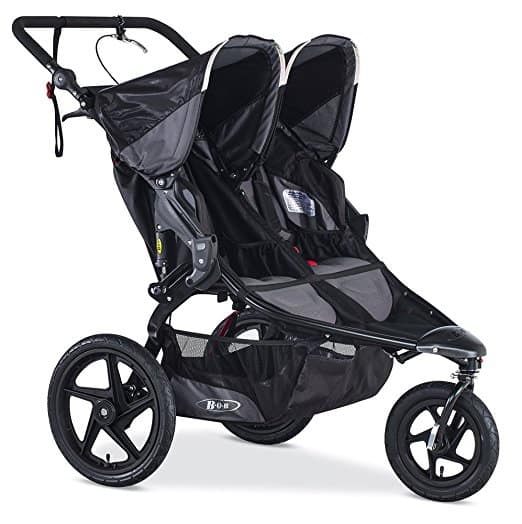 Why we like it:
The BOB 2016 Revolution PRO is a double running stroller. You can run, jog, hike, or roller skate on a bumpy surface with this stroller. It offers 9-position adjustable handle that makes it a comfortable choice for tall parents. The swivel-lock front wheel will give you a smooth ride when jogging and make it easy to traverse the city roads. We love that it has air-filled tires with top quality adjustable suspension system that offers an ultra-smooth ride on the roughest terrain.
Editor's Rating:
Convenience features
You can easily activate this stroller's brakes using your hands making it a great choice to traverse hilly slopes. The front tires can be locked to offer stability when running or adjusted to rotate 360 degrees while navigating the city. You will love that the handlebars can be adjusted to fit all heights and the suspensions will ensure you have an easy ride on rough terrains. The handlebar is also padded to make your pushing comfortable. The load basket at the back of this stroller will enable you to carry most stuff you need on the go. To add to this are storage pockets to hold your child's toys and snacks.
Performance features
Worried about how to carry your twins along your next outdoor workout? This stroller has two seats to hold 50 pounds each and is small enough to maneuver through most spaces. When it comes to tough terrains, this stroller has been designed to give you a smooth ride. The front wheel's ability to rotate and be locked, inflated wheels, coupled with the high-class suspension system ensures a comfortable ride for you and your baby.
You will love the easy push button to recline the seat. Your child will love that the seat's ability to offer an upright seating position as this will give them a clear view of the outside. In addition, the seat has aerations and a 5-point harness to safely hold your baby. While running, you can enhance your baby's safety using the wristband.
Additional features
The stroller folds in two simple steps making it convenient to transport and store. It has a buckle that locks to keep the stroller compact when folded. When not in motion, the seat can be locked by a foot-secured brake. The two seats have canopies each with a peekaboo window to offer you a view of both babies. The stroller is also easy to clean.
Verdict
The BOB 2016 Revolution PRO Duallie jogging stroller has been designed with mountain-bike style suspensions, air-filled tires and a handbrake that makes it easy to jog, run, hike or stroll even on the roughest terrain. Its handle is padded and is adjustable to fit parents of different heights. If you are either an advanced runner, a beginner or one who loves outdoor workouts with more than one kid, this could be the best option for you.
Pros
Easy to maneuver on all terrains

Comfortable

Generous storage space

Can hold more than one kid

Good for tall parents

Easy on and off 5-point harness and a wristband for safety

The wheels are detachable when you want a more compact stroller

High-class suspension system/span>

Comes with both parking and hand brakes

Seats are roomy

Both canopies are large and extends

Car seats compatible
Cons
A bit heavy and large. But this is not strange for a double stroller

Leg rest is not adjustable
Why we like it:
the seat can be reversed so that your baby faces you during the ride, and it has multi-position recline. It also folds easily, one-step-fold, and it's lightweight. There is also a mesh peek-a-boo window, which closes using a magnet as opposed using a Velcro closure, you can check on your baby quickly during the ride.
Editor's Rating:
Convenience features
The 2018 Cruz frame chassis is an upgrade from the 2017 Cruz stroller; the frame is now powder coated compared to the 2017 Cruz's carbon coated frame chassis. Not only does the powder coated frame increase the durability of the stroller, but it is also scratch resistant. You don't have to worry about scratch marks on your baby's stroller.
The wheels are made from Polyurethane, and this material makes them lightweight and more durable. In addition to that, the wheels make the stroller ride more comfortable on flat terrains and sidewalks around town or driveways. On rough terrain, you may have to use both hands when you want to turn the stroller around. To bypass this problem, the manufacturers added a wheel lock so that you can lock the front wheels for a more stable ride on rough terrains.
Performance features
We found the seats to be big, infants three months and above fit well in the seat, and they are soft padded and well secured by a five-point harness. The baby will have a comfortable ride in this stroller. In case you are not satisfied with the crotch strap height or the shoulder height, you can adjust them easily so that your baby can be comfortable during the ride. The bumper bar is a great safety feature, and it prevents the baby from falling out of the stroller when braking. Since the seat is bucket-styled, don't expect it to be flat when reclined, the lowest angle it can achieve when fully reclined is 27.8 degrees. At this angle, the baby can sleep comfortably during the ride. In addition to that, the squeeze recline lever is easy to press down with one hand. The canopy is an excellent addition to the stroller; it is extendable according to your baby's height on the stroller. It helps prevent harmful rays and sunburns from affecting your baby. Above all, the canopy locks when you pull it up and down, even in rougher terrains.
Additional features
The stroller comes with an adjustable handlebar that can be adjusted according to your height; you either push it in or out to adjust. In case you need space for baby stuff like diapers, feeding bottles and the rest, there is storage space beneath the seat, and you can access it easily from the back.
Verdict
The smooth ride, in addition to the comfortable padded seats, makes this stroller best suited for walking your infant in town or on driveways. We highly recommend this baby stroller.
Pros
Comfortable padded seats
Foam tires for a smooth ride
Adjustable handlebar for people with varying heights
Canopy prevents harmful rays and sunburns
The stroller folds in 5 seconds
Storage space beneath the bucket seat
The brake is foot controlled
You can quickly press the seat recline lever with one hand
Cons
It lacks suspensions, not suited for a rougher terrain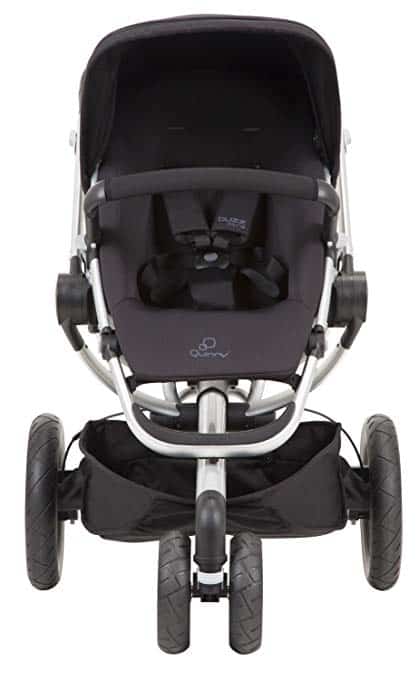 Why we like it:
The Quinny Buzz xtra 2.0 stroller has a soft fabric that is easy to clean. The canopy, footrest and storage market are made of tough fabric thus durable. We love the adjustable handlebar for different heights and lockable front wheels that make it easy to navigate bumpy surfaces. It also offers the option to reverse the seat to face you so you can watch over your baby.
Editor's Rating:
Convenience features
The Quinny Buzz Xtra stroller comes with a storage basket to carry your stuff with you on your stroll. The stroller unfolds automatically saving you a great deal of time while setting it up. It is comfortable to push thanks to the padded, adjustable handlebar. The canopy's height can be adjusted and has an eyeshade to protect the baby from sun rays.
Performance features
This urban stroller has excellent brakes. The brakes that lock in a single push ensure your baby is safely locked when not moving. The handlebar easily adjusts to fit parents of different heights. The front wheels can be locked to keep it straight on the road. The belly bar of this stroller can be pushed on the side to make it easy for you to put your child on the stroller and take them out. The never flat tires and suspension on all wheels ensure a smooth ride on urban terrain.
Additional features
The canopy, footrest and storage basket of this stroller are made from tough canvas to make them long-lasting. It folds in 2 steps making it easy for you to fold and store away. Assembling the stroller is hassle-free and you will love it.
Verdict
The Quinny Buzz Xtra stroller will take you about 15 minutes to assemble. The canvas fabric makes this a durable and easy to clean stroller. Although an average stroller that cannot traverse the toughest terrain with ease, it is a great option for the smooth urban terrain.
Pros
Easy to assemble
Easy to administer brakes
Large and adjustable canopy
Easy to clean
Durable fabric
Reversible seat
Folds easily using one hand
Handlebar is adjustable
Cons
The storage basket is quite small and can only be accessed from the sides and front
Why we like it:
the remote front wheel lock system is an excellent addition in this stroller if you are allergic to dust and dirt, or you don't want to bend at all. The lock system is located on one side of the frame, and not on the wheel, which is well within your reach.
Editor's Rating:
Convenience features
All the wheels are pneumatic, which gives your baby a smoother ride, especially on rough terrains like gravels and sidewalks. If you want your stroller to go straight without bending, you can use the adjustable tracking to make it go straight even when running, which makes it easy to steer and maneuver. The hand-controlled braking system is great, especially when going downhill, it allows you to slow down gradually and keep the baby safe. One setback is that you cannot adjust the handlebar height, which makes it difficult for tall people to jog alongside the stroller.
Performance features
The canopies are great for preventing harmful rays from reaching your baby, and they are extendable according to the height of your baby. The peekaboo windows are good so that you can check on your baby during the ride; one setback is that they come with Velcro closures instead of the modern magnetic closures. Another useful feature is that the seats are roomier than other models; it has a weight capacity of 75lbs, so your baby cannot overgrow the stroller. The seats are adjustable and made from high-quality fabric, which increases its durability. When you recline the seats fully, you will notice that there is a mesh window, which provides the baby with good airflow during the ride.
Additional features
The 5-point harness is adjustable and well padded, in addition to that, a toddler cannot unlock the center buckle. All the wheels in the stroller have suspensions for a smoother ride, as they absorb most of the shocks during the ride. The parking brake is located conveniently between the rear wheels, and you only need to step on the red pedal to activate the foot brake.
Verdict
The higher weight capacity, plus the one handed fold system makes this stroller a good choice for moms who want to jog with their babies. We recommend this stroller for mothers.
Pros
The run-away strap is useful for regaining the control of the stroller
Large bucket seat
It has a weight capacity of 75lbs
You can easily fold the stroller with one hand
The suspension and the pneumatic tires provide a smooth, comfortable ride
The canopies protect the baby from the sun
The parking brake is conveniently located
Large basket underneath the seat
Cons
The folded stroller doesn't have an automatic lock
The handlebar cannot be adjusted according to your height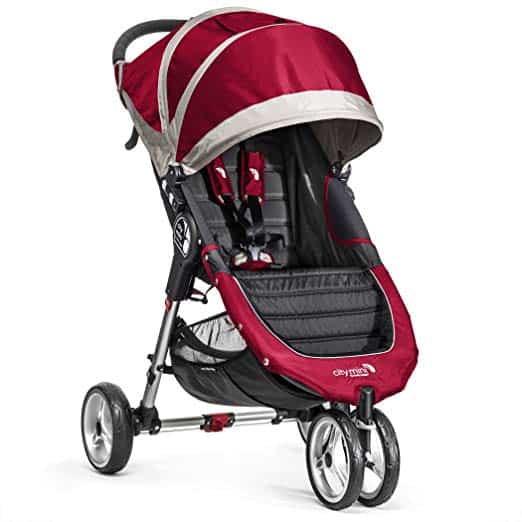 Why we like it:
Baby Jogger City Mini stroller is a lightweight stroller that easily folds in one step. It offers a large seating space. You will love the multiple recline positions and the option of a travel system that will hold your child from birth until they are 65 pounds.
Editor's Rating:
Convenience features
You will love the padded, spacious and deep seat that will hold your baby comfortably. With this stroller, you can comfortably take your child to the park, shopping, and any other city errands thanks to the huge canopy that will keep them from the sun rays. The canopy has 2 peekaboo windows making it easy for you to watch over your child. If you need to carry a few items for your errand, the stroller has a mesh pocket for this purpose.
Performance features
If you are the kind of parent who is always running errands within the city, this could be the best stroller for you. The spacious seats are padded to keep your baby comfortable throughout. In addition, the seat tilts back to a nearly flat position to keep the baby comfortable. This also makes it easy for you to change your child's diaper in case you'll need to. The seat has a mesh for aeration and a cover just in case the weather gets cold. The 5-point harness is adjustable making it possible to grow with your child's changing height. The stroller is stable thanks to its double front wheels that can rotate 360 degrees to manage sharp corners. The front wheel also has a suspension to give smooth rides on bumpy terrain.
If you have a toddler, the seat is car seat compatible allowing you to carry along your newborn to your errands.
Additional features
The easy one step foldability of this seat is adorable. You can fold and carry with one hand as you use the other hand to hold your child's hand during city errands. The back wheels can also be detached by an easy button push enhancing its storage.
Verdict
The Baby Jogger City Mini stroller reclines with one hand and goes down to an almost flat position. The 8.5" never flat tires can handle all terrains and the locking swivel mechanism on the front tires will make it even easier for you on different terrains. If you are a city parent, this stroller could be the best option for you.
Pros
Easy to push
Car seat compatible
Folds using one hand
Automatically locks when folded
The seats are roomy
Comes with a large mesh pocket at the back of the seat
Huge canopy
Cons
The handlebar is not adjustable but fits a height of 42"
The storage basket is hard to access. But you can use the mesh pocket at the back of the seat for things you will mostly need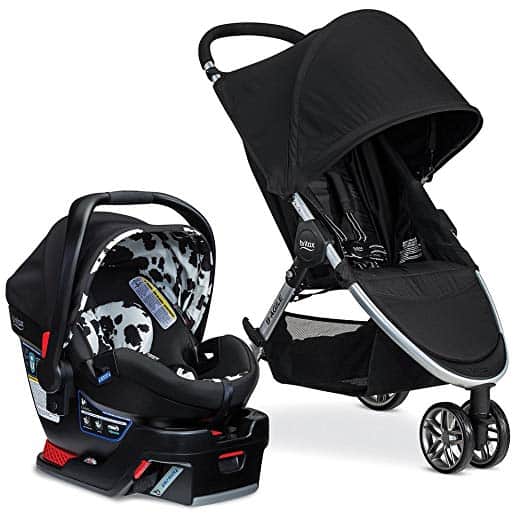 Why we like it:
Designed with three wheels with a lock-swivel on the front wheel and all wheel suspension system to offer a smooth ride and easy maneuverability. We will love that with one purchase, you get the best stroller and best car seat. It folds and unfolds with one hand and self-stands when folded. The stroller is durable and will grow with your child.
Editor's Rating:
Convenience features
How would you like a combination of the best car seat and the finest stroller? The stroller has 2 large wheels at the back and a swivel front wheel making it great to maneuver corners and most terrains. If you live in a place with rough terrain, there is an optional additional wheel to make it easy for you. The stroller can be controlled using on hand so you can use the other hand to carry along additional stuff. You will also have a storage basket at the back for additional items you may need while outside. It comes with an extra-large canopy to offer maximum sun shade.
Performance features
You can take a stroll during a sunny day with this stroller, thanks to the large canopies for maximum sun shade. The peekaboo window will allow you to have a view of your baby without going to the front side. The seat offers multi recline positions for your child's comfort. You can let the wheel rotate fully to help navigate tight corners when walking or lock them for a straight ride when moving fast. The suspension mechanism on the seat will ensure a smooth and comfortable ride even on the toughest of terrains. It also has a 5-point harness to keep your child safe irrespective of the bumpiness of the ride. You will love the brakes as you can easily activate with a simple leg push.
A great feature of this stroller is the car seat. The car seat can be attached to the stroller with a quick click. This feature will enable you to carry your sleeping child from the car to the luxury stroller without disturbing them.
Additional features
The Britax 2017 B-Agile stroller easily folds using one hand and has a frame lock making storage easy. It is lightweight so you can carry it with ease. The stroller seat comes with enhanced safety features to offer your child protection beyond government standards.
Verdict
The Britax 2017 B-Agile stroller is foldable and lightweight enhancing its portability. It is convertible to a double stroller and also car seat compatible. The car seat is easy to install and remove. If you are a parent that is always on the go, this could the best travel system for you.
Pros
The car seat connects to the stroller easily
Can be folded easily using one hand
Self-stands when folded
Takes up small space when folded
Lightweight
The handle has a comfortable grip
A great protection mechanism
Cons
Storage basket at the base is quite small
Why we like it:
It's not only lightweight, but also spacious with a well-padded reclining seat to ensure the baby is comfortable. It's also an all-terrain stroller with large rear wheels and swivel front wheel and an adjustable handlebar featuring a twist hand brake, thus perfect for either strolling or jogging.
Editor's Rating:
Convenience features
The adjustable handlebar has a maximum height of 45 inches, which makes it easy to use by people with varying heights. Also, you can easily lock the handlebar into place, so that you only concentrate on the jogging. Another advantage is that you can easily fold it with one hand, while the other hand is holding the baby. There is a rubber strap that locks the folded stroller into position so that you can carry it easily. The wheels have rear suspensions, which gives your baby a smooth ride. You can also lock them into position, and use the adjustable tracking to stop the stroller from veering left or right during the ride.
Performance features
The seat can recline to a nearly flat angle, which is good for the baby to sleep comfortably during the ride. Another feature is the child straps on the seat, and they can be easily adjusted such that they prevent the child from moving during the ride. The stroller weighs only 23lbs, and together with the rear suspension, streamlined design, and large tires, pushing this stroller while jogging is easy. Your baby's ride will be smooth and comfortable on any terrain. The maximum weight the seats can handle is 75lbs, but we feel that if the seats were a little bit deeper, kids five years old and above would still ride comfortably in this stroller. We loved how the seats were padded for added comfort; the child will be comfortable even when riding in rough terrains. Plus, there is a little peekaboo window for you to check how your child is doing during the ride. One setback is that the wrist strap on the handlebar is too short, which makes it difficult for you to switch hands while pushing the stroller.
Additional features
The stroller comes with small mesh pockets, which are useful for storing baby stuff and there is also a weatherproof compartment to store items during a rainy day. Furthermore, you can purchase a Thule console, which comes with small zippered pockets and a cup holder. Here you can store your cellphone and keys, and it's within your reach.
Verdict
The lightweight and the streamlined design makes this stroller best suited for parents who like jogging. Plus the large tires and the rear suspension makes the ride comfortable on any terrain.
Pros
The handlebar can be adjusted to your height
There is an extendable sunshade canopy with mesh pull-outs
The stroller can be folded easily with one hand
There is a small weatherproof compartment beneath the seat
It has a weight capacity of 75lbs
You can lock the wheels into position to avoid veering
The seats recline to a nearly flat for the baby to nap comfortably
Cons
The wrist strap on the handlebar is short, which makes it difficult to switch hand positions
No cup holder, but you can purchase the Thule console separately which contains the cup holder and small zippered pockets
Why we like it:
the storage space beneath the seat is large enough for you to store baby stuff like blankets, diapers and anything that can fold up. Plus the stroller comes with most of the convenience accessories, so you don't have to purchase additional items.
Editor's Rating:
Convenience features
The aluminum frame is lightweight, and at the same time sturdy, it can support a maximum weight of 50lbs, you don't have to worry if it will tip over when the child grows. You will also be amazed at how the seat folds up to save on space, to fold the seat, reach out to the seat crease and pull up the handlebar. The seat will fold up automatically. This stroller comes with a premium suspension system, which gives you a smooth ride even in rough terrains. The tires are pneumatic so that they roll smoothly, and you can lock the front wheels to make pushing it easier when jogging.
Performance features
The baby cannot overgrow the seats of this stroller, it is big both in height and width, so there is plenty of room for the baby. We also noted that the seats are made of tech fabric, which allows airflow through it, and this feature makes it breathable for the baby. The fabric also comes with reflective piping, which will enable you to be seen in the dark by motorists and cyclists. The seat comes with a 5-point harness, which allows you to secure the baby during the ride. In addition to that, they are padded for added comfort. You can also change the adjustable recline easily if you want the seat to recline downwards, push the recline button. To incline the seats, you have to pull up both straps. The sun canopy and the flip out visor are great for shading the baby from harmful rays, and it extends to the bumper bar. This feature is good when walking your child outdoors, or while jogging in the sidewalks.
Additional features
There is a cup holder in the stroller, where you can place your water bottle or the child's bottle on the move. In addition to the mesh pocket, which can hold your purse and your phone on the go. Plus they are zippered for added safety of the components and strapped at the back of the stroller's seat.
Verdict
Most people are satisfied by the fact that they don't have to purchase accessories like adapters also the one handed fold is an added advantage; for these reasons, we recommend this stroller.
Pros
Four positions adjustable reclining seat
Adjustable suspension and pneumatic tires
Extendable canopy to protect your child from the sun
It has parking brakes
Safety harness to secure the baby
Storage space beneath the stroller
Large comfortable seats for the baby
Cons
The air nozzle is close to the wheel's center, which makes it difficult to pump air.
Guide to Buying the Best Luxury Stroller
What are the different types of luxury strollers?
Jogging strollers
You should go for strollers that come with a wheel lock system and an adjustable tracking knob, which prevents the stroller from veering off the jogging trail. The suspensions on a jogging stroller need to be superior; the baby's comfort during the ride should be your top priority. A jogging stroller needs to have additional features like a safety harness and a bumper bar to prevent the baby from falling off the stroller. The hand brake is a must have in a jogging stroller for convenience, especially when jogging down a slope.
Full-sized strollers
If you doubt that your baby will outgrow the stroller, then go for full-sized strollers that are roomier and sturdier. They usually come with features like comfortable padded seats, an option to attach a car seat, extendable canopies and telescopic handlebars. They come with a convertible design, which is best suited for toddlers and new infants so that they don't overgrow the baby stroller. Most of the full sized strollers have a maximum weight capacity of 50lbs.
Umbrella/lightweight strollers
This stroller is great for newborns, as they come with shoulder straps that enable you to lift them and carry them on your back, which makes them very portable. Due to their size, they can be folded easily and stored in the house, or your car's trunk. Other features associated with a lightweight stroller are a built-in cup holder, extendable canopy and seat recline. This stroller is best suited for mothers who travel often.
Double stroller
These strollers have two compartments for twins, and they are seated either side by side on the stroller or one behind the other. So instead of purchasing two strollers, you can buy this double stroller and manage it, which saves you money. This stroller tends to be bigger because of the two compartments, so you have to check the width whether they fit your doorways, and the general stability while turning. Also, ask whether the double stroller can fit in two car seats or one while using the adapter.
Convertible strollers
Some strollers give you the option of reversing the seats, such that the baby can face you during the ride. You can easily check on your baby during the ride, and we think this is a good design if you like checking on your baby often. Also, other designs have a peekaboo window with either Velcro or magnetic closures. We highly recommend the later, since it is easier to check on your baby without physically opening the window yourself.
Travel system
Always chose a travel system with the right stroller, the stroller can be lightweight, jogging and full-size. One advantage of purchasing an infant car seat that is easily connected to your baby stroller through an adapter is that you don't wake up the baby as you transfer them to the stroller from the infant car seat. An infant car seat should also be lightweight and compact so that it becomes easy to lift the baby in and out of your car. Be on the look-out for baby strollers, which come with adapters, as they save you money. One downside of the infant car seat is that the baby will outgrow it faster than the stroller.
Factors to consider before buying a luxury stroller
Buying a luxury stroller for the first time will need you to put into consideration a number of things. We have listed some factors to put in mind before diving into buying one.
Purpose
How will you be using the luxury stroller? This is important as it will help decide what features to look out for. If you need a luxury stroller for running errands around the city, you might need one that is easy to fold and carry.
Luxury strollers for jogging need to be easy to push on all terrains with a lockable front wheel for sturdiness.
Luxury strollers for travel should be lightweight and compact.
Here is a guide on how to handle your luxury stroller during air travel.
Is the stroller newborn friendly?
You have to check the padding, secure harness straps, and neck support. Some brands advice you to purchase an additional bassinet or infant car seat to make your baby stroller more infant friendly. If the stroller can be attached to an infant car seat easily, then moving the baby in and out of the car without waking them up will be easier. Also, check the adjustable recline, if the stroller has a deep and flat recline, then the baby will be comfortable while napping in the stroller. Make sure you check all these features when purchasing a baby stroller for infants below the ages of six months. Above all, check the edges of the frame for sharp corners that may injure the baby during the ride. If there are any openings in the frame, then the little hands might get stuck while they play.
Three-wheeled vs. four-wheeled
Most people prefer three-wheeled strollers as they are easy to maneuver and steer while jogging or walking around in town. You can easily steer a three-wheeled stroller with one hand when compared to a four-wheeled stroller. You can request for a test drive with your infant before purchasing any of these baby strollers. Stability of the design should be paramount when making that decision, how does it handle a sharp turn? Can it trip? Are you able to control it with one hand while jogging? These are some of the questions that will assist you before you make a choice. If you like jogging with your baby, we highly recommend the three-wheeled design.
Is it easy to fold and unfold?
Some baby strollers fold automatically, and some even have a fold lock system. Look for a stroller that can fold and unfold easily, considering that you might be holding the folded stroller on the one hand, and the baby on the other hand. In this case, a stroller that can be folded with one hand is highly recommended. The best thing is to try it out before purchasing the stroller.
The terrain
If you intend to jog or walk in tough terrains like gravel and bumps, then go for strollers that have all-wheel suspensions in addition to foam (Polyurethane) tires. These tires are made of rubber with trapped air inside, and they offer smooth and comfortable rides in tough terrains. Also, they cannot be punctured, which reduces the hassles of inflating and repairing punctures and also saves you some money. The ride needs to be soft, such that the baby will remain asleep during the ride.
Handlebars
Not all luxury strollers have the same height of handlebars. If you are a tall parent, you might need one with an adjustable handlebar or a tall handlebar to fit your height.
How many children will use the stroller?
The luxury stroller was meant to bring your child with you whenever you go out. If you have more than one kid, you will need a luxury stroller that can take an extra seat. Some luxury strollers are designed for twins.
What's your budget?
Luxury strollers come at a hefty cost and it would be great to know how much you are willing to spend on one to make your selection easier.
Safety
Your child's safety cannot be overlooked. Before buying a luxury stroller, ensure it has all the safety features such as the 5-point harness, easy to engage brakes, wrist strap and many more.
Frame and fabric
The frame and fabric of the luxury stroller you are picking need to be strong. This will ensure your child uses it for long without replacement. The fabric should also be easy to clean for your own convenience.
Additional features
What else do you get alongside the travel stroller? Consider a luxury stroller that comes with more than just the pushchair. Though not a must, it would be good to have one with a cup holder, carrying strap, and mosquito net among other features for your convenience.
Final Words
We believe you are now better placed to select the best luxury stroller on your next buying. Whether you need one for twins, for tough terrains or on a budget, we have put together a list of best luxury strollers in 2018 to make it easy for you.