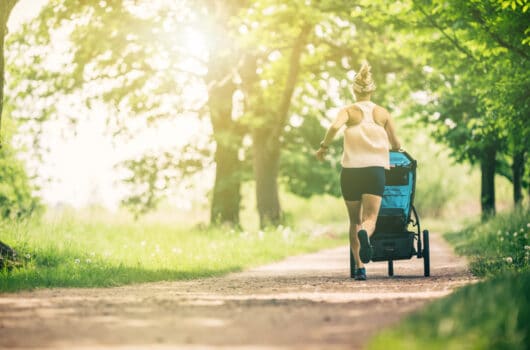 O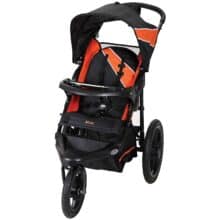 Baby Trend Xcel Jogger Stroller
B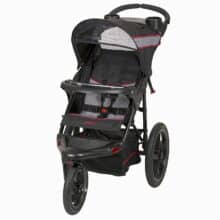 Baby Trend Range Jogger
P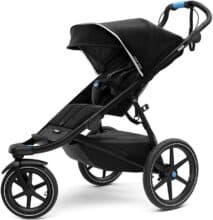 Thule Urban Glide 2 Jogging Stroller
Previous
Next
If you've ever pushed a stroller and found yourself frustrated that it can't climb a hill or make it down the sidewalk, you're not alone. While traditional strollers work well, all-terrain strollers are superior in all categories. The storage space, wheels, and chassis are designed to help you conquer obstacles. Things like hills, cracked sidewalks, and mud become an afterthought when you have the best all-terrain stroller.
All-terrain strollers seem simple, but there is a lot to them. You'll come across strollers for jogging, for trails, and or the beach. Finding the right stroller for you and your child is essential, so let us help. We did the research and compiled a list of the ten best all-terrain strollers you can find. Plus, we have some great pointers to help you along the way.
Factors to Consider When Shopping for All-Terrain Strollers
To be sure you pick the right all-terrain stroller for your needs, keep these important factors in mind.
Type
First and foremost, you want to take a look at the types of all-terrain strollers available. Most all-terrain strollers work similarly, and across each class, you'll see similar features. While this is common, each stroller category has strengths and weaknesses. Many retailers only list joggers in the all-terrain category, but there are plenty of other all-terrain options. The three types are traditional all-terrain strollers, joggers, and all-terrain wagon strollers.
Traditional All-Terrain Strollers
Traditional all-terrain strollers are the least expensive options you can find. They usually have a lot of small wheels that can swivel or be locked into place, and they thrive on portability. While traditional strollers are a good option for everyday use, they don't perform as well as joggers and wagons off-road.
Joggers
Joggers are the most expensive options that you'll come across and for a good reason. These strollers feature three air-filled tires, similar to bicycle wheels, that help them glide over any terrain. Joggers are also great for active parents because you can push them during your workout. For running and hiking, joggers are the best. The only downside to these strollers is their price and lack of portability.
All-Terrain Wagon Strollers
All-terrain wagon strollers work differently than both traditional and jogger strollers. These strollers are built like tanks and feature thick wheels with aggressive tread designs. With wagon strollers, you also have the option to push or pull them, and they have a lot of storage space. The downside to wagon strollers is that they're not portable and are best suited for places like the beach, backyard, and park.
For an even deeper look at the three types of all-terrain strollers, check out our full guide below.
Weight Limit
The next feature you should look for is the weight limit of an all-terrain stroller. Most all-terrain strollers can carry fifty pounds, on average, but the maximum weight does fluctuate. If your child is on the older side, you'll want to look for a stroller that can handle seventy-five or eighty pounds.
Foldable Frame
Standard strollers can usually fold down, which helps them fit in your car or truck. All-terrain strollers don't always offer the same portability because they favor bigger wheels and aerodynamic designs. However, while this is true in some cases, you'll still come across some strollers that can be folded down and used for travel. If portability is something you value, keep an eye out for foldable all-terrain strollers.
Harness
All-terrain strollers, like traditional strollers, come with different harnesses. As you're shopping, you'll notice 3-point and 5-point harnesses. For strollers, this is all we have to worry about. With that said, each harness has its strengths and weaknesses.
3-Point Harnesses
3-point harnesses are the most common harness that you'll find on any stroller. They work by strapping your child in over both shoulders with and an additional strap in between their legs. All three straps secure together and provide your child with a comfortable and safe stroller experience.
The only downside to 3-point harnesses is that they're not as safe as 5-point harnesses if your child experiences shocks. Keep in mind, for strollers, a 3-point harness offers plenty of protection.
5-Point Harnesses
5-point harnesses offer superior protection than 3-point harnesses, but they're less comfortable. More straps mean that your child will handle an accident better and there is less of a chance that they become disconnected from the stroller. For strollers, 5-point harnesses aren't always necessary, but in some cases, the extra protection can be worth it.
Price
All-terrain strollers are more expensive than traditional strollers because they offer more features. While all-terrain strollers can get pricey, there are extremes on both sides. To keep everything simple, we've grouped each stroller into three categories:
$: Around $100
$$: Around $250
$$$: Around $400
Now that we've explored the most important factors to consider, let's jump into the best all-terrain strollers on the market today.
Top 10 Best All-Terrain Strollers 2020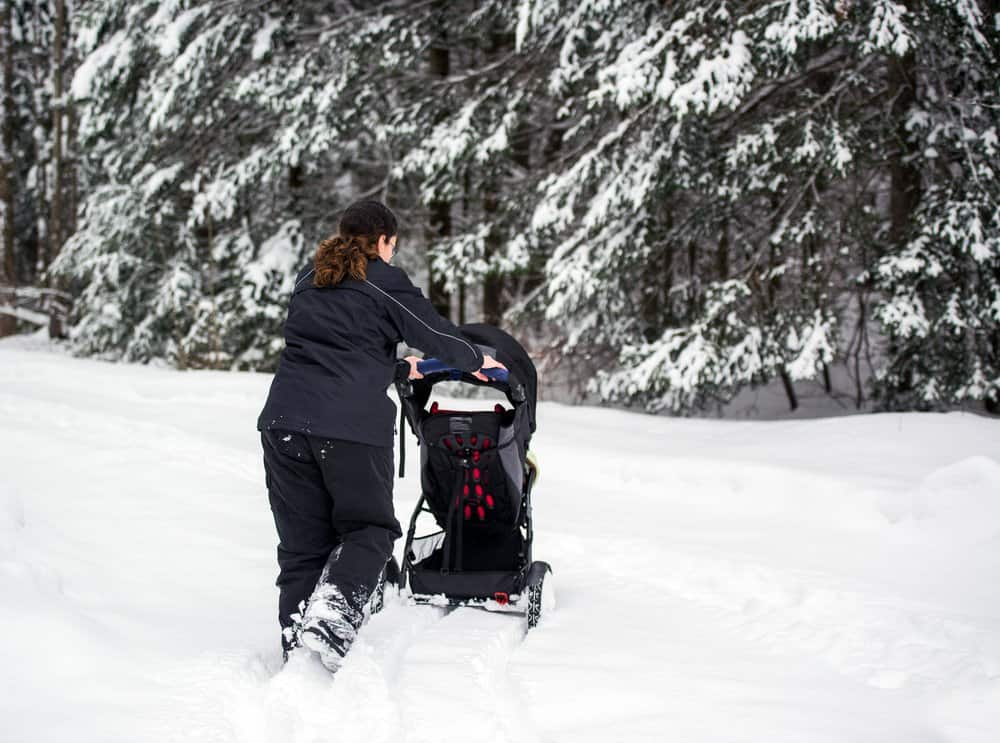 Everything You Need to Know About All-Terrain Strollers
Shopping for a regular stroller is simple. You look over a few products and choose one that's cost-effective and seems safe. Unfortunately, all-terrain strollers are more complicated than that.
When shopping for the best all-terrain stroller, you need to think carefully to make sure you grab the right one. So, we're going to take you through everything you need to know about all-terrain strollers and help you narrow down your options along the way.

Getting Started
When you first look through all-terrain strollers, it can be overwhelming. You'll come across wagons, joggers and different types of wheel setups and suspension kits. Given these options, how do you know which product fits your needs? Let's take a look at joggers, wagons, and traditional all-terrain strollers.
Traditional All-Terrain Strollers
Traditional all-terrain strollers resemble your average stroller. They have a lot of wheels and generally include a front swivel wheel you can lock into place. While they look similar to regular strollers, all-terrain models feature bigger wheels and all-terrain tires. These strollers are great for everyday use, travel, and walking the occasional off-road trail.
If you don't plan on doing a lot of off-road activities and just need a simple stroller, the Kolocraft Cloud Plus Lightweight Easy Fold Compact Travel Stroller is a great choice. It comes with all-terrain tires that help at the beach and park but doesn't cost a fortune.
Joggers
Jogger strollers are different than traditional strollers because they use three wheels, with or without a swivel, and they're made for physical activities. These strollers typically have air-filled bicycle tires, which helps them glide over rough terrain. If you are going on runs or hiking, you need a jogger.
Joggers are also more expensive than traditional all-terrain strollers. So, if you're not sure about whether or not you need one, start with a product like the Baby Trend Xcel Jogger Stroller.
Wagons
Utility is hard to come by when you're shopping for all-terrain strollers. Many parents overlook these strollers because they don't look or feel like a stroller; they resemble wagons. While traditional stroller designs work well, wagon designs offer more storage space and room for additional passengers.
Stroller wagons come in handy for activities like backyard parties, trick-or-treating, days at the beach, and other outdoor locations you'll be spending a lot of time at. Thick tires help them move through mud or sand, and having two wheels in the front and back provides more stability than joggers on uneven surfaces.
If you like the sound of a wagon stroller, the Pivot Xplore All-Terrain Stroller Wagon is a great choice. If you're having a backyard bash, or even for a trip to the beach, the thick wheels and generous storage space help you seize the day.
Choosing a Stroller Based on Terrain
While all-terrain strollers are designed to handle most terrains, some are better than others in specific situations. There are three terrains you should keep in mind when you're shopping for an all-terrain stroller. They include suburban, urban, and off-road.
Urban Terrain
Urban terrain is your typical city block. You'll be facing cracked sidewalks, stop-and-go situations, and cramped walkways, depending on the city. Urban ground can also be hard to drive through, and if you're looking for a trail, you're going to have to take the stroller with you out of the city.
Urban all-terrain strollers are nimble and compact. You can take them with you on a train, but they can also handle broken pieces of sidewalk or road. If you need a stroller for everyday use in the city, the GB Pockit+ All-Terrain is an excellent choice.
Suburban Terrain
If you live in the suburbs, going for a walk usually means a walk down the street or sidewalk. Suburban areas are less crowded than cities but offer more options and terrain. For example, you can find more dirt paths and exciting trails out in the suburbs.
If you live in the suburbs, you'll want a stroller that offers a little bit of urban and off-road performance. A great option to start with is the Baby Trend Range Jogger because the swivel wheel allows you to change between a traditional and jogger stroller.
Off-Road
If you need a stroller for shredding hills and going on many off-road adventures, you need a jogger stroller that can handle it. Off-road strollers have three wheels, and they're usually joggers. If you do plan on going off-road, you should focus on a high-end stroller that will keep your child safe without ruining the adventure.
While the cost is going to be higher, we recommend a premium stroller like the Thule Urban Glide 2 Jogging Stroller. It features air-filled bicycle tires, plenty of storage, and a handbrake to help you control the stroller on inclines.
Looking for Portability?
Strollers come in many different shapes and sizes, which can either improve or harm their portability. For all-terrain strollers, this is exponential. Most all-terrain strollers focus more on suspension and tires than they do portability, which can make it challenging to find a reliable stroller that you can travel with.
While this is true for most all-terrain strollers, the GB Pockit+ All-Terrain is an exception. This all-terrain stroller is carry-on approved and folds down into the shape of a handbag.
If You're Shopping for Two Children
Most strollers that you shop for are only suitable for one child. This is great for some parents and terrible for others. If you have more than one child, there is no need to push two strollers because there are double all-terrain options.
Your best option is the Baby Trend Expedition Double Jogger Stroller. This stroller is a monster on trails because of its enormous tires. If you plan on jogging or being adventurous, it's the double stroller you want to have.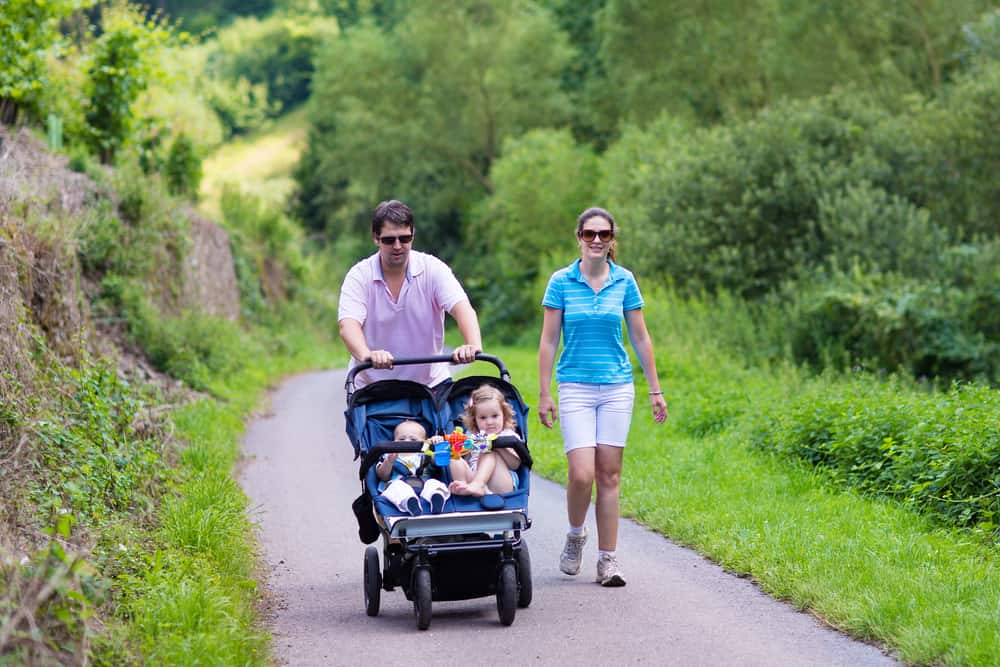 FAQ
What Is an All-Terrain Stroller?
An all-terrain stroller is a stroller that relies on big wheels, all-terrain treads, and a fortified suspension. Compared to traditional strollers, all-terrain strollers perform better off-road, on sidewalks, and on most forms of pavement. All-terrain strollers are also good at switching between terrains without creating a bumpy ride for your child.
Do I Need an All-Terrain Stroller?
All-terrain strollers are not for everyone. If you don't like to hike or walk trails, you probably don't need one. With that said, if you wish to go for long walks and adventures, an all-terrain stroller becomes a must-have product. Whether or not you need one depends on your activity levels and where you like to go.
People often believe that all-terrain strollers are reserved for off-road terrains. While all-terrain strollers do perform well off-road, you'll find that joggers can be great for urban areas too. Their high maneuverability is useful for weaving in and out of crowds.
What's Better, Three Wheels or More?
The amount of wheels a stroller has is a good indicator of how it will perform. It's hard to say that one wheel setup is better than another, but for all-terrain use, we've noticed that three-wheel designs are best. They're great for moving in a straight line and can turn like a car or bike.
How Many Strollers Do I Need?
When you see an all-terrain stroller, you might not think you need it, especially if you already have a traditional stroller. While many parents do okay with one stroller, we always recommend having two. One stroller should be for travel, and the other should be for everyday use.
Is a 5-Point Harness Safer Than a 3-Point Harness?
Strollers are safer than cars, so the need for more straps isn't always necessary. Still, more straps mean more protection. A 5-point harness has two belt straps around a child's shoulders, two belts for the hips, and one in between the legs. A 3-point harness has only the shoulder straps and one between the legs. For safety, the 5-point is better.
Find Your Perfect All-Terrain Stroller
Shopping for strollers is never easy, but it doesn't have to be hard. Once you know what you need, it's easier to figure out which all-terrain stroller is the right fit. If you need to take on the trails, have a brisk walk through the city, or spend a day at the beach, there is a stroller for you.
Take some time to determine what it is you need out of an all-terrain stroller. Everyone has different needs, so keep in mind, not every stroller is going to be a good fit for everyone. Luckily, you can't go wrong with any of the ten best all-terrain strollers we have listed.