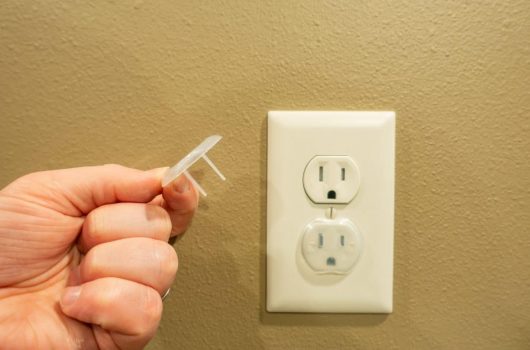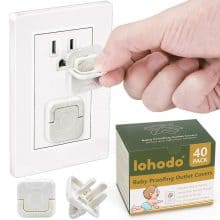 Lohodo Baby Proofing Outlet Covers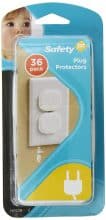 Safety 1st Plug Protectors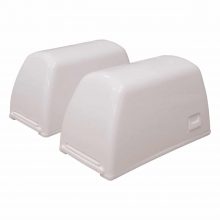 Dreambaby Dual Fit Plug and Electrical 2-Piece Outlet Cover
Previous
Next
As a parent of a newborn baby, your top priority is protecting them from danger. When it comes to baby-proofing your home, electrical outlets should be one of your primary concerns. Not only do household electrical outlets carry enough current to kill a baby or toddler, but they also attract their attention. Most power outlets in homes are right at a baby's eye level, and the combination of the shape of the outlets and the holes can be very attractive to a curious baby and little hands.
Because electrical danger comes in a lot of different forms, there are many different products designed to keep babies and other children safe when near an outlet. To help you make sense of them all, we've compiled our list of the 10 best baby and childproof outlet covers available online in 2020.
What to Consider Before Buying Outlet Covers
There are a surprising amount of different ways to safely shield an electrical outlet from babies and young children. Before you start shopping, you should have some idea about the location of your outlets, how often your children will be playing near them, and how often you will need to use the outlets. There is a good chance that there is a product on this list that fits your needs exactly. Here are some of the different kinds of baby and childproof outlet covers we reviewed.
Standard Baby Outlet Covers
These are the little plastic pieces that most parents think of when they picture a baby outlet cover. You can get enough of these to protect your entire house without paying much at all. The Lohodo Baby Proofing Outlet Covers are our favorite traditional baby outlet covers.
Plug + Outlet Covers
One of the worst parts of using a traditional baby outlet cover is that you can't have anything plugged into an outlet while in use. Plug and outlet covers like the Dreambaby Dual Fit Plug and Electrical 2-Piece Outlet Cover allow devices to be plugged in while also protecting your baby from shock
Outdoor Outlet Cover
If there's an outdoor outlet within arms reach of your little one, you will want an outdoor cover designed for all weather conditions like the Baby Block Universal Power Outlet Cover Box.
What We Look For
When choosing which baby outlet covers to recommend to our readers, here are the criteria we use.
Safety: This is the most important factor because it's the reason that you are buying the outlet covers in the first place. In this section, we will explain how each product protects your baby and review how effectively they get the job done.
Convenience: In this section, we'll describe what is required to install each of the baby outlet covers on the list. We will also let you know if devices can be plugged into the outlet while it is protected.
Frustration Factor: Broken nails are painful. The most annoying part of traditional baby outlet safety plugs is that they can be difficult and painful to remove from the outlet once you have finished using it. We'll let you know how each product performs in this department.
Toddler Proofing: As our little ones grow, they get smarter and craftier. While this is normally a good thing, it can be scary until they learn to avoid danger. We'll let you know if each choice below is secure enough to keep toddlers away from the outlet as well as babies.
Value: Having a baby in the house is expensive! Because every dollar counts, we want to help parents find the least expensive baby outlet covers that fit their needs.
Electricity Can Harm Your Child!
For the first few months of their lives, babies don't move around much. This is good news for new parents as it limits the amount of trouble that your baby can get into. As they get older and learn to crawl, however, they become more mobile and more likely to get themselves into danger when you are not watching. While death due to electrocution is rare, thousands of kids are admitted to the ER every year with injuries sustained from sticking fingers and other objects into live outlets. To reduce the risk as much as possible you'll want to baby-proof all areas of your home, so let's take a look at the best baby outlet covers on the market today.
Top 10 Best Baby and Childproof Outlet Covers 2020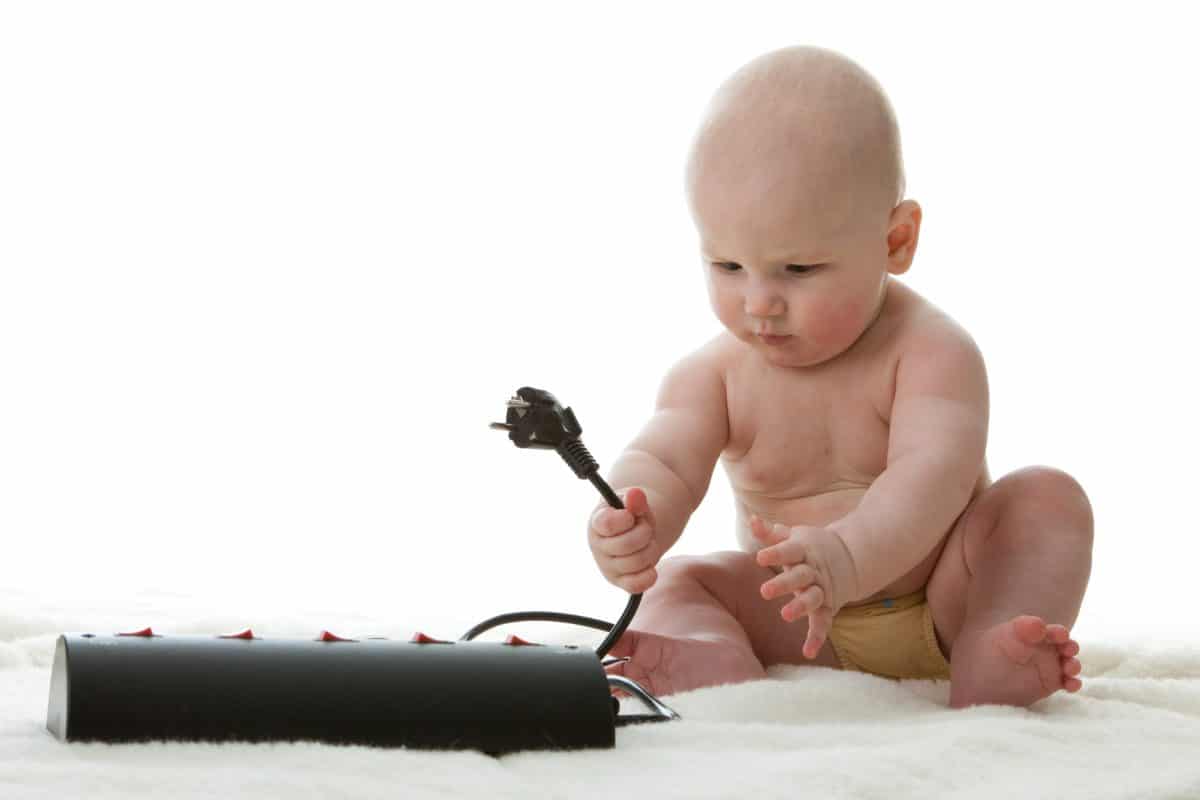 Everything You Need To Know About Babyproof Outlets
Keeping Your Baby From Playing With Electrical Outlets
It's important to understand that no matter which baby outlet cover you choose, there are still risks. That's why it's important to reinforce the danger posed by an electrical outlet as early and as often as possible. As early as three months old, you will notice them starting to fixate on individual objects around them. When you notice their attention directed toward an electrical outlet, talk to them about the danger, then distract them with something else. This will help them learn to trust you to watch out for their safety before they are even old enough to talk.
Especially once your baby begins crawling, you want to make sure they are never allowed to play unsupervised near an unprotected outlet. For babies who are obsessed with the electrical outlet, we suggest a protector that disguises the outlet and avoids attracting their attention like the Safety 1st OutSmart Outlet Shield.
Keeping Your Toddler From Playing With Electrical Outlets
Once your baby starts walking and talking, you will be able to reason with them and explain more about why electricity is dangerous and why they should stay from the outlets. Unfortunately, if their strength and motor skills develop faster than their understanding of danger, you may still want to make sure that the outlets around their play area are protected with an outlet cover that is harder to get into like the Dreambaby Dual Fit Plug and Electrical 2-Piece Outlet Cover.
If your toddler is curious and expresses a desire to learn more about electricity and electrical safety, that's great! There are lots of great resources online to help parents teach their little ones about electricity and using it safely.
First Aid for Electrocution Injury
There are four main factors that determine the extent of an injury due to electrocution. These factors are the type of current, the strength (voltage) of the current, the health of the person shocked, and how quickly they are treated. Electrical shocks may or may not cause visible burns on the body. No matter what the injury looks like, however, an electrical current passing through a body can cause injury, internal damage, or even cardiac arrest. In some cases, even a very small amount of electricity can cause death.
IMPORTANT: A child or adult who has been shocked by any significant amount of electricity should be seen by a doctor soon after the injury, even if they feel fine afterward. Do not touch the injured person if they are still touching an active electrical current.
If the person who has been shocked experiences any of the following symptoms, you must immediately call 911 or your local emergency number.
Difficulty breathing
Loss of consciousness
Seizures
Severe burns
Muscle pain or spasms
Irregular heart rhythm
Confusion or mental fogginess
Cardiac arrest
While waiting for medical help, try and turn off the electricity if possible to prevent additional injuries, keep the injured person warm, and apply a clean, loose bandage on any burns. While sterile gauze is best for these purposes, any clean cloth will do in a pinch. Make sure not to use blankets, towels, or anything else with strands that could cause further injury. If the injured person stops breathing, performing CPR may improve their chances of survival until emergency services arrive.
Cord Safety
While parents often focus on the danger presented by the electrical outlet itself, the hazard presented by power cords running between devices and the outlet is often overlooked. Not only is there a risk of strangulation to your baby or toddler by using the cord to pull heavy electronics onto themselves, but frayed or faulty cords can create a risk of electrocution or fire. Here are some important things to remember when baby-proofing areas where power cords must be located.
Power cords that are too long present the biggest safety hazard, if there is too much extra cord, you should roll the extra amount into a small coil and use a zip tie to keep it held together and out of the way.
Do NOT continue to use any power cord that has any kind of fray or cut in it, damaged power cords are a fire hazard and may lead to electrocution.
If you must plug-in devices nearby to where babies will be playing, we recommend using an outlet cover that also protects the cord of devices plugged into it like the Dreambaby Dual Fit Plug and Electrical 2-Piece Outlet Cover.
Avoid running cords under rugs or carpet. While this may seem like a clever way to keep them out of reach of your baby, it can generate excessive heat and become a fire hazard.
A power strip is basically a cord and a set of outlets in one and carries many of the same safety risks. If you must use one of these near an area where your baby will be playing, you should protect it with a cover designed for power strips like the Safety 1st Power Strip Cover.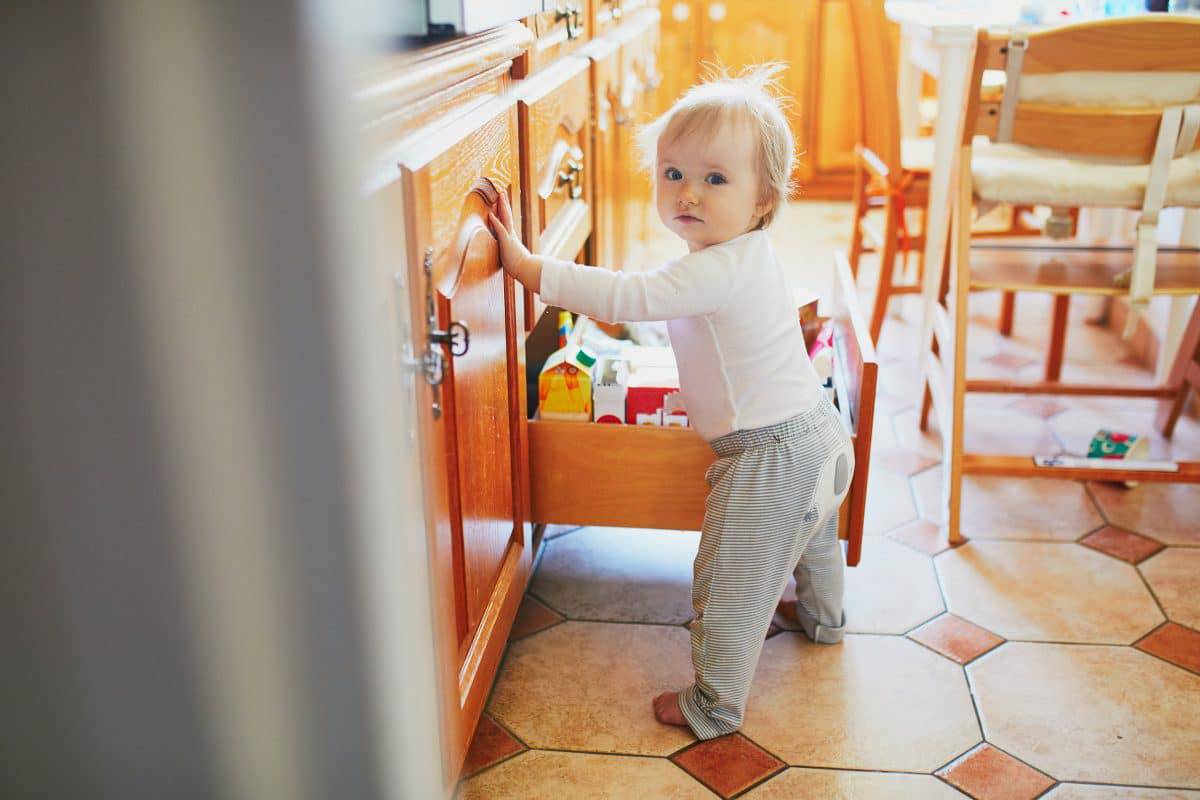 Baby-Proofing Your Home
For a baby who is just learning to crawl, your home is a wonderland of fascinating and dangerous objects. Aside from covering the power outlets, here are some other important steps to take in order to baby proof your home.
Once your baby starts moving around, you will want to make sure to have reliable baby gates that allow you to easily control where your baby can and cannot go. If you need one for your home, make sure to start with our top picks for baby gates in 2020.
Remove any curtains or blinds with long or looped cords. Any length of string longer than 12 inches can create a risk of strangulation.
Make sure that any drawers or cabinets containing dangerous objects are locked with a baby-proof mechanism.
Especially if your home was built before 1978, make sure to have any paint that is peeling or flaking sealed or removed. Interior paint from before 1978 may contain lead and be hazardous.
Baby Outlet Covers FAQ
Q: Do electrical outlets pose a danger to babies and children?
A: Absolutely! Thousands of young children end up in the emergency room every year due to injuries sustained from home electrical outlets. In rare cases, these electrical shock injuries are fatal.
Q: What do I do if my baby won't stop trying to play with an electrical outlet?
A: Unfortunately, because of their appealing shape and their location right at eye level for babies, electrical outlets often create an attractive hazard. Parents should begin talking to their children about the danger of electrical outlets as soon as possible. For parents looking to help their baby forget about the outlet, we recommend a decoy outlet cover like the Safety 1st OutSmart Outlet Shield.
Q: What is the best baby-proof outdoor electrical outlet cover?
A: Our favorite protective cover for electrical outlets in outdoor areas where your baby will be playing regularly is the Baby Block Universal Power Outlet Cover Box.
Final Word About Electrical Safety
A big part of parenting is protecting your children from danger. The products listed on this page can help do that, but they are not a replacement for education. It is important that parents start talking to their kids about the dangers of electrical outlets as soon as they are old enough to listen.