While there are many things you may want for your baby, there's one thing you absolutely need—diapers. And a lot of diapers. In their first year, your baby can go through around 300 of them a month!
When you use something this often, convenience is the name of the game. After all, the last thing a parent needs is extra stress. Disposable diapers are the simplest, easiest option for dealing with your baby's messes at home or out and about. But there are so many features, add-ons, and styles that choosing the right disposable diaper can seem anything but simple.
Never fear! We're here to break down exactly what you need, as well as showcase the best disposable diapers on the market.
What to Look for in Disposable Diapers
When choosing a disposable diaper for your baby, keep the following things in mind. Diapers vary in their absorbency, the sizes they offer, how comfortable they are and to what extent they mitigate environmental damage. We've factored these things into our reviews.
Absorbency
First and foremost, you'll want to make sure that your disposable diaper can adequately absorb liquid. Because let's be real, what good is a diaper if it leaks? Not only does this avoid messes, but it helps prevent diaper rash and keeps your baby healthy.
Fit
Part of finding the right fit is choosing the proper size. Sizes range from Newborn (N) to size 6, and we have a guide on checking your disposable diaper's sizing down below!
There's more to consider as well. Some diapers offer unique fits for specific situations—like flexible fits for active babies and more secure fits for overnight protection.
Comfort
The last thing you want is an uncomfortable, fussy baby (which quickly leads to a stressed-out, exhausted parent). A comfortable diaper can go a long way toward keeping your baby happy and relaxed. Consider the diaper's softness, breathability, moisture-wicking, and the likelihood of irritating baby's sensitive, delicate skin.
Cost
Again, you're going to be going through a lot of diapers; you'll want to choose ones that fit your budget. Remember though: it's not as always simple as choosing the one with the lowest price. An expensive diaper may be more frugal if it means changing diapers less or avoiding buying diaper rash treatments.
The larger the size you choose, the more expensive the cost per diaper will be too. The exception to this is newborn diapers, which are often slightly more expensive than their size 1 counterparts. Finally, and naturally, larger packs will give you a better deal each diaper. We've listed the price range below in our reviews.
Extras
Disposable diapers can come with special bonus features that make both you and your baby's life easier. A common feature is a wetness indicator that changes color to alert you when it's time for a fresh diaper. Some diapers offer pocketed waistbands to lock in solid waste and help prevent blowouts.
You can also get diapers with added fragrances or other small touches that make them stand out from the rest.
Eco-Credentials
Some manufacturers make all sorts of dubious claims, but the reality is no disposable diapers are exceptionally eco-friendly. If you want to minimize the environmental impact of your diapers, then check out the Bambo Nature.
However, you may also be wondering about whether to get cloth diapers instead, of perhaps you've not heard of this more eco-friendly alternative. We have a comprehensive guide at the bottom of our article if you're considering this alternative to the traditional disposable diaper.
We've rounded up the best diapers available on the market today, so you can feel confident you're giving your baby what they deserve!
Top 10 Best Disposable Diapers 2023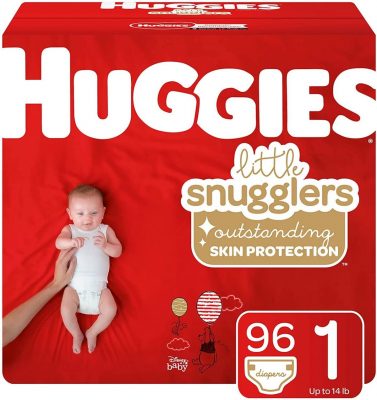 Why we like it:
A fantastic disposable diaper that has nearly everything you could need for standard day-to-day usage.
Editor's Rating:
Specs:
Sizes: N, 1-6
Cost per Diaper: $0.25 – $0.49
Absorbency
Huggies Little Snugglers offer multiple features that help absorb liquid and keep your baby dry. First, it has the unique Huggies Leak Lock System, which helps keep liquids from escaping. It also comes with a GentleAbsorb liner that keeps your baby safe by pulling moisture away from their skin. This means they're much less likely to experience diaper rash. While it absorbs fantastically, it sometimes has difficulty masking the smell of a messy diaper.
Fit
These disposable diapers offer a multi-purpose, non-bulky fit that works well for both sleeping and active babies. Huggies Little Snugglers included patented double-grip strips that keep the diaper in place when your child squirms around. While this is a major bonus, it can cause a slight problem. It sticks so well it's sometimes difficult to remove the diaper when you go to change your baby. (Which may be well worth it once you experience the mess of a fully-loaded diaper falling off your crawling child.)
Comfort
Your child's delicate skin will be comfy and cozy thanks to the soft, breathable outer cover. The cotton-like finish also helps these feel more like clothes and less like those stiff, standard diapers.
Cost
Huggies Little Snugglers are offered at a reasonable, mid-range cost that works for nearly any family.
Extras
Like almost all Huggies diapers, the Little Snugglers are hypoallergenic. They're free of many harsh chemicals that may irritate your baby, including fragrances, paraben, elemental chlorine, and even rubber latex. The pocketed waistband manages to contain blowouts (a huge plus). And the wetness indicator makes it easy to know when to change.
Pros
Double-grip strips

Hypoallergenic and free of harsh chemicals

Pocketed waistband to prevent blowouts

Cotton-like finish

GentleAbsorb liner to protect baby's skin
Cons
Double-grip strips can make diaper changes difficult

Doesn't contain dirty diaper smell efficiently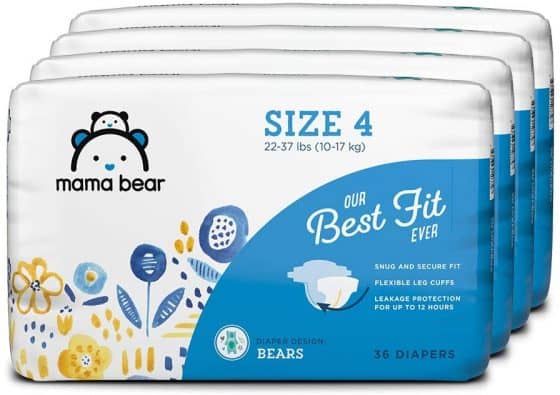 Why we like it:
A reliable disposable diaper perfect for parents who want to consider environmental and ethical issues while managing their baby's needs.
Editor's Rating:
Specs:
Sizes: N, 1-6
Cost per Diaper: $0.18 – $0.52
Absorbency
Mama Bear Best Fit Disposable Diapers contain baby-safe absorbent particles that collect liquid and turn it into a gel-like substance. While this does a wonderful job absorbing, it can also leave a bit of gel residue on your baby's skin. Thankfully, it's safe, and you can easily wipe it off with a damp cloth or baby wipe. They also feature a quilted liner that helps pull moisture away from your baby, keeping them even drier.
Fit
"Best Fit" is right in the name, and for a good reason. Their stretchy, soft sides adjust to your baby's individual body, giving you a near-custom fit. Plus, the flexible leg cuffs contour even more closely to your baby, helping to prevent leaks. While the fit is highly personalized, they do run smaller than most other brands; sizing up is recommended.
Comfort
The personalized fit does more than prevent leaks; it helps your child be as comfortable as possible as well. And just like Huggies Little Snugglers, Mama Bear Best Disposable Diapers are extremely soft, breathable, and almost clothing-like.
Cost
These come in at an average, reasonable price—which is extremely rare for such a socially-conscious brand. You can feel good about how you spend your money without worrying about your bottom line!
Extras
This is where Mama Bear Best Fit Disposable Diapers truly shine. They have a wetness indicator, and are hypoallergenic and harsh chemical-free (though, ironically, they can have a chemical smell). But their features go well beyond that. They're produced in a zero-waste-to-landfill facility, making them a great option for parents who worry about disposable diapers' waste impact. However, all diapers do have some ecological impact, but at least this reduces it somewhat. They're also cruelty-free, meaning they're never tested on animals!
Pros
Flexible leg cuffs

Stretchy sides

Cruelty-free

Produced in a zero-waste-to-landfill facility

Hypoallergenic and harsh chemical-free
Cons
Can have a chemical smell

May leave gel residue on baby's skin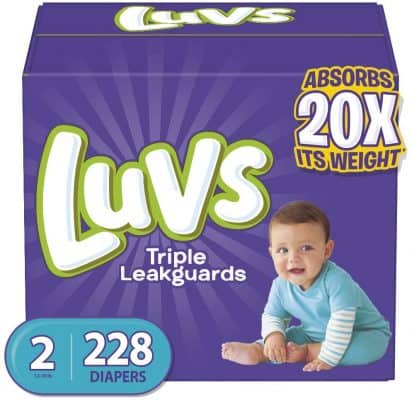 Why we like it:
A great option for those on a tight budget who don't want to skimp on practical features.
Editor's Rating:
Specs:
Size: 2-6
Cost per Diaper: $0.13 – $0.24
Absorbency
Just because you're being mindful of price doesn't mean you have to give up on a diaper that works. Thanks to Luvs Leakguards, you can trust that your diaper both won't break the bank and will still absorb liquid reliably. Their Nightlock Technology keeps your baby dry for hours, so you don't waste diapers with constant changes (unlike inferior budget options). Plus, the three absorption leakguard areas help contain liquids.
Fit
Luvs Leakguards offer adjustable tabs that help make sure your disposable diaper fits snuggly without being too tight. Not only does this improve fit, but it puts less pressure on your baby's tummy, lessening the risk of blowouts. Unfortunately, they don't contour particularly well to your child's movements, so they can leak—especially when your baby's particularly active.
Comfort
While you may expect a budget diaper to sacrifice a luxurious feel, Luvs Leakguards do anything but. These disposable diapers are extremely soft, so your baby will help happy to wear them!
Cost
Not only do Luvs Leakguards offer an exceptionally low price, but they also come with a 45-day refund window.
Extras
A mild fragrance helps combat that dreaded dirty-diaper smell (something you'll be grateful for if you can't change it immediately). They also feature cute designs printed on the diapers, so they're adorable and practical. However, the designs can block the added wetness-indicator; you may have to double-check to see if a change is needed.
Pros
A fantastic price and 45-day refund window

Adorable printed designs

Mild fragrance

Adjustable straps

Nightlock Technology
Cons
Designs can block wetness indicator

May leak when baby moves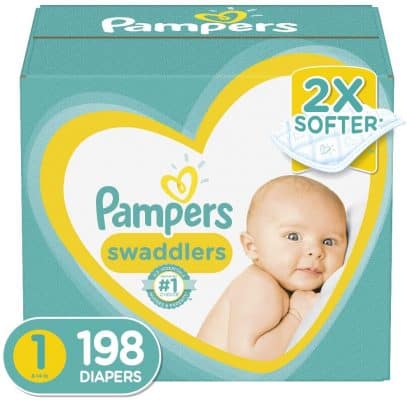 Why we like it:
An extremely soft and comfortable diaper that excels at protecting your baby's skin.
Editor's Rating:
Specs:
Sizes: N, 1-6
Cost per Diaper: $0.22 – $0.43
Absorbency
While these diapers focus on comfort, absorbency isn't neglected. Like the Luvs Leakguards, the Pampers Swaddlers Disposable Diapers can keep your baby dry for hours. Plus, they're designed with air channels that allow fresh air to reach your baby's skin, keeping them even drier. Leaking liquid is uncommon; however, some urine odor can transfer from the diaper to your baby's clothes. If you notice this happening, you'll want to move fast to change them once they're wet. They're also a bit thin, which can be problematic, especially if your baby wets themselves repeatedly through the night.
Fit
While not as individualized as the Mama Bear Best Fit options, Pampers Swaddlers are much more customized than most. They offer a stretchy waistband, so that it can adjust and contour to your baby's body. This is especially helpful in preventing blowouts, since it can loosen a bit when your baby is constipated or bloated.
Comfort
Are you looking for a diaper that's nearly as soft as Huggies Special Delivery without breaking the bank? Look no further – Pampers Swaddlers offer a cozy, comforting, soft feel that's nearly as luxurious for a lower cost. The cotton-like material is great for your baby's skin, and keeps them comfy even when actively moving around. Aloe is a great addition that helps soothe your baby's skin if it does become irritated.
Cost
While Pampers Swaddlers are a bit more pricey than average, they're also more reasonable than others in this comfort tier.
Extras
The easy-tear sides make changing your baby's diaper nearly effortless, and the roll-and-toss tape speeds up the change even faster. Simply tear the sides, roll up the diaper, tape it closed, and toss it out! Easy! Plus, a wetness indicator helps make it clear when you need to change your baby's diaper.
Pros
Extremely comfortable and soft

Stretchy waistband

Air Channels

Easy-tear sides and roll and toss tape

Aloe
Cons
Can transfer urine odor to clothes

A bit pricey

Somewhat thin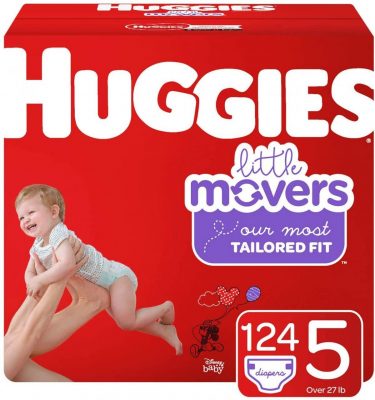 Why we like it:
A fantastic choice for keeping your baby dry, comfortable, and irritation-free no matter how much they crawl, walk, or move.
Editor's Rating:
Specs:
Sizes: 3-6
Cost per Diaper: $0.25 – $0.45
Absorbency
When your baby is on-the-go, then a wet diaper is the last thing you want. Not only is it unsanitary, but it's also bad for your baby's skin. If they're constantly rubbing against wet fabric, it makes them prone to diaper rash or other skin irritations. Huggies Little Movers feature a DryTouch Liner that immediately absorbs wetness on contact, so your baby is always dry. They're extremely absorbent, and prevent leaks exceptionally well, no matter what your baby is doing.
Fit
If your baby's always active or if they've hit an energetic phase, you need a diaper that moves with them. Huggies Little Movers offer a contoured shape that conforms to your baby's body and moves with them. The fit is so secure that leaks are virtually eliminated (something you'll be grateful for when they're climbing on everything.) Just like the Huggies Little Snugglers and Huggies Overnites, these feature patented double-grip strips for added security. But the unique SnugFit waistband makes them even more secure than other Huggies options. Thanks to the size-up indicator, you'll always know when it's time to move your baby to a larger option.
Comfort
If a diaper is uncomfortable, it's likely to keep your child from moving. Huggies Little Movers are meant to help your baby feel comfortable enough to explore and get active. They're thin rather than bulky, and made with a soft material that won't hold your baby back!
Cost
A bit expensive, but arguably worth it for a disposable diaper that can hold up to energetic babies.
Extras
Like all Huggies, Huggies Little Movers are free from harsh chemicals and have a wetness indicator. However, unlike most other Huggies, these do have a strong, chemical odor (similar to Mama Bear Best Fit). And while they claim to be hypoallergenic, they do cause rashes in some babies with sensitive skin. Because of this, you'll want to be especially cautious if your child is particularly delicate or reactive.
Pros
Designed for moving

Size-up indicator

SnugFit waistband

Double-grip strips

DryTouch Liner
Cons
Fairly expensive

Strong chemical smell

Can cause a rash in sensitive babies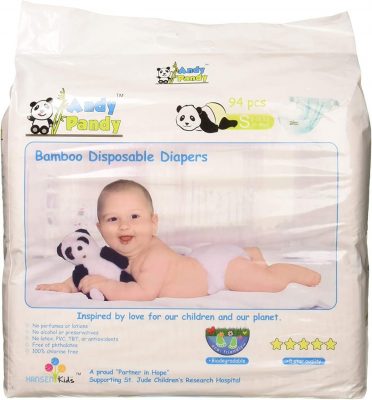 Why we like it:
With moisture-wicking, thermal-regulation, antibacterial properties, and gentle materials, these will keep even the most sensitive skin calm.
Editor's Rating:
Specs:
Sizes: N, Small, Medium, Large, X-Large
Cost per Diaper: $0.40 – $0.51
Absorbency
You may worry that a gentle, delicate diaper can't also be a strong, absorbent one too. Happily, Andy Pandy Bamboo Disposable Diapers prove that a disposable diaper can handle intense moisture without irritating even sensitive skin. Made with moisture-wicking bamboo, they absorb well and pull wetness from your baby's skin, protecting them even more.
Fit
While Mama Bear Best Fit runs smaller than average, Andy Pandy Bamboo Disposable Diapers are on the big side. If your baby is small or average-sized, you may want to size down. Also, the elastic leg openings can gape a bit, resulting in leaks—especially if your baby moves a lot overnight.
Comfort
Since these are made to be non-irritating for delicate skin, they are extremely soft. The bamboo is also thermal-regulating, so your baby won't get overheated while they wear them, unlike Huggies Overnites which can get a little hot. Plus, they feature an aloe liner to offer even more protection against rashes, irritation, and discomfort.
Cost
While these are very expensive, they offer a lifetime, money-back guarantee, so you can feel secure investing in them.
Extras
Andy Pandy Bamboo Disposable Diapers are both hypoallergenic and antibacterial, so you can trust your baby's skin is well protected. And since they're eco-friendly, they protect the environment as well! But that's all not all you should feel good about. Andy Pandy partners with and supports St. Jude Children's Research Hospital, so you're helping keep other children safe too!
Pros
Eco-friendly

Thermal regulating

Antibacterial

Supports St. Jude's
Cons
Expensive

Run big and can have leg gaps

May leak overnight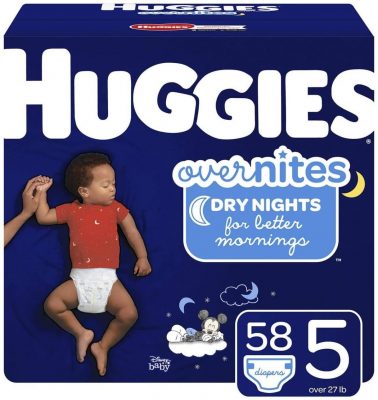 Why we like it:
A comfortable, absorbent option with a pajama-like feel to help your baby stay dry all night long.
Editor's Rating:
Specs:
Sizes: 3 – 6
Cost per Diaper: $0.31 – $0.51
Absorbency
There's nothing worse than waking up to a wet, irritable baby (or one with diaper rash). With Huggies Overnites Disposable Diapers, you can trust every morning will be a good (and dry!) one. They're Huggies' most absorbent diaper, featuring a DryTouch Liner (like Huggies Little Movers) and double leak guards. The intense absorption helps prevent chafing overnight by keeping your baby as dry as possible while they sleep.
Fit
While the absorbency is fantastic for overnight, the fit can fall a bit short. They do have the same double-grip strips that Little Snugglers and Little Movers do, so they're secure overnight. (Keep in mind, though, that unlike Little Movers, they aren't designed for extreme activity and may fall off during that.) However, the stretchy sides can leak overnight, which may result in leaks if your baby is a fussy or movement-prone sleeper.
Comfort
The pajama-like feel and cozy softness will help your baby wear them comfortably all night long. They run a bit thick, which can make prone to overheating on warm nights.
Cost
Huggies Overnites are a bit high-priced. But the cost evens out when you consider not having to use multiple diapers per night.
Extras
Like other Huggies, these are hypoallergenic so your baby's skin is safe to wear them all night. The wetness indicator also makes checking on your baby's diaper while they are asleep a breeze.
Pros
Double-grip strips

Pajama-like feel

Extremely absorbent

DryTouch Liner
Cons
The stretchy sides may leak

Not designed for extreme movement

Can feel too hot on warm nights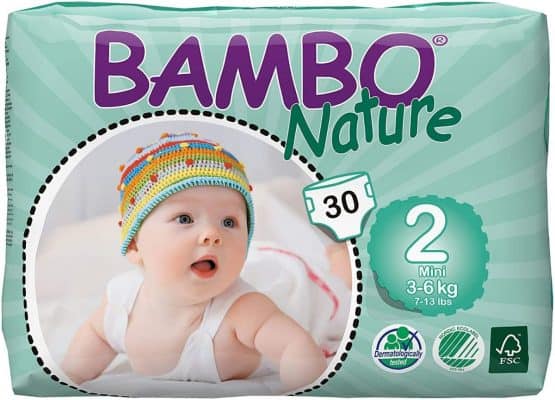 Why we like it:
A great choice for parents who care for the planet almost as much as they do for their baby.
Editor's Rating:
Specs:
Sizes: N, 1-6
Cost per Diaper: $0.38 – $0.58
Absorbency
If having a baby has made you think about the health and future of the planet, you aren't alone. More parents are opting for eco-friendly options that still have the convenience of disposable diapers while lessening the environmental impact. Bamboo Nature Eco-Friendly Disposable Diapers offers the best of both worlds, since it's triple-layered and highly absorbent. Like the Andy Pandy Bamboo Disposable Diapers, the bamboo material pulls away moisture and locks it in. They do run a bit thin though, so there are risks of leaks if your baby has some particularly hefty messes, especially overnight.
Fit
Just like the Andy Pandy Bamboo Disposable Diapers, the Bamboo Nature Eco-Friendly Disposable Diapers run a bit big. Consider ordering a size down, especially if your baby is on the small side.
Comfort
The fully-breathable backsheet helps keep irritation and rashes at bay, so your little one's skin will feel great. They're also highly soft and well-padded, so your baby will feel snug and comfy all day long.
Cost
While Bambo Nature Eco-Friendly Disposable Diapers are very expensive, that's expected for an eco-friendly option.
Extras
Huggies may offer no harsh chemicals, but Bambo Nature Eco-Friendly Disposable Diapers go a step beyond. These diapers are certified as free of known allergens, as well as anything classified as irritating, sensitizing, carcinogenic, or mutagenic.
Pros
Eco-friendly

Certified free of known allergens and harsh ingredients

Breathable backsheet

Triple-layered
Cons
Expensive

May leak overnight

Run big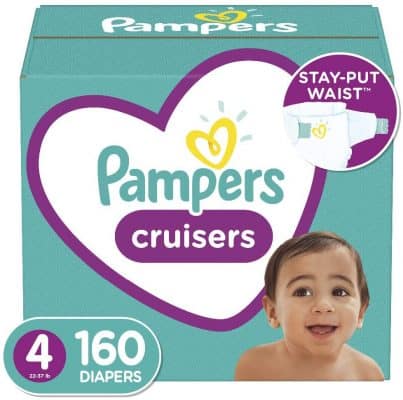 Why we like it:
A comfortable option designed to move with babies as they start to crawl and explore.
Editor's Rating:
Specs:
Sizes: 3-7
Cost: $0.25 – $0.38
Absorbency
Pampers Little Cruisers are designed with LockAway channels and dual leak-guard barriers around the legs to encourage crawling. However, unlike Pampers Little Swaddlers, Little Cruisers are still prone to leakage, especially with a fully-saturated diaper. You're likely to find yourself having to change your baby's diapers more frequently than with most other brands.
Fit
Similar to Huggies Little Movers, Pampers Little Cruisers are designed for active babies, but these are tailored specifically to new crawlers. The Stay-Put waist and the Ultra-Strong grips keep the diaper right where it's meant to be. And the stretchy sides allow for free and easy movement.
Comfort
While not quite as soft as Pampers Swaddlers, these do offer exceptional softness. They're not at all stiff or bulky, which helps make it easier for your baby to crawl around. A bulky, rigid diaper can slow them down, or even discourage movement altogether. Thankfully, Pampers Little Cruisers will let them feel comfortable enough to explore!

Cost
While the price is comparatively fair, they're a bit high considering the leaks and some missing features.
Extras
Unlike most diapers, Pampers Little Cruisers offer no wetness indicator. This is a major issue for them, especially since they are prone to leaks. (You need to change them quickly, but it can be hard to know when they're wet without the indicator.) They do have cute designs, but the dye can cause rashes on some sensitive babies.
Pros
Designed for crawling babies

Comfortable and not bulky

Stay-Put waist

Stretchy sides
Cons
No wetness indicator

Can leak

Dye can cause rashes

Expensive, especially considering several major flaws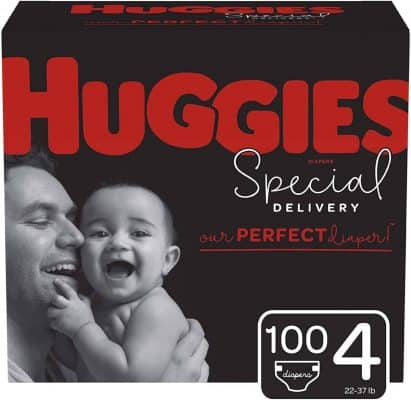 Why we like it:
An extremely luxurious diaper that's good for leak protection, the environment, and your baby's comfort.
Editor's Rating:
Specs:
Size: N, 1-6
Cost per Diaper: $0.33 – $0.69
Absorbency
Like the Huggies Little Snugglers, the Huggies Special Delivery Disposable Diapers offer a Leak Lock System. This helps keep your baby dry for hours at a time, making their high cost a bit more reasonable. They also manage to not feel squishy, even when fully saturated, so holding your baby will always be a pleasure. (Trust us, holding a soggy diaper is not fun!) While it does hold in liquid well, the waistband unfortunately doesn't offer much protection against blowouts.
Fit
Huggies Special Delivery Disposable Diapers offer a great fit with minimal leakage. But they go beyond that and help ensure you'll always have the best fit possible, thanks to their size-up indicator. It makes it a breeze to quickly assess when your child is outgrowing their current size. That way, you never have to deal with suddenly realizing your diapers are too small (and leaking everywhere because of it).
Comfort
This is where the luxury becomes fully apparent. While the other Huggies may be soft, these are the absolute softest they make. Not only are they breathable for your baby, but they're so soft that you'll enjoy them yourself. When you're changing these diapers, the cushy material feels soft and gentle against your hands, reducing your own skin irritation. How often can you say that changing a diaper is an enjoyable sensory experience? It's a total luxury.
Cost
This is absolutely the biggest strike against Huggies Special Delivery Disposable Diapers. They come in at an exceptionally high price, though they do offer enough features to make it worthwhile. While Luvs Leakguards is the pick if money is your main concern, if cost isn't an issue, these are worth the splurge.
Extras
Many of the standard Huggies features are here, including hypoallergenic materials, no harsh chemicals, and an included wetness indicator. Plus, 23% of the materials are plant-based, so the environmental impact is lessened. They also feature cute, stylish designs!
Pros
Extremely soft and comfortable feel

23% of materials are plant-based

Size-up indicator

Doesn't get "squishy" when wet

Stylish designs
Cons
Very expensive

There's the potential for blowouts
Guide to Buying the Best Disposable Diapers
There's no question that diapers are one of the most important items you'll be buying for your baby. We've gathered all the info you need to make sure you're fully informed and know just what your baby needs! Our guide will take you through how to change a diaper, how to size it correctly and discuss whether disposable diapers are the best choice for you.
Do I Need Disposable Diapers?
Disposable diapers are a necessity for nearly every parent. In fact, nearly 95% of all parents use disposable diapers. They're extremely low-maintenance and easy to use—and when you're exhausted, as most parents are, this is a big deal. Since they come in multiple sizes and fits, you're almost guaranteed to find one that fits your baby well. And a good fit means fewer leaks (which also means less stress).
Most disposable diapers are absorbent enough to allow your baby to sleep through the night without needing a change. (Which, of course, means you might get to sleep through the night, too!) Plus, the high absorbency means less contact between your baby and liquids, which lowers their risk of diaper rash.
In comparison, cloth diapers (the other major choice) can be difficult to fit to your child properly. They also require frequent changing, and must be laundered when they are soiled. And it's not recommended to have your child wear them overnight, since they aren't terribly absorbent. This also makes them more likely to cause diaper rash—something you and your baby never want to deal with.
However, cloth diapers are significantly more eco-friendly. Also, if you use cloth diapers over a long period of time, you will certainly save yourself a very large amount of money. If you can handle the extra effort, you should certainly consider cloth diapers instead. We go into further detail below.
Why not both? Just because you opt for disposable diapers doesn't mean that's all you can use. Many parents choose to use a mix of disposable and cloth diapers, especially if they're concerned about cost or environmental impacts. You can always use cloth diapers at home during the day, and disposable diapers at night or when you leave the house.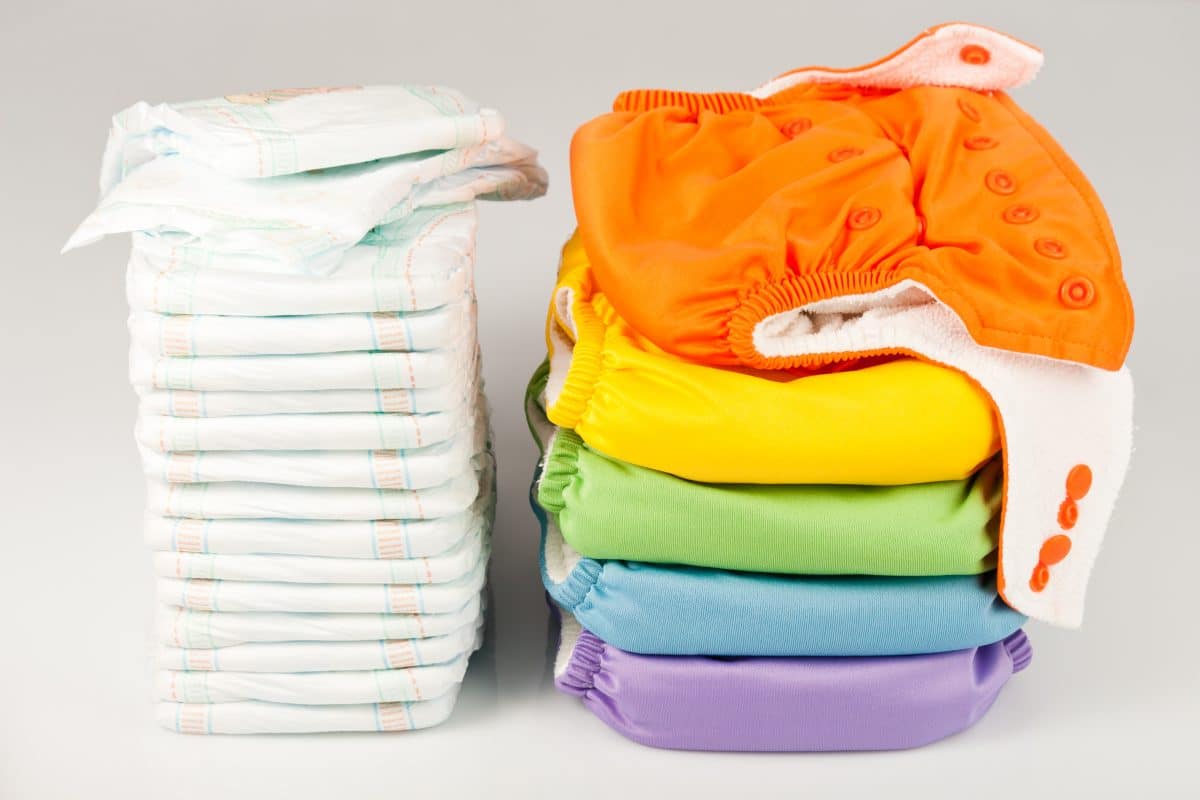 Disposable Diapers vs. Cloth Diapers: The Pros and Cons
You may still be unsure which is right for you. So let's take an in-depth look at the debate between the two, with some facts, figures and historical information so you can make your choice with confidence.
Pros
The primary selling point of the disposable diaper is obvious: convenience. Not only does a mom save time on laundry and cleaning, but she won't have to face the icky task of scooping baby poop into the toilet each day.
Cons
The most obvious con to the disposable diaper is cost. The average mom will spend $2,000-$3,000 on disposable diapers until her baby is ready for potty training. Compare that to $300-800 for reusable cloth diapers, and it's easy to see how you could save serious coin by giving disposables a miss.
The other major downside to disposables is their environmental impact. Until the average baby masters potty training at 30 months, they churn through a staggering 10,000 diapers—enough to create a literal mini-mountain of landfill. However, some studies claim the water and energy used in laundering reusables has a comparable environmental impact.
The Great Eco Debate: Are Disposables Really That Bad?
There's no question disposable diapers are a major contributor to landfill in the United States. Collectively, we toss away a staggering 27.4 billion each year, enough to stack up to the moon 18 times. These 7.6 billion pounds of garbage comprise 30% of our non-biodegradable waste; they're the third most prevalent item in American landfills (after newspapers and food and beverage containers). And that massive mountain of trash isn't going to decompose for several hundred years.
However, evidence is gradually emerging to argue cloth diapers aren't all that eco-friendly after all. Most are made of cotton, a pesticide-heavy crop that poisons the earth and requires a huge amount of carbon to transport and produce. Add in the energy and clean water required for running the washer almost every day, and there's a lively debate as to whether reusables are really any better at all.
Regardless of which method you go for, the best way to reduce your baby's carbon footprint is to get them to potty train early. Easier said than done, perhaps. But if you can teach them to use the potty at age two instead of three, that's a whole year's worth of diapers you won't have to throw away or wash (not to mention the savings to your hip pocket). Many parents in America have started teaching their tots "elimination communication," an ancient Asian practice that's becoming more popular in the West. A word of warning, though: it's quite a lot of work and can get pretty messy at times.
When Should I First Buy Diapers?
When you deliver your baby, your hospital will give you some disposable diapers before you leave. Because of this, some parents choose not to buy diapers until after the delivery. That way, they know the child's size and sensitives already and can buy more confidently.
However, if you want to be more prepared, you can buy newborn sizes around week 37 of your pregnancy. You can always buy earlier than this, but you're very likely to have time to spare before then. Just be sure to not overbuy, in case you do end up grabbing the wrong size or style for your infant.
How Many Diapers Do I Need?
It can be tempting to stockpile diapers, but that's not the most practical solution. Your baby may grow rapidly, and you might need to size up sooner than you expect. Also, allergies and sensitivities can pop up at any time, so a diaper that works one month may not work the next. In general, you should try to keep around a month's supply of diapers for your baby on hand. The amount you need per month varies by age:
Newborns: 250 per month (although some need as many as 10+ diapers a day).
6 months and up: 150-180 diapers per month.
It can be smart to keep a few diapers the next size up at the ready, in case your child has a sudden growth spurt.
How Long Will My Child Wear Diapers?
Generally speaking, children should start potty training between the ages of 18 and 24 months. However, some toddlers aren't ready to start potty training until they are 3 or 4 years old. Once you begin, potty training usually takes around 3 months, though it can vary by child.
Pro Tip: If your child isn't ready to start potty training, don't rush it. Ironically, forcing your child to begin too early can actually make the learning process take longer. Let your child (and their pediatrician) be your guide.
What Size Disposable Diapers Do I Need?
Nearly all diaper brands make this fairly simple by having the weight and age range listed right on the package and in our review. Keep in mind though that some brands (including Andy Pandy, Bamboo Nature, and Mama Bear) may not run true-to-size.
To know for sure if your baby's disposable diapers fit well, check that they:
Fit right below baby's belly button.
Fasten symmetrically on either side.
Fit snugly
Do not dig into baby's skin
Allow them to move around easily
Cause no visible discomfort
You likely won't need to size up from newborn diapers until around a month after birth, but this can vary. The wrong size can cause leaks, as well as discomfort, so keep a close eye on how your diapers fit.
The smallest possible size is P, which stands for "preemie" and is suitable for tiny little tots who weigh in under 7 pounds. Next, you've got N for newborns, which is meant for normal-sized babies in their first or second week of life. Don't buy too many of either as your baby will outgrow them in the blink of an eye.
| | |
| --- | --- |
| < 7 lbs | P |
| 7-14 lbs | N |
| 8-14 lbs | Size 1 |
| 12-18 lbs | Size 2 |
| 16-28 lbs | Size 3 |
| 22-37 lbs | Size 4 |
| 27+ lbs | Size 5 |
| 35+ lbs | Size 6 |
*sizes may vary between brands
After N, the sizes range from 1-6, although it's unlikely you'll ever need five or above unless your baby is big-boned or takes a long time to potty train. In the first few months of life, your tot is going to grow at an alarming rate, so don't buy great big boxes of the smaller sizes. By the time they're ready for size 2, you could start bulk-buying one month at a time.
How Do I Change a Disposable Diaper?
If you're a new parent, you might be concerned. Changing a diaper can seem difficult at first. But after multiple tries, you'll develop muscle memory and be able to do it effortlessly. If you're not sure how to start, then to make it easy for you, we suggest breaking it down into these simple steps:
Make sure you have all your supplies at hand (diaper, wipes, lotions/creams, distractions for older toddlers, a disposable diaper bag, sanitizer, etc.)
Lay your baby (preferably on a changing pad) on a clear, flat surface
Undress their lower half
Undo the sides of the disposable diaper
Lift your baby's legs
Take off the diaper
Roll the diaper up and seal it
Wipe baby thoroughly (front-to-back for girls)
Dry your baby (you can air-dry or use a towel)
Apply diaper cream or lotions, if needed
Lift your baby's legs
Put the diaper underneath them
Pull the front of the diaper over the belly
Seal the diaper
Throw out the soiled diaper, tossing solid waste in the toilet (if you can).
Wash your hands!
Sometimes, a visual guide can make things much simpler. The video below gives you clear, step-by-step instructions.
How Often Should I Change My Baby's Disposable Diaper?
Your baby's diaper should be changed at least every two to three hours. However, if your baby is asleep, it is not necessary to wake them unless there's a leak or noticeable discomfort. (That said, you should change them as soon as they wake up.)
If you notice that your baby has produced stool, change them immediately, as the acid in feces can cause irritation. You'll also want to change them right away if you notice smells, wetness, discomfort, or the wetness indicator changing color.
What Are Disposable Diapers Made Of?
Most disposable diapers are made of safe synthetic materials, usually polyethylene and/or polypropylene, which is common in plastic bags. These typically sandwich a layer of highly-absorbent non-toxic polymer.
Some disposable diapers are made from eco-friendly, natural, or renewable materials, like bamboo (which Andy Pandy and Bamboo Nature use). Some blend the two, like Huggies Special Delivery, which includes standard synthetic and plant-based materials.
Are Disposable Diapers Safe?
Disposable diapers are made from safe, tested materials that are well-tolerated by most. However, some babies have especially sensitive skin, so keep an eye for any signs of allergies or irritations. The biggest threat is diaper rash, which is caused by prolonged exposure to urine and waste. This can easily be avoided by changing diapers frequently and making sure to buy ones that are absorbent enough. Happily, simply choosing disposable diapers is a step toward preventing diaper rash. Since they're so absorbent and contain wetness away from your baby's skin, the risk of diaper rash is reduced.
What's a Diaper Blowout?
Many diapers claim to reduce the risk of a blowout. But what exactly is a blowout? (Warning: it's not pretty.) A blowout is when solid waste comes out the sides or up the back of a diaper, getting everywhere -and we mean everywhere! This is usually caused by a diaper that's the wrong size or too-tight clothing putting pressure on the tummy. An over-soaked diaper can also result in a blowout, as can a large bowel movement after your baby has been constipated.
You can help prevent them by making sure your baby's clothes and diapers fit and changing diapers frequently. Disposable diapers with pocketed waistbands (like Huggies Little Snugglers) can also contain a blowout from spreading.
How Do I Store Disposable Diapers?
You'll want to keep your disposable diapers somewhere easy to grab, and away from extreme heat and humidity. Store them in their original packaging, or in an airtight container, since light and air can cause yellowing. (This is totally safe, but a yellowed diaper can look very unappealing, or even soiled.) Keep them in your child's nursery, in a pre-packed diaper bag, and anywhere you visit frequently. For instance, if you often visit a friend's house, having a few diapers there can make your life much easier!
How Do I Throw Out Disposable Diapers?
If you can, try to dump any solids in a toilet. This is often overlooked, but it helps reduce the smell of a dirty diaper. Next, wrap the diaper into a ball, and seal it. Toss it into a sealed container (disposable diaper bag, Ziploc bag, or diaper pail) to reduce odor. (If that's not an option, use a sealed trash can.)
Pro Tip: Some public places may not let you throw out a soiled diaper. This is a great reason to keep sealable diaper bags with you. It allows you to keep a dirty diaper contained until you can toss it.
Do Disposable Diapers Expire?
No, though they can turn yellow in the light and air. They may also become less absorbent after years of storage. However, even then, they are still safe to use.
Final Thoughts on Disposable Diapers
If you're not sure disposable diapers are for you after all, then perhaps you might be more interested in cloth diapers, which are reusable. Or, if you're looking to take your child out to the pool or waterpark, maybe you need some swim diapers instead.
Having an infant or toddler is full of both joys and stresses. Thankfully, with the right disposable diapers, changing time can be a pleasure instead of a headache. With the right info, planning, and prep, you can select the disposable diaper that will keep both you and your baby happy, confident, and hassle-free!