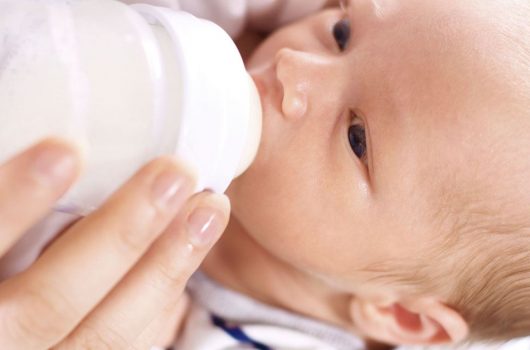 O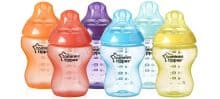 Tommee Tippee Closer to Nature Fiesta Bottle
B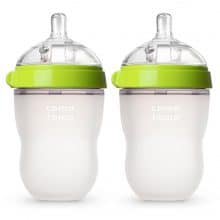 Comotomo Baby Bottle
P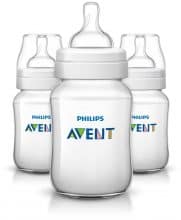 Philips Avent Anti-Colic Bottles
Previous
Next
Most new parents are surprised to learn how many different kinds of baby bottles there are. With so many different options, many parents are confused about which bottle they should use when feeding their own babies. Using the wrong bottle for your baby can not only make feeding slower and less enjoyable, but can result in problems like colic and reflux. To help you find the right bottle for your baby, we've looked through the market to create this list of the best baby bottles on the market in 2020.
Features to Consider in Good Baby Bottle
Picking the Right Bottle for Your Baby
The right bottle can make your baby's feeding time a relaxing and hassle-free experience, while the wrong one can turn it into a disaster. There are many different aspects to consider when you're buying your baby's bottle. The selection you make can have a negative or positive impact on your baby's feeding experience. Feeling overwhelmed? You don't have to, because we're here to help.
Here are some important things to consider before buying your baby's bottle:
The Nipple:
Bottle nipples come in a large assortment of sizes and flow rates. It's extremely important to select the right nipple flow for your baby's age:
Newborn to 3 months: Newborn babies should be given a slow-flow nipple to prevent choking and overeating.
Babies aged 3 to 12 months: Babies in both these age categories can be given medium flow nipples.
Toddlers aged 12 18 months: Toddlers can be given fast-flow nipples to speed up feeding as soon as they're old enough to avoid choking.
Some nipple brands will have different naming conventions and guidelines other than the information provided above. When in doubt, always follow the guidelines for each brand accordingly.
Why Using the Correct Nipple Is Important
Selecting the correct nipple can prevent numerous conditions and risks such as:
Delayed speech: When your baby is breastfed, he or she develops muscles inside the mouth and tongue that are responsible for correct speech abilities. These muscles might not develop fully if you select a nipple that's too easy to suck on.
Nipple confusion: If you're breastfeeding your baby, you should select a nipple that resembles your own. This prevents nipple rejection and self-weaning from your baby.
Choking: If a nipple releases too much milk at once, your baby can choke, which is why you should select a slow flow for younger babies.
Overeating: If your baby swallows too much milk per serving, he or she might be overfed, resulting in spitting and reflux.
The Bottle Size
Smaller and slimmer bottles are easier to hold for both you and your baby. Always consider the capacity of the bottle: low capacity bottles work great for newborn babies, but you may tire of refilling them as your child ages. It's best to purchase new bottles as your baby grows older and requires more calories per serving. Otherwise, selecting a bottle that has a larger fluid capacity will be a wiser option financially. Then you simply have to change the nipple as your baby grows older, not the entire bottle.
Avoiding Toxic Materials
Most baby bottles are made from plastic. Bisphenol A (BPA) is used in the manufacturing of many low-quality plastics. This harmful substance has been linked to many health issues, including cancer. Always select a BPA free plastic, as well as bottles that don't contain any of the following harmful substances.
Read the label carefully and select bottles free from these chemicals to avoid any chance of your baby digesting harmful toxins.
Specific Designs
Baby bottles can assist in the relief of many health conditions. Here are a few examples:
Reflux: Select a slow-flowing bottle to prevent your baby from spitting up. Anti-reflux bottles will prevent overflow and air bubbles from entering your baby's mouth.
Colic and gas: Anti-colic bottles are made with vents to keep air from penetrating into the nipple. This will prevent your baby from swallowing air during his or her milk feed, in turn reducing the chances that they'll suffer from colic or gas.
Ear infections: Is your baby suffering from recurring ear infections? It might be the position you're feeding him or her in. Pediatricians recommend keeping your baby upright during bottle feeds. Angled bottles provide comfortable feeding for your baby, and prevent liquid build-up in the ears that cause ear infections.
Where can you find popular baby bottles?
Top 10 Best Baby Bottles 2020
Guide to Buying the Best Baby Bottle
For the most part, buying the right baby bottle is fairly simple with a bit of research. Only choose high-quality bottles made of safe materials (like all the bottles on our list) and make sure that you're choosing the right size and nipple type for your babies age. For healthy babies, this will be sufficient, but things do get a bit more complicated if you're trying to help your baby out with a medical problem. Whether this is you or you want to learn how to choose a bottle to deal with these problems should they eventually arise, read on.
Buying the Right Baby Bottle for Certain Conditions
Gastroesophageal reflux disease (GERD) is mostly seen in babies under the age of one year, and tends to peak around three or four months of age. Babies with GERD will spit up milk often as a result of their stomach contents being pushed up through the esophagus. GERD is a more severe form of reflux and should be treated by a doctor. Symptoms of GERD include:
Back arching
Frequent vomiting or spitting
Excessive crying
GERD is not usually too serious if handled properly. Your pediatrician might prescribe mild anti-acid medication for your baby, and feeding changes can help ease your baby's symptoms and discomfort. Here are some tips:
Feed your baby in an upright position both before and after feedings.
Elevate your baby's cot or invest in an anti-reflux cushion to keep your baby upright while he or she is sleeping.
Use specially-designed bottles and nipples to prevent reflux.
If you're giving your baby formula, you can try a thicker consistency to keep the milk down.
If you're breastfeeding, exclude certain pungent foods from your diet, like garlic, onions and spices.
Colic and Gas are every parent's worst nightmare. Colic can start at around two weeks of age and can last up until three months, and around 25% of babies are believed to have colic at some point. Here are the symptoms, so that you know when to take action:
Inconsolable crying for more than three hours daily that tends to get worse in the evening
The baby pulling their legs up towards their chest or passing gas
Parents of colicky babies will tell you the best way to heal colic is to wait it out. There are, however, a few methods you can apply to help ease the pain your baby might be experiencing:
Use bottles that prevent your baby from swallowing air bubbles.
Hold your baby close to your body.
Apply heat to your baby's stomach, while taking care not to burn your baby.
Massage your baby's tummy in a clockwise direction.
Give your baby prescribed probiotics to balance the pH levels inside the intestines.
Sterilization Methods
Baby bottles should be cleaned after every use to remove excess milk and some of the bacteria. The specifics of how to clean each bottle varies, so check the packaging, but his how you should clean most bottles after each feeding:
Wash the bottle and nipple with warm soapy water.
Use a bottle and nipple brush to clean out any dry milk left behind on areas that are difficult to reach.
Rinse the bottle and nipple again with clean water.
Leave the bottle and nipple to air dry.
Further sterilization is necessary to kill harmful bacteria and germs. Bottles should be sterilized at least until your baby starts to crawl, or even later if preferred. Sterilization can be done in a few different ways:
Disinfectant solutions: These are chemical solutions that are diluted with water. After regular cleaning bottles can soak in the chemical solution for more or less 30 minutes. Never rinse bottles and nipples after you've taken them out of the chemical solution as this will cause bacteria to build up again.
Extreme heat: Applying extreme heat such as boiling water to your bottles will kill harmful bacteria. Bottles and nipples can be boiled for 5 min and left to cool down. Be sure that there are no harmful chemicals in your bottle before heat sterilizing, as this process may cause them to leach into the formula or milk.
Steam bottle sterilizers: Steam sterilizers will have different instructions, and it's best to follow them to the letter. Bottles should usually be placed upside down and enclosed inside the steamer to allow hot steam to form inside the device.
Dishwashers: Dishwashers can be used to apply heat and steam to baby bottles. Always put the bottles on the top rack, and don't put any other dishes in the dishwasher when you're sterilizing baby bottles.
Poor Sterilization
Are you feeling too tired to sterilize your baby's bottles? It's completely normal for new moms to be overtired and to have low energy. But before you neglect sterilization, you should know that doing so can have horrible consequences to your child's health, and may lead to the following:
Gastroenteritis: An infection in the intestines causing loose stools, cramps, and pain in the stomach.
Thrush: Thrush is a type of fungal infection that can form on your baby's bottles, and is highly contagious. This can cause severe pain in your baby's mouth and esophagus, resulting in a crying, hungry baby.
Lowered immune system: If your baby is exposed to bacteria too often, his or her immune system can be compromised, causing frequent and reoccurring illnesses.
Final Words
We hope that after reviewing this page, you have a better idea of which bottle to get for your baby. You're blessed to live at a time when there's a baby product to counter almost every challenge you'll come across. So make it easy on yourself, and ensure easy feedings for your baby by choosing well. A well-fed baby is a happy baby, and it all starts with the right bottle.