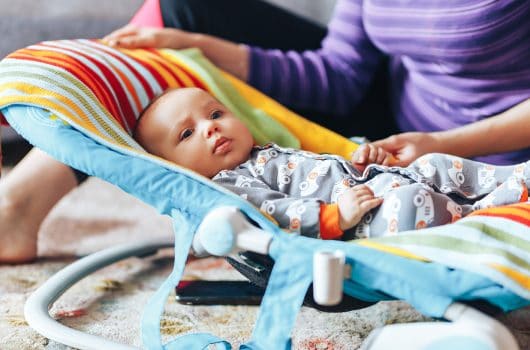 O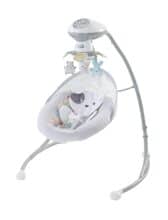 Fisher-Price My Little Snugapuppy Swing and Bouncer
B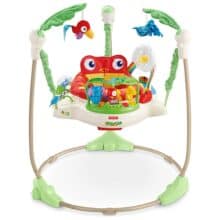 Fisher-Price Rainforest Jumperoo
P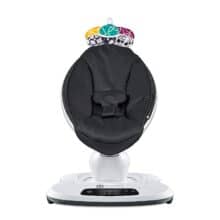 4Moms Mamaroo Baby Bouncer
Previous
Next
Raising a child comes with many challenges and a baby bouncer seat can make the day a little less stressful. A baby bouncer seat allows a baby to enjoy a little time in a safe environment, keeping them comfortable, mentally stimulated, and most importantly, giving you a little time and space.
Baby bouncer seats can help parents in a few ways. If the baby bouncer seat helps lull your baby to sleep, you'll have a few more minutes to tend to important matters or make the next bottle. Plus, your baby will be more stimulated and can be active in a safe environment.
Features of a Great Baby Bouncer Seat
As mentioned above, a baby bouncer seat is not simply a luxury item. It can help make your parenting days easier and even help with your baby's development. But all baby bouncer seats aren't made equal, so we'll be exploring what goes into picking the perfect seat for you and your family.
Stability
The ideal seat will be designed to provide support to your baby's body with no chance of him or her rolling off onto the floor. Even if it's placed on the floor most of the time, you can never take a chance of your baby getting hurt.
Comofrt and Position
Your baby is curious about what's going on around them and loves to participate in the world. For this reason, a bouncer seat that keeps your baby comfortably upright and viewing the world around them is well worth the price. When they get older and more curious, babies begin to appreciate a full view of the room, but it's important that they don't fall down when checking out the world around them.
Safety
Placing your baby down and turning your back for the first time will be difficult. You may be used to holding him or her most of the time, but a baby bouncer will help you to let go and claim some time for you. We'll discuss features that keep the seat from toppling, keep your little one from falling out, and any other considerations like the safety of the materials used.
With all of these factors in mind you should be able to find the perfect bouncer seat for you and your little bundle of joy.
Top 10 Best Baby Bouncer Seats 2020
Complete Guide to Buying Baby Bouncer Seats
In these reviews you saw many different excellent options. But what are the different types of baby bouncers and what type most suits your lifestyle? As with most baby and toddler equipment, it's all about finding what fits with your lifestyle.
Bouncers
All bouncers use motion to keep your baby stimulated and entertained. They will also feel less constricted in terms of movement so they will probably be happy staying in this type of seat while watching you going about your day. These don't necessarily need power since the bounce motion can be generated from the baby's movement or you nudging the chair.
Swings
With bouncers like the Fisher-Price My Little Snugapuppy the idea is to put your baby to sleep with more elaborate movement—generated by an electrical motor—that produces a gentle swinging motion. If your baby struggles to fall asleep but loves snoozing in the car this could be a dynamic solution in the house.
Rockers
Rocker-style seats like the Graco Duet Soothe work by mimicking what you probably do the moment you want your baby to sleep: rocking from side to side or forwards and backwards. An important thing to note is that babies must like the rockers you buy them. You know all babies aren't lulled in the same way so you may purchase a perfectly good rocker only to find your baby prefers other motions. This is why it's smart to purchase one with a return policy. These units are usually more pricey since they need electrical components to generate the movement.
Questions to Ask Before Purchasing
The market's wide range of options allows you to pick a seat you'll know will be the best value for money. Consider the following questions before purchasing a baby seat.
Do you only need this for the first few months after birth or do you need a long term solution until toddler years? For a long-lasting option, try something like the Fisher Price Newborn to Toddler Rocker, which will be usable well into toddler-hood.
What look do you want for the bouncer seat? How will it fit into your decor?
Will you purchase a separate bouncer for travel? Or are you buying a portable bouncer that you'll take with you? Something like the Fisher-Price Rainforest Jumperoo is great on the go and at home.
Do you want to spend money on all the extras such as toys or will you provide them yourself? The My Little Snugapuppy might not be the cheapest bouncer, but it comes with more toys than you or your little bundle of joy could ever need.
Finding the Perfect Baby Bouncer
Nothing you buy for your baby should ever be taken lightly. Safety and comfort is too important when it comes to tiny humans so let's summarize your checklist when you're out shopping.
Make sure safety is optimized with items such as harnesses and read what consumers say about the seat's balance. You don't want it to topple over.
Don't think toys, sounds and movements are overrated. They're investments because this is what will keep your baby stimulated or asleep. It's not the main reason for buying a bouncer seat but with most babies it will make your days easier. And why DIY toys to the seat if you can get one with an attached rail?
Always think long term. What will you do when the seat is drenched in milk or all the food was spilled onto it? Washable fabric that can be removed and put in your washing machine should be a high priority.
With portable units you often have to decide between comfort and ease of use. You may find a handy unit that can fold up but the seat won't be as soft and stuffed thickly as others. You need to think about your lifestyle and gauge whether you'll need this when you travel with the baby. Do you want optimum comfort at home or minimal comfort wherever you go?
Baby Bouncer Safety
Despite all the safety features you still have a big role to play in your baby's safety. Keep these tips in mind so you don't inadvertently put your baby's life at risk while using a bouncer, chair or swing in the house.
The idea is to free your hands so you can tend to important tasks you can't manage with your baby in your arms. That doesn't mean you can place him or her in the bouncer in the nursery and simply walk out. Your baby should at least be in the same room as you and in line of sight. Your baby may wriggle around and this could affect the seat's balance or place your baby in a position that's uncomfortable or even dangerous.
Some of the units mentioned here are great because they can be elevated. That's ideal because you'll often be tempted to place a bouncer seat on a table to get your baby to eye level. This is not a good idea as accidents happen fast and even stable ones will fall over if you accidentally bump it or the baby moves too much. It's designed to be placed on the floor and that's the safest option.
The weight details on these chairs are very important. If you exceed it there's no way of knowing what the bouncer seat will do when baby starts moving. It could tear, it could fall over or your baby's bum will repeatedly hit the floor as it will be too close to the ground.
You don't want accidents when it comes to your baby. The best way to prevent them is to limit risk and danger in any way possible. Keeping to the rules of baby bouncer seats can give you peace of mind that you're doing your best as a parent.
Final Words
So many parents report how bouncer seats make their days easier but also their babies happier. The movements and sounds are what some babies need to fall asleep. This could be even more valuable than that beautiful cot you have in the room. Or perhaps you simply want a seat to place your baby in so you can take pictures or entertain them. See? No matter what you have in mind, a baby bouncer seat will make life easier for you and your little one.