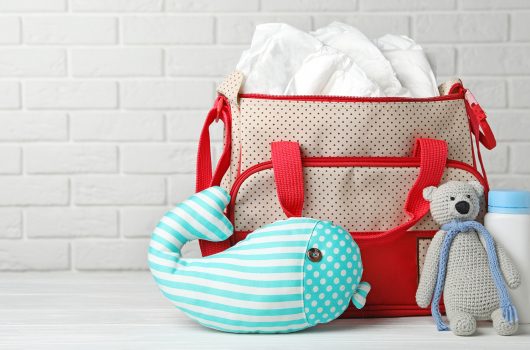 O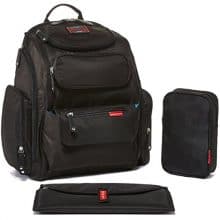 Bag Nation Diaper Bag Backpack
B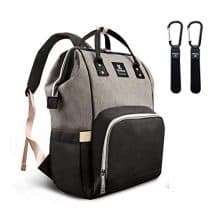 Hafmall Diaper Bag Backpack
P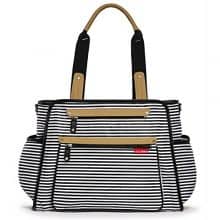 Skip Hop Baby Grand Central Take-it-All Diaper Bag
Previous
Next
If you have a baby, you know you can't leave the house without a diaper bag. A good diaper bag holds wipes, extra baby clothes, toys, and other essentials without weighing you down. It should also have some room for grown-up stuff like keys and wallets. Style-conscious parents will be happy to know that there are lots of great looking bags and styles to choose from. To help you find the best diaper bag for your family, we've compiled our list of the best diaper bags for 2020. We'll also explain the features you should look for when shopping for the right bag for you.
Features to Consider in Good Best Diaper Bags
There are lots of great choices for diaper bags, but how do you choose which one to buy? Take a look at the features of each bag that made our top ten, and pick one that fits your needs. Families come in all shapes and sizes and have a wide variety of needs. There are also some simple but really useful diaper packing hacks that will enable you to save more space and carry more in your diaper bag.
Here are the factors you should use in choosing a diaper bag:
Size
A large-sized bag is ideal if you have more than one child or if you are out of the house for long periods of time. Consider a small one if you have one child or are anticipating shorter trips.
Storage Pockets
You will need to carry multiple things. Therefore, you need a diaper bag with multiple pockets. Consider everything you may need when outdoors before making your selection to ensure it works perfectly. The pockets should also allow you to organize your items with ease so that you can locate anything you need without ripping the contents apart.
Insulated Compartments
An insulated pocket will keep your baby's beverage or food at the right temperature for long hours. Consider one with a large insulated compartment for oversized baby bottles or with multiple insulated pockets if you'll need to carry more than one bottle.
Material
First, ensure the fabric is easy to clean. It should also be durable to ensure years of service. The straps should be strong enough to endure the weight of the bag and also comfortable. Waterproof fabric on the exterior will keep your bag safe in the rain while an internal waterproof-lining will prevent leaks in case of accidents with liquid stuff.
Included Accessories
The right accessories are key to getting the best out of the diaper bag you purchase. A few examples of accessories found in diaper bags include a changing pad, luggage feet to keep your bag clean and safe from damage when you place it on the floor, or a ring to keep toys within reach, among other features.
Top 10 Best Diaper Bags 2020
Guide to Buying the Best Diaper Bag
How Do You Want to Carry It?
Diaper bags come as a tote bag, messenger bag or a backpack. If you are comfortable carrying it over your arms, a tote bag is fine, a messenger bag for your shoulder and a backpack form for your pack. A backpack is convenient as it gives you hands-free to allow you to hold your baby's hands or push the stroller with ease.
You can play safe with a convertible diaper bag that allows you to switch from a tote bag to a messenger bag to a backpack with ease.
How Big Should It Be?
How often do you leave the house and how long do you spend outdoors? If you leave your home for hours, you will need a large diaper bag that will hold all that you need while away.
Also, you will need a spacious bag if you have more than one child and a smaller one for one child. You need space for your stuff too. You will need to carry your keys, sunglasses wallets among other things. Be sure to pick the right size for both you and your baby.
Here is a guide on how to organize a diaper bag to make the best out of the available space.
Purpose
How do you plan on using the diaper bag? You need a spacious bag with multiple compartments for day trips or if you are spending the weekend at grandmas. One with stroller straps come in handy when spending the day at the park. An everyday bag needs to be strong enough for durability and should come with secured pockets for your phone, keys and other stuff.
If you plan on using a cloth diaper, you will need a bigger diaper bag with roomy pockets to allow you to carry used diapers back home for cleaning without soiling other items in the bag. Remember cloth diapers are bulkier compared to disposables thus take up plenty of space so you need to fold them correctly to save on space.
How Does It Close?
Diaper bags can have a zipper top, snap top or drawstrings. Of the three, a zipper will safely hold your items from falling out of the diaper bag, but it may be hard to close when the bag is fully packed.
Who Will Be Carrying It?
Not all diaper bags are unisex. Diaper bags come in different designs to offer everyone something. Select the one you are comfortable with as a dad or mom. You can play safe and pick a unisex one that both of you can carry comfortably.
Durability
You don't want a bag that will force you to replace it in a few months. Get a bag with a strong fabric that is anti-stain, scratch-resistant with non-fraying stitches to ensure years of use. The zipper should be strong to withstand day to day use. Also, consider one with a warranty to guarantee worry-free usage.
How Easy Is It to Clean?
Do you want a spot clean only, wipe clean or a machine washable bag? Babies can be messy, and you need an easy to clean bag as a result.
Do You Use a Stroller?
If you plan on using a stroller, you need to decide on how you want to carry the diaper bag on the baby carriage. You need a bag that allows you to attach it to the stroller otherwise you will have to place it in the storage basket which will take up a lot of space. You can also get a bag designed for a double stroller if you have twins.
What's Your Budget?
While you don't have to break a bank to get a good diaper bag, be sure not to compromise on the quality as it will cost you in the long run. We've offered a variety of options on this list which are top quality and suit most budgets.
Final Words
As a new parent, you should be prepared for overwhelming joy as well as many responsibilities. Choosing a diaper bag to tote around your baby's essentials is one of them. Choosing the perfect diaper bag for you depends on the different factors that we have covered in this article. We have selected the best diaper bags you should consider in 2018 whether you are a mom or dad, for one child or twins and even for travel. We have picked the best in the market that will offer you convenience, comfort, and functionality.