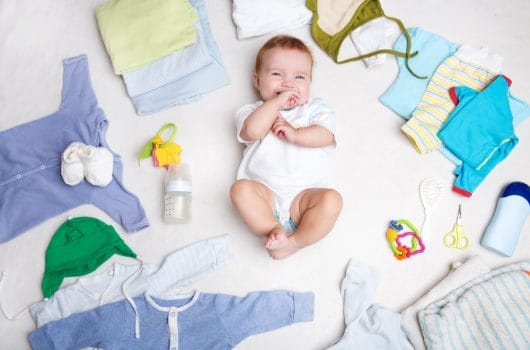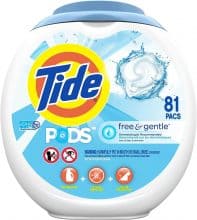 Tide PODS Free and Gentle Laundry Detergent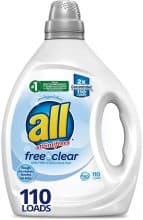 All Liquid Laundry Detergent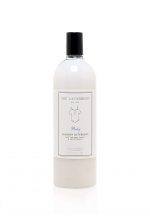 The Laundress Baby Detergent
Previous
Next
Being a parent is no easy task, especially when your child is a newborn. There is so much to learn, and you can't always shop the way you used to. Your child's skin is delicate at first, which means that all of the cleaning and skincare products you buy need to be designed with your infant in mind; yes, even the detergent you'll be using to clean their cute little clothes.
So, before you throw your usual detergent in your washing machine, make sure that it's the best detergent for your baby. While it may seem tough to find the right brands, or even how to know which brands are good or not, we've researched for you. We've compiled a list of the ten best baby detergents that you can find, and we'll give you some great tips to help you pick the best product along the way.
Factors to Keep an Eye On
Loads
One of the primary things to consider when shopping for detergent is the number of loads that a given detergent will produce. It's essential to know how many loads you're getting because you'll want to know how long the detergent is going to last you. If your budget is tight, always look for products that produce well over 100 loads. The products tend to be inexpensive, and they work just as well as other products. If results come in a pack of 2, the number of loads is generally measured on a per-bottle basis.
Type
There are three different types of detergents that you'll find on the market. For adults, the kind that you choose is not too important, but you might want to think twice when shopping for baby detergent. For example, liquid detergents tend to work best for babies because powder blends can end up causing skin rashes. Still, it's essential to know what each type is and how they work.
Liquid
Liquid detergents are relatively common, and, for the most part, they work the best with modern washing machines. Liquid detergent is poured straight from the bottle into your washing machine's detergent holder. Liquid detergent is excellent for children with sensitive skin.
Pods
Pod-based detergent is similar to liquid detergent, but the main difference is that the liquid is housed in pods. The brand tide is famous for its pod-based detergent, and it provides the same benefits as traditional liquid detergents. The only risk to using a pod-based detergent is that older children, specifically toddlers, may consume the detergent if they believe it's food. Therefore, it's imperative you keep pods out of reach and don't leave them lying around loose.
Dry
Dry detergent is a powder-based detergent that suds up once the washing cycle kicks in and it mixes with water. While dry detergents work well for adults, they can put a lot of pressure on your child's sensitive skin. If your baby is under six months old, we always recommend using either pod detergent or liquid detergents. So, since dry detergent is not a great fit for infants, you won't see any dry detergents on the list.
Amount
The amount you get is very straightforward. The reason that we want to focus on the amount is to make sure there is no confusion. For example, brands like Dreft tend to package their detergent together in a pack of two. So, if you want to buy in bulk and know which brand you like, consider the two-pack options.
Hypoallergenic
You'll want to keep an eye on whether or not the detergent you're looking at is hypoallergenic. Non-hypoallergenic detergent can cause irritations for babies that suffer itchy skin, eczema, or other skin conditions. So, before you buy, always be sure to double-check whether or not a brand is hypoallergenic. If a brand is not hypoallergenic, make sure that the formula keeps out parabens, sulfates, phthalates, phosphates, dyes, and unnatural fragrances.
Top 10 Best Baby Detergents 2020
How to choose the right Baby Detergent
Finding the best detergent for your child
Now that you've seen the products, we want to go over the shopping process briefly. With so many options that serve different purposes, it can be hard to know whether or not a product is right for you. So, to make the process a breeze, we'll break it all down for you.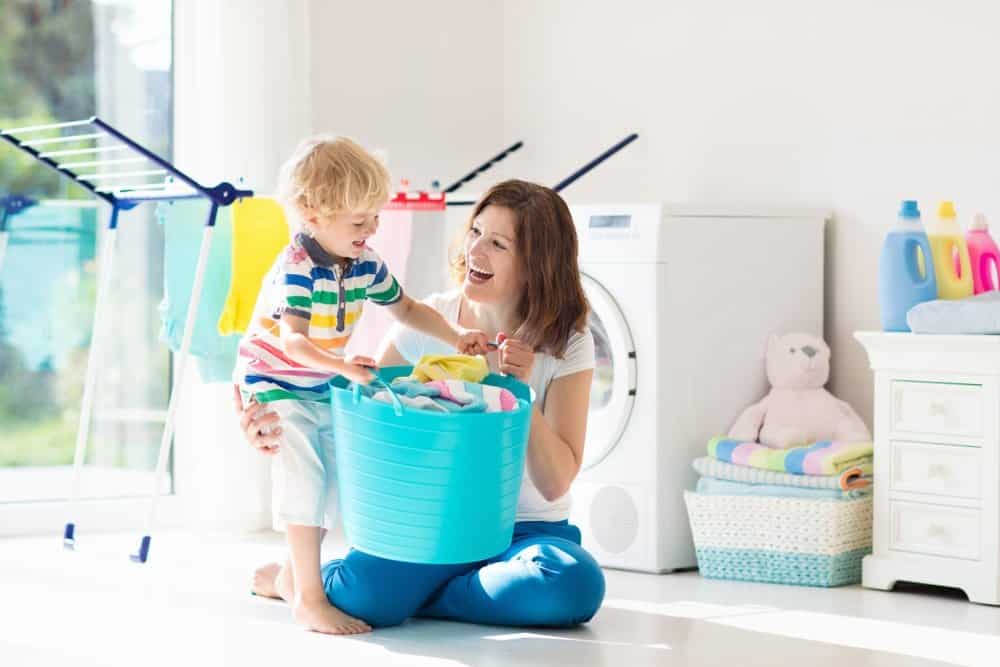 Organic versus Chemical
Chemical detergents can provide a superior clean, but they're very tough on a child's skin. Paying attention to the composition of detergent is important because it will tell you how it will interact with your child's skin. For the most part, natural detergents are better, so always look for products that are made with at least 65% organic ingredients. You'll want to get as close to that 100% mark as possible. Most of our list, including Puracy Natural Liquid Detergent, Babyganics Liquid Detergent, ECOS Baby Detergent, Mama Bear Amazon Brand Baby Detergent, and Dreft stages 1 and 2, are great organic options.
Hypoallergenic
Hypoallergenic detergent is designed to keep skin rashes and irritation to a minimum. You don't need to use hypoallergenic detergent, but keep an eye on your child's skin after using what you already have. If you start to notice patches of red skin, crying for no reason, or rashes, you'll want to switch over to hypoallergenic detergents to see if they make a difference – and they often will. Most products on this list are hypoallergenic, giving you plenty of options. If you want a hypoallergenic product, you'll want to steer clear of Mama Bear Amazon Brand Baby Detergent. You can find out more about these symptoms here.
Stain Removal
If you're a parent, you've probably noticed that your child is not the cleanest. Stains can form on clothing for a lot of reasons, whether that be food or dirt. If using cloth diapers, it's natural they're going to get dirty! So, when considering the best baby detergent, consider how often your child's clothing is stained or how many diapers they are using.
If you have a toddler, and stains are starting to become a bigger problem, you'll want to consider products like Dreft Stage 2 or Laundress Baby Detergent. Any of these options can fight off stains that might be giving you trouble.
Stains tend to be more problematic in older children, but if your baby sicks anything up or spills on their clothes, you'll want a detergent that can clean it up like Dreft Stage 1. Babies have sensitive skin, so you need to be careful when using highly concentrated detergents. Some other options that work well for dealing with stains on baby clothing include Tide PODS Free and Gentle Laundry Detergent and Puracy Natural Liquid Detergent.
Wrinkles
When clothes go through the washer and dryer cycles, they can become wrinkled if not appropriately handled. If you want to avoid wrinkles in your child's clothes, you'll need a brand that can provide an effective clean without digging into the fabric too much. So, for a wash that's free of wrinkles, consider products like Tide PODS Free and Gentle Laundry Detergent or The Laundress Baby Detergent. Both options will fight wrinkles, but The Laundress Baby Detergent is superior to most other brands at handling creases.
Infants
Infants and toddlers need different detergents to get the job done. An infant's skin is 30% more delicate than the skin of an adult, which means that your detergent needs to be gentle and free of harmful chemicals. If you have an infant, under the age of one year, you'll want to consider products that are designed for infants. Some great product options include Dreft Stage 1, The Laundress Baby Detergent, Tide PODS Free and Gentle, and Puracy Natural Liquid Detergent.
Toddlers
While infants may need specific detergents, you can loosen things up a bit when your child is crawling or walking. Toddlers love to start interacting with their environments, and while this may be fun for them, it's not fun for their clothes. So, when shopping for a toddler, you'll want a stronger detergent that's able to fight off stains and wrinkles. Some great products for toddlers include Dreft Stage 2, The Laundress Baby Detergent, and Mama Bear Amazon Brand Baby Detergent.
FAQ
Can I use regular detergent for my baby?
The answer to this question depends on the detergent that you're using and your baby's skin. If your child has no skin problems, then yes, using traditional detergent shouldn't be an issue. If your child does have irritable skin, it's always best to use a detergent that's fragrance-free, hypoallergenic, and liquid.
Is baby detergent more expensive than adult detergent?
It depends on the brand, but you'll be surprised by how inexpensive a lot of popular baby detergent brands like Puracy, Babyganics, and Dreft are. As with any other product, the price varies based on the needs of you and your child.
What should I look for in baby detergent?
What makes baby detergent special is the lack of chemical additives that most adults detergents tend to have. These chemicals include parabens, phosphates, sulfates, phthalates, and dyes. Also, if possible, always consider hypoallergenic brands.
How much baby detergent do I need?
Finding the right amount of detergent is not always easy, but the good news is that most loads of baby laundry can be done using a small amount of detergent. So, any baby detergent that has over 30 loads will give you plenty of value. If you need more or want bulk options, there are plenty of products that can do well over 100 loads of laundry.
Final Thoughts
While it may seem difficult to shop for that perfect baby detergent, any of the products that we recommend can be a great choice. Not every product is made the same, and each detergent has its benefits and drawbacks, so always make sure that you thoroughly understand each selection before making a choice. Plus, if you have the means, it might be a good idea to give a few different brands a try to see which one works the best. Either way, making sure your child has the right detergent is just as important as making sure they have the right food or diapers.
On a final note, shopping for a toddler and infant are two different things. While it may seem like a detergent can work for both, infant detergent is always a bit special in that it caters to the needs of a newborn baby. So, when shopping for infants and toddlers, make sure you pay attention to what each product is good for. Luckily, it shouldn't be challenging to find the best baby detergent once you know what you're looking for. We hope this guide has helped you get the best detergent for your baby.