When you bring your child home for the first time, you may never want to let them go. Your baby is precious and fragile, and they're at their calmest when they're in your arms. But as they grow, it can be harder and harder to carry them everywhere.
With a ring sling, you can carry your baby with you, hands-free, in a comfortable, secure carrier that maximizes your ability to comfort and cuddle your child without sacrificing your ability to move around, complete tasks, and work on projects.
Simple Tips for Selecting a Quality Ring Sling
It's no secret that babywearing has become all the rage. Trends aside, ring slings have increased in popularity alongside research showing significant behavioral and infant health benefits of the extended skin-to-skin contact of babywearing. More and more parents are finding that use of a sling carrier is the key to a healthy and happy baby. For more about the benefits of babywearing, read our health guide here.
What About a Baby Wrap?
Ring slings and baby wraps are often confused, but the terms are not synonymous and each comes with its own pros and cons. Ring slings tend to be easier to use, more comfortable, more adjustable, and leave your hands free to do other things while babywearing—but they're also a little bit harder to use for long periods, especially with older, heavier babies.
Baby wraps, on the other hand, are best suited for older, larger babies. You won't be able to move your baby around to whichever position you find most comfortable, and they take a lot longer to put on, but they might cause less strain on your back and neck if you're struggling to support your little one. If you are looking for a baby wrap, take a look at our guide to the best baby wraps available today.
Safety and Security
The most important feature of a sling is safety. You want your sling to feel secure. If a sling is defective or too weak, it can have devastating consequences for you and your baby. Be sure to choose a ring sling with a weight limit well above your child's current weight.
On top of that, voluntary ASTM certification can be a great shortcut to ensuring that your carrier meets several important safety standards. But, that being said, there are a few well-built ring slings on this list that are incredibly safe despite not having gone through the somewhat expensive and time-consuming process of obtaining this certification. All ring slings sold in the United States are required to meet mandatory CPSC standards, so you can rest assured knowing that no ring slings on this list are unsafe.
Comfort
You'll also want to make sure the fabric is comfortable for you and your baby. It should be breathable and hypoallergenic to prevent rashes and discomfort for your child, as well as lightweight and strong to prevent discomfort and rubbing. 100% linen and cotton slings are durable, and comfortable once broken in, but they tend to cost a bit more and there will be a period before they're as comfortable as they can be. Given that a high-end ring sling can be expensive, you'll also want it to be durable and adjustable to maximize your use as your child grows.
Fashion and Versatility
Style is another consideration. If you plan to use your sling in social or professional settings, you'll want to have a versatile model that works with a variety of clothes and environments. Employers are becoming increasingly open to integrating child-care into alternative workspaces, and if you plan to take this opportunity, you'll want a ring sling that makes you feel professional and confident. Meanwhile, parenting groups with a lighthearted competitive spirit may offer you an outlet to show off your parenting aesthetic.
Eco-Friendliness
Part of this aesthetic might include responsible sourcing. For environmentally-conscious parents, your sling's brand and impact on the climate may be worth a higher price. Organic or recycled materials sourced from humanitarian-approved companies are a must for green child-care.
User-Friendliness
Once you've selected your sling, you still need to put it to use. Ring slings are designed to be fairly simple to set up, but to ensure that you balance the weight correctly, you'll want fabric that's not too sheer, but not so thick that you can't put it together. A high-quality sling will account for this and include instructions. Ease of care is also a must: babies are messy, and you'll want care of your sling to be relatively simple to preserve hygiene, appearance, and quality.
The best slings will also include multiple ways of arranging your sling so that you can carry your baby on both your back and your front and switch the weight around to prevent sore muscles during extended use. To read about different types of sling positions, check out our positions guide.
Ring slings are available from a variety of accessible sources with varying features and prices. We've list our top ten picks for every possible scenario, so you can select the right sling for you.
Top 10 Best Ring Slings for Babywearing 2023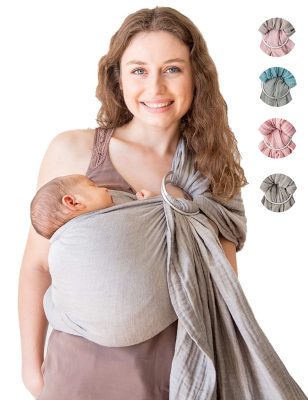 Why we like it:
This sling is a great pick for parents who are looking for both comfort and utility. It combines obvious care put into the product with affordability and versatility.
Editor's Rating:
Quick Facts:
Weight Limit: 35 pounds
ASTM Certified: Yes
Quality
Made of 100% Turkish cotton, this fabric is lightweight, flexible, and soft. It is pre-washed to break in the fabric and prevent shrinking after purchase. The muslin is double-faced for long-lasting, sturdy quality. It is ideal for sensitive skin, as the Turkish cotton weave is gentler than most linen. The fabric is free of artificial chemicals and is vegan-friendly. It has only four color options: all pink, all gray, pink and gray, and turquoise and gray, but the colors are pleasant and neutral. It's not locally sourced or committed to sustainability, but it is made of natural, baby-friendly materials.
Ease of Care
This sling is designed for utility. The fabric is machine-washable, and the structure of the weaving is intended to help it soften with each wash. It is pre-wrinkled to avoid the need for ironing, and the light fabric prevents sweating and cuts down on the need for frequent cleaning. It should be machine-washed and hung to dry.
Versatility
The long fabric is ideal for a variety of ages and carrying styles. It does not come with a manual, but its no-frills design makes it a high-quality, universally useful sling.
Extra Features
The Mebien Sling comes with a pocket for keys and a phone on the tail of the fabric as well as a carrying bag for easy storage.
Pros
Durable, practical fabric

Pre-softened for sensitive skin

Low maintenance

Comes with pocket and carrying bag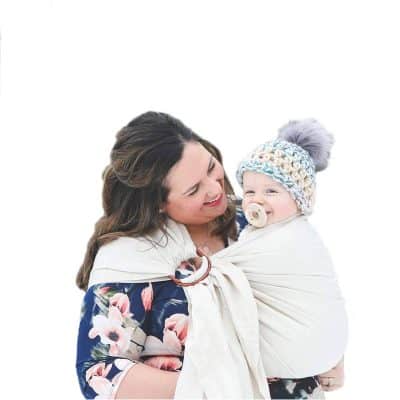 Why we like it:
Pure Life's Nalakai sling is the ideal combination of luxury and simplicity. It features a broad range of rich colors, durable yet lightweight fabric designed to keep your baby comfortable, and an ethical business model.
Editor's Rating:
Quick Facts:
Weight Limit: 35 lbs
ASTM Certified: Yes
Quality
The rings are made of unwelded aluminum and sewn into the fabric to prevent slippage or weakening of the rings over time. The fabric is a blend of bamboo and linen, a soft, durable fabric that is natural, lightweight, and strong. The soft fabric has been known to gradually loosen over a day's wearing, however, meaning you will need to adjust your fit throughout the day.
Parent-Friendly Design
The owner of the company is a parent herself, and the Nalakai sling puts the health of the baby and the parent at the forefront of the design. The design of the sling minimizes back and neck discomfort for parents. The lightweight fabric is breathable to prevent overheating and aid with your baby's temperature regulation. Extra fabric on the tail can be used to tailor neck support to your child's needs, and the design of the sling promotes hip development and prevents discomfort for your child.
Ease of Use
Ring slings can be tricky to use at first, which is why Pure Life makes use of social media to share user guides. Instructional videos specifically for the Nalakai model are available on YouTube and on the Nalakai customer support platform. Unfortunately, Nalakai slings are not designed for back carry, and you'll need to adjust the product fairly frequently due to its soft, unstructured design. The long fabric tail allows for a variety of body types and fits, while the fabric is machine washable for simple care. Its brighter colors have been known to bleed, and the aluminum rings are not detachable, meaning you will need to wash them in a laundry bag.
Style Options
Pure Life has one of the widest selections of colors, with 17 different shades, ranging from neutral creams and blacks to vibrant reds and ombrés. Nalakai slings are unisex, so style options are available that appeal to mothers, fathers, and grandparents. Unfortunately, the extra-long slings are only available in Cream and Midnight Black.
Ethical Production
Nalakai's bamboo and linen fabric is eco-conscious, contains no plastics, and has anti-bacterial properties. The company also donates 5% of its profits to CEPIA, a Costa Rican charity to support low-income families.
Pros
High-quality, comfortable fabric

Eco-friendly

Designed for comfort of child and parent

Wide selection of colors
Cons
Higher price

Softer material requires more adjustment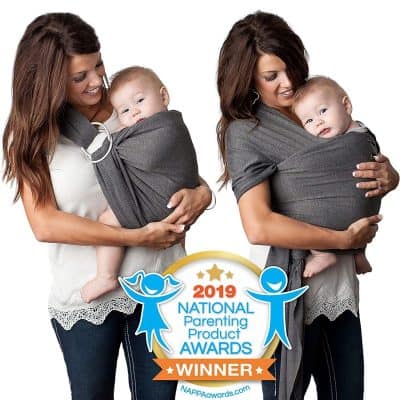 Why we like it:
As a dual-purpose ring sling and wrap, this sling is a great option for parents who want the freedom to both wrap and sling. It was a 2019 National Parenting Products Award Winner.
Editor's Rating:
Quick Facts:
Weight Limit: 35 lbs
ASTM Certified: Yes
Dual Purpose
This sling is suitable for both wrapping and using as a sling ring. Unfortunately, to function as a wrap and a sling, it requires more material and detachable rings. Petite parents may have to tuck the tail end to prevent it from dragging, and to use as a sling requires some assembly. However, it's a good transition carrier for trying out different methods of baby-wearing.
Versatile Material
With a 95% cotton and 5% spandex blend, this material is sturdy and machine washable, with a nice amount of stretch to keep the baby both secure and comfortable. Unfortunately, it is thicker and less breathable than other materials, making it less suited to hotter climates or summer outdoor use. A slightly unexpected feature of this sling is the possibility of using it as a postpartum belly band for abdominal support.
Attractive Designs
Options are limited and listed as separate products, but the 4-in-1 is offered in charcoal grey, black, and grey and white stripes.
Pros
Both a sling and a wrap

Pleasant colors

Award-winning design
Cons
Slightly more expensive

Material is too thick for summer wear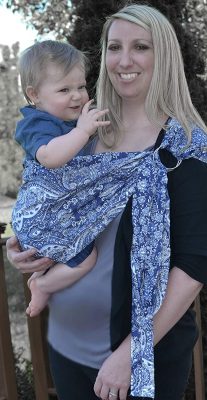 Why we like it:
This sling is a sturdy 100% cotton budget option that is ideal for older babies. With extra padding and molded shapes, this sling differs from typical ring slings. It has a wide variety of colorful patterns, sturdy copper-zinc rings, and extra design features to simplify sling use and positioning.
Editor's Rating:
Quick Facts:
Weight Limit: 35 lbs
ASTM Certified: No
Ease of Care
This model of sling is designed to simplify the use of a ring sling. The sling is tailored and sewn with padded railing, padded shoulders for the parent, a deep pouch shape to secure the baby, and a specially designed tail handle for simple tightening. The cotton sateen material is smooth and sturdy with a high thread count, and the copper-zinc rings are slightly stronger than standard aluminum rings. This sling is machine washable and should soften over time.
Colorful Patterns
This model has one of the widest style selections, with 23 fabrics to choose from. As a smaller company, this brand's stock can be unpredictable from style to style, but the wide selection and low price make this a solid choice for parents looking for more colorful options. The colors tend towards brighter, busier patterns however, and have limited neutral options.
Excellent Budget Choice
This ring sling is one of the less expensive options, but it doesn't sacrifice quality or features for cost. The cotton fabric is less luxurious than other materials, and it is less form-fitting, meaning that younger babies may not be as comfortable in this model. But the fabric itself is good quality and designed for comfort and stability. The sling is safe and durable, but the small company that produces it hasn't applied for any sort of certifications.
Pros
Tailored support in shoulders and pouch

Bright designs

Simple but sturdy
Cons
100% cotton is less form-fitting and secure

No safety certifications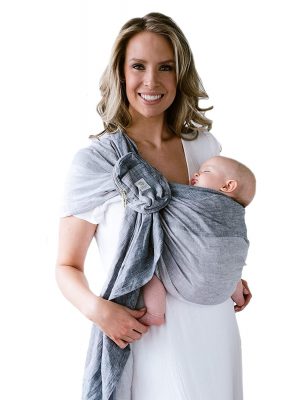 Why we like it:
In addition to being a safe, supportive, and comfortable ring sling in its own right, Lillebaby changes the game with their Eternal Love Ring by including an incredibly handle removable pocket on the front of the sling.
Editor's Rating:
Quick Facts:
Weight Limit: 33 lbs
ASTM Certified: No
Materials
Made of lightweight and breathable 100% linen, the Eternal Love Ring is perfect for fighting off the uncomfortable sweating that tends to occur when wearing a baby for an extended period of time. On top of that, it's comfortable and durable—though it might feel a bit rough until its fully broken in.
Extra Storage
Lillebaby sets this ring sling apart with the clever and handy zippered pocket that sits on the front of the sling. Surprisingly large and spacious, it's perfect for keeping a few handy items for yourself and your baby (such as pacifiers, toys, and even one or two disposable or cloth diapers) in close reach.
Sizing
Despite only being offered in one size, there's enough fabric here that parents of any size should be able to comfortably use the Eternal Love Ring. It fits a wide range of children, too—babies as small as seven pounds and as large as 35 pounds should be able to comfortably enjoy this product.
Pros
Breathable fabric

Handy pocket

Strong and supportive
Cons
Rough until broken in

Lacks ASTM certification
Why we like it:
This model features bright, fun colors and eco-friendly, hand-loomed cotton. It combines high-quality materials with easy care and offers an all-natural aesthetic.
Editor's Rating:
Quick Facts:
Weight Limit: 35 pounds
ASTM Certified: No
Quality
Made of 100% hand-loomed cotton and weight-tested aluminum rings, this sling is a solid, durable option. The fabric is all-natural and woven by hand, as well as hand-dyed in India. The woven quality makes the fabric more resilient, while the hand-dying process results in an entirely unique sling each time. This sling is more expensive than other options but offers a more luxury-level quality. As it's made of 100% cotton, it will need to be broken in before use to soften it and wash out any excess dye.
Bright Designs
The bright hand-dyed fabric is cheerful and conjures up a warm, natural vibe. It doesn't offer many neutral patterns, however, and the style is overall more casual. It can be machine washed and dried, and accommodates parents of a variety of sizes.
Eco-Friendliness
These slings are fair-trade, individually hand-woven, and made with non-toxic dyes, so you can feel confident in an ethical purchase.
Pros
100% durable cotton

Eco-friendly and fair-trade

High quality, machine-washable
Cons
Only offered in bright colors

Must be broken in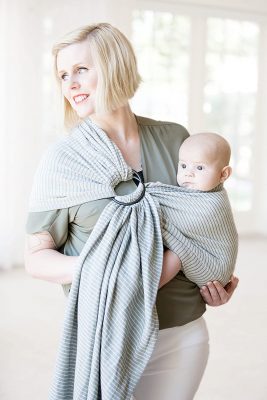 Why we like it:
Made of a basic 100% cotton fabric, this ring sling's primary draw is its brand trust. It's a fairly simple design, with breathable cotton and very limited style options, but Moby is a well-established baby-wearing brand.
Editor's Rating:
Quick Facts:
Weight Limit: 33 lbs
ASTM Certified: No
Trusted Brand History
This model is somewhat more expensive than others, despite not offering extra features or formal safety certifications, but Moby's status as an established, trusted baby-wearing brand justifies the price increase. Moby as a company has a proven track record of supplying high-quality products.
Durable Cotton Fabric
The 100% cotton fabric does require some breaking in. It requires a gentle machine wash cycle and hang dry, or a low heat tumble dry. The cotton is strong and durable, and the thicker fabric makes it ideal for heavier children and toddlers. However, the cotton is less breathable than other materials and is not ideal for parents in hot climates who plan to use extensively outdoors.
Stronger Hold
Ring slings that slide or loosen can be irritating at best and dangerous at worst. The thicker fabric of the Moby sling prevents sliding or loosening of the fabric in the ring, meaning less adjustment and slippage throughout the day and a more secure hold on your baby. Although we don't believe that this product is unsafe, it does lack any formal safety certifications.
Pros
Established brand

Good for older or heavier babies and toddlers

100% woven cotton is durable

More secure ring design
Cons
No ASTM certification

Thick fabric is not ideal for use in hot climates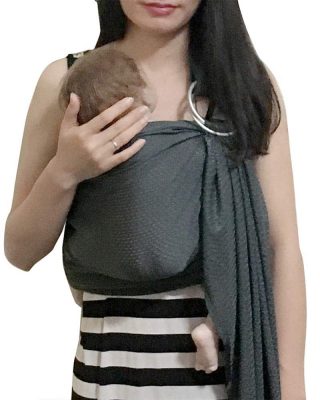 Why we like it:
It's primarily designed for parents who anticipate water activities, such as swimming or splash fountain fun, but the lightweight, durable material makes it an effective choice for land use as well.
Editor's Rating:
Quick Facts:
Weight Limit: 30 lbs
ASTM Certified: No
Budget-Friendly
Without sacrificing safety for the baby, the Mesh Water Ring sling is much cheaper than other options. There's no need to worry about damaging it, because replacement is simple and affordable.
Great Starter Sling
Because ring slings can be difficult to get the hang of when compared to other carriers, parents buying their first sling may be hesitant to spend large amounts of money on a more advanced sling. This sling is cheaper, simpler, and made of polyester jersey mesh that reduces the need to adjust, tighten, and manipulate the sling. It's a particularly suitable option for parents who don't intend to wear the sling for long periods of time, as it does not have many of the comfort options available on higher-end slings.
Very Durable
The material is a durable combination of polyester and lightweight mesh, making it a practical choice for parents in hot weather or those who need a particularly durable sling. The fabric is synthetic, which may irritate sensitive skin, and it is less secure than the Nalakai and Median options, but that is to be expected with a cheaper option. It is machine washable and good for outdoor use.
Available in Bright Colors
The water-sling is available in 15 shades. They tend towards brighter, more commercial colors, but have a variety of neutral options as well. Though this product is made in China, it isn't fragile, and the polyester material dries well and is simple to care for.
Pros
Waterproof

Durable and no-fuss

Excellent for hotter climates

Great, low-commitment starter-sling
Cons
Made of synthetic polyester blend

Less secure fabric

Only rated up to 30 pounds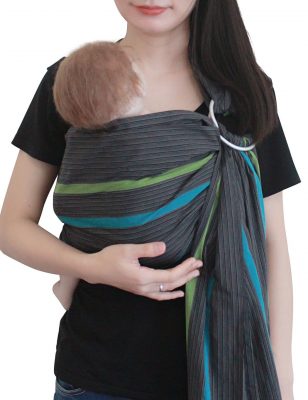 Why we like it:
Like our
Best Budget Pick
, this Vlokup brand sling is basic but effective. Made of 100% cotton, this padded sling is a great option for both new and experienced sling users at a reasonable price.
Editor's Rating:
Quick Facts:
Weight Limit: 40 pounds
ASTM Certified: No
Quality
100% cotton is always a trustworthy option, as it combines durable, natural cloth with affordability and easy care. It will require breaking in and some washing to soften it to the ideal fit, but it has a good amount of flexibility and give without being too stretchy. It may not be a luxury sling, but it is breathable, long-lasting, and simple to clean.
Good Starter Sling
This sling is on the simpler, cheaper end, but it doesn't sacrifice security for affordability. It is ideal for every-day use, and the simplicity of the design ensures that even first-time ring sling users will be able to adjust it to a comfortable fit.
Fun Color Options
This sling is offered in 16 different patterns, with bright solid colors and simple, pleasant designs from plaid, to stripes, to chevron.
Extra Features
This sling comes with a phone and keys pocket on the tail, padding on the shoulders, and a lightly padded rail along the bottom edge to support the baby's thighs.
Pros
Budget-friendly

Durable, 100% cotton

Extra-padding for security, support, and comfort

40-pound weight maximum (compared to typical 35 pounds)
Cons
Not designed for sensitive skin

May need to be broken in to become comfortable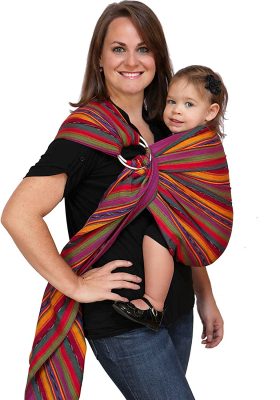 Why we like it:
This premium ring sling comes with a light padding to provide extra comfort to parent and baby, while still remaining lightweight enough to be easily wrapped.
Editor's Rating:
Quick Facts:
Weight Limit: 35 pounds
ASTM Certified: Yes
Quality
The killer feature of this ring sling is its comfort. Some comfort-focused slings go too far, and in their quest for soft padding they end up with a bulky wrap that can't be properly fitted around you and your child. Maya Wrap, on the other hand, includes just the right amount of padding to achieve a ring sling that balances comfort and security perfectly.
Ease of Use
Despite containing comfort-boosting padding, the Maya Wrap is a thin and lightweight ring sling. This means that it's easy to take on and off and can be contorted into just about any baby-carrying position that you could imagine.
Style Options
These slings come in ten different patterns, ranging from understated solid colors to bold and bright stripes.
Pros
Very comfortable

Surprisingly light and easy to wrap

Attractive range of colors
How to Choose the Best Ring Sling for You
To find the perfect sling ring for your needs, you'll want to weigh the sling's fabric and ring quality, durability, ease of care, style, and comfort against its luxury features, sustainable sourcing, and affordability. Different products and styles are available depending on your priorities.
What About a DIY Ring Sling?
Perhaps the cheapest option is simply to buy the rings alone and use your own fabric; this allows for maximum customization. However, DIY slings require more work and effort to find appropriate material, proper lengths, and safe construction. It's much simpler to purchase a ring sling set that you know has been properly rated and tested for safety and design.
Affordability and Longevity
When choosing a ring sling set, you'll want to find a product that has everything you need within your price range. The most important question to ask is how much you intend to use it. If you plan to only occasionally use your sling, you might want to look for affordability over long-lasting fabric. If, however, you have experience using a sling and plan to use it extensively, a stronger, more durable sling such as the Pure Life's Nalakai Bamboo and Linen Ring Sling is likely worth the investment.
Strength and Comfort
The best sling will be soft but strong, with enough flexibility to keep the baby comfortable but enough support to keep the baby secure. Thick material with more slack, such as the materials used to make the Moby Ring Sling, may be a better option for older babies, as it allows for a larger range of movement for curious babies. Tighter, stretchy fabric like that used in the Lite-On-Shoulder Ergonomic Sling is a better option for new babies who need to be kept supported and close to the chest.
Materials
If all-natural parenting is a priority for you, seek out products made of 100% natural material like the Hip Baby Wrap Sling. Blends often integrate synthetic materials like spandex, rayon, or polyester. Check dye types as well to ensure that dye is non-toxic. Ethical sourcing usually results in a higher price tag, but the extra care put into a hand-sewn sling usually results in a high-quality product, produces vibrant natural colors, and often comes with excellent customer service. Supporting small businesses is far simpler with online retailers, and access to products like Lite-On-Shoulder Ergonomic Sling that meet CPSIA and ASTM safety standards means it's fairly easy to purchase high-quality, regulation-approved slings from independent companies.
Wearing Your Sling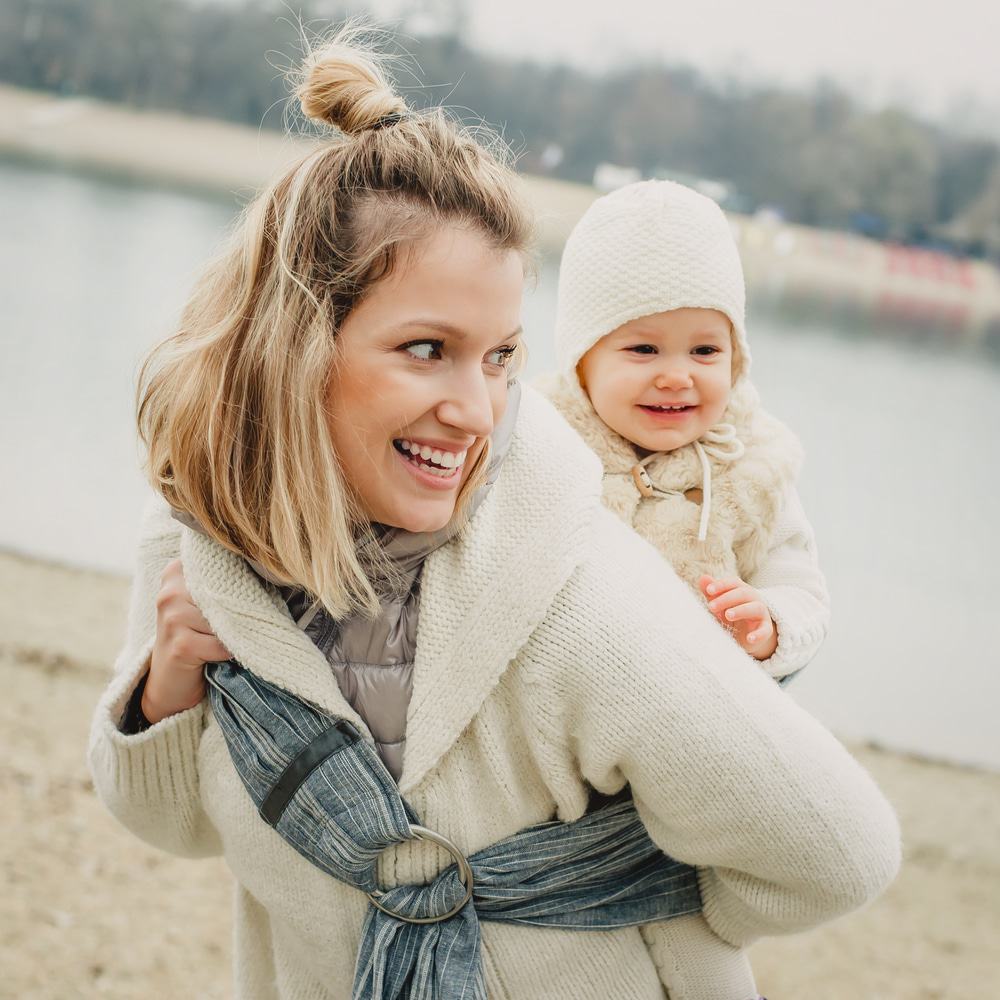 Depending on your interest in using your sling, different models offer different ways of wearing a sling. The 4-in-1 is perhaps the most versatile, with front, back, and side sling options, as well as wrap carry. For most slings, you can place your baby in the M-Position, the froggy position, kangaroo carry, cradle carry, or nursing carry. It is important to check your specific model to make sure it is safe for the type of carry you plan to use. The Nalakai sling, for example, is not rated for back carry, only hip and front carry, while the Kids 'N' Such 4 in 1 Wrap Sling can be worn in just about any position you could imagine.
Depending on what activities you plan to engage in, you may want different models with different carry ratings. For housework, cooking, and shopping, you'll want a sling that offers secure back carry, to avoid risk to your child. For walking or bonding, front or hip carry are good options as they allow for more interaction between you and your baby, and protection from strangers in public places.
You should not wear a sling for activities involving fall risks, bouncing or jumping, deep water, or hazardous conditions.
Learning to Use a Ring Sling
If this is your first sling, be aware that not all babies adjust well to slings. Most babies do experience greater comfort and calm with the natural design of a sling, leading to less crying, acid reflux, and colic. However, as with any part of raising a child, it can be difficult to predict what will work for your baby. It may take time and patience for both you and your baby to become comfortable with a sling.
To best adjust to sling use, work with your baby when you are both calm, and for short periods at first. For babies with sensitive skin, it may be best to choose a softer material, like woven, pre-softened cotton to ensure comfort and flexibility in the sling. If you feel uncomfortable in a sling, don't hesitate to experiment with the fit. Watch videos, read books, ask other parents, and talk to your pediatrician about proper support and positioning of your baby.
Benefits of Ring Slings
Ring slings are some of the most versatile and natural methods of babywearing. While certain carriers and wraps are effective for soothing or transportation, slings promote proper physical development. Front carriers with the baby facing out can prevent proper hip development by keeping the hips and knees too close together. Slings can help you carry your baby more naturally, to protect their developing joints. The natural movement associated with a sling mimics the experience of being in the womb and often has a positive effect on the baby's mood and development.
The health benefits of babywearing have even been extended as a form of therapy for special needs children. Benefits for parents have also been observed, as mothers find that babywearing is associated with increased ease of breastfeeding.
Resources
Slings can seem difficult to figure out at first. If you're struggling to correctly wrap the sling, don't give up! It may seem tricky at first, but once you get the hang of it, using your sling becomes muscle memory and fairly simple. There are many videos for new sling-users designed to make your learning process as simple as possible.
There are also many babywearing forums for new sling-users to ask questions and receive advice. Many slings may come with a booklet, detailing how to use the product. Babywearing can be confusing at first, but you may find that it is the right solution for you and your baby.
Sling Pro-Tips
Positioning:
Wear your sling high on your chest. If your baby is too low, they won't be secure.
Keep your baby positioned upright unless nursing. A reclining baby is not secure and is more prone to acid reflux.
Hold your baby in the 'm' position, so that their bottom is lower than the knees, creating an M-shape drawn from foot to foot.
When deciding what position to use your sling, be sure to check for hip-safe practices to preserve your baby's hip development and prevent hip dysplasia.
To best support spine development, let your baby's lower legs hang loose outside the sling and against your body.
Wrapping:
Tighten your sling before putting your baby in it for easier adjustment.
Make sure your baby has a deep seat with a taut edge to prevent slipping.
Don't be afraid to adjust the height of your rings on your body if it feels insecure.
Make sure the tails of the sling are threaded neatly through the rings to prevent bunching or twisting
Spread the fabric flat across your back and over your shoulder for a neater thread and easier tightening.
Helpful Hints:
Patterned slings are often easier to use, as the folds are clearer to the eye than with solid color slings.
To prevent the rings from being loud in the dryer, wash ring slings in a laundry bag.
Wrap the tail end of the sling around the rings to prevent tripping hazards or unsanitary dragging.
If a sling is slipping through the rings, fastening a heavy-duty safety pin through both layers of cloth just below the ring can help keep it steady.
For heavier babies or older children, a stronger, less-flexible material like 100% linen or cotton is safer than stretchy, blended materials
Frequently Asked Questions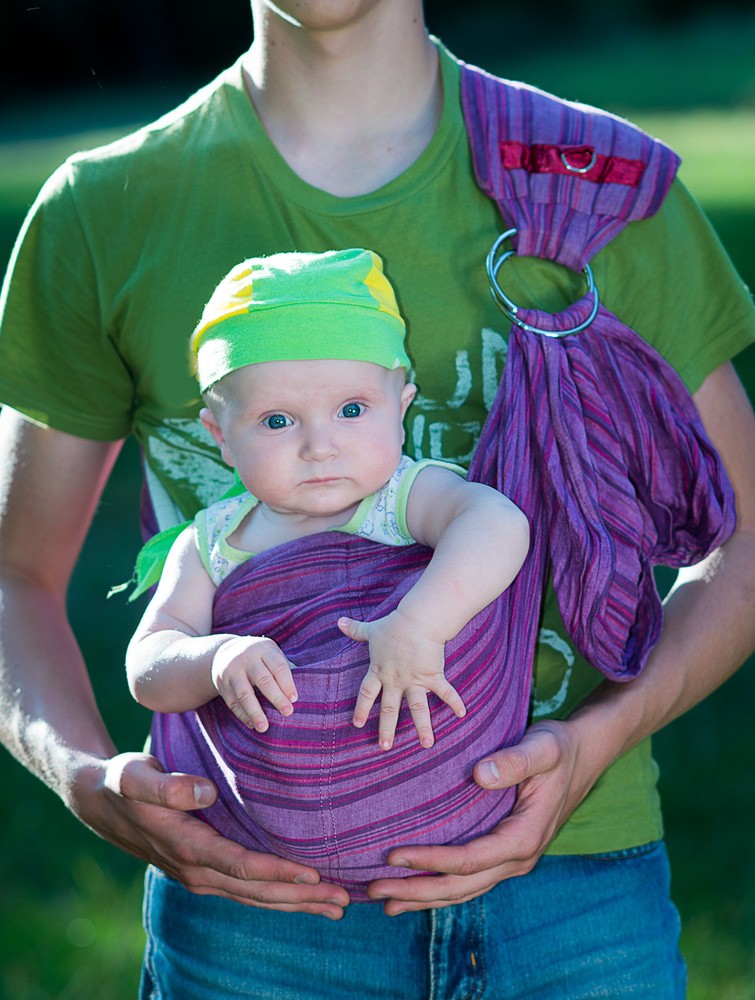 1. Are Ring Slings Safe for Preemies?
No. Ring slings could increase the risk of very small or young children suffocating, and as such should not be used until a preemie reaches about three months of age.
2. Can You Wear Your Baby Too Much?
Nope! Experts actually encourage babywearing as a way to develop a stronger parent-child bond.
3. How Did Babywearing Start?
Babywearing is rooted in ancient traditions and is still common in eastern Eurasian countries. It began as a nomadic practice and a way for mothers and fathers to watch their babies while working.
4. When Can I Start Using a Sling?
In most cases, you can start using a sling the day you bring your baby home, though you should wait until smaller babies reach at least 7 or 8 pounds.
5. What Are the Benefits of Babywearing for Parents?
Hands-free parenting makes supervision more convenient. Front-slings also make nursing more discreet in public, and studies have linked it to lower levels of postpartum depression. It's also easier for parents to pick up on hunger signs early.
6. What Are Benefits of Babywearing for Infants?
Babywearing and sling use have been empirically linked to higher contentment for newborns and toddlers. Babies with maximum physical contact tend to cry less and show a stronger sense of security, as well as better development and learning skills.
Final Thoughts
If you're looking for an affordable, natural way to bond with your child and be able to move around hands-free, ring slings are a great option. Ring slings also make excellent gifts for baby showers and birthdays. With a wide range of prices and qualities, there is a good ring sling for both entry-level and experienced babywearers, and most models offer a broad range of vibrant colors and styles for mothers, fathers, and other caretakers.