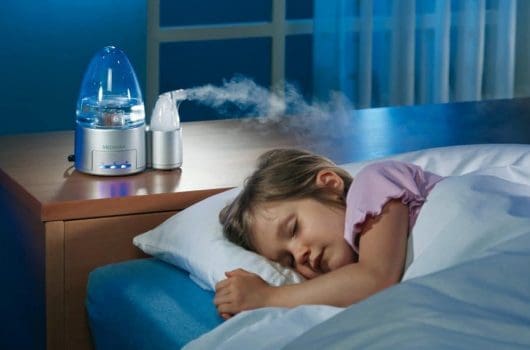 O
Honeywell HCM350W Germ Free Cool Mist Humidifier
B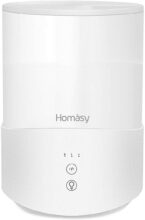 Homasay Cool Mist Humidifier/Diffuser
P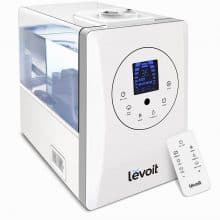 LEVOIT LV600HH Hybrid Ultrasonic Humidifier
Previous
Next
Colder months can have a negative effect on your baby's health, and the use of heaters typically only makes the problem worse. According to studies on indoor humidity levels, controlling air moisture can reduce the amount and effect of viruses while also allowing your family to breathe easier.
Investing in a humidifier for your baby will offer a variety of benefits such as preventing itchy, dry skin and chapped lips, relieving blocked sinuses, preventing a sore throat, and helping to lessen the symptoms of colds and the flu.
Not only will maintaining the humidity levels in your home help protect your family against bacteria, it can also protect your furniture and keep your pets healthy. It's not hard to see the benefits of a humidifier. However, when shopping for one, you'll soon realize there are tons of options available.
New moms can easily find themselves overwhelmed when trying to decide which product is right for you. Here are a few tips to help you select the right humidifier for your baby.
Features to Consider when Purchasing a Baby Humidifier
Before you jump in and buy a humidifier, take a second to think about why you're purchasing a humidifier. Consider the factors listed below:
Running Costs
When selecting a cool-mist humidifier you'll be saving on electricity usage, as the water doesn't need boiling before being dispersed. Warm humidifiers will be more expensive to operate, but more efficiently distribute water.
Health Concerns
Warm mist humidifiers disperse fewer bacteria and fungi into the air compared to cold mist humidifiers. The boiling process in warm mist humidifiers kills waterborne bacteria.
If you're getting a humidifier for treating allergies or asthma, it's advisable to select a warm mist humidifier. Alternatively, only use distilled water in the cold humidifier.
Coverage Area
Cold humidifiers will add moisture to larger areas, depending on the water tank size. Warm humidifiers usually work better in smaller areas such as nurseries.
Maintenance & Cleaning
All types of humidifiers have to be cleaned relatively frequently to perform optimally. Mold can grow in water tanks, nozzles and tubes can suffer from hard water deposits. Typically, warm humidifiers have to be cleaned more often, as mold is more likely to build up in warm environments.
Noise
Different humidifiers create different levels of noise. If you're purchasing a humidifier for a garage or basement, noise isn't a big deal, but noisier humidifiers can disrupt children's sleeping patterns when placed in a bedroom or nursery. Ultrasonic technology is expensive but nearly silent.
Safety
Warm mist humidifiers can be dangerous to curious children that risk burning themselves when they come too close to the warm steam or accidentally spill the hot water. Cold mist humidifiers are generally less preferable for other reasons but pose no risk for burns.
Top 10 Best Baby Humidifiers 2020
Complete Guide to Baby Humidifiers
When it comes to your children you want the best & even more so when it comes to his or her health. For the first 4 – 6 months your baby will only be breathing through his or her nose so it's important to make it easy for them to breathe.
Do You Need a Humidifier?
50% of all children suffer from sinus problems. Sinus symptoms only worsen if not treated correctly or during harsh weather conditions. Climate changes can take a toll on your family's health, especially during the winter season.
Does your family often deal with some of these symptoms?
Runny or stuffy nose
Sore throat
Cough
Congestion
Body aches
Headaches
Sneezing
Fever
Poor sleeping patterns
If so, a humidifier can be a great way to alleviate these symptoms.
Why Does Winter Influence Health?
Viruses will jump from one person to the next when the air is cold & dry. Rates spike when temperature and humidity are both low. Low humidity comes with winter mainly because cold air holds less water. Trying to heat up the room won't make a difference unless you do so in combination with a humidifier.
How Does a Humidifier Help to Combat Flu Symptoms?
Moisture is forced into the air in the form of invisible or visible mist. Mist humidifiers distribute moisture into the room, thus alleviating the symptoms that come with dry air.
A humidifier is an important part of your baby's nursery, especially if you want to treat flu-like symptoms without medicine.
Warm & cold mist humidifiers are the most popular, but other types are also available:
Evaporators: A fan is used to blow air through a filter or belt.
Central humidifiers: These humidifiers are built into home air conditioning systems to humidify the whole house.
Impeller humidifiers: Features a rotating disk to spread cool mist.
Ultrasonic humidifiers: Produce cool mist with a rotating disk.
Health Problems Connected to Dirty Humidifiers
Humidifiers are used for the health benefits they offer. However, they can also cause mild flu-like symptoms if your humidifiers aren't cleaned properly.
Filters & reservoirs that aren't cleaned often enough will breed mold and bacteria. The effect will be contaminated mist dispersed into the air and breathed in by your family.
How to Maintain a Hygienic Environment
You can prevent mold and bacteria build-up by following these tips:
Replace Old Humidifiers
Flowing mineralized water can often cause build up over time that can't be removed. Invest in a new humidifier if you have a very old one to avoid bacteria from polluting the air.
Follow Instructions
The manufacturers add specific cleaning instructions for a reason. Read through the cleaning guide and clean the humidifier accordingly.
Use Distilled Water
Minerals in tap water can cause deposits to build up and promote bacterial growth. As a result, white dust can appear on your furniture. The low mineral levels in distilled water will be a safer alternative for your health.
Refill your Humidifier with Clean Water Daily
It's important to keep the water in your humidifier clean at all times to avoid deposits from forming. After emptying the tank, dry it thoroughly & refill with clean water.
Deep Clean Every 2-3 Days
Use a 3% hydrogen peroxide solution, chlorine bleach or 10% vinegar solution to clean the tank and inside of the humidifier.
Change Filters Regularly
Follow manufacturers' instructions on how often the filter should be changed or do it even more often if you deem it necessary.
Storage
Before you store your humidifier make sure to do a deep cleanse & dry it properly. Follow the same routine when you want to use it again to make sure it's clean from any dust or deposits that accumulated during the storage time.
Keep the Area Dry
If the area around the humidifier becomes wet you should reduce the number of times you use it or select a lower setting on the device.
The Importance of Correct Humidity Levels
The perfect humidity levels for optimal health are between 30 and 50 percent. Adding humidity to the air can be beneficial; however, adding too much can cause health problems.
When the humidity levels are too high, it can worsen asthma and cause an increase in:
How to Reduce Humidity in Your Home
Use a dehumidifier
Replace filters of humidifiers & air conditioning
Avoid the use of a tumble dryer
Open a window
Place plants outside instead of inside
Use fans
Tip: Test the humidity levels in your home daily with a hygrometer to make sure your child is benefiting from the humidifier. If your humidifier doesn't come with a built-in hygrometer, you can easily get one at most hardware stores.
Price Differences
When it comes to the price tags on humidifiers, it can really range from being extremely inexpensive to being overly expensive for more or less the same features. Why such a significant difference in price?
Here are a few of the reasons:
Quality
As always you'll pay for brand names. This might not always be necessary as there are plenty of yet unknown brands that produce quality products. Do some research and read reviews of buyers before you purchase any humidifier. This will give you great insight on how long the humidifiers worked before giving problems or if the consumers experienced any problems at all.
Multifunctioning
Warm & cold mist combined humidifiers might be more expensive than ordinary humidifiers with only one setting. Decide beforehand whether you'll need both settings or just one.
Extras
Some extras are only listed in the fine print, for instance 'no filter necessary' or a built-in hygrometer. It might be worth paying more for these features in the long run.
Design
Some brands will sell their humidifiers for more because of the creative designs available, for instance, an added LED light display. You'll be able to get affordable humidifiers with the same features. Just keep in mind you'd want the light functions to work longer than just a few uses, so it's important to pick a quality product based on some research & comparing the brands.
Safety
You might have to pay more for extra safety features such as auto switch off functions. This will be necessary when buying the humidifier to put in your child's room especially with hot mist humidifiers so it's worth the extra money you'll pay.
Do You Need More Than One Humidifier?
If you're getting a humidifier for your baby you need to place it in the rooms where he or she will mostly be spending time.
When you're looking at a smaller sized humidifier you have to take into consideration that it'll only be able to be effective in one room. You might want to think about getting more than one to make sure all the areas your baby comes into contact with are covered.
It can be beneficial to purchase a larger humidifier in the case of smaller apartments or if living rooms are close to your baby's nursery so all areas can be covered at once.
Humidifiers & Aromatherapy Oils
Some humidifiers allow you to add aromatherapy oils. This is a great way to treat specific problems & to help your child relax. However, you need to take caution when you're combining essential oils with your humidifier. Here are a few tips:
Check Your Humidifier
This is important because you can damage your device if it's not made to disperse oils. Essential oils can clog the nebulizer & cause the water tank to crack. If your warm mist nebulizer is not specifically designed for using aromatherapy oils the heat can remove any therapeutic properties of the oils.
Use the Right Amount
Using too much essential oil in the humidifier can be harmful to your baby's health. The amount of oil you use will depend on the water tank size & also what oils you plan on using. Ask a professional aromatherapist how many drops of each oil is safe to use for your children.
Use Baby-safe Essential Oils
While some oils might be safe to inhale for adults, there are numerous oils that can't be used near your infant. Familiarize yourself with oils that are safe to use & know the benefits of each oil.
Aromatherapy Oils That Are Safe to Use Around Your Baby
Let's have a look at some essential oils that are safe to use in your humidifier & the benefits they offer:
Roman & German Chamomile: Relieves anxiety and treats muscle cramps
Dill: Fights free radicals and purifies the body
Lavender: Improves sleep and relaxation
Tip: there are different opinions on when the safest age is to start with essential oils. Ask for your healthcare practitioner's advice. A wider variety of oils can be used on older babies and children.
Final Words
Humidifiers come in all shapes and sizes, but in the end, it's important to invest in the right one for your child. They're a great health investment with a list of advantages when used correctly. Somewhere in your child's life he or she will most definitely be in need of a humidifier, so don't hesitate to put one on your baby shower registry or go out and buy one today.