Babies are born with a natural and insatiable curiosity. They want to see, touch and usually taste anything that they can get their little hands on. Keeping up with this appetite for constant stimulation can be a chore for already busy parents.
Specialists and child development experts have been hard at work to create enriching and highly entertaining activity centers for your baby. Bright colors, noises and whimsical characters can surround your baby while they sit or bounce.
Today's activity centers are so much more than just toys. Many centers are a culmination of some of the pasts favorites. Your baby can bounce, sway, sit and explore with an activity center, all while being safely in one place.
Parents that don't need at least a few minutes of hands-free time are unheard of. Being able to keep your baby entertained and securely in place is a godsend for families. Imagine being able to do the dishes, fold a load of laundry or just finish a meal while it's still hot.
Today, we are going to take you through some of the best activity centers that are available on the market. Different styles, age ranges and educational values will all be detailed to give you the best information before you decide to buy.
Features to Consider in Good Baby Activity Centers
Age Appropriate
Different centers cater to different aged children. Make sure that your child is placed in a center that is appropriate for their age and weight
Adaptability
Looking at activity centers that grow with your baby or even convert into walkers or activity tables down the road can save you a lot of money
Stability & Safety
All children's toys must pass certain requirements in safety and stability. Remember to do your research and buy a brand that has a high rating and excellent reputation for quality
Features
Every activity center comes in different styles, themes and function. Finding out the functions such as bouncing or rocking can save you some time and effort
Top 10 Best Baby Activity Centers 2020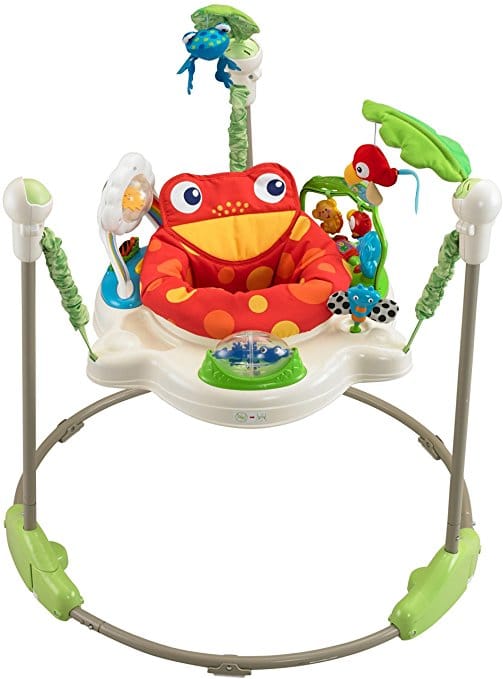 Why we like it:
Timeless and trusted brand name that provides excellent stimulation and exercise for muscle development.
Editor's Rating:
Specifications
Weight: 15 lbs
31" x 32" x 32"
Max weight: 25lbs
Requires batteries
Suitable for babies 6+ months
Fisher Price has been dedicated to making fun and safe toys for children almost as long as Santa Claus.
This # 1 seller is vibrantly colored and easy to assemble activity center will keep your baby busy long enough to give parents time to get things done.
Fun Features
It'll be tough to get your child out of this exciting new toy. They can bounce to their heart's content while building up strength in their neck, back, core and legs. The seat swivels a full 360 degrees allowing babies to see all the action in a room and gain access to all of the toys features.
A built in light up toy makes sounds, flashes and is easily triggered by touch or motion. Parents will love the controllable volume feature. There is a built in teething toy for little ones that chew everything and a snack rack to hold some Cheerios or a sippy cup.
Design
This activity center is well constructed and sturdy while still remaining fairly lightweight. The rotating seat can be locked into position to keep your baby in one place when preferred.
It is designed for infants from 4 to 12 months, but because of the bounce factor, it may be wise to keep the seat stationary until your baby has a bit more neck and back strength. There are plenty of specially designed toys that can entertain them and improve their motor development.
Pros
Keeps babies happy in one place giving parents some hands-free time

Develops increased muscle strength and coordination

Lightweight and easy to assemble
Cons
Not portable

Takes up a large amount of floor space

Some of the overhead toys are unreachable for younger babies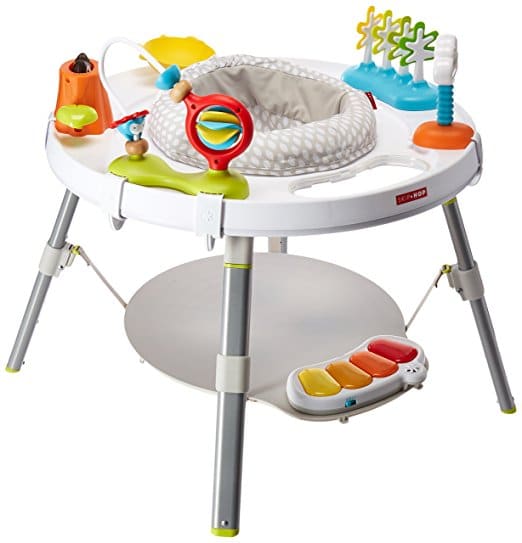 Why we like it:
One of a kind lower foot keyboard so babies can play on all levels.
Editor's Rating:
Specifications
Weight: 15 lbs
31" x 31" x 19"
Max weight: 28 lbs
Requires batteries
For babies 4+ months
This simple and durable activity center was designed in partnership with leading pediatricians. It provides endless fun for your baby with the touch of their hands or feet.
The unique see through window allows babies to look down at their feet while bouncing or playing the piano. It also doubles as a sturdy snack and drink tray.
Made from high quality and durable materials, this activity center is Phthalate and BPA free making it an allround safe option for your child.
Fun Features
This activity centre will not only grow with your child but can also change into a cruiser and activity table when your child gets older. There is no need to buy separate toys when this center has it all.
The adjustable height foot platform is easily moved to accommodate growing legs so they can keep on bouncing. The 360 degree rotating seat can be locked in place or allow your baby a full view of the toys and your room.
Your little one will enjoy the 25+ developmental activities and toys that surround them on various levels. The built in foot piano plays keyed notes, songs and lights up with just a touch or motion.
Pros
Quick and easy assembly

Grows with your child into their toddler years

Durable and safe construction

Clean and simple design
Cons
Not portable

Toys can be pulled out occasionally

Reports that the owl toy can pinch infant fingers and should be substituted until approx. 8 months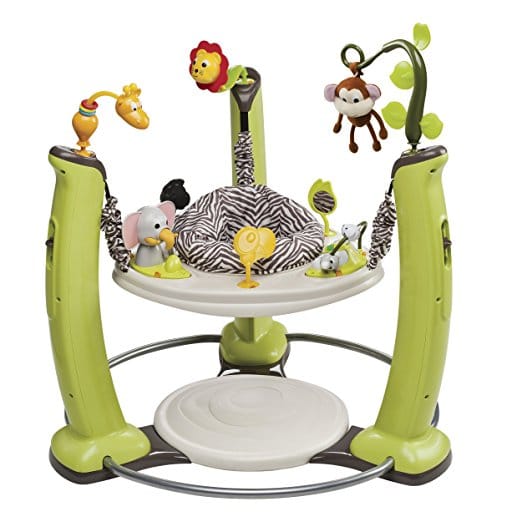 Why we like it:
This bright and animated activity center is packed full of sensory activities for your baby and a unique cushions foot platform.
Editor's Rating:
Specifications
Weight: 22 lbs
10" x 23.5" x 29"
Max weight: 26lbs
Requires batteries
Made from 100% polyester fabrics and durable plastic construction, this activity center can take any sized beating that your baby can offer. The one of a kind soft bounce base is designed to promote stability and balance while still being full of bounce and fun.
Your child can spin in all directions while being entertained on all sides. The bouncing and rocking seat helps to develop strong back, neck and leg muscles preparing your baby for their first steps. Developed in partnership with the Child Development Institute, this center will help keep your child at the top of their game in physical and mental strength.
Fun Features
This activity center is jammed packed with 58 different learning activities and developmental toys to keep babies occupied and entertained. Colorful characters and interactive toys including a teething toy and light up animals are all part of the fun.
Design
With three height settings, this center will grow right along with your child. It features strong and steady base struts that stay firmly in place as well as multiple loops at different heights that allow you to clip your child's favorite toys within arms reach.
Pros
Removable and machine washable seat cover

Sturdy and safe construction

Customizable to your child's needs
Cons
Not portable

Takes up a lot of space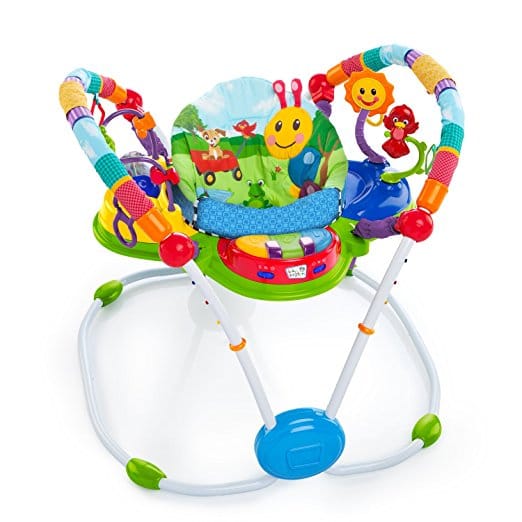 Why we like it:
This award winning design will keep your babies occupied with three separate activity stations to explore.
Editor's Rating:
Specifications
Weight: 19 lbs
30.5" x 33" x 29"
Max weight: 25lbs
Requires batteries
Suitable for babies 4+ months
Fun Features
There is so much going on with this activity center that there will be no chance of your little one getting bored. Enjoy some valuable hands-free time while your baby explores the brightly colored and endless options offered by this activity center.
There are three separate activity stations positioned around the outside frame, accessible from the rotating seat for babies to enjoy. The light up piano is just one of the 12+ toy options available and comes with notes, songs and animal sounds in English and Spanish. Parents will be thrilled to hear that there is also a volume control.
Design
There are three height settings to accommodate a growing baby and they are easy to set without having to take anything apart. The deeper seat allows your baby to sit comfortably and securely while bouncing rocking or rotating. The seat also locks in place for stationary play or feeding time.
This award winning design is packed with sensory rich toys that help with development of sensory awareness and hand-eye coordination. With the freedom to jump to their heart's content, your baby will strengthen their back, core, neck and legs while giving them excellent exercise.
Pros
Entertainment for hours of fun without boredom

Grows with your baby

The songs and melodies are soft and pleasant
Cons
Not portable

There is a reported design flaw where tiny arms can get stuck. No injuries have been reported but parents say it is a hassle.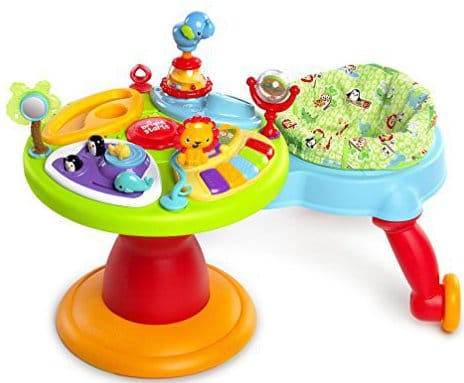 Why we like it:
This unique design allows your baby to move around the activity center instead of being inside of it.
Editor's Rating:
Specifications
Weight: 20 lbs
27.9" x 13.7" x 21.7"
Max weight: 25lbs
Requires batteries
Suitable for babies 6+ months
Battery life = 180 hrs
This one of a kind activity center is designed to get your baby moving and keep them entertained for hours. It will be your child's favorite toy well into their first few years. The activity center converts to a sturdy walker and then an activity table for older children to enjoy.
Fun Features
There is so much to enjoy with this activity center. Over a dozen specially designed learning toys and features including a teething toy and a light up musical piano. For hand-eye coordination there is a bead chaser, popping characters and a colorful spinner. Reading fun can be found with the flip book full of whimsical animals and characters.
The seat is designed to move 360 degrees around the circumference of the table and also rotates 360 itself so your baby can see everything going on around them.
Design
This is a unique design that promotes movement and stability while gaining strength in your child's neck, back and legs. The volume control settings will please parents who appreciate every bit of silence they can manage.
Pros
BPA free sturdy materials

Encourages walking and balance

Toys designed to enhance motor skills
Cons
Not portable

No bouncer seat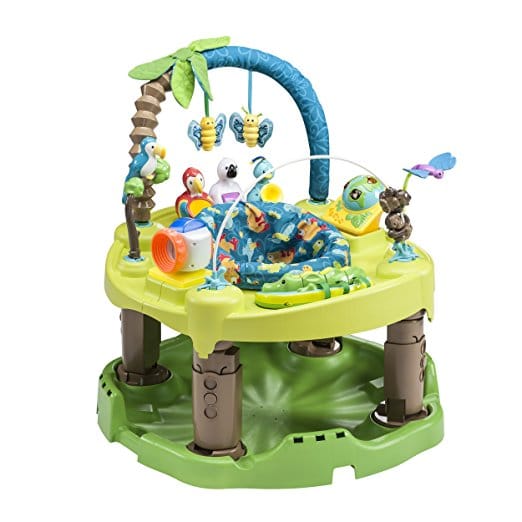 Why we like it:
Take this play center with you on the go from infant play mat to toddler activity table.
Editor's Rating:
Specifications
Weight: 23 lbs
30" x 30" x 31.5"
Max weight: 26lbs
Folds flat for storage and transport
Suitable from birth to 24 months
This triple threat activity center will be entertaining your child right from the first day through years to come. Enjoy three interchangeable phases from an interactive baby floor mat, to exciting exersaucer right up to entertaining activity table for toddlers.
Fun Features
The amazon jungle animal theme will keep your baby interested and entertained with colorful animals and toys on all sides. The seat rotates a full 360 degrees for full access and a complete view of everything going on.
There are 11 toys around the edges that play music, promote learning and enhance hand-eye coordination. Your baby can rock, bounce and spin themselves silly in this durable and exciting learning center.
Design
The full unit folds small enough to carry for all your travels and comes with a built in sturdy handle for easy transport. It can also fold flat to fit easily in a closet space or under a bed.
The clip on hanging toys can be switched out to include some of your baby's favorites from their own collection or just to move the existing toys around. This activity center was designed to bring all of the toys and features closer to little hands to eliminate frustration when babies can't quite reach things.
Pros
Portable and foldable

3 stage adjustable for growth

Music and lights are soft and not annoying

Volume controls
Cons
Play mat for infants is fairly plain and simple

Not the easiest to assemble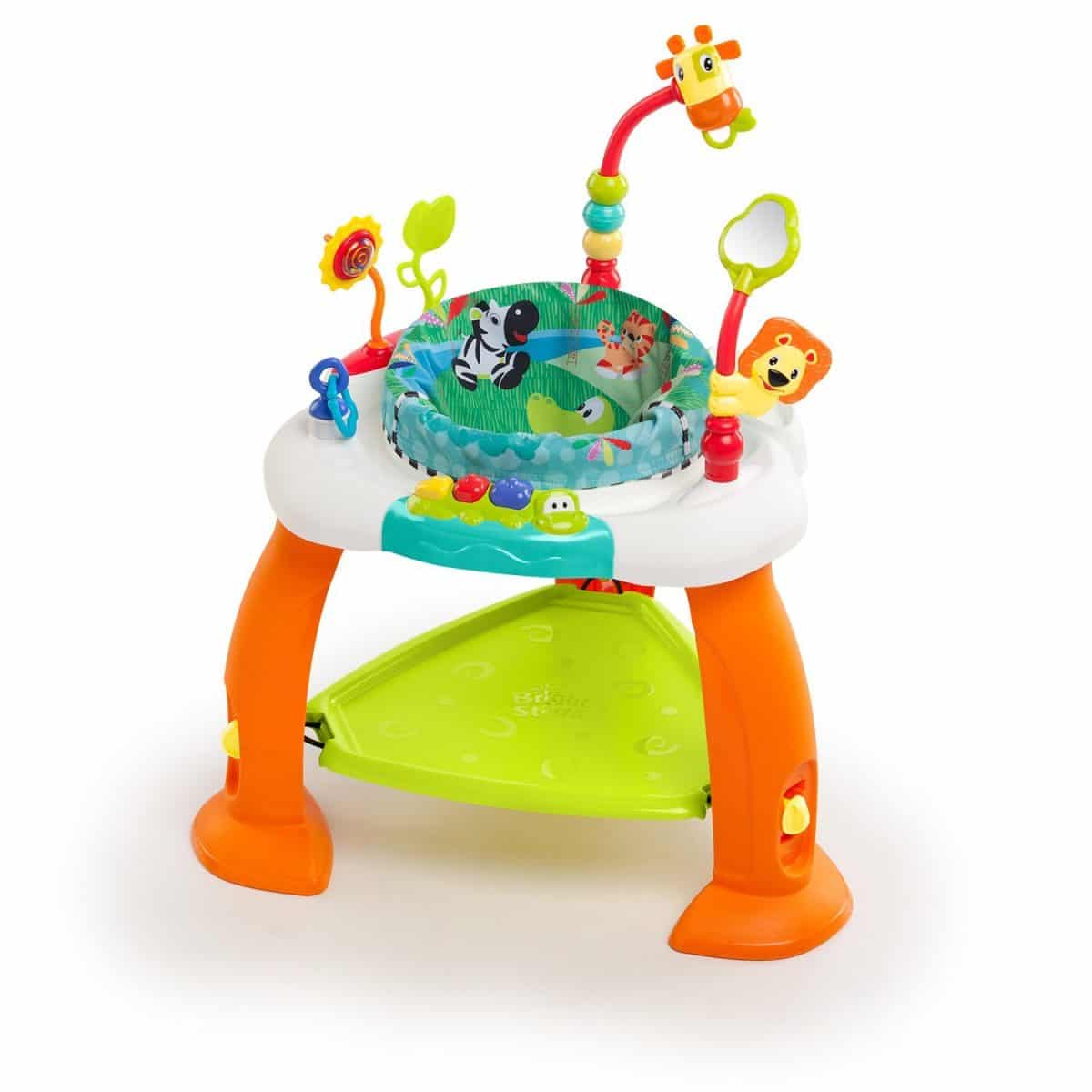 Why we like it:
The unique toy placement encourages reaching, bending and gripping while developing vital motor skills.
Editor's Rating:
Specifications
Weight: 15.75 lbs
28.5" x 30" x 32"
Max weight: 25lbs
No batteries required
Suitable for 6+ months
This endlessly fun bouncer will keep babies smiling and engaged. There are over a dozen toys and developmental activities for them to enjoy again and again.
The unique soft bouncing pad keeps little feet from getting sore while promoting balance and developing strong back, legs and necks.
Fun Features
The rotating seat turn a full 360 degrees to allow your little one to play with any toy they want while being able to see and stay engaged with everything that is going on around them. There are three adjustable heights to accommodate babies as they grow.
There are bead chasers, ball poppers, and mirror and two overhead toy bars with toys attached. The overhead toys can be unclipped easily and switched for your child's favorites. There are things to do at every level on this activity center which encourages your child to not only bounce and turn but practice bending, reaching and developing their hand-eye coordination.
Design
Once your child learns how to jump in the bouncing seat, they will undoubtedly go at it with vigor. Little feet and legs can get sore with more traditional bouncing chairs and swings, but there is no worries with this toy. The specially designed bouncing platform is padded and springy adding to the action while being gently on tiny legs and toes.
Pros
Very easy and quick to assemble

Grows through three stages of growth

Durable construction

Removable and washable seat liner

Compact size
Cons
Not portable

Only one configuration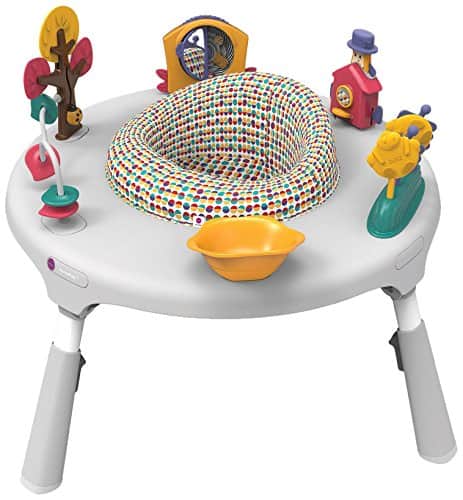 Why we like it:
This simply designed adaptable activity center can be packed up and taken with you on your travels.
Editor's Rating:
Specifications
Weight: 13.67 lbs
27" x 27" x 18"
Max weight: 25lbs
No batteries required
Suitable for 6+ months
With a simple and elegant design, this activity center is designed to boost cognitive development and motor skills while keeping your precious baby fully entertained. As your child grows, the center turns into a fun activity table that toddlers will love.
Fun Features
The seat rotates around 360 degrees giving hands on access to all of the toys and activities. The seat cover can be easily removed and machine washed. The streamlined design will keep your child engaged without overwhelming their developing senses.
This activity center features a child safe mirror, a teething toy flower and removable snack bowl. The attached toys have been designed to be safe for your baby's delicate fingers and mouth. The materials used in construction exceed all safety standards in the U.S. and Europe.
Design
There are three height settings that are easy to adjust without having to take the center apart. The legs fold under in a snap to collapse the activity center making it easy to take wherever you like.
While it's design allows for indoor and outdoor use, it is not designed to be used for walking children and should be converted to the table configuration when your baby is ready to take their first steps.
Pros
Portable and easy for travel

Expandable to activity table

Quick and easy assembly
Cons
Slightly more expensive

Marginal bounce movement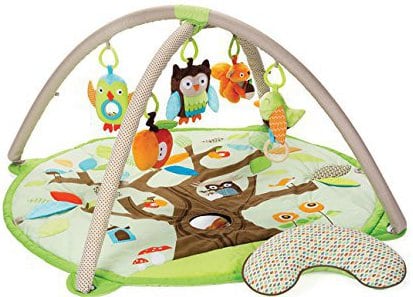 Why we like it:
: An entertaining and educational option for infants that are not quite old enough for a chair style activity center.
Editor's Rating:
Specifications
Weight: 2.2 lbs
36 x 19 x 36
Suitable for Newborns +
No batteries required
Tummy pillow included
Tummy time is an important step in developing strong back and neck muscles for your newborn. Many babies take time to get used to this positions and this beautifully designed activity center mat from Skip Hop is guaranteed to keep your baby happy.
Fun Features
The high quality fabrics used on this mat are made up of a collection of colors and textures for your baby to explore. There are crinkly leaves, a squeaky flower and a child safe mirror along with 17 other developmental activities.
Along the struts there are over a dozen fabric loops that allow easy attachment of your baby's favorite toys and characters. The overhead bars display 5 multi sensory toys for babies to enjoy while they are laying on their back.
Design
This oversized mat takes 2 minutes to assemble and can go with you anywhere. It can be easily put in the washing machine for cleaning to keep it fresh. Made from only the best quality fabrics, this mat is durable will last through many stages of your child's development.
Pros
High quality toys and materials used

Portable

Machine washable

Tummy time pillow included

Lightweight
Cons
On the more expensive side for activity mats

The mirror can warp slightly if put in dryer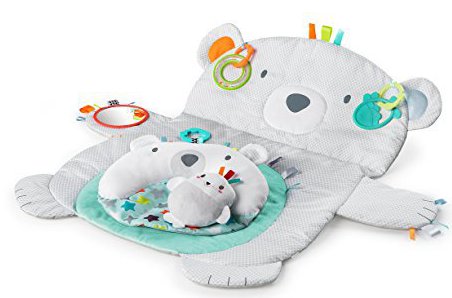 Why we like it:
The adjustable bear head allows babies to be propped up while playing on their backs.
Editor's Rating:
Specifications
Weight: 1.8 lbs
36" x 32.5" x 5"
Suitables for Newborns+
No batteries required
This loveable and comfortable activity mat is sure to be your child's favorite place for some tummy time play. The bear head as adjustable to help prop up little one to help them keep an eye on all the action around them.
For infants who are not yet ready for a seated activity center, this is a great option to keep babies engaged and entertained. One of the best times with your precious child is being able to get down on the floor with them and watch them discover the world around them.
Fun Features
The comfortable mat material has crinkly sounds, a teether and a child safe mirror all built right in. There are a number of loops connected around the edges to allow for the easy attachment of your baby's favorite toys and animal characters
The included tummy pillow gives your baby excellent support while encouraging great back and neck strengthening. The comfortable nylon and polyester fabric is gently on tender skin.
Design
This fun activity mat can be quickly folded and put into your diaper bag to take with you wherever you go. The durable fabric is suitable for playing indoors or out in the yard or park.
Just throw it in the washing machine to keep it fresh and clean. Enjoy watching your baby explore new sounds, textures and colors while having tummy time fun. This mat is an excellent option for small spaces and can be laid out anywhere in a flash.
Pros
Increase the comfort and fun during tummy time

Portable

Prop pillow included

Affordable
Cons
Thin material with little padding

No overhead toys
Guide to Buying the Best Baby Activity Center
Having a baby is one of the most joyful experiences that anyone can have in life. New parents will agree, that along with that joy comes many sleepless nights causing a general exhaustion that can test anyone.
Finding the right toys to entertain your little one for even a few moments can be a challenge. Babies are highly curious about everything they see, touch and taste, but their attention spans are incredibly short.
With the need for nearly constant stimulation for some babies, already tired parents can be pushed to the limits of their patience. Being able to provide your child with a safe and fun activity center that keeps happily in place for more than a few minutes can be a parents dream.
Although you should never leave your child unattended in any situation, an activity center can allow you to have some hands-free time to get other things done. If you have other young children that also need your attention and care, and activity center can be a great investment. Even for things as simple as being able to prepare a quick meal and finish it without interruption, or folding a load of laundry can make a world of different to a parents busy life. With so many options on the market, it can be difficult to sort through what is the best choice for your child.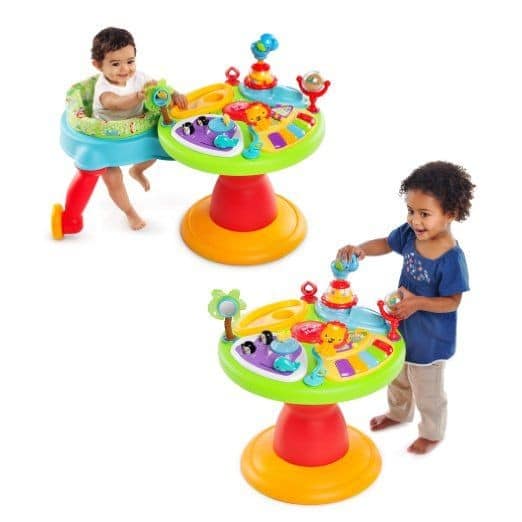 In most cases it is a matter of affordability and safety. While all toys manufactured for babies must meet strict safety standards, not all activity centers are created equal.
Getting to know what is out there and doing your research about different options is the best way to feel great about your purchase. Keep in mind a list of features that are important to your baby and meet your family's lifestyle.
It is important to note, that younger infants between 4 – 6 months are right at the critical age to be considered safe while playing in a seated style activity center. Your child must already be able to hold their head up steadily before you should consider choosing a seated jumper style activity center.
Adaptability
There are several models available that can be used for many years of your child's life. Activity chairs can be adjusted to become walkers or activity tables for toddlers in many cases. This can not only be convenient but can be a valuable savings feature.
Portability
Many parents will tell you that their child's favorite place to play is in their activity center. Most models are not portable, but there are a few that can be taken anywhere and folded down to a convenient travel size. If your family lives an active on-the-go lifestyle, this may be an important consideration for you.
Motion Features
Activity centers today are not just designed for their entertainment value. Quite a bit of effort is put into the designs that will provide high quality exercise for growing babies.
Bouncy, rocking and rotating seats are an excellent features that focus on strengthening your child's balance, back, neck and leg muscles preparing them for their first steps.
Toy Safety
The golden rule for any type of purchase is that you get what you pay for. This is true with many baby products as well. Although there are strict safety guidelines that must be followed by manufacturers there are still some things to keep in mind. The durability of the attached toys is very important. Take notice of the quality of fabrics that are being used as well as the presence of any swallow or pinching hazards.
Easy Assembly
Every parent is pressed for time and being able to construct toys is one thing that you want to be able to do quickly. Sitting in front of a box for hours trying to figure out where everything goes is a waste of valuable time for moms and dads. When choosing a style of activity center, take a look at the customer reviews that will nearly always have a comment about the assembly process.
Stability
Your baby's safety is always a top priority. With activity centers that offer bouncing seats, make sure that the frame is made of durable and stable materials. There is a lot of motion going on when a child is bouncing, and you don't want a brand that is going to move around the floor putting your child at risk of a tipping injury.
Adjustability
The longer you can count on getting use out of any childs toy, the better. Parents spend huge amounts of money on toys to be able to keep up with them as they grow. An activity center that has adjustable heights is a great investment. As your child grows, their center can grow with them and eliminate the need to purchase something new.
Cleaning
Babies are messy. No parent can deny the fact that wherever their baby is, there is usually a mess close by. When looking at activity centers, pay attention to the type of materials used in the construction and how they need to be cleaned. Many centers come with removable and machine washable seat covers and toys that can be unclipped for cleaning.
Fun Factor
Babies are full of curiosity and wonder at all the things around them. For infants everything is so new and exciting. Activity centers come with specially designed toys that will help develop hand-eye coordination, stimulate multi-sensory reactions and have developmentally appropriate toys. A favorite with babies are centers that have some kind of light up or musical feature. Be cautious to not go overboard. It has been found that an activity center with too much going on can actually overstimulate and overwhelm your child. Sticking with the basics is the best bet.