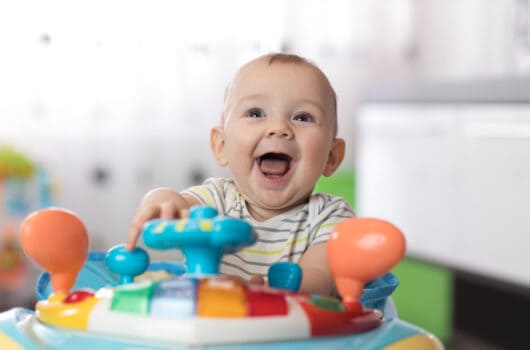 O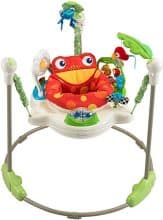 Fisher Price Rainforest Jumperoo
B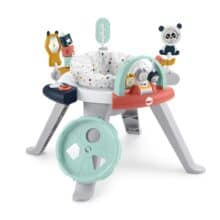 Fisher-Price 3-in-1 Spin & Sort Activity Center
P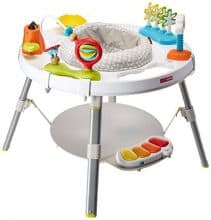 Skip Hop Explore Activity Center
Previous
Next
After your baby is born, it's important to begin introducing them to different kinds of stimulation as early as possible. Babies naturally have an insatiable curiosity, and surrounding them with attractive toys and activities encourages them to learn and develop important skills. The purpose of a baby activity center is to give your little one a safe and comfortable place to play while keeping your hands free. To help parents find the best option for their little one, we put together the following list of our favorite baby activity centers to buy in 2020.
Features to Consider in Good Baby Activity Centers
With so many different baby activity centers to choose from, it can be difficult for parents to be confident that they are ordering the right one for their baby. Here are some factors to consider before settling on which activity center to buy.
Recommended Age
Make sure that you pick an activity center that is appropriate for your baby's age and weight. Not only does this ensure your baby's safety, but age-appropriate toys are also more likely to hold your baby's interest and facilitate learning
Adaptability
Many of the options on our list have secondary uses for after your infant outgrows their activity center seat. Parents who want their kids to get maximum usage from their activity center should choose an activity center that transforms into a toddler play table.
Safety
All children's toys must pass stringent requirements for safety and stability. You can trust all the baby seats and activity centers on our list to keep your baby safe while they play.
Activities and Features
Every activity center below offers different themes, features, and activities for your baby to enjoy. For instance, some allow your baby to bounce up and down while playing. Others fold up for easy travel and storage. Many of the activity centers on our list also have removable seat covers that make washing easy.
Why Buy a Baby Activity Center?
Scientists and child development experts agree that learning through play is an important part of healthy child development. That's why parents should make sure that they pick a baby activity center with a wide variety of toys and activities for their baby to play with as they sit. Also, activity centers that allow infants to sit up and move around can help them develop the core strength and coordination to begin supporting their own weight.
Top 10 Best Baby Activity Centers 2020
Guide to Buying the Best Baby Activity Center
Having a baby is one of the most joyful experiences that anyone can have in life. New parents will agree that along with that joy comes many sleepless nights causing general exhaustion that can test anyone.
Finding the right toys to entertain your little one for even a few moments can be a challenge. Babies are highly curious about everything they see, touch, and taste, but their attention spans are incredibly short.
What Are the Benefits of a Baby Activity Center?
With the need for nearly constant stimulation for some babies, already tired parents can be pushed to the limits of their patience. Being able to provide your child with a safe and fun activity center that keeps happily in place for more than a few minutes can be a parent's dream.
Although you should never leave your child unattended in any situation, an activity center can allow you to have some hands-free time to get other things done. If you have other young children that also need your attention and care, and activity center can be a great investment. Even for things as simple as being able to prepare a quick meal and finish it without interruption, or folding a load of laundry can make a world of difference to a parent's busy life. With so many options on the market, it can be difficult to sort through what is the best choice for your child.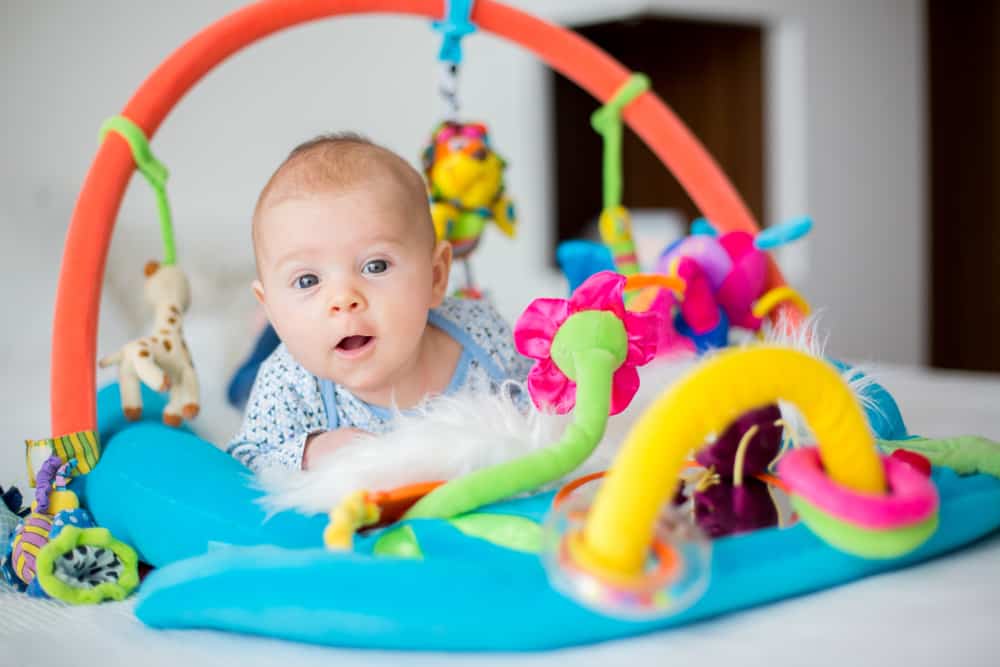 Considerations When Purchasing a Baby Activity Center
Getting to know what is out there and doing your research about different options is the best way to feel great about your purchase. Keep in mind a list of features that are important to your baby and meet your family's lifestyle.
Fun Factor
Babies are full of curiosity and wonder at all the things around them. For infants everything is so new and exciting. Activity centers come with specially designed toys that will help develop hand-eye coordination, stimulate multi-sensory reactions, and have developmentally appropriate toys. A favorite with babies are centers that have some kind of light up or musical feature. Be cautious to not go overboard. It has been found that an activity center with too much going on can actually overstimulate and overwhelm your child. Sticking with the basics is the best bet.
Motion Features
Activity centers today are not just designed for their entertainment value. Quite a bit of effort is put into the designs that will provide high-quality exercise for growing babies.
Bouncy, rocking, and rotating seats are excellent features that focus on strengthening your child's balance, back, neck, and leg muscles preparing them for their first steps.
Easy Assembly
Every parent is pressed for time and being able to construct toys is one thing that you want to be able to do quickly. Sitting in front of a box for hours trying to figure out where everything goes is a waste of valuable time for moms and dads. When choosing a style of activity center, take a look at the customer reviews that will nearly always have a comment about the assembly process.
Stability
Your baby's safety is always a top priority. With activity centers that offer bouncing seats, make sure that the frame is made of durable and stable materials. There is a lot of motion going on when a child is bouncing, and you don't want a brand that is going to move around the floor putting your child at risk of a tipping injury.
It is important to note that younger infants between 4 – 6 months are right at the critical age to be considered safe while playing in a seated style activity center. Your child must already be able to hold their head up steadily before you should consider choosing a seated jumper style activity center.
Toy Safety
The golden rule for any type of purchase is that you get what you pay for. This is true with many baby products as well. Although there are strict safety guidelines that must be followed by manufacturers there are still some things to keep in mind. The durability of the attached toys is very important. Take notice of the quality of fabrics that are being used as well as the presence of any swallow or pinching hazards.
Adjustability
The longer you can count on your child being able to use a toy, the better. Parents spend huge amounts of money on toys to be able to keep up with them as they grow. An activity center that has adjustable heights is a great investment. As your child grows, their center can grow with them and eliminate the need to purchase something new.
Adaptability
There are several models available that can be used for many years of your child's life. Activity chairs can be adjusted to become walkers or activity tables for toddlers in many cases. This can not only be convenient but can be a valuable savings feature.
Portability
Many parents will tell you that their child's favorite place to play is in their activity center. Most models are not portable, but there are a few that can be taken anywhere and folded down to a convenient travel size. If your family lives an active on-the-go lifestyle, this may be an important consideration for you.
Cleaning
Babies are messy. No parent can deny the fact that wherever their baby is, there is usually a mess close by. When looking at activity centers, pay attention to the type of materials used in the construction and how they need to be cleaned. Many centers come with removable and machine washable seat covers and toys that can be unclipped for cleaning.
An Activity Center Can Help Your Baby Grow
Even before they learn to talk, a baby learns through play and experimentation. By providing them with an activity center to play with, not only are you giving them a safe to play, but you are also giving them a head-start towards developing the physical and mental capabilities that will set them up for success as they grow up.