After your baby is born, it's important to begin introducing them to different kinds of stimulation as early as possible. Babies naturally have an insatiable curiosity, and surrounding them with attractive toys and activities encourages them to learn and develop important skills. The purpose of a baby activity center is to give your little one a safe and comfortable place to play while keeping your hands free. To help parents find the best option for their little one, we put together the following list of our favorite baby activity centers to buy in 2021.
Features to Consider in Good Baby Activity Centers
With so many different baby activity centers to choose from, it can be difficult for parents to be confident that they are ordering the right one for their baby. Here are some factors to consider before settling on which activity center to buy.
Recommended Age
Make sure that you pick an activity center that is appropriate for your baby's age and weight. Not only does this ensure your baby's safety, but age-appropriate toys are also more likely to hold your baby's interest and facilitate learning
Adaptability
Many of the options on our list have secondary uses for after your infant outgrows their activity center seat. Parents who want their kids to get maximum usage from their activity center should choose an activity center that transforms into a toddler play table.
Safety
All children's toys must pass stringent requirements for safety and stability. You can trust all the baby seats and activity centers on our list to keep your baby safe while they play.
Activities and Features
Every activity center below offers different themes, features, and activities for your baby to enjoy. For instance, some allow your baby to bounce up and down while playing. Others fold up for easy travel and storage. Many of the activity centers on our list also have removable seat covers that make washing easy.
Why Buy a Baby Activity Center?
Scientists and child development experts agree that learning through play is an important part of healthy child development. That's why parents should make sure that they pick a baby activity center with a wide variety of toys and activities for their baby to play with as they sit. Also, activity centers that allow infants to sit up and move around can help them develop the core strength and coordination to begin supporting their own weight.
Top 10 Best Baby Activity Centers 2023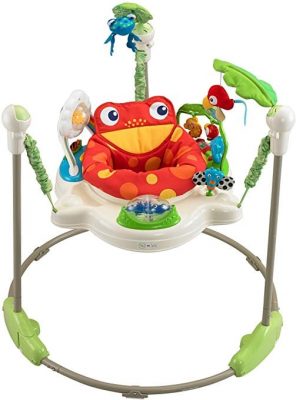 Why we like it:
From a timeless and trusted brand name, the Fisher-Price Rainforest Jumperoo provides excellent stimulation and exercise for muscle development.
Editor's Rating:
Specifications:
Weight Limit: 25 lbs
Dimensions: 31" x 32" x 32"
Batteries Required? Yes (3 AAA)
Age Range: Suitable for babies 6+ months
Fisher-Price has been dedicated to making fun and safe toys for children almost as long as Santa Claus.
This #1 selling activity center is vibrantly colored and easy to assemble. It is sure to keep a baby busy for long enough to give parents time to get things done.
Fun Features
It'll be tough to get your child out of this exciting new toy. They can bounce to their heart's content while building up strength in their neck, back, core, and legs. The seat swivels a full 360 degrees allowing babies to see all the action in a room and face to all of the toys' features.
A built-in light-up toy makes sounds, flashes, and is easily triggered by touch or motion. Parents will love the controllable volume feature. There is a built-in teething toy for little ones that chew everything and a snack rack to hold some Cheerios or a sippy cup.
Design
This activity center is well constructed and sturdy while still remaining fairly lightweight. The rotating seat can be locked into a position to keep your baby in one place when preferred.
It is designed for infants from 4 to 12 months, but because of the bounce factor, it may be wise to keep the seat stationary until your baby has a bit more neck and back strength. There are plenty of specially designed toys that can entertain them and improve their motor development.
Pros
Keeps babies happy in one place giving parents some hands-free time

Develops increased muscle strength and coordination

Lightweight and easy to assemble
Cons
Not portable

Takes up a large amount of floor space

Some of the overhead toys are unreachable for younger babies
Why we like it:
This one-of-a-kind activity center was designed by world-renowned childhood development experts. It features an adjustable foot-powered piano for musical fun.
Editor's Rating:
Specifications:
Weight Limit: 28 lbs
Dimensions: 31" x 31" x 19"
Batteries Required? Yes (3 AAA)
Age Range: For babies 4+ months
This simple and durable activity center was designed in partnership with leading pediatricians. It provides endless fun for your baby with the touch of their hands or feet.
The unique see-through window allows babies to look down at their feet while bouncing or playing the piano. It also doubles as a sturdy snack and drink tray.
Made from high quality and durable materials, this activity center is phthalate and BPA free, making it an all-around safe option for your child.
Fun Features
This activity center will not only grow with your child but can also change into a cruiser and activity table when your child gets older. There is no need to buy separate toys when this center has it all.
Your little one will enjoy the 25+ developmental activities and toys that surround them on various levels. The built-in foot piano plays keyed notes, songs, and lights up with just a touch or motion.
Design
The adjustable height foot platform is easily moved to accommodate growing legs so they can keep on bouncing. The 360-degree rotating seat can be locked in place or allow your baby a full view of the toys and your room.
Pros
Quick and easy assembly

Grows with your child into their toddler years

Durable and safe construction

Clean and simple design
Cons
Not portable

Toys can be pulled out occasionally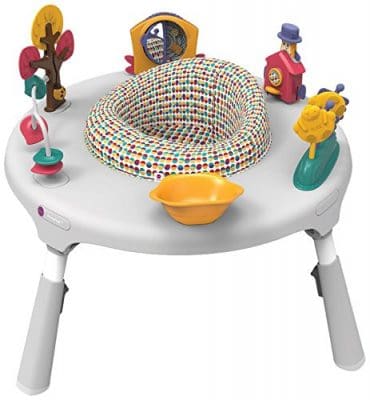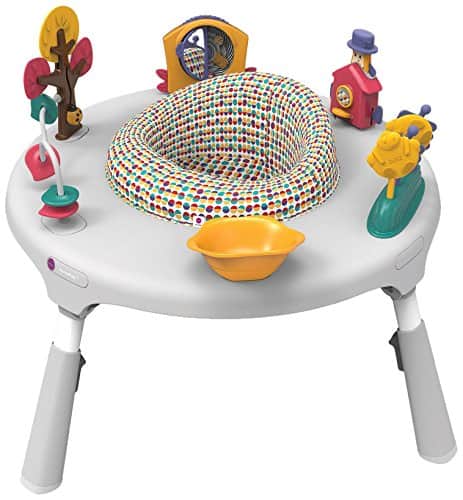 Why we like it:
This intelligently designed adaptable baby activity center can easily be packed up and taken with you on your travels.
Editor's Rating:
Specifications:
Weight Limit: 25 lbs
Dimensions: 27" x 27" x 18"
Batteries Required? No
Age Range: Suitable for 6+ months
With a simple and elegant design, this activity center is designed to boost cognitive development and motor skills while keeping your precious baby fully entertained. As your child grows, the center turns into a fun activity table that toddlers will love.
Fun Features
The seat rotates around 360 degrees giving hands-on access to all of the toys and activities. The seat cover can be easily removed and machine washed. The streamlined design will keep your child engaged without overwhelming their developing senses. This chair is less bouncy than other activity centers we reviewed
This activity center features a child-safe mirror, a teething toy flower, and a removable snack bowl. The attached toys have been designed to be safe for your baby's delicate fingers and mouth. The materials used in construction exceed all safety standards in the U.S. and Europe.
Design
There are three height settings that are easy to adjust without having to take the center apart. The legs fold under in a snap to collapse the activity center, making it easy to take wherever you like.
While its design allows for indoor and outdoor use, it is not designed to be used for walking children and should be converted to the table configuration when your baby is ready to take their first steps.
Pros
Portable and easy for travel

Expandable to activity table

Quick and easy assembly
Cons
Slightly more expensive than other activity centers we reviewed

Marginal bounce movement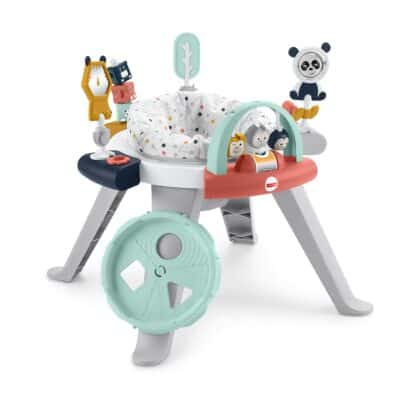 Why we like it:
One of the least expensive baby activity centers we reviewed, the Fisher-Price 3-in-1 Spin & Sort Activity Center is lots of fun for both infants and toddlers.
Editor's Rating:
Specifications:
Weight Limit: 25 lbs
Dimensions: 24.2" x 24.2" x 21.9"
Batteries Required? No
Age Range: 9 months+
The Fisher-Price 3-in-1 Spin & Sort Activity Center begins as an infant activity center with a seat. It can also transition into a sit-and-play activity center on the floor or a play table for toddlers. There are four movable activity pods and a spinning seat in the middle that rotates so that your baby can reach whichever toy catches their eye.
Unlike some more expensive options, this activity center does not have adjustable height and does not bounce. Once your child is old enough to stand while playing, the seat can be replaced by a shape-sorter plate for toddlers to play with.
Fun Features
With more than 10 individual activities, the Fisher-Price 3-in-1 Spin & Sort Activity Center will keep babies and toddlers entertained for hours. We were impressed by the variety of toys and activities included. With several different textures, colors, and rattle sounds. Not only will your little one have fun playing with this table, but they will also develop several skills while playing including gross motor skills as well as shape and color recognition.
Design
The Fisher-Price 3-in-1 Spin & Sort Activity Center is made from sturdy plastic. The seat is comfortable but does not have as much padding as some of the alternatives. By transitioning into a toddler activity table after your baby is too large for the seat, this activity center will have a place in your baby's nursery or playroom for the first several years of their life.
Pros
Three modes to grow with your baby

Over 10 activities to keep babies entertained and assist in developing crucial skills

Turns into a toddler play table with shape-sorting holes
Cons
Does not bounce

The height is not adjustable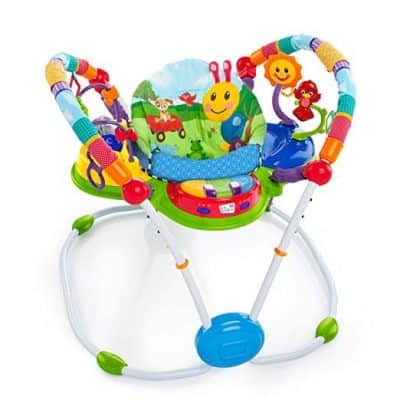 Why we like it:
With three separate activity stations to explore, the award-winning design of the Baby Einstein Activity Jumper will keep your babies occupied.
Editor's Rating:
Specifications:
Weight Limit: 25 lbs
Dimensions: 30.5" x 33" x 29"
Batteries Required? Yes (3 AA)
Age Range: Suitable for babies 4+ months
Fun Features
There is so much going on with this activity center that there will be no chance of your little one getting bored. Enjoy some valuable hands-free time while your baby explores the brightly colored and endless options offered by this activity center.
There are three separate activity stations positioned around the outside frame, accessible from the rotating seat for babies to enjoy. The light-up piano is just one of the 12+ toy options available and comes with notes, songs and animal sounds in English and Spanish. Parents will be thrilled to hear that there is also volume control.
Design
There are three height settings to accommodate a growing baby and they are easy to change between without having to take anything apart. The deeper seat allows your baby to sit comfortably and securely while bouncing, rocking, or rotating. The seat also locks in place for stationary play or feeding time.
This award-winning design is packed with sensory-rich toys that help with development of sensory awareness and hand-eye coordination. With the freedom to jump to their heart's content, your baby will strengthen their back, core, neck and legs while giving them excellent exercise.
Pros
Entertainment for hours of fun without boredom

Grows with your baby

The songs and melodies are soft and pleasant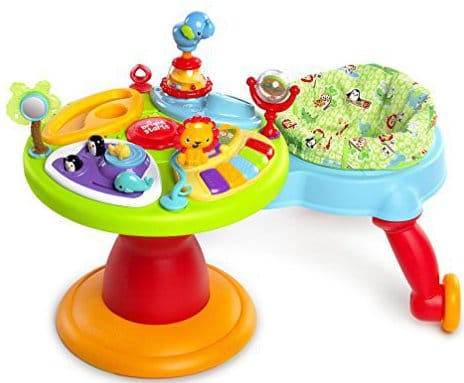 Why we like it:
The unique design of the Bright Starts Around We Go Activity Center allows your baby the freedom to move around.
Editor's Rating:
Specifications:
Weight Limit: 25 lbs
Dimensions: 27.9" x 13.7" x 21.7"
Batteries Required? Yes (2 AA)
Age Range: Suitable for babies 6+ months
The Bright Starts Around We Go Activity Center is designed to get your baby moving and keep them entertained for hours. It is likely to be your child's favorite toy well into their first few years. The activity center converts to a sturdy walker and then an activity table for older children to enjoy.
Fun Features
There is lots to enjoy with this activity center. Over a dozen specially designed learning toys and features including a teething toy and a light-up musical piano. For hand-eye coordination, there is a bead chaser, popping characters, and a colorful spinner. Reading fun can be found with the flipbook full of whimsical animals and characters.
The seat is designed to move 360 degrees around the circumference of the table and also rotates so your baby can see everything going on around them. Unfortunately, the seat does not also bounce.
Design
This is a unique design that promotes movement and stability while gaining strength in your child's neck, back, and legs. The volume control settings will please parents who appreciate silence every now and then. The Bright Starts Around We Go Activity Center is too bulky to pack in the car or take on trips.
Pros
BPA free sturdy materials

Encourages walking and balance

Toys designed to enhance motor skills
Cons
Not portable

No bouncer seat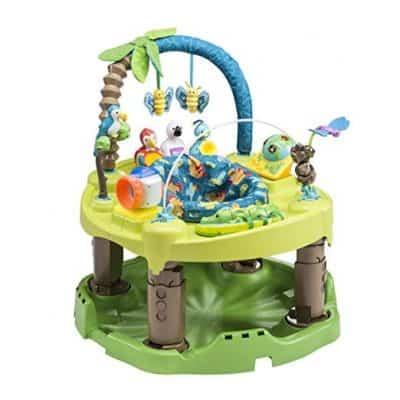 Why we like it:
The Evenflo Triple Fun Active Learning Center transitions seamlessly from infant play mat to toddler activity table.
Editor's Rating:
Specifications:
Weight Limit: 26 lbs
Dimensions: 30" x 30" x 31.5"
Batteries Required? Yes (9 AAA)
Age Range: Suitable from birth to 24 months
This triple threat activity center will be entertaining your child right from the first day through the years to come. This toy can be configured as an interactive baby floor mat, exciting "Exersaucer", or an entertaining activity table for toddlers.
Fun Features
The amazon jungle animal theme will keep your baby interested and entertained with colorful animals and toys on all sides. The seat rotates a full 360 degrees for full access and a complete view of everything going on.
There are 11 toys around the edges that play music, promote learning, and enhance hand-eye coordination. Your baby can rock, bounce, and spin themselves silly in this durable and exciting learning center.
Design
The full unit folds small enough to carry for all your travels and comes with a built-in sturdy handle for easy transport. It can also fold flat to fit easily in a closet space or under a bed.
The clip-on hanging toys can be switched out to include some of your baby's favorites from their own collection or just to move the existing toys around. This activity center was designed to bring all of the toys and features closer to little hands to eliminate frustration when babies can't quite reach things.
Pros
Portable and foldable

3 stage adjustable for growth

Music and lights are soft and not annoying

Volume controls
Cons
Playmat for infants is fairly plain and simple

Not the easiest to assemble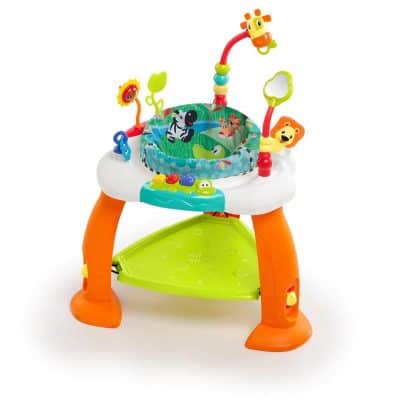 Why we like it:
The Bright Starts Bounce–A–Round is a unique activity center that encourages reaching, bending, and gripping while developing vital motor skills.
Editor's Rating:
Specifications:
Weight Limit: 25 lbs
Dimensions: 28.5" x 30" x 32"
Batteries Required? No batteries required
Age Range: Suitable for 6+ months
This springy bouncer is sure to keep babies smiling and engaged. There are over a dozen toys and developmental activities for them to enjoy again and again.
The unique soft bouncing pad keeps little feet from getting sore while promoting balance and developing strong back, legs and necks.
Fun Features
The rotating seat turn a full 360 degrees to allow your little one to play with any toy they want while being able to see and stay engaged with everything that is going on around them. There are three adjustable heights to accommodate babies as they grow.
There are bead chasers, ball poppers, and mirror and two overhead toy bars with toys attached. The overhead toys can be unclipped easily and switched for your child's favorites. There are things to do at every level on this activity center which encourages your child to not only bounce and turn but practice bending, reaching, and developing their hand-eye coordination.
Design
Once your child learns how to jump in the bouncing seat, they will undoubtedly go at it with vigor. Little feet and legs can get sore with more traditional bouncing chairs and swings, but there are no worries with this toy. The specially designed bouncing platform is padded and springy adding to the action while being gentle on tiny legs and toes.
Pros
Very easy and quick to assemble

Grows through three stages of growth

Durable construction

Removable and washable seat liner

Compact size
Cons
Not portable

Only one configuration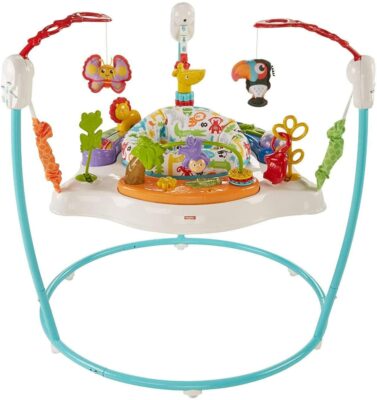 Why we like it:
With a comfortable seat and lots of activities, the Fisher-Price Animal Activity Jumperoo reacts to each one of your baby's bounces.
Editor's Rating:
Specifications:
Weight Limit: 25 lbs
Dimensions: 35" x 35" x 35"
Batteries Required? Yes (3 AA)
Age Range: 3 months+
The Fisher-Price Animal Activity Jumperoo rewards your little one with fun lights and sounds for every bounce and jump. With three adjustable height settings that grow taller as your baby gets older, the seat also swivels in order to let your baby reach all of the toys. Even with all of the features and activities, this is one of the least expensive baby activity centers we reviewed.
Fun Features
With its fun jungle theme, the Fisher-Price Animal Activity Jumperoo features a variety of toys and hands-on activities that will keep your baby entertained. There is a colorful toucan to bat at, a giraffe with spinner-beads on its neck, an alligator rattling toy, and lots more. When turned on, this jumper also plays sounds and flashes lights when it detects that the baby is jumping. In addition to being a fun sensory experience, this also helps your baby begin to learn about cause and effect, one of the first building blocks of logic. Unfortunately, leaving this feature turned on can lead to using up the battery quickly.
Design
Fisher-Price Animal Activity Jumperoo has a simple and effective design. Featuring a chair that can easily rotate in order to face all of the activities, this comfortable seat encourages babies to bounce and explore their physical abilities without any risk of injury. Parents will also appreciate how easy this jumper is to clean thanks to the removable, machine-washable cover.
Pros
Less expensive than most other jumpers we reviewed

Plays a sound and lights up after each bounce

Machine-washable seat cover makes cleanup easy

3 height settings
Cons
Uses batteries faster than most other baby activity centers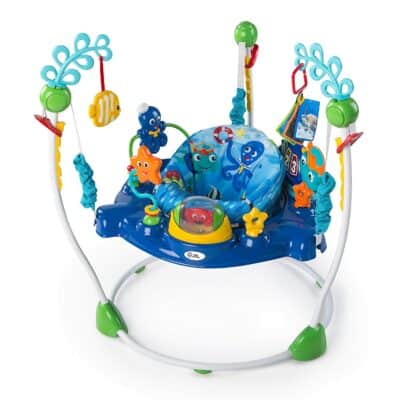 Why we like it:
With an assortment of underwater-themed activities, this bouncy infant seat has four different height levels to adjust to your child as they grow.
Editor's Rating:
Specifications:
Weight Limit: 25 lbs
Dimensions: 32" x 32" x 33.13"
Batteries Required? Yes (3 AA)
Age Range: 6 months+
With ocean-themed toys surrounding them in every direction, your little one has lots to interact with while they sit in the Baby Einstein Neptune's Ocean Discovery Jumper. The seat swivels a full 360 degrees in order to reach each toy. The seat also bounces up and down and has four different height settings to adjust the jumper as your little one grows. Our favorite toy is the electronic sea turtle that features lights and sounds.
Fun Features
The Baby Einstein Neptune's Ocean Discovery Jumper gives your baby a chance to explore "under the sea" with 10 ocean-themed toys. In addition to the electronic turtle toy, there is also a spinning crab, a baby-safe starfish mirror, and hanging flashcards designed to help early vocabulary development. There are also several extra link loops included so your baby's favorite toys can be added. We would have liked to see a few more toys with lights and sounds.
Design
The innovative 360-degree rotating design of the Baby Einstein Neptune's Ocean Discovery Jumper helps your baby stretch their legs and develop key muscles that will eventually help them learn to sit up on their own and begin walking. This jumper also is convenient for parents, featuring a washable seat pad that can be tossed in the washing machine for easy cleaning.
Pros
More than 10 ocean-themed toys included

The 360-degree rotating seat helps your baby reach every toy

Four height levels to grow with your baby
Guide to Buying the Best Baby Activity Center
Having a baby is one of the most joyful experiences that anyone can have in life. New parents will agree that along with that joy comes many sleepless nights causing general exhaustion that can test anyone.
Finding the right toys to entertain your little one for even a few moments can be a challenge. Babies are highly curious about everything they see, touch, and taste, but their attention spans are incredibly short.
What Are the Benefits of a Baby Activity Center?
With the need for nearly constant stimulation for some babies, already tired parents can be pushed to the limits of their patience. Being able to provide your child with a safe and fun activity center that keeps happily in place for more than a few minutes can be a parent's dream.
Although you should never leave your child unattended in any situation, an activity center can allow you to have some hands-free time to get other things done. If you have other young children that also need your attention and care, and activity center can be a great investment. Even for things as simple as being able to prepare a quick meal and finish it without interruption, or folding a load of laundry can make a world of difference to a parent's busy life. With so many options on the market, it can be difficult to sort through what is the best choice for your child.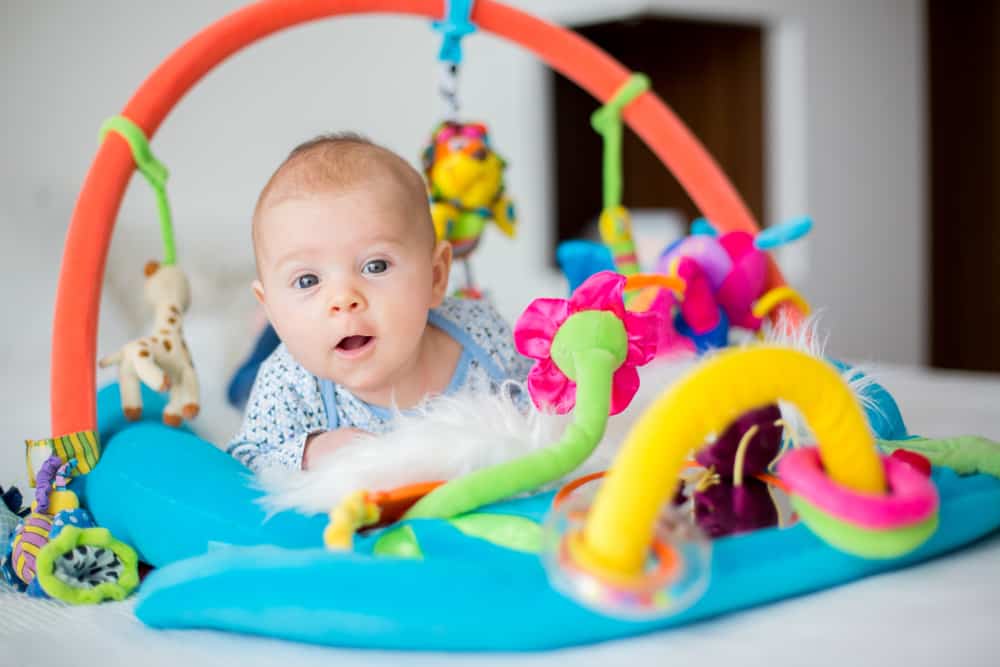 Considerations When Purchasing a Baby Activity Center
Getting to know what is out there and doing your research about different options is the best way to feel great about your purchase. Keep in mind a list of features that are important to your baby and meet your family's lifestyle.
Fun Factor
Babies are full of curiosity and wonder at all the things around them. For infants everything is so new and exciting. Activity centers come with specially designed toys that will help develop hand-eye coordination, stimulate multi-sensory reactions, and have developmentally appropriate toys. A favorite with babies are centers that have some kind of light up or musical feature. Be cautious to not go overboard. It has been found that an activity center with too much going on can actually overstimulate and overwhelm your child. Sticking with the basics is the best bet.
Motion Features
Activity centers today are not just designed for their entertainment value. Quite a bit of effort is put into the designs that will provide high-quality exercise for growing babies.
Bouncy, rocking, and rotating seats are excellent features that focus on strengthening your child's balance, back, neck, and leg muscles preparing them for their first steps.
Easy Assembly
Every parent is pressed for time and being able to construct toys is one thing that you want to be able to do quickly. Sitting in front of a box for hours trying to figure out where everything goes is a waste of valuable time for moms and dads. When choosing a style of activity center, take a look at the customer reviews that will nearly always have a comment about the assembly process.
Stability
Your baby's safety is always a top priority. With activity centers that offer bouncing seats, make sure that the frame is made of durable and stable materials. There is a lot of motion going on when a child is bouncing, and you don't want a brand that is going to move around the floor putting your child at risk of a tipping injury.
It is important to note that younger infants between 4 – 6 months are right at the critical age to be considered safe while playing in a seated style activity center. Your child must already be able to hold their head up steadily before you should consider choosing a seated jumper style activity center.
Toy Safety
The golden rule for any type of purchase is that you get what you pay for. This is true with many baby products as well. Although there are strict safety guidelines that must be followed by manufacturers there are still some things to keep in mind. The durability of the attached toys is very important. Take notice of the quality of fabrics that are being used as well as the presence of any swallow or pinching hazards.
Adjustability
The longer you can count on your child being able to use a toy, the better. Parents spend huge amounts of money on toys to be able to keep up with them as they grow. An activity center that has adjustable heights is a great investment. As your child grows, their center can grow with them and eliminate the need to purchase something new.
Adaptability
There are several models available that can be used for many years of your child's life. Activity chairs can be adjusted to become walkers or activity tables for toddlers in many cases. This can not only be convenient but can be a valuable savings feature.
Portability
Many parents will tell you that their child's favorite place to play is in their activity center. Most models are not portable, but there are a few that can be taken anywhere and folded down to a convenient travel size. If your family lives an active on-the-go lifestyle, this may be an important consideration for you.
Cleaning
Babies are messy. No parent can deny the fact that wherever their baby is, there is usually a mess close by. When looking at activity centers, pay attention to the type of materials used in the construction and how they need to be cleaned. Many centers come with removable and machine washable seat covers and toys that can be unclipped for cleaning.
An Activity Center Can Help Your Baby Grow
Even before they learn to talk, a baby learns through play and experimentation. By providing them with an activity center to play with, not only are you giving them a safe to play, but you are also giving them a head-start towards developing the physical and mental capabilities that will set them up for success as they grow up.