Long summer days, exciting afternoons spent at the beach, lots of sunshine, and a wide smile on your baby's face. Sounds idyllic, doesn't it? There's one way to make all of that even better. How about letting your little one learn the joys of having fun in the water?
Be it by the lake, the pool, or even by the sea, most kids love playing in the water. While babies and toddlers usually remain near shallow waters, some parents like to start adventuring early on and take their kids on exhilarating trips. Boat trips, proper swimming lessons, and a closer encounter with a peaceful ocean are all on the table if you want your baby to get used to water from their youngest days.
We know what you must be thinking. Your baby being anywhere near the water is equal parts fun and terrifying! Babies, especially infants, simply do not possess the motor skills to keep their heads up and stay afloat in the water. As such, water can pose a real threat.
It's fortunate that you don't need to put off the summer fun until the kiddo grows up. Baby life jackets are real lifesavers. The downside? Finding one that ticks all the boxes might take up a bit of time. This is where we come in.
Things to Keep in Mind When Choosing a Baby Life Jacket
Before we get started, there are a couple of things you need to be mindful of when shopping for a baby or toddler life jacket. We will also expand on this below.
Life Jacket Type
Life jackets, be they for toddlers or adults, come in five different types. These types vary by buoyancy, floatation, comfort, and most of all, their intended use. All infant and toddler jackets should be Type II, as they offer quite a bit of freedom of movement and plenty of the head support that kids this age need, so that's all we've included on this list. However, for older kids, you may want to consider other types of life jackets.
Size and Recommended Weight
While infants and toddlers are often placed in the same weight range for life jackets (0-30 lbs), you will still find yourself needing to buy a new life jacket as your child grows out of their old one.
The thing with life jackets is simple: they need to fit PERFECTLY. There's no room for error here. The life vest has to be securely fastened to a close fit, but it shouldn't apply too much pressure to your baby's delicate skin. There's also the crotch strap to think about. Take exact measurements and compare them to the product before you buy one. We discuss measurements & weight in greater detail below.
Head Support & Protection
Type II life jackets are required to offer some form of head protection. This simply means that they are built in a way that forces the user to end up on their back if they fall in the water. For kids, especially little babies, this is crucial. Whether you have an infant or a toddler, don't buy a life jacket if it doesn't offer great head support.
We make sure to emphasize this when we discuss each and every life jacket, but if you're looking for something extra secure, we recommend the Stearns Heads-Up Infant Vest.
Grab Handle
This may sound funny at first, but you read that correctly — your kiddo needs to have a grab handle on their life vest! This is why it's important to shop for an infant/toddler specific product, as life vests for older kids usually don't have handles.
The handle is usually situated directly below the head support. It makes it easy for you to grab your child if anything should go awry, making sure that they're safe and sound at all times. You don't have to worry about possibly hurting your baby when you pull the handle. In a good life jacket, this mechanism will be safe to use.
Color and Design
The sad truth is that kids don't always love their life jackets. You will need to help your kiddo get used to their new life vest before you take them for a fun trip by the seaside. If your infant's or toddler's initial reaction is to reject the jacket, it might help if you pick one in their favorite color.
Some baby life jackets come in a variety of fun designs and feature every child's favorite cartoon characters. However, all that aside, the color itself plays a very important part. You want to choose something bright and highly visible. This is important for the safety of your child. Don't go for muted colors — neons are the way to go!
US Coast Guard Certification
As your child's safety is at stake here, you don't want any cheap knock offs that are not certified. Every single life jacket that is ever sold in the US has to have the US Coast Guard certification, except those designed for children who weigh less than 25 lbs. For this buying guide, we made sure to include products that have USCG approval and are safe for your little one—with the exception of our pick for the best life jacket for younger infants.
Your child's safety is always a #1 priority, and we want to help you ensure that you're taking all the steps to keep your baby safe in the water. We're here to guide you through the entire process of getting one of the best baby life jackets!
Top 8 Best Baby Life Jackets 2023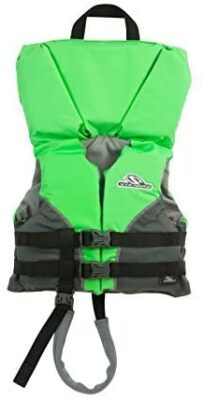 Why we like it:
This Stearns life jacket places a lot of emphasis on safety, head support, and comfort. Suited for younger babies and toddlers, it's a well-rounded pick for your little one.
Editor's Rating:
Recommended weight: 15-30 lbs
Support
As the name itself suggests, this is a "heads up" life jacket. What this means is that it has a somewhat bulky, contoured float above and behind the neck area. This works as a pillow for infants, who still may have trouble keeping their head upright for prolonged periods of time. For children of all ages, this is a safety measure that will prevent the worst from taking place.
Just as all baby life vests should, it has a crotch strap. This acts as an additional safety measure, especially for smaller babies, and ensures that your little one won't simply slip out of their life jacket.
Last but not least, this life jacket comes with a grab handle. If anything goes awry, you can quickly grab your child and pull them close without any hassle.
Weight & Measurements
While you can use it as early as with infants around the 15 lb mark, you'll probably find it a better, secure fit on kids that are approaching 30 lbs. Depending on how tall your child is, you may find that this vest will continue to fit for a few years, even as your child's weight climbs up to the 40s-50s.
As this is a fairly big life jacket, it may be a little uncomfortable for infants that aren't quite used to it yet. It provides great floatation, and you should be able to achieve a secure & snug fit on a toddler. For an infant, this is still a good pick, but you should always keep a close eye on your baby.
What Made Us Choose It
This is a durable life jacket that you can trust. It's brightly colored, which does wonders for visibility. The nylon shell is filled out with PE foam, making for a sturdy build guaranteed to last longer than it takes for your child to grow out of it.
It's suitable for most infants and toddlers of all ages, but it may even fit an older child if your sprout still has their growth spurt to look forward to.
Decked out with all the safety features we might ask for, this vest is USCG certified and tried and tested under all sorts of circumstances.
Pros
Head support included — encourages floatation, maintains a "heads up" design

Highly visible green color

Comes with a grab handle and a crotch strap for extra security
Cons
It can feel a little bulky on smaller babies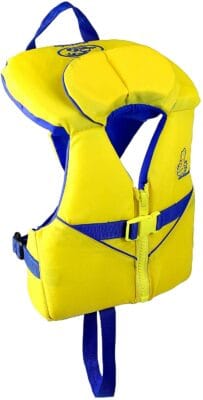 Why we like it:
This beautifully colored jacket by Stohlquist covers the bases we need it to — it has head support, a crotch strap, and a sturdy grab handle.
Editor's Rating:
Recommended weight: 8-30 lbs
Support
This life jacket has built-in head support that encourages a face-up position, which means that your child's ability to breathe will not be restricted. In fact, try as they may, your son or daughter will likely simply be unable to turn face down. No more stress by the water!
The double collar design and the surprisingly wide neck opening both contribute to your baby feeling comfortable wearing this. Behind the neck, you'll find the grab handle. It's sufficiently big and stands out from the rest of the design, making it easy for you to grab your child whenever necessary.
While most children will like the wider neck opening, for smaller babies, this can be a bit of a downside—there's a zipper that might rub on their neck and cause discomfort, though this is somewhat alleviated by the v-neck opening. As long as your little one isn't right on the lower end of this jacket's weight range, it should be perfectly comfortable. Please make sure that you fasten all the straps securely to prevent slip-outs of any kind.
Weight & Measurements
This particular model is made to fit younger children, but the exact age is difficult to pinpoint. That's why most manufacturers follow the recommended weights as opposed to actual sizes. Stohlquist life jacket sports a fairly wide range of weights, from 8 to 30 lbs.
The jacket itself zips up, but the zipper has additional protection in the form of a quick-release buckle that goes over the top of the zipper. This, like the crotch strap, is adjustable. The strap at the back can also be adjusted, which means that this is a life jacket that will grow with your baby.
What Made Us Choose It
While definitely not the cheapest, this jacket delivers in terms of value for the money. Made out of high-quality material, it makes for a premium pick that offers a whole lot of security through various safety measures.
Both you and your bundle of joy will love the fact that this comes in a variety of bright colors. You won't have to worry about losing track of your baby as they explore the water for the first time.
Pros
Beautiful range of neon-bright colors

Adjustable straps offer extra security

Zip-up design with a fastening belt over it

Reliable head support, grab handle, crotch strap
Cons
The wide neck opening may not suit smaller infants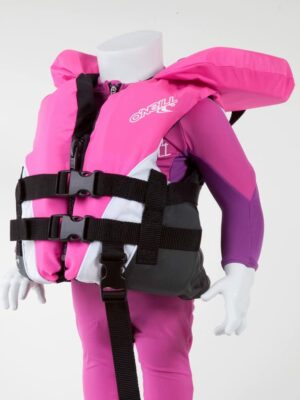 Why we like it:
A lot of baby life jackets are advertised as "made for infants", but their sizing says something else. Fortunately, this jacket holds true to the promises and fits even babies as young as 4 months old.
Editor's Rating:
Recommended weight: 30 lbs and under
Support
O'Neill's infant life vest has one of the biggest head supports we've seen amongst all of our reviewed products. In some ways, it might even outperform our best overall pick. The floatation devices placed in the front push your baby onto their back, preventing them from drowning. Once your baby is floating safely, the head support keeps their head upright. This applies even to young infants.
The bulky head support comes with one downside — this might be a little difficult for some kids to swim in. You can treat it as an introduction to swimming lessons and something for your child to enjoy the water in. Older kids may feel slightly restricted in their movements.
The zipper in the front is accompanied by not just one, but two, extra-secure adjustable belts. There's also an adjustable crotch strap that ensures even the smallest infants won't slip out of this jacket. Like most vests, this one also comes with a grab handle for you to hold onto.
Weight & Measurements
While O'Neill did not specify the exact starting weight for this product, the maximum recommended is at a standard 30 lbs. As mentioned above, we liked the fact that this isn't aimed at older infants and toddlers. Even a 12-week old will feel okay in this jacket!
The V-neck opening is relatively wide, which is why the crotch strap plays such a crucial role in younger babies. On the upside, this means that you can probably keep using this vest even past the toddler stages if your child is not too tall.
What Makes It Special
Keeping in mind that a lot of babies hate their life jackets at first, a lightweight option is never wrong. This O'Neill USCG-certified infant life vest weighs a mere 1.27 lbs. It comes in many fun colors for both boys and girls. Most importantly, it ticks all the boxes in terms of security: a crotch strap, sizeable head support, and a grab handle.
Pros
Suitable for babies as young as 4-months old

Huge head support to keep your baby's head upright

Lots of fun (and highly visible) colors

Crotch strap & grab handle for extra security
Why we like it:
Not everything has to be expensive. For a budget pick, Stearns still manages to tick most of the boxes and provide ample safety for your little one.
Editor's Rating:
Recommended weight: Under 30 lbs
Support
At first glance, Stearns has all the features other more expensive life jackets offer. It has a huge headrest behind the neck, a waist-belt, and an adjustable crotch strap. There's also a rescue handle which makes for a good way out of sticky situations.
Stearns markets this as a life jacket, but it's mostly a buoyancy device. It will keep your baby afloat, it is USCG approved, but like all other life jackets, it shouldn't be used without supervision.
The design lends itself to keeping your baby on their back. The head support is rather massive, which may prove bulky for tiny infants, but it does ensure that the weight is pulled down in the exact right spot. Depending on your child's build, you may find that they sometimes get pulled onto their side.
Weight & Measurements
Stearns simply recommends that you do not exceed the typical 30 lbs limit, but they don't provide a starting weight. In theory, this means that even small infants can wear this jacket with success. In practice, you should probably refrain from using it if your baby is under 3-4 months old.
Stearns provides exact measurements, so you can see for yourself that the chest sizing in inches is 16-20″ (41-51 centimeters). We recommend simply taking your baby's measurements and checking whether this would be a solid fit. You can tighten it up quite well with the various straps, but it's best not to buy bigger than needed, as a baby life jacket requires a snug fit.
Depending on the child, you may be able to hold on to this for a longer time and even have your kid wear it past the toddler stage of their life. It's rather roomy by default, so it's definitely something to grow into.
What Made Us Choose It
The price is probably the main selling point for this infant life vest. Priced much lower than some of the other picks on our list, it still manages to stand its ground and delivers in terms of security. We recommend it for non-strenuous activities such as a lazy float in the pool and getting accustomed to the water.
Pros
Very affordable

Comes in two colors — red and blue

Has all the required security measures: waist strap, crotch strap, head support, grab handle

Provides good buoyancy
Cons
More of a buoyancy device than a life jacket

Small babies may flip onto the side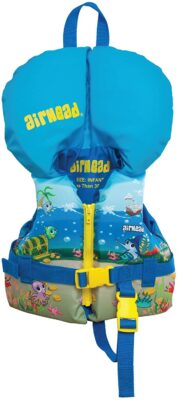 Why we like it:
All parents know the — not very pleasant — feeling of having to deal with an upset baby that will NOT wear this particular item of clothing. That is often the case with life jackets. But what if you buy a life jacket with a design that all kids are sure to love?
Editor's Rating:
Recommended weight: 15-30 lbs
Support
The design of this life jacket may remind you more of the life vests you've seen prior to shopping for a baby-sized one. It doesn't feature a huge head support collar, but it does have a built-in headrest that keeps your baby face-up. The headrest is split and evenly placed on both sides. It's US Coast Guard certified and approved, so it does have what it takes to ensure the safety of your sweetie pie.
The addition of a chest strap, going right over the zipper, means that you can fasten it securely and have it fit even an infant. The near-mandatory crotch strap also contributes to this.
Like most baby life jackets, this one also comes with a grab handle for you to always be able to pull your baby back. The only downside is that it's nearly the same color as the vest itself, so it may be difficult to see if found underwater.
Weight & Measurements
This life jacket is suited for infants in the 15-30 lbs range. However, you may find success in fitting it onto babies that fall below the recommended 15 lbs. This is due to the highly adjustable straps that make it easy to tighten it up if needed.
Similarly, you may be able to go a little above 30 lbs. Toddlers over 2-3 years old may fit into this just fine if they're not too tall for their age. However, be mindful of the weight limit — you don't want to stretch it too much.
While you shouldn't buy bigger than necessary, you have to keep in mind that this life vest will not grow alongside your child. The sides are closed, so there's no room for growth past a certain point. When it starts feeling uncomfortable, it will be time to buy a new one.
What Made Us Choose It
The main feature you — and the kiddo — will love here is, obviously, the design. Airhead comes in two cartoon-themed designs that babies are going to love. You may prefer a stylish muted red or purple, but to an infant or a toddler, this sea-themed pattern is going to be a winner. If you find yourself struggling with convincing your son or daughter to put on their vest, we think this one might be the right way to go.
Pros
Not-too-big headrest

Waist strap for extra security

Adjustable crotch strap to prevent slip-offs

Super-fun designs

Not too bulky
Cons
Closed sides mean that the jacket won't grow with your baby

No extra head support collar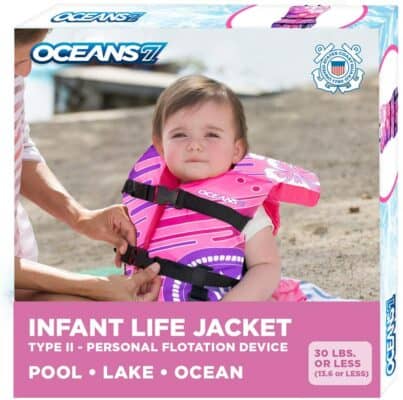 Why we like it:
Sure, not all girls like pink, but a lot of them do. The design of this jacket will appeal to your daughter or granddaughter, and the security measures will let you relax by the water with no worry creasing your brow.
Editor's Rating:
Recommended weight: 8-30 lbs
Support
As this is USCG approved, it should come as no surprise that it comes with a variety of safety solutions that keep your child safe & you free of worries. The build alone is rather sturdy and speaks of a product that provides the best bang for your buck. Made out of Nylon and filled with thick EPE floatation foam, this vest can withstand a lot — even a bored, teething munchkin.
The way this life jacket is built is that it pretty much enforces a floating position. Your baby may complain about being unable to float upright in the water. This is due to the sizeable head support that naturally works towards keeping your daughter heads-up.
There's no zipper in the front, which may put some people off. Fortunately, Oceans7 makes up for that fact by adding not one, but two waist straps alongside the regular crotch strap.
You'll also find a grab handle here, which is almost a given. We like that it comes in black — it stands out from the pink, girly design of the vest.
Weight & Measurements
The manufacturer recommends that you buy this life vest for girls in the 8-30 lbs range. However, they also hint that if your baby is in the 25+lbs range, you might want to look into child sizes. This won't always stand true.
Only you know your daughter's exact build. As long as this jacket fits snugly and the weight limit is not exceeded, you won't have to buy the child version. Some girls may successfully wear this until they're as much as 5-6 years old.
The open sides lend themselves to a longer use. If you buy this when your girl is just a few months old, you're likely going to use it for years.
What Made Us Choose It
The beautiful pink design is what first captured our eyes, but it's the security and room for growth that made us stay. It also falls right in the middle of the price range for baby life jackets, so it's an affordable way to keep your little girl safe.
Pros
Remarkably big head support

Two chest straps for extra security

The design forces a floating position

This vest may grow with your daughter and can be used for years
Cons
Some girls don't enjoy being unable to swim upright

No zipper in the front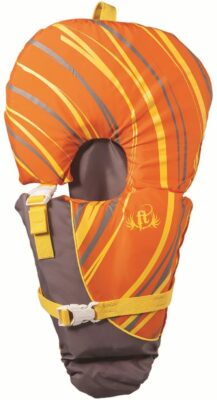 Why we like it:
This life jacket differs from our other picks in the way it has been designed. As opposed to, as an example,
O'Neill's life vest
, this one has a closed up front and offers a lot of buoyancy all around your baby's body.
Editor's Rating:
Recommended weight: Under 30 lbs
Support
This baby life jacket has the stamp of approval of the US Coast Guard, ensuring that it's a secure Type II. It has a unique build that encourages all-around support as opposed to focusing on floating on the back.
As there's lots and lots of floatation both in the front and in the back, this is guaranteed to keep an infant or a toddler floating above water. There's a bit more weight in the back, adding to the enlarged head support that keeps even the youngest babies safe.
One thing a lot of babies love is that in this model, instead of the regular crotch strap, you get an elasticized fabric leg strap. It feels more natural while still providing enough security.
Weight & Measurements
Recommended for infants under 30 lbs, this is a versatile life jacket that can be used for very young babies, even as young as 2 months old. However, keep in mind that children that young require you to watch them like a hawk — they have no motor skills to support themselves in the water.
As there's no crotch strap, that part of the life vest is not adjustable. You get extra comfort at the price of a better — or worse — fit. There is, however, a shoulder strap that allows for some adjustment. The waist strap compliments the open sides and lets you adapt to your baby's height.
What Made Us Choose It
While it is almost too bulky, the design is very rounded and provides plenty of security without bothering your baby. Many kids enjoy the strip of fabric over the, sometimes irritating, crotch strap. As these quality-of-life adjustments come at no cost to security, we think this is a decent pick.
Pros
Secure, well-rounded design provides a lot of floatation

Shoulder & waist straps offer adjustments

Sizeable headrest keeps your baby floating on their back

Highly visible, stylish design
Cons
You can't adjust the leg strap

No zipper in the front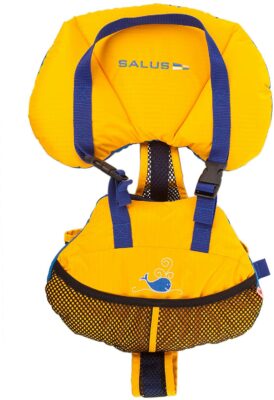 Why we like it:
Some little kids simply detest each and every life vest you try to put them in. If you've tried everything and it all has failed, it's time to reach for a different solution, such as this infant-sized floatation jacket.
Editor's Rating:
Recommended weight: 9-25 lbs
Support
This floatation baby life jacket is probably unlike anything you've ever seen. It has an interesting design that puts a lot of emphasis on the two main toppling points, all the while providing a lot of breathing room in other areas.
Keep in mind: this is the only baby vest on our list that is NOT USCG approved. This is due to the fact that there are currently no testing procedures for life jackets for children under 25 lbs, which is the maximum recommended weight here. Despite the lack of certification, this life vest is a winner of the Canadian Safe Boating Award, so you may want to take the risk.
Instead of a bulky, all-around design, this life jacket has a large floatation device in the front and a similar one in the back, underneath the head. It enforces a floating position, which keeps your kiddo safe but also stops them from learning how to swim.
The two floatation chambers are joined by two adjustable shoulder straps. There's also a wide crotch strap and similar straps around the waist. The waist straps are adjustable, but the crotch strap is not. There's a large grab handle on top (as opposed to underneath) the head support.
Weight & Measurements
By design, this life jacket, with its weight capacity of 25 lbs, was made for the tiniest of babies. However, you will find that all the various straps make this jacket so adjustable that your so-called mileage may vary. You may very well use it with taller kids as long as they meet the weight limit.
Similarly, this jacket can be fitted to be rather snug on even tiny babies as young as a month old. However, it may ride up to their chin, as there's only so much you can do in terms of tightening it up.
What Made Us Choose It
The lack of USCG certification will be a huge put-off to many people, but this is a jacket that has proven itself to be trustworthy. It offers a good alternative to parents who simply can't find anything else their child might tolerate. With a wide range of ages that this can be used for, you may find that this is the lifesaver you've been looking for.
Pros
It offers a different approach and a lot of breathability

Some kids enjoy the less-restricted design

Huge headrest that enforces a floating position

Large handle that is easy to reach
Cons
The crotch strap is not adjustable

Some babies dislike being unable to swim upright
How Do I Choose the Perfect Infant Life Jacket?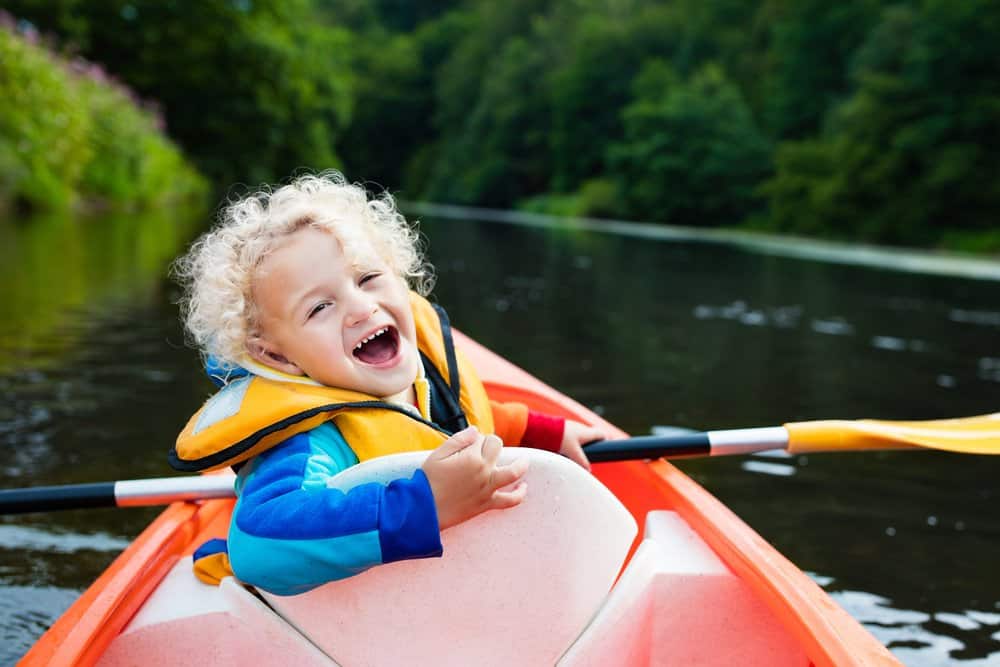 We've introduced you to the best 8 baby life jackets on the market in 2021, but do you feel ready to take your pick? It's totally okay if you don't. After all, the importance of this one little choice cannot be overstated. When your child's life and safety may be at stake, you want to make more than sure that you're making the right decisions.
There are a few steps to take before buying a life jacket, the chief of them being proper research. We've touched on some of this in our introduction, so let us first expand on the two subjects you've already heard of: life jacket types and sizes.
Life Jacket Types Explained
As you may have noticed, nearly all baby life jackets are Type II as per US Coast Guard. However, when shopping for yourself or for someone else, and even occasionally your baby, you may run into different types. Let's talk about what they all mean.
Type I — Offshore Life Jackets
There are most likely no baby life jackets manufactured in this type. This is because these jackets are floatation devices used in an open ocean, rough seas, or in a situation that forces one to abandon their means of transportation. Babies should never be taken out to rough waters, so Type I is irrelevant to them.
Type II — Near-Shore Life Jackets
This type of jacket is used near the shore and exclusively in calm waters. It's also suited for other situations, but only in the event that a rescue is imminent if needed. Most baby jackets, including every one we recommend, are Type II — recommended for shallow, calmer waters.
Type III — Floatation Aids
Similarly to Type I, you're not likely to find a Type III life jacket for infants or toddlers. However, you may find some for children (ages 5+). This is a less bulky type of jacket that requires you to be able to keep yourself face-up. They don't have the (required for infants) headrest or additional floatation.
Type IV & Type V — Throwable Devices, Special-Use Devices
These types of life-saving devices are not generally available to the public. Type IV covers things such as cushions or ring buoys that can be thrown in the event of an emergency. You don't wear them, you just hold onto them. Type V, on the other hand, includes life jackets that have special uses, such as emergency services, but also kayaking and other activities.
Weight and Measurements
We have touched upon this in each and every product review. When buying a kid's life jacket, you need to be very mindful of the recommended weight and any additional measurements the manufacturer may have shared.
What Size of Life Jacket Should I Pick?
Infant & toddler life jackets all fall in the "under 30 lbs" category, with some of them having more specific weight guidelines. If your infant is still small, you will have no choice but to buy bigger (and enjoy it for a longer time). However, if your baby is already a toddler, there's one thing to keep in mind.
Do not buy bigger just to make it last. A life jacket has to have a snug, secure fit. If your toddler is at the 20 lbs mark, buying a child-sized life jacket (usually 30-50 lbs) may still be too big. While most infant life jackets have crotch straps, not all children's vests do. This puts your baby at a much greater risk, as the vest may slip off if it is too big in the first place.
How Do I Measure My Baby?
It comes as no surprise that most babies don't like being measured. If you have a spirited toddler, you may want to ask someone to assist you with this. It's best to measure your baby when they're in a good, relatively calm, mood.
You will want to lift your baby's arms up and measure their chest circumference around the top of their torso. Just to be safe, also measure the waist area — some manufacturers provide that information, too.
Features to Look For
The type of jacket and the weight recommendations are likely the most important factors, but there's more to a life jacket than just that. Here are a few more things to be mindful of when buying a new baby life jacket.
Head support — we've covered this briefly in our introduction. There are many kinds of head protection, most of which enforce a floating position. This prevents your baby from swimming face down, but it also restricts their movements.
Crotch strap — you should never buy a baby life jacket without a crotch strap—unless, like with the Full Throttle Infant Safe Vest it's replaced by another mechanism. You never know what could happen — your child might somehow slip out of their jacket and be left without protection. With a crotch strap, the jacket stays in place even if it's a little too big on your baby's small frame.
Grab strap/grab handle — this is a strip of fabric that most life jackets for babies will have. Usually found underneath the head support, it may occasionally be attached to the top of it. It should help you take hold of your child in the case of an emergency.
Quick drying — while not a crucial factor, it helps to look into life jackets that have some sort of a quick dry feature. Mold and mildew are huge sources of allergens, especially for little babies, so it's important that your child is not exposed to them.
Visibility — for your child's sake, you'll want to have a fun design on the life jacket, but that's not all there is to it. We highly recommend going with something very visible. Neon colors, such as yellows, greens, and reds, are perfect. Try to avoid blue, as it will blend in with the water. One such example on our list is the neon-green Stearns Heads Up Life Vest.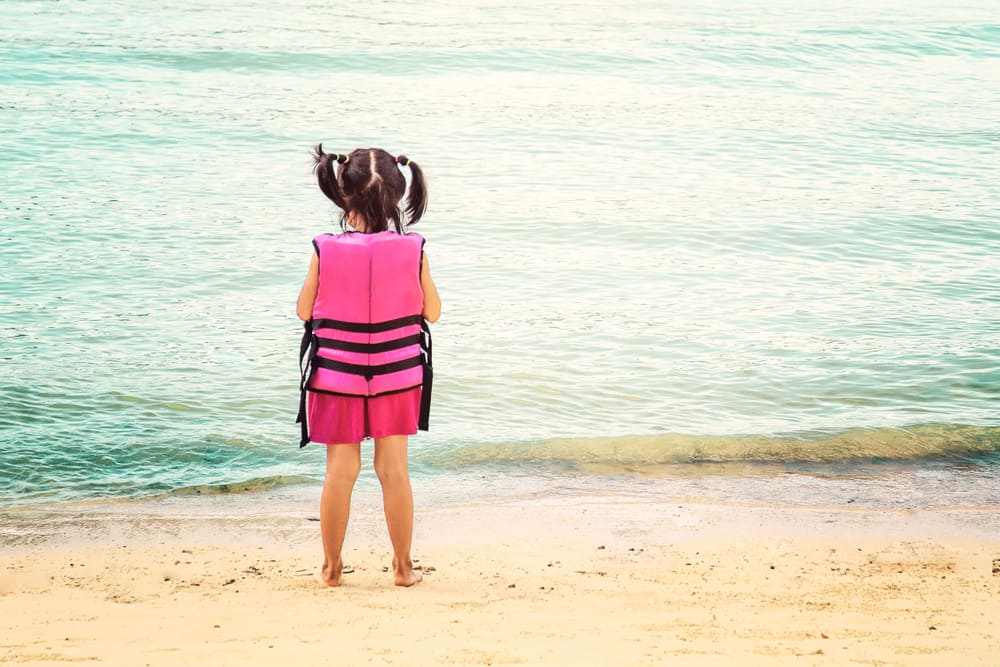 Getting Used to the Life Jacket
Picking out a vest is one thing, but actually using it is a whole other story. If your baby happens to love their life jacket from the get-go — consider yourself lucky. That is not always the case. However, just because the little one's first reaction is a loud protest, it doesn't mean that you have to give up on your summer fun.
You simply need to take some steps to help your child get used to the life jacket. We cover a few ideas below.
Pick a design that appeals to your baby. While we adults tend to like stylish blues and muted greys, to a child they're nothing but dull. Look for a vest in their favorite color, or better yet, one that features some fun cartoon characters.
Before putting on the jacket, perform a floatation test. Try it out in the water to ensure that it all works as intended.
Take your time. The first time you introduce your baby to the vest, simply show it to them without any extra steps. You might want to wear one yourself if you have one, as in many children this will trigger a "I want one too" kind of response.
Add an element of distraction. Be it their favorite Disney movie or your partner making funny faces at them, keeping the baby distracted will help you put on the vest without making them upset.
Don't force it. Pick a time when your baby is content and calm for your first attempt at wearing the life jacket.
Step-by-step. At first, simply put on the jacket and do not fasten it at all. Allow your baby to get used to it. Only after a while, if there are no protests, should you tighten it up.
Stretch this over a period of a few days. Don't buy a baby life jacket and expect to head out to the lake the next day. Your munchkin will need some time to adapt to the bulky, slightly restricting, life jacket.
Once you've successfully put the jacket on your baby, simply let them wear it around the house for a while. Play with them and keep them entertained to ensure that it's a positive experience. Over time, with enough patience, most kids will accept just about any life jacket. However, if you find your son or daughter continuously rejects a particular style, perhaps you will need to try something different.
Frequently Asked Questions
Just in case you still have some questions, below we will cover the ones we receive the most.
At What Age Can My Baby Learn How to Swim?
Babies can start their swimming lessons as early as at just one year old. While they will require lots and lots of supervision during that time, the benefits may be lifelong. A U.S. study proved that the risk of drowning for kids aged 1-4 has been reduced by 88% if the child previously took swimming lessons.
Even if your child is still too young to swim, you can take them out to water for a nice float. It's best to start doing that early on!
What Are the Benefits of Introducing My Child to Water Early?
Other than heaps of fun, water actually helps the development of your baby. While in the water, they will be able to practice their motor skills as well as their fine motor skills. The water gives you a chance to introduce new forms of play, which may improve hand-eye coordination. Swimming also helps build muscle and increases cognitive functioning.
Can I Bring My Infant on a Boat?
The US Coast Guard generally does not recommend taking your baby on a boat until the child weighs at least 18 lbs and can safely wear a baby life jacket. This is especially important in moving boats. If your boat is currently at shore, you may bring your baby with appropriate protection.
Baby Life Jackets — Our Final Thoughts
It's good to utilize those early days with your baby and allow them to explore the world in various ways. The seeds you plant today — the seeds of adventure and bravery — will blossom throughout their entire life. That is why it's good to get your baby started early and allow him or her to experience open water for the first time.
Adventures are fun for the children and sometimes downright terrifying for the parents. Spare yourself all the worry and make sure to equip your little one with a reliable baby life jacket. That extra layer of protection will ensure that both of you will have the best time at the beach or by the lake!