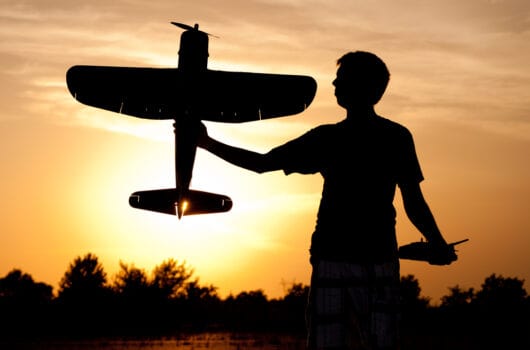 O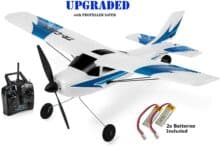 Top Race Rc Plane TR-C285G
B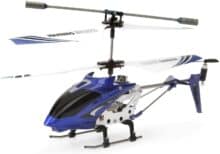 Tenergy Syma
P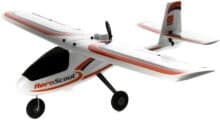 HobbyZone AeroScout S
Previous
Next
What kid doesn't dream of being able to fly? Few things capture a youngun's imagination more than soaring through the sky like a bird and pulling off radical stunts. Barrel rolls, loop-the-loops, and other death-defying maneuvers aside, the feeling of freedom while airborne is second to none. And your little one can experience the magic first hand through their very own remote control airplane.
These days, flying toys for kids have plummeted in price, meaning they're no longer the exclusive domain of the economic elite. Affordable RC planes and choppers in 2020 start at just $20—but, of course, remember you get what you pay for. Convinced your kid needs a remote control plane, but unsure which one is best for you? We're going to provide some useful background info on the toys then cover the top 20 models on the market.
What to Consider when Shopping for a Remote Control Airplane
It's essential to think hard before taking the plunge and investing in a remote control airplane; otherwise, you could end up buying something utterly inappropriate for your child. Remote control airplanes come in a variety of types, sizes, and brands, while the price tag and the specs can vary considerably. We've thrown together a nifty little guide to help you wrap your head around all the different factors to consider.
Type
Remote control airplanes come in two different types: model airplanes and ready to fly airplanes. Ready to fly planes, as the name implies, are good to go straight out of the box—charge up the batteries and get ready for takeoff. These turnkey toys are great for younger kids who just want to muck around with something that flies.
Older children, especially those with an interest in engineering, might prefer a model airplane kit. These kits must be put together from tiny pieces and may require help from the parent. The assembly process takes several hours, but consider it an opportunity to enjoy quality time with your child. If your child loves building LEGO—especially the more advanced Technics range—then chances are they'll adore assembling a model airplane too.
Brand
Several toymakers compete for the lucrative RC plane market, and some are better than others. Established brands tend to offer better quality and more durable toys, albeit at a higher premium. A few of our favorites include FUNTECH, E-flite, Top Race, and Guillow.
Age
You wouldn't want to give your three-year-old a state-of-the-art fighter jet as they'd smash it on the first go. Likewise, try giving your 12-year-old an uber-basic, DUPLO-style glider, and they'll constantly complain that it's lame. Picking a remote control plane that's appropriate for your child's age is crucial, so we've included the recommended age range on each product for your buying pleasure.
Style
From gliders to warplanes, helicopters (we know, they're not really planes), and jumbo jets, RC airplanes come in a wide range of different aesthetic styles. So which one should you choose? Work out what your kid thinks is cool and shop accordingly.
Durability
Remote control planes crash and break all the time, especially at the hands of hyperactive youngsters who don't appreciate their delicate nature. If you don't trust your child to look after a delicate $100+ RC plane, then grab something cheap and smash-proof instead.
Price
Remote control airplanes cost as little as $20 or as much as $120, and the appropriate amount to spend depends on your household budget. Had a good month at work? Maybe you can justify splashing out on a more expensive brand. High-end RC planes tend to be faster, easier to control, more durable, and have better tech.
Top 20 Best Remote Control Airplanes for Kids 2020
Wrapping Up
Now that we've covered the top 20 RC planes for kids on the market, all that's left to do is pick the product most suitable for you and your kid. Take into account your household budget and your child's personal taste then whittle down this list until you pinpoint the ideal choice.
And remember, flying an RC plane together with your little one is an awesome way for everyone to enjoy some much-needed child-parent bonding time.
Happy flying, folks.