Top 20 Best Remote Control Airplanes for Kids 2023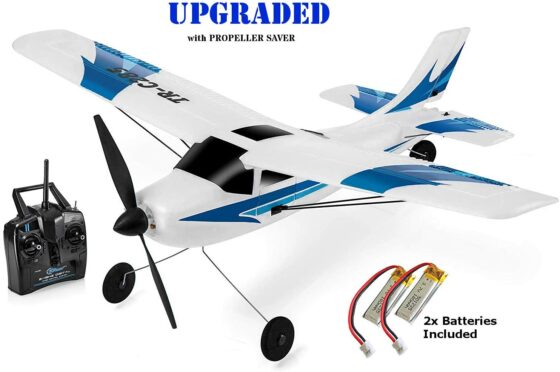 Quick Facts
Type: Ready to Fly
Style: Aerobatic
Age range: 8 years and up
RC range: up to 320 feet
Battery life: 12 minutes
Number of channels: 3 (throttle, elevation, rudder)
Propulsion/battery system: Rechargeable lithium battery and electric motor
Top Race delivers the goods with this nifty little number, an affordable mid-ranged RC plane that's perfect for beginners. The ready-to-fly plane is a hit for its user-friendly interface that even complete novices manage to master on the first go.
Rookie pilots can set the system to beginner mode, which automatically enables the self-stabilization system on the gyro and makes the aircraft remarkably easy to control. Once your kid has got the hang of it, they can turn up the difficulty level and start attempting hectic stunts.
The airplane comes with three channels of control: throttle, elevation, and rudder. These three controls make the perfect introduction to the remote control flying world—they're easy to use and won't overwhelm the first-timer.
Another great feature of the Top Race RC Plane is its durability: the thing can take a bit of a battering. Its superior sturdiness is mostly thanks to the in-built propeller saver system, which protects the airplane's most delicate parts to prevent it from breaking in a crash. The powerful propeller saver system also allows the plane to better navigate through windy conditions, thus avoiding an accident in the first place.
The powerful 3.7 V 180 mah LiPo battery allows the unit to fly for 15 continuous minutes on a single 90-minute charge-up, which is pretty impressive for the price range. It's a wee bit on the upper end of the mid-range, but worth the extra expense for first-time flyers. Experts and serious enthusiasts, however, might prefer something a little more refined.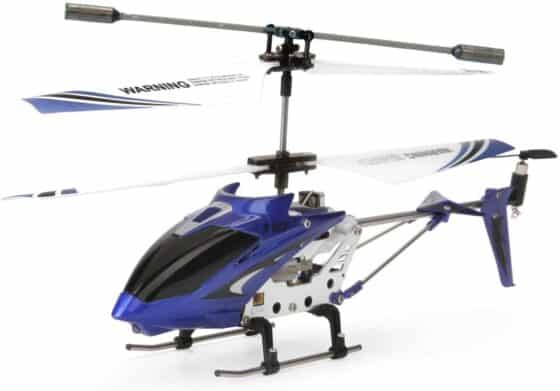 Quick Facts
Type: Ready-to-fly
Style: Helicopter
Age range: 14 + (manufacturers recommendation; younger kids could enjoy this)
RC range: 30 ft
Battery life: 8-12 minutes
Control channels: 3 (up/down, left/right, forward/back)
Frequencies: 2
Propulsion/battery system: 3.7V-180MAH LI-POLY
Coming in at a little over 20 bucks, this beautiful RC helicopter from Tenergy Syma is a hoot to muck around with and certainly won't break the bank. The thing is only about 7.5 inches long and comes with three user-friendly control panels, which makes it easy to navigate around the confines of your home.
Don't bother trying to take her outside, however, as the infrared controller doesn't bode well in bright sunlight and the aircraft's lightweight design gets knocked around by the wind. Nonetheless, for a cost-effective indoor flying toy for kids, the Tenergy Syma is hard to beat.
On average, you'll get 10 minutes flying time out of its battery, which is about all you need for some quick indoor giggles. And its limited range of 30 ft hardly affects performance—this is an indoor chopper, after all.
Although the manufacturer suggests the toy is suitable for kids over 14, we can't quite figure out why they've set the number so high. The thing is super easy to control and doesn't tend to break easily, which makes it ideal for younger kids. And the fact it's ready to fly straight out of the box also appeals to the little ones.
There may well be better RC choppers and planes on the market, but the price tag makes the Tenergy Syma one of our top picks. Best of all, it's cheap enough to purchase a couple so your kids can race them around the house.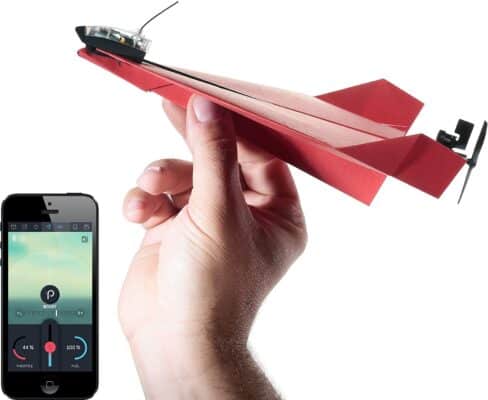 Quick Facts
Type: Conversion kit
Style: Paper Airplane
Age range: 4-14
RC range: 180 feet range
Battery life: 10 minutes
Control Channels: 3
An RC plane like no other, the POWERUP 3.0 gets top marks for innovation. The unique concept sees the user attach the motor and a control tip onto a ready-made paper plane and fly the thing around with glee—every kid's high-tech fantasy come true. And despite the fact the product has a few notable kinks that need ironing out, it's just so unique and fun we had to put it towards the top of our list.
One of the coolest things about this product is the control mechanism: BYO mobile phone. A free iPhone or Android app sees you soaring the plane around via a user-friendly Bluetooth connection, making it stacks of fun for the whole family to enjoy. And rather than pressing buttons on the screen, you can use your phone's tilt function to control the plane, which is remarkably effective and intuitive.
The battery and range are respectable as well, meaning you can have fun in the sun with this product too (beware of strong gusty winds, though). And you won't have to worry too much about breaking it, as the moving parts are quite robust (they give you backups anyway) and the plane comes with a 12-month warranty.
The major downside here—and it's a biggy—is the plane just doesn't work quite as well as we'd hoped. The Bluetooth connection is somewhat sporadic, and it's tricky to construct an appropriate paper plane. Unless you're a certified origami master, you'll struggle to whip together the perfect chassis. And given these glaring issues, it's quite expensive for what you get.
But despite these significant flaws, the POWERUP 3.0 is still undeniably innovative and exciting—expect hours of wholesome family-friendly fun!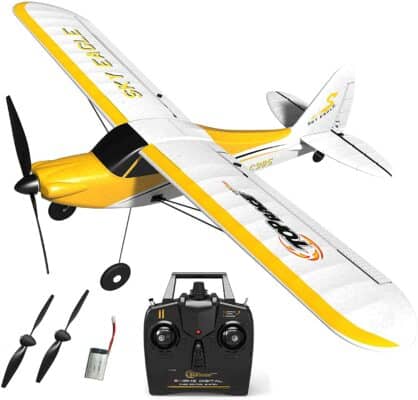 Quick Facts
Type: Ready-to-fly
Style: Stunt plane
Age range: 14 years and up
Control Channels: throttle, rudder, elevator/aileron, steerable tail
Propulsion/battery system: 3.7v 360mAh with 10mm cordless motor
Top Race makes our favorite RC plane overall, and this highly maneuverable, top-of-the-line stunt plane is even nicer, albeit with a higher price tag. The TR-C385 (we do think they could have come up with a catchier name) is the premium addition to the Top Race product range, and the extra money is well spent if you're into death-defying stunts.
The TR-C385 is superior to the TR-C285G for its ability to cut crazy maneuvers through the sky. Even a novice RC pilot will learn to crank out hectic stunts with ease—simply crank up the throttle and hit the one-key acrobatics button. And despite it being almost too easy to pull off those sleek high altitude moves, every loop-the-loop and barrel roll brings a strong sense of satisfaction to the pilot.
The only hard part about controlling this model is accidentally letting it fly too far away, at which stage you loose RC connectivity, and the plane soars off into the sunset. Considering it comes in at well over a hundred bucks a pop, that's quite a lot of money to be losing for a simple mistake. And for that reason alone, this model is only really suitable for responsible pilots at least 14 years of age.
If your child treats the plane well, however, there's no reason it shouldn't last for years to come. The coveted propeller saver technology prevents the motor from getting wrecked with each prang, and you'll receive a handful of spare props to replace broken or missing parts. The durable EPP material provides ample protection to the shell, and a handy one-touch return button helps you glide her home safely in a pinch.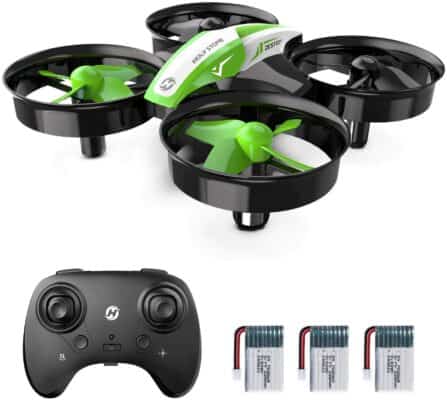 Quick Facts
Type: Ready-to-fly
Style: Drone
Age range: 14+ (okay for younger kids under supervision)
RC range: 164 ft
Battery life: 3 x 7-minute batteries
Drones are no longer the exclusive plaything of well-to-do hobbyists and glitzy Instagram influencers. Advances in technology in recent years have seen the cost of your average drone plummet, and basic kid-friendly versions are now available at rock bottom rates. The best of these low-cost machines is this charming little palm-sized unit from Holy Stone, which zips around the house at breakneck speed and is surprisingly simple to control.
Although it's recommended for ages 14 and up, younger kids adore flying the drone through the Xbox-style controller. The process is remarkably smooth, too, so it's unlikely younger kids will crash the thing if they're not playing rough. Even if there's a little accident, the robust drone is built tough to withstand a battering. Plus, it's also got a protection guard over the blades to stop toddlers jamming their fingers in there.
Another cool feature we love about this model is its auto-hover mode. When you set the drone up where you want it to gravitate and hit the 'altitude hold' button, it continues to hover until it runs out of batteries or you command it to do something else. You also get to play with a groovy 3D flip feature that rotates the drone over its head, and there's a 'go home' button for when you can't be bothered to land the thing yourself—not bad for a cheap, low-end product. Then, should you want to hit the skies again straight away, you can just replace the rechargeable battery for another seven-minute session (up to a total of 21 minutes over three batteries).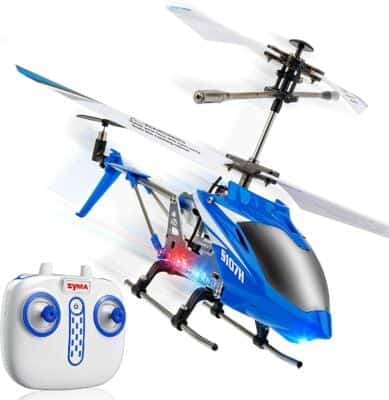 Quick Facts
Type: Ready-to-fly
Style: Helicopter
Age range: 8 years and up
RC range: 65-foot flight range
Battery life: 5 minutes off a one-hour charge
Channels: 3
Propulsion/battery system: 3.7V battery
If you want to get your child an RC helicopter they'll love but you're strapped for cash, then check out our top budget RC chopper . But if you've got a wee bit of extra cash to splash and you're looking to spoil your little guy or gal rotten, then this superb chopper from Syma is your go-to choice.
Syma has got the RC helicopter game down and offers a whole host of sweet extra features on this upgraded model. Auto-hover lets you set your cruising altitude with ease, and it's got a whopping 65-foot range for stress-free flying anywhere in the house. The mini RC chopper is pretty petite—slightly larger than your hand—but that just makes it easier to navigate around the home. A one-key lift-off/landing button makes it easy to pick up or put down.
The learning curve is a tiny bit steep, but almost all younger kids can master the controls with patience and by sticking to the low speeds. Don't bother taking it outside, though, as even a gentle gust will cause the contraption to crash. Luckily it's quite sturdy, so it'll likely survive a few accidents at the very least.
So what's the catch? Well, it's battery life isn't great, with a mere five minutes of fly time—guess the kids will just have to learn to savor the moment.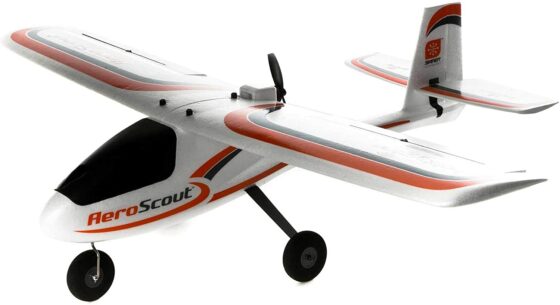 Quick Facts
Type: Ready-to-fly (only minor assembly required)
Style: Stunt plane
Age range: 15 – 99 years
RC range: 3 football fields
Channels: 4
Propulsion/battery system: 2200mAh Smart LiPo battery
We already presented a brilliant premium option with the Top Race RC Plane. But if you don't mind spending a bit of extra moolah, then the HobbyZone AeroScout S is about as good as RC planes get. And with a hefty price tag hovering around the $200 mark, you'll be happy to know the quality matches the cost.
So what makes the AeroScout S worth the expense? Well, it's mostly how wonderfully smooth this elegant aviator can soar. An ultra-long flying range, superior stability control, excellent battery life, and a smorgasbord of stomach-churning stunts make the unit a joy to pilot for both novices and pros alike.
Beginners will be especially enamored with the SAFE (Sensor Assisted Flight Envelope) mode, which makes controlling the aircraft a cinch. Experts, however, can simply crank up the difficulty setting and start pulling off barrel rolls and inverted tricks.
Although the performance is outstanding, be aware that it takes several hours to charge. And given the high price point, you certainly don't want to let your child bury it at the bottom of a lake.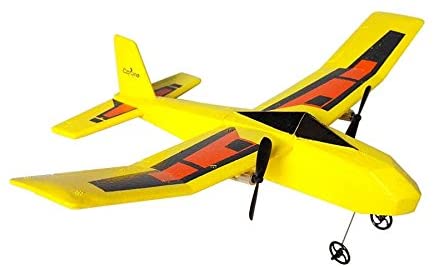 Quick Facts
Type: Ready-to-fly
Style: Glider
Age range: 10 years and up
RC range: 100m / 325ft
Propulsion/battery system: Electric with rechargeable lithium battery
Your child will have a blast when it's time to glide through the sky with this fantastic product from Cobra. Unlike many of the performance planes on the market, the outdoor-only A420 E-Glider is all about circling peacefully through the air to conserve energy and enjoy an optimal amount of flight time. In fact, pro pilots can circle this thing seemingly forever before having to bring her down to land.
A huge bonus here is the immense toughness of the design. Because the Cobra uses a simple dual prop set-up to power the aircraft, there are few moving parts to contend with, thus fewer pieces to break off. Couple that with a super absorbent foam body, and you've got a nearly indestructible flying toy. And that's one massive plus for parents who've already gone through an RC plane or two.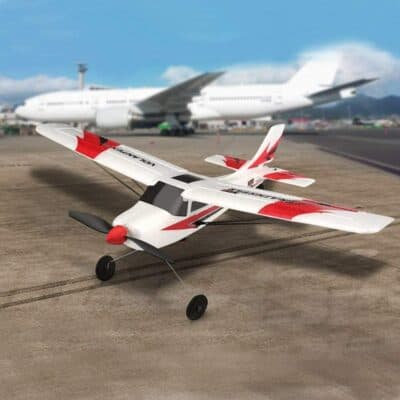 Quick Facts
Type: Ready-to-Fly
Style: Stunt Plane
Age range: 14+
RC range: 300 ft
Battery life: 15-25 minutes on a 20-minute full charge
Control Channel: 3
Propulsion/battery system: Electric motor with 3.7V 180mah LiPo Battery
The fun never stops with FUNTECH, at least not when you're wielding the joystick of the sought-after 611. Although this model is classified as a hobby plane and not intended for children under 14, it's also famed for being incredibly user-friendly and easy to learn. Thus, there's no reason you can't give younger kids a shot under adequate supervision.
The ready-to-fly plane is well-priced and boasts an impressive 300-foot range. It also lets you race up to three friends simultaneously—the ideal afternoon activity among siblings.  A full assist, partial assist, and total control setting provide ample optimization, and the expanded polypropylene shell can withstand a few whacks. Should something go amiss, FUNTECH pride themselves on superior customer support and promise to rectify the situation in a jiffy.

Quick Facts
Type: Ready-to-fly
Style: Glider
Age range: 14 years and up
RC range: 100 yards +
Battery life: 10-20 minutes
Control Channels: 3
Propulsion/battery system: 8.5mm coreless brushed motor powered by a single-cell Li-Po battery
It may set you back a little more than other gliders on the market, but the UMX Radian delivers the goods. A refined AS3X Stabilization System keeps the body sailing smoothly through the air even during turbulence, while its simple-to-use three-channel control system is basic enough for a kid to use (we recommend close supervision, though).
Don't be deceived by the photos, because this model is incredibly small and lightweight (31 x 10 x 4.3 inches and 1.52 ounces). Of course, this featherlight stature is a boon once airborne, because the UMX Radian can soar further than ever before. Officially, its airtime is a modest 8 minutes, but a skilled pilot could run rings for as many as 20—just don't expect to pull off any gnarly stunts. The unique bent wing design looks pretty nifty too, which adds an extra element of realism to the whole gliding experience.

Quick Facts
Type: Kit
Style: Biplane
Age range: 6 – 15 years
RC range: 50 to 100 feet.
Propulsion/battery system: Rubber band motor
Building your very own Guillow is like a blast from the past, as these charming 1940s-era model biplanes haven't changed much since the great war. Don't expect an easy or straightforward assembly, however, as some of the instructions are less than clear cut. Nonetheless, the 12-hour process is a fun time for kids aged six and up, and the end result is rewarding for parents and their children to achieve together. And at this meager price point, the product represents superb value for money.
Model kits don't dominate the air in the same way that ready-to-fly RC planes do, so it's crucial to get your expectations in check. The wind-up rubber motor on the Piper Super Cub is better than most, however, and you can expect it to soar 100 feet or more in perfect conditions. Just remember that the lightweight balsa gets knocked about by the wind.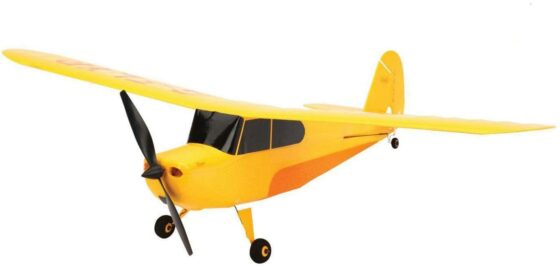 Quick Facts
Brand: HobbyZone
Type: Ready-to-fly
Style: Glider
Age range: 10 years and up
Channels: 3 with throttle, rudder, and elevator
Propulsion/battery system: Electric motor with 150mAh Li-Po battery
Never flown an RC plane before? Then get ready to rock the skies like a champ with this fantastic product from HobbyZone. The gentle learning curve in this beast makes it one of the best options for first-timers on the market; it's the perfect gift for quality father-son time. The plane is lightweight by design, so aim for calm weather if possible (ideally in the early morning or evening) to make the most of your inaugural flight. You can even take the glider for a spin in an ample indoor space like a gymnasium—just be careful not to bump into the walls.
Although the design is quite durable, it's crucial to note this isn't a toy and that children should operate it under supervision. The Champ can take a bit of a beating, but no RC plane is immune to misuse. Pro tip: practice landing on a grassy field before trying to touch down on the asphalt. It's not the cheapest RC plane on the market, so the last thing you want is to smash it on your first go.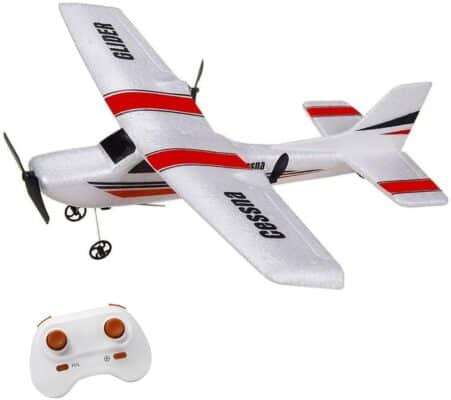 Quick Facts
Type: Ready-to-fly
Style: Cessna Glider
Age range: 14 years and up
RC range: 300 ft.
Battery life: 15-20 minutes on a 30-minute charge
Control Channels: 2
Propulsion/battery system: Coreless motor powered by a 3.7V Lipo Rechargeable
The manufacturer might say this piece is suitable for ages 14 and up, but the reality is younger kids can get a kick out of this toy-like remote control plane. The reason we reckon it's child-friendly is there isn't a whole lot to the unit—it's easy to fly, and its moderate price point won't make you cry if it breaks.
The LBKR Tech RC Plane only has two control channels (up/down and left/right), which makes it  simple to master, even for the absolute novice. The model also boasts a 6-axis gyro for extra stabilization, as well as a durable EPP foam body to prevent it from cracking during a crash. And the 300 foot RC range is impressive for a mid-range model, even better than some of the upmarket options on our list.
Another top advantage for the little ones is the uber-basic joystick-style controller, which looks and feels just like a PlayStation controller—something almost every kid is already familiar with.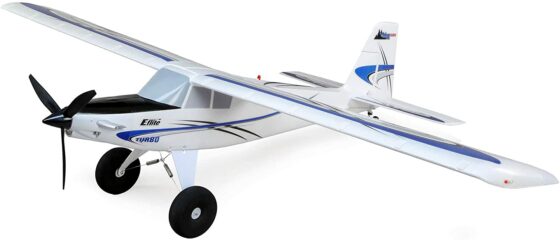 Quick Facts
Type: Ready-to-fly (simple assemblage required)
Style: Turboprop seaplane
Age range: 15 years and up
Propulsion/battery system: BYO battery, transmitter, and charger
E-flite makes a whole host of high-end RC planes, and this behemoth of a Cessna lives up to their high standards. The first thing you need to know about the Timber is it's big—tremendously big. In fact, with a whopping 5-foot wingspan, this is the largest RC plane on our list.
Yet despite its cumbersome frame, the Timber glides through the sky with ease and feels terrific to control, probably due to the SAFE envelope protection system that enhances airborne stabilization. Furthermore, it doesn't need much room to take off and land, which is a surprise for a plane of this size and largely thanks to its shock-absorbing tundra-style wheels.
A downside to its immense stature, of course, is its portability. Truth be told, the Timber is a little tiresome to lug around. At least you can easily disassemble it when you're struggling to fit her into your car.
The model does require some assembly, and you'll need to add your own transmitter, battery, and receiver, none of which is a deal-breaker for the avid enthusiast. Indeed, the only reason we've ranked this so low on the list is it isn't particularly kid-friendly. If you do let your little one take the reins of this pricey piece of kit, then we recommend you do so under stringent supervision.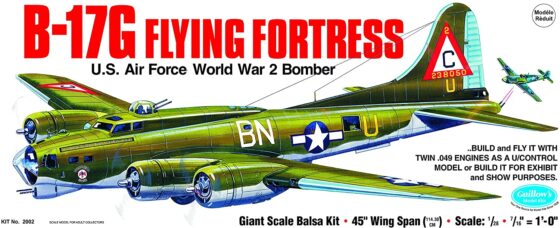 Quick Facts
Type: Kit
Style: Flying Fortress
Age range: 6 – 15 years
Propulsion/battery system: Rubber motor
Ask any aviation-loving kid which WWII-era airplane they like most, and chances are they'll tell you the Flying Fortress. And why wouldn't a young mind become immediately enthralled by this behemoth Boeing aircraft?
From the sliding canopies to the retractable landing gear and the droppable bombs, the model is about as life-like as they come and feels fully equipped to blow enemies out of the sky. The plane is larger than most Guillow kits (with a 24" wingspan), which is appropriate considering the type of aircraft. As an interesting aside, Guillow has been making model warplanes since 1926, well before the Boeing B-17G was a thing.
The downside to this model is it's more challenging to assemble than most, so give it a wide berth if you're not experienced at kit planes (pro tip: try using an x-acto knife and modeler's glue). You'll need to provide plenty of guidance to your child along the way as the instructions can get a bit befuddling at times. Nonetheless, the challenge just makes the final result all the sweeter.
Serious flyers can bolt on their own custom RC electric or gas engine, although it doesn't fly that well, so most folks are just happy to leave it as a display model.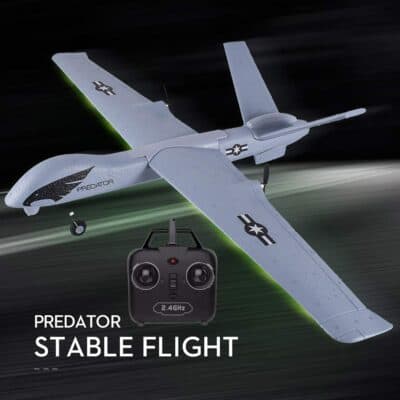 Quick Facts
Type: Kit (requires only minor assembly)
Style: Predator drone
Age range: 14 years and up
RC range: 240-360 feet
Battery life: 20 minutes on an 80-minute charge
Channels: 2
Propulsion/battery system: Coreless motor powered by a 1S Lipo rechargeable battery
It's a little on the basic side, but the Predator Drone from PLRB is easy to fly thanks to its two-channel control system and three-axis gyroscope—the ideal option for novice pilots looking for their first taste of RC life. And should the craft go down deep within enemy territory, its durable EPP foam frame safeguards from breakage so your child can pick it up and have another crack. Landing, however, can be a little tricky as the front wheel has a nasty habit of falling off.
Although it's classified as a kit plane, the drone only requires a small amount of assembly, which is fun to do together with your child.
Before taking off, be aware that the plane's ultra-light nature means it can't handle even a gentle breeze, and it's easy to outrun the RC range due to its high top speed.

Quick Facts
Type: Kit
Style: Cessna
Age range: 6 – 15 years
Propulsion/battery system: Rubber motor or BYO electric/gas
We've included several Guillow products on our list because the company does a stand-up job at creating high-quality laser-cut balsa kits that parents and children can assemble together. And if you're little one is new to the hobby, then the Cessna is the top option for you.
Unlike the Guillow's Piper Super Cub 95, this stylish little Cessna is simple enough for a first-timer to assemble. Its straightforward instructions are even notably easier to figure out than the  Edge 540 Model Kit, making it the most user-friendly option on the entire Guillow product range. But that's not to say the classic WWI seaplane isn't enjoyable—this 24" model offers up to 12 hours of construction fun.
The secret to Guillow's success is that instead of using cheaper die-cut pieces, the company insists on high-quality laser-cut balsa. This high-end material allows the parts to pop right out of the sheet and affords a quality feel and finish, which is reflected in the completed model. We also love the fact that Guillow gear is made right here in the USA.
The plane flies reasonably well for a kit model, but don't expect it to compete with our recommended ready-to-fly machines.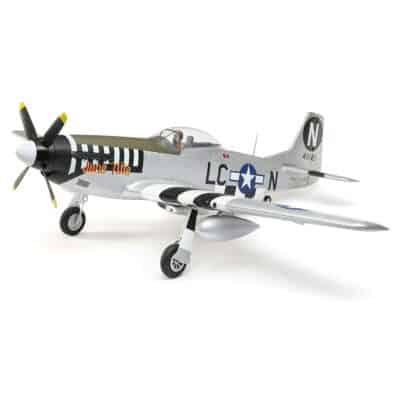 Quick Facts
Type: Kit (takes minutes to assemble)
Style: Warplane
Age range: 14 years and up
Propulsion/battery system: Electric motor with a 3S LiPo battery
If you've fallen in love with the RC world and have the cash to splurge on something special, the P-51D Mustang from E-flite should be it. Warplane aficionados adore the realistic design of this wonderful war machine, not to mention how beautifully it cuts through the air.
A word of warning, though: big birds such as these aren't meant for beginners, so put your credit card away right now if you're new to the scene. Having said that, the Mustang is easy enough for an intermediate RC pilot to master quite quickly, especially upon activating the SAFE select flight envelope for enhanced stabilization.
The unit isn't ready-to-fly, although assembly is rather straightforward and shouldn't take longer than 30 minutes or so. Bear in mind you'll need to supply your own transmitter—this is a hobbyist's plane, after all. And although the kids are going to fall head over heels in love with this thing, its delicate nature and high pricepoint mean you'll have to keep a close eye on proceedings.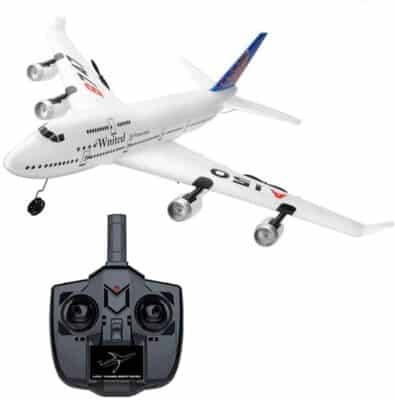 Quick Facts
Type: Ready-to-fly
Style: Jumbo Boeing 747
Age range: 14 and up
RC range: 500 feet
Battery life: 7-8min on a 45-minute charge
Control Channels: 2, small rudder and big rudder
Propulsion/battery system: Electric motor with 3.7v 300mAh Li-po
Some kids love warplanes, while others are more into helicopters and drones. And then there are those that adore oversized jumbo jets, and that's where this beautiful Boeing 747 shines. It may not be as sleek or sophisticated as some of the stunt-orientated RC planes on our list, but this big beast feels like you're flying the real thing—and it doesn't get much cooler than that.
Of course, an authentic jumbo jet is rather cumbersome, so don't expect to pull off any crazy tricks. You'll need quite a lot of space for taking off and landing too, just like the real thing.  On the plus side, the jumbo jet can run rings up to 500 feet from the controller, a far superior range to many of its competitors.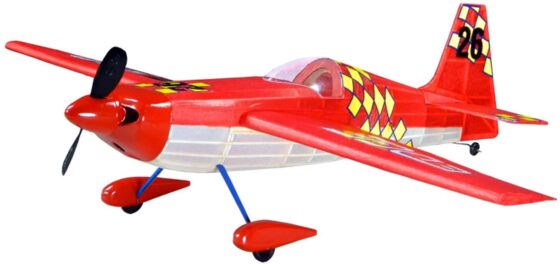 Quick Facts
Type: Kit
Style: Warplane
Age range: 10 years and up
Although we rate the look of the Guillow's Piper Super Cub 95 a little higher, the Edge 540 is the option of choice should you want an easy, beginner-friendly kit. The attractive balsa wood kit is suitable for kids as young as ten, or perhaps even a smidgen bit younger with daddy's supervision. The gorgeous and faithful 20-inch replica is lightweight, highly detailed, and easy to assemble—a perfect combination for when you want something simple that works.
And as a result, the model is popular with both school and home projects. Then once it's complete, keen aviators can attach an electric motor (in place of the included rubber motor) to beef up its flying power.