When a newborn baby first comes into the world, they bring with them a divine magic that surrounds the family throughout the child's earliest years. There are so many precious moments that happen during this time — way too many to keep track of in the long run. Rather than let these memories fade as the years go by, you can seal them in paper forever with a baby memory book.
New parents naturally have a lot on their plates, so documenting a baby's first years isn't always the most convenient practice. However, the experience of revisiting these precious memories over and over again is priceless, both for the parents and the little star of their book. If you're looking for the perfect memory book — whether for your own family or as a gift to another — scroll down to find the ten best options available in 2020.
What to Consider When Selecting a Baby Memory Book
A baby memory book is a family keepsake. It's used to document key moments and experiences during a baby's early years. All baby memory books serve this core function, but you can keep the following in mind as we run through our list.
Length
There's an abundance of special moments that occur during a baby's upbringing, so you'll want a memory book with adequate space to write everything down. The more pages that come with your memory book, the more journal sections and prompts you'll be provided with.
Generally speaking, books of greater length are preferred over those with smaller page counts. That said, a memory book with 50 pages of great content is still better than a 100 pages of diaper changes!
Personal Preference
Aside from the length of the book, the only real way to choose the perfect baby memory book is by going with your gut. Like we said, all baby memory books are used for the same function, and they only vary in how they deliver that function.
As we go over our memory book options below, keep an eye out for any special features that stick out to you. Ultimately, trusting your intuition is the best way to find a perfect keepsake for the little bundle of joy in your life.
Top 10 Best Baby Memory Books 2021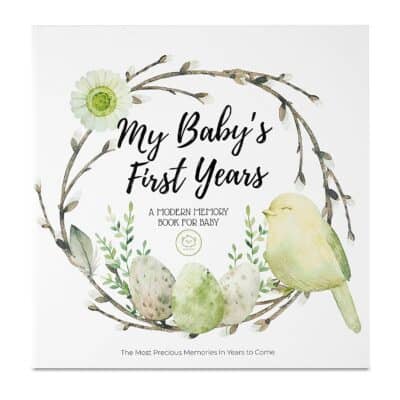 Why we like it:
This option offers a ton of valuable content along with a cast of friendly woodland creatures. It's gender-neutral and suitable for all family types, making it a safe gift for any expecting parent.
Editor's Rating:
KeaBabies sets the industry standard with their My Baby's First Years memory book. Within its pages is a library of space waiting to be filled with the most precious moments of your little one's early childhood.
The My Baby's First Years memory book is a versatile keepsake meant for the gamut of modern family types: adoptive, single parent, LGBT, or any other situation. It's also gender-neutral, making it the perfect gift for baby showers even if the baby's gender hasn't been revealed. There really is a ton of space to fill in here — 90 pages of it, with whimsical wonderland characters dotting the path, working to keep your child engaged and entertained as you archive your memories together. Standout sections include Pregnancy to Birth Story, Month 1 to 12 Journal, and Firsts of Everything. There's also a keepsake envelope with a nifty string closure where you can archive your memories without them slipping out of the book.
If we could improve one thing about this memory book, it would be the spiral binding — it'd be nice if it were just a touch looser. That's the full extent of our gripes with KeaBabies' book, which is just another example of its quality. Unless you have your eye on a particular feature exclusive to another option — like the sonogram photo insert in this Best Baby Memory Book — or are looking for something more gender-specific, this is the surefire pick. All in all, My Baby's First Years is one of the best baby memory books out there.
Pros
Tons of great content

Suitable for all family types

Attractive design featuring a friendly cast of characters

Keepsake envelope with string enclosure
Cons
Spiral binding is a little tight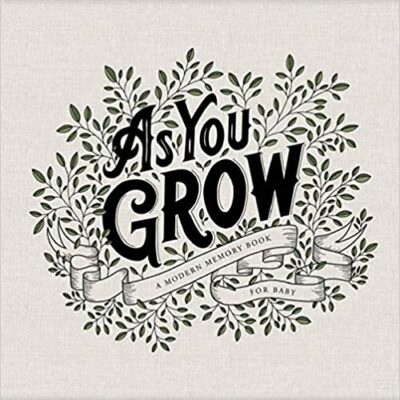 Why we like it:
The As You Grow memory book features a modern design that's as relevant today as it will be when your little baby grows up. Its high-quality materials and safe keepsake storage will help your memories last a lifetime.
Editor's Rating:
The As You Grow baby memory book was authored and illustrated by artist Korie Herold to feature a modern, timeless aesthetic. Its design is sure to be relevant regardless of how many years into the future you and your child flip through its pages.
Aside from the impressive artistic detail and flourishes found throughout the book, we also appreciate the high-quality materials used in its composition. The archival paper is acid-free, ensuring that your memories won't deteriorate over time. Pocket section dividers allow you to store your baby's milestones safely and efficiently, and the elegant linen cover serves as the icing on this keepsake cake.
The content is meant to track your baby's development from pregnancy to birth, up to age 5. The book is gender-neutral from front to back, making it a safe blind pick for a baby shower. We feel that the pregnancy portion could use a few more sections of content to fill, though that might be a picky preference of ours. All in all, this is a beautiful keepsake book that you'll have a blast filling with memories.
Pros
Timeless design

High-quality materials

Safe keepsake storage

Gender-neutral
Cons
Pregnancy portion lacks some content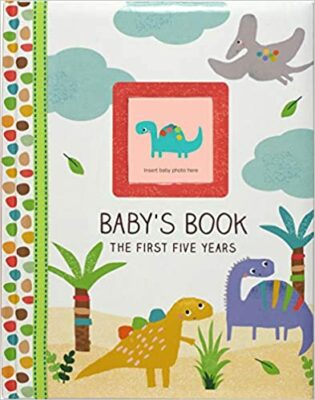 Why we like it:
With a massive volume of quality content to fill out, this dinosaur-themed memory book gives parents more than enough space to document their baby's early life.
Editor's Rating:
It might be a bit too early to tell if your baby is a dinosaur lover, but many children eventually find themselves fascinated by these mysterious, prehistoric creatures. This unique baby memory book by Peter Pauper Press offers a cast of lovable dinosaurs to help document your baby's first five years.
There are a whopping 112 pages to fill out here, with adorable sections like Welcome to the World, Great Expectations and Dear Baby. The acid-free archival paper protects the content from decay, ensuring that your baby book lasts a lifetime. The pages were given a smooth finish, allowing for a comfortable writing surface. Paired with this memory book's high quality is a lower-than-average price tag, which we definitely appreciate.
All in all, this is one of the best memory books available today. You'll love documenting your baby's early life in this book, and your child will likely appreciate the prehistoric friends they make along the way. The only downside we can find is that the dinosaur theme might not appeal to all children.
Pros
Great price

Fun dinosaur theme

Many pages of content to fill out

High-quality paper
Cons
Dinosaur theme might not be for everyone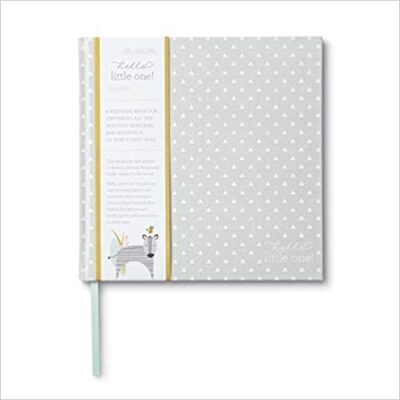 Why we like it:
Despite being sold at a bargain rate, the Hello, Little One! memory book is of surprisingly high quality, from its material composition to its fantastic design and illustrations.
Editor's Rating:
Who says baby memory books need to be expensive? Dan Zadra, author of the Hello, Little One! baby memory book certainly doesn't think they should. He authored this hardcover keepsake that's priced to be an absolute steal compared to virtually all other options.
Given its cost, we're surprised and delighted that the book is hardcover. It's even gender-neutral, making it suitable for all babies under the sun. Use it to document your baby's first giggles, favorite things and all other little miracles that occur in their first year. With the original illustrations and sweet quotes that form a path throughout the book, you'll be creating a journal that's worth revisiting time and time again.
All in all, this is the perfect gift for a baby shower, baby dedication or naming ceremony. Being a nationally recognized author, book mentor and creativity consultant, it's no surprise that Dan Zadra would put out such a beautiful and cost-efficient baby memory book. Unfortunately, it does not feature a storage pocket for keepsakes, which is an inclusion we would have appreciated. The way the content is organized gets repetitive at times, so this option isn't overflowing with personality compared to some others in our list, like As You Grow. That said, if you're looking for an aesthetically lush, super affordable option, this is a solid choice.
Pros
Bargain price

Hardcover

Great illustrations

Gender-neutral
Cons
Lacks storage pocket for keepsakes

Content can seem repetitive at times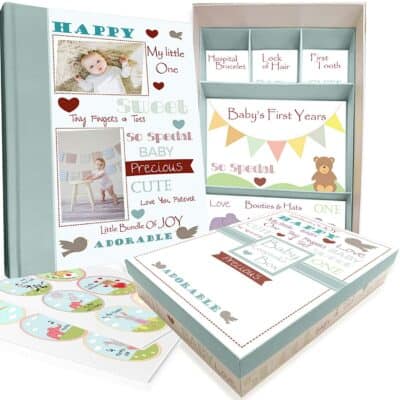 Why we like it:
With the Next Mommy memory book, parents receive a bundle of goodies including a baby keepsake box and a ton of milestone stickers. It's definitely a great buy for those willing to splurge on their little loved one.
Editor's Rating:
If you're looking to spoil your little one with some extra special memorabilia, this baby memory book by Next Mommy is a stellar premium option. Unboxing it reveals an assortment of goodies, giving you everything you need to keep track of your baby's first years.
Next Mommy's memory book features a gender-neutral design and 64 pages of content to fill out. One noteworthy feature of this option is the baby keepsake box that comes with it. You'll be able to store some of your baby's precious early trinkets, like their first pair of socks and first tooth. The kit also includes a whopping 30 milestone stickers that cover first holidays, first haircut, first word and many more. With the memory book, keepsake box and milestone sticker set, you're essentially getting three products in one, which helps validate the price tag.
Still, in this cost bracket, we would have liked to see additional pages of content to fill in — at the very least, some more blank pages would do the trick. Additionally, and despite the keepsake box being a great inclusion, it's a bit on the small side, which limits the number of keepsakes that fit in it. Nevertheless, there's a ton of activities that come with this package, and it's an overall great pick for parents willing to splurge a little more on their little one.
Pros
Gender-neutral

Baby keepsake box included

30 milestone stickers
Cons
Would benefit from some extra pages of content

The keepsake box is a little small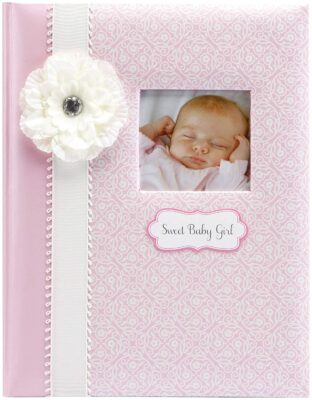 Why we like it:
The elegant aesthetic of the Sweet Baby Girl memory book is great for a newborn daughter. Its awesome themes and prompts will keep parents occupied for a good while, and the book is easily expandable once all sections have been completed.
Editor's Rating:
As fun as it is to document your little girl's early years, the real thrill comes many years later, as you and your daughter flip through the pages together. If you're looking for the perfect memory book for a baby girl, C.R. Gibson's option is definitely worth looking into.
The Sweet Baby Girl memory book features an elegant pink patterned cover with a fabric flower accent piece. The attention to detail shown on the cover is as impressive to the eye as it is to the touch. There are 64 pages of content to fill out, which include fun themed sections like How Mommy Met Daddy. The book also enables you to document your child's eating and sleeping habits, memories, doctor visits, vaccination records and growth charts. Should you ever run out of room for your well of memories, this book is easily expandable, allowing you to add additional pages as you see fit.
The pink and white aesthetic of the Sweet Baby Girl memory book makes it the perfect memorabilia for little girls. However, in terms of build quality, it's best not to judge this book by its cover. The cover is of excellent quality, but the pages within the book are a bit thin, and since the holes punched into them are close to the edge, they're prone to tearing if you're not careful. As an alternative option, the acid-free archival paper used in the As You Grow memory book is a bit tougher.
Pros
Beautifully patterned cover with a fabric flower accent piece

Cover includes a space for the baby's portrait

Elegant pink and white aesthetic

Great themed pages
Cons
Pages are prone to tearing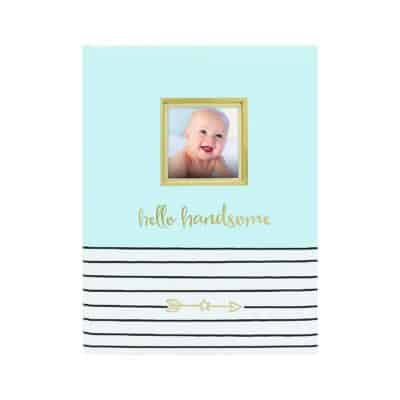 Why we like it:
With a variety of adorable prompts and multiple color options, Hello Handsome is the perfect memory book for a baby boy. The price also happens to be an absolute steal.
Editor's Rating:
There are so many different types of baby books available, and there's a whole subset of books aimed at boys within them. If you're looking for a keepsake for your handsome little boy, Pearhead has just the book for you.
This memory book comes in either a gray or blue aesthetic depending on what you select upon purchasing. It's sold at a very low price considering the quality and content on offer. There are 50 guided journal pages included, with several fun sections like Who This Book Belongs To, Mommy's Pregnancy Journey and Baby Shower Gift & Guest List. You can document the various stages of your little boy's early life, like his 1st to 5th birthday, art made in preschool, first holiday and other cherished memories.
If we could improve one thing about the Hello Handsome memory book, we'd add a few more pages of space. A lot of stuff tends to happen in the first 5 years of a child's life, and parents need ample space in their baby memory book so as not to lose out on precious memorabilia. The font in the book is also quite light, making things difficult to read at first glance, especially for those who need reading glasses.
Pros
Great price

Multiple color options

Adorable content
Cons
A few more pages of content would be appreciated

The font is a little light, making it difficult to read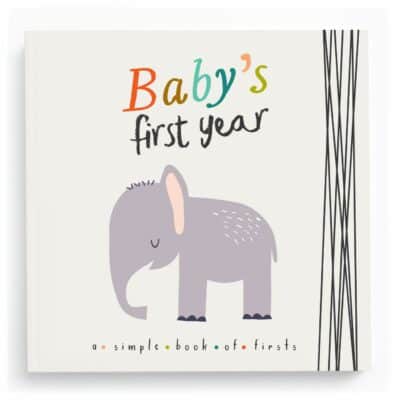 Why we like it:
With the Little Animal Lover memory book, your child will be introduced to a cast of wildlife characters that will accompany them throughout their upbringing. As its title implies, this is the perfect gift for little animal lovers.
Editor's Rating:
Little animal lovers will smile from ear to ear when they first lay eyes on Lucy Darling's Little Animal Lover memory book. Should their love for animals follow them to adulthood, they'll love flipping over its pages with their parents just as much many years from now.
The Little Animal Lover memory book is made in the USA and printed with soy-based inks, making it an eco-friendly buy. This option features a beloved theme throughout — an animal theme, of course. Every page introduces a new furry (and sometimes scaly) friend, from the bear on the Second Birthday page to the pug on the Where You Lived page. Get used to these cute critters, since they'll be part of the family now.
This book allows you to document many of your baby's firsts, like the moment they first learned to crawl, run or bike ride. There are only 48 pages of content included here, which definitely leaves something to be desired. It's also priced a notch higher than the average baby memory book — we can see that value in the cover and design, but not in the number of pages available. That said, if the animals found within the pages of this baby book bring some joy to your child's heart, it's definitely worth the price. As an alternative option to consider, this dinosaur-themed baby memory book features wildlife of the more prehistoric persuasion, and it comes with more than double the content of Little Animal Lover.
Pros
High-quality hard cover

Engaging animal themes throughout

Colorful, eye-catching design

Eco-friendly
Cons
Expensive

Only 48 pages of content to fill out
Why we like it:
This memory book allows parents to personalize their cover with a photo of their sonogram. Beyond its cover, the content within the pages is a blast to fill out.
Editor's Rating:
This baby memory book by Pearhead allows you to customize the cover, making it a keepsake that's personally suited to your little one. Even before opening the book, you and your child will see their sonogram photo on the cover, recalling the very first days of your baby's life.
This memory book contains 50-guided journal pages with plenty of space for photos throughout. In fact, each section has space for a photo, which we think is brilliant. Standout sections include Who This Book Belongs To, About Mommy and About Daddy, and many more adorable prompts found throughout the pages. The design is gender-neutral, making it the perfect gift for a little boy or girl. Should you wish to add some extra memories not prompted in the book, there are a few blank pages that you can fill out as you wish.
The downside here is that the pages are thin and of low quality, so you'll have to store it in the safest way possible in order to limit deterioration. We also found the pictures hard to see given how cloudy the plastic sleeves are. Still, the customizable cover is a major selling point for us — if you feel the same way, give this book a shot. Another option that also comes with a customizable cover is Sweet Baby Girl. As its title implies, it's the perfect memory book to get for a sweet baby girl.
Pros
Lots of space to include photos

Adorable prompts

Gender-neutral design

Additional pages of content included
Cons
Thin, low-quality paper

Plastic photo sleeves are cloudy, making the pictures difficult to see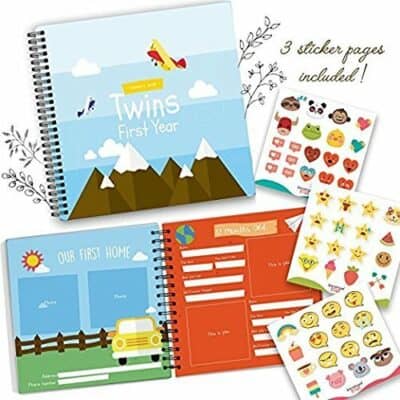 Why we like it:
This memory book saves parents of twins from having to document their children's early lives in two separate books. With quality content and materials, this is a great keepsake for twin bundles of joy.
Editor's Rating:
If two little babies came into your life simultaneously, you'll either need a memory book for each of them, or one that caters to both. Of course, the latter option is a bit more simple. For all new parents of twins, Unconditional Rosie offers their Twins First Year memory book.
Use this book to document all the precious memories throughout your twins' first year, from their first experiences, birthdays, holidays and more. You can teach them about their history through the Family Tree section; send your love to their future selves by filling out Letters From Mom & Dad; and document their check-ups by storing their hospital bracelets, dental records and immunizations. Thanks to the thick ink-absorbent paper, your memories will be protected from wear and tear in the long run.
As a downside, we found this book to be a little slim, especially since it's meant for two babies. Its 40 pages of content are definitely limiting, as is the fact that the book is meant to document the twins' first year only. We definitely appreciate a memory book specifically catered to twins, but we would have liked to see a more comprehensive keepsake. Perhaps you and your twins will be better suited with a memory book for each of them, in which case we'd recommend Hello, Little One! It's cost-efficient while providing valuable space, so you'll get the most bang for your buck there.
Pros
Aimed specifically at twin development

Great sections to fill out

High-quality ink-absorbent paper
Cons
Only 40 pages to be shared among two babies

Timeline ends after the twins' first year
Final Words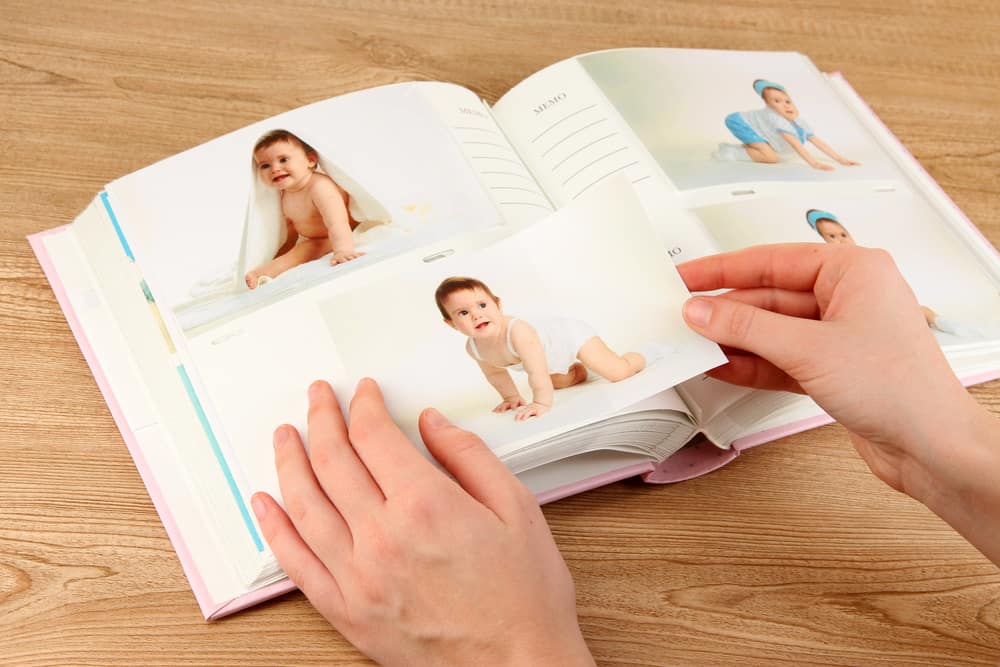 Somewhere within this article lies the perfect baby memory book, whether for your own family or as a gift to a friend or loved one. Now that we've laid out the best options available on the market, finding the right one is all up to you.
For more details, you can check out the additional info found on the books' product pages. Take a look at what's included behind the cover, and let your intuition do the rest.
Regardless of which book you choose, we hope you'll find a lifetime of joy within its pages. Good luck!