No one enjoys dealing with the sinus congestion that comes from seasonal allergies and illnesses, but as an , you have several options to help clear away excess mucus and get you breathing clear again. Babies, though, don't have the ability to blow their noses.
Their developing immune systems make them prone to getting viruses that can block up their nose. Under three months old, it's hard for babies to breathe through their mouths. So many parents wonder how they can help their child breathe easier.
That's where nasal aspirators come in. Sometimes, when your baby is born, the hospital sends you home with a small bulb syringe to help draw excess mucus out of their nose. While that's handy to have, they tend to be pretty basic and hard to clean. There's a whole world of nasal aspirators with various features that can help you get your child's nose clear with less hassle.
On our list, we'll walk you through some of the most popular models, ranking them by how effective and easy to use they are.
What Is a Nasal Aspirator?
For the purposes of our list, any tool that helps draw mucus from your child's nose will be referred to as an "aspirator." Some may say that strictly speaking, syringes like the one mentioned above aren't aspirators since they draw our mucus by creating a vacuum, rather than through the sucking of air.
These devices help blow your child's nose for them when they are too little to do so.
When Should You Use a Nasal Aspirator?
If your baby seems to be having trouble breathing or they sound congested, these are good signs you should use an aspirator on them. Sometimes babies will have difficulty feeding, which can also be a sign that they need an aspirator. A runny nose can also be your cue to remove excess snot and mucus from their passages.
Listen to your baby's needs by being in tune with their behavior. If you suspect they are congested, likely, that means they are and you can attempt nasal aspiration to relive their condition.
Types of Nasal Aspirators
There are several types of nasal aspirators on our list. What it really comes down to is how they get their sucking power. Here are the three main types:
Electric
Electric powered aspirators are handheld devices that create suction from an external power source. Most will be powered by batteries, but there is one option on our list that is actually powered by your home vacuum.
Vacuum
The familiar bulb style that many of us remember from when we were children is still commonly used today. The suction power is formed by creating a vacuum inside the bulb, so when you release it, it fills with air and nasal debris.
Oral Suction
Oral suction devices have become very popular in recent years. These products will feature one end that goes in the child's nose and a mouthpiece connected to a hose that allows the parent to suck as if from a strong. This precise and controlled suction puts you in charge.
Age Range
Most of these products will also include an intended age range for their products. This can be based on the size of the nasal tip and the power of the suction. For each product, we'll include the manufacturer's suggested age range, but in our review, we will mention if we find any discrepancies. For example, some products that claim to be for newborns may be far too large and toddler-age products might not actually have enough suction power to deal with the hard boogers of an older child.
Now that you understand the basics of what to look for in an aspirator, we'll take you through the ten best available options we've found.
Top 10 Best Baby Nasal Aspirators 2023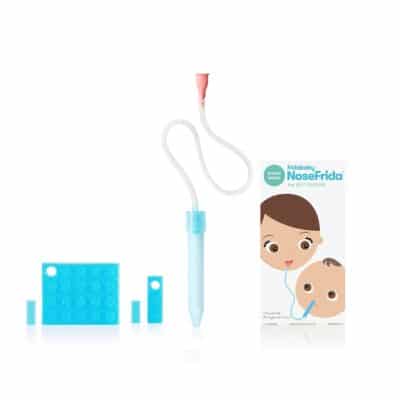 Why we like it:
The NoseFrida has become a huge favorite among parents for its effective and easy to control suction
Editor's Rating:
Quick Facts:
Suction Type: oral suction
Ages: newborn+
Special Features: included hygiene filters
Product Features
This product, developed in Sweden, lets you suck the snot out of your baby's nose with your mouth while being safe and hygienic for both of you. The aspirator consists of a plastic tube with a rounded end (a.k.a. The "snot straw"), a nose hose, and a mouthpiece.
To use, you place the filters in the holder between the tube and the hose to allow air to pass through without allowing any baby boogers into the hose. Then you place the tube end in your baby's nose, making a seal, and suck on the mouthpiece. Gently move the tube in a circle inside your child's nose as you suck.
This simple, pediatrician-recommended system is gentle and effective. After using, you remove and dispose of the filter and then wash and sanitize the tube and hose.
Negatives
If your baby has a very small nose and a case of the wiggles, it can be hard to fit the tube end of this aspirator into their nostril at the correct angle and keep them still all while sucking on the mouthpiece. It's definitely an exercise in multi-tasking.
For some people too, watching your child's mucus get pulled up into a tube that is ultimately connected to your mouth, might be somewhat unnerving, and it may expose you to the bacteria in your child's nasal passages. You may prefer a system that doesn't get you as up close and personal with the process. In that case, an electric option like our pick from BabyVac.
Who It's For
For a simple system that actually works and doesn't require any sort of charging, many parents find that this option from FridaBaby suits their needs perfectly. It can draw out a large amount of mucus quickly and easily. It's also easy to disassemble and clean. For most parents and babies, this is one of the best options on the market to clear out nasal congestion.
Pros
Allows you to control the suction

Comes with disposable hygiene filters

Easy to clean

Works on large amounts of congestion
Cons
Requires parental multitasking

Puts you in close contact with mucus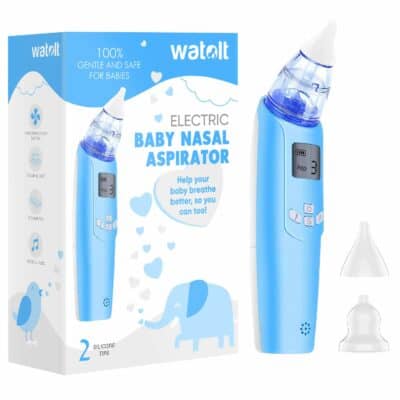 Why we like it:
This electric option helps prevent your child from feeling anxious during use.
Editor's Rating:
Quick Facts:
Suction Type: electric
Ages: newborn-toddler
Special Features: plays comforting music and has entertaining lights
Product Features
This battery-powered aspirator has two different nozzle tips to suit a variety of needs. The gentle nozzle is more delicate for newborns, and the power nozzle handles the thicker congestion of toddlers. The system also has three different suction power levels to be as gentle or intense as your child needs to clear their mucus.
The tool has a series of compartments that collect your child's snot and prevents it from getting into the electronics. Simply disassemble these top pieces and sanitize them after each use. The small size makes this discreet and convenient to take with you for a day out and the system comes in a handy case.
If you're worried about your child feeling anxious about having an electronic device so close to them, Watolt has a few built-in features that help with that. The LCD display shows pretty lights while the device plays a cheerful tune to help cover the sound of it working.
Negatives
While this device offers a lot of convenience, if you need serious suction, you might be a little disappointed. Even on its highest setting, it might struggle with thick, packed mucus. The company even recommends using a saline spray in advance to help break up your child's congestion before using this product.
You may also find that the battery drains pretty fast if you use the special light and sound features as well. Since this runs on batteries, rather than being rechargeable, there is extra expense to consider for what's already a pretty expensive product, and extra waste as well.
Who It's For
If your family is always on the go, it might be nice to have a self-contained aspirator that can come along with you. If you're looking for an easy way to reduce your child's congestion, particularly loose runny mucus, this product is a very gentle option that allows you to work one-handed. It can also help distract a baby that hates having their mucus cleared.
Pros
Two nozzles and three power options

Gentle for newborns

Easy and convenient to use

Distracts stressed child
Cons
Suction may not be strong enough

Battery wears out quickly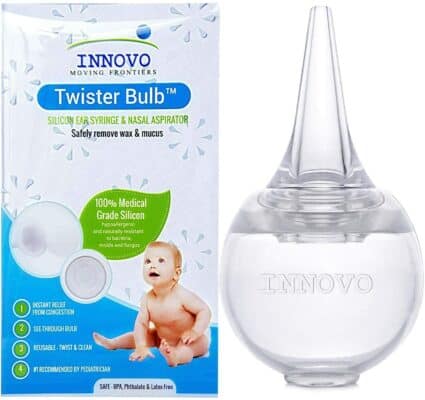 Why we like it:
This twist on a classic bulb syringe is easy to use and clean.
Editor's Rating:
Quick Facts:
Suction Type: vacuum suction
Ages: newborn+
Special Features: twist-off top
Product Features
Sometimes classics endure for a reason. While bulb syringes may not have the most pleasant memories associated with them, they do work and have been a staple of family medicine cabinets for decades because of it. Innovo offers a few improvements on the classic bulb with this design.
Made of 100% medical-grade silicone, this bulb is completely clear. This allows you to see it working and gauge whether it's getting full. It also fixed a major issue people have with bulb syringes: they've made it easier to clean. The top of this bulb twists off to allow you access to the reservoir so you can clean it out thoroughly.
This system can be reused again and again without ever having to pay for additional batteries or filters, making it very budget-friendly. The narrow tip also makes it versatile. You can use it to clear mucus or earwax build-up safely and gently. It also comes with a small bag for storage and travel.
Negatives
If you squeeze the bulb along the seam where the tip attaches, it is possible for this to come apart while you're using it. To avoid a mess or loss of effectiveness, you should squeeze from the bottom.
It also seems like you do compromise some of the suction strength to have the convenience of being able to take this apart. The vacuum pull isn't quite as strong as you might find on a traditional single-piece bulb syringe.
Who It's For
For a simple and intuitive option, this is a good choice for most parents and babies. If you want the same easy and familiar bulb style, but are tired of them having to be replaced because they're so hard to thoroughly clean, this could be the solution you're looking for. The silicone material it's made from makes it resistant to mold and bacterial growth, giving you extra peace of mind.
Pros
Simple and intuitive to use

Twists apart for easy cleaning

Lets you see amount of mucus

Can be used in ears too
Cons
Might come apart during use

Not as strong as traditional bulb syringe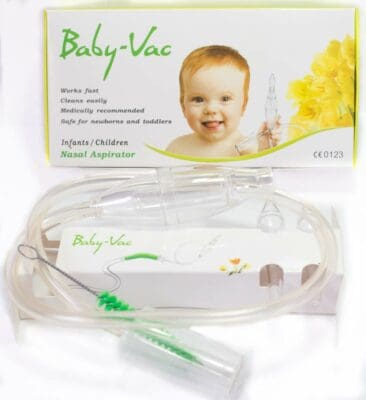 Why we like it:
This aspirator regulates the suction power of your home vacuum to power nasal clearing.
Editor's Rating:
Quick Facts:
Suction Type: electric
Ages: newborn+
Special Features: attaches to any vacuum
Product Features
If you're looking for a truly different option for nasal aspiration, this unique device gives you another way to clear your baby's mucus. This tool attaches to any vacuum hose with a diameter between 0.9 and 1.22 inches and uses the suction power of your vacuum rather than your breath or batteries.
The vacuum attachment has a hose that attaches to a special three-chamber device that circulates the air to prevent the pressure from becoming too intense and causing injury or discomfort.
The tip forms a seal in your baby's nostril and the mucus is sucked into a collection reservoir in the device. The whole thing is transparent so that you can watch it working. It comes with a small cleaning brush to help you scrub out any sticky snot when you wash it with hot soapy water after use.
Negatives
While this is a clever solution, there are a few things that can make it less ideal. This tool is hard to use on your own, so if you're alone with your baby, you might need a simpler solution. One parent will need to be controlling the vacuum while the other parent ensures it's stable in the child's nose.
You also might need to consider how your child reacts to the vacuum. If they're afraid of it, it might make it more difficult to keep them calm and still while you treat them. There's no way to distract them from the noise, unlike our pick from Watolt which anticipates that issue.
There is also the chance that any mucus collected can escape the reservoir since it isn't sealed. It can travel up the hose and if you're not paying attention, it could get into your vacuum which may cause issues with your machine.
Who It's For
If you need powerful suction, but don't want to fuss with a device that relies on having batteries ready or uses you as its power source, this is a really smart pick. It uses something that most of us have in our home already and with a few simple pieces, turns it into an aspirator. The amount of snot it can draw from your child is truly impressive as long as you can keep them still.
Pros
Strong, but safe suction

Works with most home vacuums

Does not require another power source

Comes with a cleaning brush
Cons
Hard to use without another person

Children may be afraid of the vacuum

Snot can escape the reservoir into the hose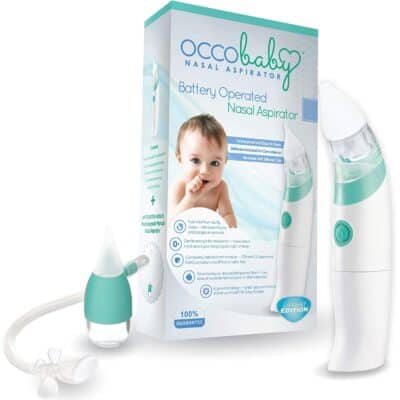 Why we like it:
This set includes an easy to use electric option and an oral aspirator.
Editor's Rating:
Quick Facts:
Suction Type: electric and oral suction
Ages: newborn-preschool
Special Features: bonus manual aspirator
Product Features
The Occobaby electric aspirator comes with three different tips to help you comfortably fit your little one whether they're a newborn or a fussy toddler. The whole system is BPA and Latex-free to be extra safe for sensitive children and adults.
This battery-powered sucker is very similar in style to a digital ear thermometer. With one on/off button, the system is easy to operate and it collects mucus in a small reservoir behind the suction tip. While using, you must gently swirl the tip in a circular motion to thoroughly clean your child's nostril.
This set also comes with a bonus manual aspirator that you can keep in your bag. Much like other manual aspirators, you use your mouth to create a gentle and precise suction power to draw out excess snot. The whole system is backed by a 100% money-back guarantee as well.
Negatives
Despite having three different tips, this product can still be a little hard to fit into tiny newborn nostrils. Without a good seal, it can be hard to get enough suction to effectively pull out all the snot and boogers in your child's nose.
The snot containment chamber is also somewhat small and prone to overflowing and creating a mess inside the tip of the device. Keeping it clean and sanitary can be a challenge because of this.
Besides that, the noise can be a little scary for small babies. If you're looking for an electric option that has a better-contained snot reservoir and has built-in features to distract your baby, our pick from Watolt might be a better fit.
Who It's For
If you have a cold and allergy-prone family then this set might offer you the ease and versatility you're looking for. The manual aspirator will be more ideal for the youngest of babies, but the electric sucker with its range of tips can be just the thing for toddlers and preschoolers. It gives you the option to use whichever method works best with each child in your household if you have several youngsters.
Pros
Simple one-button power

BPA and Latex-free

Bonus manual aspirator

Manufacturer's guarantee
Cons
Hard to fit the tip with newborns

Small snot reservoir can overflow

Noise can frighten babies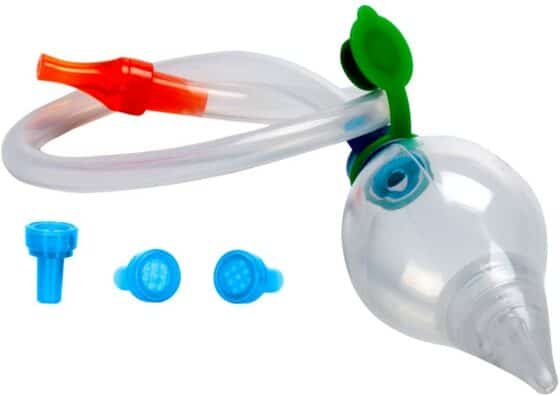 Why we like it:
This single device can be adapted to use with oral or vacuum suction.
Editor's Rating:
Quick Facts:
Suction Type: oral suction and vacuum
Ages: newborn-toddler
Special Features: 2-in-1 suction power
Product Features
NeilMed offers options when it comes to clearing your baby's nasal passages. This system can be used as an oral aspirator or a bulb syringe. This allows you to adapt to whatever your child needs or more easily use it with multiple children.
The kit has a hose with a mouthpiece and includes 7 disposable filters that attach to the end of the hose. This attaches to a bulb with a narrow tip to fit in your child's nose. The bulb end has a flap closure that allows it to be used as a bulb syringe, disconnected from the hose.
All the pieces are made of dishwasher safe silicone and the set comes with a handy mesh bag to keep all the pieces together between uses.
Negatives
Like most oral aspirators, this product will require you to purchase new filters frequently. The starter set only contains seven filters and replacement packs are a bit expensive even though the product itself is moderately priced.
This product totes itself at being very gentle, and therefore better for very young babies. For thick and stubborn mucus, though, you may find this product too gentle. It can be hard to get strong and consistent suction to pull enough out of your baby's nose.
The bulb head is also difficult to fit in the small nostrils of some newborns, despite this product being intended for use with them. If you're looking for a stronger oral aspirator that might be a better fit for your little one, you may prefer our pick from NoseFrida.
Who It's For
If your baby finds it uncomfortable to have their nose aspirated and can only handle very gentle suction, this system might be the best choice. It allows you to use the bulb syringe for more topical congestion, or the oral aspirator to slowly and gently draw more from deeper in their nasal passages. For the most delicate touch, this can help with loose, runny mucus. For tougher stuff, it may not be as effective unless you use saline drops first.
Pros
Bulb or oral aspirator usage

Dishwasher safe

Very gentle suction
Cons
Comes with very few filters

Might be too gentle to be effective

Bulb head may be too large for newborns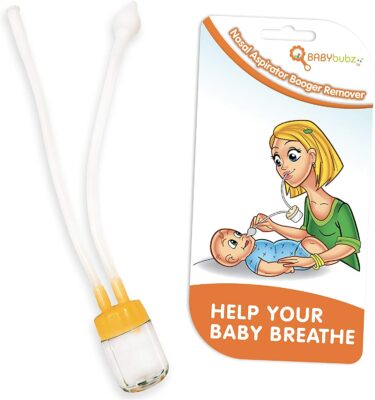 Why we like it:
This aspirator has a soft silicone tip that fits even the tiniest of noses.
Editor's Rating:
Quick Facts:
Suction Type: manual
Ages: newborn+
Special Features: filterless system
Product Features
Rather than relying on a disposable filter to keep your baby's mucus out of your mouth, this system relies on a more widely available recourse: good old-fashioned gravity.
This aspirator has two hoses that connect to a container. One hose has a soft, small tip to fit into the baby's nose and the other hose has a mouthpiece for you. With the container hanging in the middle, any solids from your child's nose will drop into it, preventing it from coming into the mouthpiece's hose. When it's time to clean, the container's cap unscrews and the hoses disconnects.
This system promises to be effective without any saline or nasal sprays and it comes with a lifetime warranty.
Negatives
Despite the company's claims that this will clear your child's nose without any medicine, it really can only get runny, loose mucus on its own. As with most aspirators, you will probably need saline drops to loosen drier or more packed mucus.
While the gravity system will typically work, if the reservoir starts to get full while you're using it, there is a definite risk of some mucus getting sucked up into the mouth hose and exposing you to your child's snot and germs.
And since the snot and boogers are drawn straight into a tube, rather than a wider container, this can be hard to clean thoroughly. For parents looking for a system with the security of a filter that's easier to clean, the NoseFrida system might be a better choice.
Who It's For
This device has one of the smallest and softest nasal tips on an aspirator. If your newborn has incredibly tiny nostrils that can't seem to fit any other tip, this might be your best option. If a hard plastic tip chafes or irritates their little nose, this could come as a welcome relief. Just take it slow when sucking a large amount from their nose, and don't be afraid to use some saline.
Pros
No additional filter cost

Very small, soft nasal tip

Lifetime warranty
Cons
Only effective on runny mucus

Mouth hose can become contaminated

The hose can be hard to clean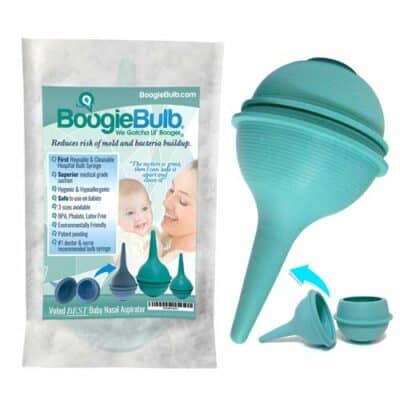 Why we like it:
The simple and effective vacuum method combines here with massive capacity.
Editor's Rating:
Quick Facts:
Suction Type: vacuum
Ages: newborn-toddler
Special Features: n/a
Product Features
The BoogieBulb keeps things simple with a classic bulb syringe to create vacuum suction. This device is available in three sizes, from one-ounce capacity to three-ounce capacity. The one ounce is perfect for the tiniest of babies and the three-ounce is suitable for toddlers. The tip also scales in size between the one and three-ounce bulbs.
This syringe is made of medical-grade PVC that is free from latex, phthalate, and BPA. Unlike traditional bulb syringes, this splits in the center for easy cleaning. Simply pull the two halves apart and wash out any mucus so that it can be reused again and again.
To use, you must press down on the bottom of the bulb and then slip the tip into the baby's nostril. The natural vacuum will pull out build-up inside your child's nose.
Negatives
The PVC material of this product is pretty dense. This makes it harder to operate since you need to keep pressure focused on the bottom or risk it coming apart in your hand. You need to ensure a very snug fit between the two pieces or else you risk an extreme reduction in suction power as well.
The three-ounce toddler size is particularly large and clumsy to operate with just one hand. The tip also seems more adult-sized than toddler-sized. However, while the tip of the one-ounce bulb is smaller, it still seems too large to be used for preemies, as the company states. The tip is also very hard, which can be uncomfortable for sore little noses.
For a nasal tip that's actually small enough to fit the littlest of little ones comfortably, you could try our pick from BabyBubz.
Who It's For
If you're looking for an aspirator that has a huge capacity to collect all the junk in your child's nose, particularly as they get older, this can suck up a ton. While it seems to work better for larger children, particularly the biggest size, the smaller sizes still hold much more than most aspirators. It's also handy that you have the option to open it up for cleaning so you can be sure there's no mold or build-up left inside after each use.
Pros
Holds up to 3 oz of mucus

Splits in the middle for cleaning

Free from harmful chemicals
Cons
Hard to operate

Can lose suction

Oversized for small children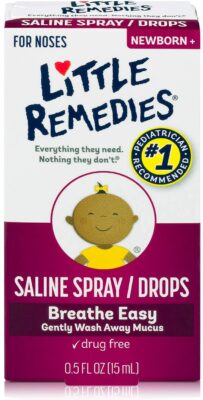 Why we like it:
Using these saline drops will make any aspirator more effective.
Editor's Rating:
Quick Facts:
Suction Type: n/a
Ages: newborn-preschool
Special Features: 2-in-1 bottle
Product Features
For really thick, stubborn mucus that can't be budged through traditional means, you may need to add a saline solution to your first aid kit. Many nasal aspirators recommend being used in conjunction with saline because it helps soften and loosen congestion.
This solution from Little Remedies can be used in two ways. It can be sprayed up into the nasal passage, or it can be dripped in gently– whichever works better for you and your baby. After applying the drops, you may want to gently massage your baby's nose to help flush out dried or thick mucus.
After use, you should wipe down the tip of the bottle to keep it clean and you shouldn't use the same bottle on multiple children to keep from spreading illness.
Negatives
Using a saline solution may not completely clear your child's sinuses on its own. A product like this is often used as a companion to a nasal aspirator that helps it be more effective. Until your child is old enough to start blowing their own nose, you will probably still need an aspirator to clear stubborn snot.
It is also a little disconcerting that there are extra additives in this product that don't necessarily have to be there. Saline is a very simple formula, but Little Remedies adds a few extra bells and whistles to theirs. It's debatable whether the extra moisturizers and softeners actually improve this product, but they can pose some risk. Certain ingredients added to this product could irritate your child's eyes, for example, if they squirm and some of the product misses their nose.
It can also be a little hard to use the spray feature of this bottle on very small and wiggly babies. The tip is a bit wide.
Who It's For
If you're having trouble clearing your child's congestion, you should absolutely consider using a saline wash. Sometimes your baby is still struggling to breathe, but the aspirator isn't pulling very much from their sinuses. This can mean their nasal passages have dried out or the mucus is simply too thick. This product does a great job of loosening everything up and getting it flowing so that no matter which aspirator you choose, it can do its best to help your baby.
Pros
Loosens stubborn congestion

Can be sprayed or dripped

Makes aspirators more effective
Cons
Won't always clear congestion on its own

Extra additives could irritate the eyes

Hard to use the spray feature on small babies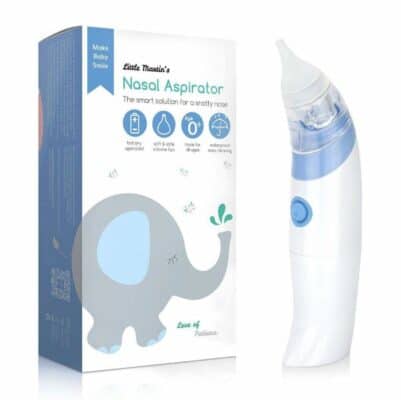 Why we like it:
With one-touch power, this whole device can be thoroughly and safely cleaned.
Editor's Rating:
Quick Facts:
Suction Type: electric
Ages: newborn-toddler
Special Features: n/a
Product Features
This electric snot sucker by Little Martin's is small and lightweight, fitting easily into the palm of your hand. The whole system is waterproof, allowing you to thoroughly clean it when needed.
Featuring a soft silicone tip, a mucus collection cup, and a silicone ring to prevent the machinery from getting gunked up, the device is simple and easy to operate. There are two different sized nozzles included in the set to help you get the best fit for your child.
The motor is quieter than many electric models, making it a little less intimidating for young children. Since it can't go very far into the nose and only requires the press of a single button to operate, your toddler may even be able to feel independent, holding and controlling it by themself.
Negatives
Despite not having any special functions, the battery life on this product is poor. It will need to be changed more frequently than you might think and will start losing power as the battery gets low. The suction can also be inconsistent, especially as the product gets older and you use it for a longer amount of time. It seems like it can start to wear out after several months of use.
There is also a tiny hole in the top of the device to help provide airflow, but from time to time, if you are sucking out particularly wet and loose mucus, it can spray out of that small hole. That can leave you doused in your child's snot.
For consistent and easy suction, you might want to be a little more old school and try a modern take on a bulb syringe, like our pick from Innovo.
Who It's For
If your child is getting older and you want to allow them a little more agency when it comes to caring for their health, this is a good aspirator for them to use on their own (but supervised). It's simple to operate and the suction is gentle, so they are unlikely to harm themselves. But they can have the satisfaction of loosening up their own boogers, which can make the process of teaching them how to blow their nose a little easier.
Pros
Completely waterproof

Small and lightweight

Easy to operate, even by a child
Cons
Poor battery life

Loses suction power over time

Can spray you with mucus
Answering Your Questions About Baby Nasal Aspirators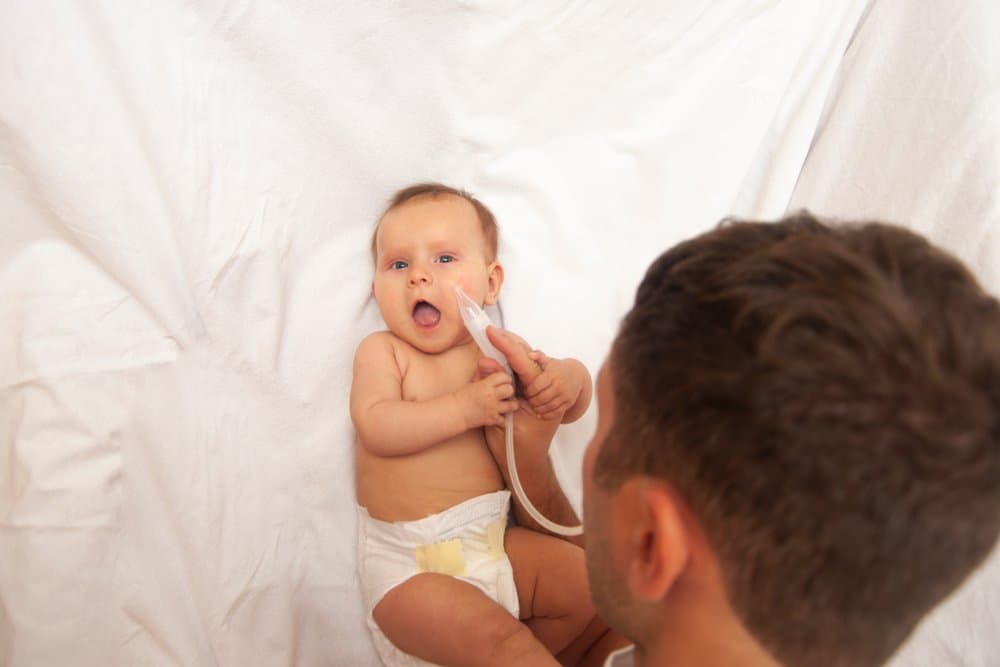 If you're a first-time parent, it's easy to be anxious and overwhelmed about all the ways you have to look out for your baby. Keeping them breathing clear may be one you hadn't thought about before.
Here's a quick guide to some of the basics when it comes to using an aspirator on your baby.
How to Use a Nasal Aspirator on Your Baby
The most important thing is to make sure your baby is comfortable and relaxed before you attempt to use any nasal aspirator. You should try to relax as well because our children can often sense our anxiety and feed off of it.
You should also find a comfortable position for both of you. With most aspirators, having your child lie on their back with their head supported and tilted up a bit will give you the best access. Some parents may find it easier to have their child on their lap, leaning against the parent's torso. Choose whatever's comfortable and gives you the best access.
If you're using saline drops to prepare their nose, do so 30-seconds to a minute before you start aspirating so everything starts to loosen. Then use whichever aspirator you've chosen by following the instructions included with the device. Clean it immediately afterward.
You may need to do this multiple times a day for your child depending on their level of congestion. Always start slow and gentle and be patient. You will also be able to find online tutorials for various models of nasal aspirator that can be helpful in walking you through the process.
Do Nasal Aspirators Hurt Your Baby?
Some parents may feel a bit unnerved because many babies hate to have their noses sucked. Since your child is probably already feeling poorly, they may be fussier than usual and the sensation from the aspirator may be uncomfortable.
Overall, nasal aspiration is considered safe and even necessary in some cases so that your child can take in enough oxygen. Since babies can't breathe through their mouths during their first few months, it's essential to keep their noses clear.
However, it is possible to over-do-it when it comes to nasal aspiration. It can be possible to suck too hard, particularly with oral aspirators. This could cause damage to their sensitive sinuses, making them inflamed and potentially worsening their feeling of congestion. It's best to go slow and not use more force than you would drinking from a straw.
It is also possible for the nostril to become irritated, especially if you're using a hard plastic tip that may be too large for them. Choosing the correct size tip and keeping your child still during use is important to reduce chafing. You can also have two different aspirators on hand, one with a softer tip to swap on and off depending on your child's needs. Also, try not to aspirate them more than 2-3 times a day.
There are some risks, so it's important to always use an aspirator correctly.
Helping Your Baby Breathe Easier
Aspirators aren't the only way to help your child breathe easier. If they are just starting to get stuffy, then using saline rinse might be enough to help the mucus flow out. From there, you can use a tissue, or even a q-tip to help remove excess snot from around their nose. Gently massaging the nose and sinus area can also help break up congestion, allowing it to come loose.
You can also keep their nasal passages more moisturized, which will prevent a build-up of snot and will help them better fight respiratory viruses. Using a cool-mist humidifier, especially while your baby is sleeping, is a great way to keep them breathing easier. You can also use the old-fashion shower steam method if you don't have a humidifier on hand. Run a hot shower, letting the bathroom steam up, and then sit in the bathroom with your baby for a few minutes to let them inhale the warm, damp air.
Keep your baby well hydrated to thin the mucus in their passages. You might also place a small pillow under their head to help encourage their sinuses to drain during sleep. However, if your baby is still in a crib, you shouldn't do this. Pillows should only be used with children who are at least two years old.
If you're concerned about your child's congestion, you should contact your doctor. In most cases, their little immune systems are just getting used to all the viruses and bacteria in our world, but if their illness seems more serious, your doctor might need to do tests to see if it could be allergies or a more serious respiratory illness. From there, they can advise treatment.
How to Clean a Nasal Aspirator
No matter what kind of nasal aspirator you choose, you must clean it after every use. If there is a disposable filter, you should also throw that away after each use. While you may think nothing got in the filter, small particles can remain and they can grow mold or bacteria.
Most aspirators will include specific cleaning instructions, but there are a few basics that work with nearly any type.
First, you will need to disassemble the aspirator. In most cases, hot soapy water will be sufficient to remove any mucus. Some people may want to further sterilize their aspirators if their child is ill. Check to see which disinfectants are appropriate for your particular device. After you have cleaned and rinse the aspirator, leave it somewhere safe where it can air-dry. Residual water in the device can cause mold. After it's dry, store it somewhere your child can't reach.
Final Thoughts
It can be scary if your child is having trouble breathing. However, this is a normal part of their early years. Their little bodies are learning to fight all the germs of this world and doing so will make them stronger.
You can help make your baby more comfortable as they fight their first few illnesses by comforting them and by keeping their nasal passages clear. We hope our list has given you a good range of options so you may find one that will be comfortable and effective for your baby. Get them breathing clearer and feeling better fast.