It's probably not uncommon for you to walk downstairs and see your child playing on their phone or watching their fifth episode of TV in a row. With how prevalent technology is, trying to get them to play outdoors can sometimes feel like pulling teeth! However, a Fitbit may be the solution to your woes. These trackers can serve as a way to motivate kids to move, play around, and rack up those active minutes.
How to Choose the Right Fitbit
The main things that distinguish Fitbits from each other are the features that they offer and the designs that they come in. Below, we'll cover the main differences between Fitbit devices so that you can make an informed choice when it comes to tracking your child's health.
Types of Fitbits
We'll categorize the type of Fitbit by design and appearance. Below are the three main designs of Fitbit that you'll find on our product review list.
Smartwatch
With a smartwatch Fitbit design, think versatile and powerful. These Fitbits typically have the most features and advanced settings, though they cost more as well. They can also be the easiest to break due to all the complicated parts, so you don't want to buy them if your kid is a little too rowdy.
The most advanced smartwatch on our list would be the Fitbit Sense. However, we recommend the Fitbit Versa 3 for a less expensive but well-rounded smartwatch!
Watch
Several Fitbits come in a watch format but don't offer the advanced capabilities of a smartwatch. While these devices work as health trackers, you won't be able to respond to text messages or calls with this type.
If you're purchasing a Fitbit for a younger child, we recommend going with a watch or a clip-on Fitbit. Our top pick would be the Fitbit Inspire 2.
Clip-On
The original Fitbit design. These devices come in a clip-on format, which can be attached to belts or the waist of pants. If your child doesn't like having something around their wrist, a clip-on Fitbit may be the best option for you.
They're also low maintenance and stay out of the way as your child plays. Our favorite clip-on Fitbit would be the Fitbit One Wireless.
Factors to Consider When Buying a Fitbit
Before jumping in, we'll go over some of the most important factors when it comes to purchasing a Fitbit. These devices can be expensive, so you want to make sure you've picked the right one before making the investment.
Age
The age of your child is important for several reasons. Due to data protection laws, most Fitbits are only legally allowed to be used by kids that are at least 13 years old. However, the Fitbit Ace has a family account feature, which makes it suitable for kids as young as 6.
The age of your child can also determine which features they may want from a Fitbit. 6-year-olds might be more interested in colorful bands, accessories, and reward systems. However, teenagers may want a Fitbit with the capability for calling, texting, and other notifications from their phones.
Parental Controls
Since this may be your child's first smartwatch or tracker, you'll want to have control over what data is collected and how they're using it. Younger kids may need a Fitbit with more parental control settings, while older kids won't need this level of supervision anymore. This also ties into the "Age" factor listed above.
Durability
Get a Fitbit that can withstand wear-and-tear, especially if you plan on giving it to a younger child. Little kids aren't always the best at keeping their possessions in top condition, and you'll have to account for that before your purchase. In addition, make sure the bands are flexible and durable as well so that they don't cause discomfort with continued wear.
Water Resistance
Getting a Fitbit that has water resistance can make a world of difference, especially if your child is prone to spilling things. In addition, if they like to swim (or have an unhealthy addiction to pool toys) and want to track their activity in the pool, a waterproof Fitbit may be the best option for you.
Battery Life
Battery life can determine how long your Fitbit can go without being charged. If your child is on the more impatient side, you may want a Fitbit with longer battery life so that they don't have to charge it as often. After all, it can't track activity if it's dead!
Fun and Games
Fitbits are supposed to encourage your child to get more active! Depending on how old they are, the 'fun factor' may be the most important thing to help do this. You'll want a Fitbit that gets them excited to move and exercise from day-to-day.
Now that we've covered the main things to look for in Fitbits, let's get into our top choices!
Keep in mind that only the first choice is suitable for kids under the age of 13, and all other choices are meant for teenagers.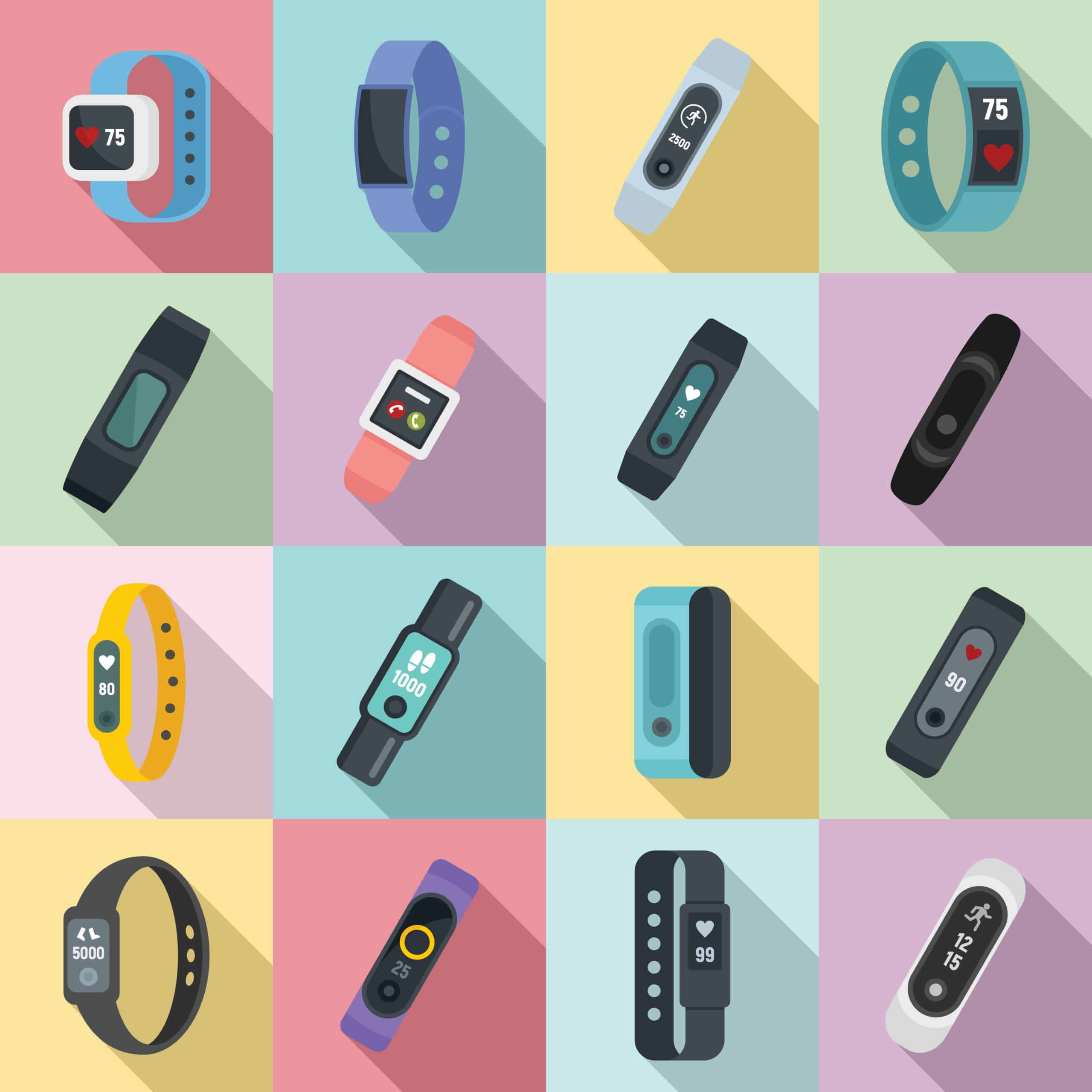 Top 10 Best Fitbits for Kids 2023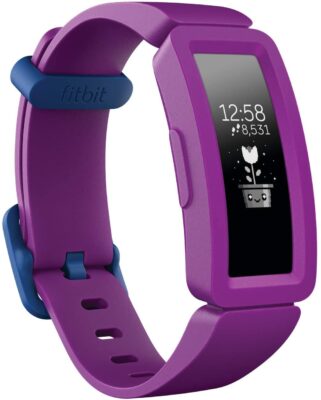 Why we like it:
While most fitness trackers are built for adults, the Fitbit Ace 2 was designed with children in mind. Equipped with fun challenges and avatars, this fitness band is sure to get your child motivated and active!
Editor's Rating:
Quick Facts:
Type: Watch
Battery Life: 5 days
Water Resistance: 50m
The Fitbit Ace is the only watch designed with young kids in mind! It's also the only option suitable for kids under 13 years old who want a health tracker, due to data protection laws. In addition, your child can choose from multiple vibrant colors, such as grape, night skin, neon yellow, and more!
The display on this tracker can be customized to show a goofy avatar, a clock face, or any number of other options that your child may prefer. It also comes with special challenges and goals for your child to work towards, encouraging them to get active. It's also designed to be synced to a family account so that you can monitor your child's status and know that they're safe.
Notable Features
When it comes to features, the Fitbit Ace has almost everything save for the smartwatch features. For example, it has rudimentary activity and sleep tracking, though this isn't as in-depth as some options for older kids. It also connects to nearby smartphones to alert you of any incoming notifications.
The only downside is that due to the limited data it can collect, it doesn't come with a heart rate monitor, which gets rid of some of the more insightful statistics. However, the Ace 2 will likely have all the technology you need to monitor your young child!
Pros
Suitable for any kids 6 years old and up

The display can be customized to a personal avatar

Comes with fun challenges and goals

Able to be synced to a family account

Comes in multiple vibrant colors
Cons
Is not able to track heart rate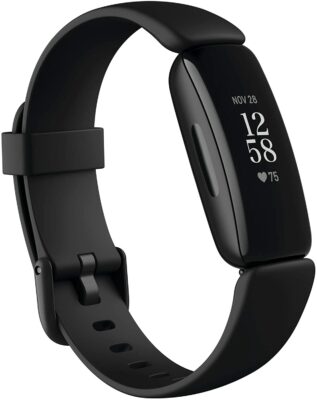 Why we like it:
The Fitbit Inspire 2 is an affordable option that still provides insight into your child's activity and sleep schedule. It can last over 10 days without needing to be charged, and uses reliable technology to keep track of all of your child's motion as needed!
Editor's Rating:
Quick Facts:
Type: Watch
Battery Life: 10+ days
Water Resistance: 50m
If you're looking for a reliable Fitbit that covers all the basic tracking functions, the Fitbit Inspire 2 is a good option. It balances price with quality to give you a baseline understanding of your child's health and exercise patterns. It also comes with one of the longest battery lives out of all the Fitbits available, so you'll rarely have to worry about charging it.
Unfortunately, the longer battery life is because of the small screen, which isn't able to display much information at once. It's also monochrome and plain, which may bore some younger kids.
In addition, it comes with a one year free trial of Fitbit Premium, which provides much deeper insight into your child's habits and activity levels. The Fitbit also comes with over 20 modes of exercise, so your child will always have an option to click before they start running around! It's budget-friendly and useful for keeping track of all the most important information.
Notable Features
It doesn't have as many features as the Fitbit Sense, but it still tracks heart rate, sleep, steps, and exercise. Its sleep tracking is advanced, using heart rate to measure time spent in light, deep, and REM sleep. It then combines all of this data together to give a sleep score in the morning!
Pros
Tracks time in light, deep, and REM sleep

Has over 20 modes of exercise

The battery can last over 10 days

Affordable and high-quality for its price

Comes with 1 year of Fitbit Premium
Cons
Smaller display size

Monochrome black and white display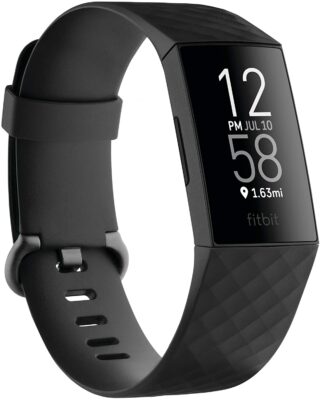 Why we like it:
If your child wants a tracker to accurately gather data for their runs, the Fitbit Charge 4 is a solid option. It comes within the typical price range of a fitness tracker even though it's loaded with GPS technology and music technology, so your child can listen to songs as they work out!
Editor's Rating:
Quick Facts:
Type: Watch
Battery Life: 7 days
Water Resistance: 50m
The Fitbit Charge 4 comes with many of the same features as the Fitbit Inspire 2, but with a wider screen to display information better. This makes it easier to navigate, especially if your child has larger fingers and finds the Inspire too small.
However, because the display is larger, the battery life is 3 days less than that of the Inspire, although it can still last for a week without charging. In addition, the band is also thicker, so if your child has smaller wrists, the Charge 4 may be too clunky for a regular fitness tracker. Keep in mind that it only comes with 90 days of premium rather than a year of premium.
Notable Features
The Charge 4 has most of the same features as the Inspire 2, such as sleep tracking, heart rate, and active minutes. However, it also comes included with GPS capabilities, so it can track your child as they run and accurately get measurements for their jog.
If your child's main form of exercise is running, this feature sets it far above the Inspire 2. It can also play music and songs, which the Fitbit Inspire cannot do.
PRO TIP: Before your child logs too much running time with this device, make sure they have a good pair of running shoes. The last thing you want is a child who gets sidelined with injury while trying to beat their personal best.
Pros
Comes with GPS capabilities

Can play music during workouts

Designed to accurately get measurements from running

Larger display with more information

Has sleep score technology
Cons
Only comes with 90 days of premium

The wristband may be too clunky for children with smaller wrists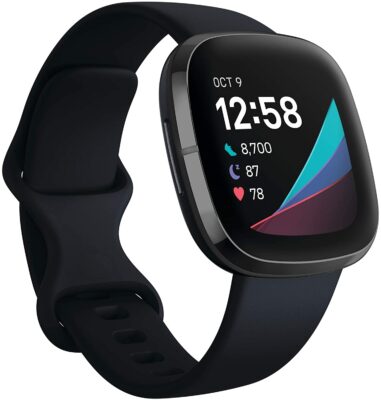 Why we like it:
The Fitbit Sense is one of the newest smartwatches to hit the market, and the fitness tracking capabilities extend past previous Fitbit devices. With an added stress tracker and irregular heart rate detection, you and your child will know everything there is to know about their movement and exercise.
Editor's Rating:
Quick Facts:
Type: Smartwatch
Battery Life: 6+ days
Water Resistance: 50m
The Fitbit Sense is the first released of its line, and it currently has more features than any other option available. While it is more expensive than the other options on the list, it uses cutting edge technology not currently implemented in any other Fitbit devices. It also has the most accurate sensors and works to provide in-depth feedback on how well your child is doing.
It also comes with a six month free trial of Fitbit premium, so you'll be able to experience all that Fitbit can offer! This Fitbit is more advanced than other devices, so it may be more suited for your older children to use rather than your youngest kids. The overabundance of features may overwhelm little ones.
Notable Features
In addition to the typical features associated with smartwatches (like answering calls and texting), it also accurately tracks your heart rate and sleep. It has a few upgrades when compared to the Fitbit Versa 3, such as stress tracking with an EDA sensor, ECG temperature measurement, and heart rate alerts for irregular heart rate!
The ECG app has already received FDA clearance, so you can rest assured that it's safe to try out. However, because this Fitbit is newer to market, there haven't been as many people who've tested it out yet.
Pros
Offers more features than any other Fitbit

Comes with stress tracking software

Has ECG temperature measurement

Includes heart rate alerts

Received FDA clearance on the new technology
Cons
Not as many people who have tried it

Most expensive Fitbit available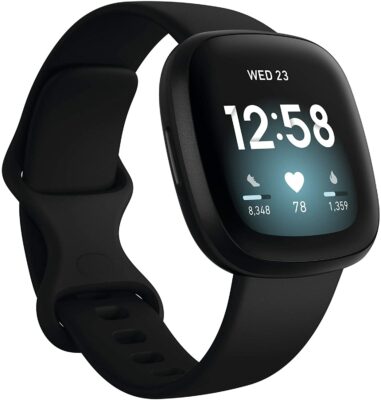 Why we like it:
If you're looking for the classic Fitbit smartwatch, the Versa 3 is the newest addition to the line. It comes with all features needed to understand your child's health and tracks heartrate using Fitbit's new PurePulse 2.0 technology.
Editor's Rating:
Quick Facts:
Type: Smartwatch
Battery Life: 6+ days
Water Resistance: 50m
The Versa line is Fitbit's original line of smartwatches, and it's seen the most advancements since the original Versa. Equipped with a 90-day premium trial, you're sure to get an in-depth understanding of your child's health status, down to how much they may sleep. It also comes with GPS capabilities, sleep tracking, and all other technology Fitbit is known for.
The main drawback is that it is a smartwatch, so it's not as durable as some of the regular watches and trackers. This means it's suited for teenagers rather than young kids, and you'll want to make sure they use it carefully since it does cost a little more. In addition, it may come with features you might not need, such as compatibility with Alexa.
Notable Features
This Fitbit smartwatch is one of the first to use PurePulse 2.0 technology, which helps it gather more accurate heart rate data. In addition, as with most new smartwatches, you'll be able to answer calls and texts or sync it up with a google assistant when needed. The only difference is that it doesn't come with stress tracking and heart rate alerts like the Fitbit Sense does.
Pros
Tracks heart rate using PurePulse 2.0

Has GPS capabilities

Pairs with Alexa when needed

Can answer calls and texts

Tracks sleep data accurately with new heart rate technology
Cons
Not as durable as some trackers

More suited for older children

Doesn't include stress tracking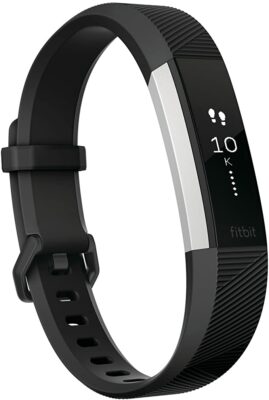 Why we like it:
If you want a no-frills Fitbit for your teenager that covers the basics, the Alta HR is a solid investment. It covers all essential tracking software without costing you extra.
Editor's Rating:
Quick Facts:
Type: Watch
Battery Life: 7 days
Water Resistance: NA
The Fitbit Alta HR is a solid choice for teens who are into health and want an in-depth view of how they're doing without splurging on a smartwatch. It has many features, just like the Verse editions, but the battery lasts a day or two longer since it doesn't need to operate a complicated interface. In addition, it works in all conditions, from 14 degrees F to 113 degrees F, making it more durable as well.
The Fitbit can work up to altitudes of 30000 meters, so this Fitbit tracks all your steps even when you go hiking or backpacking! The circumference of the wristband runs between 140 to 170 mm as well, so it's a good fit on most wrists. Unfortunately, it has no water resistance, and as a result, it cannot track swimming.
Notable Features
Like some of the newer models, it comes with most of the features you're looking for in a fitness tracker, such as notifications for sleep tracking, heart rate, and more. However, this Fitbit also comes with an OLED screen, which is more advanced than some of the older models such as the Fitbit Zip.
Pros
Tracks heart rate with original PurePulse technology

Measures sleep stages and gives sleep scores

Works up to 30000 m altitudes

Suitable for hiking and backpacking

Operates in most temperatures
Cons
Does not have water resistance

Cannot track swimming like other designs

Suited for older children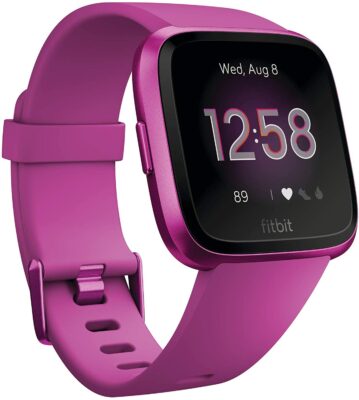 Why we like it:
The Fitbit Versa Lite is an affordable smartwatch and health tracker, perfect for a child who wants a larger display! They'll be able to experiment with a smartwatch, and you won't have to pay nearly as much.
Editor's Rating:
Quick Facts:
Type: Smartwatch
Battery Life: Four days
Water Resistance: 50 m
If your child enjoys the larger display of smartwatches compared to the traditional tracker, you'll quickly realize that most smartwatches are rather expensive! However, the Versa Lite edition allows your child to get most of the benefits of a smartwatch while being over $100 cheaper. It keeps the necessities for fitness tracking and gives a much larger screen than traditional trackers.
Just keep in mind that as a smartwatch, you'll want to be more careful as the screen may be easier to break. In addition, its heart rate tracking isn't as refined as some other Fitbit products.
Notable Features
While the Fitbit Versa Lite won't have all the features that the full Versa edition or the Fitbit Sense have, it still has all of the essentials. This includes over 15 exercise modes, sleep tracking, and heart rate—everything your child needs to measure their health! Just like other smartwatches, you can also respond to texts if you own an Android device.
Pros
Not an expensive smartwatch

Comes with sleep tracking and heart rate

Has over 15 exercise modes

Can also respond to texts
Cons
Heart rate tracking is not as advanced

Less durable than Fitbit trackers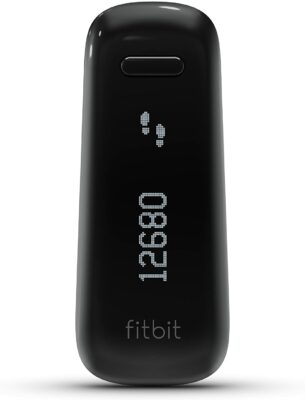 Why we like it:
The Fitbit One Wireless is a clip-on tracker that stays out of your child's way while they're playing. Since it's not on their wrists, your child will also be more comfortable as they get active.
Editor's Rating:
Quick Facts:
Type: Clip-on
Battery Life: 7-10 days
Water Resistance: Splash-proof
If your child doesn't like wearing a tracker or watch around their wrist, the Fitbit One Wireless is a clip-on tracker that won't get in the way. It can sync up to 20 feet away from your phone and is best for kids who only want a general idea of their everyday fitness levels. The display is small and simple, showing an overview of steps and distance. You'll have to tap to switch between screens.
Unfortunately, the Fitbit One is splash-proof but not fully water-resistant. Your child won't be able to go swimming with it, and they'll also need to make sure they don't have it on when they shower.
Notable Features
Ultimately, it doesn't include as many features as other Fitbit trackers and smartwatches, but it can track basic information, such as steps, distance, calories, and stairs climbed, all while clipped onto your clothes! In addition, you can set alarms on the Fitbit One and have it softly buzz when it's time to notify you. However, since it doesn't have direct access to your skin, it won't be able to track heart rate, sleep, or any other advanced features that trackers and watches offer.
Pros
Doesn't require wrist wear

Syncs up to 20 feet away from phones

The display is simple and easy to navigate

Has basic step tracking and alarm capabilities
Cons
Cannot be used when swimming

Won't be able to track heart rate

Not as advanced as the trackers and smartwatches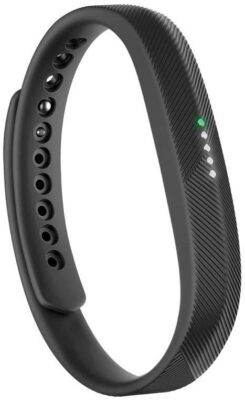 Why we like it:
If your child is picky about what they wear, the Flex 2 is a wrist tracker that checks all the boxes. It's slim enough to not bother them, and it's small enough to be hidden under any wrist accessories they pick!
Editor's Rating:
Quick Facts:
Type: Watch
Battery Life: Five days
Water Resistance: Splash-proof
The Fitbit Flex is one of the slimmest fitness trackers available while still being wearable and functional. It can easily hide under wristbands or other wrist accessories and stay out of the way, unlike the Versa smartwatches. In addition, your child can use it to set up silent alarms, and the LED lights will be able to show their progress towards daily goals.
Unfortunately, it is also only splash-proof, so your child won't be able to wear it while they're swimming. They'll also have to take care when they're around water to not break the Fitbit. In addition, it doesn't have a heart rate tracker, and kids won't be able to track sleep because of that.
Notable Features
The Fitbit Flex comes with many of the same features as the Fitbit One Wireless, but has some extra abilities to automatically track certain workouts (though it is more expensive). It can also receive notifications and alert your child with special vibration patterns or flashing colors. The LED lights will slowly light up to show them their progress towards daily exercise goals.
Pros
Slim wearable fitness tracker

Easily hides under wrist accessories

Can receive notifications and texts

LED lights show progress towards exercise goals
Cons
Cannot be used when swimming

Does not track heart rate

More expensive than the Fitbit One Wireless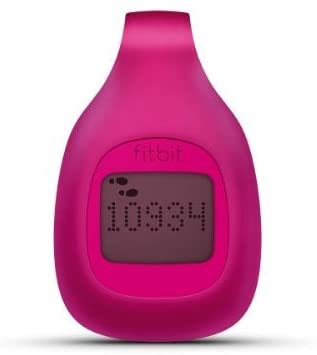 Why we like it:
For a basic fitness clip-on tracker, the Zip is a solid choice. It works as an accurate pedometer for your child and gives them all the necessary insights into their active minutes and distance walked per day.
Editor's Rating:
Quick Facts:
Type: Clip-on
Battery Life: Months
Water Resistance: Splash-proof
This Fitbit is one of the original devices produced, and it has all the basic capabilities of a Fitbit. It's not as slim as some other clip-on devices, but it is small, light, and will stay out of the way. If you only want your child to be able to track their fitness and not worry about phone notifications, this is the choice for you.
Unfortunately, this Fitbit is not rechargeable like its clip-on alternative, the Fitbit One Wireless. It requires lithium batteries, so you may have to purchase them regularly if you plan on buying this Fitbit for your child. However, one battery does power the Zip for months, so it's not something to be overly concerned with!
Notable Features
The Zip can track steps, distance, and calories burned, though it can't track stairs climbed. It functions as an accurate pedometer and can recognize some exercises after constant movements and active minutes. It's able to sync to the same Fitbit app, just like all of the more advanced Fitbit choices.
Pros
Clips onto clothing and doesn't need to be worn on the wrist

Has all basic fitness tracking capabilities

Don't need to worry about charging every week
Cons
Needs a lithium battery to operate

Syncs to the same Fitbit app
Guide to Picking the Perfect Fitbit
As technology gets more and more advanced, you may notice your kid sitting around and being glued to their screen more than you'd like. While a Fitbit may solve this issue, you'll need to make sure you choose the best one to get them moving and outside once more!
Each child has different needs and preferences, so we'll walk you through the best features to look for when picking the right Fitbit for your kid.
Introduction to Various Features
While all Fitbits are built differently, below are the main activity features that they might include. Keep in mind the ones you want the most when it comes to tracking their health and movement.
Heart Rate
Heart rate tracking is usually only included on select watch-style Fitbits, and it measures the average and resting heart rate of your child. When synced with the Fitbit app, you can get a graph showing how their heart rate fluctuates throughout the day. With heart rate tracking, you'll be able to know whether your kids are healthy overall, as well as their heart rate changes when they exercise.
Step Tracking
Step tracking measures how far your child walks every day, so you can help set goals for them to hit. This way, you can congratulate them for hitting 10K steps or encourage them to move if their step count is particularly low. Some Fitbits can even send a reminder to your child for them to move every hour so that they don't sit still for too long.
Sleep Tracking
Sleep tracking is a way for Fitbits to measure how much light sleep, deep sleep, and REM your child gets per night. It calculates their sleep cycle based on their heart rates and gives an overall sleep score for the night. You'll need to sync the Fitbit to the app to get the full results, and you may need to purchase Fitbit Premium for deeper insights.
Active Minutes
Active minutes are how many minutes your child moved per day. Research suggests that they should be aiming to move around for at least 60 minutes a day, three days a week. A Fitbit can be a good way for you to stay on top of that! Active minutes are calculated through heart rate as well.
Custom Workouts
If your child already has a workout that they enjoy, a Fitbit can record data for it. Some Fitbits allow you to create custom workouts with times on the app, and once you sync it to your device, they'll buzz you at set intervals. Fitbits also come with many activities already built-in, and you can toggle between them as needed to track calories and active minutes.
GPS System
Fitbits with a GPS system ensure you always know where your child is. The GPS location is consistently updated when synced to the app, and can also be used to measure how far your child runs if they like to go jogging. This is as much a fitness feature as it is a security feature.
Challenges and Games
Some Fitbits come with adventure and challenge functionalities, which brings a bit more fun into exercise for your child! If they have friends who also own a Fitbit, they can connect through a leaderboard to see who walks the most steps. There are also other games available, such as Tic Tac Toe, which can help bring some competitiveness into your child's exercise routine.
How to Get Started With a Fitbit
When you first get a Fitbit, all of the available features and app functionalities can get overwhelming. Below, we'll cover the process of syncing your Fitbit to your app and getting the most out of your purchase!
Syncing the App
When you sync the Fitbit to an app, the data that your child's device has collected will be wirelessly uploaded to your phone and displayed via easy-to-digest graphs. You'll need to have Bluetooth open on your phone and keep the app open as well to get set up! Fitbits can sync with most iOS devices, Androids, and Windows 10 devices.
Fitbit Premium
When you first download the app, you'll notice that there's a premium option available as well. This is a monthly (or annual) subscription that gets you full functionality with the Fitbit app. There are more guided programs, special premium challenges and games, and extra fitness stats that are available here.
While the free version of the app already gives you and your child a comprehensive look into their activity, premium offers a deeper and more specialized breakdown throughout the day. For example, the sleep tracker also throws in a measurement of "Restlessness" throughout the night, so you know how much your child was tossing and turning.
Premium also gets them access to guided workouts and mindfulness programs that can help them catch their breath. You can read more about Fitbit premium here. However, keep in mind that the basic Fitbit app also gives an in-depth look at your child's activity, which is enough for basic monitoring!
Customization Options
When it comes to kids, nothing makes them happier than customizing their possessions! There are two main ways that you customize a Fitbit to your child.
Customizing the Dashboard
When it comes to smartwatches and watch faces, you may be able to customize the dashboard for how the time, steps, and other display features are shown. There are various templates available on the app for you to pick from. Keep in mind that not all Fitbit devices offer this functionality, and you'll be unable to customize the dashboard for the Fitbit zip.
Wristband and Cover Choices
Most Fitbits have either a wristband or a cover that can be switched out. You can pick a soft silicone if you're worried about the wristband rubbing against your child's wrist too roughly. In addition, wristbands also come in multiple colors, so you can let your kid direct the wheel here if they have a wristband that they enjoy!
Pros of Using a Fitbit
Still not convinced that a Fitbit may be the right choice for your child? Here's a summarized list of pros for all the ways they can help.
Track bedtimes for your child
Know how much they're moving around
Remind them to move every hour
Reward them for being active
Make physical activities more social
Fitbits bring technology into traditional play, offering a way for your child to genuinely enjoy being outside when they know their steps are being counted. The simple reward system could be just what you're looking for when it comes to motivation!
Final Thoughts
Getting a Fitbit for your child is the first step to motivating them to move and exercise more! As a parent, nothing is more important than making sure they stay healthy, and Fitbits could be a part of the solution. It can get your little one running around outdoors and racking up those steps for a chance to top the leaderboard, turning boring activities into exciting ones!