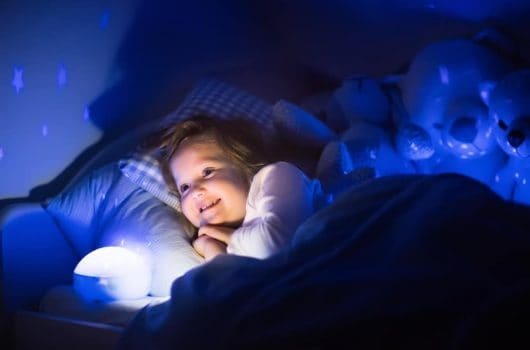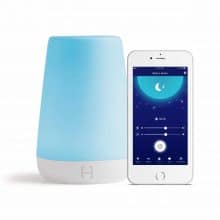 Hatch Baby Sound Machine and Nightlight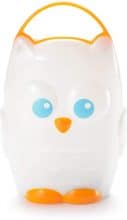 Munchkin Light My Way Nightlight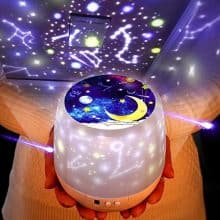 Luckkid Night Light
Previous
Next
Getting your baby to sleep is vital for both you and your child, but it's not always easy to create the right environment to promote sleep. Not a lot of people know this, but having the right night light can help immensely. If you need to nurse, provide light for your little one, or even want to add some decoration to your child's room, a night light is what you need.
How To Choose the Perfect Baby Night Light
We know that shopping for a night light might seem simple, but when shopping for any baby-oriented product, you need to make sure that you consider all of the options. Night lights for babies have different benefits, and your child might react to each one differently. So, before you buy, make sure you have all of the right information. We'll be showing you ten great night lights that you can try out, and we have great pointers for you to keep an eye on to help you throughout the selection process.
Types of Night Lights
Night lights may seem like a standard, basic light, but this is not the case. While adult night lights may be simple, night lights for babies come in all different shapes and sizes.
Traditional night lights
Traditional night lights are the most basic night lights that you'll come across. These night lights don't have a lot of additional features or any sort of wow factor, but they serve their purpose. Traditional night lights can come in all different shapes and sizes, and they're usually affordable for any budget. Always be sure to check the number of colors they have, as each color can set the mood for things like nursing, wakeup time, and bedtime.
Projection night lights
Projection night lights create a projection that can be seen on the ceiling. These night lights will typically project the stars of the solar system, and they can be great for showing your baby that it's bedtime. Some projection lights have typical night light settings while others don't, so always pay attention to the description. If you want a night light to last your baby well into their toddler years, a captivating projection night light is a great option.
Sound machine night lights
Sound machine night lights are a packaged deal. These lights can be used to soothe a baby with gentle sounds, and they can also be used as a night light to relax your baby for nursing time. Sound machine night lights aren't for everyone, but for parents that like the idea of a sound machine, keep your eyes peeled. These night lights tend to be a little more expensive, though.
Age Group
Night lights aren't always great for every age group. Some night lights may work better for very young babies, while other night lights can be used well past the one year mark. Always consider the needs of your child, and be sure to see what ages work for you. Traditional night lights will have a longer lifespan, but projection night lights can be great from birth to the early toddler years.
Portability
There are many aspects of a night lights design that determine how portable it is. Some products must be continuously plugged in to a USB charger or AC adapter to stay on, while others run on internal or external batteries. On top of that, some options include handy clips and other features to really make them perfect for ensuring your little one gets a good night of sleep wherever you go.
Timers
Night lights can burn out quickly if they're left on all night long. At times you may want to leave your night light on for an extended period of time to make sure your child has the light they need. So, to create the perfect balance for your child and electricity bill, high-quality night lights will come with timer settings. Standard timer settings include, but are not limited to, 15 minutes, 30 minutes, 45 minutes, and up to an hour.
Top 10 Best Baby Night Lights 2020
Everything You Need to Know About Baby Night Lights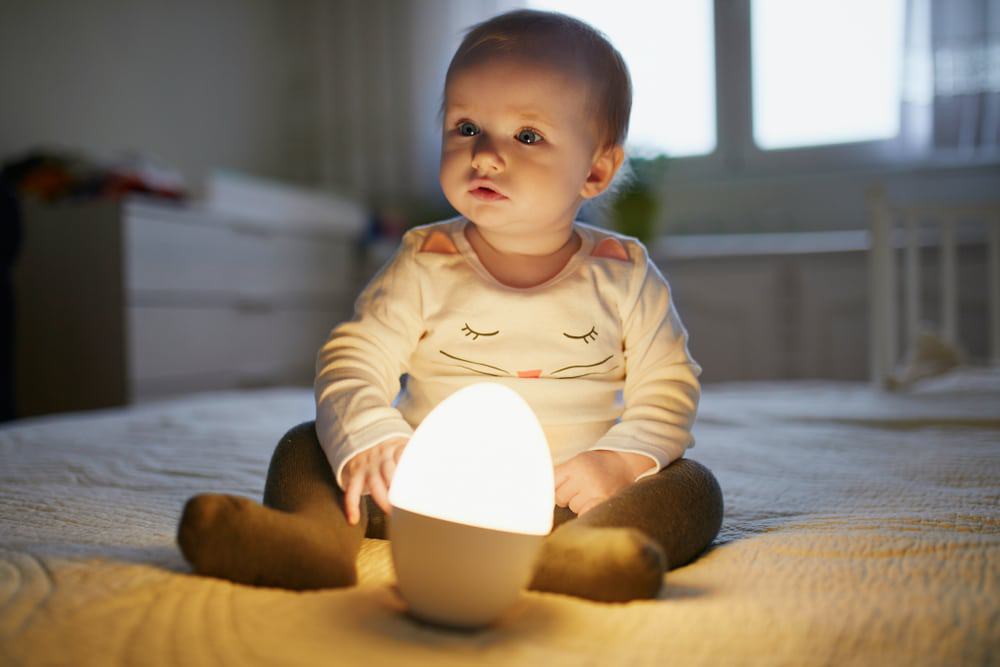 Choosing the Right Night Light for your child
There are a lot of options to choose from, which can make the buying process a bit difficult. So, if you're a little lost, use this brief section to compare products to your needs. We'll provide you with some significant situations for night lights and the products that fit each one the best.
Nursing
If you're a mother, you know how tricky it can be to set the mood for feeding time. Having a night light can help stimulate your baby's spirit and can make feeding time much more manageable. If feeding time is one of your primary concerns, we recommend going with a night light like the Hatch Baby Sound Machine and Night Light. Using a sound machine combined with a warm colored light is a great way to set the mood for both you and your child.
Sleeping
Night lights can provide enough light to keep your child comfortable without overwhelming them. From a young age, some children may show signs that they're afraid of the dark. This is more common in toddlers, but even some younger infants may have this fear. If you notice that your child is always crying when the lights are off, it's an excellent time to try out a night light. Depending on the age of your child, any night light can work well. If you're looking for a simple view that will turn off once your child is asleep, the Munchkin Light My Way Night Light is a great option.
While being afraid of the dark is a great reason to get a night light, for babies, showing them that it's night time is also a good idea. Projection night lights work very well because they can place your baby right under the stars. If you're looking for an excellent projection night light to help your baby drift away, the Luckkid Night Light is a unique projection night light that comes with soothing lullabies.
Soothing
Night lights that have a few different light colors can be very soothing for both you and your child. You would be surprised by how much the color of a room can impact your baby's mood. So, if you want to give this a try, some great night lights to consider are the Lumipets Night Light and the VAVA Home VA-CL006. The Lumipets Night Light is great for setting the mood through different color choices, and the VAVA Home VA-CL006 has great brightness settings that can create a mellow atmosphere for hours on end.
Learning
Once those baby years come to an end, your child will start to get curious. So, when your child gets a little older (around two years), if you want to promote learning, a projection night light can do the job. Night lights that work well for curious children include the 3D Moon Lamp and Moredig Night light Projector.
Clutter
You've probably noticed that your child's room can fill with clutter quickly. This applies to children of all ages, and as they grow older, this problem is going to get worse. In this situation, using a dim night light like the Skip Hop Stroll & Go Portable Baby Sleep Soother can help illuminate the room without disturbing your child's sleep. When using a night light in this situation, you'll be able to attend to your child without harming yourself in the process.
Energy efficiency
Energy efficiency is always something to keep an eye on. When you use a night light as the primary source of light in your baby's room, compared to an overhead light, you'll notice that your electricity bill will decrease. So, not only can a night light create a pleasant sleep atmosphere, but it can also save you a lot of money. Most of the night lights on our list can help, but options like the Munchkin Light My Way Night Light and the Skip Hop Stroll & Go Portable Baby Sleep Soother work well thanks to their efficient use of AAA batteries.
Changing time
Those midnight diaper changes can be a hassle when the lights come on. Having a light abruptly turned on late at night can disrupt your child's sleep, and it can make it difficult for them to fall back asleep again. Using a powerful yet night light like the Hatch Baby Sound Machine and Nightlight to illuminate the changing table can make those midnight diaper changes go smoothly.
The downsides to using a night light
Night lights may be a great sleep companion for your child, but they're not perfect. Night lights can cause problems if they're not used correctly, which means that you should always know the risks and how to avoid them. Luckily, if you choose the right products, risks can be avoided.
Light exposure
Exposing anyone, including babies, to too much light can cause problems with their sleep routine. Children either become dependent on the night light being on, or it can be hard for them to fall asleep in general. If you want to keep the risks associated with light exposure down, night lights like the VAVA Home VA-CL006 and the Hatch Baby Sound Machine and Night Light are great options. Both of these lights can be dimmed and set on a specific timer.
Harmful plastics
You might not think that plastic night lights can be dangerous, but if your child happens to put a night light in their mouth, there can be health risks. BPA-free and silicone night light options are the best way to avoid potential hazards in very young children. Two great products to combat this risk are the Lumipets Night Light and the VAVA Home VA-CL006. The VAVA Home VA-CL006 uses BPA-free plastic, and the Lumipets Night Light uses a silicone body that's both washable and cuddle friendly.
Fire risk
Poorly made night lights can spark and catch fire. The risk is very minimal, but the risk of a fire is something you should be aware of. To avoid this risk, be sure to consider a night light that runs on a timer. Most of the products on this list, including the Moredig Night light Projector, are all great choices that include timers.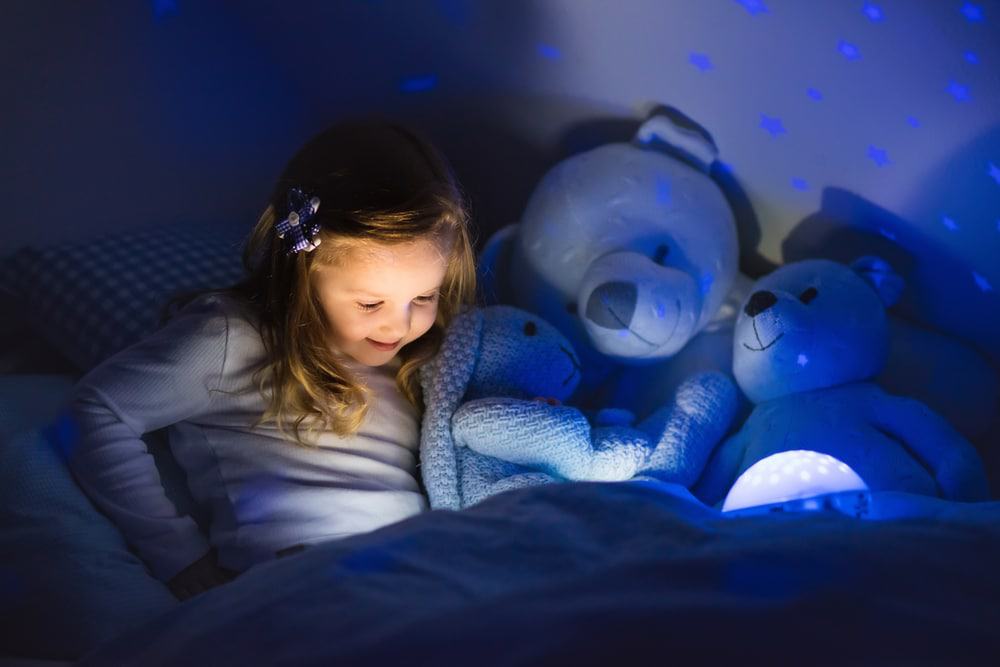 FAQ
How long should a night light be kept on?
Night lights can be kept on all night, but this can put a strain on the light and your power bill. We always recommend leaving it on while your little one drifts away, but either use a timer or turn it off on your own after about one hour. Turning a night light off before it heats up can also help reduce the risk of a fire.
Should toddlers use a night light?
Once your baby reaches their toddler years, you might want to begin removing the night light. While this may work for some children, if your child is displaying a fear of the dark (or if they enjoy the light but turn it off while they sleep), there is no harm in leaving it with them for a while longer. Some night lights like the 3D Moon Lamp or the Goline Cat Lamp can even be used well into your child's teenage years.
Is a night light worth the money?
The value of a night light depends on how you use it. If you're just looking for a basic traditional nightlight, there are a lot of inexpensive options on the market like the extremely affordable Munchkin Light My Way Night Light. When night lights become more costly, like projection night lights, that cost rises because it has more features.
Are night lights safe for babies?
Night lights are safe for children of all ages, and in most cases, they can enhance your baby's sleep experience. Night lights can also be used to set the mood for things like feeding, and have been known to reduce stress in toddlers that fear the dark. Overall, there are risks, but using the best baby night lights will provide benefits without the risks.
What color should I use for a baby?
Choosing the right color is a lot harder than it sounds, and a lot of night lights have a bunch of options. A good rule to follow is that shades of red can be the most helpful. The color itself won't impact your child's sleep, and with red being a warm color, it can set the mood. If you're not sure what colors your child prefers or you want to experiment, try a light that offers many different options like the the Hatch Baby Sound Machine and Night Light.
When should I introduce a night light?
Babies don't always need a night light, and if your child is sleeping fine without one, there is no need to introduce one. At the age of 3 years old, anxiety around the dark may develop, and if this occurs, three years old is a great time to introduce a night light into the mix.
Final words
Shopping for a night light is not what it used to be, and great care needs to be taken when shopping for your baby. Night lights come in all different shapes and sizes, so always be sure to consider the needs of your child. For example, for nursing mothers, a traditional night light might work better than something flashy like a projection night light, but an interesting complex light could entertain your child for years. Remember, something that works for someone else may not work for you, so take your own unique considerations into mind before making your selection.