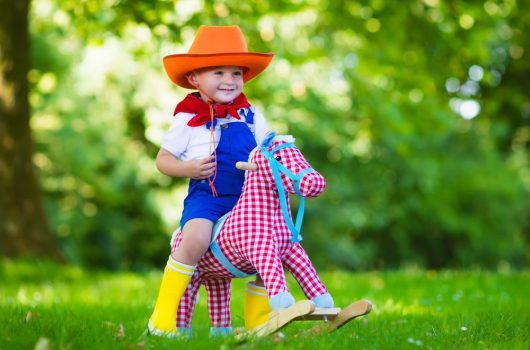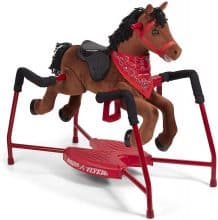 Radio Flyer Interactive Riding Horse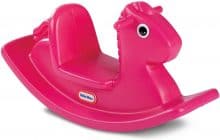 Little Tikes Rocking Horse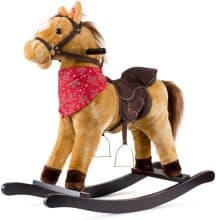 JOON Cowboy Rocking Horse
Previous
Next
The rocking horse is a tradition and a classic symbol of childhood around the world, with a history dating back to the 17th century. Not only are these ride-on toys a lot of fun for kids of all ages, but rocking toys can also play a positive role in early childhood development. A well-built rocking horse can also double as a piece of decor and last long enough to be passed down through generations. To help you find the perfect rocking horse for your family, we put together a list of our favorite rocking horses to buy in 2020.
What to Look for When Buying a Rocking Horse
Rocking horses are great, but with such a wide variety of types and sizes to choose from, parents should make sure to do their research before choosing which one to buy.
Picking our Favorite Rocking Horses
Every rocking horse that made our list is a good choice for the right family, but to determine which ones were going to make the top of our list, we need to establish a set of criteria. Here are the factors we considered, as well as what options you should know about before making your decision.
Age Range
The most important factor to consider before shopping for a rocking horse is the age of the kids who are going to be riding. Depending on the model you choose and the size of your child, they could keep riding their rocking horse until they are six years old or even older. Most rocking horses fall into one of two size categories, the smaller of which usually fits children between the ages of 1 and 3. Larger rocking horses are usually meant for children between 3 and 6 years old.
Safety
Especially if your child will be using their rocking horse while unsupervised, safety is the primary concern. For each rocking horse we reviewed, we will let you know if there are any safety risks to consider.
Weight Limit
This is the most important aspect of making sure your child is safe while riding a rocking horse. Riders who exceed the weight limit of the rocking horse they are on can cause the rocking horse to break or fall over.
Size
Some rocking horses take up a lot more room than others. Parents who have limited space in their baby's nursery or playroom should make sure they consider this when shopping for a rocking horse. The area around a rocking horse should be clear while your little one is riding in order to prevent injury should they fall off the side.
Fun Factor
Every little kid we know loves rocking back and forth on a cool horse. For each entry on our list, we will let you know what makes it stand out and why kids love it.
Style
Rocking horses can be quite large. This means that it's quite likely you will be looking at any rocking horse that you buy quite a bit. We'll let you know what we think of each horse's style as well as which styling options you can choose.
Durability
A beautiful rocking horse makes a great family heirloom, we'll let you know what we think of each horse's chances of standing the test of time.
Now that you have a good idea of what you should be looking for in a rocking horse for your baby, here is our list of the top 9 rocking horses to buy for your child in 2020.
Top 9 Best Rocking Horses 2020
Rocking Horse Buyer's Guide
There are few children's toys as universally loved as the rocking horse. Originally gaining popularity in Victorian England, this riding toy has delighted dozens of generations of children. It was even inducted into the National Toy Hall of Fame in 2004. It makes sense to us. Rocking horses are fun to ride, they help babies develop their motor skills and muscles, and they look great in playrooms and pictures.
Types of Rocking Horses
Even though every rocking horse basically does the same thing, there are big differences in how they get the job done. Depending on your budget and the features you are looking for, any of these kinds of rockers might fit the bill.
Wooden Rocking Horses: The first thing most people picture when they think of a rocking horse is a simple all-wooden riding toy.There are still some rockers being sold that are made only of wood, but they aren't very comfortable to ride.
Plush Rocking Horses: This is the most popular type of rocking horse sold today. Plush rocking horses like Lucky The Talking Plush Spring Horse combine a soft body with a frame made of plastic, metal, or wood. These horses are more comfortable to ride and support your baby's physical development better.
Plastic Rocking Horses: Perfect for preschools and households with lots of young children, a plastic rocker like the classic Little Tikes Rocking Horse is super durable and easy to clean.
Spring Rocking Horses: Providing a smooth but bouncy ride, we believe that the rocking horses that are propelled by springs are the most fun and exciting. Most parents we spoke to agreed. The iconic Radio Flyer Interactive Riding Horse is a spring rocking horse and is our top premium pick for rocking horses.
Rocking Horses: A Toy Unlike Any Other
A child never needs to be told how to play with a rocking horse. Maybe it's instinct or a natural connection between humans and horses, but whatever it is, there is a special appeal that has kept these toys around for hundreds of years without any hint of going out of style. In a world where children are increasingly overrun by screens, the rocking horse continues to be a breath of fresh air.
In addition to providing wholesome fun for both boys and girls, rocking horses also provide great exercise for your little one and help them develop crucial balance and coordination. Especially for toddlers, rockers build core strength and promote healthy muscle growth. A sturdy rocking horse is a great opportunity for your little cowboy to use their developing strength and release their energy in a safe way. Rocking movements also trigger the systems in the body responsible for balance, which will make your child more steady on their feet.
Rocking Horses and Mental Health
The soothing motion of a rocking horse is often a welcome comfort to children who are too old for pacifiers and baby bassinets. Combined with the emotional attachment many children form with their own rocking horse, there is little doubt among parents that there is a tangible mental health benefit for little ones who spend time rocking on a horse.
Rocking Horses for Kids With Special Needs
Because of the positive mental effect of riding a rocking horse regularly, many experts suggest a rocking horse to help soothe children with special needs. There are even extra-large rocking horses with high weight capacity for special needs children and adults.
A Rocking Horse Can Become an Heirloom
Do a quick online search for vintage rocking horses and you will find lots of rockers from every era that sell for more today than they did when they were new. This is because a high-quality rocking horse like the JOON Cowboy Rocking Horse can last for generations and is always an appreciated hand-me-down. You can count on a sturdy wooden rocking horse to last for decades if taken care of properly.
Taking Care of Your Baby's Wooden Rocking Horse
For us, the main appeal of a quality rocking horse featuring a wooden frame is that it is built to stand the test of time. Here are some tips for keeping your baby's rocking horse looking great and rocking smoothly for years to come.
The best way to keep wooden parts of your baby's rocking horses looking shiny is with regular dusting. Over time, dust tends to settle on wood and can create marks. Soft cloths and feather dusters work best for this purpose.
Even if the wooden parts of your child's rocking horse are protected with finish or varnish, you want to make sure to clean up any spills right away. Wood surfaces should be routinely cleaned with a soft cloth with warm water.
Rocking horses are meant to be used, so it's only natural that your little one's rocking horse will have some nicks and scratches after lots of rocking. There are a variety of methods to fix these and keep the rocking horse looking like now, some are outlined in this video.
Rocking Horse FAQ
Q: What is the best rocking horse for toddlers and older kids?
A: Our favorite rocking horse for kids who are at least two years of age is the Radio Flyer Interactive Riding Horse. This rocker has a bouncy, spring-powered motion and variable sounds that change depending on how quickly your little one is rocking.
Q: When can babies begin riding on rocking horses?
A: With supervision, babies can begin riding rocking horses that have proper support for their back once they are able to sit up on their own power while rocking. Babies are ready for this by around their first birthday.
Q: What is the best rocking horse for babies?
A: Our favorite rocking horse for babies as young as 12 months old is the Baby Elephant Rocker by labebe featuring a seat with three high, cushioned walls, your baby is kept firmly in place while they rock with or without help from you.
By choosing the product that best suits you and your childs needs, you'll be selecting a well-built toy that should keep your little cowboy in training happy for years to come.