Top 11 Best Baby Pajamas 2020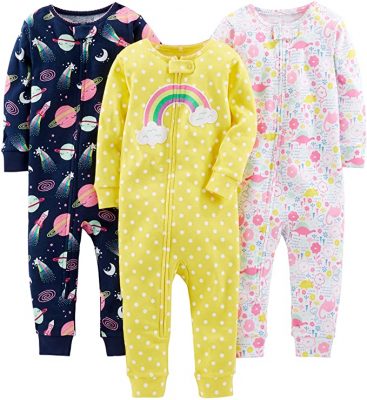 Sizes: 6-24 months. Runs small. Choose a bigger size than usual.
Material: 100% cotton
Flame Resistant Coating or Snug Fit: Snug fit
Diaper Changeability
These pajamas use an ankle-to-chin zipper plus a snap-over tab that provides a reasonable degree of changeability, although perhaps not the best on our list. The interior zipper isn't protected with cloth, which may irritate some babies' skin.
Design
We love a good pair of Carter's pajamas, and their snug fit PJs from the Simple Joys collection are the cream of the crop. These PJs are perfect for girls, with super soft 100% cotton that feels lovely to the touch.
But the best thing about these jammies—aside from the amazing prints—is the snug fit, which does a beautiful job of hugging the figure of babies big and small. Snug cuffs stop the material from drooping, which means these size up effectively so you can get more use out of them than the typical pair. And that's fantastic for your bank balance and saves the hassle of having to order more. For first-time pajama buyers, Carter's includes a comprehensive sizing guide which takes the guesswork out of the process.
If winter is coming and you want something a little warmer for your tot, then you can choose the fleece option instead of cotton. Do note, however, that these come in a flame retardant material rather than a snug fit, which not all parents are going to love.
The option listed is for girls, but you can shop here for the equivalent pair of PJs for boys.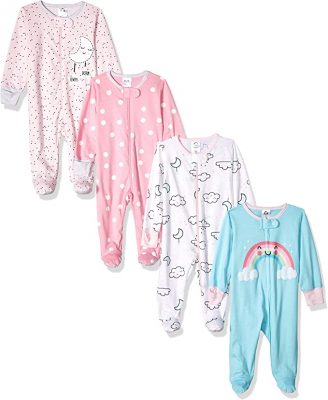 Sizes: Newborn to 9 months. These run much bigger than usual so grab a smaller size.
Material: 100% Cotton
Flame Resistant Coating or Snug Fit: Snug fit
Diaper Changeability
The Gerber Sleep n' play comes with a zipper at the front, which zips right down to the ankle. Diaper changes are easy enough, and the zipper has a handy safety tab – with a snap to hold it in place, thus preventing it from irritating the baby's skin.
Design
Gerber makes amazing pajamas, and the best thing for budget-orientated parents is that they are just so incredibly cheap. You get four pajamas with this pack, which is generally as many as a baby would ever need.
As you can see from the pics, the prints here are just adorable. And if you're not that keen on what you see, bear in mind there's a total of eight different designs to choose from. The 100% cotton material does the trick, feeling soft to the touch, and it's easy enough to clean. They are rather thin, though, so you might want to look elsewhere if you live in a cold climate.
Note that this model is footed, so you won't have to mess around with baby socks (hallelujah!). However, there's no non-slip stitching on the bottom of the soles, which means these footings are going to make baby slide all over smooth surfaces—not the best if your tot is old enough to stand or crawl.
The big downside here, however, is the sizing. It's is pretty terrible as these PJs run way too big. Aim for at least one size smaller than you think, or they'll be far too loose for your baby to wear safely.
Fancy a pair of these for your baby boy? Well, the good news is Gerber sells precisely the same product for boys as well.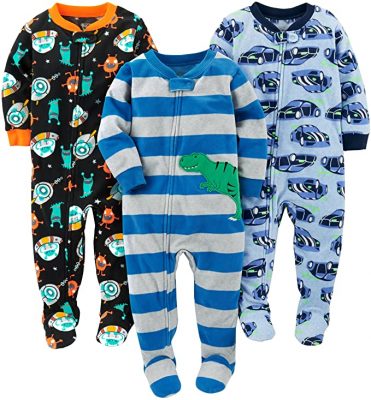 Sizes: 12 months to 5T (5 years old).
Material: 100% polyester
Flame Resistant Coating or Snug Fit: Flame Resistant Coating
Diaper Changeability
This model comes with an ankle to chin zipper and includes a snap over the tab to keep it in place. The classic method makes diaper changes a breeze.
Design
Cotton just won't do for babies living in cold climates (i.e., the northern states), especially once the winter months start to roll in. So to keep your beautiful baby all cozy and warm, it's best to invest in a pair of fleece pajamas instead.
Carter makes our best Best Baby Pajama Overall, and the fleece version from the same Simple Joys collection delivers the goods as well.
Why do we love Simple Joys so much? Well, Carter makes adorable and affordable products that do exactly what they intend. The 100% polyester fleece material is thick enough to keep baby warm but not too thick to restrict movement. And their synthetic fiber is much more simple to launder than cotton, plus they don't tend to tear so you can pass these down to your next child with minimal fuss.
At the bottom, there are two snug little footings to keep your baby's toes warm. Although these both have non-slip pads, be aware that they're far from infallible so your tot will tumble if they're old enough to walk.
As for the design, they're just gorgeous. We especially love the cute little lumberjack with black and red plait, although the dinosaurs are pretty lovely, too. Another massive plus with these is the sizing is spot on, so there's a pretty good chance you'll get exactly what you expect. These aren't suitable for tots under 12 months, though, so look elsewhere if you've got a newborn to clothe.
If you've got a gorgeous baby girl, then don't worry because these come in girl's patterns as well.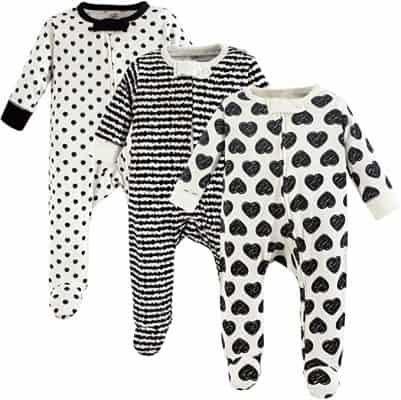 Sizes: Newborn to 12 months.
Material: 100% Cotton
Flame Resistant Coating or Snug Fit: Snug fit
Diaper Changeability
Leg to neck frontal zipper—a classic system that works like a charm.
Design
Don't fancy reinforcing gender stereotypes in your home? Or perhaps you just want some non-gender-specific jammies you can pass on from your daughter to your yet-to-be-born little brother.
Either way, these cool unisex pajamas from Touched by Nature are perfect for you. The 100% cotton material is soft to the touch and will keep your tot feeling comfy all-year-round in warmer climates. And for organic material, these are pretty easy to launder, too. Sadly, however, they do start to show signs of wear and tear pretty quickly, and some of the stitching isn't all that impressive.
Nevertheless, the black and white patterns on offer are super cute, and you can choose from dozens of different adorable prints. Plus, the sizing is accurate, so they'll probably fit your tot like a glove. As far as unisex baby PJs go, this cute pair from Touched By Nature is the cream of the crop.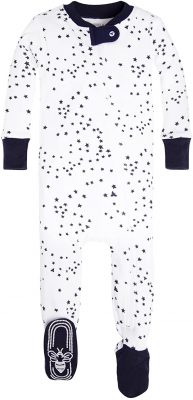 Sizes: Newborn to 24 months. Sizes run a bit too small so buy bigger than you think you need.
Material: 100% cotton
Flame Resistant Coating or Snug Fit: Snug Fit
Diaper Changeability
These come with a diagonal front zip that does the trick for easy diaper changes. Unlike some competitors, there's also a nickel-free snap tab on the zip at the neck to help protect your baby's sensitive skin.
Design
While stacks of footed pajamas on the market have non-slip pads in place to help your tot avoid nasty falls, we feel this model from Burt's Bees works better than the rest. On the soles of the footings, there's a cute stitched pattern of a bee that does a remarkable job of keeping your baby upright. And for ultra-active babies who've mastered the art of the crawl, that's a massive plus.
Aside from the extra grip, these are a pretty decent pair of all-round PJs, which you'd expect from the above-average price tag. The cotton feels softer to the touch than most, probably because it's 100% organic. And the fact it's GOTS certified (free from toxins such as bleach) and flame retardant-free is a nice little bonus on the safety front.
The one significant drawback? These are a little tiresome to launder as you'll need to do a cold, gentle cycle and a low-temp tumble dry.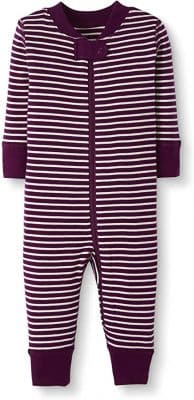 Sizes: Newborn to 3T. Runs a bit small so buy bigger than you need.
Material: 100% organic cotton
Flame Resistant Coating or Snug Fit: Snug fit
Diaper Changeability
This model comes with a nickel-free zipper with a protective tab and smooth flatlock seams. The whole system works pretty well—your baby's delicate skin will avoid irritants, and diaper changes are easy.
Design
The name Hanna Andersson is synonymous with quality, and their adorable range of top-of-the-line baby pajamas don't buck the trend.
So what makes this brand so brilliant? Well, it mostly boils down to the ultra-soft, 100% organic cotton at play. Although it's a little delicate in the wash (use warm water and dry naturally), this material is well worth the investment as it feels heavenly on the skin. It's a wee bit thicker than other cotton PJs on the market, which makes it superb at keeping your tot cozy when the mercury dips.
Of course, you can't look past Hanna Andersson's gorgeous prints either, all of which are unisex so you can pass them down between kids. We especially adore their Christmas patterns, but there are 27 different styles available, so you'll surely find something you like.
We also love how safe these are for babies with sensitive skin. The Moon and Back range has an Oeko-Tex Standard certification because it's free from over 100 harmful chemicals, which makes it an industry leader in the field.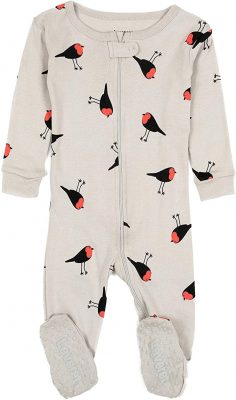 Sizes: 3 months to 5 years
Material: 100% Cotton
Flame Resistant Coating or Snug Fit: Snug Fit
Diaper Changeability
Ankle to neck nickel-free front zipper with a protective tab. Leveret has gone for the classic diaper changing system here, because why change what you already know will work?
Design
Want your little princess to look absolutely adorable every minute of the day? Then you need to think about prints. And Leveret offers the most outrageously loveable patterns on the market, especially for little girls.
Granted, there are only 12 different patterns to choose from here, which is significantly less than others on our list. Nevertheless, every single one is just fantastic—we especially adore the pink flamingos. And one of the great things about Leveret is their colors don't tend to run so you'll be left with a brand new-looking pair of PJs for years to come.
In terms of functionality, these deliver. The soft 100% cotton fabric feels lovely to the touch and offers just the right amount of protection in warmer climates (give these a miss during a northern winter). The fit aligns with what most parents would expect, but be aware natural fibers like cotton will always shrink a little in the wash. Speaking of laundry time, these are rather delicate, so you'll have to use cold water and wash them inside out to get the longest possible lifespan.
Another plus is the fabric is free from flame retardants and harmful chemicals. It's even got a tag-free label to protect your little one's sensitive skin.
Looking for something stylish to slip on your baby boy? Check out our top pick for baby boy prints instead.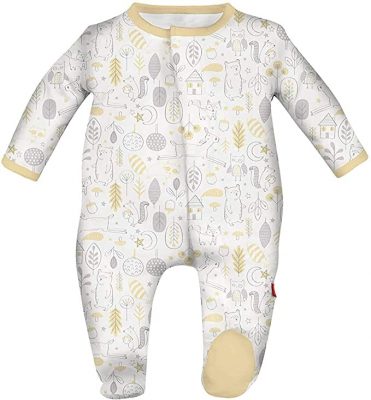 Sizes: Preemie to 24 months
Material: Modal
Flame Resistant Coating or Snug Fit: Snug fit
Diaper Changeability
Diaper changeability is where these pajamas shine. Rather than zippers that always get caught or those annoying snaps, this cutting edge system uses the power of magnets to open and close the outfit with ease. It may sound a little sci-fi, but it really does work!
Design
Can't stand the thought of unjamming your baby's zippers during your next midnight diaper change? Or perhaps you're just fed up with how fiddly your everyday snaps can be?
Moms who loathe both systems will adore the Magnetic Me range from Magnificent Baby, where the natural attraction of magnetics makes getting them on and off a breeze. And its no-over-the-head design makes the whole shebang even easier. Put simply, these are the easiest jammies to change out of on the market.
So why are they so low on our list?
Well, for starters, these don't come cheap as they'll set you back several times more than a budget pair. The biggest downside, however, is that the modal fabric they use can cause a nasty rash on sensitive skin. Most babies will be okay, but we do recommend buying one pair to start and watching closely for any signs of irritation.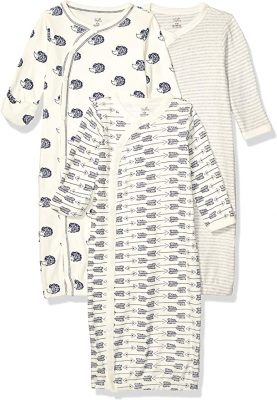 Sizes: Preemie to 6 months
Material: 100% Cotton
Flame Resistant Coating or Snug Fit: Snug fit
Diaper Changeability
Snap closures on the front of the body. This system is a little more laborious than those with a zipper, but at least you never have to worry about the zip getting caught.
Design
Parents looking for a kimono set of PJs for their little one should give these fabulous jammies from Touched By Nature a shot. Rather than putting your baby's legs into pants, these gown-style pajamas wrap around both legs for an Asian look—just like a cute baby samurai.
Aesthetics aside, the other fab advantage of kimono pajamas is they're easier to fit as the thickness of the baby's thighs no longer comes into play. This particular model is an especially good fit in the preemie size, so give them a gander if you're struggling to find something for your teeny weeny tot. Of course, as it's made out of cotton, you need to factor in some shrinkage on your first wash.
The soft cotton is rather thick, but the gown-style design doesn't provide as much warmth around your baby's legs, so it's not ideal for frigid climates. Do note, however, that you can just slip on some baby socks underneath when it starts to get extra chilly.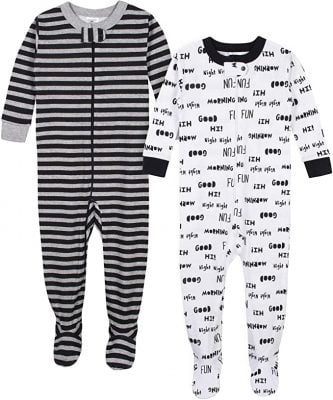 Sizes: 3 months to 24 months. Run small. Tends to fit chunkier babies better.
Material: 100% Cotton
Flame Resistant Coating or Snug Fit: Snug fit
Diaper Changeability
These come with the classic ankle to neck front zipper. Although the system works like a charm on other baby PJs, we find the zipper here gets stuck too easily, which makes midnight diaper changes a chore.
Design
If giving your precious little boy an appreciation for fashion from a young age is a priority for you, then you can't go wrong with these sleek little outfits. We've trawled through dozens of different baby PJs on the market, and can confirm this funky footed union suit from GERBER is the most aesthetically awesome of the lot. The product comes in 16 different prints—but our pick has got to be the head-turning camo and dinosaur combo.
Another great plus for the GERBER brand is just how affordable these products are—a godsend for the budget-conscious modern family. GERBER's Sleep N' Play won our top gong for best budget baby pajamas, and this high-quality set comes in at only a few dollars more per pair.
Bear in mind that the cotton here is relatively thin, so it won't keep your tot feeling cozy through a bitter winter. Although it tends to run smaller than expected, the fit generally does pretty well for chunkier tots.
Looking for something adorable for your little princess? Check out our top pick for baby girl prints instead.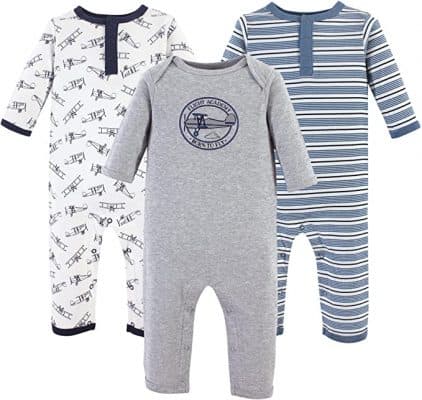 Sizes: Newborns to 24 months. Runs a bit small so get a bigger size than usual
Material: 100% Cotton
Flame Resistant Coating or Snug Fit: Snug fit
Diaper Changeability
These PJs come with ankle to ankle snaps, which get the job done but aren't quite as easy as the ankle to neck variety.
Design
Southern parents rejoice because Hudson offers a lightweight and breathable pair of jammies that will help your tot stay cool in even the most oppressive heat.
These 100% cotton PJs are lighter and a little looser than others on the market, meaning they're suitable for hot and humid states like Florida and Louisiana. The patterns on offer are rather delightful as well, with 22 fresh prints, including a few classic Christmas options to choose from.
On the downside, they do shrink to a considerable degree if not correctly cared for. Always do a cold wash and air dry if you want these to retain shape, or alternatively, just order a few sizes larger than you would normally. But beware: chunkier babies might find it tough to slip into these comfortably.