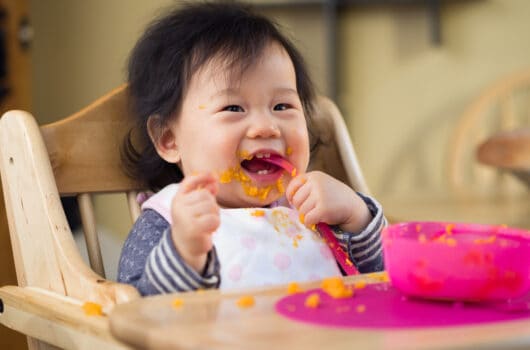 O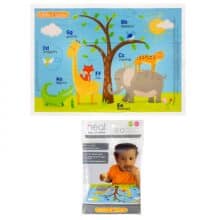 Neat Solutions Table Topper Disposable Stick-on Placemats
B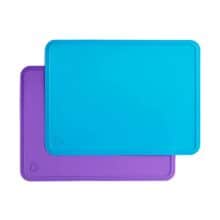 Munchkin Silicone Placemats for Kids
P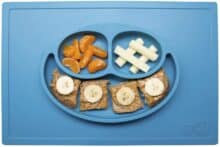 Ezpz Happy Mat
Previous
Next
You might think you can get by with regular placemats when you have a baby, but if you try, you'll be in for a surprise. Babies tend to fling things around, make messes, and chew on things, so you want to make sure their placemats are safe for them—and won't make a mess in your kitchen.
Baby placemats are small placemats that rest underneath the surface that your child is eating on. They're not needed during newborn nursing, but once you begin to spoon-feed your child, you should use a baby placemat to keep your kitchen clean.
Things to Consider when Shopping for Baby Placemats
Material
First and foremost, you should consider the material of a baby placemat. Some placemats are disposable and made of a thin plastic that's easy to fold and roll. These placemats are great for children's parties, and some of them have some fun designs. Disposable paper placemats are also popular, especially for on-the-go use, and are often the most affordable choice.
You can also find silicone baby placemats. Silicone placemats are the best for durability, and the best products use suction to remain in place. Silicone placemats can be used often, and most of them are dishwasher safe, making them easy to clean. In fact, some silicone baby placemats can be folded for travel.
Size
When shopping for a set of baby placemats, you should always consider how large or small they are. Little placemats won't be able to cover enough space, and placemats that are too large might not fit high chairs; bigger isn't always better. While there is no one-size-fits-all placemat size, great sizes to start with are 12″ by 10″ and 12″ by 18″.
Themes
Some baby placemats have themes, and others don't. Silicone placemats are less likely to have patterns because they're reusable, while disposable placemats typically have fun themes. Plus, some can even be educational. While the design doesn't make or break a product, it's something you should keep in mind.
Baby placemats can also come in all different shapes and sizes. Some placemats resemble clouds, while others showcase happy faces and animals. Keeping your child entertained while they're eating is critical. If your child isn't engaged during mealtime, they'll be more inclined to make a mess or cause a fuss.
Amount
Finally, you want to look at how many placemats you're getting. Some baby placemats come in a set of sixty, while others offer one or two. If you see that a set of baby placemats comes with more than two or three, there is a good chance that they're not reusable. In cases like that, it's about your preference.
Price
Placemats might seem inexpensive, but some products cost more than others. The good news is that most products are budget-friendly, and offer a lot of value for their low price. Still, we noticed a lot of price variation among different baby placemats. We've grouped each placemat into three separate price categories:
$: Around $5
$$: Around $15
$$$: Around $25
Baby placemats come in all different shapes and sizes, so we're going to help you find the one you need—read on!
Top 10 Best Baby Placemats 2020
Everything You Need to Know About Baby Placemats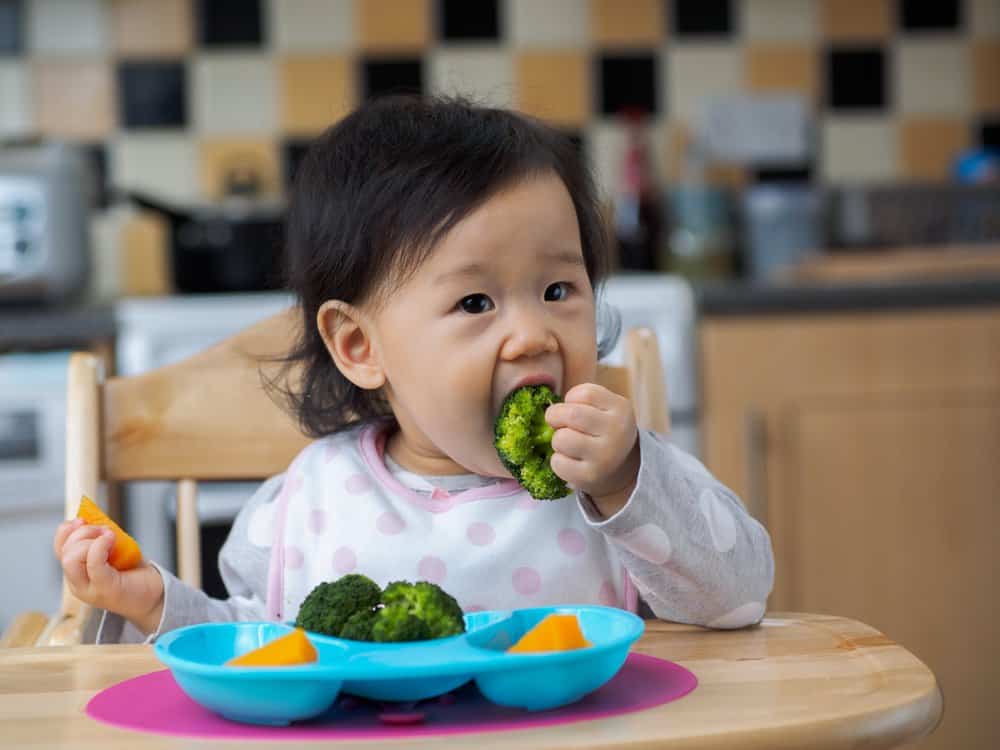 Shopping for baby placemats might seem straightforward, but when you look through the products, there is a lot of variation. Each placemat serves a different purpose, which means you need to shop based on your needs. The process is more straightforward when you have the ten best products in front of you, so we're going to help you narrow down your options.
Getting to Know Your Food
Let's start with some food. Baby placemats seem simple, but there are different placemats you use for different food types. For example, you don't want liquid food sloshing around on a plate. So, knowing what your child will be eating can help you find the perfect placemat. There are a few stages of food, and they're classified as stages 1, 2, 3, and 4.
Stage 1
Baby food comes in a few different styles, but if you see stage 1 on the jar, it means that the food is pureed fruits, vegetables, and rice-based grains. Stage 1 foods are made for babies less than six months old, and they're primarily liquid-based. Also, these foods are mostly single-ingredient foods.
If you need a placemat for stage 1 foods, you should choose a placemat that can handle liquid spills with ease. Any placemat that has a spill tray is a good choice. Still, our favorite placemat for stage 1 food is the BabyMumbo Food Catching Baby Placemat. This placemat has raised edges that guide spills into a tray at the bottom of the mat.
Stage 2
The second stage of food is more solid, but that doesn't mean it's not messy. Foods in this stage are still single-ingredient foods but expect to see more chunks. During the second stage of baby food, you'll still want to use bowls, so make sure you have a placemat that can handle those chunky spills. Stage 2 food is generally used when your child reaches between seven and nine months.
Choosing a placemat for this type of food can be difficult, but focus on silicone placemats. Silicone placemats that cover a large area can help a lot when dealing with chunky spills. For example, we recommend a product like the Munchkin Silicone Placemats These placemats are large enough to handle spills, chunks, and anything else your baby can throw your way.
Another excellent product for stage 2 foods is the First Years Disney Minnie Mouse Silicone Placemat. This placemat features a fun theme, but the combination of a placemat, bowl, and plate is what makes it an ideal product.
Stage 3
Stage 3 foods are filled with chunks and designed to help your child learn to use their teeth. These foods are commonly introduced between nine and twelve months, but you might end up using them for a year. Stage 3 foods resemble adult food and focus less on being pureed.
If your child is around this age, we recommend getting a placemat that has a bowl or plate included. The fun theme can encourage them to enjoy eating, and you won't need to worry about any messes. An excellent product for this age group is the Ezpz Happy Mat. The placemat comes with built-in sections for foods, and functions as a plate.
Stage 4
The fourth stage of food is the final phase. While the other three stages have specific food you can shop for in jars, stage 4 is all about introducing your child to adult food. While you shouldn't feed them a steak, you'll want to start introducing less messy finger foods.
A great placemat for the fourth stage of food is the Green sprouts Finger Food Platemat. This placemat features raised edges that turn the entire placemat into a plate, which is excellent for children experimenting with finger foods.
Disposable or Reusable?
The two types of placemats that you'll come across are disposable and reusable placemats. Each placemat serves its purpose, but both products are better for different situations. For example, if you don't feel like adding another item to your cleaning routine, a disposable placemat might be for you.
Reusable Placemats
Reusable placemats are best for meals and regular usage. If you plan on using a placemat daily, we recommend going with a reusable placemat. Reusable placemats also have more features, making them more useful products in most situations. Unfortunately, reusable placemats can be age-specific, which can limit your options.
If you want to give reusable placemats a try, why not start with the best? Our favorite reusable placemats are the Munchkin Silicone Placemats. These placemats are inexpensive and can help you get used to working with silicone placemats.
Disposable Placemats
Disposable placemats are great for things like parties and travel, but less useful for everyday use. While most disposable placemat packs include sixty placemats, which can last you three months if used daily, they won't last you forever. For the most part, we recommend using disposable placemats as travel products to keep in your diapers bag or arts and crafts tools.
If you like the idea of having baby placemats wherever you need them, you should consider adding a disposable pack of placemats to your arsenal. To get started, we recommend the Neat Solutions Table Topper Disposable Stick-on Placemats.
Choosing a Placemat for Arts and Crafts
Many people believe that Placemats are strictly for eating. We know how messy kids can be while they eat, but placemats can be used for other messes too. For example, if your child is going to be sitting on the floor to play with paints, food, or other toys, a placemat can come in handy. We don't think of floors as dirty, but using a placemat can keep your floor clean and germs away from your child.
While silicone placemats can work on floors, we recommend going the disposable route for arts and crafts. If you've done arts and crafts, you know how messy the paint and playing can be. If it's messy for adults, imagine the messes your toddler can make. We also recommend disposable placemats because you won't need to worry about ruining your child's mealtime mat.
For this application, most of the disposable placemats we listed will work. But, if you want to make playtime exciting, choose an animal-themed placemat like the Little Oochoos Safari Disposable Placemats. These placemats feature a fun-themed animal adventure that can add to your child's playing experience.
Finding a Portable Placemat for Restaurants
When you go out to eat, the last thing you want to see in your server's eyes is horror. Babies can be messy, and toddlers even messier. If you like to make things easy, bringing a placemat to a restaurant is a great way to clean up a mess, and the staff might thank you. While reusable placemats have portability, and some products can be folded, disposable placemats are best for restaurant settings.
At a restaurant, you want to make sure you can clean things up quickly. Disposable placemats allow you to fold them up, and simply place them in the garbage or on your child's plate. While any of the disposable placemats we listed are appropriate, our favorite for restaurants is the Tidy Tyke Collection Extra Sticky Disposable Placemats because the swirls and whirls design is not distracting.
Choosing a Placemat for Parties
During the early years of your child's life, there are going to be a lot of celebrations. From their first birthday to their first Christmas, those events are special. When you're taking pictures of your smiling baby, you don't want bland placemats ruining the frame, right? Having a fun set of disposable baby Placemats can turn any party into a themed party.
Depending on the theme you're going for, you have options. If you're unsure, we recommend going with a versatile pack of disposable placemats. The Little Oochoos Safari Disposable Placemats are a great choice because each pack comes with three different themes. Instead of being stuck with animals or a safari, you have options.
Choosing a Baby Placemat for the Backyard
When the weather gets warm, if you have the space, you'll want to take things outside. Instead of scrambling to create a makeshift placemat for your child, using a baby placemat that works well outdoors is a great choice. While disposable and silicone placemats are a viable choice, we recommend a silicone placemat for outdoor settings.
Silicone placemats are durable, and they hold up well against the elements. Plus, if it's too hot, plastic placemats can end up melting in the sun. For outdoor usage, we recommend a placemat that covers a large area. The Skip Hop Zoo Fold & Go Placemat is a good choice because it can be folded up and used quickly.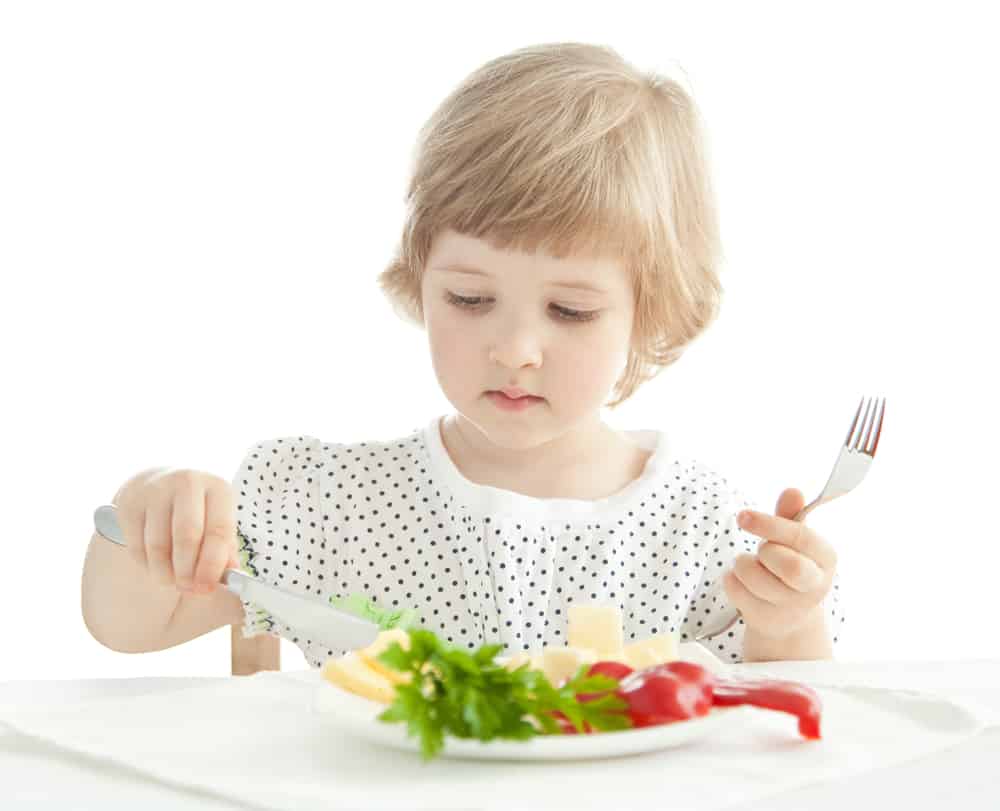 FAQ
Do I Need a Baby Placemat?
If you have a fussy toddler, or if you're just starting to spoon-feed your child, a placemat is a good idea. While products like bibs and burp cloths keep your baby clean, what about your table or high chair? Using a placemat is a great way to save you from the hassle of spot cleaning surfaces.
Can I Use a Regular Placemat?
In some cases, you can use a regular placemat, but only if you check the materials. While BPA and PVC are generally safe for adults, these chemicals can be dangerous for infants. So, always check the material that a placemat is made with. To be safe, choose a baby placemat instead.
What's the Best Material for Baby Placemats?
The best material for baby placemats depends on what you need it for. Plastic placemats are great on the go, but silicone placemats are better for home use. When looking for the best material, as long as it's free of harmful chemicals like BPA, latex, PVC, lead, and phthalates, you're good to go.
Can I Use Disposable Placemats More Than Once?
Disposable baby placemats are typically made with plastic, which is interesting. They appear as if they can be used a few times, and while they can be, we always recommend disposing of them after one use. These placemats can end up stained, and they're tough to clean.
Final Thoughts
Shopping for baby placemats can be mundane, but when you see the fun patterns and colors, we know you'll be inspired. While mealtime is messy, put messes in their place, and use placemats to your advantage. Wherever you are, the appropriate placemat can turn a nightmare of cleaning into a daydream.
That said, make sure you choose a placemat that fits your needs. Not every placemat works in every situation, and that's okay. Take your time and choose carefully. Plus, since they're inexpensive, feel free to try a few out until you find one you and your child love!