A good crib mattress is an important part of helping your baby sleep through the night. Unfortunately, a good mattress can be pricy, and babies don't worry about keeping the things you buy for them in pristine condition. To get the best life out of your mattress, you'll want to protect it from the hazards of daily life. The easiest way to keep your mattress in top condition is to invest in a solid mattress pad.
An Overview of Crib Mattress Pads
Why should you get a mattress pad for your crib? The answer is simple. You've invested in a great mattress, so you'll want to protect it! In our intro-guide, we'll get into the benefits of investing in a mattress pad, then we'll give you a crash course in choosing the best crib mattress pad for you.
Protecting Your Mattress
The first and foremost benefit of using a mattress pad is avoiding the need to give your mattress a regular deep clean. We all know kids are messy. Even adults can be messy, as this all-ages mattress protector shows.
Everyday life will take a toll on any mattress. Add a baby in the mix, and you've got a recipe for a seriously short mattress life. Between stains, spills, and the inevitable diaper explosion, an unprotected mattress is a goner.
Not only do mattress pads put an extra layer between that leaky diaper and your expensive mattress, they are often waterproof and stain-repelling!
Protecting Your Baby
Mattress pads don't just keep your mattress clean. The waterproof lining goes both ways, protecting your baby from the allergens that lie in wait in a mattress even as it prevents stains from seeping into the mattress. If your baby is prone to asthma or allergies, a hypoallergenic mattress pad might be just what you need to clear up those respiratory woes.
As a bonus, a mattress pad can also provide a little extra cushioning if your mattress sheets of choice are on the thin side.
What to Look For
If you're going to make room in your budget for a mattress pad, you'll want it to do its job without complicating your routine. Be sure to consider the protection quality, mattress pad maintenance, and the comfort each pad offers to your baby.
Material Quality
When choosing a mattress pad, the material it's made of should be your first concern. The quality of the material determines how much mattress protection each pad offers. We'll note the fabric material and let you know how much protection each pad offers.
If you're unsure what kind of material you want, our full guide goes into more detail about the different kinds of waterproofing available. All of the mattress pads we chose, with the exception of the all-natural eco-friendly Sealy Naturals Cotton Crib Mattress Pad offer some level of waterproofing.
Ease of Care
Washing sheets and mattress pads is far easier than trying to wash the mattress itself. However, you don't want to be stuck hand washing and line-drying your mattress pads. We'll let you know what kind of care each mattress pad requires, so you can make an informed decision.
Comfort
Just because there's a crib sheet between the pad and your baby doesn't mean that you can get away with a scratchy or plasticky mattress pad. Babies are incredibly sensitive, so you'll want an option that is soft enough to keep your little one happy. We'll get into how to create the perfect conditions in your crib in our crib guide below. You also want to avoid having a pad that's too plasticky. The harsher each pad is, the more noise it will make. With some mattress pads, babies have been known to wake themselves up!
You'll also want to make sure your crib mattress pad is breathable to prevent overheating. Finding a good balance is the key to avoiding frustration. In our reviews, we'll offer our thoughts on the comfort each mattress pad offers.
Now that you know what to look for, let's jump into our top-ten roundup of best crib mattress pads!
Top 10 Best Crib Mattress Pads 2023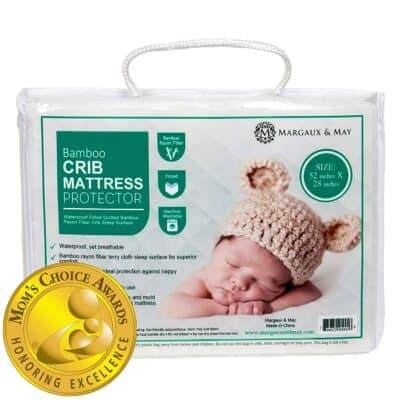 Why we like it:
This crib mattress is the best option around, offering comfort, stability, stain protection, and durability in one budget-friendly mattress.
Editor's Rating:
At a Glance:
Size: Standard
Material: Bamboo-rayon, poly-cluster fiber, thermoplastic polyurethane
Dimensions: 28" x 52" x 9"
Waterproof: Yes
Quality
Margaux & May balances protection with comfort, durability, and sustainability. The bamboo-rayon blend may not be a premium material, but it is sturdy and soft, offering a high-level of stain protection, resilience to serious washing, and a comfy (but not too thick) surface to keep your baby sleeping soundly. This fabric uses a four-layer design to keep messes where they belong, with a baby-safe thermoplastic polyurethane coating on the third layer.
The major downside of bamboo is that it tends to break down with excessive washing. But by blending with rayon, Margaux & May adds durability while keeping the soft, terrycloth feel of this bamboo fabric.
Ease of Care
This crib mattress pad is machine-washable and should be dried on low heat. Its stretchy fitted band makes it easy to get on and off the mattress. If your mattress pad isn't up to snuff, Margaux & May offers a free lifetime replacement policy for guaranteed quality.
Comfort 
Margaux & May focuses on providing subtle stain protection that won't wake your baby with crinkling noises, overheat them, or make the mattress too soft. This pad has just enough padding to keep your baby comfy, and the bamboo-rayon is breathable and light. It is plushy and noiseless for ultimate comfort.
Pros
Durable bamboo rayon blend

Smooth surface

Free lifetime replacement offer

Noiseless

Not too soft for baby's safety
Cons
Only offered in standard size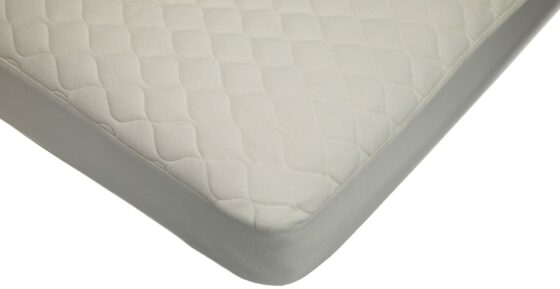 Why we like it:
This four-layer mattress pad relies on tried and true waterproof laminate, silenced by soft and breathable polyester batting and organic cotton offered in the widest variety of sizes on our list.
Editor's Rating:
At a Glance:
Size: Standard, Mini-Crib, Bassinet, Pack and Play, Lap and Burp, Multi-Use, Sheet Saver
Material: 100% organic cotton (front and back layers), 100% polyester (middle lining), thermoplastic polyurethane (waterproof lining)
Dimensions: Various
Waterproof: Yes
Quality
This mattress pad is easily the highest quality on our list. The organic cotton is soft, natural, and durable. American Baby Company's mattress pad uses a TPU lining to make a waterproof barrier between the mattress and your baby. Thermoplastic polyurethane is safe and effective, using a laminate style sheet to block liquids and stains.
Ease of Care
This mattress pad can be machine-washed and tumble-dried with no heat. It will shrink some after the first wash, but not enough to cause fitting issues. Occasionally hang-drying this mattress pad will go a long way towards extending its lifespan.
Comfort
One of the best features of this mattress pad is its multi-layer structure. TPU can be crinkly, but the multiple layers of organic cotton and polyester batting muffle the sound, so that your baby can sleep without interruption. The organic cotton is breathable, and the polyester batting is much lighter than woven or knit polyester. The cover is thick enough to be cushioning without becoming so soft it poses a SIDS risk.
American Baby Company is also at the top of our list for the sheer variety in sizes this mattress pad is available in. This product can be a protective cover for almost any surface, from a pack and play to a bassinet to your lap.
Pros
Huge variety of sizes

Soft, breathable organic cotton

Light polyester batting

Soundless

Super-effective TPU laminate lining
Cons
Polyester batting is not all-natural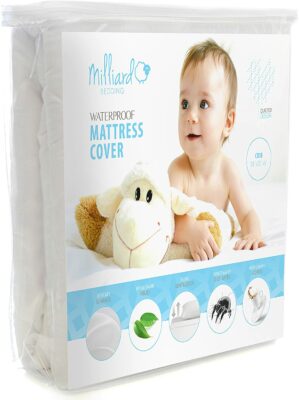 Why we like it:
This mattress pad protects your crib mattress from messes, protects your baby from impurities in the mattress itself, and features a super gentle quilted top for sensitive skin.
Editor's Rating:
At a Glance:
Size: Standard
Material: 80% cotton blend, polyester infill
Dimensions: 28" x 52" x 6"
Waterproof: Yes
Quality
Milliard's hypoallergenic mattress pad cover offers an effective waterproof design with a soft, 80% cotton top layer. Its inner lining has a soundless waterproof backing. While less effective at blocking liquids than our premium pick ABC's Organic Cotton Mattress Pad, it is soft and offers great protection for your baby and your mattress.
Ease of Care
This mattress pad is machine washable and can be tumble dried on low. This mattress pad is especially useful if you plan to reuse a crib mattress from previous years but worry about the allergens caught in the fabric from storage.
Comfort
Milliard's Quilted Mattress Pad is soft and comfy, but not incredibly thick. The fabric is well ventilated, with a breathable 80% cotton blend on top and light polyester infill between layers. This mattress pad is silent, to keep your angel asleep all night long.
Even better, if your baby has respiratory troubles or frequent allergic reactions, this mattress pad may be a solution. Its protective layers block allergens like mites, bacteria, mold spores, and pollen that might be trapped in your mattress.
Pros
Soundless waterproof layer

Hypoallergenic

Blocks allergens from inside the mattress

Soft and breathable but not thick

Quilted surface
Cons
Contains polyester

Not as waterproof as other options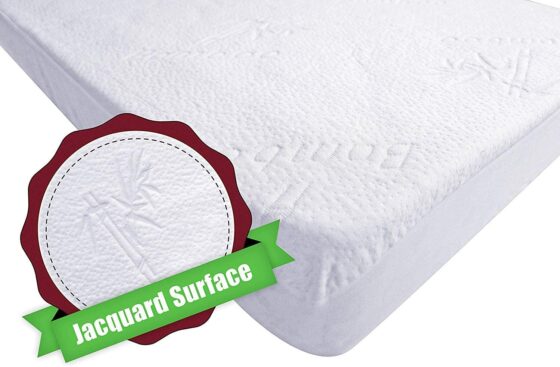 Why we like it:
This mattress pad has breathable bamboo-rayon and a soft, thin waterproof layer with subtle waterproofing and natural textures.
Editor's Rating:
At a Glance:
Size: Standard, mini-crib
Material: bamboo-rayon jacquard, TPU inner lining, microfiber skirting
Dimensions: 28" x 52" x 9"
Waterproof: Yes
Quality
This bamboo jacquard is absorbent and highly breathable. The TPU inner lining offers powerful waterproofing action to keep messes away from the mattress itself. Like our overall best mattress pad, iLuvBamboo uses a durable rayon blend that will last through hundreds of washes without breaking down.
Out of all truly waterproof mattress pads, this is the most natural option, with no polyester inner lining. However, it does have microfiber skirting, and the TPU waterproof layer is a man-made, non-toxic layer. It's not as natural as Sealy's 100% Cotton mattress pad, but it's the next step up in mattress protection.
Ease of Care
This mattress pad can be machine-washed and tumble-dried on low. The rayon-bamboo blend doesn't pill or shrink.
Comfort
This soft, thin mattress protector is quiet and smooth to the touch. It's not ideal for additional cushioning under a thin mattress sheet, but it won't wake your baby or require extra work to create a comfortable, safe sleep space. Additionally, the bamboo blend offers mild antibacterial properties that will help prevent impurities from bothering your baby.
Pros
Natural bamboo-rayon blend

No-pill, no-shrink fabric

Antibacterial properties

Super durable fabric
Cons
Microfiber skirting

Very thin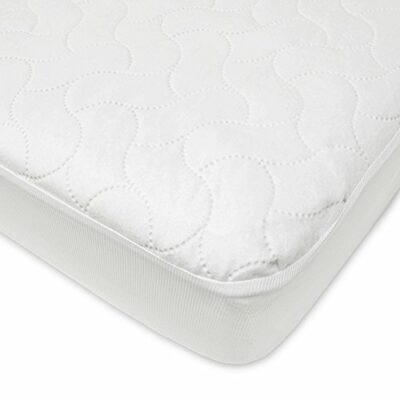 Why we like it:
This simple but solid mattress pad is ideal for parents on a budget, offering effective waterproofing and mattress protection without any premium features.
Editor's Rating:
At a Glance:
Size: Standard (fitted and unfitted), mini-crib, pack and play,
Material: 100% polyester
Dimensions: 28" x 52" x 9"
Waterproof: Yes
Quality
This mattress pad definitely isn't premium quality, but it gets the job done. It uses a double layer waterproof design that, while not as soundless as the four-layer design of Margaux & May or ABC's organic cotton option, is nevertheless a very effective mattress cover. For anyone on a budget, this is a great, basic option for protecting your crib mattress.
Ease of Care
One of the best things about polyester is how simple it is to care for. This 100% polyester mattress pad is easy to machine wash and tumble dry on low heat.
Comfort
The biggest downside of this mattress pad is how basic it is in terms of comfort. While it is a simple but solid option, the 100% polyester is less breathable, and the lack of extra layers means that the insulating action of this mattress pad is limited.
Pros
Super budget-friendly

Effective at stopping spills

Easy to care for

Offered in both fitted and un-fitted designs
Cons
Very basic

Limited soundproofing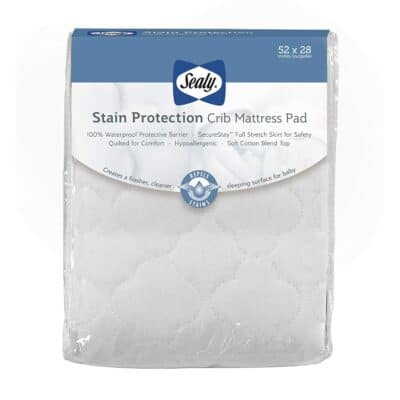 Why we like it:
Sealy's crib mattress pad is stain-repelling and offers extra mess protection at the cost of comfort and quiet-waterproofing.
Editor's Rating:
At a Glance:
Size: Standard
Material: Cotton-polyester blend
Dimensions: 28" x 52 x 8.5"
Waterproof: Yes
Quality
Sealy's Stain Protection Pad offers unique stain-repelling properties and hygienic features. It meets the standards of the Washington Children's Safe Product Act (CSPA) and Chemicals of High Concern to Children (CHCC) regulations. It has passed the Consumer Product Safety Improvement Act (CPSIA) tests for lead and heavy metals.
However, Sealy does not disclose the percentage of polyester to cotton in the material, so it is hard to judge how high quality the fabric itself is. It does use hypoallergenic, PVC-free fabric however, and even the most delicate skin will find the quilted surface suitably gentle and snag-free.
Ease of Care
Sealy's mattress pad is approved to withstand extensive washing and drying. The stain-repelling technology of the waterproof layer allows dirt and germs to wash off easily, from formula to spit-up to diaper leaks.
Comfort
This mattress pad has a smooth, quilted surface, but it's not the most comfortable. It's louder than many other options on our list. Pairing it with either a thicker sheet or doubling up the sheets can help reduce the sound, but it might be better to switch off between a quieter mattress pad like the Milliard Quilted Pad, and using Sealy's mattress pad when your house has a stomach bug going around.
Pros
Stain-repelling

Extra powerful waterproofing

CPSA, CHCC, and CPSIA compliant

PVC-free, hypoallergenic surface
Cons
Unclear ratio of cotton to polyester

Loud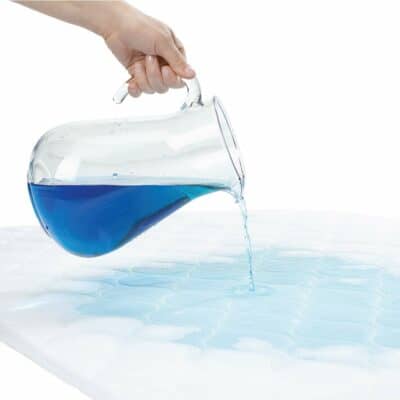 Why we like it:
This hospital-grade crib mattress pad can hold up to eight cups of liquid in one go but is not meant for children under the age of two.
Editor's Rating:
At a Glance:
Size Options: Various
Material: Cotton-polyester blend, rayon inner layer
Dimensions: 32" x 36", 34" x 36", 34" x 52", 34" x 76", and 44" x 52"
Waterproof: Yes
Quality
This mattress protection pad is OEKO-TEX Standard 100 and Best Textiles approved. The polyester rayon blend is guaranteed up to 300 washes, and the company offers a 10-year replacement guarantee if you are dissatisfied with the product. It isn't rough, and the no-slip back keeps it in place on the mattress. The unique liquid absorption design spreads spilled liquids throughout the layers to prevent liquid from leaking through to the surface below.
Ease of Care
This pad is can be machine washed and dried, and it can be bleached if necessary. In some ways, this mattress pad is simpler than others to put on and off. The no-slip back keeps it in place without needing to fit it around the mattress. However, because it is not fitted and not offered in the perfect sizes for a mattress, you may have some sizing and placement challenges.
Comfort
This mattress pad is great for potty training, but it's not ideal for protecting a crib mattress from a newborn's messes. It is meant to go on top of sheets and shouldn't be used with children below the age of two. Toddlers still in their crib or children trying to break out of bed-wetting can safely use this pad, and, even better, it can protect both the sheets and the mattress from messes. It is not the softest mattress pad, but it is an effective mattress protector.
Pros
Medical grade mattress protection

Guaranteed up to 300 washes, and 10-year replacement policy

Excellent tool for potty training

OEKO-Tex Approved
Cons
Non-standard sizes

Only for ages two and up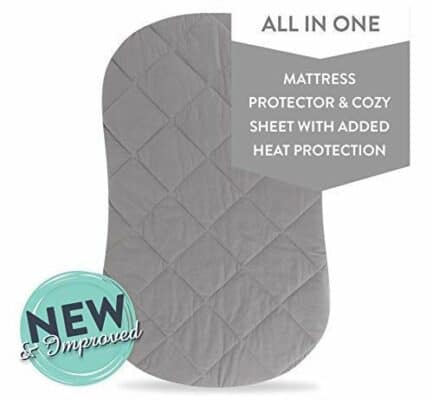 Why we like it:
This all-in-one mattress pad and crib sheet keeps your bassinet maintenance simple and cost-effective.
Editor's Rating:
At a Glance:
Size: Hourglass and oval bassinet
Material: 100% Jersey cotton, TPU inner lining
Dimensions: 31″x18″x1″
Waterproof: Yes
Quality
Ely's & Co.'s bassinet mattress pad is made of 100% cotton jersey knit. It has a gentle stretch a soft surface for sensitive skin, and a breathable texture that your baby can sleep on directly.
Ely's & Co. has a line of waterproof crib sheets, and they use their same design here to protect your bassinet mattress from spills and spit-up. It uses a TPU inner lining to waterproof the sheet, and the 100% cotton and light fabric design makes it a great fit for any parents looking to protect their bassinet without adding extra bulk.
Ease of Care
This bassinet sheet can be machine washed and tumble-dried with no heat. Hang drying it once in a while can help extend the lifespan of this pad, but it withstands frequent laundering well. It's a perfect fit for the Halo bassinet mattress and has a stretch fit that works with both hourglass and oval bassinets
Comfort
As a two-in-one sheet and mattress pad, this pad has to be comfortable to be worth buying. Your baby will be sleeping directly on the surface of this pad, and the jersey cotton knit makes it light, breathable, soft, and stretchy. It has enough cushioning to help your baby relax but not so much that it poses a risk of suffocation. This sheet is available in pink and grey.
Pros
Two-in-one sheet and mattress pad

Trustworthy brand

100% jersey knit cotton

Inclusive bassinet sizing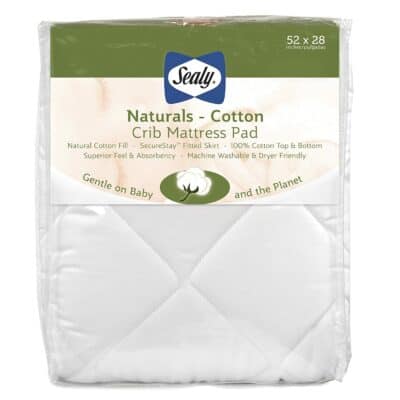 Why we like it:
This 100% cotton option avoids TPU and other man-made materials for a less effective but more natural mattress pad.
Editor's Rating:
At a Glance:
Size: Standard
Material: 100% cotton
Dimensions: 28" x 52"
Waterproof: No
Quality
This crib mattress pad is a great option for all-natural parents. Because it uses no plastics, thermoplastic polyurethane, or synthetic fabric blends, it doesn't offer much waterproofing or stain protection, but the absorbent cotton can reduce the amount of wear and tear your mattress goes through. Simply adding another layer of fabric can prevent stains and help keep your mattress a little cleaner.
The 100% cotton is durable but breathable. Sealy's mattress pad has a thread count of 300. It passes the standards of the Chemicals of High Concern to Children (CHCC), Children's Safe Products Act (CSPA), and Consumer Product Safety Improvement Act (CPSIA).
Ease of Care
The Sealy Naturals Cotton Crib Mattress Pad can be machine washed and tumble-dried with no heat. Sealy pre-shrinks these mattress pads, so your mattress pad will stay the same size no matter how many times you wash it.
Comfort
The cotton surface is breathable, natural, and hypoallergenic. Sealy's avoids the roughness of standard cotton by using a quilted surface. As this mattress pad is all-natural and made entirely of cotton, there is no crinkling sound to worry about.
Pros
100% Cotton

All-natural

Absorbent

CHCC, CSPA, and CPSIA compliant
Cons
Not very protective

Offers no waterproofing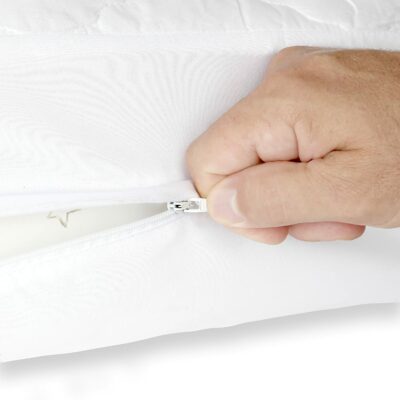 Why we like it:
The easy-on easy-off zipper design of this mattress pad simplifies clean up and protects your mattress from all sides.
Editor's Rating:
At a Glance:
Size Options:  Standard
Material: Cotton-polyester blend
Dimensions: 28" x 52 x 5"
Waterproof: Yes
Quality
The quality of this material for Jambini's mattress pad is relatively low. The ratio of cotton to polyester isn't stated, and the fabric itself is not as durable as the other options on our list. It only offers one layer of mattress protection though the polyester in the fabric does offer some water resistance. However, the material is hypoallergenic, and the zipper is sturdy.
Ease of Care
This mattress pad can be machine washed and dried but must be washed in a cold cycle. The primary draw of this mattress pad is in its unique zippered design. Unlike fitted sheets, Jambini's Zippered Crib Mattress Pad is easy to get on and off. The full-encasement design protects both sides of the mattress from spills and insulates your baby from allergens within the mattress.
Comfort
This mattress is smooth and hypoallergenic, but bare-bones in terms of thickness. The total cover offered by the zipper muffles sound without the need for extra padding.
Pros
Zippered design for easy removal

Full-encasement muffles rustling

Insulates baby from allergens
Cons
Unknown ratio of cotton to polyester
A Comprehensive Look at Crib Mattress Pads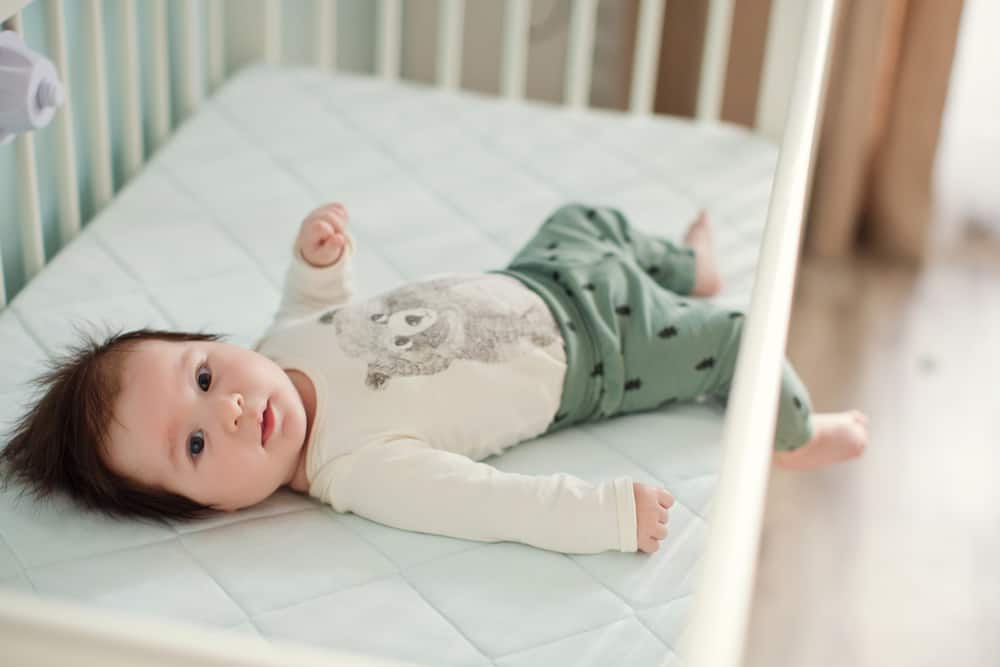 Crib mattresses can be expensive. Protecting your crib with a mattress pad seems like common sense, but it can be difficult to figure out which mattress pad is right for you and how much you want to spend. We've put together a great guide to help you pick out the perfect mattress pad, stick to your budget, and help you set up your crib for the perfect night's sleep.
We'll cover a little bit of background information on mattresses and how a mattress pad works, then we'll discuss how you can use a mattress pad to make parenting life easier.
Mattresses: An Inside Look
Mattresses are filthy. Seriously.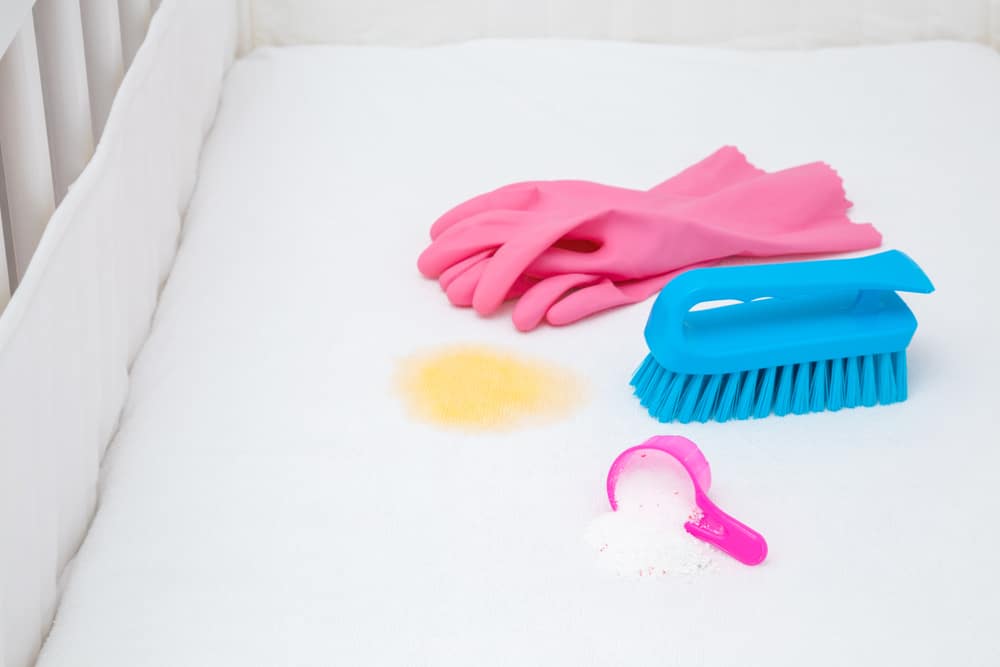 From mites to bacteria to fungus, a mattress can become home to some seriously nasty stuff. We tend to wash crib sheets a bit more often than our own, but a crib mattress can still become pretty gross, pretty quickly.
This is partly because it's a real challenge to clean a mattress and partly because the mattress itself is structured in such a way that it makes a very inviting home for all sorts of things. Mattresses are porous and well-ventilated inside, but then they're wrapped in sheets that trap heat and germs inside. A mattress is a bit like a petri dish—once something is inside, it flourishes.
The best way to avoid having nasty stuff growing in your crib mattress is to keep it from reaching the mattress in the first place. A crib mattress pad is the key to this strategy and can save you serious time and money if you buy the right pad.
How Mattress Pads Work
Mattress pads have a twofold purpose. First, they keep messes from reaching the mattress, keeping it pristine for as long as possible. The second purpose of a mattress pad is to protect your baby from their own mattress. Some amount of mess is inevitable, so as the mattress does eventually get a bit dirty, you'll want a two-way barrier between the mattress and your child, keeping stains away from the mattress just as it keeps dust and dirt away from your child.
Generally, baby-safe mattress pads will use one of three methods to protect the crib mattress: a layer of plastic, thermoplastic polyurethane, or thick fabric.
Plastic Sheets
Technically plastic sheets are the best way to waterproof a mattress and keep spills from reaching it, but no one wants to put hard, uncomfortable plastic on their baby's crib. Even worse, many of these plastic sheets are made of nylon. Sketchy companies might even ignore safety regulations and make them with vinyl, one of the most toxic kinds of plastic.
A layer of plastic will be very effective at preventing stains and messes from reaching the mattress, but it's not worth the constant sleep interruptions, discomfort and potential risk to your little one.
Thermoplastic Polyurethane
This is one of the more common methods of waterproofing a mattress pad, it's common in many products including our top overall pick. Thermoplastic Polyurethane, or TPU, is the baby-safe cousin of the very toxic "polyurethane". You may know of polyurethane as a way of staining and finishing hardwood floors or from polyurethane foam, a construction-level foam that requires anyone working with it to wear a mask. Unlike these forms of polyurethane, TPU has been tested for health risks. Chemists have classified it as an inert compound and it has even been used in tissue regeneration procedures.
Thermoplastic polyurethane is baby-safe and nontoxic. Not only that, but most forms of TPU are biodegradable. TPU may not be the perfect solution for green mommies and daddies, but it is safe and reliable and offers the best practical mattress protection.
Fabric Barrier
On the other side of the spectrum is the mattress protection of choice for all-natural parents. Many different types of fabric have natural water-repelling properties. Wool and silk, for example, tend to be fairly water resistant.
Other strategies involve fabrics with high absorption rates, like cotton or bamboo, essentially using the mattress pad to soak up the mess enough that it won't bleed through to the other side.
Unfortunately, wool and silk are not breathable, making them a poor fit for baby bedclothes. Cotton and bamboo are breathable, but don't offer much more than just a little extra padding to soak up messes before they reach the mattress.
Of course, there are also plenty of synthetic fabrics that offer a more natural alternative to TPU but are more effective than natural fabrics. Jambini's zip-up mattress, for example, uses polyester blends to maximize the water resistant properties in its fabric. Sealy's all-natural cotton mattress pad is the only all-natural option on our list, but it doesn't offer nearly as much protection as a TPU or synthetic option.
Building the Perfect Sleep Space
Now that you've got an idea of how mattress pads work, let's talk about making your crib the best it can be. Exactly what kind of mattress pad you should buy depends on what other products you plan to buy. You'll need to have all aspects of your crib work together to create a sleep space that helps your baby sleep and protects their development.
The perfect sleeping surface for an infant is firm and supportive, soft on your baby's skin, thick enough to soothe them but thin enough to be breathable, and as soundless as possible.

How Soft Is Too Soft?
Believe it or not, it's much better to go for a firm crib mattress than a cushy one. Your baby is fragile, and still developing. They need a lot more support while sleeping than we do, partly because they actually have about 94 more bones than grown adults. It's crazy, but it explains why a mattress that seems uncomfortably firm to you is perfect for your baby.
You don't want to use a mattress pad with a newborn. Our Best Bassinet Pick is light and does the same job as a crib sheet, but almost all other crib mattress pads will be a bit too thick for newborns and could make the mattress too soft for them.
Studies show that soft mattresses can increase the risk of SIDS more than 20 times. There's also a risk of suffocation if your baby rolls over. The mattress should have just enough give to it that it is gentle on your baby's skin, but not so much that it conforms to your baby's body. This test can help you figure out if your mattress is firm enough!
When you're choosing your crib mattress pad, your best option is to go with something thinner, like the iLuvBamboo pad. The less cushioning in your mattress pad, the less likely you are to have problems. However, if you've purchased super thin sheets, you might want something a little thicker, like our premium pick.
Texture
It's important to make sure your crib mattress pads are an appropriate texture. Even though they need to protect the crib mattress, they should still be breathable and well ventilated. Babies struggle to self-regulate their temperature, and fabrics that are too thick and unbreathable, like high polyester blends, can cause your baby to overheat.
A mattress pad should also be soft and smooth. Whether you layer sheets over it or not, you don't want sheets that are rough or uncomfortable. Babies have delicate skin, so mattress pads like Gorilla Grip's hospital-grade pad should only be used for older children.
Noise
An issue unique to waterproof mattress pads is the potential for noises and rustling when your baby moves. Most waterproof materials will be somewhat noisy. Quieter pads, like this quilted model, will generally have more layers and more fabric than noisier pads. Buying a tighter sheet to go overtop the mattress pad and hold it in place can help eliminate this sound.
Troubleshooting Sleeplessness
Have you ever lain awake for hours, wondering why you can't sleep? Restless babies often go through the same thing.
It may not seem like it, but babies really do love to sleep. On average, most babies sleep up to 16 hours a day! If your baby can't seem to settle down, it could be due to an uncomfortable sleep space. Before reaching for the infant psychology manual, consider these common crib problems.
Overheating
You know how it goes! Summertime can be a tough time for light sleepers. If you're using bedding that's too thick or poorly ventilated, your baby might be overheating. Rest your hand on the mattress surface. If it's warm to the touch, you might need to switch to cooler sheets.
Itchy Fabric
if the fabric of your crib sheets or crib mattress pad is uncomfortable or irritating, your little one might be just plain uncomfortable. If you have multiple sheets, pay attention to how well your baby sleeps on each kind.
Not Enough Support
This is a serious problem for crib mattress pads. When you buy a mattress pad, try setting a heavy book down in the crib. If the book sinks down at all, the mattress pad is too soft.
Smelly Detergents
your baby likes to feel safe when they sleep. At first, they may fall asleep in your arms. When you transition to the crib, suddenly, they're surrounded by new, strange smells. You can try keeping your sheets with your clothes a little to transfer your scent to the sheets or skip any scented laundry products.
Noisy Sheets
Like we mentioned above, some sheets and mattress pads can be a bit noisy. If your baby is waking up throughout the night, it could be because of a crinkly mattress. Buying a sheet that fits tighter around your mattress is your best bet to silence a crinkly mattress pad.
Noisy Mattress
Sometimes it's not the sheets or the pad that are the problem! A mattress pad is the perfect solution for a noisy mattress, as it provides more support to the mattress and insulates sound.
If you suspect the mattress itself might be the problem, be sure to check out our list of the best crib mattresses on the market today.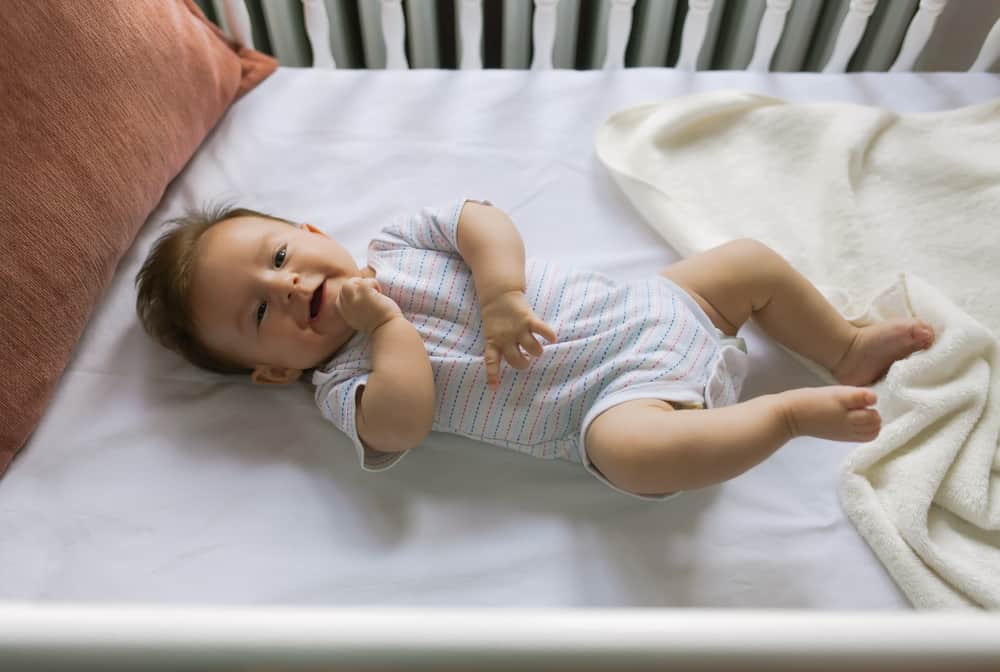 Final Thoughts
Buying a mattress pad is a great way to protect your mattress from messes and disasters. As you decide what mattress pad is right for you, it's important to remember that while a mattress pad can be useful, it's not a great fit for newborns or mattresses that are already on the softer side. We hope that our top ten list has helped you pick out a great mattress pad for your budget and your baby, and we wish you the best of luck with your parenting adventure!