Baby shower right at the corner? Not sure where to start? No need to stress. We are here for you.
When you don't have an idea of what babies want, which is the case for most of us, buying a baby shower gift can be overwhelming.
Baby showers celebrate the newborn as well as welcome the parents-to-be to a new stage of life. Showering the family receiving a new baby with gifts has become a custom and is often seen as a way of lightening the financial burden of taking care of the child as well as wishing the family well in the new journey.
Here, we have done the hard work and found the best ten baby shower gifts for you.
Baby Thermometers Baby Shower Gift
Cheap vs. Expensive Gifts
When it comes to baby shower gifts, some items are cheap in price but expensive on what they do. If your budget won't allow you to go for the expensive items, consider the cheap but really useful ones. At the end of the day, what matters most is how useful the item is to the baby and the parents.
However, if your budget allows, feel free to go all out and get the best item (s) out there and the baby plus the parents will be grateful.
Sizes
Most new-born stuff, especially clothes are tiny and adorable and everyone might be tempted to get several. However, don't forget that babies grow very fast and they will outgrow such clothes within a few months. Plus, the parents to be must have bought several. So, if you must buy clothes, go several sizes up.
Unique Baby Shower Gifts
Sometimes, even with all the money, one might still find it hard to get a baby shower gift because we are all trying to be unique to avoid getting the same gift as everyone else. Luckily, there are so many baby stuff and you can also buy a unique gift for mum or dad. And, you can also decide to combine efforts with a few friends and get one expensive gift or an "all-in" gift.
Baby Shower Gift for Second Child
If you're buying a baby shower gift for a second child, keep in mind that the parents might already have so much baby stuff from the first child. As such, you need to be really creative to ensure that you're not buying what they already have.
Baby Shower Gift for Twins
If your friend is expecting twins, ensure to get everything in twos and if it's a boy and a girl, ensure that you get the appropriate for each.
Top 10 Best Baby Shower Gifts 2021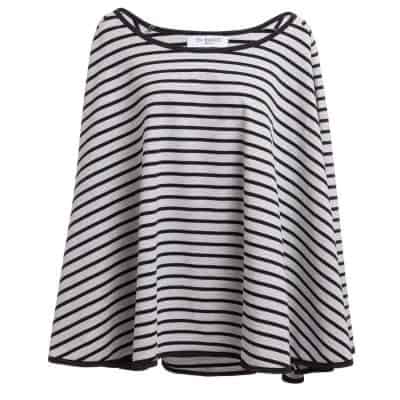 Why we like it:
The full coverage nursing cover features an incredibly soft breathable fabric that makes it suitable for breastfeeding even during warm weather conditions. The material is also thick therefore not see through to keep the baby from being distracted during breastfeeding. We love that it offers full 360 degrees coverage for privacy when breastfeeding in public areas making it an excellent gift for mom.
Editor's Rating:
Comfort
The full nursing coverage is comfortable when breastfeeding in public. It covers both the back and front providing more privacy. The whole cover also makes it hard for the baby to expose the mother's breast or pull it off accidentally. It is made of breathable soft cotton to allow adequate air flow for the baby.
Convenience
The poncho style makes this a stylish and convenient nursing cover that the mom can wear as regular clothing with any top they are comfortable in. The neckline allows them to watch the baby when breasting while maintaining privacy from the outside.
It is easy to use by just slipping it over the head. It is machine washable, so no worrying about how to clean milk and baby spit on the cover. It comes with a storage bag thus convenient to carry along to the park.
The generous dimensions make it suitable for babies of all sizes. We also love that it is incredibly durable for extended use and it comes in three color options.
Versatility
It is useful for pumping mums in public. We love that it can be converted to a car seat cover or a shopping cart cover. It is also useful as a car seat canopy to keep the baby cool and comfortable.
Verdict
The full coverage nursing cover from EN Babies is durable and has a large fit to be used on the baby for long. It is comfortable, easy to clean, unisex and versatile making it a great baby shower gift both for the baby and for mom.
Pros
Easy to use

It is machine-washable

The black stripe adds more style to the mother's outfit

The generous fitting makes it suitable for mothers of all sizes

Versatile

An appropriate gift for both baby boy and girl
Cons
Even with the wide neckline, the mother may still need to pull the material forward to see the baby

The fabric might not be warm enough for the baby during winter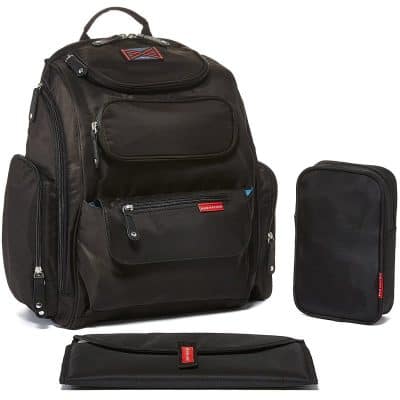 Why we like it:
The diaper backpack from Bag Nation holds all essential baby care items thus convenient. It has a strap to attach to the baby stroller to free up both hands. We like that it comes with 14 pockets to reliably carry both the baby and parents supplies. It is also durable to offer years of service and can be passed on to other babies.
Editor's Rating:
Convenient
You will never go wrong at any baby shower with this diaper backpack from Bag Nation. It is exceptionally spacious to give room for all items that both the parent and the baby need on the go making it ideal for long trips. It comes with fourteen multiple-sized pockets that come in handy for the parent to organize creams, wipes, baby toys and every other thing they need. The pockets also make it easy to separate baby's wet clothes from the dry ones. The big insulated pocket is convenient for carrying the baby's bottle, and the baby wipes pocket comes in handy in case of messes.
It features an adjustable strap to attach to the stroller freeing up both hands for convenience. The bag is designed to offer years of use thanks to the non-fray stitching and durable zipper. The fabric is also water resistant which makes it perfect in case of rain and spills. The black color and bag design work well for both the baby's mom and dad.
Comfort
The backpack has ergonomically curved and padded straps that are light on the shoulder even when the bag is fully crammed with items. The padded back panel with breathable mesh also makes it comfortable to carry.
Bonus features
The diaper backpack comes with a lifetime warranty, and you can always be sure of replacement in case anything goes wrong. The mother-to-be will love that package comes with a large and durable changing mat that makes it easy to change the baby's diapers. It also includes a sundry bag making it an all-in-one bag.
Verdict
The Bag Nation diaper bag is large with numerous compartments that makes it a great gift for travel. The multiple compartments and water-resistant fabric make it ideal for carrying baby's wet clothes. It is also durable and will be used even when the next child comes or as a real backpack by the parents.
Pros
It is water resistant

It is lightweight

Features many compartments

Durable

Has comfortable shoulder straps

Can be converted to an actual backpack when the baby grows
Cons
We wish it offered multiple color choices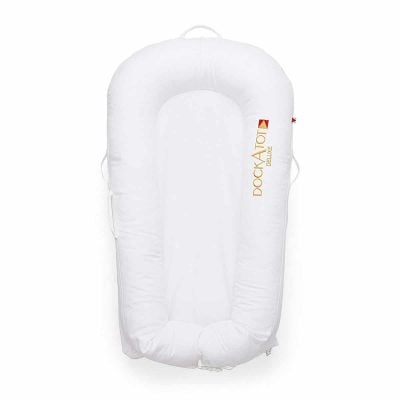 Why we like it:
DockATot is designed to reinvent the womb for the comfort of the baby. It offers a good place for the baby's tummy time to help develop their motor skills. It is safe and free from toxic substances as well improves the baby's microclimate keeping them comfortable. We also like that it is lightweight and portable thus convenient for travel.
Editor's Rating:
Comfort
Give the baby a comfortable place to sleep, play and lounge with the DockATot Deluxe. The cover is made of 100% cotton thus breathable, keeps the baby soft and comfortable and is excellent for the baby's sensitive skin. The breathable fabric keeps the baby from overheating and makes a unique dock for all seasons.
Convenience
DockATot is lightweight and portable allowing the parents to carry it along while traveling with ease. It offers optional covers to match the preferred mood, style, and room. It has a convenient buckle that can be opened when the baby grows bigger guaranteeing to grow with the baby until they turn 8 months old. The tube lining is made of 100% polyester meaning it is durable and can be passed on to the next child.
The raised tube props the baby when placed on their arms which helps the baby develop strong neck and shoulder muscles and improves their motor skills. The fabric is easy to clean so the parent won't have to worry about milk spills and other dirt. It offers a perfect place to co-sleep thanks to the raised sides.
We love that it is versatile meaning it makes a great play area, bed, lounger and baby carrier. It comes ready to use so no need for stressful assembling. The DockATot is free from toxic substance and meets safety standards therefore safe for the baby.
Verdict
DockATot will hold the baby comfortably and give both mom and dad peace of mind all night long. It is great for travel thanks to their portability and also easy to clean. This makes a perfect baby shower gift as it is unisex and can also be passed on to the next babies. It is ideal for everyday use, and you can be sure the parents-to-be will always thank you for a thoughtful gift.
Pros
Stylish

Great for travel

Creates a comfortable place for co-sleeping

Durable

Versatile as a bed, carrier, lounger and play area
Cons
The cover is difficult to replace after cleaning

We wish it could collapse to facilitate storage, but it is still lightweight enough to be carried along with ease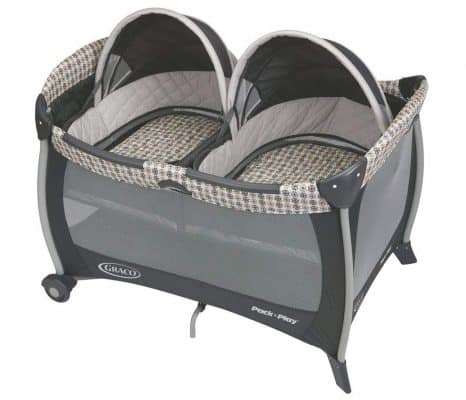 Why we like it:
The Playard with twins bassinet from Graco Pack n' Play makes a perfect gift for twins. It offers a spacious playpen perfect for the babies to rest and comes with wheels for easy moving around the house. Its raised height is convenient for parents with back problems or injuries. We also like that the bassinet can be converted to a playpen when the twins grow bigger. It is easily foldable and includes a carrying bag to facilitate travel.
Editor's Rating:
Convenience
When two babies are coming, you can be sure it will be more stressful thanks to the double cuddles and double comfort they need. You can make this less hectic for the parents with this package from Graco Pack 'n Play.  The bassinets are spacious making a perfect sleeping area for both babies. They come in handy when visiting relatives or sleeping at a hotel since it offers the babies a familiar sleeping spot.
The playard does not take up a lot of space hence can be put closer to the parents in their bedroom for convenience. When the little ones outgrow the bassinets, the unit converts to a spacious playpen. The playpen is convenient since it restrains the baby allowing the parent to take off their eyes from them for some time. The playpen has wheels making it easy to move with the twins from room to room.
It features a squeeze latch for quick and easy folding and comes with a carrying bag to facilitate transportation wherever the parents go. This also makes it easy to store away when not in use. When it comes to washing, it is easy to spot clean the fabric, metal and plastic parts using a soft damp piece of cloth. The carrying bag is machine washable. It does not need any tools to put up to guarantee an easy time assembling.
Comfort
It offers a comfortable napping place thanks to the quilted pad on the mattress. The bassinets are raised so the new parents can comfortably reach out for the babies and put them back without too much bending. The canopies on the bassinets prevent bright light from disturbing the twins when sleeping. The airy mesh located on all sides of the bassinets offers maximum ventilation keeping the babies comfortable.
Style
It features a unique curved frame that gives it a fashionable look adding some style to the nursery or parent's bedroom. It offers two color choices; Vance and Mason.
Verdict
The playard from Graco Pack n' Play was designed with both the parents and their twins in mind. It is a versatile gift and can be used as play area, sleep area or restraining area to allow the mom to work on other things. The large playpen and the comfort bassinet makes this the best baby shower gift for twins.
Pros
Allows the babies to sleep close to their parents

Converts to a playard once the babies outgrow the bassinet

Stylish

Saves a lot of space

Foldable and includes a carrying bag

The height allows parents to lift kids and put them back comfortably

Great price
Cons
The bassinets and the playard cannot be used at the same time

It is hard to remove the crib sheet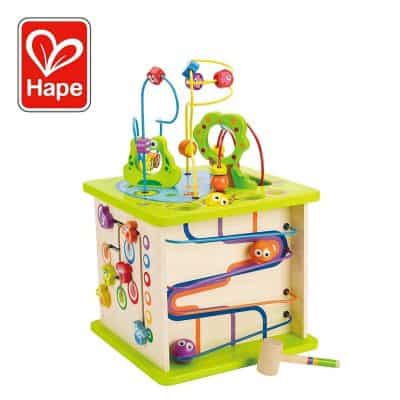 Why we like it:
This cute little cube features an eco-friendly wooden construction option that invites your child to be fully immersed in playtime.
Editor's Rating:
The Country Critters Wooden Activity Play Cube by Hape features an array of different animals that come in bright and cheerful designs that'll encourage kids to have fun. The wooden activity block features a variety of learning activities that enable children to learn shapes and colors while also introducing them to the names of different animals that are commonly found in the neighborhood. While the Country Critters excels in sensory development, it never fails to address the need for optimum motor development as well. There are shapes sorters, sliders, mazes, and spinners that can all be beneficial in developing the motor skills of children. Children as young as one and as old as six can enjoy playtime with these adorable critters.
Pros
It features bright designs.

It provides an introduction to shapes and colors.

Kids are exposed to neighborhood animals.

It's a durable product.

The cube has been designed for ages one to six years.
Cons
The activity cube is rather expensive.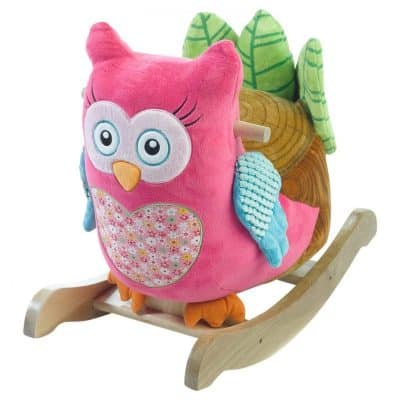 Why we like it:
The Rockabye Owlivia pink owl rocker comes in bright colors making it an excellent baby shower gift for girl. It will grow with the child and be passed over to the next generation thanks to its durability. It is made from comfortable fabric and is easy to clean with a soft sponge. We like that it features four songs that teach the ABCs, numbers, colors and more.
Editor's Rating:
Learning and Fun features
Nothing will soothe and calm a child like this owl rocker. The rocker is designed for children of over 9 months old. The child uses their leg and core muscles to move the rocker back and forth which helps them learn how to balance. Balance comes in handy when they learn how to walk and run. It also helps develop fine motor skills.
The owl rocker from Rockabye comes with four buttons of different shapes on the back to activate educational songs. The four original songs help the kid to learn numbers, alphabets, and colors.
Comfort
The rocker is made of luxurious fabric that is soft and comfy offering the baby comfort when rocking it. It is also stable and accommodates children of up to 80 pounds thanks to the excellent quality maple wood used in its construction. It also features easy to grip wooden handles.
Convenience
The rocker is durable to guarantee decades of use over several generations. The middle leaf at the back of the rocker has a hardwood board built into it and secured to the base. The board offers back support for the rider's comfort. When it comes to cleaning, the rocker can be easily cleaned using a soft sponge so no more worrying about milk spills and other messes. It is small and can fit anywhere in the nursery. It comes ready to use saving on set up time.
Verdict
The rocker could make an exciting choice if you are looking for a baby shower gift for girl. It is colorful and features educative songs that will keep them entertained. It is also comfortable, easy to clean and maintain thus very convenient for both parents and child.
Pros
Stylish with cute colors

Offers lots of fun

Teaches ABCs, numbers, and colors

Easy to clean

Features a soft and comfortable fabric

Develops child's balance and motor skills

Teaches hands, arms, legs and feet coordination

No assembly required

Features easy to grasp handles
Cons
Some users have complained about the rocker ripping at the seams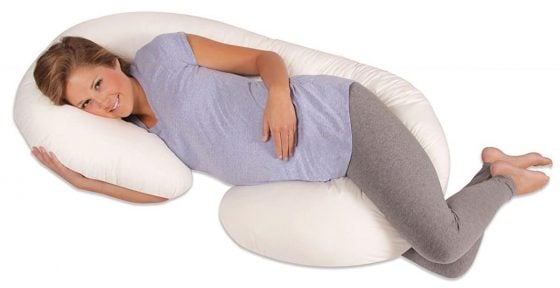 Why we like it:
The Snoogle total body pillow from Leachco is quality and comfortable pillow that the mom-to-be will love receiving. It features an ingenious design that conforms to body shape. It does not take up much space and can be used almost everywhere in the house even on the bed. It is also light making it easy to move with around the house.
Editor's Rating:
Comfort
Applaud the mother-to-be with this snoogle pillow from Leachco. This pillow has been designed to make life easier for pregnant women. It makes the perfect replacement for all kind of pillows by supporting back, neck, hips, and tummy. The horseshoe-shaped head allows the mom to relax in a position they are most comfortable in. The slightly curved ends keep the mom comfortable in their sleep.
It is made of 100% polyester to offer a soft and smooth place for the mother to rest. The fabric does not contain allergens, therefore, will not react with the baby's or mother's skin. It is also breathable to keep the mother cool.
The lengthy midsection on the pillow enhances the back and tummy support for expectant mothers.  The added back support reduces back pain. The head support helps minimize heartburns and other pregnancy-related complications.
Convenience
The snoogle's unique design follows the body contour and shape from head to toe convenient for relaxing and sleeping. It is only about 28-inch long to take very little space. It is lightweight making it easy to move with around the house.
When it comes to cleaning, the pillow features an easy to remove the cover that is equally easy to wash ensuring a fresh pillow always. It is lightweight thus convenient for mothers who want to bring along a personal pillow when traveling. It does not lose its supportive qualities guaranteeing long years of use.
Although mostly used by mom, the pillow can be used by anyone in the house so you can be sure it will be useful even post birth. Additionally, the mother can still use the pillow to support her and the child while nursing.
It is versatile meaning the Leachco Snoogle total body pillow offers support to the head, knees, and back without having to use multiple pillows and can be used through pregnancy and after birth. You will love that it offers different cover colors, so you are not limited in your selection.
Verdict
The C-shaped pillow provides an excellent relaxing place making it ideal for expectant and nursing moms. It allows the mother-to-be to adopt their most preferred sleeping position like no other pillow making it the best baby shower gift for moms. It also makes a perfect gift for anyone in the house who wants to relax comfortably and they will all love you for this gift.
Pros
The cover is machine washable and easy to remove

Offers back, hips, knees and head support in one purchase

Comfortable and easy to adjust when the user rolls over

Has a cooling effect irrespective of the outside temperature

Offers multiple color choices for the cover

Perfect for relaxing and sleeping

Versatile
Cons
The pillow is not convenient for very tall people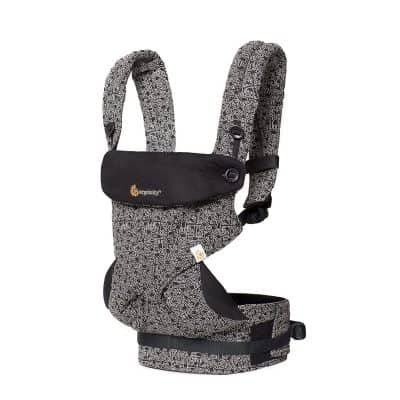 Why we like it:
The Ergobaby 360 baby carrier has an adjustable bucket seat that supports the child in a natural position in all carry position. It features low back support to enhance comfort and wide wraparound waistband to perfect for a postpartum tummy. It comes with extra padded straps that help distribute baby's weight evenly. We also like that it allows the baby to be carried from all positions and it can be adjusted to fit users of different sizes.
Editor's Rating:
Comfort
The bucket seat supports the baby in an ergonomic, natural position in all carrying positions keeping them comfortable compared to the dangling position offered by other carriers. The design also helps distribute the baby's weight evenly making it comfortable to carry them. It is extremely comfortable on the users back thanks to the extreme lower back support and the wide waistband for enhanced comfort. The waistband also hides postpartum tummy protecting mothers, especially after C-section.
Convenience
The unique bucket seat is convenient for the user as they get to carry the baby facing either in or out, on the hip or back. It is ideal for the user of any size thanks to its ability to adjust to fit petite to larger bodies. Its quality artistry guarantees years of use and can be passed down to other babies. It is ideal to use from birth (with a newborn insert until the baby is 5 months) up to 36 months and 33 pounds.
It is easy to get the baby in and off. It has a sunshade to protect the baby from sun's rays and wind. The hood also offers privacy while breastfeeding the baby. It is machine washable therefore effortless to keep clean and fresh. You will love that it offers nine colors to choose from.
Versatility
The 360 baby carrier has an extendable back panel that folds up to offer more support for the baby's head. The panel also folds down offering the baby a great side view. It allows the baby to be carried in four different positions. All the four positions are comfortable and easy to maneuver baby into.
Verdict
The ergonomic baby carrier offers comfort to both baby and parent. It offers four different carrying positions and can be used right from birth with the help a newborn insert. It is durable and excellent baby carrier given its price. If you are looking for the ideal baby shower gift for dad, this could be your best bet.
Pros
Offers excellent weight distribution

Comfortable straps

Allows baby to be carried from four different positions

Features a tuck away hood to shield the baby from sun and wind

Machine washable

Built-in hood to offer head support or can be folded down to provide a side view

Easy to use

Comfortable both for the baby and parent
Cons
Heats up in warm weather

The Velcro waistband is loud and can wake the baby

We wish it had little pockets to store some baby stuff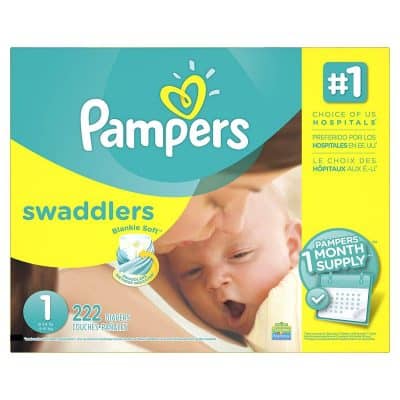 Why we like it:
The Swaddlers disposable diapers from Pampers gently wraps the baby offering them blanket-like softness. It features a changing color indicator to warn when the diaper is too wet. The sides are stretchy to allow the baby to move and play freely. The contoured fit is perfect for the newborn's delicate belly, and we also like that it distributes wetness evenly keeping the baby dry for up to 12 hours.
Editor's Rating:
Comfort
You can never go wrong with this package from Pampers at a second child's baby shower. It wraps the baby gently in blanket-like softness without irritating their delicate skin. It keeps your baby comfortable thanks to the absorb-away liner that pulls away all wetness and mess from the baby's skin. On top of the liner, it has extra absorb channels that protect the baby for up to 12 hours by distributing the wetness evenly. This keeps the baby dry all night long allowing them to sleep peacefully.
The soft elastic sides flex with the baby's every move while holding securely to allow them to keep playing comfortably. The generous leg cuff also keeps the baby comfortable. It is available from preemie to size six to fit babies of different sizes and appropriate for all age groups.
Convenience
The color-changing wetness indicator is very convenient as it always tells when the baby needs to be changed. It features an umbilical cord opening suitable for newborn babies. The high waist and stronghold are perfect for minimizing leakages. The ruffles along the leg cuffs also come in handy to reduce leaks.
Pampers Swaddlers are very easy to put on and take off therefore convenient for parents when changing them. The diapers feature an elastic accordion-style tab making it easy to secure them correctly. The tabs do not lose stickiness allowing parents to adjust the diapers with ease when needed.
Verdict
The Pampers Swaddlers diapers offer excellent comfort, protection, and superior absorption at a great price. The high backs and strong tabs minimize leakages. They are incredibly comfortable, soft and easy to use making it perfect for any child. Well, while you can have a lot of hand down items from first child, diapers do not make it to the list, making this the best baby shower gift for second child.
Pros
Excellent absorption speed

It is very soft like the baby's blanket

Includes a wetness indicator to alert when the baby needs a change

Features a mesh layer that keeps mess and wetness away from baby's skin to prevent skin irritation

Features a notch at the waistband to accommodate baby's umbilical cord thus is convenient for newborns

Minimal to no leakages even when pressure is put on the wet part of the diaper
Cons
Some parents find the baby powder smell overwhelming

It is thin and leaks at times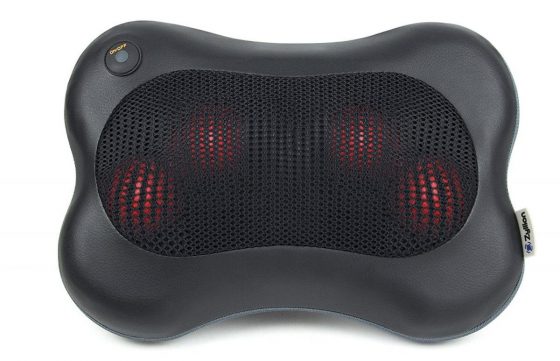 Why we like it:
The Shiatsu pillow massager from Zyllion is perfect for relaxing and relieving muscle tightness on the neck, back, calf and thighs making an ideal gift for new moms. It features four massaging nodes that penetrate deeply into the muscles relieving pain in affected areas. We love that it turns off by itself after 20 minutes to prevent overheating and it gives the user control over the intensity. It features a sleek and portable design making it easy to carry along.
Editor's Rating:
Convenience
The Shiatsu pillow massager features four deep kneading, 3-dimensional nodes that offer effective massage perfect to relax overused and tight muscles. The nodes penetrate deeply into the affected muscles and changes direction every minute. It has an easy on and off heating function which soothes aching muscles by aiding in blood circulation. The ergonomic design enables it to fit perfectly behind the neck, thighs, lower and upper back.
The massager has adjustable straps to allow pillow adjustment during massage giving the user control over its intensity. The straps are also convenient for securing the massager to preferred chairs such as car seat. It offers a 1-year warranty helpful in case something goes wrong with the massager. It also offers guaranteed money back 30 days period.
It is durable, soft and easy to clean thanks to the superior textured leatherette. The package includes both a car and home adapter. It is 2.4-inch thin and weighs only 4 pounds thus convenient to carry along during long travels.
Safety
The Shiatsu pillow massager is safe from damage thanks to the overheat protection mechanism that shuts off automatically after 20 minutes.
Verdict
A luxurious massager at the comfort of the mother's home without a doubt makes an excellent gift for new moms. The massager is practical, stylish and elegant making a great gift that anyone will love. It features an ultra slim design that saves on space and features top quality material making it an effective massager for new moms.
Pros
Great for muscle pains and tension

Increases circulation of blood

Convenient for long travels

Easy to use and control

Comes with a 1-year warranty

Features an overheat mechanism to prevent the unit from damage
Cons
Some people find the nodes a bit forceful

The neck massager is quite weak as it only touches the base of the neck and hardly touches the sides
Tips to Help You Choose the Best Baby Shower Gift
Is It Appropriate?
Expectant mothers are sensitive. Some gifts might seem nice but not right for the mom. Putting some thought into it will be useful. You can cleverly try to get some hints from the mum to be without spilling the secret especially if it's a surprise baby shower.
Gifts for the baby such as toys should also be baby safe and appropriate for their age.
Bring Something for Mom
How about a gift that excites the mom too? We often put so much thought into the baby and forget the mom. Think of something the mom likes or something to soothe them like the Zyllion Shiatsu pillow massager in our review above.
Here are some amazing ideas you can consider for the cake.
What About a Gift for Dad?
Baby showers have evolved, and dads are getting more involved. It would be thoughtful to think about the dad too. Get them something they like or have always wanted if you are lucky enough to know. There are many baby shower gifts for dads that will help them feel part of the celebration while also bonding with the baby once they are born. There are also many tips to help a dad-to-be bond with their new born and you can also share some with them.
Get a Useful Gift
Some items are standard for babies. Gifts such as baby clothes, diapers and bottles will help the parents to take care of the baby. This is not to say that such gifts as toys among others are not useful. Even the smallest and cheapest gifts might be of great help to the parents and the baby.
Is There a Registry?
A wish list or registry will make it easier for you to choose the baby shower gift since it has what the parents-to-be need. You can always use the list to find them something they want in their preference.
Consider the Season
When will the baby be born? Knowing the season the baby will be born will help you get an appropriate gift for the weather. You can get something warm for the cold season and light clothes for the warm season.
Is It a Boy or a Girl?
Sometimes you will be lucky to know whether the baby coming is a boy or a girl, which is a good thing. If you do not know the gender, play safe with gender-neutral colored baby clothes.
Go With Something Handmade
Choosing a baby shower gift can get complicated at times. You can always save yourself the hassle and design something on your own such as crocheted scarves that the parents-to-be will forever be grateful for.
Final Words
Whether attending the baby shower as a close friend or relative, a gift is a must. We know this is tough, the reason we have put together the best baby shower gifts you should consider in 2021. Whether for dad, mum, twins, boy or girl, our list has it all.