Top 30 Best Activity Cubes for Kids 2023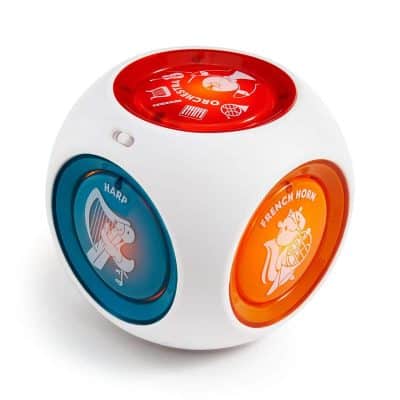 Need correction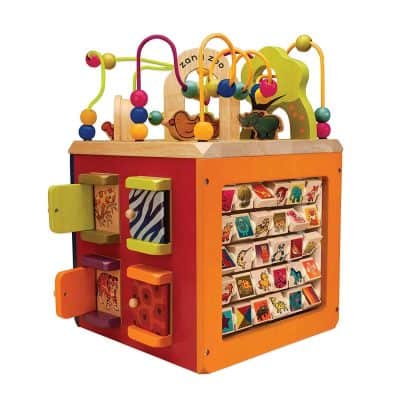 This beautiful wooden activity cube is almost more of an art piece than children's toy. Each of the four outward faces as well as the top feature a different activity designed to entertain and stimulate your child. The alphabet gets its first introduction with individual spinning tiles that are adorably illustrated with brightly colored images that depict an animal or activity related to each letter. Large, round, child-friendly circles wait to zig-zag down another side, while yet another face houses spinners that can create silly animal combinations. This cube even has an entire face dedicated to opening and closing doors to play peek-a-boo with the little animal and alphabet friends inside. Manipulating the small shape spinners, moving and spinning tiles and beads is perfect for strengthening fine-motor skills and building hand-eye coordination. The cube reinforces and introduces early language concepts with repeated uses of the alphabet and corresponding images. This can help your child to start understanding the concepts of speech and stimulate their cognitive growth.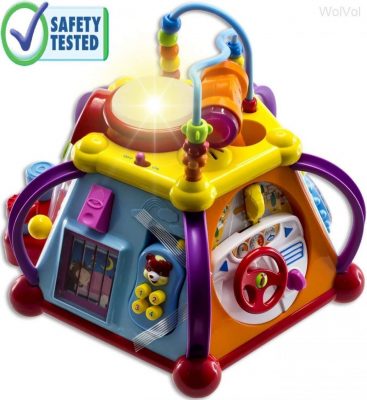 The WolVol Musical Activity Cube Play Center isn't your ordinary activity block in the strictest sense since it takes on a pentagon-shaped pyramid with a wider base than its flat top. Nonetheless, the design of the WolVol Play Center allows young children to play with fifteen different activities that range from simulating driving, playing with a variety of tools, answering a cellphone, pretending to be in slumberland, and even singing their hearts out like a superstar on a concert tour. With so many buttons to tinker with, plenty of switches to flip or slide, and even rollers and beads to fiddle with, this activity cube can be a smorgasbord of excellent sensorimotor learning for young children. It even comes with features that light up to provide enough visual stimulation to the developing brain. Adding to the light effects are wonderful sounds that help meld all the sensory information together.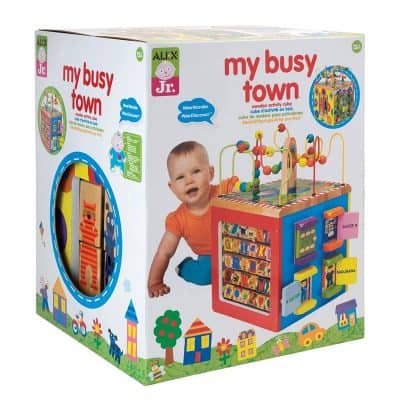 The Busy Wooden Activity Cube is the perfect traditional learning cube for a child who can be easily overwhelmed with many moving parts and noises. The cube is much simpler than some of the other plastic-based ones, but is sage because of its wooden construction and can easily entertain side-by-side, without throwing your child into sensory overload. The colorful beads can be slid through the maze of poles providing visual and tactile stimulation. The beads themselves are instrumental in the development of color recognition. Also included are pictures of animals that children get to spin and match, helping with convergent thinking and problem-solving skills. The peek-a-boo doors are lovely, featuring some of the neighborhood's most recognizable people. The Alphabet tiles can be turned to provide kids with a unique opportunity to learn the basics of ABCs. Providing fun while enhancing motor development.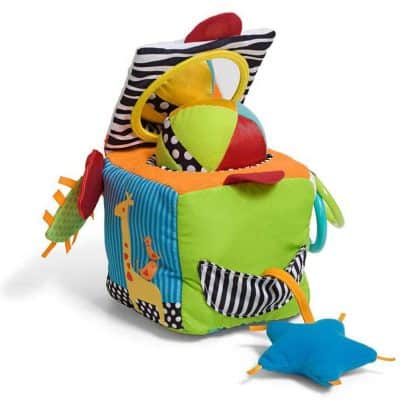 The cube is made of soft yet baby-friendly materials so it offers your child a uniquely soft tactile experience. Each side of the Big Top comes with a variety of simple toys intended primarily for babies such as a clacker ring and even a peek-a-boo mirror underneath the lid. The Big Top is perfect for babies as the different textured patterns and high contrast color patterns allow for optimum sensory development. The colors on the different elements can stimulate brain development while the soft texture allows for the development of fine-motor capabilities. It's ideal for playing put and take to help facilitate the continuing development of your baby's other skills.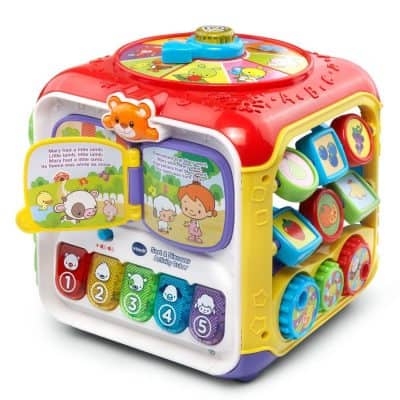 This VTech cube is perfect for the musical family who loves to teach their kids through tunes. The sensory inputs provided by these learning activities can help in the enhancement of babies' cognitive development. On the auditory side of things, babies are treated to a fantastic array of beautiful children's songs, melodies, tunes, sounds, and even the phrases to help them begin building on their vocabulary, speech, language, and communication. On the visual aspect, kids are given colors, lights, shapes, animals, and a whole lot more. Besides, kids can also develop their fine-motor skills with the Sort and Discover Activity Cube. Flipping the pages of the plastic book, pressing on piano buttons, and twirling on the spinners all require motor input which, in turn, produces the different sensory stimulus that'll help complete the sensorimotor development of older babies. For toddlers, the shape sorter feature, alphabet, numbers, and colors can also help enhance their problem-solving skills.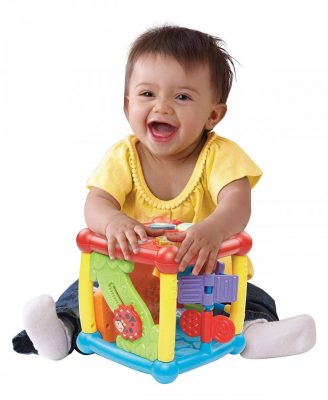 The features of the Busy Learners Activity Cube helps kids develop their sense and also encourages them to learn through play activities. There's something to explore on every side of the cube. It has light features with buttons, music that plays, displays primary colors, and so much more. The shape buttons aid in developing their ability to identify their shapes and the animal characters help with animal name recognition. There's also a musical instrument on the one side that introduces their different names and sounds. On another side of the activity cube, they'll find blocks that slide and spin. This provides them with the experience needed to develop fine-motor skills. The cube even plays sounds when it's moved around. With the lights, sounds, shapes, musical instruments, songs, and so much more, this activity cube will keep your baby busy and learning.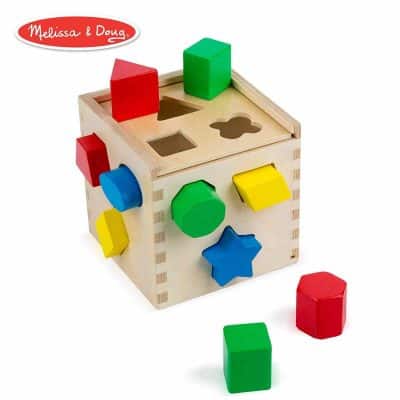 The Shape Sorting Cube from Melissa & Doug is made completely out of wood, making it eco-friendly and safe for younger ages. It's also built to last and won't be something you'll need to worry about like other cubes with small parts and many different options on each side. The idea is simple; the blocks just need to be matched up to their correct shape and put through their corresponding hole. Getting a feel for each shape will teach your child about symmetry basics as well as getting a feel for specific shapes, while the vibrant colors will help them to remember which shapes go where. After just a few days of matching the blocks to their counterpart spaces, your child will be improving their memory and sensory skills as they match each shape like a pro.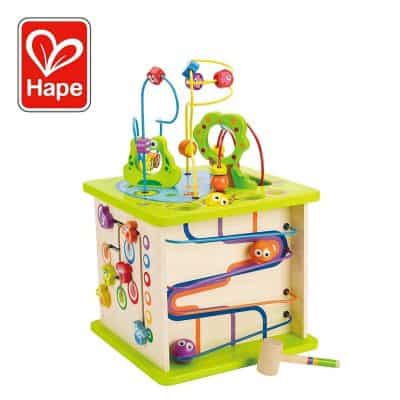 The Country Critters Wooden Activity Play Cube by Hape features an array of different animals that come in bright and cheerful designs that'll encourage kids to have fun. The wooden activity block features a variety of learning activities that enable children to learn shapes and colors while also introducing them to the names of different animals that are commonly found in the neighborhood. While the Country Critters excels in sensory development, it never fails to address the need for optimum motor development as well. There are shapes sorters, sliders, mazes, and spinners that can all be beneficial in developing the motor skills of children. Children as young as one and as old as six can enjoy playtime with these adorable critters.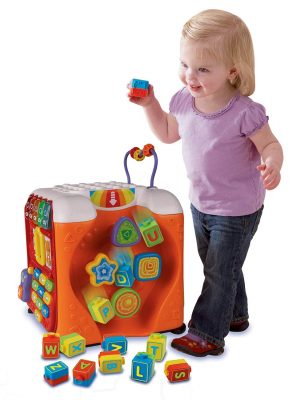 Learning has never been so much fun, thanks to VTech Alphabet Activity Cube. Featuring five sides of fun to discover, this interactive learning cube will offer you, kid, plenty of playful activities. Little builders will love the thirteen building blocks that also teach the alphabet. The blocks can be inserted into the slot on the electronic side or stacked on the top of the activity cube to learn more about each letter. The electronic side has five piano keys, telephone, and a number keypad for great playing experience. Other sides of VTech Alphabet Activity Cube has fun mechanical elements like a peg maze, put-and-take holes that lead to gliders, a mirror, storage area, gears, and more.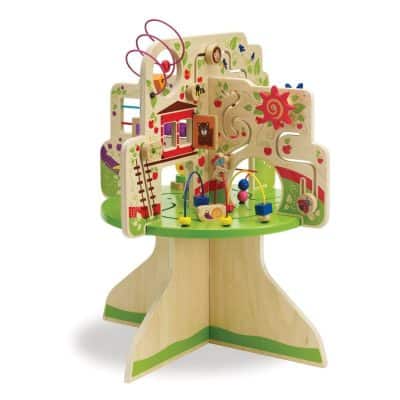 The Manhattan Toy Tree Activity Cube is packed full of exciting features and includes four quadrants with multiple activities. Featuring a spring flower, 6 tracks with annual-themed gliders, and 6 bead runs with colorful wooden bead, this activity center cube is arguably the best product on the market today. It stands at 22-inches high by 18-inches wide, and the sturdy construction makes this activity cube great for an activity room or nursery room. The bead runs smoothly and gliders provide hands-on learning. This solid wood activity center will offer your little one hours and hours of explanatory fun and learning.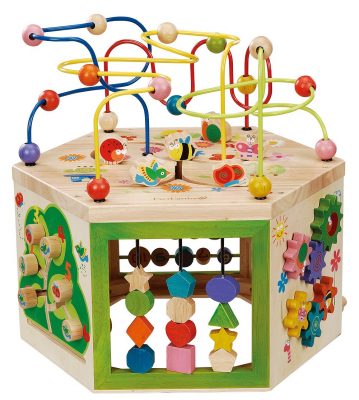 It's not all fun and games you should be looking for when buying an activity cube. You should also keep an eye out for safety, durability, and potential cognitive development. The Garden Activity Cube from EverEarth will pull off all those stops for any child past the age of 18-months. It features activities that combine just the right amount of fun and learning that a growing child would need daily. The activity cube comes with moving cogs, moving beads, an abacus, shape sorter, and a maze. It even has a multiplayer facility so your child can share the fun with their peers and spend some quality time together. It's made of premium quality beech and comfortably satisfies European standards.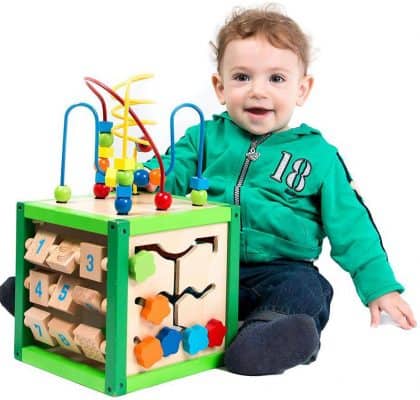 The Kids Destiny Activity Cube has five sides to it that are loaded with fun activities for your toddler to indulge in. The peg maze located on top has removable and reversible beads that are large enough to be easy on the little hands that play with them. Below, it has one side each for rotating gears, a chalkboard, a sliding pegboard, and an abacus. Altogether it has five corners to turn to each time your kid wants to engage themselves in something fun and creative. However, the construction isn't all about fun and games. As ever with any child's toys, it needs to be safe and durable as well. It's made entirely out of wood and comes fully assembled and ready to play straight out of the box.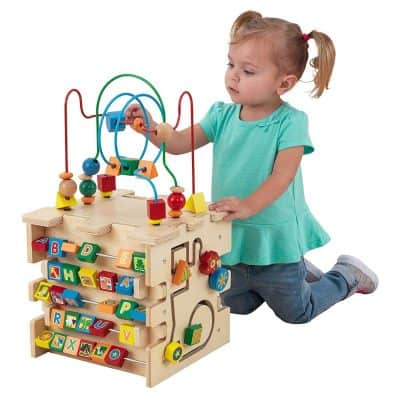 The KidKraft Deluxe Activity Cube comes with plenty of fun for kids to choose from. Since it comes with a hefty weight of 9-pounds, it'll stay put where you want it to remain. The activity cube has 5-sides that provide tons of fun and help develop hand-eye coordination and teaches the ABCs. Furthermore, having been made with the safety of your younger one in mind, it comes with rounded edges that keep the little ones safe as they enjoy the fun moment. The colorful artwork on every side of the cube means that your kid will love exploring the fun. Although it's made to last for years, it doesn't come with a heavy price tag.
If you're looking to get the perfect activity cube for your wee one, then the Ultimate Alphabet Activity Cube by VTech is the right one for you. The unit comes at an amazingly low cost and is made for little ones aged between 9-months and 3-years. It comes with 13 double-sided letter blocks that'll help teach your kid of the family ABCs. And when it comes to fun, it comes with more than 250 melodies that'll keep the young one entertained. Besides, the block chute counts the blocks as they go down while the ability to stack the blocks at the top of the cube makes it more fun.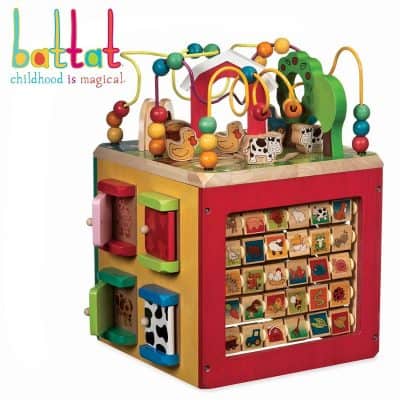 The Battat Wooden Activity Cube has five interactive sides that give your kid the best form of entertainment. There's a spinning animal alphabet on one side, a roller coaster on another and so much more. One thing you'll love about this activity cube is the fact that it's made from high-quality wood. Unlike most toys that are made from plastic, this wooden toy is going to stand the test of time. Also, Battat wooden cube is suitable for kids aged 12-months and up.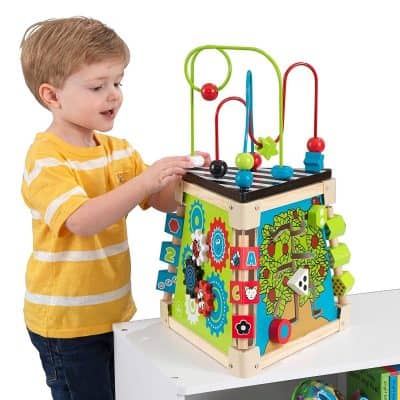 If your child is just starting to learn the alphabet, the Triangle Activity Cube can help to smoothen this learning process. There are different pictures and letters inscribed on the rotating blocks to help your child practice the alphabet. It also features a beaded maze. Your kid will remain engaged, trying to push and pull these beads along the winding tracks. Overall, this is an excellent activity cube to help your toddler recognize shapes and colors.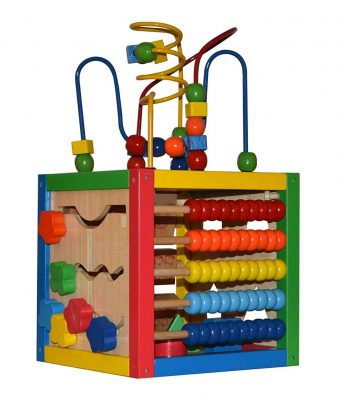 The Play 22 Activity cube includes 5 activities to play with. These include blocks shape sorter with 4 color shapes, abacus counting beads, sliding shapes, spinning shapes counting numbers, and a removable wire bead maze on the top. Babies will benefit a lot from playing with this cube as it'll help them identify numbers and colors. The other benefits kids can gain from playing with the toy includes improving their creativity skills, improving vocabulary, and enhancing logic, motor, and problem-solving skills. Besides, it's made out of non-toxic and harmless materials, meaning that it's safe for children to play with.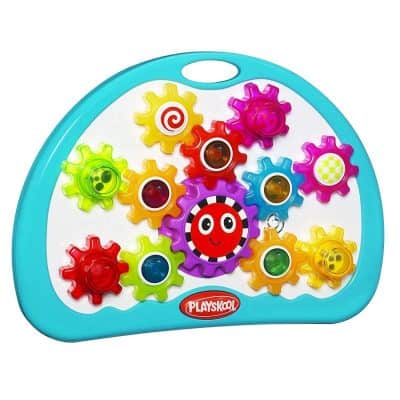 It's always fun time and playtime when it comes to playing with the Playskool Explore 'N Grow Busy Gears. It features 11 interchangeable gears that spin, plus music, sounds, and twinkling lights. When your little one presses the button, the colorful gears spin, and swirl, with fun music, twinkling lights and lots of giggles in the background. One advantage that comes with playing with this game is the convenient handle that makes it quite easy to move about or transport the game. It's recommended especially for kids aged twelve months and above. Furthermore, the toy also encourages the development of fine-motor skills, cognitive learning and sensory development in kids. The toy will encourage hands-on exploration and discovery with the electronic gears that go round 'n round.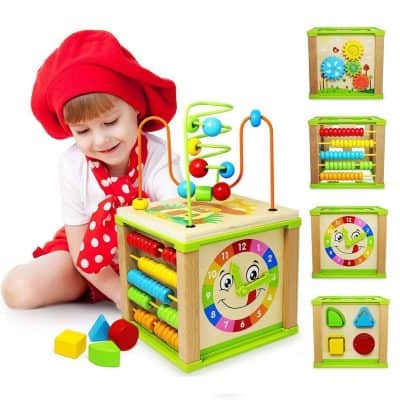 The Wooden Activity Cube from Titiyogo comes with 5 different activities that kids can choose from. The multiple activities, coupled with bright colors and gadgets, encourage sensory stimulation and brain development. The maze of beads will encourage kids to reach out, stimulating their logical thinking. Rotating the pointer in different directions will guide children's time recognition skills. These features make it one of the best educational games for toddlers. It's recommended for children aged one to six years old, so your little one will have many years of fun with it. Besides, safety and durability are the main key features of this well-designed wooden activity cube for toddlers.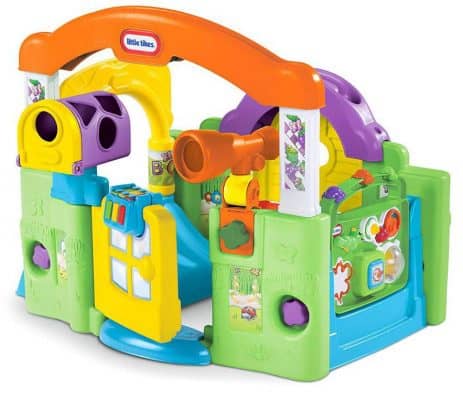 The Little Tikes Activity Garden is a multi-functional baby playset that encourages kids to develop fine-motor skills. It's safe and durable as it's made out of premium, non-toxic materials that guarantee that kids are safe and free to play with the game. The activity cube also features a large button that plays a song, clicking bugs, mirror spinner, bead tumbler and more. The play center also easily transforms without tools into an open, two-sided play center. The play panel can be adjusted to sit horizontally for sit-at play. It requires AAA batteries for operation and thanks to its enclosed environment, kids would feel safe and at home when playing with this activity garden.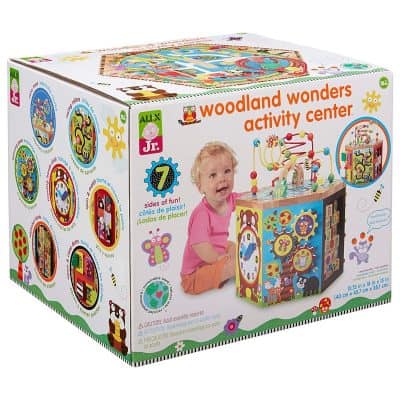 The Wonders Activity Center from ALEX Jr. features seven fun sides that mean long hours of fun when playing with this toy. Playing with this game provides unmatched fun, learning how to tell the time and also learning the letters of the alphabet. This well-equipped game comes with everything one would need and its seven fun sides include matching characters, a clock, spinning gears, racing rollers, wooden beads, and a curvy maze. It's recommended for kids aged eighteen months and above. Kids will have months of fun playing with this educational toy.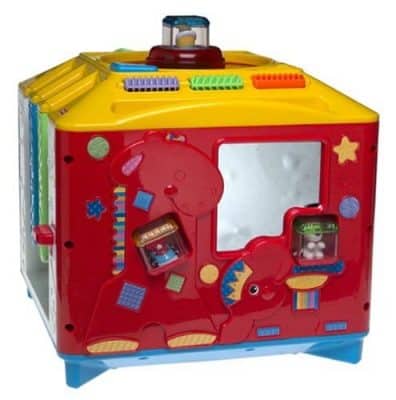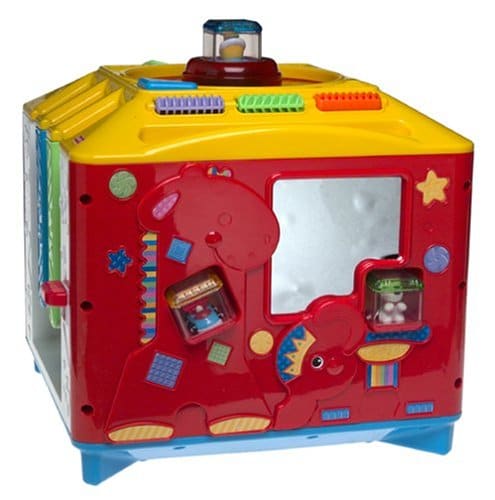 The Fisher-Price Incrediblock Activity Center comes with eight words, eight songs, and numerous sound effects. It's one that's quite easy to play with. Simply push a block down or hit the blue triangle at its top then watch what happens next. There are five sides of activity play including 2 block drop sides and 2 storage sides. The cube offers the option to stack the cubes up on a rack and then release them to tumble down with a turn of a lever. There are also other fun games included in the activity center that should delight toddlers. It's a must-have game for kids aged nine months to two-years-old.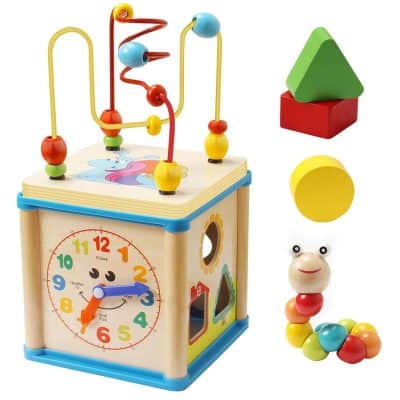 The LuaLua Baby Wooden Bead Maze has been designed to provide children with a safe enriching experience. The sides have been smoothed out, all of the paints are water-based and non-toxic, and the cube has been created out of materials that are the best quality you can find. There are bright colors and sensory-stimulating gears that improve the cognitive development of your little one. On top of the cube, they'll find a maze created with beads then moving to the side of the cube are sliding bugs that encourage their fine-motor skills. Moreover, there's a side with shapes fitting into cutouts on along with a clock with moving hands on the next side. All of these activities are great for keeping them busy for countless hours while developing their developmental skills that are vital to their coordination and mind.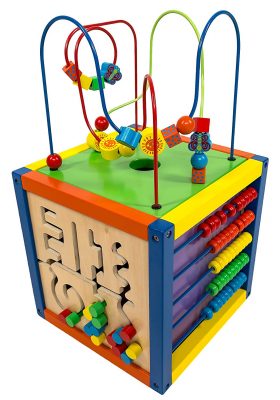 The fact that this activity cube for kids is 6-in-1 means it has up to 6 activities. That said, it's the go-to item for any parent who wants to keep their little ones engaged for hours. It has lots of features such as a xylophone with mallet, clock with moveable hands, sliding shapes, city road scene with the wooden racecar, and wire and bead play. Besides letting your little one use it as a separate table-top activity, the bead and wire play panel can be reversed to enable it to tuck into the cube for effortless storage. This activity cube for kids is recommended for children who are at least 12 months.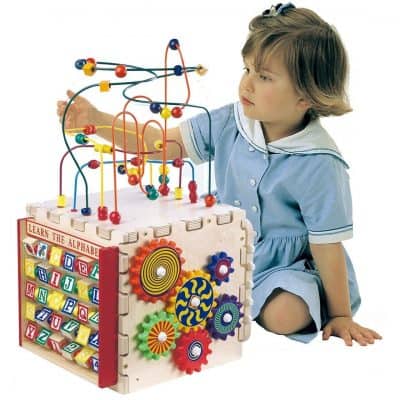 The Anatex Deluxe Mini Play Cord is packed with multiple things for keeping your child busy. It includes dynamic activity panels that are outfitted with the Mini Rollercoaster Express, Learn the Alphabet, Pathfinder, Counting Abacus, and Fun Gears, all designed to play to children's curiosity and enhance their critical cognitive skills as a result. The top of the activity cube features a rollercoaster bead maze, home play areas, classrooms, and an internal favorite of waiting rooms. It measures 12-inches long by 12-inches wide by 24-inches high, and it's ideal for children aged 3-years to 5-years.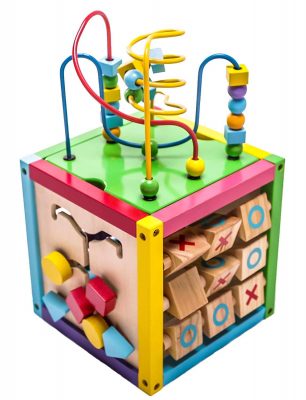 The wooden activity cube from MMP Living will entertain and also educate your kids. It comes in a colorful design and doesn't have any toxic paint to keep little ones safe. It has a 6-in1 design and offers 6 entertaining games. The unit is very versatile to cater for different users and will develop their fine-motor skills, counting, color identification, tactile play, and sorting. It's made from safe materials and comes in a child-friendly design to prevent injury.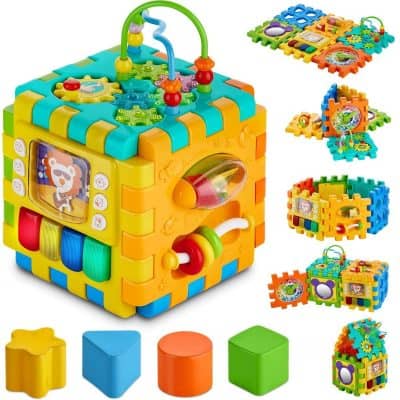 If you're looking for a way to keep your toddler engaged as you work, then this 6-in-1 Baby Activity Cube is the one for you. This toy not only entertains your child but also teaches them plenty of things. They can learn shapes, how to tell time, and so much more. One thing that makes the activity cube stand out is its compact size. The 7-inch sides are big enough for clumsy toddlers and they have the perfect height. Whether your baby chooses to sit or stand, they'll be capable of reaching this activity cube with ease. Moreover, this baby activity cube doubles up as a storage unit. When your little one is done playing, they can store all four shapes inside the toy. It's ideal for toddler-aged one-year and above.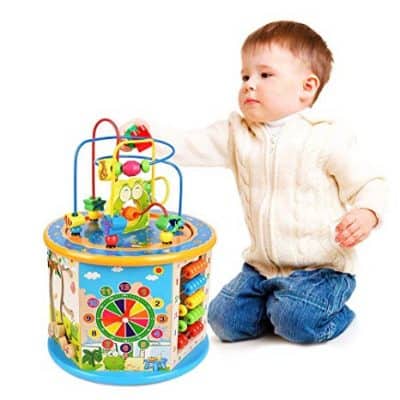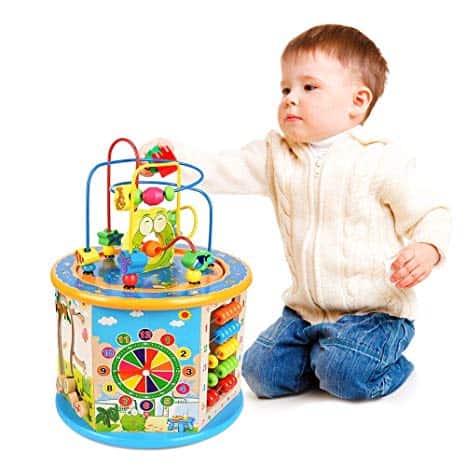 The Titiyogo Wooden Activity cube includes 8 activities of fun. Activities include bead maze, rainbow gear, flying chess, numeral flip board game, recognize clock, interesting maze, shape sorter, and colorful counting beads. Playing with the game also means kids will learn quickly. This isn't just a toy for fun, but also one that'll help to build up certain skills in children. Some benefits include enhancing cause and effect, imaginative skills, motor skills, and even hand-eye coordination. Parents are sure to see a difference in their child's abilities after playing with the toy. Safety is also of the essence when talking about this toy as it's made from non-toxic and harmless materials. This makes it safe for kids to play with. It's also the best gift item one can offer a toddler or kid on their birthday, Christmas or any other notable celebration.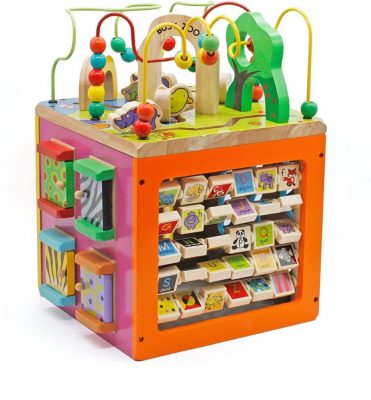 The Pidoko Kids Wooden Bead Maze Cube features smooth edges that make the game safe for babies to play with as it won't hurt their hands should they slip whilst playing. Durability is one key feature of this game as it's made using high-quality materials that ensures it lasts for long periods. The cube is handcrafted with durable and premium quality wood. The toy is one that's aimed at helping babies develop many skills including vital hand-eye coordination skills. Moreover, the toy is perfect for the home, nursery, schools, waiting rooms, and other child-friendly play areas because of its interactive nature.