Top 30 Best Bath Time Games for Kids & Toddlers 2021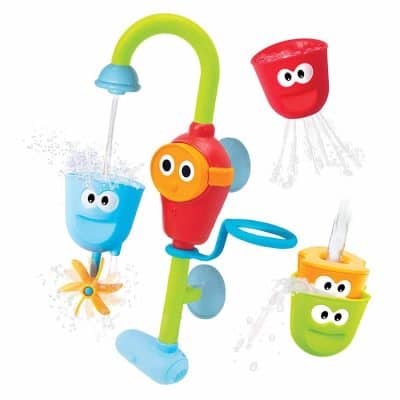 Based on a simple principle, this battery-operated game can be played in multiple ways. There's a simple spout which draws water out and through the sprinkler on top. 3 stackable cups can be placed together or apart right underneath the water stream.
This bath time game has already gained popularity as it can virtually be installed on any tub. It just needs a free wall to be placed in position with its suction cups. But one of the best ways of playing with it is to add even other types of bath toys. Boats can be drawn towards the water stream where it hits the water again and kids can learn basic water physics as a result. With a swiveling design, it can be also installed in the tight corners of the tub.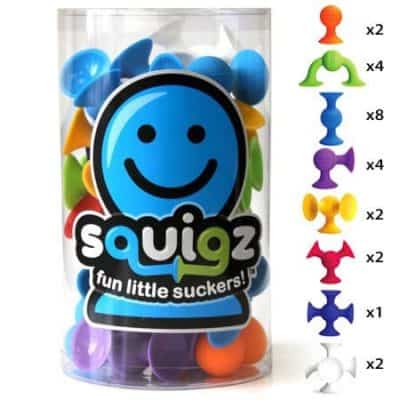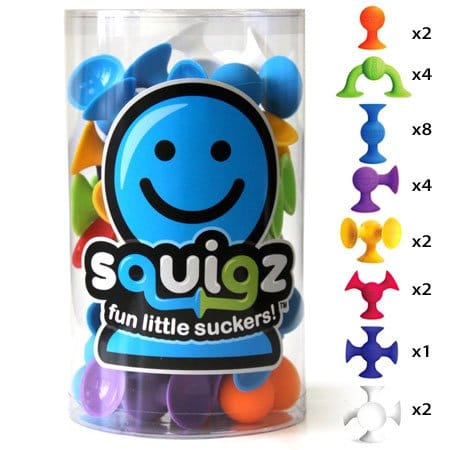 With 24 pieces, the set can be a great start to what can be one of the most innovative games to be played and strategized in the bathtub. There are 8 different pieces made from rubber which connect thorough suction and they are often used in at bath time.
Many kids have the freedom to simply create whatever they want to create. Those with higher innovative spirits might even purchase the Deluxe set with 50 pieces instead of 24. However, toddlers can start with the mini set version which gets them going with innovation.
Made with different colors and shapes, this set is quite different from other building sets. It represents a valuable option for those who want extra freedom, especially when it comes to proper versatility and not feel limited by classic games or bath time toys.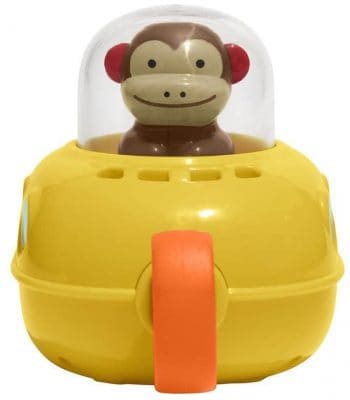 Not many would think to put a monkey in a submarine, but Skip Hop Pull has made such a toy which represents the basis of an interesting bath game. It comes with a very durable profile which means it will submerge without any damage.
The interesting aspect of it is that it also comes with an included propeller. It sends it moving around the tub and kids can look at the submarined traveling on water. To active the propeller, there's pulling string kids need to use. The interesting part is that this is a mechanical function and there are no batteries to be used to add power.
Encouraging motor skills, the toy teaches kids how to place objects on water and how to pull strings. Furthermore, it can be one of the toys to play with to make bath time more fun, which is always a benefit in itself.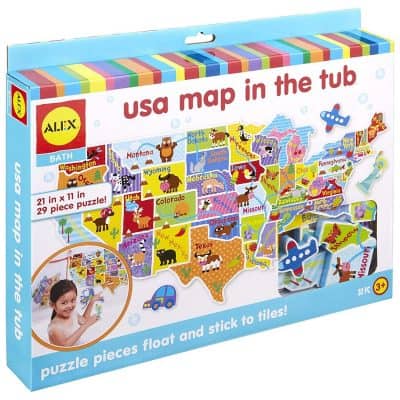 Learning doesn't need to be boring. It also starts at home and not in school. This is why many kids can start learning the US states, having fun, all while taking a bath. This unique game comes with 29 pieces which need to be put together to form the US map.
The pieces stick to the wall of the bathtub so kids have plenty of space to make the map themselves. All states are mapped out and parents can take the opportunity to improve their kids' geography knowledge. At the same time, there's an included animal for each state. Normally, it is an animal which is most popular in that particular state.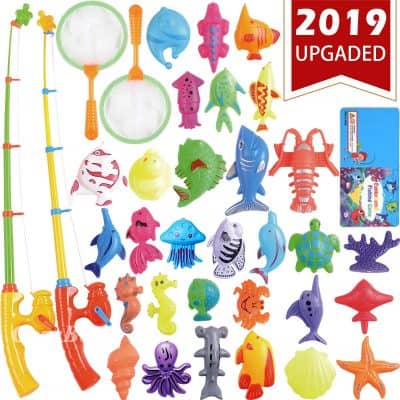 Including all types of fish, this set is one of the most interesting options of its class. It represents a valuable design which can be used for all of those seeking extra fun in the bath. All fishes are resistant to water and they can be played with daily in the tub.
There are two fishing rods included in the set. This is why it can also be a great social game for kids and their siblings to play together. But the biggest advantage of the set is that its fishes look real. A crab is a crab while a start fish looks like a starfish, unlike with other alternative sets.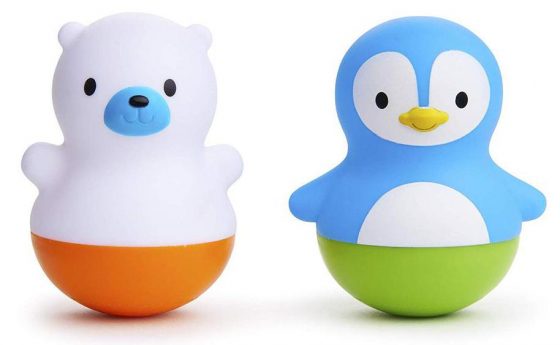 There are two bobber toys included in this set. A bear and a penguin are put together to offer kids a fun time in the bath. These bobbers float on water and they move around while still staying upright. This is why kids will have fun looking at playing with them.
These toys are made with no moving elements. As a result, they are among the few designs which can be relied on from the age of 6 months and up. Lightweight and easy to use, they are perfect for parents playing with their kids as well, as there's two of them.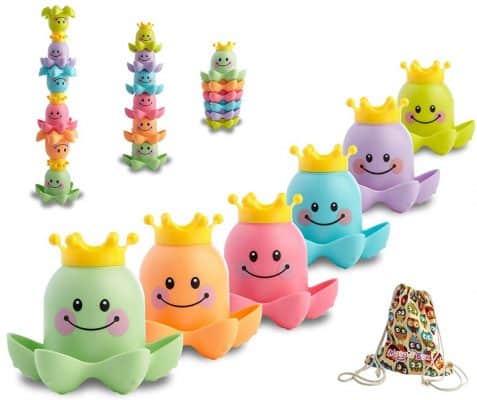 The nesting cups come with an octopus shape and they represent one of the sustainable options for kids to play with for a long period. All of them come with included holes. This is why they create waterfalls which are different as many more cups are used together.
The Ocean Staking version of this simple game also looks apart. Made with different colors, the stacking nesting cups represent one of the suitable options for kids who also like to put things together and then take them apart. This is why this game might only be played by a single child and it might not be best for social groups as every child creates a different waterfall according to personal preferences.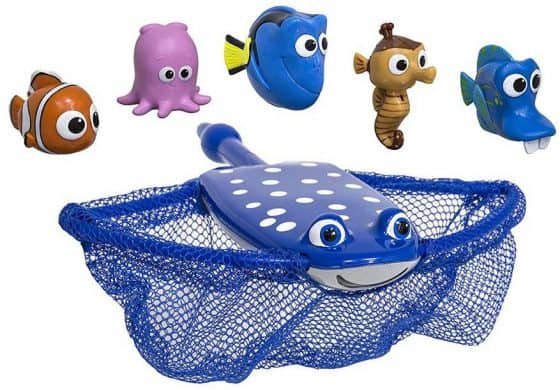 The game is one of the classic in-water activities for kids to have fun with. It requires some coordination and it is not suitable for toddlers. But kids love it's fun and simple principles. Mr. Ray is the catcher net and his friends are Nemo, Dory, Pearl, Sheldon, and Kathy.
All of these fishes sit at the bottom of the bathtub. This is why kids have to go deep to find them. While this sounds easy, baths with fizz make this a task against the clock. Parents can hide the fishes from the kids and even join in on the fun experience.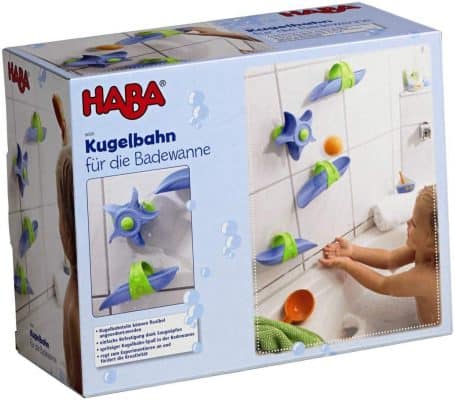 Based on a ball which travels towards the bathtub water, the playset is very easy to use. Kids have to install their pieces on the wall themselves. They represent a simple option which can roll down the wall. The same principles apply for water which can replace the ball.
Before hitting the water, the ball needs to pass through a few tests. One of them is the paddlewheel which will test the entire structure of the game. If not positioned correctly, it will throw the ball off the track. Made with durable pieces, the set is an option to last generations.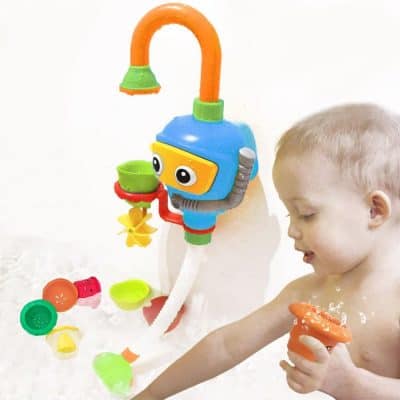 There are two pumps in the set and they can be installed directly on the wall next to the bathtub. Since there's 2 of them, kids can share them with siblings for more imaginative play. At the same time, these pumps come with included benefits for imagination as they create an endless stream of water.
The bottom part needs to be placed inside the water. For the pump to start drawing water in, kids need to press the friendly face glasses of the pump. A few plastic cups with holes are also added in the set. They can be used to create different waterfalls for kids to play with.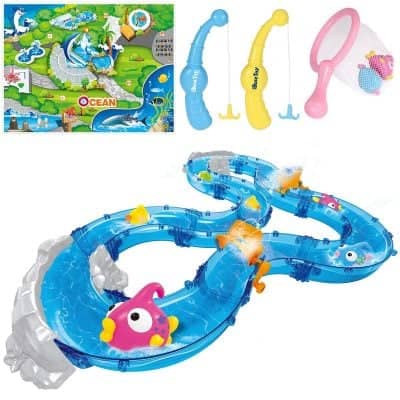 iBaseToy manages to offer one of the most discussed games in this class. It is a solution which has plenty of versatility to it. This is the main purpose of this otherwise compact game. The track can be placed on the floor as it can also be placed in the bathtub or the pull. Added water on top makes it look mesmerizing. Then, kids will need to add the fishes to the track.
Once the fishes are in the water-filled track, they can use the included fishing rods to get them out, one by one. One of the distinct aspects of this game is that it allows kids to play freely but it also challenges their strategic thinking and cognition while they put the set together. Adding just sufficient water to the track also tests kids' coordination.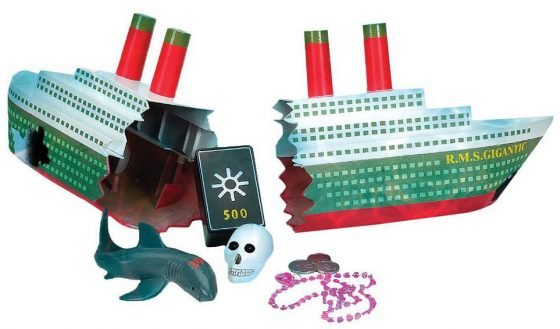 Based on a large shipwreck, the game comes with its own story. It is easy to use but its main purpose is to sink the treasures it comes with. These treasures include a necklace but they can also represent other popular products such as coins.
In clear water, finding the treasure is somewhat a given. However, when using bath bombs, the water starts to lose its transparency and fizz might make finding the treasure more difficult. This is why with the help of the parents, kids can have their very own treasure hunt, right in their bathtub.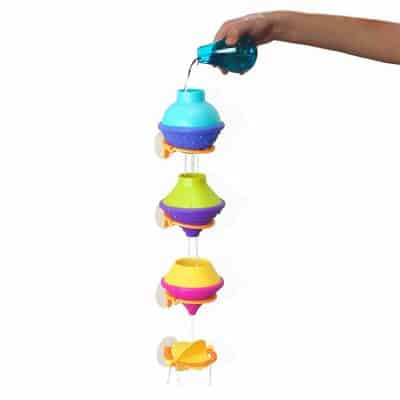 Unlike a few other designs in its class, this water drip toy set comes with 3 cups with different designs and a propeller. Water can be poured on top of them to create unique drips. Kids can install the cups themselves and all they need is a free wall.
A pouring container is also included. This means it won't need to be a complicated solution, especially when all the accessories are already included in the pack. Creating a unique waterfall can keep kids occupied for hours and parents happy as they can bathe the little ones in peace.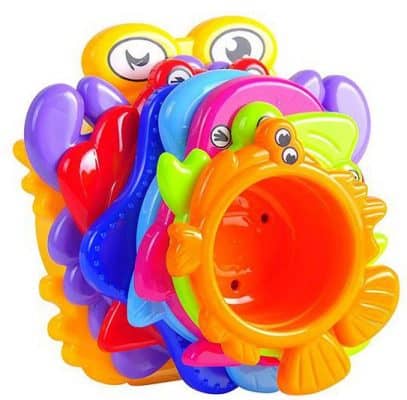 There's nothing as fun as playing a simple stacking game. Without require too much thinking, kids can have their fun both in the bathtub and outside of it. There are a few different pieces in the set which are made in different colors. All of them also come with holes so they drain water.
Made from BPA-free materials, these cups are also durable. Kids can play with them for years. They can even take them to the local pool or at the beach where they can be stacked on the sand. When fun time is over, these stackable plastic cups can be rinsed clean quickly.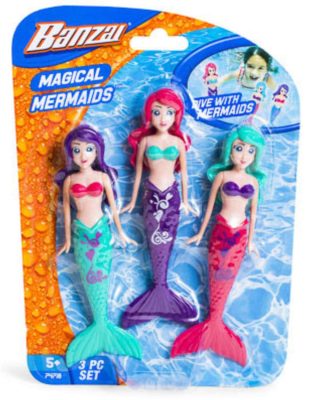 Little mermaids are not often seen in the bathtub. But girls need their special games and this set can be a great option for them. It includes 3 fun mermaids to play with. All of them are just 5 inches tall and they represent a fun solution to play with inside the water.
Those who might already have a bathtub filled with fizz might even use them to start a hide and seek game right in the bathtub. However, the mermaids will need to dry to prevent mold formation.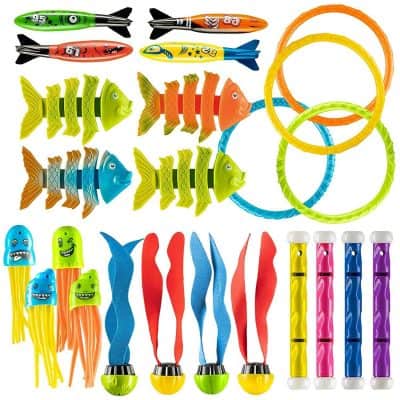 With so many pieces going straight towards the bottom of the bathtub, this game is suitable for kids and their siblings. All fishes need to be collected from the bathtub. But it also comes with stick and rings.
Kids can start throwing the rings on the sticks to see how many they manage. At the same time, they can drop them on the sticks while standing in the bathtub. All of these toys are based on some type of tossing principle and this makes the game a suitable choice for kids with high energy as well as for kids who already have good hand-eye coordination.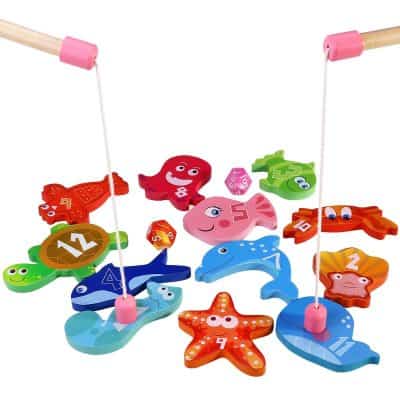 As one of the few sets made out of wood, the fishes will float on the surface of the water. They will not be damaged as they are already painted. But they also feature small magnets which attract the magnets of the fishing rods. This is why they can be used easily as the fishing road approach the fish to attach immediately.
There are 12 different fishes included in this set. Kids can play with them even while staying in their toddler bathtubs and placing them on the floor, right next to where they sit. With two included fishing rods, parents can give them a helping hand when things need to wrap up and go to bed.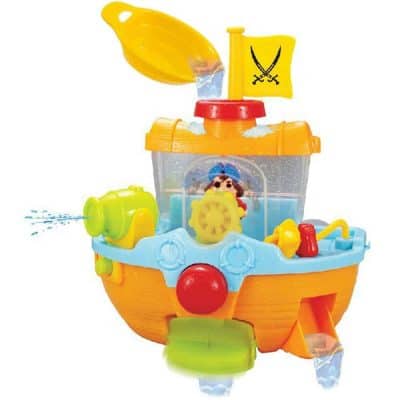 This pirate ship fixes on the wall with the help of suction cups. It comes with a full list of accessories and from them, it allows kids to enjoy multiple play modes. As many would expect, it represents one of the suitable options for added water.
Kids can add water to the ship until full. With the help of a release button, they can let go of the water for a splashy experience. A small ship captain is included as well. This is why it can be one of the interesting toys to include small figurines and multiple play modes.
After playtime is over, it will need to dry properly. Parents can even use a fan to dry the ship as it can develop mold, especially if not stored in a cool dry place around the house.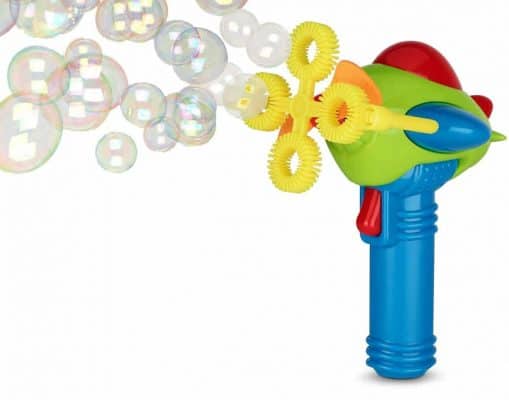 Now made with a more solid construction, the bubble gun blower is an inexpensive solution for bath time fun. Its design has already been proven over the decades as kids play with it even outdoors. But Bamgo took this design to the next level. With 4 wands, there are even more bubbles to create and to play with.
One of the benefits of using a bubble gun blower in the bathtub is that there's no need to add water and soap. Those who already use bath salts can simply use the water from the tub to create the bubbles. With an included trigger, kids don't even need to blow to create the bubbles.
Two AA batteries are needed to power the bubble gun blower. They are safe inside the gun, even when completely submerged. Most have the freedom to even keep the bubble gun in the bathtub and take it out to make bubbles on occasion.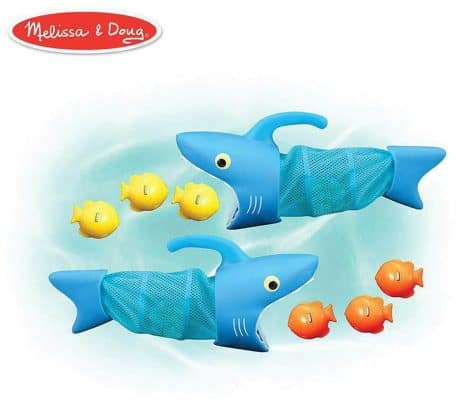 These sharks are some of the simplest toys to play games in the bathtub. Their simple design needs no training and kids don't need to go through a long learning curve with them. Since there are two of them, the set can be recommended for those who want to play with friends.
The entire idea behind these sharks is to get the small sinker fishers out of the tub. There is a small handle on the top of each shark which kids need to guide towards the smaller fishes. Furthermore, the entire set also comes with lightweight materials so that kids don't get tired too quickly. For some, the lightweight sharks come with long fishing sessions.
But unlike other similar fishing games, playing with the sharks has a more predatory feel. This is why kids love them whenever they go to take a bath, as long as there are no bath bombs to stay in the way with its fizz.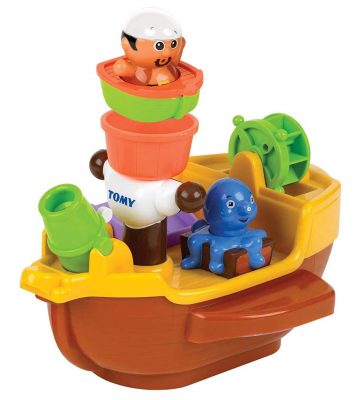 As one of the few pirate-inspired toys, the ship is ready to be part of any battle game in the bathtub. It has a high value when it comes to its list of features and even if toddlers can play with it, the ship also has just plenty of accessories to keep older kids interested as well.
It floats on water, which is already a big plus compares to other pirate ships which need to be fixed on a wall. Furthermore, it also includes water in the way it can play various games. For example, the octopus shoots water when pressed. A water canon has also been added right in front of the ship to deal with any incoming enemies.
A true pirate captain has also been included on this ship. It is one of the main reasons why the toy can be seen as an alternative to expensive figurine-based options. Furthermore, no batteries are required to shoot water through the canon. All kids with the age of 18 months and up will find this ship a good companion to navigate the complex waters of the bathtub.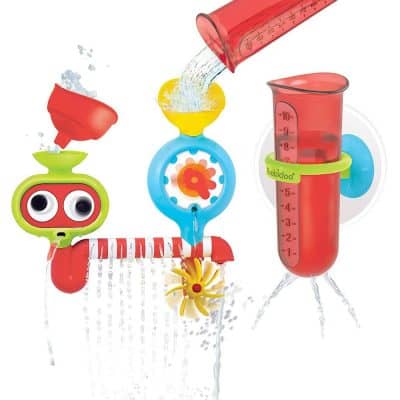 Made to attach directly to the bathtub, the water activity center has it all. It even comes with a test tube container with numbered volume marks. As a result, kids always know just which amount of water is responsible for certain effects such as those created on the spinning wheel.
With funnels for filling and pouring, this game can be played by kids who might still not have the finest motor skills. They don't need to pour the water exactly in the center of the funnels. Based on an included spin gauge, there are 10 water sprays to count on. Most kids can enjoy them to the fullest, especially since they might not be the first choice for some children.
Parents can also rest assured there's an educative objective behind this set as well. It can be used to trigger kids to learn more about liquids, containers and basic science experiments. But for most of them, this will feel like normal playtime.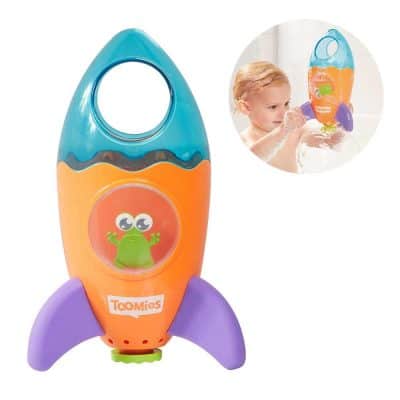 Not many would expect to play with a rocket in the water. But Toomies knows its design is already a hit with so many toddlers. Not only does it look great but it also creates an impressive water effect. Whenever lifted high, it allows water to escape in a dome shape. This is where kids are actually left mesmerized and no matter how long they play with it, the rocket is still an original idea in the bathtub.
The design of the rocket is orientated towards toddlers. This is why it will also teach them fine motor skills of grabbing and raising an object above the head. To do this, toddlers simply need to hold the rocket by its wings and lift it high. Whenever it is lifted, it also allows water to escape as soon as possible.
Made with no small parts and no removable accessories, it is safe to play with for toddlers. Those above the age of 12 months can take the rocket with them to the bathtub to enjoy the latest space odyssey right in the bathroom.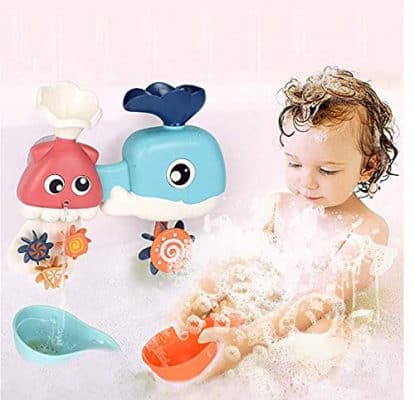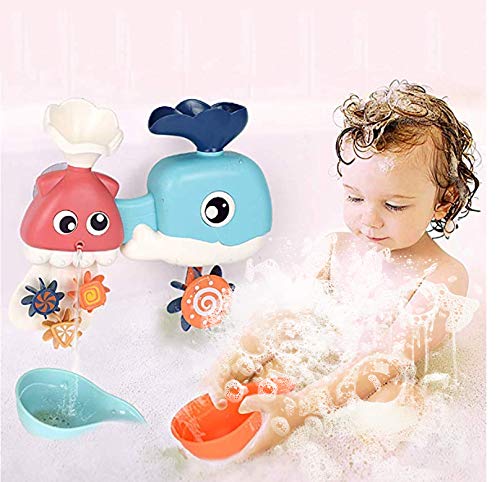 Installed via suction cups, this game is easy to handle. It is specifically made for toddlers who might not feel too sure about water. Installed directly on the bathtub wall or a wall next to it, the game can be played simply by pouring water on top of the funnels.
Below the funnels, toddlers will see either one spinning wheel or 3 spinning wheels, depending on where they pour the water in. At the same time, this creates a spectacular effect which they love and which also makes them understand water better.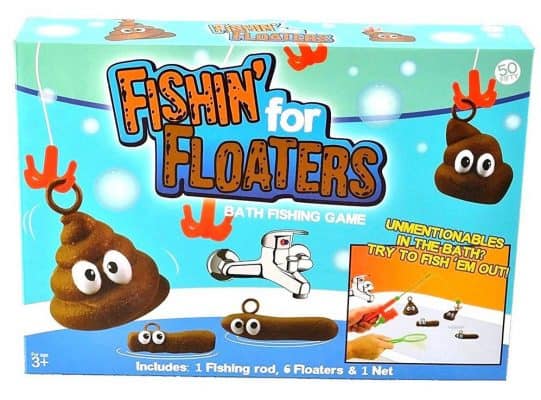 While for some it might seem a bit off-putting, the game is enjoyed by kids of all ages. It comes with a few floaters and a collectible net which keeps them all in. Most kids will have to fish them around the bathtub and they will have a lot of fun while doing it. Furthermore, the game can start a few laughs when played at the public pool.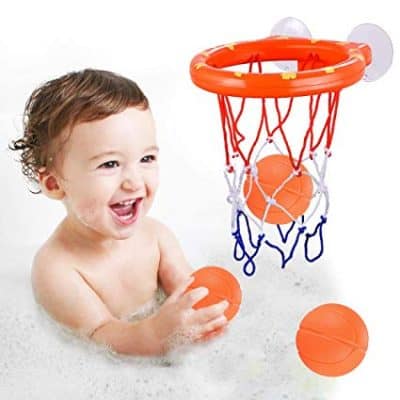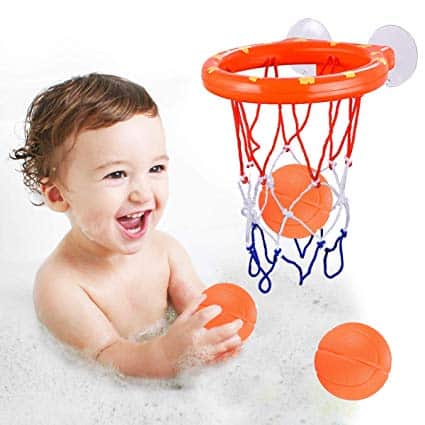 Suitable for developing hand-eye coordination, the game is played at high speeds. Since it takes a while for kids to master the bath balls, parents will need a lot of patience bringing them back. An included net sitting on suction cups makes this entire game easy to install. Kids are ready to shoot the hoops in a matter of minutes. In the beginning, they will also test their patience as they will miss many chances.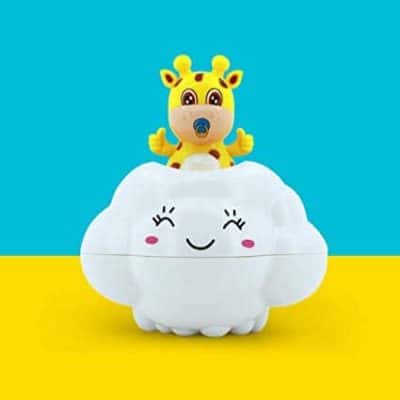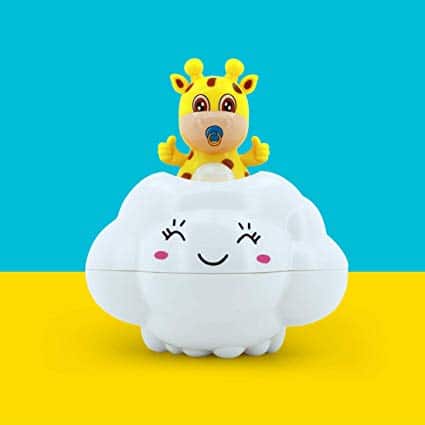 This toy is also installed directly on the bathtub. Kids can tell what it does immediately. Shaped like a cloud, it holds water and then releases it making it seem like it's raining in the bathtub. A small cartoon-inspired deer has also been added on top of this cloud for a more toddler-friendly experience.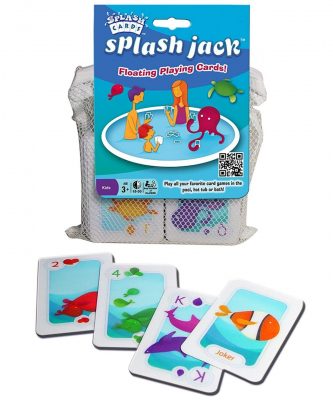 Made with floating cards, the game can be played by older kids who want to have a fun social experience in the bathtub or at the pool. All the cards float so there's no need to look for them at the bottom of the bathtub. Furthermore, they feature distinct animal prints for full water-themed playing experience.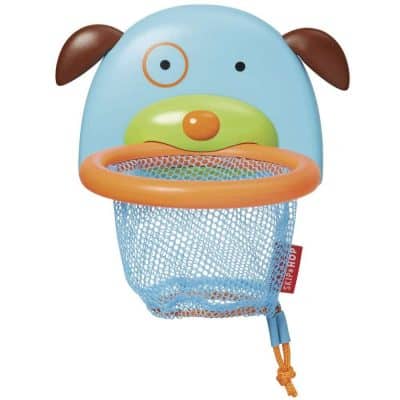 If kids are unsure about shooting hoops in water, the quirky basketball set can entice them to at least try. It is one of the friendliest design of its class. As it targets toddlers, it has its quirky dog design. Older kids might not like it but toddlers will have to try and aim for the dog while improving their gross motor skills.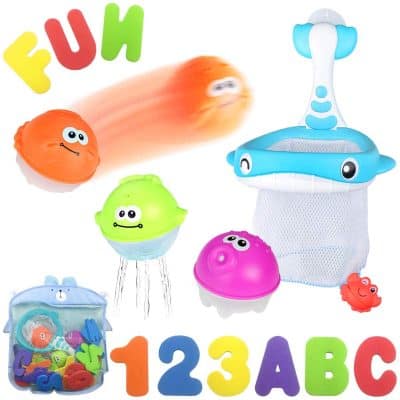 Not only balls can be thrown in a basketball net. Numbers and letters can be thrown in as well. Parents can use this efficient set to get the ball rolling with numbers and letters. Kids can learn how to count to 10 while throwing the letters. But they can also learn the entire alphabet simply by pretend-playing basketball.