Top 30 Best Doll Houses for Girls 2021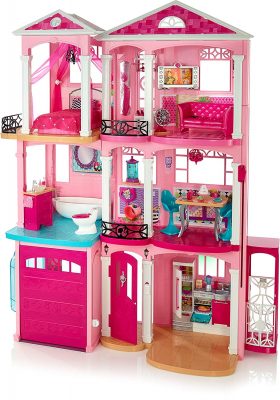 The Barbie Dream Doll House is a perfect gift for your daughter. With more than 70 accessories, your child will have the ideal environment to create her world as she'd love it. It also has smart accessories too. Some light up, others produce sound while others can move.
The dollhouse has three floors. There is a kitchen, balcony, and a garage on the ground floor. The second floor has a bathroom and a dining room while the third floor has the living room and a bedroom. You can add a Barbie doll to brighten this dollhouse.
You can manipulate the garage to become a game room. When the atrium window is flipped down, it becomes a swimming pool. There is also a flat-screen in the dollhouse where you can insert your smartphone and play videos for Barbie. Barbie Dream House is a perfect gift for your girl.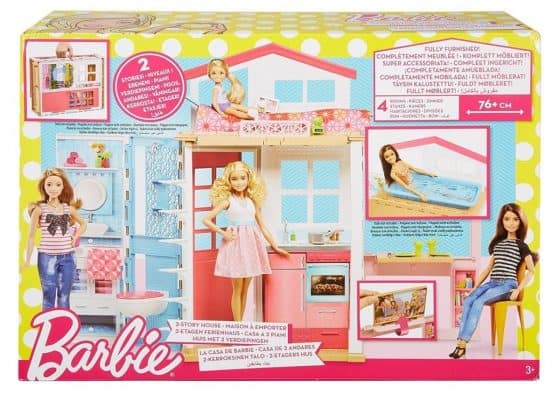 This is a 2-story dollhouse with multiple playrooms. These rooms have beautiful yet different themes. There are fun activities in each room to keep your girl engaged.
You can transform the living room into a dining room. The television becomes a table and a chair when flipped down. The bedroom can also be transformed into a spa! The bathroom is equipped with a toilet and a shower.
The doll will help develop your child's imagination and creativity. She can help Barbie cook, have a massage, clean up her house or watch a movie. Each play day with this dollhouse will have a different story.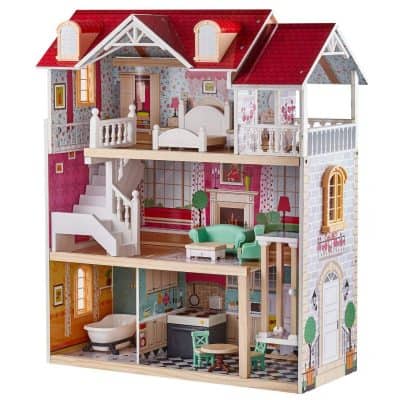 TOP BRIGHT dollhouse is a perfect dream house for your girl. With three levels, 12 pieces of furniture, 5 rooms, and a balcony, this dollhouse is a perfect getaway for your kid. There is so much she can do and imagine with this piece.
You do not need to worry about your child's safety. This dollhouse and met international safety measures. It is BPA free and the frames are made of natural wood. It also has smooth edges that ensure your girl does not get scathed while playing. It is also durable.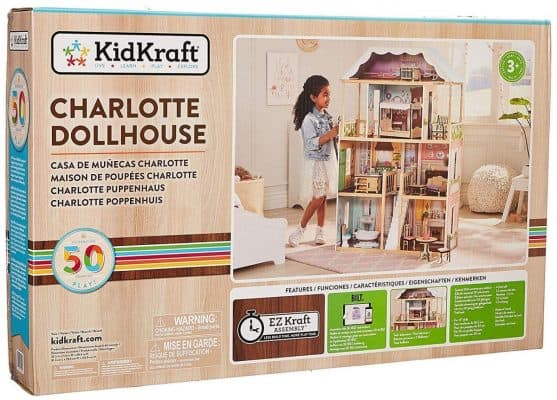 This dollhouse is a perfect gift for girls. With 4 levels and 6 rooms, this dollhouse can host 12 guests. It also has twin balconies. It has delightful colors with a cozy finish. Several kids can play at once and create memorable stories in this house.
Assembling this dollhouse is pretty easy. It has 14- piece furniture which will actively involve your girl during playtime. It comes equipped with a rocking horse, a tub, bed, table, chair set, bedding, and more. These items are either in the attic, bathroom, kitchen or sitting room.
The dollhouse is made of plastic, wood, and MDF making the dollhouse durable and sturdy.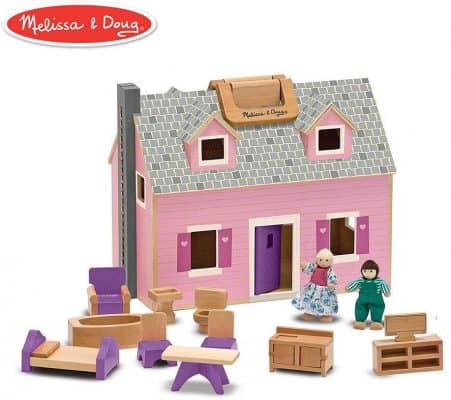 This portable dollhouse does not need assembling. Once unfolded, your kid gets engrossed in play activities. It has different shapes of furniture which will help your kid differentiate between shapes and sizes. This dollhouse will help boost her cognitive development.
Additionally, the doll has two wooden characters who are its tenants. Your girl can choose to have the characters cook their meals or relax in the bathtub.
Melissa and Doug Company have heightened the pretend play experience for your child. The company's objective is all about ensuring your child has a memorable childhood experience.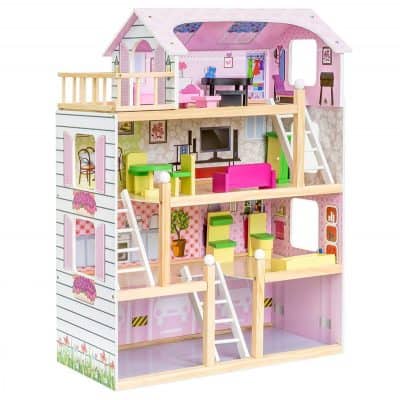 This cottage has 4 levels and 13 pieces of fun furniture. It also has accessories such as a piano, bathtub, and stove. These accessories will create a thrilling adventure for your girl.
There are different rooms to explore too. You can choose to relax on the balcony, bedroom or living room. There is a staircase to ease movement. This dollhouse is suitable for kids aged 3years and above.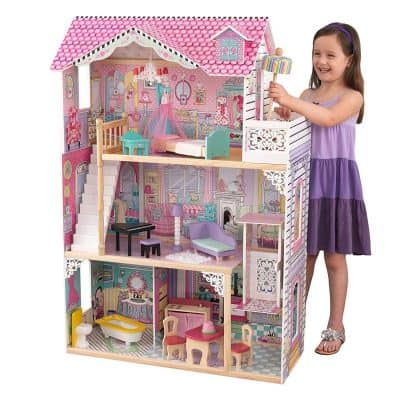 KidKraft Annabelle Dollhouse is all about developing your girl's skills in interior designs. It has captivating accessories which include a claw foot tub, chaise lounge, chandelier, piano, and a patio table. These pieces of furniture display exquisite elegance.
In addition to this, the house has wide windows on each side to help in viewing dolls from different angles. It also has a working elevator and a staircase for easy movement. This toy will light up a smile on your child's face.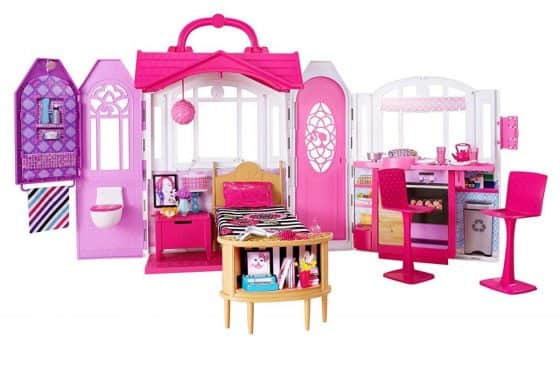 The Barbie Glam Getaway House is where Barbie goes to when she needs to escape from the world. This dollhouse has a kitchenette, a bathroom, and a bedroom. The pink theme is an added décor in this house. Your child will have numerous stories to tell about Barbie.
It is also portable to carry around. You can tag it along during vacation or when visiting grandparents. All that is needed is folding the dollhouses and closing the latch and you're ready to go! Since it does not require assembling, your baby will get right into play once the dollhouse is unfolded.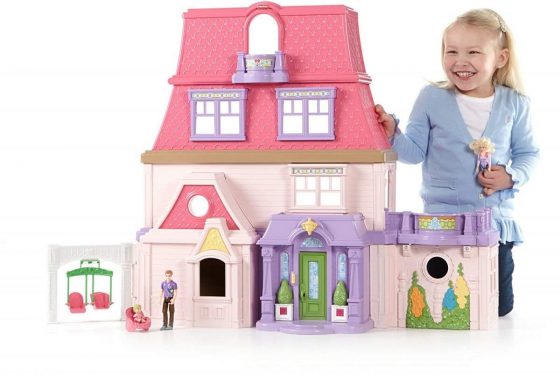 With 4 levels and 6 rooms to explore, the Fisher-Price Dollhouse is a suitable play toy for your girl. The balcony is on the fourth floor while the kitchen is on the second floor.
With dad, mom, and baby around, this dollhouse instills a sense of responsibility to your girl. Taking care of the baby and intense dad and mom role play will be the order of the day. There are also two swings on the playset for the baby. Additionally, the dollhouse makes fun sounds when 2 AA batteries are plugged.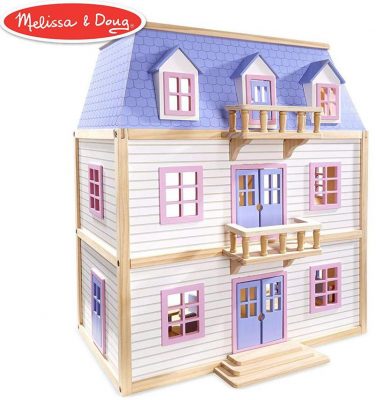 Melissa and Doug is a company keen on delivering memorable childhood activities. This wooden dollhouse is no exception. With 3 levels and 5 rooms, this dollhouse is spacious to fit the 19 pieces of furniture in it and more. Your child's creativity is put to test when arranging and rearranging these pieces. In the process, her interior design skills develop with each play activity.
What's more, assembling the dollhouse is pretty easy. A set of instructions is provided to ease the pain. You can move the two staircases around for a different look.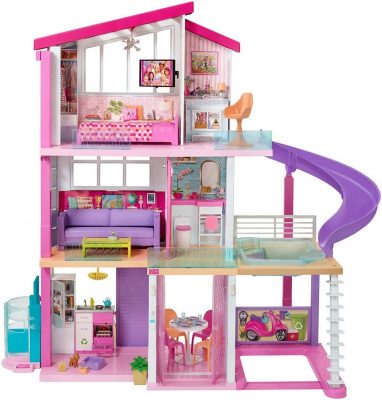 Measuring 3ft tall, the Barbie dream house is definitely worth purchasing. It has 3 levels, 8 rooms, a pool with a slide, an elevator, and 70 accompanying accessories. Young one's imaginations will be heightened during playtime. It will be a dream come true to arrange the dollhouse to their taste.
There are lights and sounds for fun. The oven lights up when opened and you can turn the timer for a tickling sound. The toilet makes a flushing sound after your characters are done using the bathroom. These additional sounds make the experiences more realistic.
There are endless possibilities to be created in this dollhouse. Some features play more than one role. The coffee table becomes a cozy bed when flipped while the refrigerator can be turned to an outdoor food stand.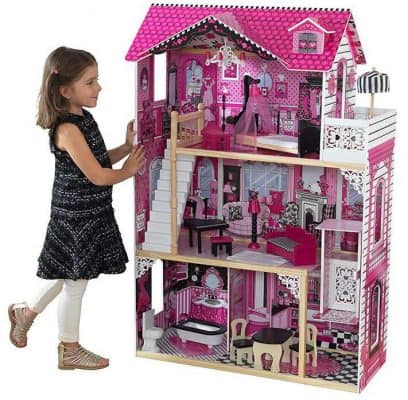 KidKraft has made it yet again on this list since it is all about delivering quality products. This dollhouse has sturdy woodwork to ensure longevity. It also has bright décor that is attractive to girls. It can hold several kids at once because of its spacious rooms.
The dollhouse has 13 pieces of furniture to blend in the rooms. You can add more pieces since there is room to hold more. Your child will have memorable play pretend time while moving around the rooms. This is a gift to consider.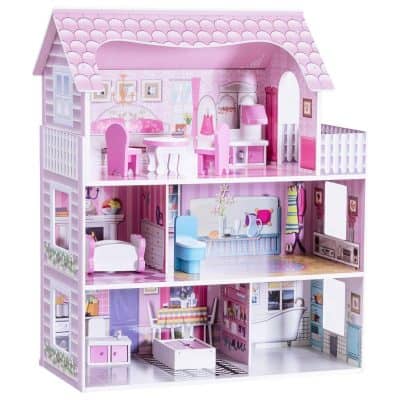 This dollhouse emulates an ordinary home. The ground floor has room to park a toy car while the roof is half-open for a better view of the surroundings. It gives your child a platform to learn. Organizing toys on the dollhouse or cleaning it helps improve cognitive and fine motor skills. It also boosts her imagination.
The material used on this dollhouse is safe for use. The manufacturer has observer international safety measures and exceeded them. It is also a great play activity where you get to bond with your baby.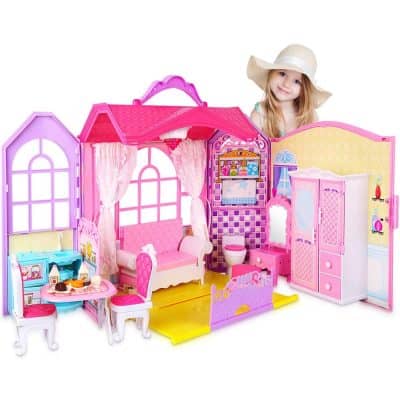 Super Joy Dollhouse is another dollhouse worth reviewing as you sort through this list. It is easy to carry wherever and whenever. All you need to do is fold it and carry it with using the latch. It does not take up much of your space.
With 8 rooms and more than 70 accessories, your little one can create multiple possibilities. The numerous accessories will challenge your girl to polish her interior design skills. Some furniture can serve more than one purpose. The couch can serve as a bed while the dressing table can act as a TV cabinet.
The dollhouse saves up on space in your house. The wardrobe inside it and the cupboard can lock stuff inside. It is made of hard plastic which makes it durable.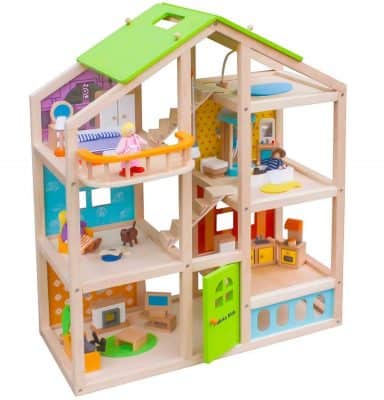 This dollhouse is a masterpiece. It can accommodate multiple kids at once during playtime. It also has neutral colors making it ideal for any gender to play with.
The dollhouse has 54 accessories to help your child in imaginative role-play, creativity and cognitive skills. The balcony is detachable and can be placed in any room. The stairs too can be moved to a desirable location on any level. Your child can create endless possibilities using this dollhouse.
Abigail dollhouse is also portable. You just remove the roof and carry it wherever you need it to be.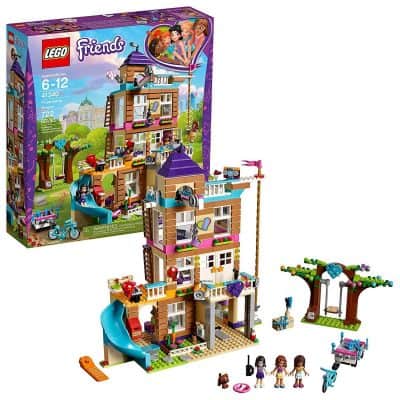 Are you looking to gift a child with a dollhouse? Search no more. LEGO friendship house is the perfect present. The piece includes Olivia who is friendly, warm and loves science: Emma who is creative and caring: and Andrea who enjoys listening to music. There is also a dog, bunny, and hamster in the friendship house.
The 4-level house can be converted to a firehouse with all the necessary gear. There is a working pulley, hose pipes, and a garage. When the girls are not engrossed in an activity, they can relax in the pool or prepare a meal together. The kitchen is equipped with an oven, refrigerator, microwave, and a sink. There are swings too for the girls to unwind.
It is quite easy to assemble the LEGO house. You do not need to assemble all the 700 pieces to have some fun. A few ones can also do the trick.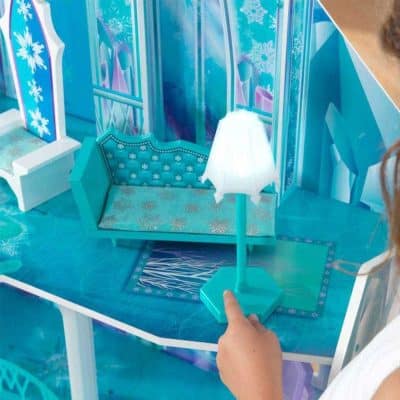 Measuring 4ft when assembled, the KidKraft Disney dollhouse has 3 levels and 4 rooms. It also has 2 balconies where the dolls can relax or bask in the sun. There are 13 pieces of furniture to spice up playtime. You will find accessories like a chandelier that decorate the dollhouse. Your girl will enjoy countless hours of pretend play as her cognitive, imaginative, creative and social skills develop.
The dollhouse can accommodate dolls up to 12'' tall. It is made of a mixture of wood and plastic. It is sturdy and durable.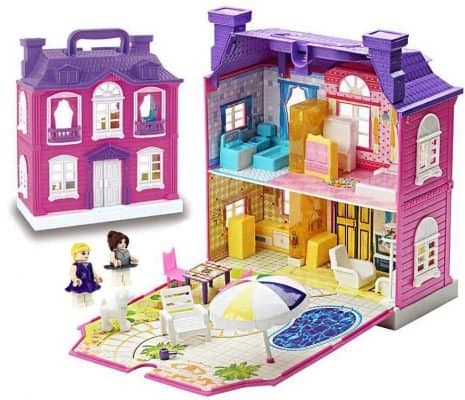 This dollhouse will help in developing imaginative skills and creativity. The music and the lights create a real-life scenario for your child to relate to. When the doorbell is rung, it produces light music while the wall light turns on and dances with musical tunes.
There are plenty of accessories to enrich your child's memories with fun. It is made of non-toxic material which makes it safe for play. It can also accommodate multiple kids at once.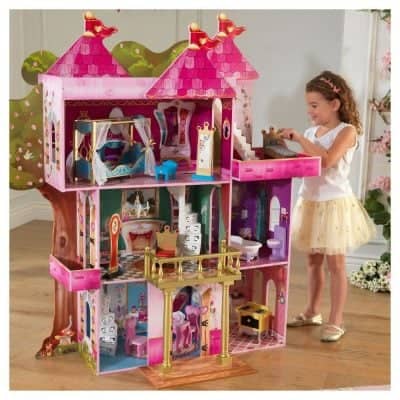 All fairy tales can come true in this dollhouse. The sleeping beauty can rise from her sleep after sleeping in the enchanted bedroom. Cinderella can run away from her evil stepmother using the enchanted staircase while Snow-white can use the balcony to reach out to her lover. All this pretend play will instill a sense of responsibility, create a thrilling adventure and cultivate creativity.
All rooms are decorated to display a royal theme. Recreating fairy tales will be the order of the day. Any unfulfilled wishes will become a reality. Your children will always long to play once you purchase this dollhouse.
This dollhouse has wide windows too. One can peek in to see what's inside. It can also hold multiple kids during playtime.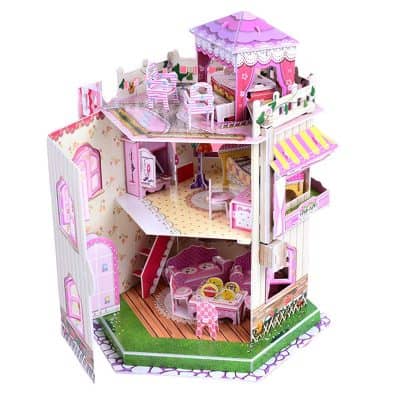 This dollhouse is built through creativity. It has a 3D jigsaw puzzles where you and your child can have fun building the house together. There are 101 pieces made from EPS foam board pieces and high-quality papers. You can assemble these pieces without using glue or scissors.
Your child develops fine motor skills while building this dollhouse. It also helps in problem-solving, eye and hand coordination and improves their patience. Failing to meet the desired achievement may be frustrating. However, learning to re-do the task to achieve a different outcome will cultivate patience.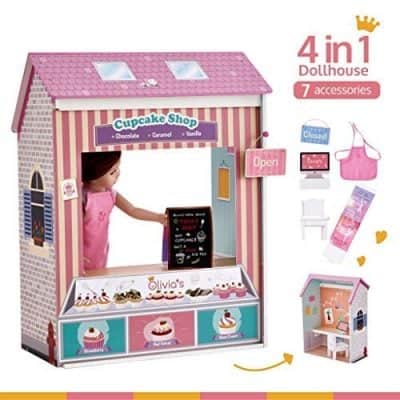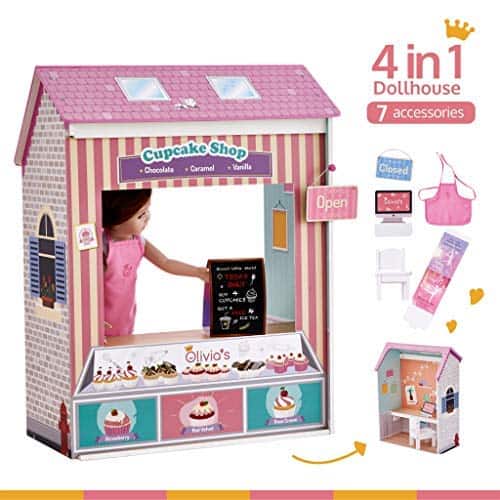 Olivia's Little World is convertible to 4 different locations. There is an open/closed sign, cardboard computer, an apron, and a dance barre. The 2 backboards help interchange the scenes. This dollhouse has limitless adventures. From dancing in the studio to studying in the dorm or relaxing in the cupcake shop, your little one has several places to tour with just one dollhouse.
It is easy to assemble. It has clear instructions on how to assemble it. The dollhouse is made of MDF and is safe for babies' use. It is also sturdy and will last for a long time.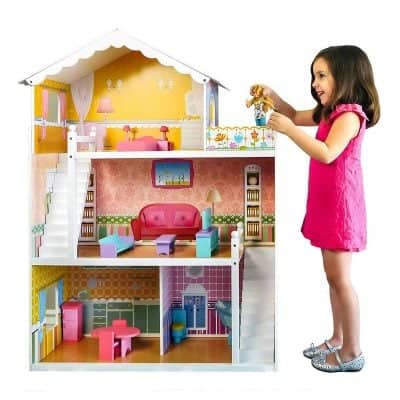 Best Choice Dollhouse has 3 levels of open space. This gives your little one ample space to polish her interior design skills. It has beautifully decorated walls with cartoon paintings. Kids will relate to this environment. Memories created will be exciting and adventurous.
This piece is safe for babies. It is made from non-toxic plastic. It is also sturdy and durable.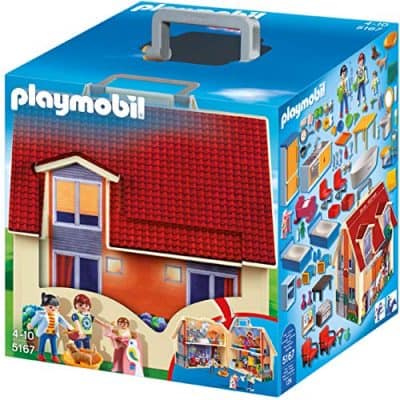 This dollhouse has three figures and two dogs. There are numerous accessories to furnish the 2 story house. When the latch opens, the house displays a large bedroom, a kitchen, bathroom, and a kitchen. It is fully furnished and a family can make a meal in the kitchen. This toy will improve your child's language skills.
Additionally, you can carry this toy around. Once you close the latch, all the accessories are safely stored inside. The roof acts as a handle. This house can be carried by tiny hands since it is lightweight.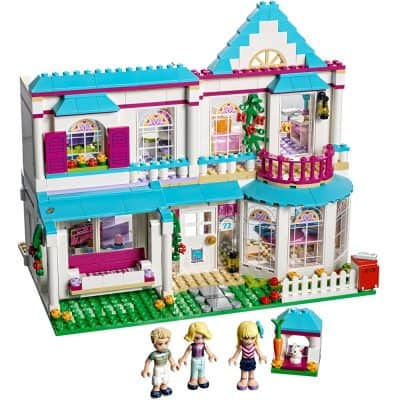 There are endless possibilities your child can create using Stephanie's house: from vacuuming to feeding the rabbit or swinging on the porch to hosting a party. There are three dolls which include a dad, mom, and child. You can interact with your kid by letting her assign you a duty. It will be entertaining for her to be in control.
The dollhouse has a spiral staircase that connects it to the balcony. There are several rooms too for pretend play.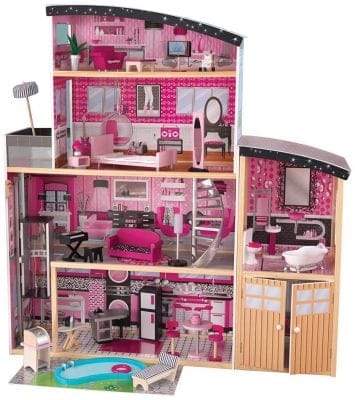 One look at this KidKraft dollhouse will brighten your girl's day. The pink theme is beautifully incorporated to create a stylish and elegant finish. The accessories also spice up the décor. They are numerous and match perfectly when placed inside the specific rooms.
Most dollhouses do not have a backyard and a barbeque grill. This Sparkle dollhouse is an exception. Your kid can roast meat on the backyard and have other guests playing by the pool or relaxing in the living room. There is so much to do. This dollhouse will be helpful when hosting the neighbor's kids for a sleepover. The dollhouse can accommodate several kids at once.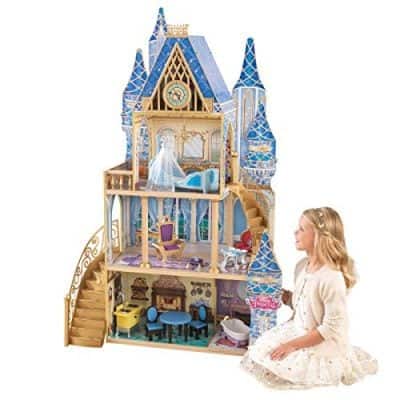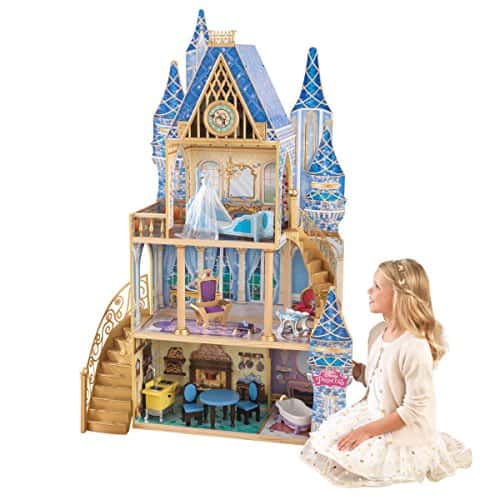 Many girls dream of being Cinderella who wins the love of a prince. Purchasing this dollhouse will be a dream come true for your girl. With a royal castle furnished with royal furniture, this dollhouse will brighten your child's play days. The princess has glass slippers, a hidden clock, gold attic doors, two staircases and a gold chandelier hanging on the roof.
The dollhouse has 5 rooms with ample space to decorate. It is up to you to choose where to place the kitchen equipment or the beds. This house keeps you in control to manipulate the open space however you want. This environment will help boost your child's creativity. It will also enhance her hand-eye coordination.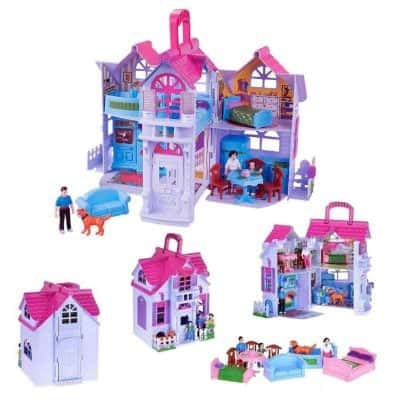 This dollhouse has a dad, mom, daughter and dog characters. These characters are easy for your kid to relate to. Your girl can make up stories about this family and narrate it in her terms. She can also get involved in arranging the furniture.
The dollhouse does not require assembling. Once you unfold it, your child can play immediately. There are different rooms to explore.
This house will aid in development. It will improve your girl's storytelling skills, language skills, imaginative skills, and fine motor skills.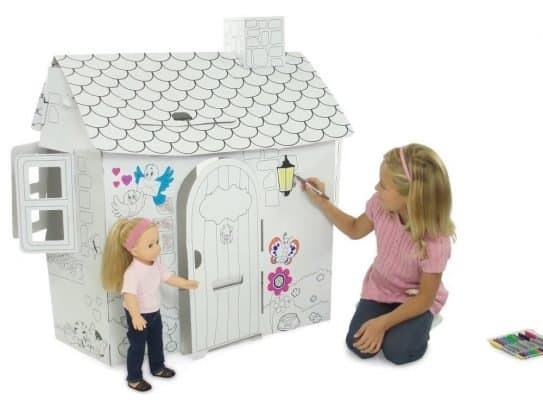 The Emily Rose Dollhouse has graphics all round. Your child can paint it using different crayons to create a colorful cottage house. The walls have flowers, birds, cats, and dogs which need decoration. This activity will unlock your child's creative skills and boost her imagination.
The toy also has a roof hatch and two windows for peek a boo. The toy does not have a floor but this does not disqualify it from being attractive and educational.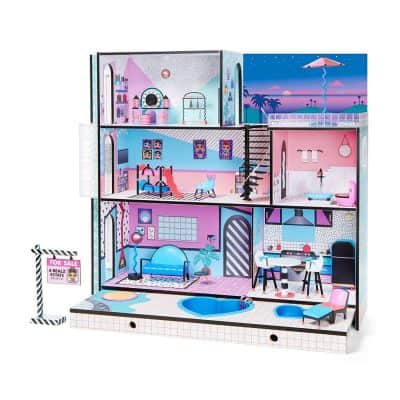 L.O.L Surprise House comes with a moving truck loaded with all the house equipment. The furniture is properly labeled to avoid mixing it. The toy has 3 floors, a working elevator, spa, pool, sandbox, and additional lights and sounds.
The first floor has a living room and a kitchen. They are fully furnished with the necessary equipment. The second floor has a bedroom and a bathroom. The toilet has a flushing sound! On the third floor is a closet where the family can store their clothes and other necessities. This is also where you can take a staircase to the rooftop. Amazingly, this rooftop acts as a helipad and a patio.
The family includes a doll, a pet, and a little sister. Anything can happen around these characters. You can add more characters since there is space to contain them.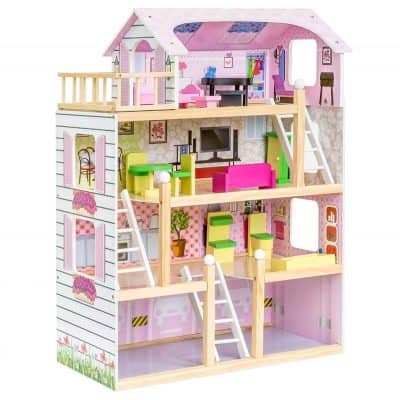 Are you looking to spook your child's creativity? This dollhouse from Best Choice provides a suitable learning environment. There are plenty of rooms on the 4 story house for your girl to decorate. There is also a garage for her to park her car.
There are 13 pieces of furniture to fill the empty rooms. The furniture can be moved around to create a desirable effect. There is a piano for the dolls to play their favorite tunes. This dollhouse can hold several kids at once. You no longer have to worry about holding the next kid's sleepover. This toy will hold their attention.
In terms of development, this toy will boost not only communication skills but also fine motor skills. It will also improve creativity and organization skills.