Top 30 Best Ben 10 Toys for Kids 2023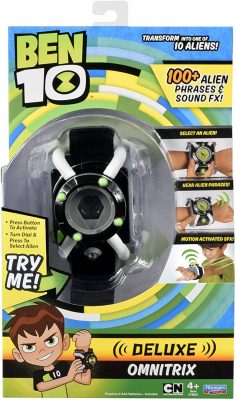 Recommended Age: 4+
Designed to match the look and function of its TV show counterpart, the Ben 10 Deluxe Omnitrix will make you feel like your favorite action hero. This talking watch replicates the colors, lights, and mechanical action of Ben's Omnitrix for hours of fun and enjoyment. The product does require two AAA batteries, but the first set is included, and they last quite a while.
The Omnitrix allows you to select from one of 10 aliens and more than 100 alien phrases. Simply twist the dial to the alien of your choice and press down to trigger its intended sound effects. There are even a separate set of motion-activated sound effects that will trigger when you thrust the watch forward.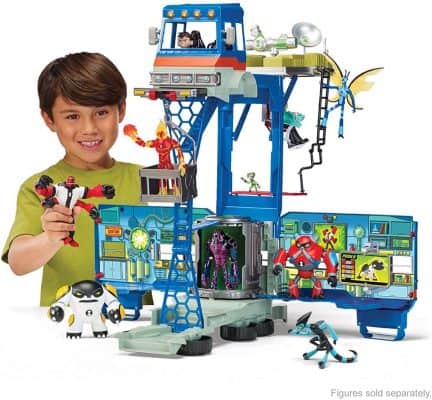 Recommended Age: 4+
The Rustbucket deluxe playset is a 2-in-1 vehicle that transforms from a camper van into a vast platform for Ben 10 action figures to pose and play in, which includes sections with blasters, a movable claw, and an alien transformation chamber where you can swap figures.
The Rustbucket also comes bundled with 10 basic Ben 10 figures, including Ben himself, Diamondhead, XLR8, and other popular characters. The playset comes in a large box that's perfect as a gift. Do beware, though: there are many small parts here, so this set is best suited to children older than four.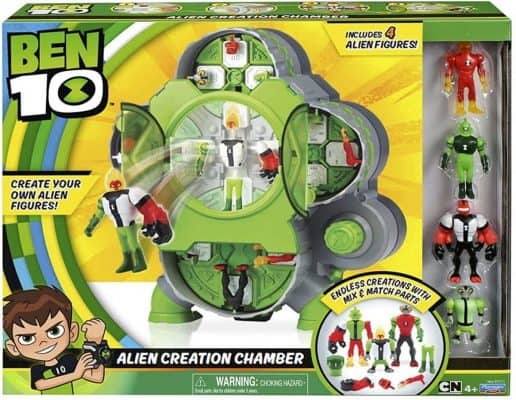 Recommended Age: 3-10 years
If you have ever dreamed about making your own Ben 10 alien, the Alien Creation Chamber is right for you. This toy set features four alien figures, Heatblast, Four Arms, Wildvine, and Grey Matter, and you can mix and match parts of each to create a custom character. The figures combine in a special Omnitrix-inspired chamber. They're not fully poseable, but they're fun and interesting none the less.
The set also comes with a storage compartment for the figures, which can collapse for ease of storage. It can also expand with the Alien Creation figure packs, which sell separately.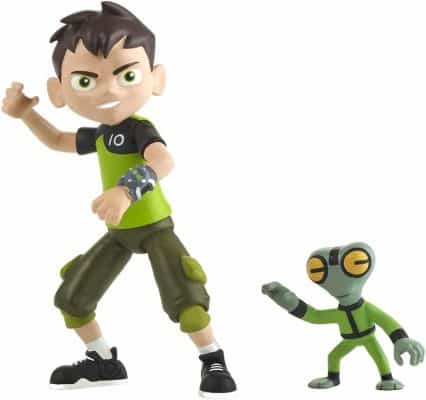 Recommended Age: All ages
This Ben & Grey Matter action figure set comes with a figure of Ben Tennyson doing his iconic Omnitrix slam pose and a static figure of Grey Matter. The figures match the color scheme and detail to a decent degree and come in colorful, gift-ready packaging.
For articulation, the Ben action figure comes with 12 points of movement in the arms, legs, and neck. The Grey Matter figure is limited to movement in the neck, however. This lack of action is its single major downside.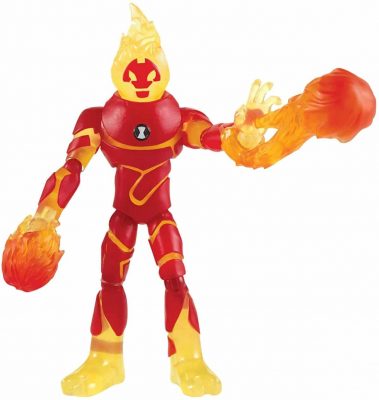 Recommended Age: 3+
Any diehard Ben 10 fan is going to want this Heatblast action figure. The Heatblast figure matches the look of everyone's favorite alien hotshot and features incredibly sculpted detail with a durable construction that can last years of playtime.
In addition to its excellent design, the Heatblast action figure also has lots of movable parts. With up to 12 points of articulation in the legs, arms, and chest area, you're sure not to run out of great poses anytime soon. Each figure also comes with a pair of fireball attachments that can connect to each hand—be careful, though, they come off easily and are small enough for toddlers to swallow.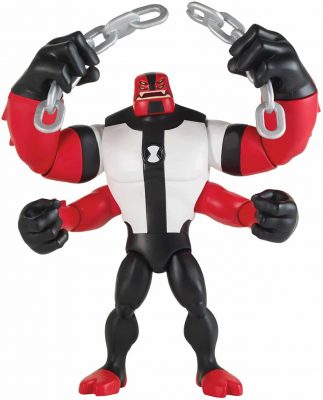 Recommended Age: 3+
Four Arms is one of the mainstays in the Ben 10 universe, so it's no surprise that the Four Arms action figure is among the best of the Ben 10 action figures. It is well sculpted to replicate the muscular build of the character. The character's body does make the action figure a bit top-heavy, though, as the strong arms tend to topple over the relatively thin legs.
The figure is also one of the most articulated, with 17 points of movement in its two pairs of arms, legs, and the head. It also comes included with a set of breakable chains that can be attached to the larger hands.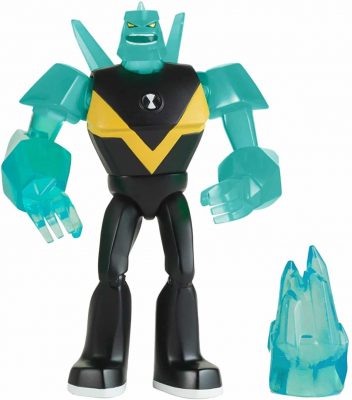 Recommended Age: 3+
The Diamondhead action figure is another essential addition to the collection of any serious Ben 10 fan. The figure matches the look of its animated counterpart with bright colors and great attention to detail with the costume and crystalline body.
Each Diamondhead also comes with 12 points of articulation so you can pose it to match your favorite scenes. It also has a crystalline blade accessory, which you can attach to its hands for those intense fight poses—though it's known to fall out, so keep a close eye on it.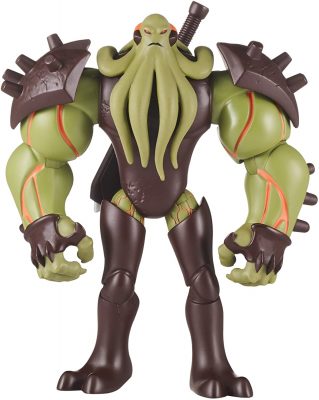 Vilgax is one of the main bad guys in the Ben 10 series, so it is of no surprise that he's got a great action figure. The Vilgax action figure stays true to the design of the animated series, with detailed dents and cracks to the armor and veins on the arms and thighs. The realistic design means that the figure is top-heavy, though, so it's fairly easy to accidentally knock down.
Each Vilgax figure comes with a sword that can be held in either hand or stored on the sheath on the figure's back when not in use. And with the articulation of the arms, shoulders, and legs, there are certainly lots of cool poses you can do.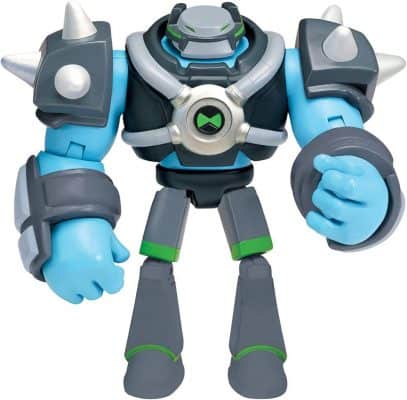 Recommended Age: 3+
The Ben 10 Armored Shock Rock is the beefed-up version of the original Shock Rock in the television reboot. Its distinctive feature is the huge chest place with the Omnitrix that is beautifully sculpted, along with a pair of armor plates on the shoulders and arms.
For articulation, the Armored Shock Rock can move its arms, wrist, shoulders, legs, and neck. The legs are rather flimsy compared to the rest of the figure, but this can be attributed to the faithful replication of the animated character.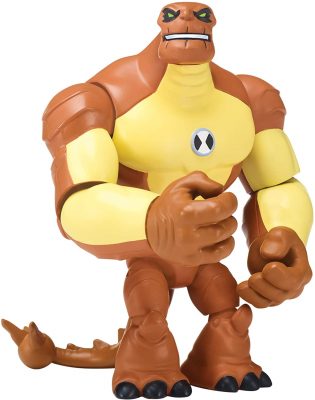 Recommended Age: 3+
Everyone's favorite alien dinosaur is faithfully replicated in this 5-inch Humungousaur action figure. The Humungousaur matches the animated counterpart, from the color scheme to the details on its arms and chest.
The Humungousaur action figure also features up to 12 points of articulation, which is perfect for recreating scenes in your favorite episodes. Unlike many Ben 10 Action figures, Humungousaur doesn't come with any added accessories—but they toy itself is cool enough that this isn't too big of a deal.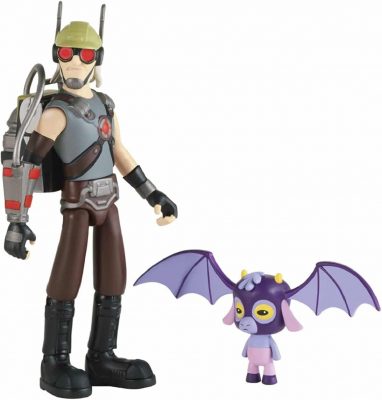 Recommended Age: 3+
Step into your crazy side with this action figure of Ben 10's resident evil genius, Dr. Animo! The Dr. Animo figure consists of highly durable plastic that faithfully recreates the look and personality of its TV show counterpart. He also comes with his signature backpack, visor, and headgear attached as well.
In addition to the main figure, Dr. Animo comes bundled with a cute little Goatadactyl mini-figure. Coupled with Dr. Animo's high level of articulation, and you have lots of play time and posing, especially when combined with other Ben 10 action figures. The Goatadactyl itself isn't posable, but you'll have enough fun with Dr. Animo that you won't mind.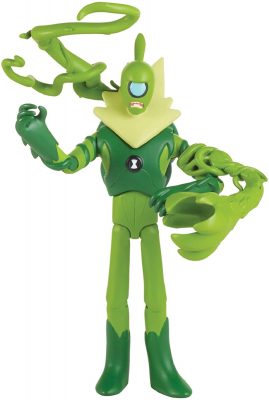 Recommended Age: 3+
Wildvine is one of the more niche characters in the series, but this action figure is just as good as if not even better than the more popular ones. The Wildvine action figure matches the design of its plant-like alien counterpart and features a vibrant green color scheme with highly detailed sculpting. It comes with tons of articulation so that you can pose it in a variety of ways.
For accessories, the Wildvine figure comes bundled with a set of battle vines. These vines can be attached to the arms and back of the character for that distinctly wild look. These accessories are also durable enough to withstand hours of rough play.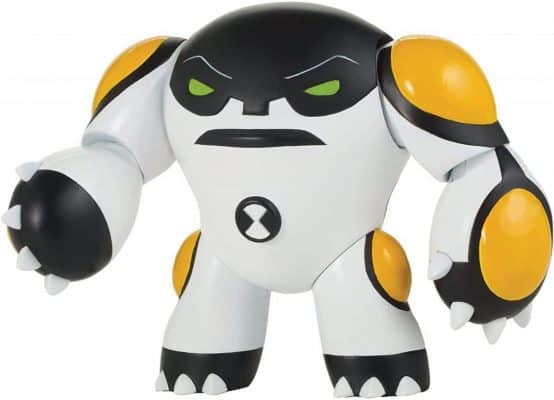 Recommended Age: 3+
Rolling in at 5.5 inches in height, Cannonbolt is one of the bigger action figures in the Ben 10 lineup. It's also faithful in its design to the original animated character, which has the additional benefit of an ergonomically round profile that is suitable for younger children with small hands.
The Cannonbolt action figure also has nine points of movement, mainly in the arms and legs. The joints are quite sturdy and can twist 360 degrees without coming apart, ensuring that they'll stay in one piece even with rough play.
Recommended Age: 3+
The Ben 10 Bashmouth is a faithful replica of Kevin's 11th burly secret weapon. This action figure matches the color scheme of the original on the show, from its signature blue fur down to the metallic armor plates on its wrists and shoulder.
Despite its bulky appearance, the Bashmouth is surprisingly articulate. The shoulders and elbows have a wide degree of free movement, while the legs and waist offer a variety of poses to choose from. The legs themselves, though, are fairly static.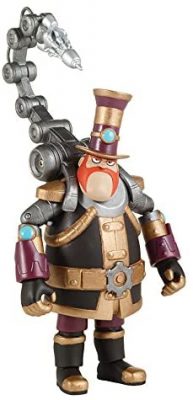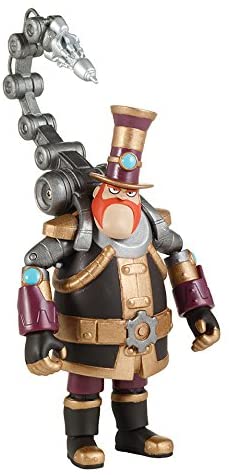 Recommended Age: 3+
The Victorian-era master of Ben 10 comes to life with the Steam Smythe action figure. The figure copies Steam Smythe in exquisite detail from his bushy red beard to his steampunk devices. It also has a detachable stinger accessory that can be attached to the back of the figure—but handle it carefully, because it might break.
The Steam Smythe action figure features 11 points of articulation, including those in the shoulders, arms, legs, and head.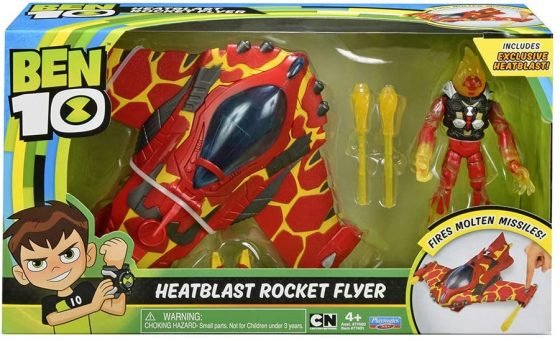 Recommended Age: 4-13 years
Coming in hot from the blazing planet of Pyros, the Rocket Flyer turns heads with its size and bright red color. The figure consists of thick plastic, making it durable enough to withstand several falls and collisions. It also comes with a pair of spring-loaded cannons mounted on each wing that fire molten missiles at a considerable distance.
And the wouldn't be complete without Heatblast included. Heatblast has a vivid color scheme and attention to detail as the Rocket Flyer, but it does not have as much articulation compared to other standalone Heatblast action figures and unfortunately can't be placed inside the vehicle.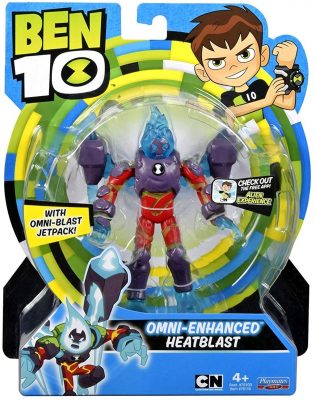 Recommended Age: 3+
The Omni Enhanced Heatblast action figure is a significant departure from the original design of Heatblast. Instead of the distinct red color scheme, the figure comes with purple armor on the chest, arms, and legs with transparent blue flame effects. A giant pair of purple jetpacks also adorn its back. The non-functional jetpacks can detach, but aside from that they're just there for looks.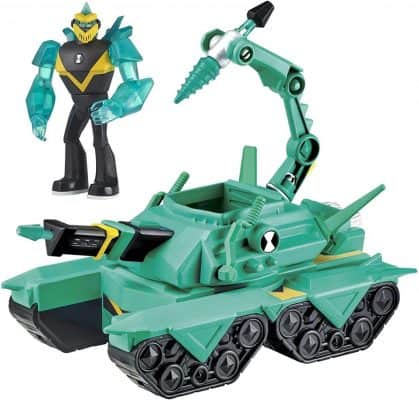 Recommended Age: 3+
The Driller Tank figure is among the new vehicles added to a growing fleet of Ben 10 vehicles. The tank features a unique crystalline design inspired by Diamondhead's planet of Petropia. It also comes included with a Diamondhead action figure, which you can mount on the tank and fire away with. The figure itself isn't very articulated, but this isn't a big problem as it will spend most of its time mounted to the Driller Tank.
Another feature of the Driller Tank is its spring-loaded cannon. Simply insert the missile included in the box and activate the trigger to hit targets at a considerable distance. The figure also features a fully movable crane and rotating drill.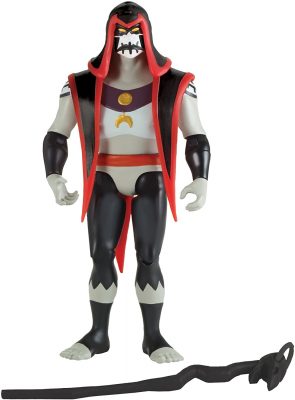 Recommended Age: 3+
Ben 10 focuses mainly on sci-fi themes, so the mystical fantasy-inspired Hex comes as an offbeat but refreshing inclusion to the animated series. This Hex action figure faithfully replicates the look of the original, from its signature face markings to its red and black costume.
The Hex action figure also has a high degree of movement with up to 12 points of articulation. You certainly won't lack for action poses with this one. The figure also comes with a magic staff accessory, which you can attach to its hands.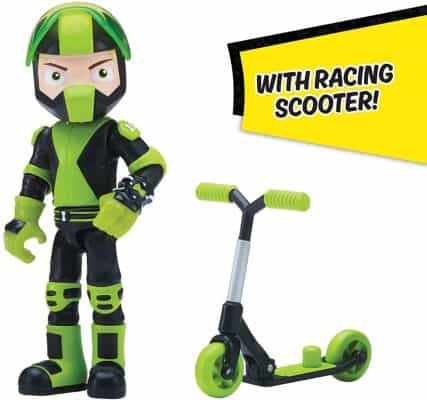 Recommended Age: 3+
The Rustbuggy is one of many outfit changes Ben has had over the years, but what sets this action figure apart is the Rustbuggy scooter that comes included with every pack, and has movable wheels and steering handle. Attach Ben's hands onto the handles, secure the feet onto the wheels, and he'll roll out into the action.
On its own, the Rustbuggy Ben action figure is already worth the price. It has lots of high articulation in the arms and legs, while the satin black and green costume just feels and looks right. The helmet also comes with a functional visor that can move up and down.
Recommended Age: 3+
One of the more popular sets in the Omni-Glitch Heroes lineup, the Ben-Heatblast-Shock Rock action figure set features various parts from Ben, Heatblast, and Shock Rock. The pieces are interchangeable and can simply plug into place for hours of fun variations.
Although it is limited in articulations, this action figure set does try to make up for it with excellent design and close attention to detail. The transparent ice and fire effects look fantastic while the colors match that of characters in the show. It's a great addition to any toy box or display case.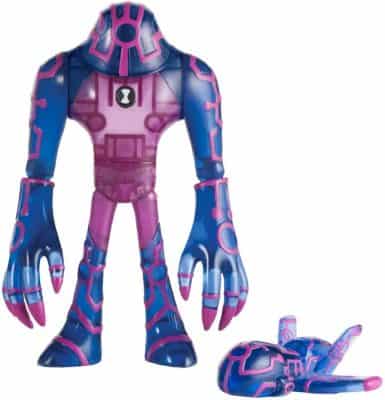 Recommended Age: 3+
Upgrade is among Ben 10's core characters in the series, and this figure certainly does justice to the original on the show. The Upgrade action figure is an accurate match to its animated counterpart with its uniquely sculpted parts and neon purple and violet color scheme. The parts are also made of semi-transparent plastic for added effect.
For articulation, the Upgrade action figure has joints in the shoulders, arms, legs, knees, neck, and waist. The joints are tough enough to withstand lots of hard twists and pulls, ensuring they won't come loose anytime soon. Also, Upgrade comes bundled with a tiny drone of similar color and design.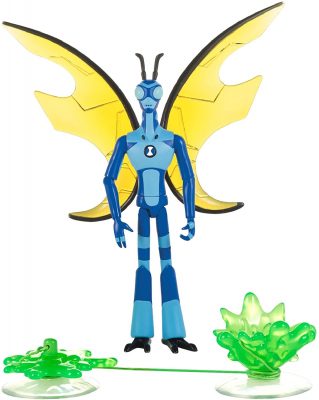 Recommended Age: 3+
Everyone's favorite Lepidopterran finally got its toy with the 5-inch Stinkfly action figure. The company sculpted Stinkfly with incredible detail to match the look and personality of this distinct Ben 10 character, including a pair of bright yellow wings. Each wing is adjustable and several points of articulation allow this figure to make dozens of exciting poses.
What sets the Stinkfly from other Ben 10 action figures is its zip line accessory. The zip line consists of a string connected to a pair of gooey-looking suction cups and can be attached to Stinkfly, allowing it zip from one end to the other in a gliding motion.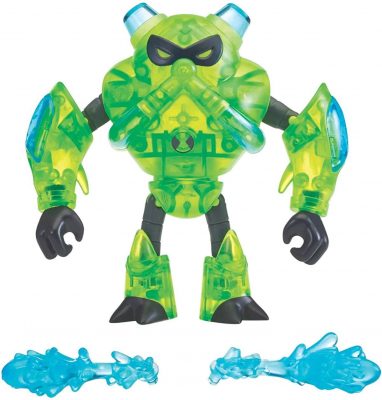 Recommended Age: 3+
Part of the Out of the Omnitrix toy lineup, this Overflow action figure gives a second take to this underwater alien. Instead of the classic red color scheme, this Overflow version has a transparent bright green appearance in keeping with the otherworldly Out of the Omnitrix theme.
In addition to its new design, the Overflow figure comes with a pair of water blast accessories. These accessories can be attached to both arms of Overflow to achieve an aqua blast attack pose.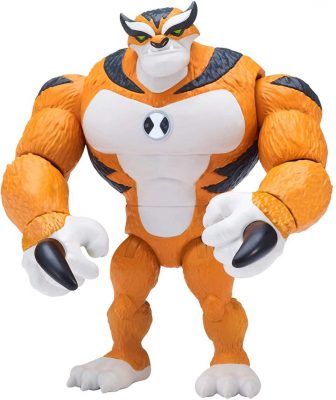 Recommended Age: 3+
Another one of Ben's more beastly transformations, the Rath action figure is ready to pounce straight out of the box. Its bright orange color and detailed sculpt are almost identical to the TV show character, while its durable construction ensures lots of play time.
Rath also hides a significant amount of articulation for its bulky size. Its shoulders and arms allow for lots of freedom of movement, while the legs and knees can also bend for running or crouching poses.
As with some other large Ben 10 action figures, Rath unfortunately doesn't come with any added accessories.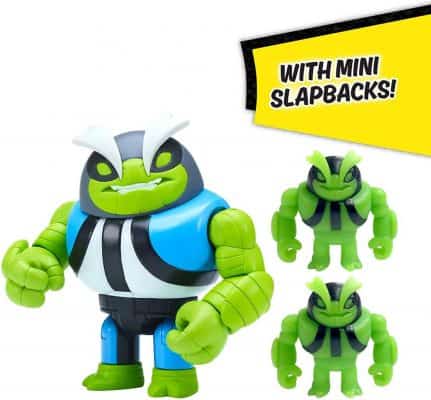 Recommended Age: 3+
The cartoon Slapback multiplies itself after being hit in the back, and this action figure tries to emulate that effect with a pair of smaller identical figures. The leading figure is highly detailed with nine points of articulation, while the smaller versions are similar to their big brother but have much more limited articulation.
Despite its looks, the main Slapback is large at about 4 inches in height. It is also quite light and easy to handle with little hands, which makes it great for Ben 10's younger fans. Make sure to watch over the kids while they play with the smaller parts.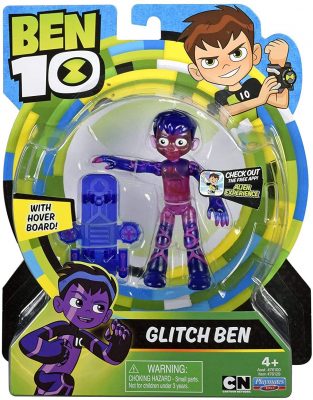 Recommended Age: 3+
Ben has seen his share of transformations over the years, and with the Glitch action figure,  Ben's iconic color scheme is replaced with a cool violet and purple color. In keeping with the Glitch theme, the plastic is semi-transparent and future-esque.
For accessories, Ben comes equipped with a violet hoverboard. Ben can be placed on top of the board and, thanks to the 7 points of articulation, can be set in lots of cool poses.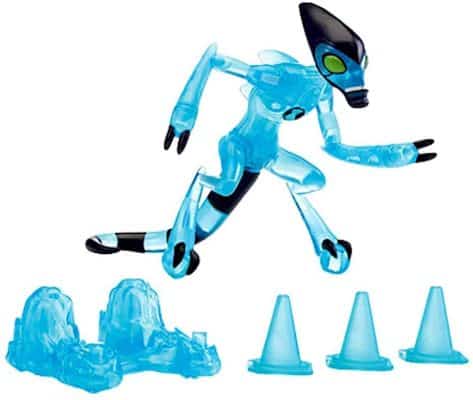 Recommended Age: 3+
The Alien Worlds XLR8 highlights the planetary roots of the show's popular Kineceleran with a brand new design. The action figure has a transparent blue color with an incredibly detailed sculpt, resulting in a 3D ice effect.
In addition to its distinct color scheme, the XLR8 figure comes with a set of accessories, including traffic cones and a high-speed dust effect. The accessories can be displayed on their own or combined for a wide array of creative poses. Unfortunately, the figure's articulation isn't great, but the set pieces more than make up for it.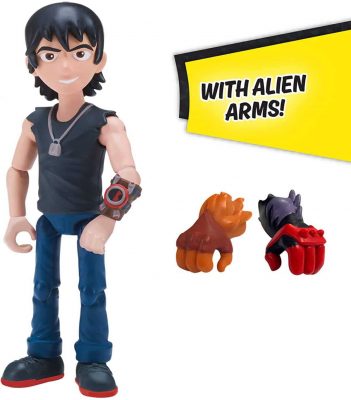 Recommended Age: 3+
Just like the animated character, the Kevin 11 action figure tries to go one level higher than the rest. The figure is well-sculpted and matches the iconic Ben 10 villain to the smallest detail. It also has nine points of articulation with durable joints for hours of great playtime.
For accessories, Kevin 11 comes bundled with a pair of alien arms. The arms can replace the stock arms in the figure and can be moved just like the original, but the fact that they're easy to swap also means they can fall off and get lost easily.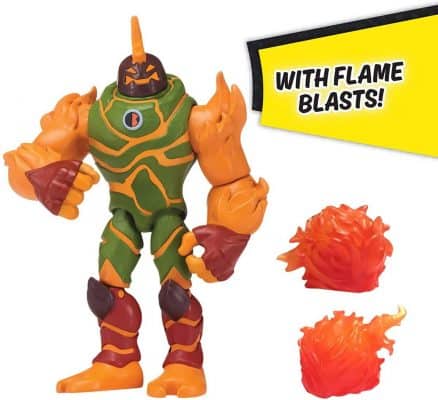 Recommended Age: 3+
One of Kevin's mischievous transformations, the Hot Shot action figure is a faithful rendition of its fiery counterpart in the show. The figure stands at 5 inches tall and has nine points of articulation in the arms, elbows, neck, legs, and knees.
To further match its signature look, the Hot Shot action figure comes with a pair of flame blast accessories. These accessories can attach to both of the character's hands, creating a flame-like effect similar to that of the TV show—but keep an eye on them, because they're easy to lose.