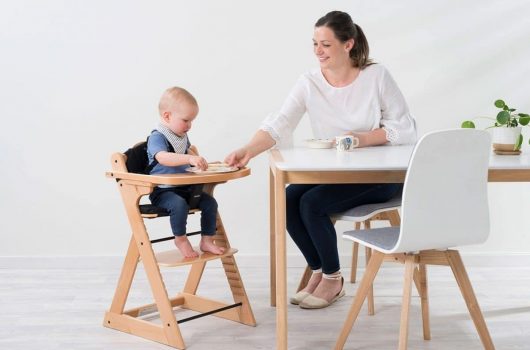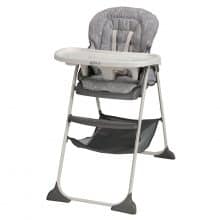 Graco Slim Snacker High Chair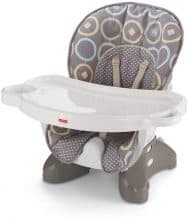 Fisher-Price SpaceSaver High Chair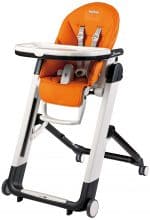 Peg Perego Siesta High Chair
Previous
Next
Every milestone that your little bundle of joy reaches is an achievement. When your baby is six months old, they'll reach a stage in their life where they'll be ready to eat solid foods. This is an exciting time for everyone. Your little ray of sunshine will get an opportunity to expand their taste palette as they try every flavor under the sun—from banana puree to tofu to broccoli.
To explore the world, your baby will need one important piece of equipment—a high chair. A high chair will ensure that your child is sitting in an upright position, so that food can pass through the digestive tract easily. It will give your little one a safe and comfortable spot at the dinner table, and a throne that they can claim as their own.
Features to Consider in Good High Chairs
If you've walked into a baby store or even done a quick search online for high chairs, you'll easily get overwhelmed by the vast amount of choices available. Almost every company and brand will claim that their high chair is the best. If you don't know what to look for, you can easily get roped in by false promises and beautiful packaging while being none the wiser about your purchase.
Your baby deserves the best. But, with all of the options out there, it can be difficult to narrow down the best of the best. We've created a simple guide that ranks some of the most popular high chairs out there based on three categories: safety and stability, features and functionality and overall ease of cleaning.
Safety and Stability
Safety should always come first, and the safety features and certifications of the high chairs should be heavily scrutinized.
The American Society for Testing and Materials (ASTM International) requires all high chairs to meet specific standards. Testing, which includes drop tests, disengagement tests and load and stability tests, is administered by the Juvenile Products Manufacturers Association (JMPA). Looking for high chairs with a JPMA certification can provide you with some level of assurance that the high chair meets certain safety standards.
While the JPMA certification can offer you some insight as to how safe a high chair may be, it's not the be-all and end-all factor. Most high chairs have additional safety features in place to protect your bundle of joy. For optimal safety and stability, look for these additional safety features:
A crotch post
A safety-restraint system with, ideally, a five-point harness
Wheels that lock in place
Folding areas with a minimized risk for pinching
Thankfully, most high chairs on the market will have a combination of the different safety features listed above. When it comes to safety, the more the merrier!
Features and Functionality
No two high chairs are designed exactly the same. After looking at the overall safety and stability of each product, consider the type of features that it has to offer. Different functions and features will allow a high chair to be more suitable for different home environments and for different stages of development. Some features and functionality to consider include:
Foldability and portability. Parents who don't have a lot of space in their homes will want to find a high chair that will take up as little space as possible. A portable high chair will also be much more convenient to use. You can take it with you when you go over to your in-law's house for dinner, or move it from room to room around the house.
Ability to grow with your child. Let's face it. High chairs are expensive. You'll want to look for a product that can grow with your child up until it reaches 2 to 3 years old. Many high chairs have adjustable settings, so you can use them for many years to come.
Removable components. Removable seat inserts and trays can make your life as a parent a lot simpler. A removable tray will be a lot easier to clean. It'll also be easier for you to get your baby in the right upright position during mealtimes!
Amount of padding. If your baby is comfortable, they'll be more likely to work with you during feeding time! Breakfast, lunch and dinner can take hours, and you definitely want your little bundle of joy to be as comfortable as possible.
We'll explore many more features in this guide, and talk about how the features contribute to the overall functionality of the high chair.
Overall Ease of Cleaning
Every new parent can tell you one thing: it always feels like there's not even time in the day to get everything done. If you're not tending to your baby, you're running errands for the household or taking care of yourself. The last thing that you want to do is to spend hours cleaning a high chair every day. Due to this reason, we'll definitely look at the overall ease of cleaning for each chair as well.
Top 10 Best High Chairs 2020
Guide to Buying the Best High Chair
There's a popular saying among feeding experts and parenting consultants: "Stability at the hips equals success at the lips!" Finding the perfect high chair will be an asset to your baby's journey into a new world filled with unique flavors and textures. But, with so many options to choose from, it's easy for new parents to become easily overwhelmed.
In addition to the factors mentioned above, we've also listed some additional things you should consider when comparing different brands and models.
The Size of the Setup vs. The Amount of Space You Have
Consider the amount of space that you have at your home. If you have all the space in the world, then you probably won't mind a non-foldable high chair that's bulkier. However, if you're short on space, then you'll want to look for a product that's foldable. Ideally, the design will be similar to the Keekaroo High Chair, which will make the high chair compact when it's folded so you can store it in a closet or by the door.
Overall Durability and Lifespan
How long will the high chair last? If you're planning on having more children in the future, it's worth it to splurge on a high-quality high chair. These things can last a lifetime! It's also important to note that a versatile and high-quality high chair can follow your baby from birth to its toddler years. In most situations, wooden high chairs like the Abiie Beyond Wooden High Chair tend to be the most durable, and are great hand-me-downs. They can last a lifetime without requiring any repairs. Portable high chairs tend to be the most lightweight, which means they are easier to move around; however, they tend to be less durable.
Warranty Type, Terms and Condition
Before you make any purchase, always inquire about the warranty and the terms and conditions that follow. Many high chair manufacturers will offer some type of warranty and will replace faulty parts or defective pieces within a certain time frame.
Restraint System
Safety should always be the first thing on your mind, and the type of restraint system in place will make a huge difference. The ASTM standards only require a 3-point harness; however, many experts would agree that it's better to go for a 5-point one. It's also important to consider the adjustability of the harness, as well as the type of materials that it's made from. Rubber or nylon straps, like those on the 4moms High Chair tend to be easier to clean than ones made from other materials.
Seat Cover and Upholstery
The type of seat cover and upholstery that comes with the high chair should also be taken into consideration. Leather seats like the one included with the Peg Perego Siesta High Chair are a beautiful luxury, but they can also be difficult to clean and require regular maintenance to stay in pristine condition. Vinyl seat covers tend to be easier to clean than cloth. The color or pattern of the seat color will also play a role in how well it ages. Generally speaking, patterned seat covers are better at concealing stains. Again, the 4moms High Chair, with its plastic construction that doesn't have any places for bits and pieces to hide, is the gold standard for cleanliness.
Quick Tips and Tricks to Finding the Safest, Most Compatible High Chair
So, you think you've found the perfect high chair. The next step is to make sure that it's actually as safe and secure as it is advertised to be. Below are several tips and tricks that you can implement when on the market for a high chair.
#1. Make sure that the entire structure cannot be tipped over easily
In general, high chairs with reinforced legs will be more stable. Make sure that the high chair is a standalone unit that you can place away from a counter or table. Babies have no understanding of danger at all: if you place the high chair near a counter or table, your baby could push against these surfaces hard enough to cause it to tip over. You also want to make sure that the high chair won't tip over even if any of your other children or pets accidentally nudge it.
Another good tip to remember is that you should never leave a baby alone in a high chair. You never know what can go wrong!
#2. Look for Locks, Safety Straps and Other Safety Features
A high chair with more safety features will be safer for your child. Look for high chairs with a 5-point harness, lockable wheels and more. If the high chair is foldable, make sure that it will lock into place.
#3. The Rock Test
Just like when you're buying a mattress, you should always 'test' a high chair by placing your baby in it and carefully rocking the chair from side to side to see if your baby would be able to move the chair. Every baby is shaped differently, and the overall design of the high chair may not necessarily support your baby's body and posture.
Unfortunately, babies aren't born with an undestructable, highly dextrous body. They're clumsy and tend to fall over a lot. Picture one of those huge teddy bear stuffed animals that you find at a carnival. When sitting in high chairs, most babies will start to slump over to one side. Others may even fall forward. Put your baby inside the high chair to see whether the high chair supports its overall posture. If not, consider whether a towel or two might help keep your baby in place — especially during mealtimes!
All of the products on our list meet these criteria, but with their stable legs, crotch post, straps, and excellent build quality,  the Graco Slim Snacker High Chair and the Peg Perego Siesta High Chair are some of the safest chairs on the market.
Invest in a High-Quality Chair for a Lifetime of Use
It's worth investing in a high-quality high chair, as you'll get a lifetime of use from it. The high chair will follow your baby as they start to explore different solid foods and flavors to the point where they can even eat "adult" foods with the rest of the family. Another great thing about high chairs is that they're great hand-me-downs: if you and your spouse decide to add another little member to your family, you can always break out the high chair for a couple more years of use. If not, you can always donate it. Your baby's health and safety is incredibly important, so we hope that with the help of this guide you're able to choose the perfect high chair to make your family mealtime as safe and enjoyable as possible.