Top 15 Best Books for 10-Year Olds 2023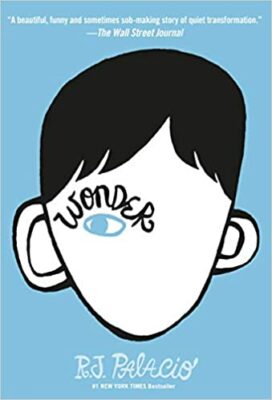 Quick Facts:
Author: J. Palacio
Published: 2012
Genre: Modern Fiction
It's easy to get drawn into this tender and thought-provoking novel by R. J. Palacio, who introduces us to August Pullman – a 10-year-old boy, ordinary in every way aside from striking facial anomalies. Auggie, as we come to know him, has been homeschooled all his life. The book follows his journey into the 5th grade at Beecher prep, and chronicles the difficulties and triumphs that come.
Told from a number of different perspectives – first Auggie, then his sister, her boyfriend, and others – it is an exploration of the themes of difference, compassion and acceptance in the often cruel world of public school. Auggie is just a normal kid, why can't anyone else see that?
A New York Times #1 bestseller, this book boasts a vast slew of accolades and awards. Praised for its uplifting message of hope in a world where adolescent bullying is the norm, not the exception, Wonder aims to teach its reader that appearance is only skin deep and kindness needs to be treasured. As Auggie's English teacher says: "Be kinder than is necessary. Because it's not enough
to be kind. One should be kinder than needed."
Few people have anything bad to say about this novel. The main detractors target Palacio's simplistic view on how those with disabilities want to be treated. Many just want to be treated like any other person, not seen with pity or relentless positivity, as some characters act towards Auggie by the book's end.
If you are interested in a book with a powerful message, but tackled in a more nuanced and complex way, check out Esperanza Rising by Pam Muñoz Ryan.
An enjoyable read, your child will love it for its engaging storytelling and likable characters, while you will love it for its timeless, positive message. Who knows, perhaps once they've finished reading you'll be picking it up yourself.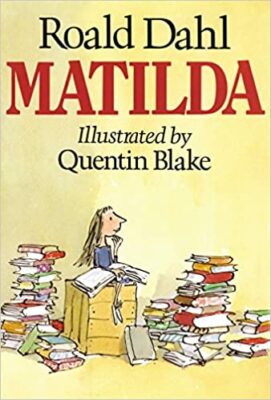 Quick Facts:
Author: Roald Dahl
Published: 1988
Genre: Humor
Matilda is a remarkable young girl. At five years old she's light years ahead of her peers – a veritable genius at math and a voracious reader of books far beyond her age. Her mental gifts, however, go ignored by her callous and crude parents, who treat her rudely and with neglect. On top of that is the equally odious Miss Trunchbull, the principal who rules her school with an iron fist and delights in creative and unusual punishments.
Matilda, fortunately, is able to console herself with inventive pranks to wreak revenge on the people who wrong her and, for the most part, she is smart enough not to get caught. The sweet Miss Honey is another source of comfort in an otherwise difficult life, and is one of the only grown-ups who treats her with respect.
When Matilda begins to develop a strange and supernatural talent her predilection for mischief only grows. Will it be enough to bring down Miss Trunchbull and restore justice to her school?
Roald Dahl is a superstar of children's writing, and this book is recognized as one of his best. It deals with a lot of the themes present in his other novels. Namely, the contrasting good of intelligence, courage and justice versus the evils of greed and willful ignorance. The grown-ups are almost universally dislikeable, aside from the vulnerable-but-kind Miss Honey.
This will resonate with children who may sometimes feel frustrated with their powerlessness compared to adults. Matilda comes out on top despite the odds, and despite her age. Dahl makes it clear to the reader: don't give up, you can do it!
While it's a heart-warming story with a strong, positive message, no book is perfect. Some critics claim that Matilda's behavior isn't something children should be encouraged to emulate. Her pranks, while mostly harmless, are nonetheless quite distressing to those she inflicts them on. It could be argued that they are well-deserved, but instead kids should be taught to express their frustrations more constructively.
A long-time favorite from its publication, this book has been adapted into a movie, an animated series, and even two separate stage musicals. If your child loves the novel there are plenty more to enjoy, including this collection of sixteen classics, and it may be a good introduction to the rest of Dahl's work, most of which are equally highly-considered.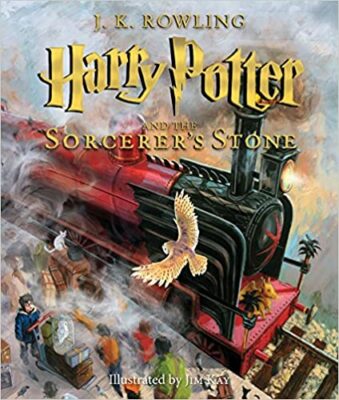 Quick Facts:
Author: J. K. Rowling
Published: 1997
Genre: Modern Fantasy
We doubt this book needs much of an introduction, but for those who haven't heard, Harry Potter is kind of a big deal. The tale begins with us finding the titular protagonist living in the care of his abusive aunt and uncle. Often locked in his 'bedroom' under the stairs, the future seems bleak for Harry, at least until a curious visitor arrives on his eleventh birthday. An owl, bearing an acceptance letter from 'Hogwarts School of Witchcraft and Wizardry', opens Harry's eyes to his true heritage and, from there, the mundane becomes magical.
The story follows his adventures throughout his first year of learning – getting to grips with the basics of the magical arts, as well as making new friends and more than a few enemies. A greater mystery follows the 'boy who lived' and, with the help of his newfound talents, he may even eventually discover the truth of his parents' untimely deaths. This particular product comes illustrated by award-winning artist Jim Kay, so is sure to catch your child's imagination.
It's a modern classic; much-loved and broadly-read. There are few people who don't know or haven't heard of Harry Potter. This book is the first in a series of of seven novels, and it's written to be accessible to younger children. Rowling's style is simple but robust, taking you on a journey through a story bursting with imagination and likable, believable characters.
The plot deals with themes of family, belonging and self-sacrifice, yet does not do so in an especially overt manner. The magical world is the firm focus of this tale, though by the time the book is closed your child will still have plenty to reflect on.
There is little criticism leveled at this book, which is almost universally acclaimed. It has been said that the final chapters seem rushed, though the greatest dissent is religious in nature. Some readers with strong religious beliefs have claimed that the book glorifies witchcraft by presenting it in a heroic manner. You will want to consider this based upon your own personal convictions.
With a seven-book series, movies, merchandise and more, Harry Potter is a massive franchise and has been for decades. This book is where it all began, and is the perfect introduction to a series of novels that grow with the reader.
If you enjoy this particular brand of fantasy we also recommend taking a look at Howl's Moving Castle by Diana Wynne Jones.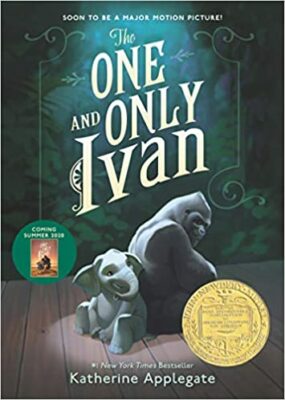 Quick Facts:
Author: Katherine Applegate
Published: 2012
Genre: Modern Fiction
Inspired by real-life circumstances, this bittersweet novel follows the tale of Ivan the silverback gorilla, held in captivity for over twenty-seven years as an attraction in a shopping mall. Behind walls of glass he has been on constant display, and after years of attention has become used to the endless stream of humans watching him and passing by. His life in the jungle is a distant memory and he fills his time by eating bananas, watching TV and making art. It's a comfortable and reliable existence; at least until the young elephant Ruby comes into his life, and everything changes.
This book explores the heavy-hitting questions of animal welfare, captivity and the nature of our relationship with with the rest of the natural world. Told from Ivan's perspective, the story is spun with an engaging mix of humor and emotional poignancy, and does not pull its punches when it comes to the uncomfortable truths of its subject matter. Some children might find this distressing, but as with all good literature, it is written to make us feel, think, and reflect on our own beliefs and behaviors.
If you are looking for a story with a similarly strong message, minus the dark themes, we recommend Wonder by R. J. Palacio.
Another New York Times #1 bestseller, The One and Only Ivan has won a host of awards and a broad field of sparkling, five-star reviews. It's easy to see why – though written for a younger audience, Applegate succeeds in creating a story that speaks to all generations.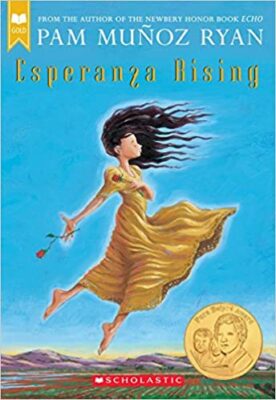 Quick Facts:
Author: Pam Muñoz Ryan
Published: 2000
Genre: Historical Fiction
Set in the turbulent times of the 1930's, amidst the great depression and the Californian dustbowl, this is an inspiring and, often, heart-wrenching tale of struggle and the pursuit of hope. Esperanza is a young girl who begins her journey in Aguascalientes, Mexico, as the daughter of a wealthy landowner. She is used to the good things in life – nice clothes, a beautiful house, close family.
This is all snatched away, however, when an unthinkable tragedy strikes. Esperanza and her mother flee to America in a bid to escape to a new life, but find that what awaits them is a far cry from the comfort they were used to. When her mother gets sick as the two work in a Californian farm labor camp, Esperanza must step up to the challenge of providing for them both or risk losing her loved one.
Historical racism, the importance of family, the inner strength we all possess: these are the big themes that Esperanza Rising tackles, and it does so through a story that is as engaging as it is tragic. Esperanza begins the book as a coddled and naive young girl but as she progresses on her journey through the pages we learn, with her, the value of self-sufficiency and struggle against adversity.
This is a great book to teach children that no matter our upbringing, human beings all have far more in common than we do different. We are all driven by the same things – love for our family, a desire for a better life, a need for safety and security. The book imparts this lesson without preaching; written so that your child will be too engaged with the story to realize they're learning.
There is one major criticism aimed at this novel, and that is the fact that the basic immorality of Esperanza's situation is often overlooked in order to teach a lesson on the value of self-reliance. This could suggest to children that, instead of trying to enact positive change, they should accept their lot in life, no matter how grim. Not an ideal lesson, perhaps, in this modern world.
Considered a modern classic, this book is an award-winner that treats its difficult subject matter with gentleness and consideration. Your child will be drawn in by the story and come away with a new perspective on the struggles of those less fortunate.
If your child enjoyed this story and you are looking for a book that can further teach them important life lessons, we recommend The One and Only Ivan by Katherine Applegate.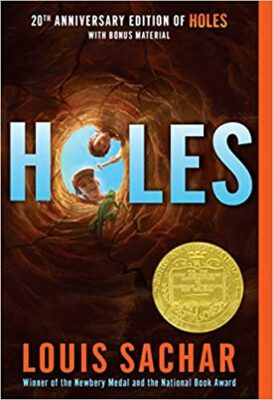 Quick Facts:
Author: Louis Sachar
Published: 1998
Genre: Modern Fiction
This darkly humorous novel by Louis Sachar follows the tale of Stanley Yelnats, a young boy so unlucky he seems to be cursed. After being falsely accused of theft he is sent to Camp Green Lake to carry out his sentence, where the young prisoners there pay penance for their crimes by digging holes all day, every day.
This begs the question – why? What could there possibly be under the dried-up lake worth digging for? The warden certainly seems keen to find it, at least. A young boy named Zero, an old boat on the dry lake bed, the cruel warden herself – all these are vital pieces of the mystery of Camp Green Lake that Stanley must put together if he's ever going to find the truth.
The plot takes the reader through the history of the area, as well as visiting some of the characters from the past that have had an effect on Stanley's life in the present. This journey of interconnected tales is ripe with themes of race, abandonment, familial belonging and more. This gives your child plenty to ruminate on and talk about, while also entertaining them and keeping them glued to the pages, which is exactly what every good book should do.
The heavy themes tackled by this book have been said by some critics to be excessive in parts. Child abuse, bullying, poverty, racism and violence are all issues that arise. This may not be entirely suitable for younger children, or those with a sensitive disposition.
Another award-winner, and this time a classic, Holes has stood the test of time since its publication in 1998. Its message still rings true and its outlandish plot still holds our attention; adapted into a movie in 2003 that will make great watching after your child has finished reading.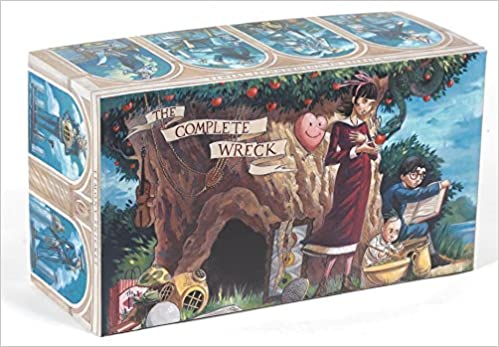 Quick Facts:
Author: Lemony Snicket
Published: 1999-2006
Genre: Humor
Don't read these books! At least, that's what the author suggests. A terrible tale of misfortune and disaster, this series follows the Baudelaire twins, recently orphaned by a fire at their mansion home. Placed in the care of their villainous and abusive relative, Count Olaf, they become embroiled in a deep and dark mystery surrounding the circumstances of their inheritance and their parents' untimely death.
Who can they trust? What is V.F.D? Will the Baudelaires ever find safety and happiness again? These questions follow the children in a twisting, humorous, yet starkly pessimistic plot littered with catastrophes that come one after another. Answers, however, are in short supply.
Lemony Snicket (real name Daniel Handler) has written a book ripe with symbolism and complex themes. Described as Victorian Gothic in tone, it is a unique and quite literally timeless setting filled with anachronisms. This absurdity creates a reading experience set apart from others and that is hard to describe without experiencing it yourself. It explores many themes and aspects of human behavior on its dark journey: the nature of secrets, the concept of moral relativism, the often unrelenting misfortunes of life, and others.
Written for a 5th grade level, this series may nonetheless be more suitable for advanced readers or slightly older children. This is due to its complex themes and unceasingly depressing tone, which may put off some readers.
This series is considered a classic for good reason. It is difficult to sum up succinctly due to its complexity of themes and plot, but its broad popularity speaks for itself. There have been multiple adaptations of the tale; a television series, a movie, a video-game, as well as board and card games. The books still stand as the most critically acclaimed of these, however, so it is worth starting there for the best reading experience.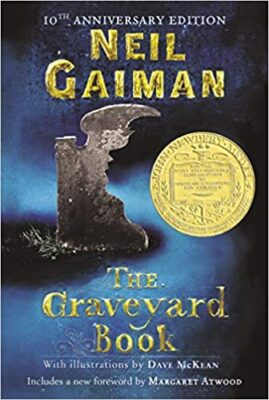 Quick Facts:
Author: Neil Gaiman
Published: 2008
Genre: Fantasy
When his family is murdered by the mysterious 'the man Jack,' a young child is spared the same fate by unknowingly wandering into a nearby graveyard. Adopted by the long-dead ghosts that reside there, he is given the name Nobody "Bod" Owens and raised as one of their own. This unconventional upbringing gives him a unique perspective on life and death and affords him supernatural powers normally reserved for those who have passed on.
The outlandish premise carries most of the plot of the book. We follow Bod's adventures in and out of the graveyard, meeting wild creatures from beyond the grave, as well as seeing how the young man deals with more mundane settings his strange childhood hasn't prepared him for. The man Jack is a constant, lurking threat throughout the book, and one which it seems Bod must face if he is ever to be free.
Family and belonging are the main themes in the story, though they take a back seat to prose designed to entertain and delight more than teach. The creative setting is used to its fullest, exploring Bod's burgeoning powers and introducing us to inventive and unique characters that drive the book forward. Neil Gaiman is an accomplished author, having written such well-known novels as Anansi Boys and Coraline. His penchant for the strange and scary shines through in this story, creating something evocative and yet still believable.
Some criticism leveled at the book cites it as too dark for young readers, with a consistently depressing tone that's more suited to teens. Additionally, the plot can be seen as lacking direction in places, as some chapters seem like self-contained stories rather than part of a single narrative thread. This doesn't detract from the overall plot, but still may be noticeable.
Recipient of a number of awards, many readers and critics laud this book as Gaiman's best. It may be worth curating before passing on to your child, but it has broad appeal and is suited for readers between 8 and 12.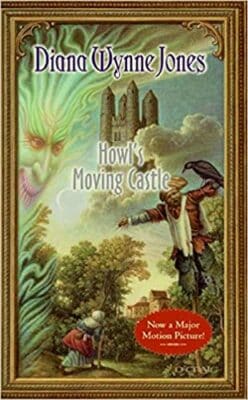 Quick Facts:
Author: Diana Wynne Jones
Published: 1986
Genre: Fantasy
Sophie is the eldest of three daughters, and in a world where fairy tale tropes are natural law, that is a sentence to a life of failure. Resigned to a mundane future working in her father's hat shop, everything changes, however, when the callous Witch of the Waste turns her into an old crone. The only hope to break the spell lies in the fantastical moving castle in the hills belonging to the Wizard Howl.
A many-faceted tale of adventure, Sophie's fate lies in her ability to handle the fickle but good-natured Howl, her bargain with the fire demon Calcifur, and a final confrontation with the Witch of the Waste.
A magical, mysterious book of twists, turns and unexpected revelations, everything is not as it seems between its pages and your child will find themselves always wondering 'what's next'? The novel deals with strong themes of destiny, youth, and implores you to never judge a person by first appearances.
The titular Howl is the foremost example. Preceded by his terrible reputation, he is presented as a prissy, cowardly and dishonest man, but beneath the cover he has created his true nature is revealed as far more compassionate and endearing. More than a simple fantasy, it's an enduring lesson that will serve your child in life.
There are few criticisms of this old classic, though it has been said that the book presents a rather outdated view of romance and love. There are several instances of men propositioning women and girls considerably below their implied age. In one case this involves a 14 year-old girl. While the scenes are generally rather inoffensive, it does arguably present the idea that one of a woman's primary purposes is to find a romantic interest as quickly as possible. In the modern world, this may seem somewhat old-fashioned.
This is an award-winning book that has spawned a number of sequels, though they are less well-known, and a classic animated movie that has a strong following. This is good news if your child enjoys this story, as it offers plenty more to explore in future.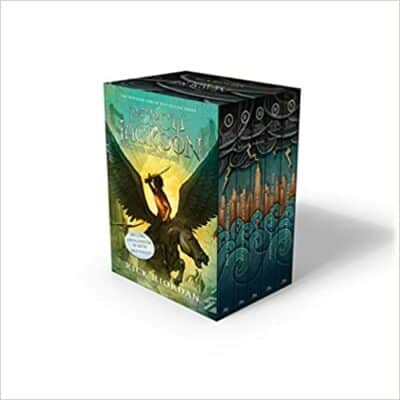 Quick Facts:
Author: Rick Riordan
Published: 2005-2009
Genre: Modern Fantasy
A five-pack collection of books from the mythological master Rick Riordan, this series follows the adventures of 13-year-old Percy Jackson in his quest to save the titular Olympians from an ancient foe. Few people haven't heard of The Lightning Thief, which became a major motion picture and garnered a broad following of avid readers across the world. It is here that Percy Jackson begins his journey across America, to catch a thief who has stolen the legendary and immensely powerful master bolt of Zeus.
From book to book, his travels take him from the fantastical Sea of Monsters in search of the Golden Fleece, to the streets of San Francisco, and back to Manhattan for an epic final confrontation. This series explores Greek mythology in a modern setting, in books filled with good humor and seat-gripping action.
While the story features pagan gods and wild, mythical monsters, Percy himself is nonetheless a particularly relatable character for young readers – a neurodiverse young man with ADHD and dyslexia. By no means a perfect hero, every child can see a bit of himself or herself in him, which will spark their own imagination and creativity.
Due to the nature of the book, some readers with strong religious beliefs may find the inclusion and celebration of pagan deities distasteful. Additionally, some critics disagree with the fusion of Greek mythology and American culture, which they argue has been handled in a way that makes the story difficult to believe. For example, the entrance to Olympus being situated in New York, instead of in Greece.
Well-received as a whole, each installment of this five-book story has its own accolades in a chain that has no weak links. Written in easy and accessible language, the story is suited to children as young as eight and adults as old as eighty.
We recommend the Artemis Fowl series by Eoin Colfer as a good follow-on to these novels if your child has an interest in myths and fables.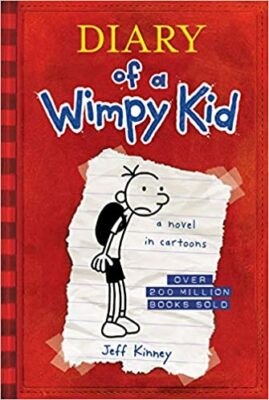 Quick Facts:
Author: Jeff Kinney
Published: 2007
Genre: Humor
This half-book, half-comic follows the mundane misadventures of Greg Heffley as he embarks on a harrowing journey through middle-school. As a scrawny misfit Greg is dismayed to find himself sharing classes with kids far bigger and far meaner than himself. This results in some very unfortunate and dismaying situations – more than a few involving the dreaded Cheese – which hobble his dreams of becoming rich and popular.
At least Greg has his best friend Rowley to turn to. And, of course, his journal where this whole story plays out. What will happen, however, when Rowley seems set to achieve the popularity Greg is so desperate for? Will the bonds of friendship hold out, or will the two be torn apart? We won't spoil this drama bomb. You'll have to read it for yourself.
An irreverent and deeply amusing book, Diary of a Wimpy Kid is presented in a semi-comic style that suits the tone the story creates. Greg Heffley's incessant doodling litters the book with illustrations that are, besides laugh-out-loud funny, insights into his character and unique foibles. He is immediately relatable to any child who's not entirely perfect, and many will see parts of themselves in Greg, despite his endearingly exaggerated awkwardness.
While entertaining, it can't be said that Diary of a Wimpy Kid is challenging reading. The prose is presented in a childish scrawl and the story does not explore any particularly strong themes or insights. Some see this as a wasted opportunity for emotional growth, but on the other hand it may be the sort of light reading your child enjoys.
Although not highly decorated with awards, as some novels are, this book is nonetheless widely recognized and read. Beginning life as an internet comic, Jeff Kinney has spun this story into a 15-book series since 2007. This is, of course, good news if your child is an avid reader and engrossed in Greg's ongoing misfortunes.
Quick Facts:
Author: J. R. R. Tolkein
Published: 1937
Genre: Fantasy
A veritable classic, this novel is a prime example of its genre and still remains popular with young readers today. The book follows the journey of home-loving hobbit Bilbo Baggins, who is roped into a grand quest against his good taste and better judgment. A band of dwarves led by wizard Gandalf the Grey arrives on his doorstep one fateful day with tales of a great treasure under the guard of the dragon Smaug. Who could resist?
Episodic in format, the story introduces new characters and creatures from Tolkein's imaginative, wider world in stages, chronicling each step of their tale up to an epic final conflict. If these sound like familiar tropes and stereotypes, that is because this is one of the books that created them.
This is a direct prequel to the more broadly-known Lord of the Rings series, which together create a story that can be considered the grandfather to most fantasy writing today.
While its successors may be far more epic in scope, this book is tightly focused on its protagonist, Bilbo Baggins. His evolution and maturation are a key focus and some of the main themes explored. The book also ruminates on the nature of greed and its detriment to those consumed by it. All considered these are large concepts for young minds, but they're presented in a way that's easy for children to digest.
While critically acclaimed by most sources, it has been said that the book can be quite slow-paced in places, compared to some modern counterparts. This should not be a problem for the seasoned reader, but some children may be put off.
The Lord of the Rings is a well-loved franchise with many adaptations having appeared over the years. The books may seem daunting at first, given their age and weight, but The Hobbit is a great introduction. Written specifically for children, it may just be the first step that will get them hooked on the rest of the series.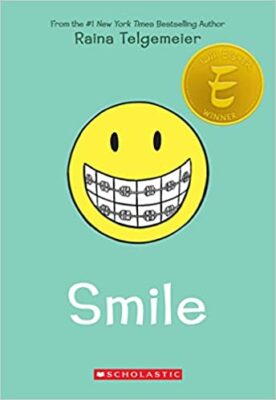 Quick Facts:
Author: Raina Telgemeier
Published: 2010
Genre: Non-Fiction
This light-hearted graphic novel follows the trials and tribulations of sixth-grader Raina Telgemeier, after an unfortunate accident ruins her smile. One night after a girl scout meeting she trips and falls, causing severe damage to her two front teeth. This, of course, results in surgery, braces, bulky headgear and, inevitably, extreme embarrassment.
Based off a true story, not only does poor Raina have to deal with the drama of her recovery, but also a major earthquake and her burgeoning love life. She soon learns, as the school year and her personal crisis progresses, who her true friends are.
Funny and relatable, this book will resonate with any child who has ever felt the sting of adolescent awkwardness. That is to say, almost everyone. It tells a classic coming-of-age story that is heavy with themes of friendship, belonging and maturation. Raina's dental problems are center stage, and provide the conflict that makes her reflect on her own situation and, eventually, on her friends, who treat her cruelly under the guise of friendly jibes.
The light tone of this book naturally suits the medium of a graphic novel. It can been said, however, to be somewhat basic in terms of plot and writing. This could be a good thing for a struggling reader, who finds full prose hard to process, but to those more advanced it is unlikely to be a challenge or leave a strong impression.
Recipient of numerous awards, this book has been valued for its heart-warming message and relatable protagonist. Your child will doubtless see some of themselves in Raina and will learn that, no matter how difficult the situation, there's always the opportunity for a happy ending.
If your child enjoys graphic novels, Diary of a Wimpy Kid by Jeff Kinney may be a good bridge into conventional books, as it combines text with a generous number of illustrations.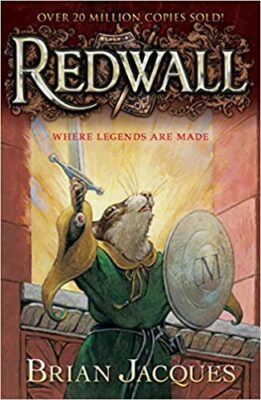 Quick Facts:
Author: Brian Jaques
Published: 1986
Genre: Fantasy
Redwall is the first novel in a series of the same name. A staggering 22 books in all, it may seem daunting to begin, but instead each book covers differing periods of the history of the setting. This means its easier to drop in at any point and not miss out on the overall story.
This particular book takes place in Redwall Abbey and follows the tale of young mouse Matthias and his quest to find the sword of Martin the Warrior. An army of battle-hardened rats, led by Cluny the Scourge, has besieged the abbey and it's only with the help of this mythical weapon that Matthias can drive off the invaders and save his fellow monks and his home.
While boasting an engaging story that appeals to most children, the main theme tackled in this book isn't particularly challenging. It is a straightforward story of good's struggle against evil, and the characterization reflects that. The denizens of Redwall Abbey are peace-loving and gentle, including the clumsy, but good-natured Matthias. The soldiers of Cluny's army are presented as bloodthirsty and callous. This is simplistic, but an easy concept to grasp for children. It is also, to some degree, a coming-of-age story as Matthias grows into his destiny as the hero his companions need.
The uncomplicated main theme is one of the main criticisms of this book. It does not provide much nuance to consider while reading, and paints the conflict in black and white. Are some people irredeemably evil, just by the circumstances of their birth? That's what the story seems to suggest. Additionally, some critics decry the casual violence of the book, which deals with death often through the course of the story. This may not be suitable for some more sensitive readers.
The most modern book in this series was published in 2011, so it is a testament to the story's ability to stand the test of time. This book is where it all began and might just be the gateway to a long journey for your child through the world of Redwall.
The Hobbit by J. R. R. Tolkien may be an interesting follow-on to this book if your child enjoys classic fantasy.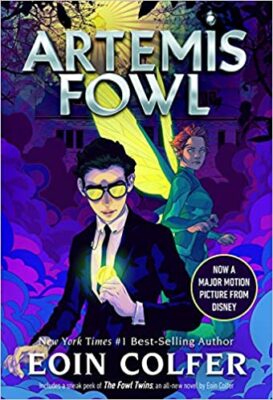 Quick Facts:
Author: Eoin Colfer
Published: 2001
Genre: Modern Fantasy
This book is described by its author as 'Die Hard with fairies,' which is about as intriguing as it gets. The first in a series of novels following the adventures of twelve-year-old criminal mastermind Artemis Fowl II, we meet the protagonist as he first discovers the existence of the fantasy world hidden in plain sight around him.
Stealing the fairy bible, 'The Book of the People,' from an alcoholic sprite posing as a healer in Ho Chi Minh City, he is able to determine the rituals and practices of the fairy folk. This allows him to capture an elf by the name of Holly Short, and hold her to ransom in an effort to restore his family's lost fortune. Unfortunately this has some rather large and unforeseen consequences, which Artemis must deal with to prevent an all-out war between the supernatural races.
An action-packed tale where technology meets magic, the book nonetheless ruminates on some interesting themes. Central to the plot is the conflict between good and evil, which is present in many such stories, though approached in a novel way here. Artemis initially views himself as an evil genius, but as the story progresses his actions contradict this as the stakes get higher. The nature of greed is also another concept the book touches on, beginning with Artemis' goal of re-acquiring his family's lost fortune.
While a solid and engaging story, the book nonetheless has a few problems that critics have picked up on. It does not compare especially well to some classics in terms of the quality of writing and particularly the dialogue – which is presented as simplistic and bombastic.
Another criticism is leveled at the incorrect use of science-based terminology. This can often be forgiven as comic exaggeration, such as when a character is described as moving down a hallway at 'Mach 1,' but happens rather often through the course of the book.
A series much-loved by children since its first publication, Artemis Fowl is the beginning of a franchise that has resulted in a daunting twelve books and, as of 2021, a film adaptation. Your child will enjoy it for its generous doses of action and humor, though you might want to interspace it with more thought-provoking literature to keep their reading diet well-rounded.