Top 20 Best Books for 5-Year-Olds 2023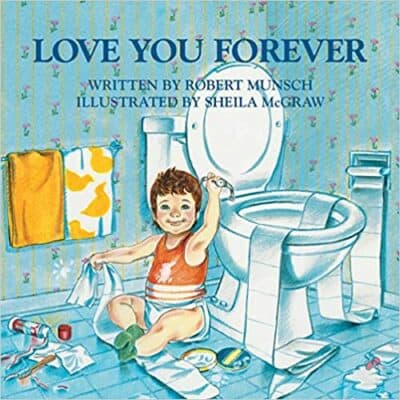 Quick Facts:
Age Range: 4-7 years
Number of Pages: 32
Robert Munsch's all-time classic, Love You Forever, is a truly touching story that chronicles the relationship between a boy and his mother over the course of their lifetimes. Despite his cheekiness and oftentimes exasperating misbehavior, she loves him unconditionally. Every night, she cradles him in her arms and sings him the titular lullaby:
"I'll love you forever,
I'll like you for always,
As long as I'm living,
My baby you'll be."
As she grows old and frail and he matures into adulthood, their roles are reversed, and he cares for her with the same warmth and compassion as she cared for him as a child. After she passes away, he sings his mother's lullaby to his newborn baby daughter, continuing the cycle of unconditional love between parent and child.
Wonderfully illustrated and movingly written, Love You Forever has an emotionally powerful, timeless quality that has made it one of the most universally beloved classics of children's literature. Readers will see aspects of themselves in both the mother and the son, and be reminded that no matter how old they are, they're still someone's baby.
A beautiful depiction of the deep and enduring love between parent and child, Munsch's work emphasizes how this unique human connection is the original wellspring of fulfillment and happiness in life —and one that persists through the generations. Though it's quite a short book, readers will struggle to get to the end without tearing up.
One of the books heavier themes is about accepting our own mortality and embracing death as an inevitable part of life. Though the mother's passing at the end is only gently implied, you should be ready to have a discussion with your child about the nature of death. Love You Forever is an amazing children's book, but perhaps not the most casual bedtime reading.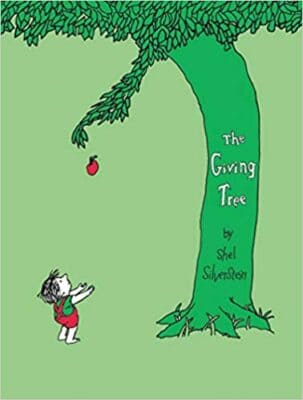 Quick Facts:
Age Range: 1-8 years
Number of Pages: 57
The Giving Tree tells the story of a young boy who befriends an altruistic apple tree. The tree finds happiness in providing the boy with apples and letting him swing from her branches. The boy continues to visit the tree intermittently at different stages throughout his life, returning as a teenager, then as a grown adult, and finally as an old man. As the boy ages, his personal needs develop in tandem. She happily provides him with apples to sell for money, timber with which to build a house and, lastly, her stump provides him with "a quiet place to sit and rest."
Written and illustrated by renowned poet and children's author Shel Silverstein, The Giving Tree presents the reader with a poignant portrayal of selfless love and generosity. The story is told through concise, easily comprehensible prose with minimalist black-and-white drawings that catch the eye without distracting from the narrative.
Described as "one of the most divisive books in children's literature," The Giving Tree has also aroused some controversy among critics concerning the moral ambiguity of the relationship between the boy and the titular tree. Is her loving self-sacrifice a positive character trait, or is the boy merely exploiting her benevolence? Is the book an allegory for the relationship between mother and child, between humans and the environment, or between God and the human race?
These larger questions (and the critical debates surrounding them) are probably why The Giving Tree remains such an enduring classic. Those who enjoy this work will probably also appreciate Shel Silverstein's poetry collection, Where the Sidewalk Ends.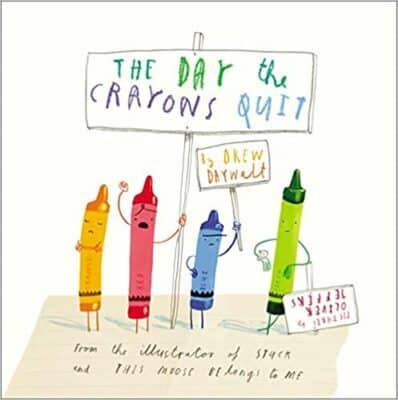 Quick Facts:
Age Range: 3-7 years
Number of Pages: 40
It's difficult to please everyone. In The Day the Crayons Quit, a boy named Duncan is surprised to discover that —for a wide variety of personal reasons— his entire box of crayons have decided to go on strike. Every color feels exploited or underappreciated in some way or another. Blue is tired of being overworked (coloring all those skies and oceans), pink objects to being typecast as a "girls' color," gray is having an identity crisis, and red and orange are arguing over which one of them is the true color of the sun. They leave Duncan with a pile of angry letters explaining each of their resignations, and he is given the unenviable task of negotiating their return.
Told with witty humor, an abundance of empathy, and wonderful pictures by renowned illustrator Oliver Jeffers, The Day the Crayons Quit is a light-hearted study of mutual grievances and how to resolve disagreements. Your kid will learn how to handle interpersonal conflicts in a calm and respectful way while trying to reach a compromise that benefits everybody.
The book also raises a number of interesting questions, like how to balance your self-interests with your duties and obligations, when you should rightly challenge social norms, and what qualities really make a piece of art beautiful? The subtle incorporation of these heady themes and issues makes this book a modern classic in children's literature.
However, parents should remind their kids that the moral of the story isn't that they should just give up when faced with challenges and disagreements!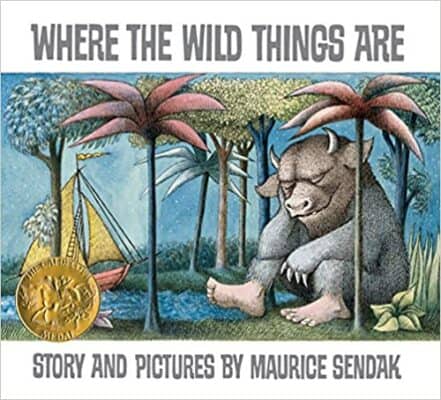 Quick Facts:
Age Range: 4-8 years
Number of Pages: 48
Written and illustrated by Maurice Sendak, Where the Wild Things Are is a perfect choice for free-spirited and rambunctious children. It follows the story of a strong-willed, rebellious, wolf-suited boy named Max. Branded as a "wild thing" by his mother, Max is sent to bed without dinner as punishment for wreaking havoc around the house.
As his enraged imagination runs rampant, his room transforms into a fantastical jungle inhabited by bizarre, shaggy monsters with horns and claws. While menacing in appearance, these creatures offer Max a warm welcome and crown him as their king. Max and his new subjects have their fill of unbridled, wild shenanigans, until Max realizes he misses his mother's love and decides to return home.
Where the Wild Things Are is a terrific choice if your child has frequent temper tantrums, as it presents childhood anger in an empathetic way that allows them to understand where their feelings of frustration come from. It also teaches them how to channel this energy creatively and demonstrates the calming effect of having a "time-out."
Told in a dreamy, stream of consciousness style of writing, Where the Wild Things Are contains the best artwork of any book featured on our list. In this latest edition, the already superb illustrations have been digitally restored using state-of-the-art technology that breathes new life into the colorful, evocative illustrations. The natural scenery is truly picturesque, while the loveable "wild things" are portrayed as cuddly (rather than frightening) monsters.
For kids who struggle with difficult emotions, another great read on this topic is Grumpy Monkey by Suzanne Lang.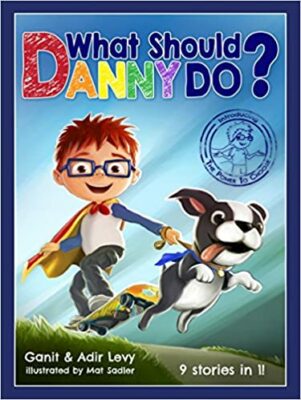 Quick Facts:
Age Range: 3-7 years
Number of Pages: 68
In this colorfully illustrated choose-your-own-adventure style book, kids are able to determine the course of the story by making decisions for the main character at every pivotal moment in the narrative. This structure gives the book a lot of re-readability, with a total of nine different endings, depending on how your child chooses to read through it.
Danny might be a "Superhero-in-Training," but kids will easily be able to identify with the scenarios he encounters during his daily routine. From the moment he wakes up, the reader must decide if Danny should get ready for school, or keep playing in his room; should he play
cooperatively with his little brother, or knock over his race car set? Every decision has consequences, both positive and negative. This makes What Should Danny Do? a wonderful resource for teaching your child that they always have the power to choose.
Each choice also teaches an important lesson in itself, such as the value of sharing, hard work, being patient, and developing your social skills and emotional intelligence. However, the moral quandaries are sometimes a little too obvious and black-and-white. They also tend to focus more on punishment or reward rather than delving into Danny's feelings about his impact on other people and why being a decent person is a valuable thing regardless of the outcome of any given situation.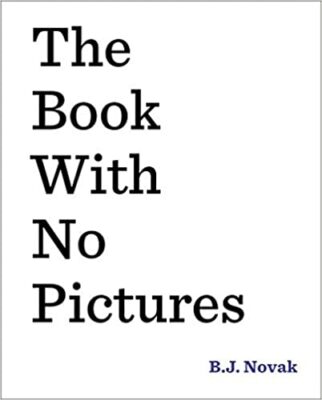 Quick Facts:
Age Range: 5-8 years
Number of Pages: 48
The fiendishly clever and delightfully goofy The Book With No Pictures is an onomatopoeic masterpiece. Writer and comedic actor B.J. Novak (best known for his supporting role on The Office) introduces kids to text-only books with his characteristic wit, charm, and humor.
This book doesn't tell any sort of story in the conventional sense. Rather, it's written in a narrative voice that directly addresses your child, though it's designed to be read by an adult. It consists of all sorts of nonsense gibberish, ridiculous phrases, and clever plays-on-words strung together like a practical joke on the person reading it. Parents can expect to make crazy sound effects, do funny voices, and (playfully) embarrass themselves as they read it to their children —who will be doubled-over in stitches at the farcicality of it all!
Admittedly, it's written for those with an irreverent and somewhat puerile sense of humor that not everyone will enjoy. There's occasional, mildly inappropriate language —a hippo with the unfortunate name of "BOO BOO BUTT," makes several appearances, for example.
However, there's no denying that Novak's comic timing is impeccable and that he possesses an obvious knack for kids' sense of humor. The Book With No Pictures is a radical, genre-defying concept-piece, the likes of which you really won't find anywhere else.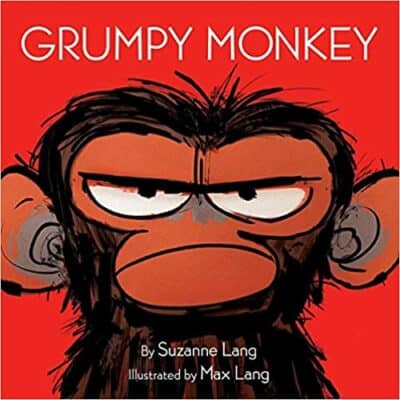 Quick Facts:
Age Range: 3-7 years
Number of Pages: 32
Young Jim Panzee wakes up one day and finds he's in a terrible mood, though he isn't sure exactly why. Despite the fact that it's a beautiful day, he just can't seem to shake off his crabbiness, even though he repeatedly tries to by smiling, dancing, eating, and hanging out with friends —this just has the opposite effect, making him feel bad for feeling bad. He eventually finds relief when he realizes that he doesn't need to justify why he's in a bad mood or keep trying to fix it, he just needs to allow himself to feel grumpy for a while.
If your child struggles in dealing with negative emotions, Grumpy Monkey offers a reassuring narrative that allows them to embrace their bad feelings. The story teaches kids that it isn't unusual to feel down sometimes, even when you're surrounded by sunshine and people (or elephants, gorillas, and lions) who love you.
The goofy watercolor illustrations by Oscar-nominated animator Max Lang present the somewhat painful (but relatable) subject matter in a zany, accessible way that kids will appreciate. It's also written in simple enough language that your child will be able to read it by themselves quite comfortably.
One point of criticism for Grumpy Monkey is that Jim Panzee never apologizes for snapping at his well-intentioned friends who are just trying to cheer him up. The author could also have placed more emphasis on how Jim could learn to better recognize and communicate his emotional needs in future. These minor holes in the book's moral lesson can be easily patched with a little parental guidance, however.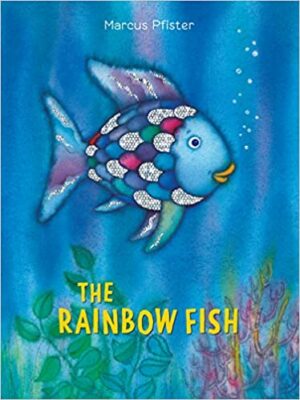 Quick Facts:
Age Range: 4-8 years
Number of Pages: 32
The Rainbow Fish is the most beautiful fish in the ocean, adorned with colorful, glittery scales. However, his status goes to his head, and he becomes a social outcast by pompously refusing to share his amazing scales with his fellow fish. After being counselled by a wise, old octopus, he decides to sacrifice his personal vanity and generously donates some of his beautiful scales to his admiring peers.
Set against a background of soothing, watercolor aquatic scenery, the main character is strikingly illustrated with vibrant colors and iridescent holograph scales. These visuals will hold your kid's attention while the author presents a compelling tale about the nature of beauty, the importance of sharing, and how selflessness can lead to personal fulfillment.
The key lesson here is about being less self-absorbed and learning to share with others. However, the book also touches on a host of other issues that can be a good jumping-off point for deeper discussions with your little one. What makes something truly beautiful? Is it better for others to admire you based on your outward appearance, or inner character? Does our personal happiness come from the things we have, or the loving connections we make with other people?
The primary drawback with The Rainbow Fish is that it's been translated from German, which means that some of the passages can be a little vague and undescriptive. The core meaning of the text remains, however.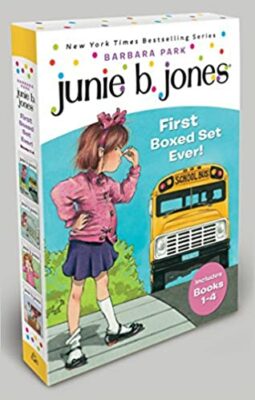 Quick Facts:
Age Range: 5-9 years
Number of Pages: 320 (approx.)
Junie B. Jones is a plucky, strong-willed kindergartener whose brattish behavior and irreverent attitude are always getting her into uproarious trouble. With her characteristic stubborn sassiness, Junie navigates her way through a variety of major life events, from the first day of school to getting a baby brother. The lively illustrations really capture the essence of Junie's inner spark, while the relatable scenarios (told from Junie's chucklesome perspective) will keep young readers engaged from chapter to chapter.
Whether your kid is prone to acting out or not, they will see an exaggerated version of their cheekier, impish selves in Junie. The beauty of this collection is that Junie ages with your child over the course of the series, which begins on her first day of kindergarten and ends with her graduating to first grade. This series is also a great way to introduce your child to chapter books, as the writing is moderately more advanced, but not too challenging. This box set (the first of five), contains the first four volumes of the Junie B. Jones series.
Be warned, however: Junie B. Jones is rather divisive. Some parents take issue with her bad behavior towards her classmates and teacher, which —despite its laugh value— can verge on being rude and disrespectful at times. As Junie narrates the series herself, her syntax is also at an authentic kindergarten level, which is endearingly cute but not usually grammatically correct. While reading this series, it's important to remind your child that Junie's behavior and language are supposed to be comedic, rather than something to emulate.
Parents looking for a less troublesome female protagonist would be advised to check out Eva the Owl.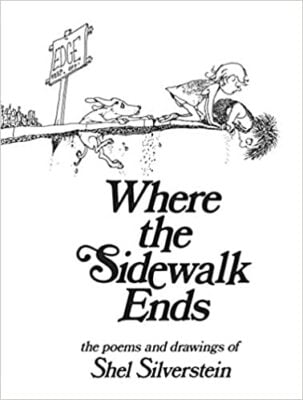 Quick Facts:
Age Range: 5-8 years
Number of Pages: 176
This collection of poetry, originally published in 1974, explores a wonderfully imaginative realm where shoes fly, diamonds grow out of the ground, and crocodiles go to the dentist. While it's written for children, adults will be impressed by the seductive charm of Silverstein's imaginary world and the subtle profundity and inner meaning of these seemingly silly poems.
Where the Sidewalk Ends shows famed children's author Shel Silverstein in top form. His excellent ear for rhythm and rhyme, alliteration, and clever word play make this book a joy to read aloud. Without being pedantic in his approach, Silverstein constantly challenges the reader's preconceptions about life and the nature of reality, casting aside their presumptions and perceptive biases and allowing them to see the world afresh.
This amazing collection of 130 short poems is touching, hilarious, and occasionally naughty, told with exquisite irony and an underlying sense of boundless curiosity. Fantastic for read-alongs with your little one, Where the Sidewalk Ends is illustrated with Silverstein's signature black-and-white drawings that really help to capture its amusing absurdity.
However, some of the poems are a bit macabre for younger readers, such as the skinny boy who disappears down the bathtub drain, while others are not quite politically correct by today's standards —one poem, "The Gypsies are Coming," has been retitled in more recent editions.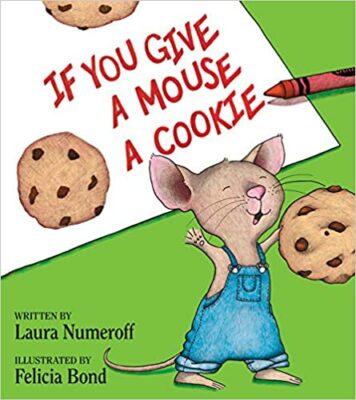 Quick Facts:
Age Range: 4-8 years
Number of Pages: 40
If You Give A Mouse A Cookie tells the story of a needy mouse who meets a young boy. At first, the mouse simply asks for a cookie…and then a glass of milk to wash it down…and then a straw with which to drink the glass milk, etc., etc. Before the boy knows it, the mouse has gone ludicrously beyond his original request, seriously taking advantage of the boy's generosity and kindness in the process.
This book incrementally builds on each request in a logical fashion, which is fun for kids because it allows them to guess what will happen next. The simplicity of the story has a nice rhythm to it, and it's also got fantastic illustrations full of subtle details your kids will enjoy.
While sharing is a key lesson to teach your kids, If You Give a Mouse a Cookie demonstrates the importance of setting boundaries and not allowing yourself to be taken advantage of. This theme is played out to comic effect, which is a hilarious way of learning.
The pictures and text in the paperback version are a little too small, so we'd recommend getting the hardcover version. If this really catches your child's fancy, there are two sequels, as well.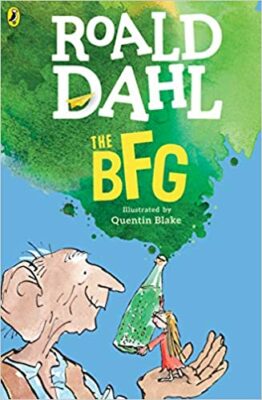 Quick Facts:
Age Range: 5-12 years
Number of Pages: 224
An absolute classic by famed author Roald Dahl, The BFG (Big Friendly Giant) is a superbly written tale about the friendship between a young orphan girl named Sophie and a gentle giant with a heart of gold. Whisked away to the giant's secret cave, Sophie fears she'll be eaten at first. However, she soon discovers that he's actually a kindly soul who catches sweet dreams and blows them into peoples' heads at night with his magical trumpet. The pair grow close and, through a series of narrative twists and turns, eventually foil the devious plots of the BFG's bloodthirsty giant neighbors (who do eat children!).
Heartwarming, funny, and punctuated by suspenseful (sometimes quite frightening) moments, The BFG will be sure to hold your little one in rapture with its profoundly moving narrative. The charmingly sketched illustrations also help your child to visualize each scene. It's best to read this chapter book to your kid —not just to comfort them during the scarier parts, but also to help them decipher all the goofy words and idioms they might struggle to understand.
As the BFG subsists on a diet of noxious "snozzcumbers" and a fizzy drink called "frobscottle," there are a lot of jokes about farting and burping, which some parents might find offensive. It also contains occasional depictions of cannibalism, which may be too terrifying and graphic for small children.
If you enjoy the silly nonsense words in The BFG, The Book With No Pictures is another great option.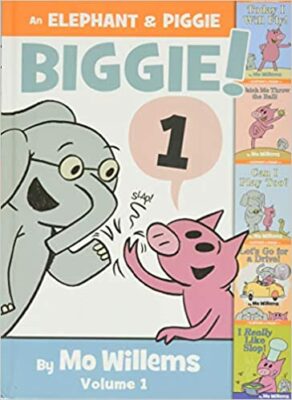 Quick Facts:
Age Range: 5-8 years
Number of Pages: 320
The Elephant and Piggie series is a great choice for kids just starting to read on their own. The books have straightforward stories that are easy to follow, while the language is basic and concise, with no superfluous details in the text or illustrations to distract from the narrative.
The books revolve around the friendship of Elephant and Piggie, two seemingly mismatched characters. Elephant (who actually goes by the name Gerald in the stories) is somewhat pessimistic and restrained in his behavior, while Piggie (who just goes by "Piggie") is brash, cheerful, and impulsive —this dynamic plays out to comic effect in all sorts of situations!
Although they have very different temperaments, author Mo Willems focuses on how they get along despite these dissimilarities. Told with humor and compassion, these Elephant and Piggie stories always contain a moral lesson, such as the importance of being kind, sharing, and working together to solve problems.
Interestingly, all of the words in each story consist entirely of dialogue, presented in the form of speech bubbles. This comic book style is very engaging for young readers who might not comprehend lengthy descriptions and narration. Mo Willems' illustrations also place a lot of emphasis on the characters' body language and facial expressions, which can improve your child's understanding of what's being said.
Mo Willems has been writing this series since 2007, at a rate of around 2-3 titles per year. The series is still ongoing, so if your kid falls in love with Elephant and Piggie, there's more to come. This box set contains the first five volumes of the series.
If you're looking for other series centered on two friends, we'd highly recommend Fly Guy or Frog and Toad.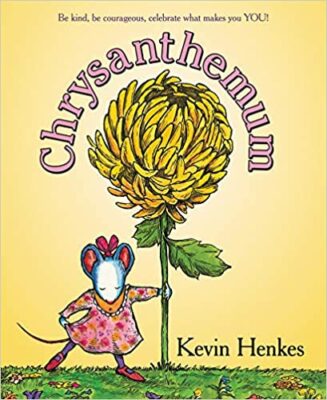 Quick Facts:
Age Range: 4-8 years
Number of Pages: 32
Wanting their daughter's name to reflect her beauty and delicate nature, the parents of a young mouse name her Chrysanthemum. While at first she's overjoyed to be starting school, her excitement soon turns into despair as her classmates poke fun at her for being named after a flower.
This sweetly told story of self-acceptance and overcoming adversity will really resonate with kids who have experienced bullying at school. It also offers a precautionary tale about the importance of not judging others based on superficial details. Instead, Chrysanthemum teaches children to celebrate the differences between people, rather than criticize.
The excellent watercolor and ink illustrations really capture Chrysanthemum's inner turmoil and enhance the emotional power of the text. While kids will be able to identify with her situation, the book could have used more explicit instructions about how to deal with bullies at school.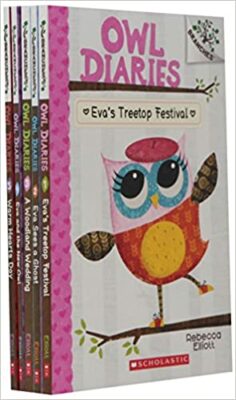 Quick Facts:
Age Range: 5-7 years
Number of Pages: 400
The Owl Diaries series centers on a bright, spirited owl named Eva. The stories are told in a kind of graphic novel format, with the text, speech bubbles, and collage-style artwork set against the lined pages of Eva's daily journal entries. Eva addresses all sorts of important topics, like overcoming jealousy, learning to forgive others (and yourself), and asking for help when you need it.
Great for beginner readers (or those with short attention spans) the stories are written in a very concise and formulaic manner that begins with a problem, followed by an investigation, a resolution, and a happy ending. Young kids will enjoy the predictability, as well as the quickly paced but varied storylines.
Part of Scholastic's "Branches" line of books designed for early readers, the Owl Diaries series features bold, easy-to-read text and reading comprehension questions at the end of each chapter to help solidify what they've learned.
This box set contains the first five volumes of the series, which is still ongoing.
Once your child is finished with the Owl Diaries collection, they can graduate to the Fly Guy or Junie B. Jones series, which are for slightly more advanced readers.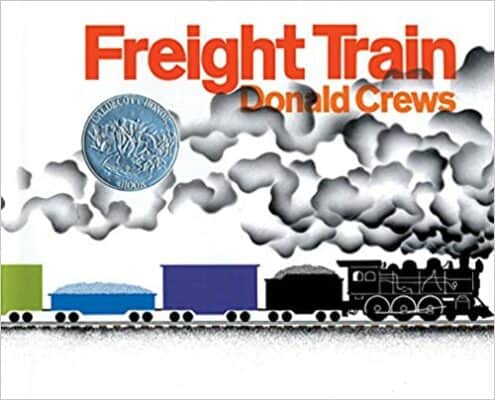 Quick Facts:
Age Range: 4-8 years
Number of Pages: 24
Acclaimed children's author Donald Crews presents us with a book that uses kids' fascination with trains to help develop their reading skills. The book —which won the 1979 Caldecott Honor award for its bold, expressionist artwork— uses simple words and eye-catching illustrations to draw in your child's attention and gradually build their vocabulary.
Freight Train is written with sparse descriptions of each car, and the way it progresses (i.e. a black steam engine, followed by a purple box car, followed by a green cattle car, etc.) is designed to mimic what it's like to actually watch a passing locomotive go by.
The beauty of this book lies in its simplicity. For instance, when it's shown at all, the background skyline is depicted as a minimalist, two-toned landscape. By avoiding any unnecessary details, your child's attention is focused on matching the colors to the cars —the repetition and association is a great way to help beginner readers get the hang of connecting words and objects.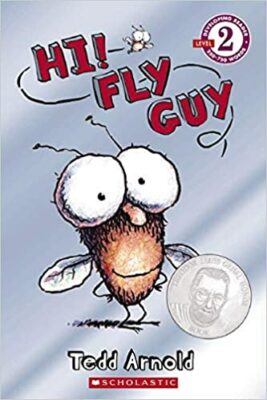 Quick Facts:
Age Range: 4-8 years
Number of Pages: 32
The Fly Guy book collection follows the comedic adventures of a boy named Buzz and his pet fly. This first book in the series establishes the pair's relationship, which begins with Buzz entering Fly Guy in the Amazing Pet Show competition. Though skeptical and dismissive at first, the contest judges are soon won over by Fly Guy's impressive tricks and feats of agility.
Hi! Fly Guy teaches kids to be loyal to their friends, believe in themselves, and ignore the disparaging comments of others —an important lesson at any age!
Each title in the Fly Guy series is packed with humor and written in an easily digestible way, with hilariously whacky illustrations. They're ideal for kids who read at an intermediate skill level, as they're fairly slim volumes that kids can get through in a few 10-15 minute reading sessions (which also makes them a good choice for bedtime reading).
Fly Guy has become an enormous series. In addition to the more conventional story books, Fly Guy also has a series of non-fiction educational books that address topics as varied as dinosaurs, the weather, and even the White House!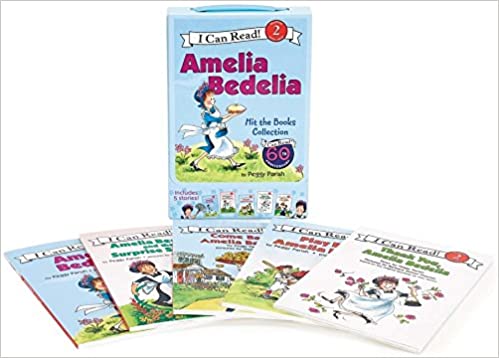 Quick Facts:
Age Range: 4-8 years
Number of Pages: 320
Hired as a maid for the wealthy Rogers family, Amelia Bedelia just can't seem to do anything right. Despite her good intentions and chipper attitude, she's always bungling her duties on account of taking everything literally —for instance, Amelia "dresses the chicken" by fitting it into tiny clothes, "dusts the furniture" by sprinkling it with dust, and hangs the light bulbs on a clothesline after being told to "put the lights out."
Delightfully silly, the Amelia Bedelia series is a terrific way to introduce your little one to wordplay and the misunderstandings that can result from interpreting things literally.
This box set contains the first five installments in the Amelia Bedelia series and comes in a cardboard box with a Velcro flap and carrying handle. Featuring the original illustrations from the 1960s edition, this series is great for kids who are just starting to read alone but still need some additional help.
Modern-day readers might object to the somewhat antiquated class relations between Amelia and her employers, however.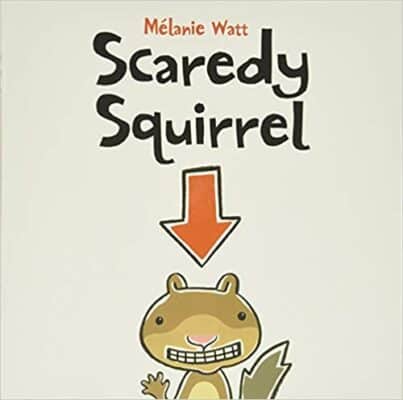 Quick Facts:
Age Range: 4-8 years
Number of Pages: 40
Scaredy Squirrel tells the story of a fearful squirrel who is afraid to leave his nest on account on all the supposedly terrible things that await him in the outside world (spiders, germs, and killer bees, oh my!). Armed with an emergency preparedness kit containing supplies for every possible eventuality, he eventually ventures outside. During his adventure, he not only faces his worst fears, but also discovers his amazing resilience and innate abilities.
Illustrated with vivid charcoal pencil and acrylic drawings by author Mélanie Watt, Scaredy Squirrel is a vibrant, fun, and reassuring story about how we can confront our nightmares and turn out okay. The tone and pacing of the book are perfect for kids transitioning through new phases in life (like moving or going to school for the first time).
Told with kindness and humor, readers will appreciate the satirical futility of the way Scaredy Squirrel tries to control every facet of his life and the implication that having an overly cautious attitude can limit your potential. This book is all about getting out of your comfort zone and taking calculated risks.
However, some readers will struggle with its unconventional narrative, much of which is told through tables, grids, and labels, from which the plot must be intuited.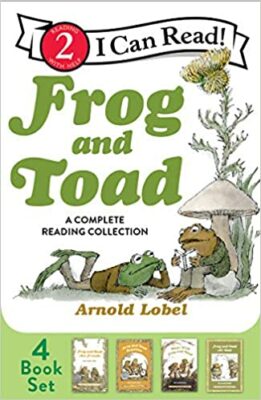 Quick Facts:
Age Range: 4-8 years
Number of Pages: 256
Frog and Toad are the best of friends and provide us all with a lesson about how seemingly different people can develop a compassionate, empathetic relationship with one another. Frog and Toad are one of the original odd couples of children's literature: Frog is always upbeat and easy-going, while Toad is the more cautious and reserved of the two. Kids and parents alike will see parts of themselves in both of these thoughtfully written characters.
Each book in the Frog and Toad series contains five short stories. These brief tales are easy to understand, often humorous, and sometimes very touching. Frog and Toad seldom embark on any grand adventures. Rather, the narratives usually focus on more common everyday things, like cheering your friend up when they're in the doldrums, finding a new button for a jacket, flying a kite, or doing household chores. However, these seemingly ordinary activities generally disguise a deeper message about the world, human attachment, and the importance of friends in helping you navigate through life's many challenges.
Charmingly illustrated by the author, the entire Frog and Toad collection is now available in a single volume, with a Velcro enclosure and a handy carrying handle.