Top 20 Best Books for 9-Year-Olds 2023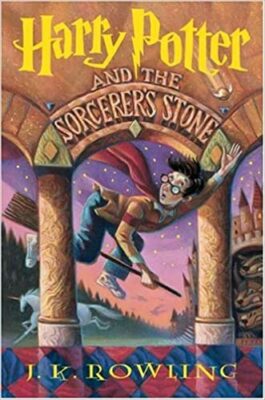 Quick Facts
Age Range: 9 years-12 years
Number of Pages: 309 pages
Genre: Fantasy
First Line: "Mr. and Mrs. Dursley, of number four, Privet Drive, were proud to say that they were perfectly normal, thank you very much."
Harry Potter and the Sorcerer's Stone by J.K. Rowling ticks all the boxes for a great book for nine-year-olds. The eleven-year-old Harry Potter is a relatable character and an honorable one kids can look up to. This is a story of magical escapism at its finest, with an orphan boy living with his horrible aunt and uncle, who learns that he's been accepted into a magical boarding school for witches and wizards.
This book is the first in a series, which is ideal for voracious readers. The books get progressively darker and longer, with the final book being a staggering 759 pages. It's a series that matures in tone as your child does. However, the first few books are perfect for younger readers as the characters grapple with themes of good vs. evil, the importance of friends, and the power of love.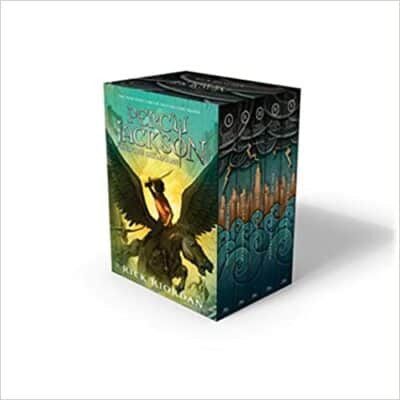 Quick Facts
Age Range: 10 years-14 years
Number of Pages: 416 pages
Genre: Fantasy, Mythology
First Lines: "Look, I didn't want to be a half-blood. If you're reading this because you think you might be one, my advice is: close this book right now."
If you have a nine-year-old who can't get enough Greek mythology, then Percy Jackson and the Olympians is perfect. The main character, Percy Jackson, is twelve years old in the first book. For kids who struggle with learning disabilities, these books are especially helpful. Percy Jackson has dyslexia, ADHD, and struggles to fit in at school. It isn't until he learns that he's a half-god, half-human that he realizes there are others like him.
The hardcover box set, though pricey, makes a fantastic gift. Each book tells a different story inspired by Greek mythology and starring Percy Jackson and his demigod friends. The books all have positive themes of family and friendship, belonging and loyalty, and heroic adventure. However, these books are geared toward slightly older kids, so they may be difficult for less-confident readers.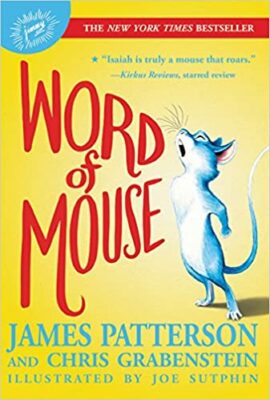 Quick Facts
Age Range: 8 years-12 years
Number of Pages: 320 pages
Genre: Animal Adventure
First Line: "My story starts on the day I lost my entire family."
The Word of Mouse by James Patterson & Chris Grabenstein is a fun little book at a great price. The sentences are easy to read and draw you in quickly. The main character, Isaiah, is a mouse with not only blue fur but the ability to communicate with humans. If your nine-year-old has ever wanted to talk to animals, they'll love how Isaiah teams up with a girl named Hailey.
This book has positive themes of family and friendship and acceptance of those who are different from you. It's implied in the book that Hailey is bullied for being different because of albinism, so this is an excellent book for teaching kids about how to be kind to everyone. A story starring a talking animal is always a crowd-pleaser, but some nine-year-old kids might think it's babyish.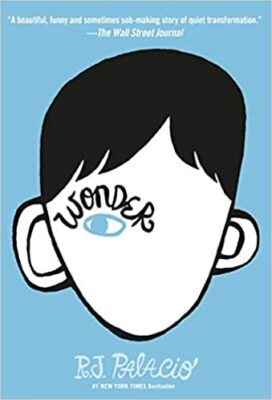 Quick Facts
Age Range: 8 years-12 years
Number of Pages: 320 pages
Genre: Contemporary
First Lines: "I know I'm not an ordinary ten-year-old kid. I mean, sure, I do ordinary things. I eat ice cream. I ride my bike. I play ball. I have an Xbox."
Wonder is about a boy born with a facial difference so extreme that he's been unable to attend school—mostly because of all the reconstructive surgeries. While the main character is certainly different, the story also focuses on the fact that he's like everyone else on the inside.
Wonder has a heavy subject matter of learning not to treat someone differently just because of their looks, but it's written in a way that's fun to read instead of preachy. The main character is very relatable in all the things he likes, even though he's far from ordinary.
Your nine-year-old will learn about the importance of empathy and caring, but the story does have a slower pace at times. It's best to read it along with your child, and then you can watch the movie together.
Quick Facts
Age Range: 8 years-12 years
Number of Pages: 192 pages
Genre: Non-Fiction
It seems like kids start asking why as soon as they can talk, and they never stop! Curiosity can be a good thing, though, especially if you have a book with answers to almost everything. Why? Over 1,111 Answers to Everything by National Geographic Kids covers age-appropriate topics such as animals, the earth, weather, space, the human body, and history.
We especially like the bold text and colorful pictures and illustrations. This book is a hardcover, so it's pretty large and durable. Your nine-year-old will have fun sitting and flipping through the book, learning as they go. However, some of the topics are a little too difficult to understand for younger kids.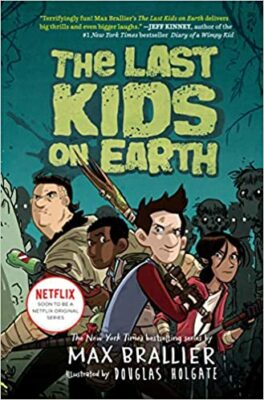 Quick Facts
Age Range: 8 years-12 years
Number of Pages: 240 pages
Genre: Dystopian
First Lines: "That's me. Not the giant monster. Beneath the giant monster. The kid on his back, with the splintered bat. The handsome kid, about to get eaten."
The Last Kids on Earth series sounds like a scary concept: a group of kids are the only ones left on earth after it's been taken over by monstrous aliens who turn everyone into zombies. But the books are surprisingly full of humor, lightheartedness, and comic-style illustrations that make it fun and highly entertaining to read.
This book is the first of seven, so there's plenty of monster-killing fun to read. Kids will love the monsters, of course, but they'll like the survival elements, too. The book has positive themes of friendship, heroism, and loyalty. Since the main character, Jack Sullivan, is thirteen, nine-year-old children will like reading about a character they can look up to. Now that the first book is on Netflix, though, it may make some kids want to watch the show instead of reading.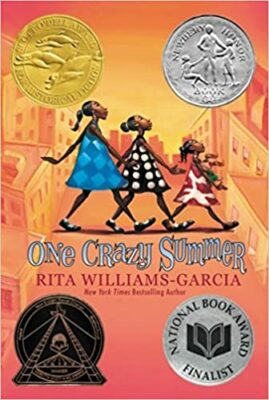 Quick Facts
Age Range: 8 years-12 years
Number of Pages: 309 pages
Genre: Historical
First Line: "Good thing the plane had seat belts and we'd been strapped in tight before takeoff."
One Crazy Summer by Rita Williams-Garcia has won multiple awards and for good reason. The story is ideal for discussing the 1960s Civil Rights Movement with your children. Rita Williams-Garcia tackles the difficult topics of discrimination and prejudice in a way that nine-year-olds can understand. At its heart, the story is about the love of sisters, family, and the importance of cultural diversity.
The story is about three sisters flying out to Oakland, California, to stay with their mother for the summer. They're hoping to go to Disney Land, but their mother sends them to a day camp run by the Black Panthers instead. Because of the subject matter, kids will need to know about the Civil Rights Movement during the 1960s to understand this book fully, so be prepared to read along with them. You'll be glad you did!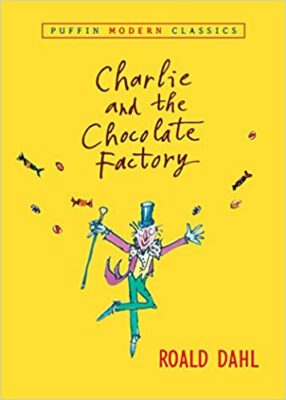 Quick Facts
Age Range: 9 years-12 years
Number of Pages: 155 pages
Genre: Magical Realism
First Lines: "These two very old people are the father and mother of Mr. Bucket. Their names are Grandpa Joe and Grandma Josephine."
You can't go wrong with Roald Dahl. All his books are magical, funny, and instantly capture kids' interest. Charlie and the Chocolate Factory by Roald Dahl is a classic for its humor and magic. The quirky illustrations by Quentin Blake just add to the charm. The story is about a group of children who win golden tickets to Willy Wonka's magical chocolate factory. The factory, and Willy Wonka, are most definitely not ordinary in any way.
This book has a very obvious theme: that good people who are honest, caring, and love their family deserve all the rewards. The hero of the story is a ten-year-old boy named Charlie Bucket who is completely different from the fatally-flawed children who go to the factory with him.
Kids will love reading about the increasingly more shocking things that happen in the magical chocolate factory. The punishment the characters receive may seem a little dark to some kids, though.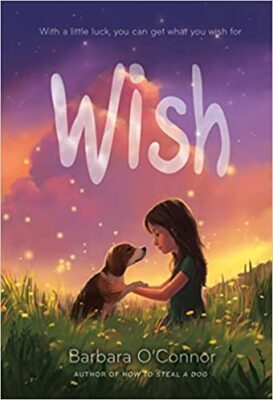 Quick Facts
Age Range: 9 years-12 years
Number of Pages: 256 pages
Genre: Contemporary
First Lines: "I looked down at the paper on my desk. The 'Getting to Know You' paper. At the top, Mrs. Willibey had written 'Charlemagne Reese.'"
If you have a nine-year-old who loves dogs, then Wish by Barbara O'Connor is the perfect story. Eleven-year-old Charlie Reese has learned all the ways to make a wish, and she's afraid it will never come true when she's sent to live with her aunt and uncle she barely knows. That's when she meets Wishbone, a skinny stray dog who becomes the friend she needs.
Although this book has important themes about friendship, love, family, and the need to belong, it has a sad and heavy subject matter. This story talks about abandonment and adoption in a way that is realistic but still sad. This is a good one to read along with your nine-year-old to help them understand about different families. The language in this book will draw your child in because it sounds like the way kids talk.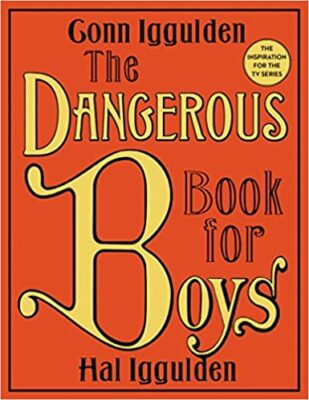 Quick Facts
Age Range: 8 years-12 years
Number of Pages: 309 pages
Genre: Non-Fiction
If you have an adventurous boy who loves the outdoors and survival, he will quickly become obsessed with this book. The Dangerous Book for Boys is more than that, though. Along with the pages of practical knowledge, it answers common questions about the natural world, discusses famous historical battles, and lists the rules for different sports. Almost anything your nine-year-old will want to know is in this book.
This book makes a fantastic gift because it's a beautiful hardcover with a simple but elegant design. It's a great way to give a boy something to do that doesn't involve a screen while expanding his knowledge base and love of learning. The book's table of contents isn't the best, though, making it hard to look up certain things later.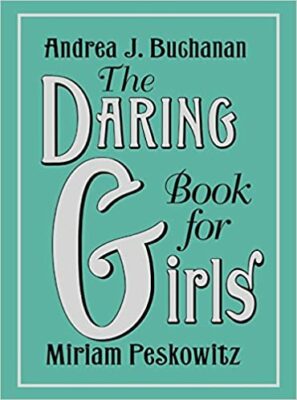 Quick Facts
Age Range: 9 years-12 years
Number of Pages: 288 pages
Genre: Non-Fiction
The Daring Book for Girls is in the same style as The Dangerous Book for Boys. It's packed with lots of practical knowledge, but it also has everything from how to make a ring from a peach pit to female heroes in history. The book is a thick hardcover with some illustrations, so it makes a beautiful gift for the nine-year-old girl in your life.
There are so many different topics in this book that there's something for everyone. Like The Dangerous Book for Boys, there's only a table of contents and no index. This makes it difficult to find what you're looking for quickly. It also has some content that might be scary for younger readers—like learning how to summon "Bloody Mary" during a slumber party.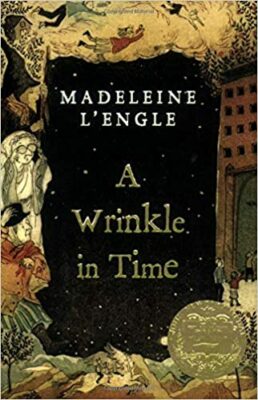 Quick Facts
Age Range: 9 years-12 years
Number of Pages: 256 pages
Genre: Sci-Fi
First Line: "It was a dark and stormy night."
The story is about a girl and her brother who travel through space and time to find their missing father. Your nine-year-old will love the sci-fi elements of space, time travel, and aliens. There are many positive themes in A Wrinkle in Time, so it's easy to see how it's become a classic. Faith, family, and love are central in this story, while the main character is relatable.
Although A Wrinkle in Time is the one that's best known, it's actually the first of five books. So, if your sci-fi bookworm enjoys this one, they can keep reading. Some of the vocabulary is a little difficult in this book, and the story sometimes moves slowly, so it might be hard for reluctant readers.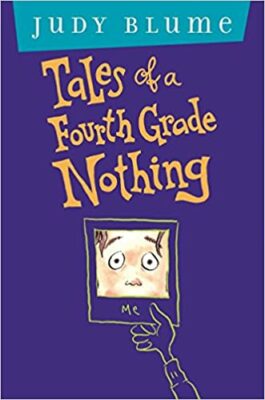 Quick Facts
Age Range: 8 years-12 years
Number of Pages: 128 pages
Genre: Contemporary/Humor
First Lines: "I won Dribble at Johnny Fargo's birthday party. All the other guys got to take home goldfish in little plastic bags."
When it comes to writing relatable characters, no one does it better than Judy Blume. In Tales of a 4th Grade Nothing, your nine-year-old will understand what the main character, Peter, is going through. With his two-year-old brother, Fudge, demanding so much attention from his parents, Peter feels left out. But when naughty Fudge sets his sights on Peter's new pet turtle, the game is on.
This book is fantastic for reluctant readers because it's funny, readable, and easy to understand. Everyone knows a Fudge, even if it isn't your sibling. The book's main themes are, of course, sibling rivalry, but also family love and dealing with your problems with a sense of humor. It can read a little young, though, so it might not be the best choice for more mature readers.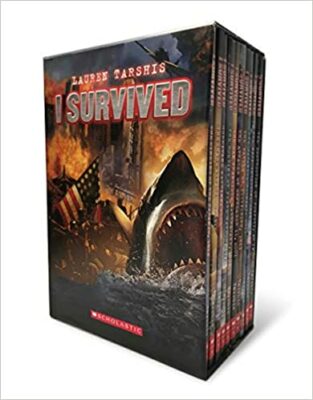 Quick Facts
Age Range: 7 years-10 years
Number of Pages: 144 pages
Genre: Historical
Kids will naturally find historical events interesting if they're presented in a relatable way, and the I Survived series does this especially well. It gives a fictional account of a real event, seen from the eyes of an eleven-year-old main character. The books detail different events like battles in WWII, volcanic eruptions, animal attacks, and major disasters.
Kids will like the first-person point of view, easy-to-understand sentences, and fast pacing. The books are short—only about 150 pages—and have eye-catching cover illustrations. The majority of these books have a boy as the main character, though, which might alienate some female readers.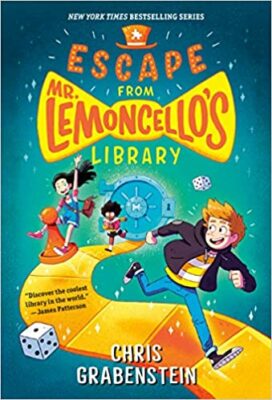 Quick Facts
Age Range: 8 years-12 years
Number of Pages: 336 pages
Genre: Mystery/adventure
First Lines: "This is how Kyle Keeley got grounded for a week. First he took a shortcut through his mother's favorite rose bush."
Escape from Mr. Limencello's Library is perfect for mystery-lovers and puzzle-solvers. The story is about Kyle, who's desperate to go to the new library in town's lock-in. What he doesn't know, though, is that he and all the other kids will have to solve every clue and figure out all the secret puzzles if they ever hope to leave the library.
The book spent over 100 weeks on the New York Times Bestseller List for a good reason. Kids will love this fun-filled, action-packed book with plenty of humor to keep their interest. With four other books in the series, kids will have plenty of opportunities for puzzle-solving.
Since this is a more recent book, the characters talk about things modern kids can relate to—like Harry Potter and video games. The end of the book has bonus content like extra puzzles and an author Q&A.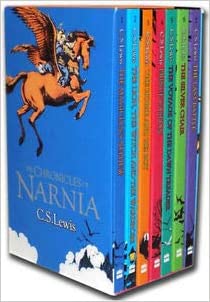 Quick Facts
Age Range: 8 years-12 years
Number of Pages: 309 pages
Genre: Historical Fantasy
First Line: "Once there were four children whose names were Peter, Susan, Edmund, and Lucy."
You may remember The Lion, the Witch, and the Wardrobe, but there are actually seven books set in the fantastical world of Narnia. This box set gives your child all seven, each filled with magic and talking animals. Although C.S. Lewis intended The Magician's Nephew to be the first book, we recommend reading The Lion, the Witch, and the Wardrobe first if you have a more reluctant reader. The four siblings, each with their relatable strengths and flaws, the historical setting, and the magical world they disappear into is the type of book kids love to get lost in.
Although these books aren't illustrated throughout, they do have the original chapter illustrations by Pauline Baynes. The Chronicles of Narnia appeal to kids who love to read about fantasy, adventure, magic, and talking animals.
It contains positive themes of faith, love, honesty, trust, and family. And of course, this is a story of good versus evil. It does have some violent battles and a very sad, terrible death, so it's one that you might want to read and discuss with your nine-year-old.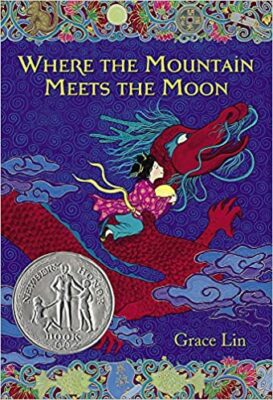 Quick Facts
Age Range: 8 years-12 years
Number of Pages: 278 pages
Genre: Fantasy
First Line: "Far away from here, following the Jade River, there was once a black mountain that cut into the sky like a jagged piece of rough metal."
Where the Mountain Meets the Moon by Grace Lin is a beautiful book inspired by Chinese folklore. The book is about a young girl named Minli who wants to change her poor family's fortune by following the advice given by her father's stories. Accompanied by a Chinese dragon, she sets out on her mission. Not every page has illustrations, but there are beautiful ones at the beginning of the chapters and throughout the book.
Two other books accompany this one, When the Sea Turned to Silver and Starry River of the Sky, but each book is a stand-alone. These books are also a great way to introduce your kids to a non-Western culture. Minli is a quietly heroic character who loves her family and her village.
Aside from the usual themes of family and friendship, this book focuses on the importance of gratitude. The story builds slowly at first and has longer chapters, so some reluctant readers might have trouble getting into it. However, there are plenty of fascinating elements—like dragons!—to hold kids' interests.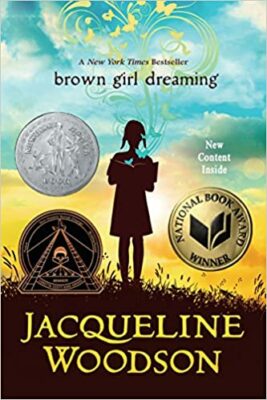 Quick Facts
Age Range: 10+ years
Number of Pages: 368 pages
Genre: Poetry
First Line: "I am born on a Tuesday at University Hospital Columbus, Ohio, USA—a country caught between Black and White."
In Black Girl Dreaming, Jacqueline Woodson writes poems about her life growing up African American in the 1960s and 1970s. The poems are easy to read, but they are powerful and make you think, no matter your cultural background.
This book of poems won the National Book Award, Coretta Scott King Award, and Newberry Honor for being such a tremendous contribution to children's literature. Nine-year-olds interested in poetry will love the lyrical verses.
Black Girl Dreaming is also a great book to read and discuss the Civil Rights Movement in history. The poems are easy to understand, but the book is slow-paced, so it might not be the right choice for reluctant readers.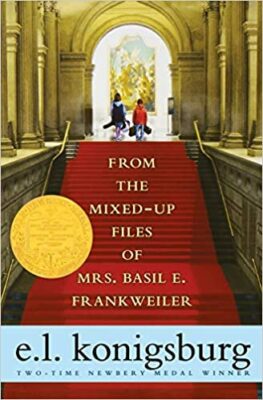 Quick Facts
Age Range: 9 years-12 years
Number of Pages: 168 pages
Genre: Historical/Mystery
First Line: "Claudia knew she could never pull off the old-fashioned kind of running away. That is, running away in the heat of anger with a knapsack on her back."
From the Mixed-Up Files of Mrs. Basil E. Frankweiler is about a girl and her brother who run away to camp out at the Met and get caught up in a mystery of what happened to a famous statue by Michelangelo. It takes place in the 1960s, so it's great for kids who like to read about more historical settings.
The long title may make this book seem boring, but it's full of humor, adventure, a great setting, and of course, mystery. There's a reason the book won a Newberry Medal! The two main characters are incredibly resourceful, so the story can teach your nine-year-old about practical, everyday decisions like how to use money wisely, mail a package, and how to travel by yourself. There is one scene parents should be aware of, where the kids are discussing how dangerous drug dealers try to get kids hooked on drugs.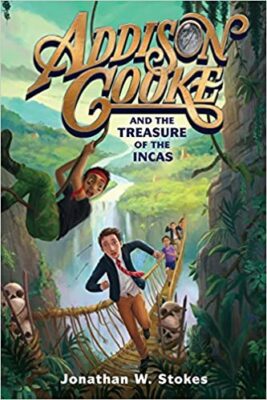 Quick Facts
Age Range: 8 years-12 years
Number of Pages: 336 pages
Genre: Adventure
First Line: "Addison Cooke sat cross-legged in the school library, engrossed in an Incan history book."
Addison Cooke and the Treasure of the Incas is about a twelve-year-old boy who lives with his world-famous archaeologist aunt and uncle. Unfortunately, poor Addison is stuck in school all day while his aunt and uncle learn cool facts about the Incas in South America. But when his uncle gets kidnapped, Addison and his friends finally get their chance to play Indiana Jones in South America.
This book is full of everything that makes a great adventure story: fast pacing, lots of action, certain danger, booby traps, and treasure. While your nine-year-old is enjoying the humor and action, they'll also learn about geography, the history of the Incas, and traveling to another culture. The twelve-year-old main character is pretty relatable, although his adventurous story is not – but that's what makes reading fun!
Teamwork, friendship, and family are all positive themes of this book. On the negative side, this book does have the main character continually lying to get what he wants, which may be troubling for parents who want to teach their kids the opposite.