Top 15 Best Developmental Toys for 6 to 9-Month-Olds 2023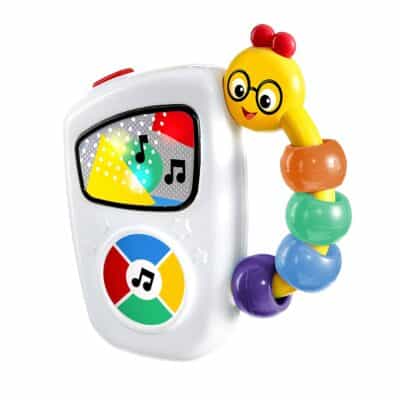 Exposing your child to music from a young age can help with auditory development. With the Baby Einstein music set, you'll have 8 melodies to choose from for the DJ, and ten melodies to choose from for the take-along toy. Both are easy for your toddler to hold and comes with built-in grips so that they can move it around themselves as they want.
Unfortunately, this bright toy does lose color over time, especially when you clean it often with a wet towel to sanitize it. While the colors and paint aren't toxic, this could lead to faded toys after a few months. In addition, the toy is "hard" and relatively easy to pick up, so your baby may drop it on themselves by accident and get hurt.
However, both items in this kit are highly interactive and encourage your kid to play and experiment with music. The DJ kit has three sliders and four instrument buttons so that they can change the tempo, sound, and even the pitch of the sounds. They also get the chance to press the instrument buttons and hear the melody played with different instruments.
The take-along toy has volume controls so that it won't get too loud, and lights up when music is being played to provide visual stimulation in addition to the auditory stimulation. In addition, this one has movable beads on the handle for them to play with while they listen, adding in an extra layer of interaction.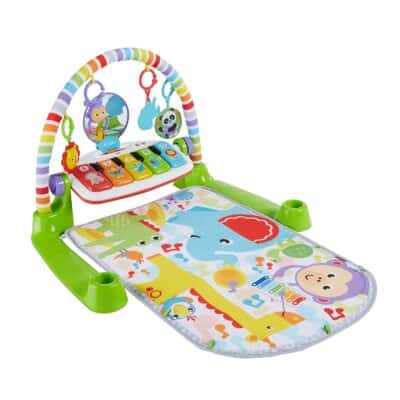 The Fisher-Price playmat comes in both pink and green so that you can pick a color your child likes. The soft, machine-washable mat is colorful and decorated with animals so that your little one can relax and stay comfortable as they rest on the mat to play. In addition, it comes with a large, light-up keyboard that plays sounds when hit.
For this product, the assembly can be a little tricky at first, and you'll need time to put it together. It has three different modes for different stages of development that your child might be in, but you'll have to reassemble it each time you want to change to another mode. An easier to assemble option would be the LeapFrog musical table. In addition, the mat is a little too thin to be comfortable on hardwood floors, so you'll want to make sure you put this mat on the carpet.
This playmat has many modes of assembly so that your child can enjoy it lying down or sitting up. As they lay down, there are five different attachable and dangling objects that can be hung up above them so that they can hit the toys and watch them swing. The mat is made to encourage your kid to kick, reach, and push the toys, which develops their motor skills as well. If you're interested in a playmat and don't think this one is for you, we have a full article about them that contains more products.
In addition, there are enough bright colors and different textures to keep them entertained for ages. They'll also hear educational songs and phrases that can serve as an early introduction to colors, shapes, and more. The music and sounds can also keep them entertained with continuous sensory stimulation, and the keyboard can detach so that you can take it on the go for your child.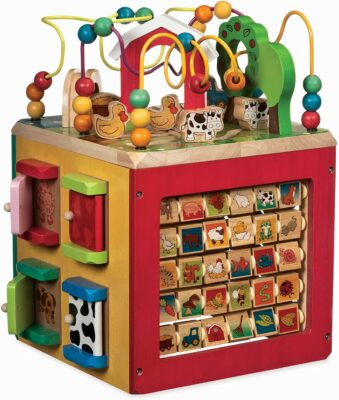 The VTech walker is perfect for getting your baby familiar with the same toy that'll teach them to walk. The walker can be flattened so that your little one can enjoy all the buttons and sounds while sitting down, and eventually be comfortable enough to use it to help with walking. With five piano keys that make an assortment of sounds, it'll be a while before they get bored.
However, this toy is suitable for kids who are a little more developed and around nine months old. It also doesn't offer much stability for those who are just learning to walk, as the wheels may move a little too fast for your child to keep up with as they first start out. In addition, the wheels won't lock so it can row away from your child if you have it up in walker mode as they're playing with it.
However, the panel of the toy can easily be sat on the ground so that your child won't have to walk to play with it, and the entire walker can be turned off so it doesn't make too much noise. Best of all, the shapes are all held to the toy so that they won't be lost, and the phone that comes along can be used as a rattle.
It's a toy that's suitable for babies that are beginning to grow a little more independent. There are over 70 songs and phrases, and many parts of the play panel can roll or be pressed down. If you'd rather a toy that encourages your kid to crawl around more rather than just sit and play, try out the VTech Pull and Sing Puppy.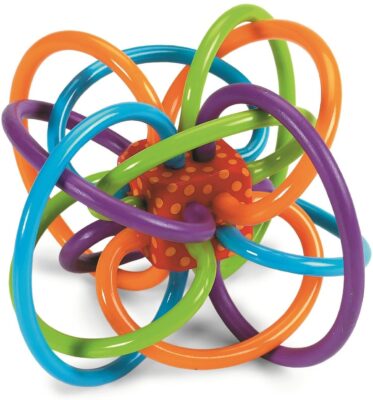 The Manhattan Toy ratter comes with an assortment of colors and easy grips for your baby to hold. In the center is a soft cube that rattles when shaken so they'll get auditory stimulation in addition to tactile stimulation. In addition, with all of the handholds and parts that stick out, this toy encourages your baby to hold on with both hands to shake it about.
However, this toy cannot be boiled or thrown in the laundry machine. You'll have to hand wash it, which can be difficult with all of the loops and tubes sticking out from the middle cube. You'll also have to make sure you clean and dry it often, or mold may begin to form where the loops and the middle cube meets.
The highlight of this toy would be the pliable loops that are meant to help with teething. The materials are BPA free and meant to be chewed on so that your baby has a way of coping with their new, growing teeth. It's durable enough to be thrown about and strong enough to withstand any amount of chewing that might happen.
In addition, it's won several newborn toy awards such as the Oppenheim Portfolio Blue Chip award. The purple, blue, orange, and green colors of the maze of tubes is enough to mesmerize any child, and the rattle as it moves keeps them engaged. However, this is only just one toy and teether. If you want more of a variety for your child, try out the iPlay, iLearn toy kit.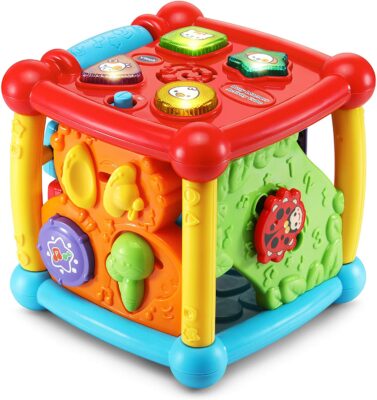 This activity cube has five different sides for kids to explore, each with sounds, music, and interactive buttons. Made of BPA free plastic, it's safe for use and durable even when thrown and tossed. In addition, the 25 different songs and melodies make sure they'll be interested in this toy for a long while.
However, the warranty and durability of this product are not the best. Some buttons may stop working after a few months of use, and the product only has a three months warranty. Unfortunately, the stickers on this activity cube can be peeled off and eaten by some babies. You may also find the melodies annoying after your child plays with it for several days in a row, especially as it makes sounds whenever it is moved.
On the bright side, the 14 different features on this cube let it develop all sorts of motor skills for your child! The buttons light up when pressed, and there are spinning elements on it for kids to mess around with. In addition, this cube is designed to encourage your baby to sit as they play, strengthening their spine as well. If you want your baby to move and crawl around more, you can also look at the VTech activity ball.
The toy also contributes some educational value for your child, as the buttons and sounds introduce the names of animals, shapes, and letters. The spinning cubes on one side have letters on the front, with pictures on the back of objects that start with those letters if you want to introduce reading to your child as well.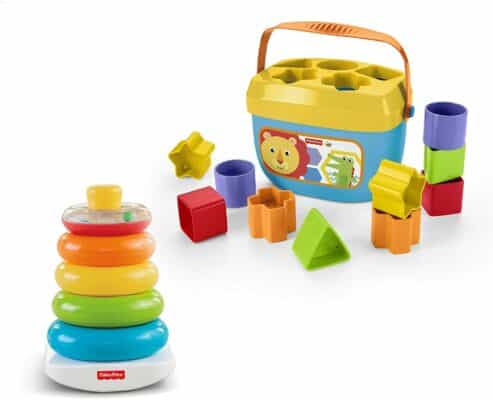 This set comes with two different toys – a stack of colorful rings and a box with different shape cutouts and inserts. Both work to help your child improve their motor skills and reasoning skills as they work on moving the blocks and rings to the right place. It's an early introduction to problem-solving without being too challenging or stressful!
However, while they are fun for play, they can be a little harder to clean up. The lid for the blocks container doesn't always stay closed, so your child may accidentally knock it over and spill it a few times. In addition, this toy doesn't have any light-up components, so your child may grow bored of it if they're used to flashing lights and lots of sounds.
The tower of rings has five different sizes for your child to play with, and the rings themselves are thick enough to be easily holdable and stackable on the pillar provided. The rings are also different colors, and the top ring is clear with several colorful shapes on it. With these rings, you can also teach them the names of the colors as they work on their problem-solving skills to arrange them by increasing size.
The puzzle box has various shapes that you can introduce to your child as well, and the lid has five differently shaped holes that the shapes can be pushed into. They'll be able to practice maneuvering the blocks through their corresponding holes and understand how shapes can fit in the holes correctly. It's a good way to get them interested in puzzles that aren't too challenging.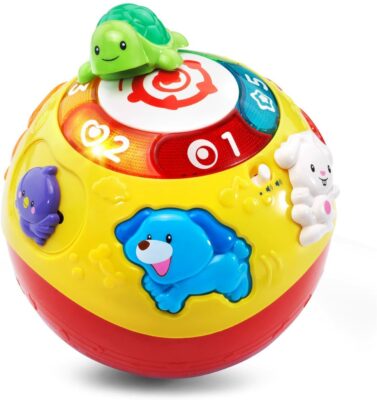 This activity ball by VTech lights up, plays sound, and moves on its own to encourage your child to get active and crawl to it. With over 45 songs and musical phrases, the ball also features various buttons for your child to press so that they can hear the sounds that animals make, and listen to numbers and colors that correspond with the buttons.
This product does require batteries, though it comes with three AA ones already installed when you order it. It also requires a lot of power and will go through batteries very quickly if it's often used. In addition, you'll want to make sure that you're supervising your child as they play, since the ball may accidentally bump into their head or eyes if they're on the ground. If you want a toy with music, lights, but no rolling, you should consider the VTech activity cube.
It can come in a red and yellow design, or a purple and pink design, so you can pick one that you think your child will like best. In addition, with five flashing lights and vibrations, it'll certainly draw your baby's attention and have them crawling over to it in no time. The animals on the toy can all be pressed, spun, or twisted around.
This toy is a good choice if you're looking for a way to help your little one develop their language skills. The added motion and interactive elements also help with sensory stimulation and motor skill development, which is a necessity for any growing child.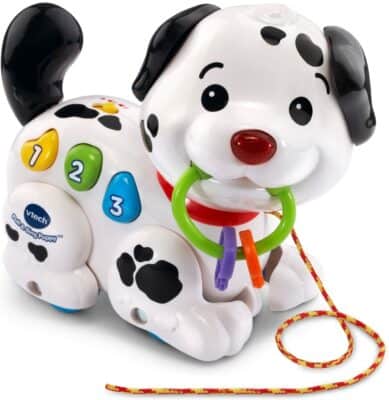 The VTech pretend puppy is a good way to help your kid learn the joys of having a pet without having to deal with any messes or cleanup. This puppy has three different buttons that can be pressed and can easily be dragged along to follow your child as they start crawling. For children who need some encouragement to be active, this toy is the perfect solution.
Keep in mind that this toy needs AAA batteries, though they are included with the initial purchase. Also, the toy is not weighted very well and may fall over onto the noise if pulled too fast when your child is crawling. The string is also not very long, so you may want to add on more string so that your child has more leeway as they move around with this pretend puppy.
However, there are enough interactive components of the puppy to make up for some of the shortcomings. With over 60 songs, noises, and phrases, this toy helps teach your child basic colors, numbers, and parts of the body. The tail and ears can wiggle, spin, and vibrate when the dog moves, encouraging more active play as well with this animal. The nose also lights up when the puppy speaks.
The dog holds a ring with two moveable objects on it as well for your child to bat around, and the plastic is durable enough for it to get through any potential falls. The leash is colorful and fun to hold, and you can even pull it around the house to encourage your baby to follow after! The wheels on the bottom of the toy allow for smooth motion as it moves.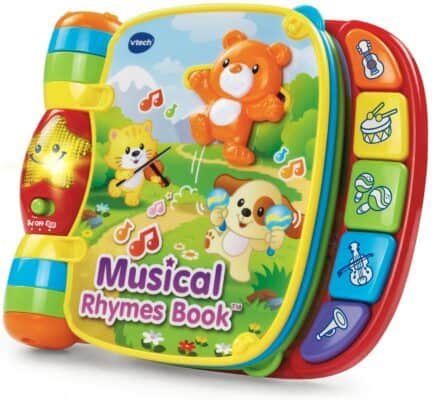 This interactive book has six different pages with moving components that your child can turn themselves. Each page is made of thick, durable plastic so it's easy for your child to play with, and the pieces vibrate and make noise as they're shifted around. The start lights up as you read with your child, and music plays with the page turns.
However, there are no volume controls on this book so you won't be able to change how loud or quiet you want the songs to play. In addition, it only has six songs to choose from and not nearly as many melodies as some of the other choices. If you want more interactive elements besides the book, try out the LeapFrog musical table, which has a book in the center!
Each page is brightly decorated and colorful to captivate your child's attention, and the star in the middle flashes in time with the songs that are played. There are also two different modes for your child to experiment with. Learning mode reads along with the nursery rhymes while music mode plays fun songs and tunes for your child to listen to.
While this book does need batteries, it comes with two AA batteries included in the package so you won't have to worry about getting more out of the packet. This toy doesn't need any assembly and arrives ready for use. It's the perfect toy if you want your baby to get a head start on reading and understanding stories.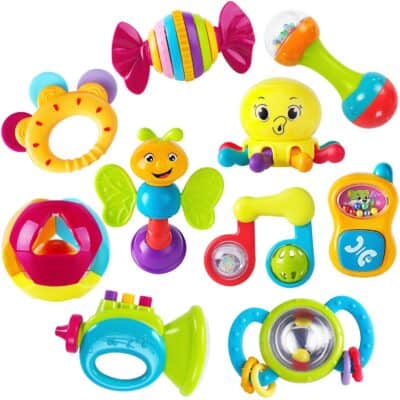 This collection of toys by iPlay, iLearn helps with musical and motor skills. Each toy can be rattled and moved in some way so that your child is exposed to a variety of interactions as they explore it. It passed multiple physical and mechanical tests from the CPSC standards and various labs. Best of all, the individual toys are all very small and easily stored, so that you can quickly grab one for your child for your next road trip!
Keep in mind that these toys won't light up, so they may not offer as much visual and sensory stimulation and some of the other options. They also don't play music, but rather allows your child to make the music themselves by shaking the objects back and forth. In addition, some of the toys are difficult to wash and dry out, since small parts of them may retain liquids if it gets damp.
This variety and compactness of the toys are unmatched by other products on this list and even offer a teething ring for your child to bite on as their baby teeth grow in. If you're only interested in an engaging teether toy, look at the Manhattan teether toy. The ball rolls and is fun for your child to chase after, while the trumpet has buttons to press and an opening to blow into. Some toys can be shaken like a rattle, while others can be twisted and turned.
All in all, these toys help develop most of your child's motor skills, and they're small enough to be taken anywhere, unlike some of the larger toys. With bright, contrasting colors and fun sounds to listen to, they will keep child engaged for quite a while.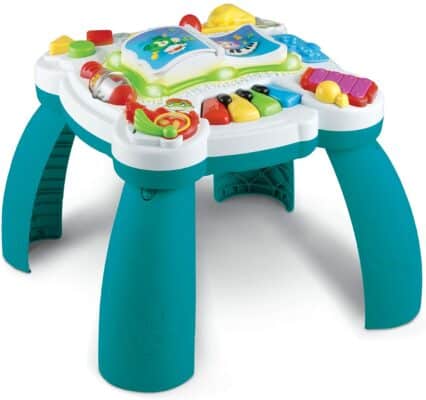 This LeapFrog activity table comes in both green and pink colors for your baby and offers over 70 sounds and phrases that can be played. It's covered on all sides with various buttons of musical instruments for your child to press, and incorporates classic nursery rhymes like the "Itsy Bitsy Spider".
It comes in a compact, but plain-looking cardboard box, so if you plan on giving this as a gift, you'll need to wrap it. In addition, the table is a little more on the lightweight side, so if your little one pushes too hard on one side, it can tip over and fall. The legs are not as stable as they could be, and it might get flipped over by an adventurous baby.
However, the table is relatively easy to put together by anyone and can be simply placed on the ground as a panel so that your child can play with it while sitting. The book in the middle has thick, durable plastic pages that can be turned so your child sees an assortment of shapes, numbers, colors, and animals. Once they grow older, you can easily add in the legs so that they can play with it while standing!
Every side of this table is covered with interactive elements for your child to slide, roll, rattle, or press down on. The center of the table also lights up as your child flips the pages, adding that extra element of stimulation to keep their interest. It even has a music mode and a learning mode that you'll be able to switch between as needed.
If you want a more portable musical toy, check out the Baby Einstein music set.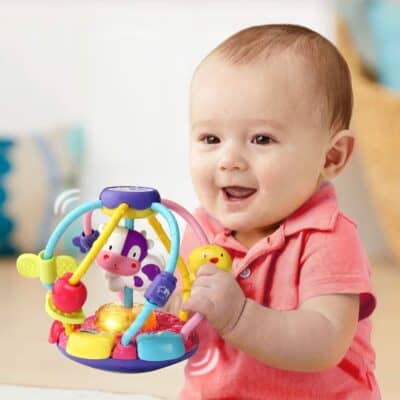 The VTech shake and wobble ball has large, easy tubes for your child to hold on to as they shake and play with this toy. Each tube has objects that can slide up and down, while large, colorful buttons at the bottom play sounds and music when pressed. This is a durable toy that can be pressed, thrown, and rolled around as your child explores each and every element.
This toy, unfortunately, has volume controls that don't work as well, and the noise can be a little too loud for some parents. In addition, it will need batteries, though it comes with some already installed. The gaps between the bead tracks are large enough that their hands and arms may get stuck inside sometimes, and they'll need an adult to help untangle them from the toy.
On the bright side, the three buttons at the bottom help introduce colors, numbers, and vocabulary as they play different tunes to help your child remember. In addition, the light underneath the cow will flash and play a noise when the toy is used to help keep your baby's attention. While it doesn't have as many animals to interact with as the VTech activity ball, it does have more sounds and phrases.
With so many things to shake, wiggle around, and press, your child will find no shortage of things to experiment with when they're using this toy. It includes over fifty phrases and sounds and can help with visual awareness alongside hand/eye coordination. They'll only need a few shakes before the ball begins engaging them in active play.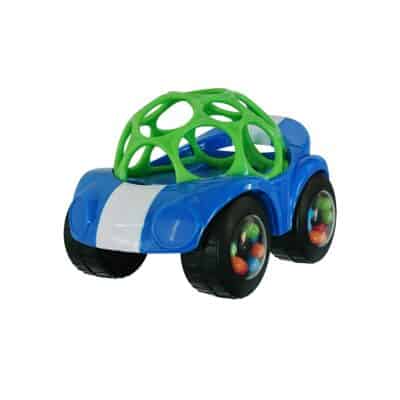 The Rattle & Roll buggy is perfect for kids who love toy cars. It makes a small noise as it's moved around the room. The material is soft and safe for use, meant to be used for teething for little ones. The wheels contain multiple colorful balls that'll roll around as it's used, creating a fun noise to keep your child engaged.
While this toy won't need any batteries, it also doesn't light up or make any other noise. Keep in mind that you will only get one car with your purchase, even though the cover image shows two. The design of the car you receive may be randomized as well, so you might not be able to choose your favorite style. In addition, the car is a bit on the heavier side, and your child may hurt themselves if they drop it accidentally.
The tops of the car have many holes and open areas, making this toy both easy to grab for your toddler and easy for you to clean! The holdable design also helps your child roll it around without much trouble, and all material is BPA free in case your child decides to chew on the toy. It's a simple, affordable option as a toy that won't be too loud like some of the other options.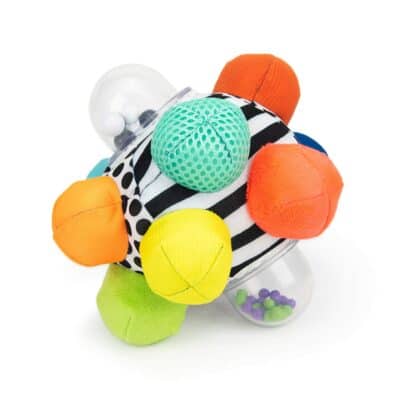 The Sassy bumpy ball has a variety of cloth knobs and colorful objects sticking out of it, making it easy for your child to hold and play with. Two of the protruding knobs have smaller balls within so that they can make noises when shaken. The gentle sounds are soothing, and the variety of textures help your child increase their tactile sensitivity.
However, the ball can be a little too large to hold and shake for smaller babies. It does take a bit of effort to shake. The plastic parts are also hard, and they may accidentally bump themselves in the head with that part while they're playing with it. The threading also comes loose after a while, causing some of the stuffing to fall out and escape. It also doesn't have any other sounds or light-up components.
This is just a larger version of a shaken rattle, with extra textures and materials that create it. If you want your child to have more variety in rattles and sounds, you'll definitely want to consider the iPlay, iLearn toy kit.
The variety of colors and feelings on this ball can make up for some of its shortcomings, and the contrast helps your child develop an understanding of touch and feel associated with each knob. The rattle sounds are soft and gentle, not too loud like some of the other options on the list. Each of the chunks also encourages holding and grasping, which can improve their developing motor skills.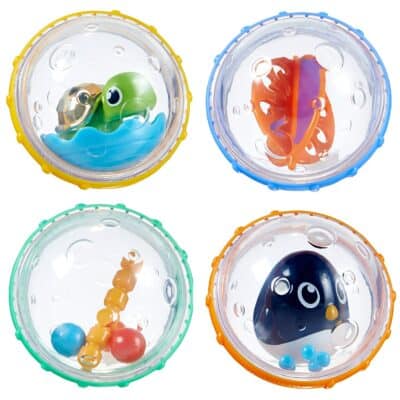 The Munchkin floating balls have small animals and shapes inside them that spins and rattles when they're moved. Each ball floats in the water, making this a good choice if you want to amuse your baby while they're taking a bath. With four different toys that spin and rattle, your child can pick their favorite ones to bring to the tub with them.
However, water can sometimes get into the balls and then can be hard to remove. This makes the toy very hard to clean on your end. The plastic can get cloudy after extended play over a few months, and while it is inexpensive, you may have to purchase more as time goes on. Without a way to open up the toy for it to dry, you'll have to take extra care that your child won't accidentally hit a crack into the plastic.
Each ball contains a textured ring that makes holding onto them easy, and differently sized plastic animals and beads inside create different noises as they're shaken. They'll also bob in the water, making it a fun activity for your little one to try and grab as they float along. This can help with their hand-eye coordination and motor skills when used regularly!