Your whole life changes when you're blessed with looking after a baby. However, the moment that little life enters yours, you'll be conscious of his or her safety. The modern world has a lot of dangers, but luckily technology also provides many solutions.
When it comes to kitting out your car for your child's benefit, a convertible seat should be at the top of your list. Not only does it protect your child, but it's a practical, long term solution for you.
Convertible seats allow you to customize your baby's seating according to his or her growth phase. A simple 180° turn converts a baby seat into a toddler's. So instead of picking out a different seat for each stage of your child's development, picking the best convertible seat 2022 has to offer can save you money in the long run.
And don't think a money saving decision means you're not prioritising your child's safety. The seats listed below were designed with your child's safety as the first priority.
Let's help you find the right one for your family.
Features to Consider in Good Convertible Seats
With so many units on the market your head is probably spinning. And of course you don't want to make the wrong choice when it comes to your child.
Firstly, let's assure you these seats are all of the highest calibre. Secondly, there's no perfect, universal solution for toddler and baby seating. You have to find what works for you. And these tips will help you get it right.
Installation
You won't realize how frustrating tricky installation can be until you're faced with it on a weekly or daily basis. Make sure the seat fastens to your car seat easily and that there's a clear indication of whether the seat is actually in place. You don't want the seat sliding loose when you suddenly brake.
Security
Make this a top priority. You need your child protected from debris and the force of an impact. Can the seat protect your child if it should roll? If there are specific features to protect head and limbs, it's a bonus.
Comfort
Of course you want your child to love sitting in the convertible seat. Makes sure the fabric and padding creates a comfortable setting. Reclining settings also help that you can enable comfortable sitting positions.
Harness
The harness should preferably adhere to two requirements:
Keeping your child secure
Easy for you to slip over your child and buckle in place
Based on your budget, your child's current weight and some personal preferences, use these characteristics to select the perfect seat from the list below.
Top 10 Best Convertible Seats 2023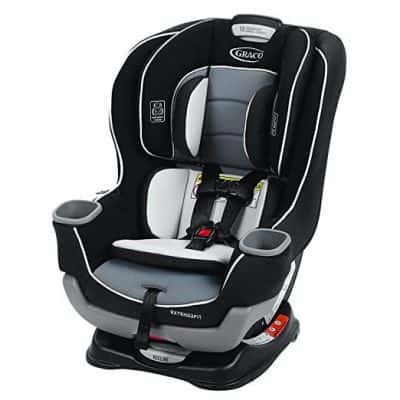 Why we like it:
This is the seat with one of the lowest capacities at only 4lb. It's difficult to find comfortable seats for newborns, but this seat is an excellent option.
Editor's Rating:
Small features on a convertible seat can have amazing impact. Adjusting the seat you can add 5" of leg room when this seat is in the rear facing position. Since this is the safest seating position you want to keep your child facing the rear for as long as possible, so it's an excellent safety and comfort feature.
Seat Installation
We love that the seat has its own level indicator. Now it's easy to make sure you don't force your child to sit at an uncomfortable angle.
Thanks to the LATCH installation feature you can install this seat within seconds.
Securing Your Baby
Your child is kept in place by the Simply Safe Harness System. The system is designed to keep components out of the way so you can easily place your child inside, instead of them ending up underneath your baby.
Comfort
One exciting comfort feature is that this seat is known to keep children cool. When they don't feel hot they're less fussy in the car.
Safety Features
It's already a win that your child can sit facing the rear well past the recommended two years of age. Some users report keeping their children in that position until they're four years old.
Apart from this the seat is tested to meet US safety standards and is especially good at handling side impact. Thanks to the five point harness system there's no way your child will fall out of the chair if it should roll.
Specs
Dimensions: 22.1" x 19.2" x 25.2"
Weight: 23.6lb
Capacity rear facing: 4lb – 50lb
Capacity forward facing: 22 – 65lb
Pros
Pick from 5 different designs

Multiple position settings for headrest, reclining and extension panel

Harness and headrest adjust simultaneously with one motion

Machine washable cover
Cons
Straps tend to twist

Warning labels can heat up dramatically in direct sun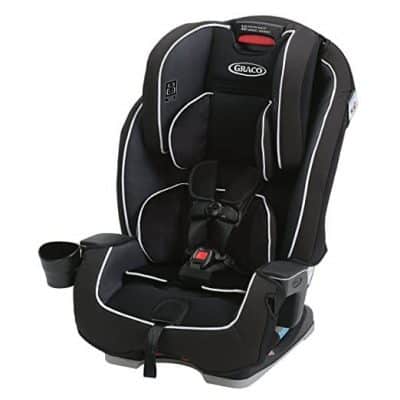 Why we like it:
This seat's maximum capacity is quite impressive. Catering for any child from 5lb to 100lb is quite a feat, so congrats to these designers.
Editor's Rating:
This gets on the list because it's actually three seats in one. You get a seat for babies as light as 5lb, but by changing position and using the booster seat feature you can keep on using it until your child weighs 100lb. This is a perfect long term solution.
Seat Installation
It takes one second to install this seat. That's thanks to the Graco InRight LATCH attachment. Simply listen for the click to know you got it right.
Securing Your Baby
Here's an example of superior design. The harness and the headrest can be adjusted together. This Simply Safe Adjust Harness System is essential for securing your child, because a proper position is reliant on your baby's head and limbs being well supported.
Comfort
This same system also keeps your child comfortable without much effort from you. When you see it's time to adjust the straps it will probably be time to move the head rest too. Now you can do both in one swift motion. Here's the bonus: you only need one hand for this.
Because the harness is extended—more than you'll see on some other models—you can keep your child comfortably secured up to a higher age. With four different reclining positions you can customize your child's driving experience to his or her preferences.
Safety Features
This seat can handle almost anything. It's designed for it and then tested to ensure its capabilities:
Handling side impact
Peak crash force is two times the car seat standard
It can handle high temperatures
The foam absorbs energy to minimize shock
A steel frame keeps baby safe and the chair durable
Specs
Dimensions: 21" x 17.5" x 21"
Weight: 20lb
Capacity rear facing: 5lb – 40lb
Capacity forward facing: 20 – 65lb
Capacity booster: 30 – 100lb
Pros
Removable cup holder

Seat cover is washable

Caters for all babies and toddlers of all weight groups

Three seats in one
Cons
Difficult to use without LATCH system

Uncomfortable for newborns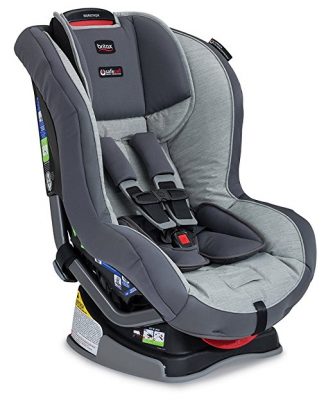 Why we like it:
We love that the design can 'grow' with your child, such as the buckle system. When your child gets bigger the harness can be moved upward and buckling is done outward. These small changes create more comfort for your child.
Editor's Rating:
The designers really put time into rethinking straps and positioning. In this Britax model your child will be secure thanks to an amazing harness system you can adjust according to his or her size. But best of all is that it's user friendly for parents who have to strap children in.
Seat Installation
The base is designed for LATCH connection and you'll know when it's secure thanks to that loud click sound. Removing it is easy too with a quick release button.
Securing Your Baby
This seat's harness follows the popular 5-point harness system, as it's one of the safest designs in the industry. This harness is noted to be tangle free and the straps won't easily twist, making it easy & fast to strap your child in.
The harness also has:
10 different harness positions
2 different buckle positions
This makes for customized seating and fastening to suit your child's size & build. And don't worry, they're super easy to adjust.
Comfort
Your toddler will have a luxurious ride thanks to thick foam padding and smooth lining. Note that many users find there's too little crotch space. You may want to revise how you're buckling the child in, as you may be using the wrong setting. It's a common error made by parents that can usually be remedied.
Safety Features
This design has safety features on all sides. It starts with the base itself that can absorb impact and a steel frame designed to stabilize the chair. In the event of impact your toddler is protected by a Complete Side Impact Protection design which absorbs force, but also envelopes the toddler inside so injuries from debris are minimal.
Specs
Dimensions: 29.5" x 29.5" x 18"
Weight: 19.5lb
Capacity rear facing: 5lb – 40lb
Capacity forward facing: 20 – 65lb
Pros
Exceptional safety features

Protection from debris

Available in 17 different designs
Cons
Very heavy, making it impractical for carrying or regular vehicle switching

Takes up a lot of back seat space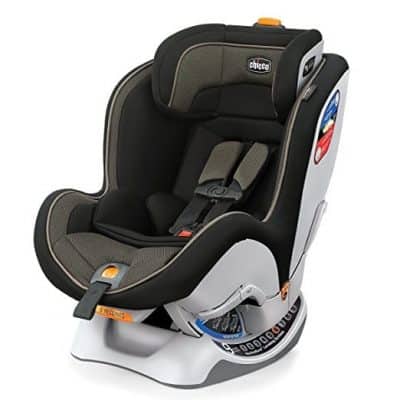 Why we like it:
We love the removable insert that makes the seat more accommodating to tiny babies (newborns) weighing 5-11lb.
Editor's Rating:
The ChiccoNext Fit is designed to give your child secure seating from the newborn stage right through to its preschool years. Various components can be removed or adjusted to cater for growing toddlers.
Seat Installation
First off this seat is known to fit in many different vehicles. You can gauge whether it's level by keeping an eye on the bubble levels embedded on the seat. Apart from easy installation you can ensure the seat is firm thanks to the SuperCinch latch tightening feature. This multiplies the force you apply to strap it in place, for ultimate security.
Securing Your Baby
A simple tug will help you secure your child. That's all the five point harness needs to be tightly in place.
Comfort
This chair's design focuses on allowing growth to the side as well. As the harness allows for more space, the headrest can adjust too. The chest clip also has two positions so your child will never feel cramped.
The seat also has nine—the most you'll see among current models—reclining positions for customized seating. A bonus for older toddlers is the removable cup holder that's even thermally insulated.
Safety Features
While this chair is more focused on comfort than safety it will still keep children safe thanks to the many features that keep the chair and the child in place. If there's an accident the chair won't easily be flung from the vehicle.
Specs
Dimensions: 21" x 19" x 29.2"
Weight: 25.1lb
Capacity rear facing: 5lb-40lb
Capacity forward facing: : 22lb-65lb
Pros
Storage compartments are part of the integrated LATCH system design
Cons
Buckle isn't child proof

Parents find tightening straps strenuous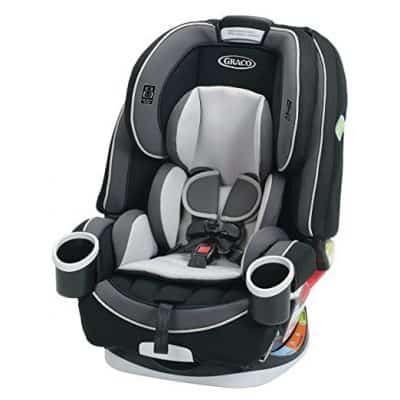 Why we like it:
It's one of the seats that will last you the longest, since it caters for 4lb to 120lb.
Editor's Rating:
The Graco 4Ever 4-in-1 is an ultra practical parenting tool that makes sense for safe travel but also for your pocket. You can use this for a child up to 10 years of age, so you don't have to continually purchase new seats. You also don't have to go through the tediousness of switching seats since this will stay in your car for an entire decade.
Seat Installation
This seat fits in most vehicles but be prepared: It's not the most user friendly model on this list. The one benefit of this system is that you'll know when the seat is securely locked in place, thanks to very audible "click" cue.
Securing Your Baby
As your baby grows you can pick the most appropriate setting in terms of harness and head rest adjustments.
Comfort
Because there are so many settings, you can customize it to your and your child's preferences:
6 reclining positions
10 head rest positions
Safety Features
The adjustable features ensure that your child is always protected and secure according to his or her current build & height.
Specs
Dimensions: 20.39" x 21.3" x 26.14"
Weight: 27.6lb
Capacity rear facing: 4lb – 40lb
Capacity forward facing: 22 – 65lb
Capacity booster: 40-120lb
Pros
Two handy cup holders

Caters for 10 years of a child's life

Harness and headrest can be adjusted simultaneously

Cover is machine washable
Cons
Tricky to install

No advanced safety features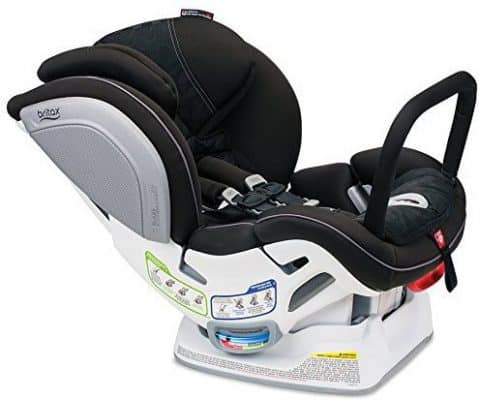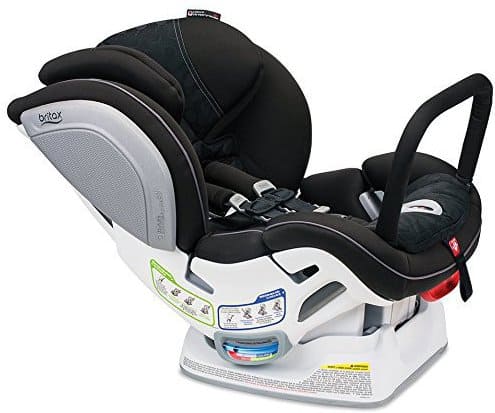 Why we like it:
This is one of the chairs with the highest number of harness positions. With 14 different options you're assured of finding a comfortable and secure fit for your child. You can also see the effort put into creating a safe seat with many patented features incorporated into this unit.
Editor's Rating:
This convertible seat is fitted to withstand problems of all types of impact: Front, rear or sideways. This is combined with comfort features and many different harness positions so children are both safe & comfortable.
Seat Installation
The seat is fitted with a ClickTight Installation System which is like buckling in a person, except you feed the belt through the bottom half of the chair. Afterwards you fit the top part onto the bottom and the seat is ready to use.
Securing Your Baby
There's a Click & Safe Snug Harness. The click you hear not only indicates the harness is secured but that you've picked the appropriate tightness for you child.
Comfort
High comfort is offered with a harness you can adjust to 12 different settings. To give your child a higher point of view as he or she gets older you simply press a button instead of going through a rethreading process.
Safety Features
The seat protects seated toddlers with an Advocate ClickTight Anti-Rebound Bar (ARB) with a V-shaped tether to prevent rolling in the event of an accident. The shell protects with three layers of side protection.
Specs
Dimensions: 23" x 20.5" x 23"
Weight: 30.6lb
Capacity rear facing: 5lb – 40lb
Capacity forward facing: 20 – 65lb
Pros
12 different harness settings

Made in USA

ARB features
Cons
Straps jam which wastes time when buckling in children

LATCH system is not a permanent fixture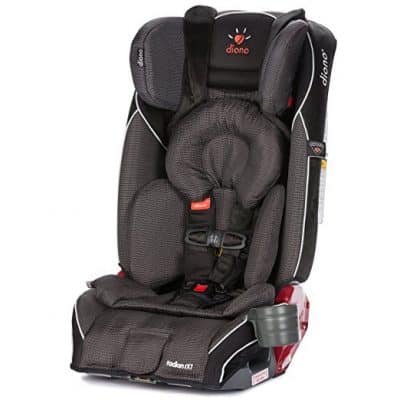 Why we like it:
While memory foam is used in many adult comfort products, with this seat it's utilized for children. That makes for super comfortable travel, so your child will be less fussy.
Editor's Rating:
This is quite a revolutionary seat since you can actually carry this on your back in its collapsible form. Folded up it's compact for storage, but also helps you create comfortable and safe seating no matter where you & your child are. Planning a bus trip? Make sure your child is safe in any vehicle you get into. And yes, this seat is FAA approved so you can even take it on the plane with you.
Seat Installation
The seat has the unique SuperLATCH installation feature. You'll know when it's securely in place when you hear a loud click.
Securing Your Baby
Here's another seat that caters for tiny babies. Simply insert the removable infant fixture.
Your child is kept in place by the five point harness. These harnesses have five different shoulder positions and three different buckle settings so you can find an appropriate combination that suits your child's build & easily fastens.
Comfort
Children are comfortable sitting on the memory foam seats and there's enough support for limbs & their heads to ensure a relaxed ride.
Safety Features
Your child is kept safe by different features that prevent injuries. The steel frame ensures the seat keeps its form. On the sides you'll find reinforced impact protection and with 12 different head support positions, your child's head is protected no matter his or her length. The seat will absorb energy so it doesn't reach your child. There's even a tether preventing the chair from rotating in the event of impact.
Specs
Dimensions: 17" x 16" x 28.5"
Weight: 27.7lb
Capacity rear facing: 5lb – 45lb
Capacity forward facing: 20 – 65lb
Capacity booster: 50 – 120lb
Pros
Can fit three in most vehicles

Can collapse for easy storage or carrying on your back

Multiple settings for keeping children secure and comfortable

FAA approved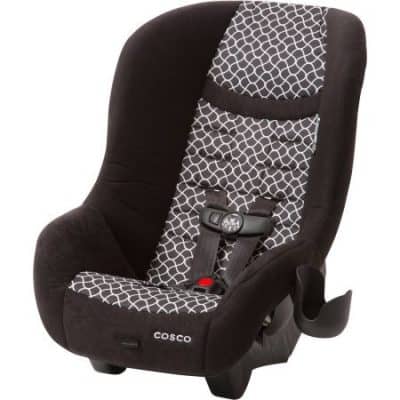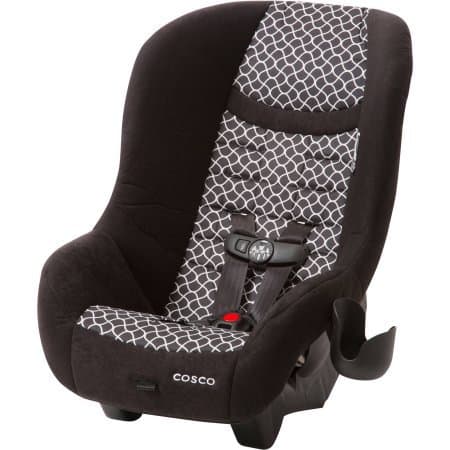 Why we like it:
This seat makes travel easier since it's light enough to carry when walking through airports with other luggage. Since it's tested and approved for aeroplane use it's a sensible choice for regular travellers.
Editor's Rating:
This seat is manufactured with the goal of providing easy travel options. It's light enough to carry anywhere you know you'll need a car seat and because it's certified as safe to use on aeroplanes you'll have no problem getting this checked in.
Seat Installation
Use the simple LATCH system to keep it secured in your car.
Securing Your Baby
It's easy to find the perfect fit for your child because the harness adjusts in the front instead of you going through a laborious task of changing all the straps individually.
Comfort
It's not the most versatile seat, but you still get five different harness settings to pick from and the three buckle positions help too. This means you can keep on using it as your child grows. The seat has a removable cupholder for older children.
Safety Features
If it's proven to be safe for aircraft use, you can trust this in your car. All requirements set by the Federal Safety Standards are either met or exceeded.
Specs
Dimensions: 22" x 17" x 23.5"
Weight: 7.65lb
Capacity rear facing: 5lb – 40lb
Capacity forward facing: 22 – 40lb
Pros
Compact design; ideal for small SUV and other compact vehicles

Perfect for travel

Cover is machine washable
Cons
Limited forward facing capacity so it's not a long term investment

Not as many belt settings as other models on this list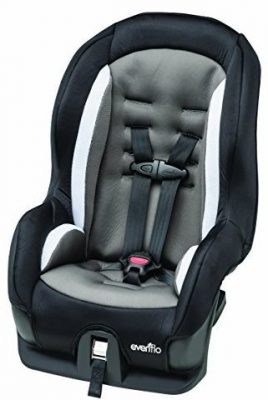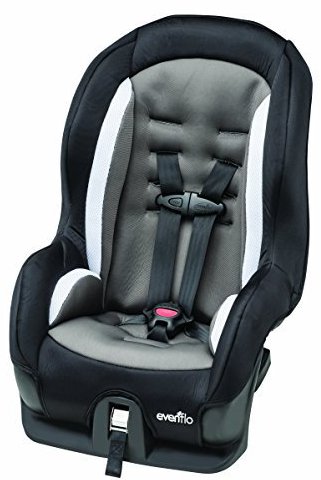 Why we like it:
We love this because it's travel friendly. You can easily carry this light unit with you to an airport and the quick installation makes it practical if you're going to use different transport such as taxis.
Editor's Rating:
This seat is a backup option for many families. Because it's so light and falls in the category of cheap convertible car seats, you can keep this in the car the toddler doesn't often travel in or get it for when you visit grandparents. It has limited features, but is an excellent budget choice.
Seat Installation
You thread the seatbelt through this seat. It's mostly easy, but the most difficult thing is getting it secured to face the rear. The hole you thread the belt through is very small. One thing you should double check is whether the chair is secure enough that it can't tilt sideways. Because it's compact you should be able to fit three of these on an average back seat.
Securing Your Baby
The well known five point harness system keeps a toddler in place. If you need to adjust it, it's a quick process up front.
Comfort
This is not the most padded chair on this list, but still gives a soft seat. However the seat can't really recline unless in the rear facing position. Your child is assured of comfort for years thanks to the crotch buckle's different settings.
Safety Features
The focus is on creating a sturdy structure. This has been tested and it's proven to withstand almost double the force of the Federal crash test standard.
Specs
Dimensions: 22" x 18.5" x 25.5"
Weight: 24lb
Capacity rear facing: 5lb – 40lb
Capacity forward facing: 22 – 40lb
Pros
Affordable price range

Very light
Cons
Less padded than some high end models

Some sharp edges can scrape you during installation

Hard to secure with seatbelt for rear facing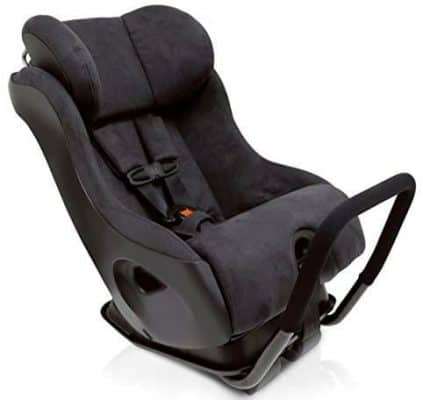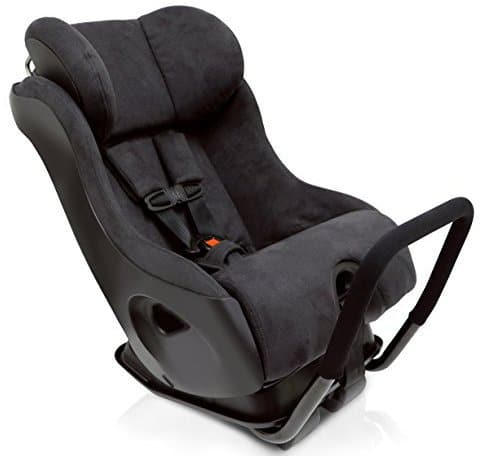 Why we like it:
The bar that prevents rolling will save many kids' lives.
Editor's Rating:
Seat Installation
This seat's unique installation—utilizing the flat portion of a back seat—allows for more legroom. When you place it in the rear facing position, remember the flip foot component which adds stability to the structure.
Securing Your Baby
Padded straps will keep your baby in place, with the padding limiting damage to babies' soft skin.
Comfort
You can always place your baby in a clean seat—which is obviously more comfortable—thanks to the cover being washable. You can enhance safety and comfort for small infants with the infant-thingy insert. Note that this accessory is sold separately.
Safety Features
Because of EACT (Energy Absorbing Crumple Technology) the energy produced by a crash will be absorbed instead of it reaching the toddler. The deformable cores in the base that will take on this energy. The deep side wings also protect the child's head
Specs
Dimensions: 24" x 16.9" x 16"
Weight: 25lb
Capacity rear facing: 14lb – 50lblb
Capacity forward facing: 22 – 65lb
Pros
Narrow design appropriate for using three on a back seat (and installing in small cars)

Cover is stain and bacteria proof (Greenguard Select Certified)

Can use rear facing until child is four

Many accessories available separately (for cleaning and comfort)
Cons
Not ideal for newborns

Expensive model
Guide to Buying the Best Convertible Seat
There is no universal best seat because your setup differs from everyone else's. To help you navigate this decision and find the best seat for your unique application, use these guidelines.
How to Rate Safety Features
As mentioned, safety should be a number one factor when you consider getting a new chair. Above you see chairs that score high in that department, while others' designs focus mainly on comfort or ease of use.
It's important you put safety high on your priority list. But what kind of safety? Here are the main ways a chair can protect your baby. Aim to get a chair that provides as many of these features as possible.
Absorbing the energy created during impact so the shock doesn't affect your baby
A chair with a deep recess creates a large shell so less of your baby's body is exposed to debris
The chair itself must be securely latched to the seat
Any device that prevents or limits rolling—such as a tether or bar—prevents possible injury
A firm structure keeps the chair secure during impact
The straps must be strong and secure to keep your baby in place
Safety also relates to how you baby's body is supported, so the seat must provide headrests and body cushioning in the right places
How to Rate Comfort
Of course you don't want your baby to hate sitting in the chair, so comfort is key. Many parents only realize the important of some of these features the day their baby starts crying (seemingly for no reason), so think wisely before you buy:
The chair must be soft enough to create a comfortable seating arrangement
The fabric should be smooth and soft to the touch to limit irritation
Fabric—even labels—shouldn't become hot to the touch even after being in the sun for a long time
Straps must be designed so they don't hurt babies
The harness must be adjustable so you can find a perfect fit that allows security but also comfort
Make It Easy on Yourself
You shouldn't hate the chair either and here it's imperative the seat is easy to use and install. Why? Because you may have to move it a few times across the years.
Pick one you can easily:
Carry if you plan on transporting it with you often
Light enough to carry between different vehicles you'll use
Install in your car
Take out of your car
Time is an important factor in this regard since you don't want your baby's chair to be the reason you're always late. Look for a chair that takes a few seconds to lock in place, instead of minutes.
What Car Do You Drive?
What if you have passengers in the car or more than one child?
This may not be a problem if you drive a large SUV or a spacious model. However, don't despair because many convertible seats exist that are appropriate for small vehicles too.
Think long term and get a chair that allows you to install two—or even three—chairs next to each other. This ensures you can use the chair long term. Also keep in mind leg room behind your front seats.
Convertible Seats vs. Other Baby Seats
A convertible seat allows you to adjust the position to create more space as your baby grows. You first use it in a rear facing position (the safest way to transport your infant) and then whip it around when there's no more leg space for your bigger toddler. You can imagine this type of seat must come with many adjustment options to cater for a growing child's body changes.
What you should note is that because of the unique design, these aren't meant to be used as carriers, as some infant seats (see below) are.
When you're shopping for infants' baby car seats you'll also come across:
Infant seats meant for babies.
3-in-1 seats that resemble convertible seats, but can also be turned into booster seats.
Booster seats that help adjust your child's height in the car until he or she is big enough to safely use the car's seat belts without a seat. It can either use the car's belts or have its own buckles.
Do You Need More Than One Seat?
If you want to make your parenting really easy on yourself—you deserve it—it may be prudent to consider investing in more than one seat.
Firstly you may want a convertible seat in the car the baby will mostly travel in, since it's a permanent fixture you shouldn't need to take out every day. For days when your baby travels in another vehicle with you, an infant or booster seat can then easily be installed.
You may even want to invest in two separate convertible seats. Let's face it, you won't carry a huge, heavy car seat everywhere you go. But you should always be on the lookout you for ways to improve your child's safety. Accidents happen too easily for us to ignore the necessity of these seats in any transport situation.
So there's a solution. Above you saw versions that are light enough to carry. These may not be the most user friendly or highest ranking in safety, but you can improve your child's safety when you get on a bus, in a taxi or on a plane. Keeping one of those as a back up may be the perfect investment in your child's future safety.
Why Is Rear Facing So Important?
Is it even necessary to have a seat that can change position? For optimum safety, yes.
Rear facing seats are much safer than front facing ones. During an accident you want to protect your child from the shock of the impact. In a rear facing seat your child's head, back and neck are more supported, so there will be minimal movement during an accident.
Of course when your child has grown there won't be enough leg room anymore and then it's time to turn the seat around. Finding convertible seats that allow for rear facing for as long as possible, is therefore very beneficial to your child's health and safety.

Final Words
Now you're more prepared to make this very important life decision. A convertible seat makes sense for many aspects of being a parent. Make sure you can drive with peace of mind, because you know you created the safest environment possible for your little one.
Remember, this is not an expense. It's an investment.