It's one of the most wonderful times of a woman's—and a family's—life, but also one of the most challenging. While the human body is a wonder of creation and can withstand a lot of strain, the huge impact a pregnancy has on a woman's body calls for some additional help.
After all, it's 2018 where healthy resources are easy to come by. Why not make sure both you and your baby get what you need even before conception until after you cradle your baby in your arms?
That's why prenatal vitamins should be on your shopping list and we'll help you find the one your body needs. Below is a list of 10 of the best ones on the market with reviews to help you pick.
But let's give you some insight so you can make the best decision.
Features to Consider in Good Prenatal Vitamins
With many diets purported to be the key to ultimate health (and all of them showing success with some people's lives) I hope you've realized health is a very personal and subjective thing. Your body is unique and therefore your health regimen will be different to others'.
It's no different when it comes to picking prenatal vitamins so use these guidelines to vet each product you consider.
Does it Provide You With What You Need?
The vitamins must fill in the gaps your body has when it comes to providing for:
Maintaining your own health
Providing everything that's necessary for your baby to develop
A range of vitamins and minerals can help with this:
Folic acid
Iron
Calcium
Vitamin A, B6, B12, C and D
Omega 3 fatty acids which contains DHA (Docosahexaenoic acid) which can help with your infant's brain development
So if you're reading those bottle labels, as many as possible of these substances must be in there. You may do well do visit the doctor and get tested to determine which of these your body has especially low levels of. You and your baby need all of them, & upping these levels will give both of you the best chance at health.
Is it an Easy Addition to Your Lifestyle?
While you're reading those labels, also look at how you're supposed to digest it.
Firstly it's ideal if you only need to take them once a day. This makes it easy to add to your diet and there's a smaller chance of you forgetting them. This often happens if you have a busy schedule and you need to take medication three times a day or more.
Your appetite, palate and digestive system also undergo some changes when you fall pregnant. Be prepared to not want to ingest food, since anything has the potential to trigger nausea. Once again, having to take it only once is a bonus. Also, which of these do you find more palatable?
A pill
A capsule made of soft gel
Gummies that you can chew
The last two options are more popular among pregnant women, but note that gummies usually don't have any iron. You may have to take a few supplements to get the ideal dosage of all necessary minerals.
Ready to find your best option?
Top 10 Best Prenatal Vitamins 2020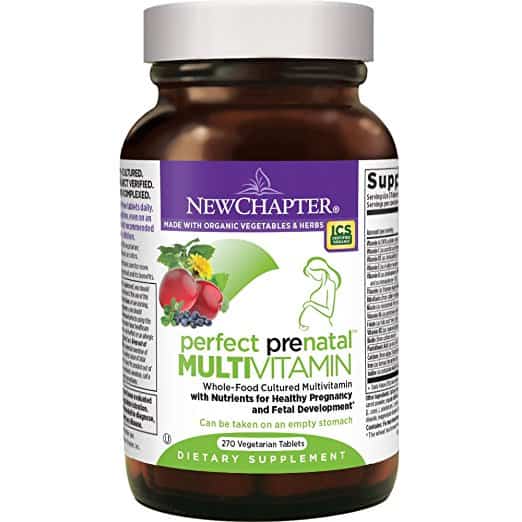 Why we like it:
We love that this supplement is available in large quantities. Women who know this works for them can purchase an entire trimester's worth of New Chapter supplements which works out cheaper and you won't run out of pills every few weeks.
Editor's Rating:
This NewChapter product's development is based on the belief that goodness comes from fermenting the right products. Nutrients and herbs are therefore fermented along with good bacteria & whole foods. These cultured vitamins are both healthy and easier on the stomach than other products.
Ingredients
You get your necessary supplements from all natural products:
Gum acacia
Sunflower oil
Carnauba wax
Silicaoil
Lac resin
These give you:
How it Affects Your Body & the Baby
The supplements contained here give your body what it needs during pregnancy and helps your baby develop. After the birth it keeps on working, so don't stop taking it. It can help you produce more breastmilk.
Possible Side Effects
The product warnings include that the pills contain fermented soy. Some people may be sensitive to this.
Since it contains iron it's possible that overdose can occur, especially in children, if too many pills are consumed.
Dosage
You can purchase bottles with 270 capsules. You have to three tablets each day, so a bottle contains enough for three months.
It doesn't matter when the capsules are taken, so you can take them with meals, or take them all at once at an appropriate time during the day. You don't have to eat something before you digest one of these.
Pros
Can customize dosage schedule according to your personal preferences

Vegetarian; gluten free

Organic and non GMO

Natural product is easy on the digestive system
Cons
Contains folate (not folic acid in natural form)

Does not contain DHA (although the brand sells products that do)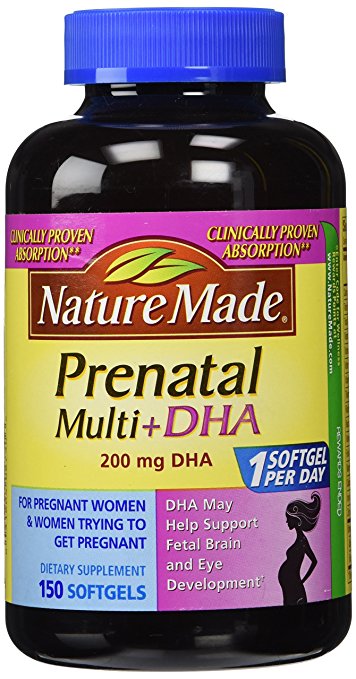 Why we like it:
You get a huge helping of DHA and you only have to take one capsule a day. It's user and health friendly!
Editor's Rating:
This prenatal multivitamin is proven to be absorbed optimally by people's digestive systems. You get the benefits of a multi vitamin with the added bonus of DHA to ensure your baby's optimal development.
The capsules are smooth to ensure easy swallowing, even though they're quite large. These capsules may have a strong smell because fish oils make up part of the ingredients.
Ingredients
You get your necessary supplements from all natural products:
Vitamins A, C, D, E
Vitamin B6 and B12
Folic Acid
Calcium
Iron Zinc
Omega 3 Fatty Acids (DHA & EPA (Eicosapentaenoic Acid)
How it Affects Your Body & the Baby
Your own and your baby's general health is looked after by an array of vitamins & minerals. Omega fatty acids promote general health as well, but the DAH and EPA specifically targets brain development of the foetus.
Possible Side Effects
Because of the fish oil ingredients the softgels can taste strongly of fish or give you an aftertaste. This is more prevalent with the new formula, as it was adjusted recently. This could enhance some women's nausea related to a pregnancy.
Note that it's best to take with food, or it may cause an upset stomach.
Dosage
Bottles contain 150 capsules (softgels) and you only have to take one every day.
Pros
Gel capsules are easily palatable

High DHA levels for optimum development

Softgels are easier to swallow than large pills

Low daily dosage
Cons
Strong smell, taste and after taste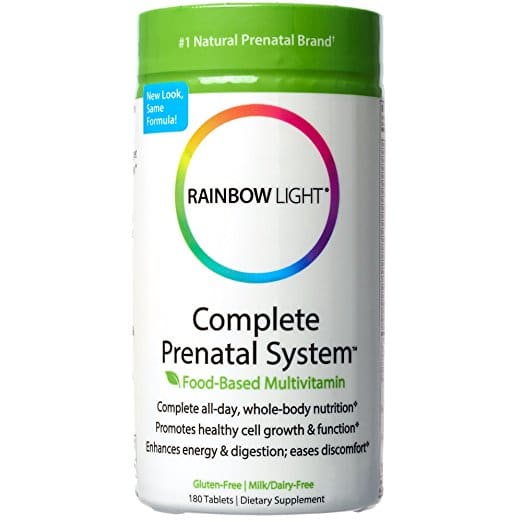 Why we like it:
We love that this is a natural product, incorporating superfoods and many plant extracts. You have a better chance of your body responding positively to such a gentle approach.
Editor's Rating:
Here's a vitamin aimed at supplying all pregnant women need in one capsule. Secondly—in light of how easy an upset stomach can compound the daily challenges of being pregnant—you get probiotics and enzymes to regulate your digestive system.
Ingredients
With these tablets you get:
Vitamins A, C, D, E, K
Vitamin B1, B2, B6 and B12
Large amounts of Folic Acid focused on developing the baby's spine and brain
Calcium
Iron
Zinc
Magnesium
30 Million CFU of pro biotics
How it Affects Your Body & the Baby
While most necessary minerals can be found in these tablets, you also get probiotics to regulate your digestive system. As mentioned the folic acid results in optimum brain development for the foetus.
Even after the birth these can help, since some mothers report it helps their bodies produce adequate levels of breastmilk. Note that these supplements will make your urine turn more yellow than usual, so don't get a fright.
Possible Side Effects
While it benefits your digestive system, some users report an increased level of flatulence and constipation. Test them out first before your buy in bulk.
Dosage
You can purchase containers with 180 pills. You need to drink six daily:
Two pills three times a day, or
Three pills two times a day
Pros
Containers are recyclable

BPA free containers

Gluten and dairy free

Easy on the stomach; less nausea

Healthy, organic supplement
Cons
Must drink a high number of pills each day

No DHA

Pills aren't smooth so can be difficult to swallow

Unwelcome smell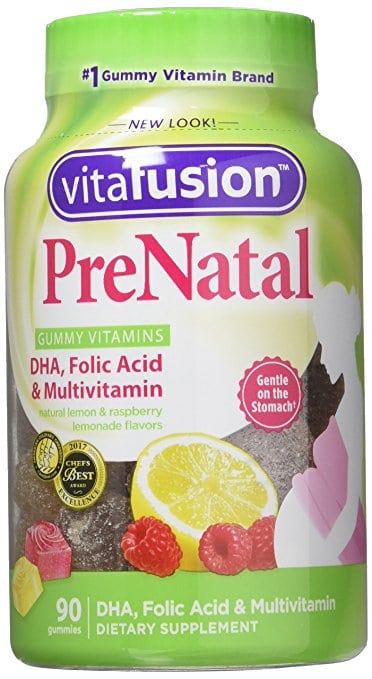 Why we like it:
Firstly it tastes good enough to entice pregnant women with sensitive stomachs. Secondly it doesn't contain iron, making it ideal for those unique circumstances where iron simply causes discomfort. So this product is ideal for a certain niche.
Editor's Rating:
Here's a very specific combination of supplements. If you don't need iron, but you're in desperate need of DHA and folic acid (both of these are beneficial for you and your baby), you're in luck. The vitamins are in the form of chewable, fruit flavored gummies that are easy to eat, stomach and digest.
Ingredients
With these tablets you get:
Vitamins A, C, D, E
Vitamin B6 and B12
Folic Acid
Omega 3 Fatty acids
Zinc
How it Affects Your Body & the Baby
This will help you manage general health as there is a range of vitamins and minerals. Thanks to the DHA—drawn from fish oil—you'll also benefit your baby's development in terms of its eyes and brain.
Possible Side Effects
You won't have to fear bloatedness and constipation, since there isn't any iron in this. Users have reported very few other side effects.
You may experience less impact than when you use some stronger prenatal vitamins on this list, but if you need to avoid iron, this is still a smart option.
Dosage
Each bottle contains 90 gummies. Your daily dosage will be two of these and you can decide when you want to take them.
Pros
No gluten

No iron

Great tasting

Contains DHA
Cons
For women who do need iron, this won't be a viable choice

Contains fewer minerals than other supplements on this list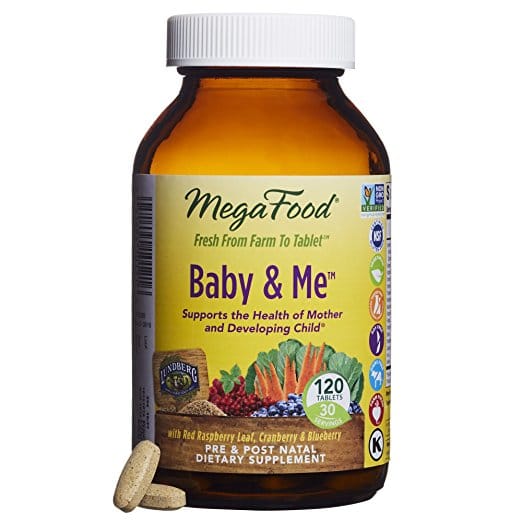 Why we like it:
A prenatal vitamin that's not only focused on the medical aspect of things, but helps women cope with moods and nausea. That's a winner in our books.
Editor's Rating:
A natural solution for pregnancy challenges, Baby & Me is ideal for those with sensitive stomachs. The ingredients come from natural products and are picked for how they can benefit an expecting mother. They're in pill form, quite large of a light brown color.
Ingredients
With these tablets you get:
Vitamins A, C, D, E
Vitamin B1, B2, B6, B12
Calcium
Iron
Folate
Magnesium
Zinc
The combination of herbs include components of:
Raspberry leaf
Ginger root
Chamomile
Dandelion
Spinach
How it Affects Your Body & the Baby
Firstly this will help you manage your general health better, so you can provide your baby with optimum nourishment during and after the pregnancy.
In addition the unique blend of herbs will help with pregnancy challenges such as:
Mood so it's less emotionally draining
Balance so you can keep your baby physically safe
Strength by combating fatigue
You'll experience less nausea
Possible Side Effects
Natural products aren't necessarily tasty and the strong flavors aren't everybody's preference. Your stomach may also react to the natural components with some constipation. This could be because of high iron levels.
Dosage
Bottles with 120 tablets are available. This is a month's stock since you need to take four tablets daily. That's quite a lot of pills, but luckily you can determine when during the day is best to take them.
Pros
Can take on empty stomach

Able to take it at any time during the day

Gentle on stomachs

100% whole food substances
Cons
Many tablets to drink each day

Strong taste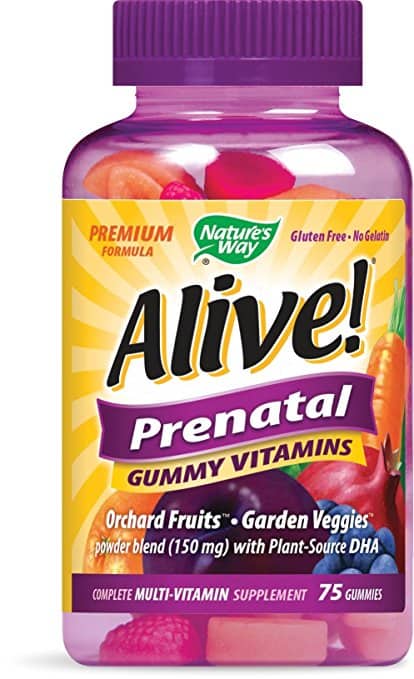 Why we like it:
Here's a chewable multivitamin that vegetarians can also enjoy, because mostly plant sourced items are used. Best of all is that vegetarians can now ingest DHA without compromising their diet by eating fish based ingredients.
Editor's Rating:
These supplements are gummies that have the look of sweets. This visual stimuli should already make them easier to stomach since they look tasty. You'll also experience easier eating because they're gummies. You can chew them instead of swallowing those dreaded large pills, which usually exacerbate nausea.
Ingredients
You get your necessary supplements from all natural products:
Vitamins A, C, D, E
Zinc
Folic Acid
DHA (sourced from Algal)
How it Affects Your Body & the Baby
You get the benefit of all round health so your baby can develop healthily. Your child's eye and brain development can be optimized by the DHA levels.
Possible Side Effects
Some users complain that the taste is not ideal, although they tend to get used to it. This is a result of combining fruit flavoring with the many vegetable sourced ingredients.
Very few other side effects have been reported.
Dosage
You get 90 chews in each bottle and you need to chew two per day.
Note that dosage may have to change if you're taking other vitamins as well.
Pros
Chewable

Great flavor

Plant sourced DHA makes them appropriate for vegetarians
Cons
Lacks certain supplements such as calcium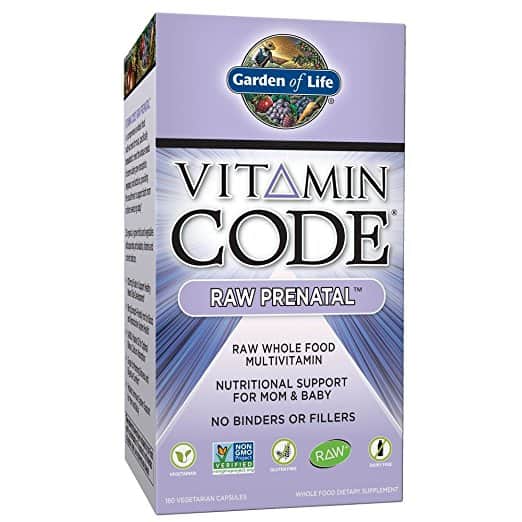 Why we like it:
This multi vitamin draws its iron resources from natural sources. This makes it a safer iron supplement than others, especially for women who occasionally react negatively from certain iron components.
Editor's Rating:
This product draws the 'raw' in its name from its list of ingredients. You get the benefits of natural fruits and vegetables instead of synthetic components. It's one of the few supplements that can actively combat nausea thanks to the inclusion of ginger.
Ingredients
You get your necessary supplements from all natural products:
Vitamins A, C, D, E
Vitamin B6 and B12
Magnesium
Calcium
Iron, Zinc
Ginger
Probiotics
How it Affects Your Body & the Baby
It's a general multi vitamin that benefits your body overall. However, to optimize the impact your supplements have on your baby—and to ensure brain development—you may have to add additional DHA supplements to your diet.
Possible Side Effects
Here's a positive side effect: These pills contain nausea reducing agents such as ginger. That means you're bound to feel better after taking these, compared to how some other supplements make you feel. The probiotics can further stabilize your digestive tract and enhance health.
Dosage
Bottles contain 30, 90 or 180 pills and you need to take three a day for optimum efficacy. That's quite a lot, but luckily you can decide when to take them, as you don't have to ingest them with food.
The capsules can also be broken open so you can add the contents to a drink if you find that more palatable.
Pros
Vegan

Very few side effects

Usually doesn't cause nausea

Real (not synthetic) folic acid
Cons
Must use additional supplements to get enough DHA

Need three pills each day

Expensive brand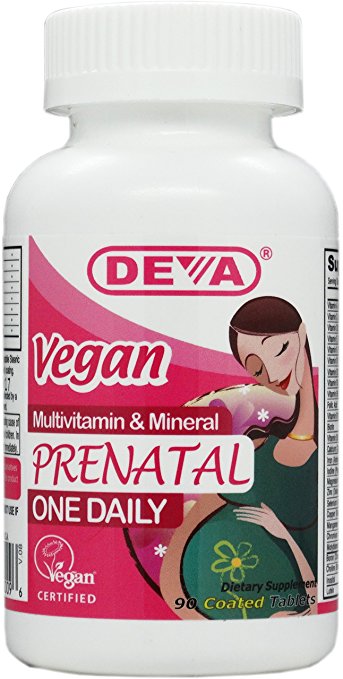 Why we like it:
We love that manufacturers cater for all groups of society and vegan expectant mothers can also enjoy optimum health.
Editor's Rating:
This supplement is certified as vegan by the Vegan Society and appropriate for vegetarians too. You can enjoy all the health benefits without compromising on dietary guidelines.
One difficult aspect of health during pregnancy is to ingest Vitamin B12. This is usually found in meet which vegans can't eat. This supplement provides a vegan version of this Vitamin in extremely high doses (1500% of the RDA) for optimum health.
Ingredients
You get your necessary supplements from all natural products:
Vitamins A, C, D, E
Vitamin B6 and B12
Calcium
Iron, Zinc
How it Affects Your Body & the Baby
This looks after your general health, but note that it doesn't have optimum levels of DHA. If you want to benefit the foetus' brain development you may need an additional source of this.
Possible Side Effects
Some users report effects such as stomach aches.
Because this contains synthetic versions of Vitamin B12 you should have your levels tested regularly. Too high levels could be an indication of MTHFR mutation, which means you should switch to methylated vitamins.
Note that the pills should stay in their original container. This will prevent any reaction with light or moisture.
Dosage
The bottle contains 90 pills and you only have to take one a day.
Pros
Certified vegan

High levels of DHA

Easy dosage

Affordable

Gluten free

Sourced from plants mostly, so it's a natural product

No artificial coloring or preservatives
Cons
Very large pills

May require additional DHA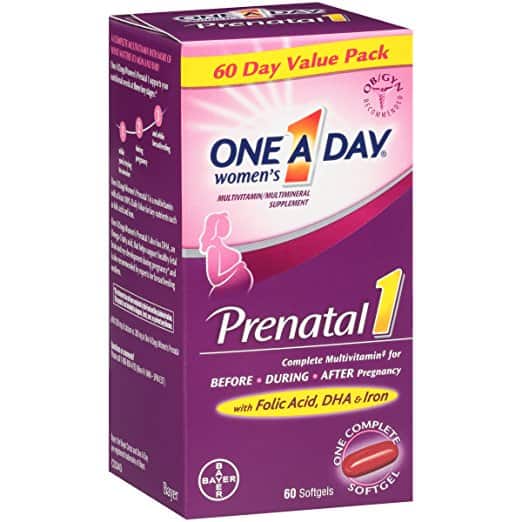 Why we like it:
Since it contains everything a woman needs, there's no need to purchase another supplement.
Editor's Rating:
This prenatal vitamin is designed to help before, during and after a pregnancy. Continuing to use it ensures optimal health for both lives even after the baby is born. It keeps the mother healthy and the supplements can be passed through breastmilk to the baby.
Ingredients
The important items on the ingredients list include:
Omega 3 Fish oil
Calcium carbonate
Vitamin A, B12, C, D3, E
Iron
Magnesium
Zinc Oxide
Folic Acid
How it Affects Your Body & the Baby
This is to ensure overall wellness. The benefit of it containing DHA—purported to be vital for babies' development—is that you won't have to acquire an additional supplement.
Possible Side Effects
Because this supplement is free of gluten, milk and artificial substances (coloring or sweetener), there are fewer chances of the product aggravating allergies.
Note that it contains iron and so can result in over dosage if too many are taken, though this pertains more to children.
The brand also advises you to talk to your doctor if you're pregnant and want to take these. Make sure they'll be beneficial.
Even while it works for other parts of your body—such as giving you more energy—using this can result in stomach cramps.
Dosage
One a Day is available in packs of 30 or 60. Because you only need one a day, it's easy to add it to your daily schedule and it's effortless to swallow, since it's a smooth gel capsule.
Pros
No artificial ingredients such as coloring or sweetener

Gluten and dairy free

Smooth gel capsule

Only need one per day

No aftertaste
Cons
Fishy smell because of fish extracts

A capsule can break because of transport or high temperatures, which leaves the bottle filled with foul smelling liquid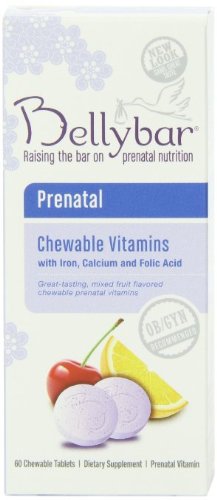 Why we like it:
This is purely a user friendly option. If you need a supplement but can't keep any pill down when you swallow it whole, you'll love that you can chew these. That makes for easier swallowing and will help with digesting & absorption.
Editor's Rating:
It's got the supplements you need, but it's easier to ingest. Bellybar is a chewable vitamin for those who don't find capsules or pills palatable, especially in those first few months when morning sickness is more prevalent.
Ingredients
With these tablets you get:
Vitamins A, C, D, E
Vitamin B12
Folic Acid
Calcium
Iron, Zinc
How it Affects Your Body & the Baby
This is designed to help with general health. Note that if you have specific deficiencies of calcium or magnesium you may need more supplements, since these only provide general levels of necessary substances.
Possible Side Effects
What these pills don't do is make your pregnancy nausea worse. Almost no adverse side effects have been reported, though you must always guard against iron overdose with children younger than six years old. So store these in a safe, secure place.
Dosage
A bottle is more or less a month's supply. There are 60 pills in a bottle and you need to take two each day. Luckily it's your decision how and when you want to take them.
Some doctors advise patients to take three chews a day if it's necessary to increase your folic acid intake. However, this should be discussed with your doctor first.
Pros
Easy to eat

Flavors are more inviting than many other supplements mentioned here
Cons
Will need additional calcium and magnesium supplements

Expensive supplement
Guide to Buying the Best Prenatal Vitamins
Why do You Need Prenatal Vitamins?
Let's start off by destroying a myth many women believe. Vitamins can't help you to fall pregnant.
However, your body will undergo many changes and making a baby requires much from you. Prenatal vitamins prepare your body and helps it be in optimum condition for creating this new life.
When you're healthier, you can help your baby develop optimally and there may be less chance of complications. Some say that folic acid may make you more fertile, but it's actually related to countering ovulatory disorders. Once again: It's about promoting optimum health.
When to Start Using Prenatal Vitamins
These supplements are therefor in preparation for the miracle of life, so it's ideal to start taking them when you plan on getting pregnant. Just remember they can't necessarily enhance your chances for trying to conceive.
Benefits of Using Prenatal Vitamins
It's smart to use prenatal vitamins even before you fall pregnant because it can aid you in these ways:
It gives you the best chance at a healthy pregnancy such as prevent pre-eclampsia
It benefits your baby's development such as zinc that supports organ functioning which is essential for 3rd trimester development
It keeps your muscles, bones and heart healthy
Vitamins are remedies for nausea
Increasing mineral levels prevents adverse medical problems because low Vitamin B levels have been connected to birth defects
For twins and other high risk pregnancies you'll increase your chances of having a good pregnancy if your body is healthy overall
Side Effects of Prenatal Vitamins
Although these are mostly natural products your body needs anyway, you must keep an eye out for side effects. It may not require medical attention, but there's no reason to make your experience of being pregnant more strenuous.
If you experience one or some of these side effects, you may simply have to switch to another brand so you can still get the benefits without these:
Nausea because of your palate's unique preferences
A loss of appetite
Constipation, especially when iron levels are high
Discolored poop which isn't anything to be alarmed about, as it simply represents your body's changes in mineral levels
Which One is Best for You?
You can see from the reviews above that manufacturers cater for a range of preferences and needs. Don't think the most expensive is the best. You have the privilege of finding the perfect balance between a range of features.
Which of these apply to you?
Do you require vegan or vegetarian supplements? It's not necessary to compromise your diet simply to digest vitamins, because these days manufacturers cater for all groups of people.
Do you have a specific deficiency—according to medical tests—that may cause you or your baby problems? You need a supplement that provides for these deficiencies.
Do you feel very nauseous or have a very sensitive palate? In these cases chewable gummies are often more beneficial.
A Few Warnings
We can't stress enough how important it is to first try out a supplement before you commit to it, and to consult your doctor. While there are many healthy elements in the supplements above, some ingredients can cause problems too.
Folic Acid
One example is folic acid. Some women can only absorb and process this in its purest, natural form. A synthetic substitute—folate in this case—often reacts differently in the body. This could mean you simply don't get the benefit of that supplement, or there can be side effects.
These small differences don't matter to everyone, so it's vital you:
Get to know your own body well
Pick supplements that align with your allergies or your body's preferences
Monitor all changes after starting to take a supplement
Consult with a medical professional if you suspect adverse side effects not mentioned on the packaging
Too Much Iron
Another problem creeps in when you take in too much iron. Iron is essential to your health, but you can easily boost your levels too high if your normal diet already provides enough iron.
With too much iron you're bound to get constipated which you probably don't want to add to your physical challenges during your pregnancy. In these cases it's comforting to know the range of prenatal vitamins also includes products without iron, or with very low levels.
Your Diet and Your Vitamins
This brings us to how important it is to make your diet and your supplements work together to your benefit.
A Few Tips
Take cognisance of what your diet already provides so you don't take in too much of a certain substance. Usually your body will simply expel excess, but on occasion it can have adverse effects.
Have your blood tested before taking a supplement so you know what your body needs.
Supplements Can't Replace Your Diet
Note that these supplements aren't designed to be used in the place of healthy meals. To have a healthy body you must eat regularly.
These supplements are simply to supply ingredients the average plate of food doesn't provide, or to help manage deficiencies. This means some women may not even need prenatal vitamins to have a healthy pregnancy, therefore this is not a prerequisite. But when it comes to your child, it's best to play it safe, isn't it?
Supplements Are Not Cures
While you can optimize your health with supplements, you shouldn't try to cure yourself with them. If you suspect any illness, it's vital you seek medical attention.
Supplements can help your body fight disease. However, at times during pregnancy your body's immune system will be at its lowest. If you do contract a disease you need to eradicate it with medical help so it doesn't affect your baby.
Get ready for an amazing, but also emotionally and physically challenging chapter of your life. Why not make sure you can easily deal with as many of the situations as possible? That's what a prenatal vitamin can help you get right.
If a prenatal vitamin can help with everything from morning sickness to helping your child develop, I think it's a worthwhile investment. And now you know how to pick the perfect one for you.