Top 25 Best Dog Toys for Kids and Toddlers 2022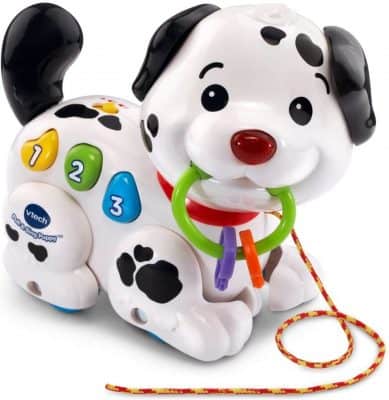 Review
This is a pretty simple dog toy that is suitable for young toddlers. A simple push or pull on the dog's "leash" activates the toy. This product has an educational foundation: it teaches numbers, colors, body parts and much more. Containing over 60 songs and cute phrases, this is the perfect dog toy for your little toddler that's always on-the-go.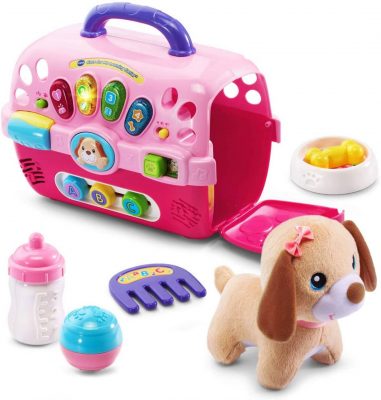 Review
This is a full-fledged doghouse playset that allows your child to not only transport their favorite canine plush pal wherever they go, but there's also a huge level in interactivity that is embedded into the mobile doghouse itself. Each and every button on this product does something in particular, whether it's lighting up on a press or creating a sound or phrase when interacted with. This is the perfect gift that not only develops your child's motor skills but also provides a very useful transportation carrier for extended car trips, vacations etc.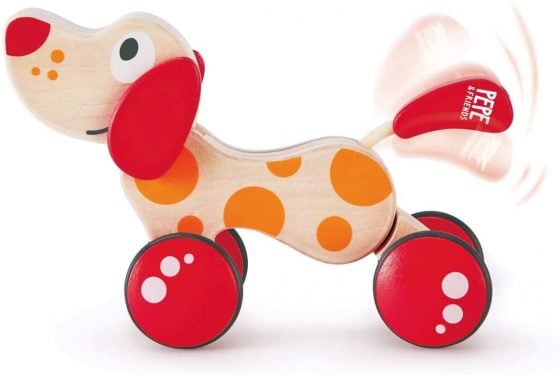 Review
This is a cute drag and pull kind of dog toy that goes wherever your child leads it via the attached "leash" that's connected to it. This is a great toy for recently-walking children, as it keeps them motivated and moving while learning how to increase their mobility and motor skills at the same time.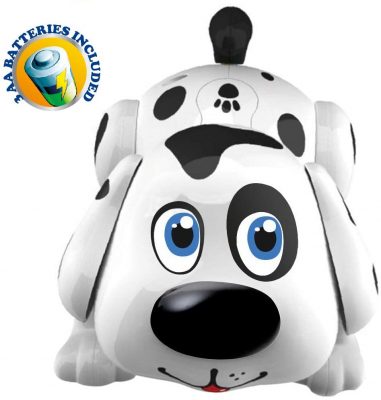 Review
Harry is a tough, well-made robot toy dog that can provide all sorts of interaction for your child. There are many different interactive buttons and push-areas on Harry's body that cause him to react in lots of ways. For example, if your child yanks on Harry's tail, he will kindly tell your kid to cease and desist. This is a great training toy for a real pet dog in a family's life somewhere along the line.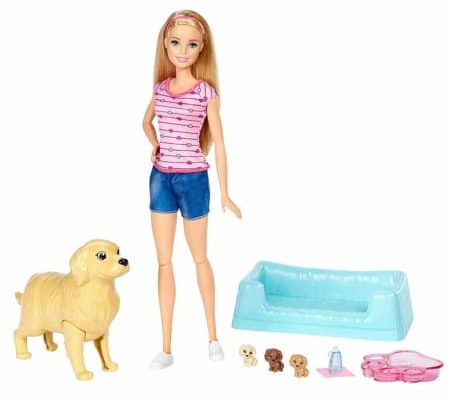 Review
Barbie's pet pooch is about to be a mother. With this playset, you can help Barbie safely help her dog give birth in a safe manner. All your child has to do is press down gently on the dog's head, and out comes the newborn puppies!
This toy can not only be fun, but also informative about the nature of how animals give birth, but it's also a complete playset that will give the Barbie lover in your life loads of fun down the line.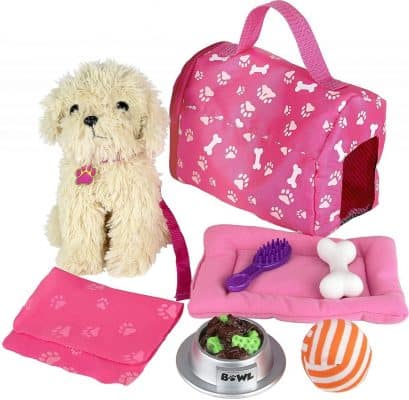 Review
This complete playset comes with lots of adorable accessories, including a blanket, bed, hairbrush, food bowl/treats, bone, and even a toy ball. On top of all that, you also get an American Girl's brand puppy plush to add to your child's ever-growing collection.
This set is literally everything you need if you've got a kid that's always on-the-go and just can't leave the house without their favorite plush dog toy.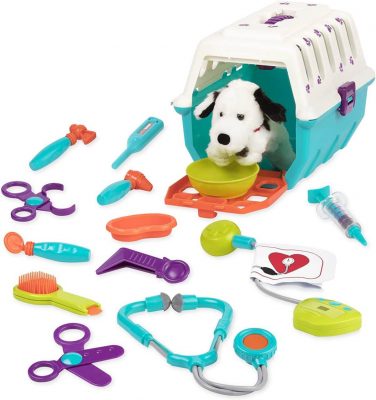 Review
With this vet-themed playset, your child will have everything they need to set up shop and help their favorite stuffed animal toys feel their very best. This set includes a load of wonderful items, such as a carrying crate, a stethoscope, calipers, a thermometer, and many more doctor-related accessories that will keep your child entertained for hours.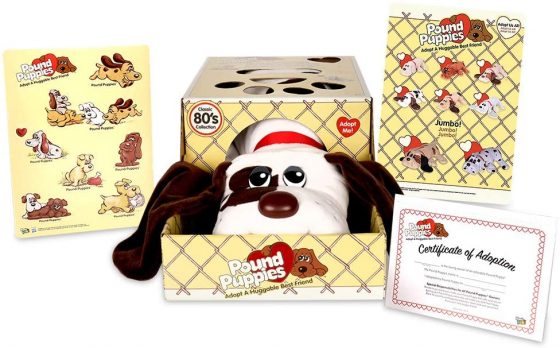 Review
This is a classic and endearing dog toy product that is the pinnacle of cute. Each and every pound puppy plush comes with a sticker sheet, a name tag and adoption papers so that you can add a personality and some individuality for each of the puppies. Not only that, but the pound puppies are also exceptionally-well made, just like they were back in the eighties. These things are positively made for hugging and squeezing in particular! When it comes to a high-quality dog plush, you absolutely can't go wrong with a Pound Puppy.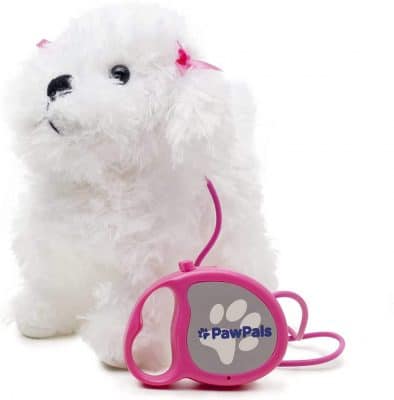 Review
This cute little puppy is a perfect companion for your little one. It walks, barks, wags its tail while being as adorable as can be. One really positive thing about this dog toy is that it walks relatively slowly, which is better for toddlers and other less-mobile children. All in all, this is a cute dog toy to purchase for your child so you can maybe capture some hilarious Kodak moments with them and this robot pooch.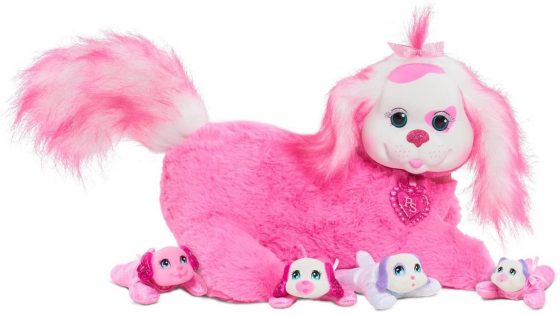 Review
This is a really beautiful and odd-looking dog plush toy that wows its particular audience (which happens to be three-year-olds and up) with bright pastel colors, giving the dog an almost "fairy" look. The real kicker with this product is, each and every one comes with a random number of puppies as part of her litter. This can be a fun discovery aspect to the toy, but may be slightly disappointing if you get a lower number.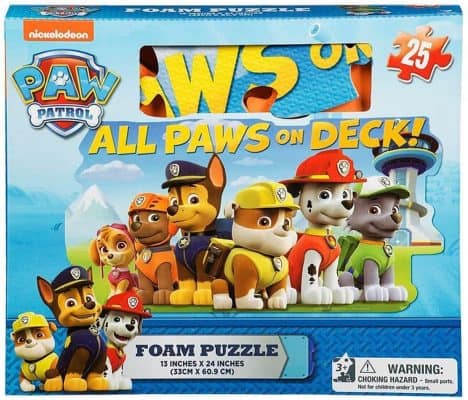 Review
A lot of us played with puzzles when we were children. Who are we to deny our own little ones the very same experience? This is a fantastic 25-piece puzzle set based on the hit series Paw Patrol. Each piece is soft and of a decent size, which makes all of them easy for small children to grab and interact with. The jumbo puzzle piece size also allows for ease of use when playing on a large surface, such as a living-room floor.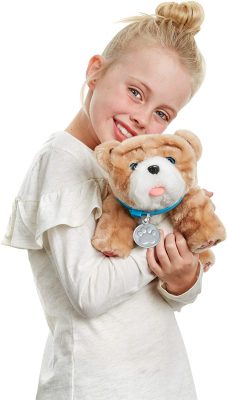 Review
Rollie is a fantastic little dog toy for children that comes extremely close to convincing folks that he's almost like the real thing! At the simple press of Rollie's nose, he attempts to lick your face and sniff you. On top of that, when you place him on his side, Rollie then closes his eyes and starts snoring soundly. Need Rollie to wake up from his slumber? Just pick him up, and he'll be right back to barking, sniffing and wagging his tail with joy.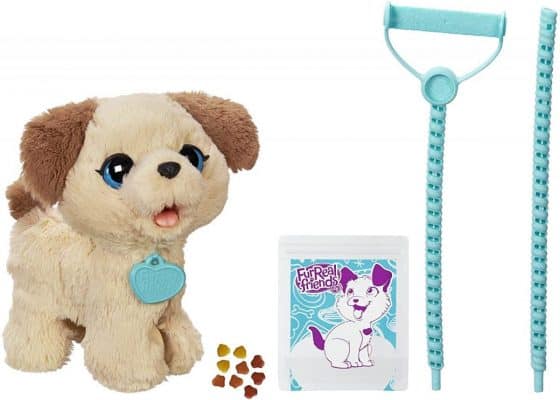 Review
The FurReal Friends Pax My Poopin Pup toy can teach your kids the value of listening to and paying proper attention to a pet, noticing their various patterns.
Pax, like most household animals, needs to be fed appropriately and taken out for a walk every once in a while. Once your child has arrived at a decent spot, all they have to do is pull back on the leash, and Pax will take a seat and commence with using the bathroom, complete with funny sounds to boot.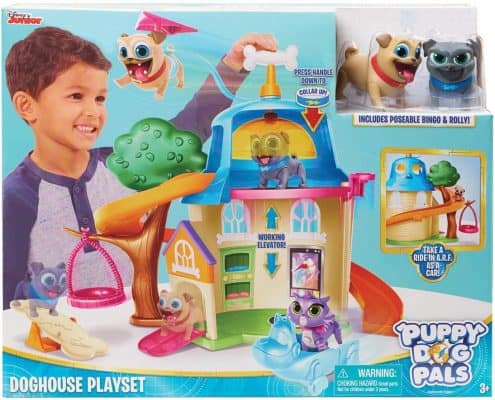 Review
Based on the smash-hit Puppy Dog Pals from Disney, this is a complete playset that brings the television show to life in your child's bedroom, living room, garage or wherever they want! The playset itself is based on the doghouse featured on the T.V. show and comes with a lot of different fun options for Rolly and Bingo to get themselves involved in, including a tire swing, seesaw, a slide and much, much more.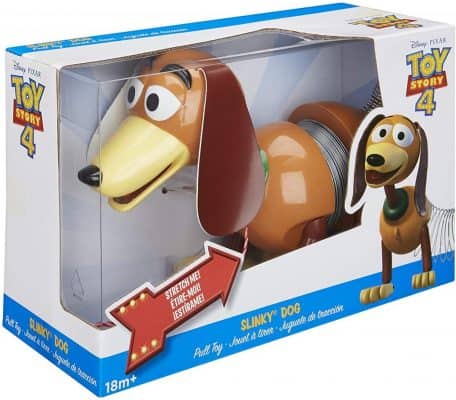 Review
Does your child adore Toy Story films? Do they like dogs? If so, you're in luck with this adorable Slinky Dog toy, provided by the original company that made Slinky a household name almost 70 years ago. This friendly-looking springy pup comes complete with a leash around his neck, so you can take "Slink" out on walks. Just be careful to not get him too tangled up on something in the process!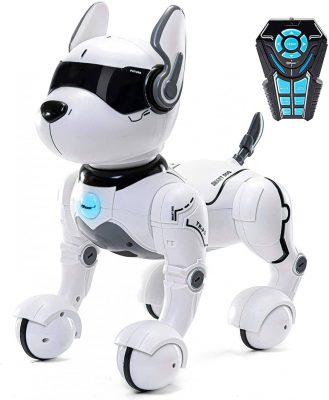 Review
This futuristic-looking robot dog toy on wheels is an amazing buy for the more technologically-inclined kid in your world. This guy can do it all, from singing and dancing, to even imitating up to ten different types of animals in order to impress his audience. The dog can be manipulated either by remote control or through programmable voice commands. Not only that, but this robot dog toy also comes with a rechargeable 7.4v 600Mah battery, giving this digital pet longevity that can last for ages.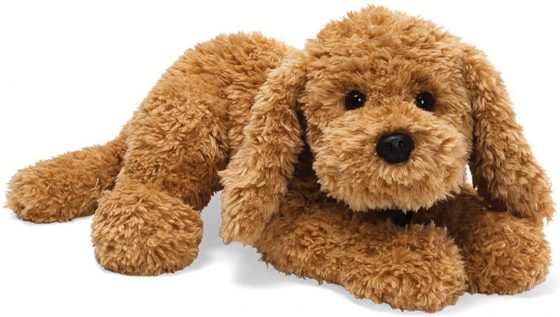 Review
GUND is a company that's been around for a quite a long time now. Since 1898 in fact. They are known for quality plush animals constructed in the toughest manner possible. This Muttsy plush dog toy is no exception to that particular rule. With ears this floppy, and eyes this adorable, it's going to be hard for any lover of stuffed animals to resist this particular product.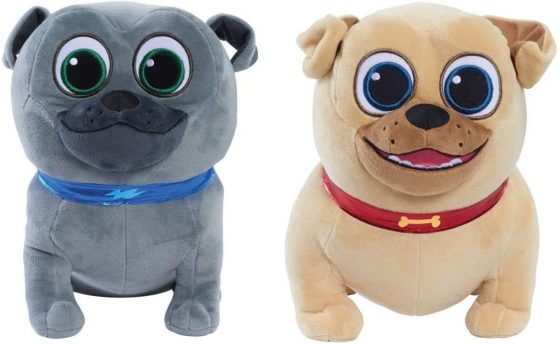 Review
These guys are huge and cuddly! Based on the Disney series Puppy Dog Pals, these are huge 12-inch plush toy dogs that make a great addition to your little one's play or sleeping area, especially if they happen to be fans of the series. The are two downsides to these adorable pup plush toys. One is that they are a bit costly, the other is that they are also so bulky and stuffed to the brim that smaller children are going to have a tough time carrying both toys at once. Overall, though, this is an incredibly high-quality product from a high-quality company.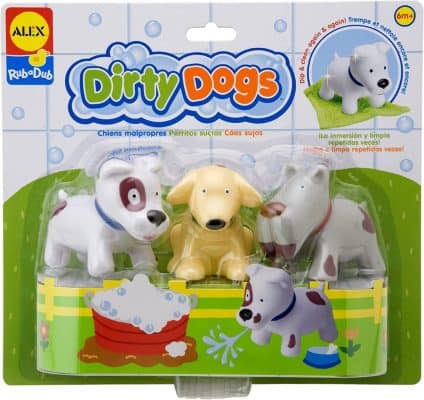 Review
These dirty dogs need a scrub down! Each one of these dogs has a certain amount of fake "dirt" on their bodies that can be cleaned off in a warm bath. When the dogs themselves cool off and return to room temperature, however, the dirt comes right back, allowing for multiple fun bath time cleaning sessions.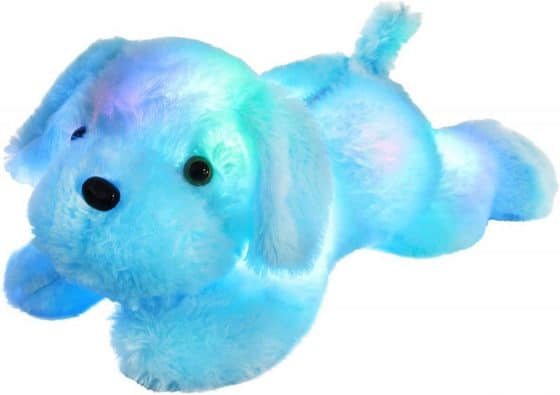 Review
This is an interesting take on the traditional "nightlight". It's in a plush dog toy format. If you've got a kid that's still frightened of the dark, this mystical-looking pooch will provide them with a level of comfort and illumination unlike any other. Powered by three AA batteries, this plush dog starts glowing as soon as you touch it! The only downside is, it can burn through batteries pretty fast. With that being said, this is a solid stuffed dog toy that can bring light and comfort to all.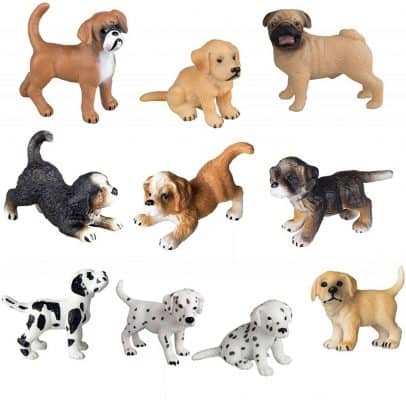 Review
This a fantastic set of 12 different dog-themed figurines that can be utilized for a number of different activities. These dogs can go anywhere, such as inside of dollhouses, on top of cakes, inside stockings on Christmas morning, and much more. Literally the only thing standing in your child's way when it comes to embracing this diverse set is their own imagination. The only real downside to this dog toy set is that the figures themselves are fairly small, so this might not be the best gift for toddlers, who are more prone to swallowing small items.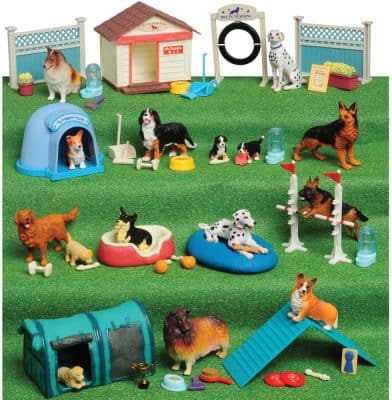 Review
CP Toys is a company that's been dedicated to not only high-quality toys, but also providing their customers with a huge educational component to their toys. This playset is no exception either. You get 51 pieces of different dog figurines, accessories such as beds, food, bowls, grooming equipment, and much more. The downside to this set is it's expensive, and sometimes the dog toy figurines you get with the playset are doubled in number, or they simply don't show up in the box at all.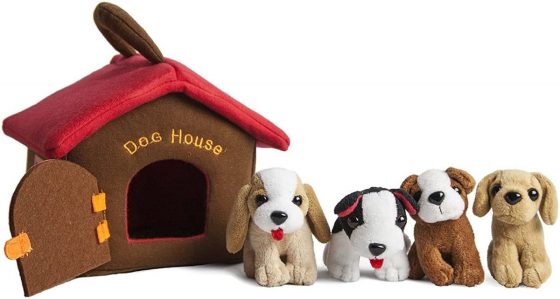 Review
This is a cute little plush dog toy playset that comes with four of the smallest, most adorable pups you've ever seen. Not only that, they bark when you squeeze them! Rounding out the playset is a small yet cozy dog house that the dogs can take up residence in when they're not out and about playing around with your child. Unfortunately, the door of the doghouse is not durable and they the dogs themselves don't always bark. Still, this is a fantastic, and overwhelmingly cute little gift for the small little dog lover in your world.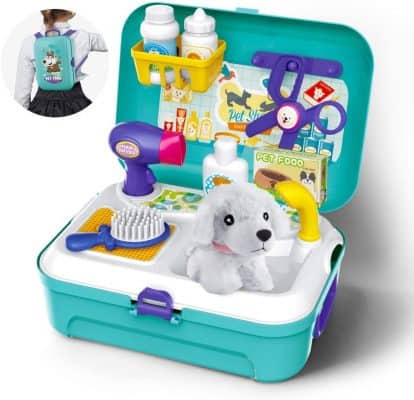 Review
Kids want to be adults sometimes, mimicking their parents or any other significant older person in their life. This is a great playset to mirror a real profession, namely professional dog grooming. It comes with a lot of neat accessories that are jumbo-sized with younger children in mind. This playset is all about make-believe and makeovers at the same time.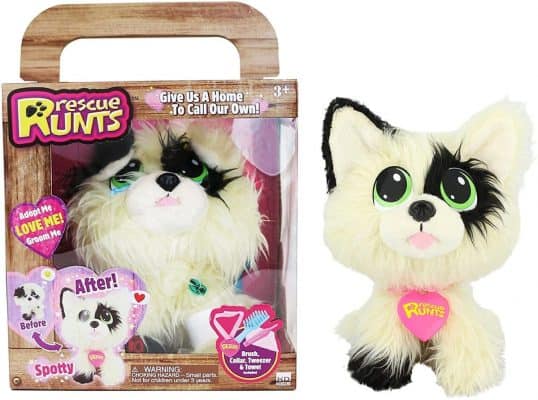 Review
Each one of these plush dog toys come with a complete dog grooming kit to make each dog look as good as can be. When the product is first unboxed, these dogs don't look their best all. Their fur is dirty, they have fleas all over their body, and many other maladies have afflicted these unlucky pooches.
The good news is, your child is provided with a number of accessories to help these plush dogs get into a healthier condition. There are tweezers to remove the fleas, a towel to clean the dirt off, and a comb to spruce up their fur good as new! This is a fantastic toy for a child with a heart of gold.